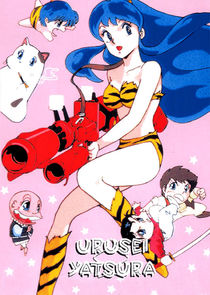 Urusei Yatsura is the story of the unluckiest and most lecherous young man alive, Ataru Moroboshi. When aliens decide to invade Earth, Ataru is randomly selected to defend his planet by playing a game of the aliens national sport, tag. Should he win, the world shall be saved. However, Ataru is motivated for far less noble reasons, as the one he plays against is revealed to be the curvaceous alien princess, Lum. The game goes for 10 days, and on the last day, Ataru, motivated by his girlfriend assuring him marriage (and consequently, a marriage night one can assume) should he win, finally catches Lum. However, with his victory he gives a cry of joy for his coming marriage, which is misinterpreted by Lum to be a marriage proposal. She promptly agrees, beginning the two's "marriage" together.
Series Overview
Rating
imDb Rating: 7.5 (709 Votes)
Metascore: N/A
Plot
The series begins when aliens from the planet Oniboshi invade Earth. They agree to leave only if Earth's champion can defeat the Oni champion in a game of tag within a ten-day time limit. ...
Details
Rated: N/A
Released: 14 Oct 1981
Runtime: 23 min
Genre: Animation, Comedy, Romance, Sci-Fi
Director: N/A
Writer: Rumiko Takahashi
Actors: Fumi Hirano, Toshio Furukawa, Saeko Shimazu, Akira Kamiya
Language: Japanese
Country: Japan
Awards: N/A
Total Seasons: 9
Previous Episode
All-Star Banquet! We Are Immortal!!
Episode 4x65; Mar 19, 1986
Previous Episodes 4x65: All-Star Banquet! We Are Immortal!! 4x64: Urusei Yatsura Pre-Departure Special! Shine! 4x63: It's Unbearable! Ran's Mischief Campaign 4x62: Come Quickly, Darling! Lum's Dangerous Marriage Talk 4x61: Blind Love! You Bet Your Life, Honest Fox 4x60: Total Chaos! Ran-chan's Double Doll! 4x59: Death-Defying House Call! A Teacher Life is Dangerous too 4x58: Darling Said He Loved Me 4x57: I Want to Date! Ataru's Test Program!

View All Episodes
Skip to:
Season 1
| Episode No. | No. Overall | Title | Airdate | Runtime | Summary |
| --- | --- | --- | --- | --- | --- |
| 1 | 1 | I'm Lum the Notorious! / It's Raining in Our Town | 1981-10-14 | 25 | |
| 2 | 2 | Space Mail Arrival of Ten-chan! / Mrs. Swallow and Mrs. Penguin | 1981-10-21 | 25 | |
| 3 | 3 | The Metamorphic Handsome Man Rei is Here! / Drop Dead, You Lady-Killer! | 1981-10-28 | 25 | |
| 4 | 4 | Kintaro of the Autumn Sky / Live Vigorously! | 1981-11-04 | 25 | |
| 5 | 5 | The Mysterious Seductive Beauty Sakura / Tormenting Virus | 1981-11-11 | 25 | |
| 6 | 6 | Love Triangle Black Hole / Hey Hey, It's a Little Demon | 1981-11-18 | 25 | |
| 7 | 7 | The Scary Electric Shock! / The Doll of Ill Will | 1981-11-25 | 25 | |
| 8 | 8 | Neptune Beyond the Closet / The Confusing Dinosaur Age | 1981-12-02 | 25 | |
| 9 | 9 | Sleeping Beauty Princess Kurama / Athletic Woman Hell! | 1981-12-09 | 25 | |
| 10 | 10 | Pitter-Patter Christmas Eve | 1981-12-16 | 25 | |
| 11 | 11 | Ataru Genji Visits Heinkyo | 1981-12-23 | 25 | |
| 12 | 12 | Love Battle Royale / Father, You Were Strong | 1981-12-30 | 25 | |
| 13 | 13 | Hawaiian Swimsuit Thief / Full Course from Hell | 1982-01-06 | 25 | |
| 14 | 14 | Mendo Arrives with Trouble! / Constellation-Go-Round | 1982-01-13 | 25 | |
| 15 | 15 | Great Kiss War / The Benten Corps' Return | 1982-01-20 | 25 | |
| 16 | 16 | Oh, Lonely Teacher! Kuribayashi Sensei Appears / Terrible Inspection Day | 1982-01-27 | 25 | |
| 17 | 17 | Fourth Dimensional Camera / Demonic Jogging | 1982-02-03 | 25 | |
| 18 | 18 | Girl's Day! Ran-chan's Arrival / Ran-chan's Introduction | 1982-02-10 | 25 | |
| 19 | 19 | Diary of Sorrowful Tomorrows / Whose is This Child? | 1982-02-17 | 25 | |
| 20 | 20 | Sleeping in Class on a Wonderful Spring Day / Peach Blossom Poetry Contest | 1982-02-24 | 25 | |
| 21 | 21 | Duel! Ataru vs. Ataru / Waking to a Nightmare | 1982-03-03 | 25 | |
Season 2
| Episode No. | No. Overall | Title | Airdate | Runtime | Summary |
| --- | --- | --- | --- | --- | --- |
| 1 | 22 | The Great Space Matchmaking Operation - Grooms for Lum | 1982-04-07 | 25 | |
| 2 | 23 | The Spring Blossom Picnic | 1982-04-14 | 25 | |
| 3 | 24 | Beware of Earmuffs! | 1982-04-21 | 25 | |
| 4 | 25 | Fly, Imo-chan! | 1982-04-28 | 25 | |
| 5 | 26 | Ten's Love | 1982-05-05 | 25 | |
| 6 | 27 | What a Dracula! | 1982-05-12 | 25 | |
| 7 | 28 | Lum's Education Lecture Course for Boys | 1982-05-19 | 25 | |
| 8 | 29 | From the Gardenia, with Love | 1982-05-26 | 25 | |
| 9 | 30 | A Beautiful Girl Brings Rain | 1982-06-02 | 25 | |
| 10 | 31 | Gimme Back My Horn! | 1982-06-09 | 25 | |
| 11 | 32 | Shocking Library - Quiet Please! | 1982-06-16 | 25 | |
| 12 | 33 | Mr. Hanawa Arrives! It's the Springtime of Youth | 1982-06-23 | 25 | |
| 13 | 34 | Goblin in Distress, Yearning for People | 1982-06-30 | 25 | |
| 14 | 35 | Darling's Had It This Time! | 1982-07-14 | 25 | |
| 15 | 36 | Rei Returns! The Big Study Hall Panic!! | 1982-07-21 | 25 | |
| 16 | 37 | The Coming of the Mysterious Red Mantle! | 1982-07-28 | 25 | |
| 17 | 38 | Steal Darling! The Copy Operation!! | 1982-08-04 | 25 | |
| 18 | 39 | Thrilling Summer Date | 1982-08-11 | 25 | |
| 19 | 40 | So Long, Goodbye, Summer Days | 1982-08-18 | 25 | |
| 20 | 41 | Panic in a Typhoon! | 1982-09-01 | 25 | |
| 21 | 42 | Drunkard's Boogie | 1982-09-08 | 25 | |
| 22 | 43 | The Terror of Meow | 1982-09-22 | 25 | |
| 23 | 44 | After You've Gone | 1982-10-13 | 25 | |
| 24 | 45 | Lum's Class Reunion | 1982-10-20 | 25 | |
| 25 | 46 | Lunchtime Eat-Out'ers Gather Round! | 1982-10-27 | 25 | |
| 26 | 47 | Terror! The Deserted Fossil Grounds Mystery | 1982-11-03 | 25 | |
| 27 | 48 | Princess Kurama - A New Challenge! | 1982-11-10 | 25 | |
| 28 | 49 | The Terrifying Cavity Wars! | 1982-11-17 | 25 | |
| 29 | 50 | The Mendou Siblings! | 1982-11-24 | 25 | |
| 30 | 51 | There's a Cat on the Stairs | 1982-12-01 | 25 | |
| 31 | 52 | Can a Racoon Repay a Favor?! | 1982-12-08 | 25 | |
| 32 | 53 | The Do-or-Die Subspace Part-Time Job | 1982-12-15 | 25 | |
| 33 | 54 | The Big Year-End Party That Lum Organized! | 1982-12-22 | 25 | |
| 34 | 55 | Bad Boy Musashi: A Success Story | 1983-01-05 | 25 | |
| 35 | 56 | We'll Risk Our Lives During Classtime! | 1983-01-12 | 25 | |
| 36 | 57 | Domestic Quarrel – To Eat or Be Eaten?! | 1983-01-26 | 25 | |
| 37 | 58 | Steal the Kiss of Miss Snow Queen! | 1983-02-02 | 25 | |
| 38 | 59 | St. Valentine's Day Horror | 1983-02-16 | 25 | |
| 39 | 60 | Love, Love, Catchball! | 1983-02-23 | 25 | |
| 40 | 61 | The Mendo Family's Masquerade War | 1983-03-02 | 25 | |
| 41 | 62 | Space Cold Panic! | 1983-03-09 | 25 | |
| 42 | 63 | Ryunosuke Arrives! I Love the Sea! | 1983-03-16 | 25 | |
| 43 | 64 | Goodbye Season | 1983-03-23 | 25 | |
| 44 | 65 | Ran-chan's Great Date Plan | 1983-04-13 | 25 | |
| 45 | 66 | Happy Birthday My Darling | 1983-04-20 | 25 | |
| 46 | 67 | Seeing Shangri-La as a Hell Camp! | 1983-04-27 | 25 | |
| 47 | 68 | The Groom's Name is Ryunosuke | 1983-05-11 | 25 | |
| 48 | 69 | Bottled Letter Seashore Mystery! | 1983-05-25 | 25 | |
| 49 | 70 | Dramatic Appearance! Mizunokoji Ton-chan! | 1983-06-01 | 25 | |
| 50 | 71 | Shinobu's Cinderella Story | 1983-06-08 | 25 | |
| 51 | 72 | Lum-chan the Ruthless Rebel | 1983-06-15 | 25 | |
| 52 | 73 | The Big Showdown! Sakura vs. Sakuranbo | 1983-06-22 | 25 | |
| 53 | 74 | Ghost Story! Old Man Willow! | 1983-06-29 | 25 | |
| 54 | 75 | And Then There Were None | 1983-07-06 | 25 | |
| 55 | 76 | Firefighter Mommy Visits! | 1983-07-13 | 25 | |
| 56 | 77 | Darling's Dying!? | 1983-07-20 | 25 | |
| 57 | 78 | Pitiful! Mother of Love and Banishment!? | 1983-07-27 | 25 | |
| 58 | 79 | The House of Mendou - Summer Xmas | 1983-08-03 | 25 | |
| 59 | 80 | Panic in the Haunted Inn | 1983-08-10 | 25 | |
Season 3
| Episode No. | No. Overall | Title | Airdate | Runtime | Summary |
| --- | --- | --- | --- | --- | --- |
| 1 | 81 | Oh! The Memories of Mother | 1983-08-17 | 25 | |
| 2 | 82 | Full of Sunshine, Full of Amours | 1983-08-24 | 25 | |
| 3 | 83 | Big Battle! Ten vs. Ataru | 1983-09-07 | 25 | |
| 4 | 84 | Terror! Attack of the Killer Potatoes! | 1983-09-14 | 25 | |
| 5 | 85 | Galactic Teacher CAO-2 Strikes Back! | 1983-09-21 | 25 | |
| 6 | 86 | Outraged! Piteous Boy Shutaro! | 1983-10-12 | 25 | |
| 7 | 87 | WOW! The Mysterious Matsutake Mushroom Soup! | 1983-10-26 | 25 | |
| 8 | 88 | Enraged Lum! | 1983-11-02 | 25 | |
| 9 | 89 | Lum & Ataru – A Night Alone | 1983-11-09 | 25 | |
| 10 | 90 | Lady Ryuunosuke! | 1983-11-23 | 25 | |
| 11 | 91 | Document! Who'll Be Miss Tomobiki? | 1983-11-30 | 25 | |
| 12 | 92 | Bizarre! The Medicine of Selflessness! | 1983-12-07 | 25 | |
| 13 | 93 | Shutaro's Jinxed Morning | 1983-12-14 | 25 | |
| 14 | 94 | The Story of a Traveling Snowman | 1983-12-21 | 25 | |
| 15 | 95 | Lum-chan's Ancient Japanese Fairytales | 1983-12-28 | 25 | |
| 16 | 96 | Shine! The Blessed Bra!! | 1984-01-05 | 25 | |
| 17 | 97 | Duel! Benten vs. The Three Daughters | 1984-01-12 | 25 | |
| 18 | 98 | Plenty of Lum-chan's! | 1984-01-17 | 25 | |
| 19 | 99 | Certain Death! Stand-Up Eating Contest | 1984-01-24 | 25 | |
| 20 | 100 | The Great Vault! Courageous Survival!!! | 1984-01-31 | 25 | |
| 21 | 101 | Operation: Peek in the Woman's Bath | 1984-02-07 | 25 | |
| 22 | 102 | Sakura, Sad Years of Youth | 1984-02-14 | 25 | |
| 23 | 103 | Burning Ran's Emotional Video Mail | 1984-02-21 | 25 | |
| 24 | 104 | Sakura San of Youth | 1984-02-28 | 25 | |
| 25 | 105 | Scramble! To the Rescue of Lum! | 1984-03-07 | 25 | |
| 26 | 106 | A Fight to the Death! Ataru vs. The Mendo Brigade! | 1984-03-14 | 25 | |
| 27 | 107 | Dimensional Switch, Where's Darling? | 1984-03-21 | 25 | |
| 28 | 108 | Crash! Her Ladyship and the Football of Love | 1984-03-28 | 25 | |
| 29 | 109 | Ran-chan, Tasting the Tearful Love of a First Kiss | 1984-04-04 | 25 | |
| 30 | 110 | The Indelible Magic Lipstick | 1984-04-11 | 25 | |
| 31 | 111 | Deadly Combat! The Mendo Family's Flower Display Death Match | 1984-04-18 | 25 | |
| 32 | 112 | Benten & Ryunosuke: Run for the Morrow | 1984-04-25 | 25 | |
| 33 | 113 | Great Horrors! Oyuki is Finally Angered! | 1984-05-02 | 25 | |
| 34 | 114 | Ten-chan's Wonderful Love Story | 1984-05-09 | 25 | |
| 35 | 115 | Haunted House Special! Quest for Mendo Estate Treasure! | 1984-05-16 | 25 | |
| 36 | 116 | Love and War! Battle of Glove vs. Pants!! | 1984-05-23 | 25 | |
| 37 | 117 | Lum-chan's Becoming a Cow? | 1984-05-30 | 25 | |
| 38 | 118 | Great Achievement! The Film of Lum-chan's Youth | 1984-06-06 | 25 | |
| 39 | 119 | Ghostbusting! Exorcising the Beautiful Sakura! | 1984-06-13 | 25 | |
| 40 | 120 | Attack of the Protozoa! Panic at the Poolside | 1984-06-20 | 25 | |
| 41 | 121 | Here Again! The Hunter of Love, Princess Kurama | 1984-06-27 | 25 | |
| 42 | 122 | The Fox's Unrequited Love | 1984-07-04 | 25 | |
| 43 | 123 | Ryunosuke Confused! Solid Rock Mother Cherishes Her Young Pebble! | 1984-07-11 | 25 | |
| 44 | 124 | The Stairs! Footsteps in the Girls Dorm!! | 1984-07-18 | 25 | |
| 45 | 125 | Pool Spooks! Burning with Forbidden Love | 1984-07-25 | 25 | |
| 46 | 126 | Ran-chan's Panic: No Tomorrow for Tomobiki | 1984-08-02 | 25 | |
| 47 | 127 | Where is Love's Home? Kuriko and Chojuro | 1984-08-09 | 25 | |
| 48 | 128 | Man or Bird? Gokakenran, Champion of Justice! | 1984-08-16 | 25 | |
| 49 | 129 | Attack Your Seniors! Revenge of the Infamous Three Daughters | 1984-08-23 | 25 | |
| 50 | 130 | Blaze, Secret Powers! Stick to the Straight and Narrow Path | 1984-08-30 | 25 | |
Season 4
| Episode No. | No. Overall | Title | Airdate | Runtime | Summary |
| --- | --- | --- | --- | --- | --- |
| 1 | 131 | Don't Die! Ryoko Special Straw Doll | 1984-09-07 | 25 | |
| 2 | 132 | Hell Encounter! Armored Girl; Beauty or Beast? Part 1 | 1984-09-14 | 25 | |
| 3 | 133 | Love of the Armored Girl! Maidenly Feelings Reeling Part 2 | 1984-09-21 | 25 | |
| 4 | 134 | I Dearly Need You! Return of the Honest Fox! | 1984-09-28 | 25 | |
| 5 | 135 | What Do I Care for Talking Flowers! | 1984-10-05 | 25 | |
| 6 | 136 | The Birth of Ten-chan's Son? I Didn't Know a Thing | 1984-10-12 | 25 | |
| 7 | 137 | Lum's Courageous Duel! An Ironic Victory | 1984-10-19 | 25 | |
| 8 | 138 | Job Hunting! Sneaky Return of the Reject! | 1984-10-26 | 25 | |
| 9 | 139 | Tomobiki High School Survival! Who Are the Survivors! | 1984-11-03 | 25 | |
| 10 | 140 | The Mysterious Giant Cake! Love's Fleeing Panic!! | 1984-11-10 | 25 | |
| 11 | 141 | Underground Reincarnation! What's Darling Thinking Of!? | 1984-11-17 | 25 | |
| 12 | 142 | Snow Panic? The Mendo Family Cherry Blossom Display Banquet! | 1984-11-24 | 25 | |
| 13 | 143 | From the Far Spring! The Tale of the Lonely Fairy! | 1984-12-01 | 25 | |
| 14 | 144 | To Dreamland! Darling Battle Royal Abduction | 1984-12-08 | 25 | |
| 15 | 145 | Return of the Three Daughters! The Great Scheme to Seduce Darling! | 1984-12-15 | 25 | |
| 16 | 146 | The Scampering Kotatsu Cat! Anything to Get Warm | 1984-12-22 | 25 | |
| 17 | 147 | Ryunosuke's Father's Self Sacrificing Devotion! His Wife is Within Images! | 1984-12-29 | 25 | |
| 18 | 148 | Spring Blossom! Frozen by Oyuki's Cold | 1985-01-05 | 25 | |
| 19 | 149 | Panic Among Friends! I Love to Eat Blowfish | 1985-01-12 | 25 | |
| 20 | 150 | The Armored Girl Returns! Plenty of Older Brothers | 1985-01-19 | 25 | |
| 21 | 151 | The Boredom Syndrome! Is Tomobiki Wasting Away? | 1985-01-26 | 25 | |
| 22 | 152 | Look Out, Ran! Kotatsu Neko's Primary Love is Oden!? | 1985-02-02 | 25 | |
| 23 | 153 | The Armored Girl Returns Again! A Storm Raising Date | 1985-02-09 | 25 | |
| 24 | 154 | Arrival of the Mysterious Priest! The Bell Battle Royal | 1985-02-16 | 25 | |
| 25 | 155 | First Love Relived!? A Return to the Past for Lum and Rei | 1985-02-23 | 25 | |
| 26 | 156 | Appearance of the Youthful Old Man! Shine, Great Teahouse of Dreams! | 1985-03-03 | 25 | |
| 27 | 157 | I Love Darling's Sincerity | 1985-03-10 | 25 | |
| 28 | 158 | The Honest Fox Again! I Love Shinobu | 1985-03-16 | 25 | |
| 29 | 159 | I Love the Sea! Prayers for the Thriving Hamachaya!? | 1985-03-23 | 25 | |
| 30 | 160 | Ryunosuke vs. Benten! The Fruitless Duel of Passion | 1985-03-30 | 25 | |
| 31 | 161 | The Magic Bottle! What's to Become of Me? | 1985-04-06 | 25 | |
| 32 | 162 | The Great Devil's Debut! Lum's Dangerous Purchase! | 1985-04-13 | 25 | |
| 33 | 163 | Goodness! Words Aren't Getting to Darling | 1985-04-20 | 25 | |
| 34 | 164 | The Devil's Summer! Ten-chan's Eel Lunch Plot! | 1985-04-27 | 25 | |
| 35 | 165 | Visitation Panic! I Didn't Mean Any Harm | 1985-05-04 | 25 | |
| 36 | 166 | Scary! Is That an Octopus on Shutaro's Head? | 1985-05-11 | 25 | |
| 37 | 167 | Invader from Space! He's After Lum's Lips! | 1985-05-18 | 25 | |
| 38 | 168 | Space Survival! They Are the Eaters | 1985-05-25 | 25 | |
| 39 | 169 | It's a Thrill! The Terrible Overhead Cooler | 1985-06-01 | 25 | |
| 40 | 170 | Love Attack! The Romance Never Stops!! | 1985-06-08 | 25 | |
| 41 | 171 | Rare Form! Worries for Mother the Firefighter!! | 1985-06-15 | 25 | |
| 42 | 172 | Hardselling Happiness! Out of Focus Bluebird!! | 1985-06-22 | 25 | |
| 43 | 173 | Great Uproar! Ryunosuke's First Time Wearing a Swimsuit!! | 1985-06-29 | 25 | |
| 44 | 174 | I Want a Bride! The Fox's Love Adventure! | 1985-08-20 | 25 | |
| 45 | 175 | How Persistent! The Three Daughters' Great Animal Plan! | 1985-09-25 | 25 | |
| 46 | 176 | Fast Money in Fast Fighting! Hamachaya's Forbidden Business | 1985-10-02 | 25 | |
| 47 | 177 | Wish Upon a Star! The Winning Family's Consumer Panic | 1985-10-16 | 25 | |
| 48 | 178 | Special Delivery Kiss! Darling's First Jealousy! | 1985-10-23 | 25 | |
| 49 | 179 | Scary Sake! Sakura's Possession a Big Failure | 1985-10-30 | 25 | |
| 50 | 180 | It's Strange! Cherry's Yoga School! | 1985-11-06 | 25 | |
| 51 | 181 | Good-bye Onsen-Sensei!? Tearful Good-bye Marathon Banquet! | 1985-12-04 | 25 | |
| 52 | 182 | Pure Love Sakura! The Slippery Soap of Separation? | 1985-12-11 | 25 | |
| 53 | 183 | Asuka vs. Older Brother! Battle for Certain Love! | 1985-12-18 | 25 | |
| 54 | 184 | Darling's Ill Omen! The Dreaded Shijimoto Oracle!! | 1985-12-25 | 25 | |
| 55 | 185 | New Years Panic! The Mendo Family's Human Parcheesi Tournament! | 1986-01-08 | 25 | |
| 56 | 186 | Dreaming Ten-chan! The Great Adventure at the End of the Rainbow! | 1986-01-15 | 25 | |
| 57 | 187 | I Want to Date! Ataru's Test Program! | 1986-01-22 | 25 | |
| 58 | 188 | Darling Said He Loved Me | 1986-01-29 | 25 | |
| 59 | 189 | Death-Defying House Call! A Teacher Life is Dangerous too | 1986-02-05 | 25 | |
| 60 | 190 | Total Chaos! Ran-chan's Double Doll! | 1986-02-12 | 25 | |
| 61 | 191 | Blind Love! You Bet Your Life, Honest Fox | 1986-02-19 | 25 | |
| 62 | 192 | Come Quickly, Darling! Lum's Dangerous Marriage Talk | 1986-02-26 | 25 | |
| 63 | 193 | It's Unbearable! Ran's Mischief Campaign | 1986-03-05 | 25 | |
| 64 | 194 | Urusei Yatsura Pre-Departure Special! Shine! | 1986-03-12 | 25 | |
| 65 | 195 | All-Star Banquet! We Are Immortal!! | 1986-03-19 | 25 | |
Season 5
| Episode No. | No. Overall | Title | Airdate | Runtime | Summary |
| --- | --- | --- | --- | --- | --- |
Season 6
| Episode No. | No. Overall | Title | Airdate | Runtime | Summary |
| --- | --- | --- | --- | --- | --- |
Season 7
| Episode No. | No. Overall | Title | Airdate | Runtime | Summary |
| --- | --- | --- | --- | --- | --- |
Season 8
| Episode No. | No. Overall | Title | Airdate | Runtime | Summary |
| --- | --- | --- | --- | --- | --- |
Season 9
| Episode No. | No. Overall | Title | Airdate | Runtime | Summary |
| --- | --- | --- | --- | --- | --- |
Related News
TVMaze