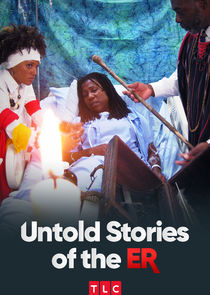 Untold Stories of the E.R. is an inside look at some the craziest stories and cases to enter an emergency room.
Series Overview
Rating
imDb Rating: 7.5 (550 Votes)
Metascore: N/A
Plot
Dramatizations of patients in life threatening moments while doctors do their best to help them in the E.R.
Details
Rated: N/A
Released: 04 Apr 2005
Runtime: 60 min
Genre: Documentary, Drama
Director: N/A
Writer: N/A
Actors: Jenne Kang, Linda America, Roy Vongtama, Lucy Doty
Language: N/A
Country: USA
Awards: 2 wins & 1 nomination.
Total Seasons: 12
Previous Episode
Blackout, Bleedout
Episode 14x6; Aug 15, 2019
Previous Episodes 14x6: Blackout, Bleedout 14x5: Skin Deep 14x4: Heart Strings 14x3: Gunshot Affair 14x2: Foreign Objects 14x1: Grave Diagnosis 13x10: Raining Cats & Dogs 13x9: ER Runaround 13x8: Bit by a Boa

View All Episodes
Recent News
The Battle To Rewrite Texas History
While a new generation of scholars is rewriting our history, supporters of the traditional narratives are fighting to keep their grip on the public imagination. While a new generation of scholars is rewriting Texas history, supporters of the traditional narra…
via NewsAPI
View More Related News
Skip to:
Season 1
| Episode No. | No. Overall | Title | Airdate | Runtime | Summary |
| --- | --- | --- | --- | --- | --- |
| 1 | 1 | No Time to Think | 2005-04-04 | 60 | |
| 2 | 2 | Red Blanket | 2005-04-11 | 60 | |
| 3 | 3 | A Scary Feeling | 2005-04-18 | 60 | |
| 4 | 4 | A Day from Hell | 2005-04-25 | 60 | |
| 5 | 5 | Prepare for the Worst | 2005-05-02 | 60 | |
| 6 | 6 | No Down Time | 2005-05-09 | 60 | |
| 7 | 7 | We Need a Miracle | 2005-05-16 | 60 | |
| 8 | 8 | I Need Some Help Here | 2005-05-23 | 60 | |
| 9 | 9 | How Can This Happen | 2005-05-30 | 60 | |
| 10 | 10 | Call the Code | 2005-06-06 | 60 | |
| 11 | 11 | What a Day | 2005-06-13 | 60 | |
| 12 | 12 | Nothing's Working | 2005-06-20 | 60 | |
| 13 | 13 | We Need Further Tests | 2005-06-27 | 60 | |
| 14 | 14 | Pressure is Building | 2005-07-04 | 60 | |
| 15 | 15 | Surgery Won't Help | 2005-07-11 | 60 | |
Season 2
| Episode No. | No. Overall | Title | Airdate | Runtime | Summary |
| --- | --- | --- | --- | --- | --- |
| 1 | 16 | Say Your Prayers | 2005-10-24 | 60 | |
| 2 | 17 | A Life in Their Hands | 2005-10-31 | 60 | |
| 3 | 18 | Episode 3 | 2005-11-07 | 60 | |
| 4 | 19 | Episode 4 | 2005-11-14 | 60 | |
| 5 | 20 | Episode 5 | 2005-11-21 | 60 | |
| 6 | 21 | Exorcism in the E.R. | 2005-11-28 | 60 | |
| 7 | 22 | The Golden Hour | 2005-12-05 | 60 | |
| 8 | 23 | Toilet Paper Eating Patient | 2005-12-12 | 60 | |
| 9 | 24 | Long Live the King | 2005-12-19 | 60 | |
| 10 | 25 | Coma Woman Surprise | 2006-01-09 | 60 | |
| 11 | 26 | Schizo and Ninja Sword | 2005-01-28 | 60 | |
| 12 | 27 | Mystery of the Traveling Bullet | 2006-01-23 | 60 | |
| 13 | 28 | An ER Miracle | 2005-01-30 | 60 | |
| 14 | 29 | A Real Pain in the Neck | 2006-02-06 | 60 | |
| 15 | 30 | From ER to Rushing River | 2006-02-27 | 60 | |
| 16 | 31 | Jaws of Life | 2006-06-14 | 60 | |
| 17 | 32 | Code Green in the E.R. | 2006-06-21 | 60 | |
Season 3
| Episode No. | No. Overall | Title | Airdate | Runtime | Summary |
| --- | --- | --- | --- | --- | --- |
| 1 | 33 | Mountain Lion Attack | 2006-06-28 | 60 | |
| 2 | 34 | Shot Through the Heart | 2006-07-05 | 60 | |
| 3 | 35 | Hidden Danger | 2006-07-13 | 60 | |
| 4 | 36 | Deadly Diagnosis | 2006-07-20 | 60 | |
| 5 | 37 | Code Black | 2006-07-27 | 60 | |
| 6 | 38 | Life and Limb | 2006-08-02 | 60 | |
| 7 | 39 | Liver Die | 2006-09-27 | 60 | |
| 8 | 40 | Elements of Danger | 2006-10-04 | 60 | |
| 9 | 41 | Deadly Impact | 2006-10-11 | 60 | |
| 10 | 42 | Crushed | 2006-10-18 | 60 | |
| 11 | 43 | Under Seige | 2006-11-01 | 60 | |
| 12 | 44 | Hooked Alive | 2006-11-08 | 60 | |
| 13 | 45 | Family Tragedy | 2006-11-08 | 60 | |
| 14 | 46 | Officer Down | 2006-11-15 | 60 | |
| 15 | 47 | Too Close to Home | 2006-11-29 | 60 | |
| 16 | 48 | Director Down | 2006-12-13 | 60 | |
| 17 | 49 | A Shot in the Dark | 2006-12-20 | 60 | |
| 18 | 50 | Baby Blues | 2006-12-27 | 60 | |
| 19 | 51 | 'Til Death Do Us Part | 2006-01-16 | 60 | |
Season 4
| Episode No. | No. Overall | Title | Airdate | Runtime | Summary |
| --- | --- | --- | --- | --- | --- |
| 1 | 52 | Mountain Lion Attack | 2006-06-28 | 60 | |
| 2 | 53 | Shot Through the Heart | 2006-07-05 | 60 | |
| 3 | 54 | Hidden Dangers | 2006-07-12 | 60 | |
| 4 | 55 | Deadly Diagnosis | 2006-07-19 | 60 | |
| 5 | 56 | Code Black | 2006-07-26 | 60 | |
| 6 | 57 | Life and Limb | 2006-08-02 | 60 | |
| 7 | 58 | Liver Die | 2006-09-27 | 60 | |
| 8 | 59 | Elements of Danger | 2006-10-04 | 60 | |
| 9 | 60 | Deadly Impact | 2006-10-11 | 60 | |
| 10 | 61 | Crushed | 2006-10-18 | 60 | |
| 11 | 62 | Under Siege | 2006-11-01 | 60 | |
| 12 | 63 | Family Tragedy | 2006-11-08 | 60 | |
| 13 | 64 | Officer Down | 2006-11-15 | 60 | |
| 14 | 65 | Too Close to Home | 2006-11-29 | 60 | |
| 15 | 66 | Director Down | 2006-12-13 | 60 | |
| 16 | 67 | A Shot in the Dark | 2006-12-20 | 60 | |
| 17 | 68 | Baby Blues | 2006-12-27 | 60 | |
Season 5
| Episode No. | No. Overall | Title | Airdate | Runtime | Summary |
| --- | --- | --- | --- | --- | --- |
| 1 | 69 | Life and Limb Too | 2010-11-10 | 60 | |
| 2 | 70 | Ice Cold Mom | 2010-11-17 | 60 | |
| 3 | 71 | Grandma's Back | 2010-11-24 | 60 | |
| 4 | 72 | Short Circuited Heart | 2010-12-01 | 60 | |
| 5 | 73 | Minutes to Live | 2010-12-08 | 60 | |
| 6 | 74 | Man with Two Faces | 2010-12-15 | 60 | |
| 7 | 75 | Death Breath | 2010-12-22 | 60 | |
| 8 | 76 | Heart in Hand | 2010-12-22 | 60 | |
Season 6
| Episode No. | No. Overall | Title | Airdate | Runtime | Summary |
| --- | --- | --- | --- | --- | --- |
| 1 | 77 | Pipe in Head | 2012-01-07 | 60 | |
| 2 | 78 | Campstove Stuffing | 2012-01-14 | 60 | |
| 3 | 79 | Radioactive Rocks | 2012-01-21 | 60 | |
| 4 | 80 | Stabbed in the Heart | 2012-01-28 | 60 | |
| 5 | 81 | Halloween in the ER | 2012-02-04 | 60 | |
| 6 | 82 | Rottweiler in the ER | 2012-02-11 | 60 | |
| 7 | 83 | Girlfriend, Wife, Stroke! | 2012-02-18 | 60 | |
| 8 | 84 | Never Say Die | 2012-02-25 | 60 | |
Season 7
| Episode No. | No. Overall | Title | Airdate | Runtime | Summary |
| --- | --- | --- | --- | --- | --- |
| 1 | 85 | Frat Boy Blues | 2012-10-20 | 60 | |
| 2 | 86 | I Can't Remember | 2012-10-27 | 60 | |
| 3 | 87 | Bridesmaid Meltdown | 2012-11-03 | 60 | |
| 4 | 88 | Delusional Bride | 2012-11-10 | 60 | |
| 5 | 89 | Deadly Sore Throat | 2012-11-17 | 60 | |
| 6 | 90 | Crowbar in Head | 2012-11-24 | 60 | |
| 7 | 91 | Holiday ER | 2012-12-01 | 60 | |
| 8 | 92 | My Head's Exploding | 2012-12-08 | 60 | |
| 9 | 93 | Diagnose Me! | 2012-12-15 | 60 | |
Season 8
| Episode No. | No. Overall | Title | Airdate | Runtime | Summary |
| --- | --- | --- | --- | --- | --- |
| 1 | 94 | Cows & Stilettos | 2013-10-06 | 60 | |
| 2 | 95 | Escaping Diagnosis | 2013-10-13 | 60 | |
| 3 | 96 | Cowboy Chaos | 2013-10-20 | 60 | |
| 4 | 97 | Belly Dancer Mystery | 2013-10-27 | 60 | |
| 5 | 98 | When It Rains | 2013-11-03 | 60 | |
| 6 | 99 | Chocolate Pudding | 2013-11-10 | 60 | |
| 7 | 100 | Rattled | 2013-11-17 | 60 | |
| 8 | 101 | Stuck in a Toilet | 2013-11-24 | 60 | |
| 9 | 102 | Headaches & Zombies | 2013-12-01 | 60 | |
| 10 | 103 | Twists & Turns | 2013-12-08 | 60 | |
| 11 | 104 | Dumpster Smash | 2013-12-15 | 60 | |
| 12 | 105 | Deep Trouble | 2013-12-22 | 60 | |
| 13 | 106 | Creepy Crawlies | 2013-12-29 | 60 | |
| 14 | 107 | Frozen! | 2014-01-05 | 60 | |
| 15 | 108 | Hit by a Train | 2014-01-12 | 60 | |
Season 9
| Episode No. | No. Overall | Title | Airdate | Runtime | Summary |
| --- | --- | --- | --- | --- | --- |
| 1 | 109 | Turtle Trouble | 2014-07-12 | 60 | |
| 2 | 110 | Skewered Skydivers | 2014-07-18 | 60 | |
| 3 | 111 | Dr. Epi | 2014-08-09 | 60 | |
| 4 | 112 | I Hate Doctors | 2014-08-01 | 60 | |
| 5 | 113 | Shredded! | 2014-08-08 | 60 | |
| 6 | 114 | Why Am I Blue? | 2014-08-15 | 60 | |
| 7 | 115 | Drama Mama | 2014-08-22 | 60 | |
| 8 | 116 | Clueless! | 2014-08-29 | 60 | |
| 9 | 117 | Craziest Cases | 2014-11-07 | 60 | |
| 10 | 118 | Don't Touch That! | 2014-11-14 | 60 | |
| 11 | 119 | Dr. Bikini | 2014-11-21 | 60 | |
| 12 | 120 | Don't Push It! | 2014-11-28 | 60 | |
| 13 | 121 | Plastered! | 2014-12-05 | 60 | |
| 14 | 122 | Punched! | 2014-12-12 | 60 | |
| 15 | 123 | Over-Juiced | 2014-12-26 | 60 | |
| 16 | 124 | Cop-Shocker | 2015-01-02 | 60 | |
| 17 | 125 | Out of Control | 2015-01-09 | 60 | A golfer's life-saving surgery; three nearly naked adults in the ER; a patient accidentally shot by his brother. |
| 18 | 126 | Drunk & Drunker | 2015-01-15 | 60 | |
| 19 | 127 | Twist & Shout | 2015-01-16 | 60 | |
| 20 | 128 | Party Fails | 2015-06-21 | 60 | |
| 21 | 129 | Celebration Stoppers | 2015-06-21 | 60 | |
| 22 | 130 | Creepy Crawlies | 2015-06-28 | 60 | |
| 23 | 131 | Worst Day Ever | 2015-06-28 | 60 | |
| 24 | 132 | Didn't See It Coming | 2015-06-28 | 60 | |
Season 10
| Episode No. | No. Overall | Title | Airdate | Runtime | Summary |
| --- | --- | --- | --- | --- | --- |
| 1 | 133 | Oh, Deer! | 2015-12-04 | 60 | A student's head is impaled by a trophy deer's antlers; a semi-conscious car crash victim; a woman with an allergic reaction. |
| 2 | 134 | Zombie Uprising | 2015-12-11 | 60 | A Halloween zombie with a problem below the belt mystifies doctors; two unconscious men are involved in an accident, a doctor makes a mistake that amazingly explains a patient's condition. |
| 3 | 135 | Size Matters | 2015-12-18 | 60 | A woman risks losing her finger after trying on an ill-fitting engagement ring; a body builder can't breathe and doctors are shocked to discover why; a gunshot victim. |
| 4 | 136 | Shocking! | 2016-01-01 | 60 | |
| 5 | 137 | Medieval Mayhem | 2016-01-08 | 60 | A man injured in a medieval role playing battle has a sword impaled in his head; a critically ill patient is so afraid of germs he won't allow doctors to treat him; two patients with the same life-threatening symptoms. |
| 6 | 138 | Face Off | 2016-01-15 | 60 | A woman's face-lift goes terribly wrong; a hospital chaplain's sudden personality change; a pregnant woman's life-threatening symptoms need urgent treatment. |
| 7 | 139 | Beyond Recognition | 2016-01-22 | 60 | A man's face and body suddenly double in size; a young woman is burning up from the inside out after a day at the beach; a grumpy old man nearly dies before revealing an emotional secret. |
| 8 | 140 | Who Shot Who? | 2016-01-29 | 60 | |
| 9 | 141 | I'm So Dead | 2016-02-05 | 60 | |
| 10 | 142 | Perform Storm | 2016-02-12 | 60 | A pregnant woman is shot in the abdomen; a doctor is the victim of a car burglary; a storm is preventing a patient's life-saving surgery. |
| 11 | 143 | Back from the Dead | 2016-02-19 | 60 | A pregnant woman's leg pain turns out to be flesh-eating virus, threatening life and limb; a Desert Storm war veteran swallows razor blades on a dare; a bride-to-be spends her wedding day in the ER after collapsing at the altar. |
| 12 | 144 | Labor Pains | 2016-02-26 | 60 | Panicked moms-to-be and their anxious partners delivering far outside of their birth plans. |
| 13 | 145 | Baby 911 | 2016-03-04 | 60 | Doctors faced with extraordinary challenges and young lives hanging in the balance. |
Season 11
| Episode No. | No. Overall | Title | Airdate | Runtime | Summary |
| --- | --- | --- | --- | --- | --- |
| 1 | 146 | Cracking the Case | 2016-09-09 | 60 | |
| 2 | 147 | Night of the Full Moon | 2016-09-23 | 60 | |
| 3 | 148 | Once Bitten | 2016-09-30 | 60 | When animals attack the results can be painful, poisonous and sometimes deadly. |
Season 12
| Episode No. | No. Overall | Title | Airdate | Runtime | Summary |
| --- | --- | --- | --- | --- | --- |
| 1 | 149 | Couch Creature | 2016-10-07 | 60 | A woman believes her neighbors want to kill her; a man is near death after an arrow pierces his chest; two women with swollen abdomens refuse to explain the cause of their pain. |
| 2 | 150 | Old School Medicine | 2016-10-14 | 60 | A man with a slashed wrist has a startling secret; a woman gives birth unexpectedly, shocking the ER staff; a surgeon requires urgent treatment after falling off a bed while trying to help his patient. |
| 3 | 151 | Raging Reunion | 2016-10-21 | 60 | |
| 4 | 152 | Heeled! | 2016-10-22 | 60 | A man is impaled in his abdomen by a stiletto heel; a seemingly healthy outdoorsman has a series of seizures that baffle his doctors; two patients make their doctor suspicious when they both complain about identical headaches that started during sex. |
| 5 | 153 | Doctor's Dilemma | 2016-10-29 | 60 | A young pregnant woman in labor begs the ER doctor to keep her pregnancy a secret from her father; twins share confusing symptoms; a man with no pulse or blood pressure is still alive and breathing. |
| 6 | 154 | Sleepover Nightmare | 2016-11-05 | 60 | A young boy at a sleepover party mysteriously loses control over his arms and legs; a woman is shot in the leg at her own bachelorette party; bubbles in a woman's arteries are causing a stroke. |
| 7 | 155 | Learning Pains | 2016-11-12 | 60 | A patient suddenly starts seizing; an ER physician is at a restaurant when she is thrown into an emergency situation to save a child; a pregnant woman's heart is racing. |
| 8 | 156 | Hockey Player Down | 2016-11-19 | 60 | A young girl is mysteriously paralyzed from the waist down; a young man complains of a splitting headache; a bride-to-be has appendicitis on her wedding day. |
| 9 | 157 | Dr. Robot | 2016-11-26 | 60 | Doctors use a robot to treat a seizing 7-year-old boy; a chef's tongue is swelling; a woman who crashed her car insists her injured dog be treated first. |
| 10 | 158 | Hiccup Circus | 2016-12-09 | 60 | A circus sword-swallower suffers from a persistent case of hiccups; a mother and daughter mysteriously collapse in the ER; a woman loses control of her legs at her daughter's graduation. |
Related News
The Battle To Rewrite Texas History
Christopher Hooks (Texasmonthly.com)
While a new generation of scholars is rewriting our history, supporters of the traditional narratives are fighting to keep their grip on the public imagination. While a new generation of scholars is rewriting Texas history, supporters of the traditional narra…
Article preview:
On the mild, cloudy day of April 14, 2015, exactly 150 years and five days after Confederate general Robert E. Lee surrendered to the Union Army at a courthouse in Virginia, an unusual spectacle took place in a committee room inside the Texas Capitol, the gro… [+27434 chars]
TVMaze