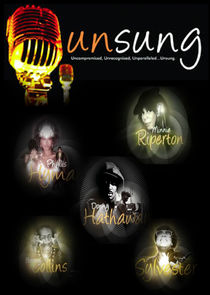 Unsung is a documentary series that takes a look at some of the top R&B and soul artists of the last several decades, many of whom are not household names. Narrated by actor Gary Anthony Williams, the NAACP Image Award-winning program features interviews with people who know the musicians well enough to tell the ups and downs of their careers. Episodes usually start with the story of an artist's upbringing before moving into the trials and tribulations faced as the subject searched for the big break early in his or her music career. The pinnacle of the performer's career plays out next, before a turning point that led to each one's career beginning a downward trend.
Series Overview
Rating
imDb Rating: 8.7 (296 Votes)
Metascore: N/A
Plot
A series that profiles some of the most influential, talented yet forgotten R&B, Soul and Gospel artists of the 1970s, '80s and '90s.
Details
Rated: TV-PG
Released: 27 Nov 2008
Runtime: 60 min
Genre: Documentary, Biography, History, Music
Director: N/A
Writer: N/A
Actors: Gary Anthony Williams
Language: English
Country: USA
Awards: 6 wins & 3 nominations.
Total Seasons: 11
Next Episode
Betty Wright
Episode 14x7; Apr 05, 2020
Previous Episode
Billy Paul
Episode 14x6; Mar 29, 2020
Episodes 14x8: Al Jarreau 14x7: Betty Wright 14x6: Billy Paul 14x5: Shannon 14x4: Skyy 14x3: Christopher Williams 14x2: Roxanne Shante 14x1: Dru Hill 13x8: Tasha Cobbs

View All Episodes
Cast
Gary Anthony Williams as Narrator
Al B. Sure! as Narrator
View Full Cast
Skip to:
Season 1
| Episode No. | No. Overall | Title | Airdate | Runtime | Summary |
| --- | --- | --- | --- | --- | --- |
| 1 | 1 | Phyllis Hyman | 2008-11-30 | 60 | |
| 2 | 2 | The Clark Sisters | 2008-12-01 | 60 | |
| 3 | 3 | Donny Hathaway | 2008-12-02 | 60 | |
| 4 | 4 | The Debarge Family | 2008-12-03 | 60 | |
Season 2
| Episode No. | No. Overall | Title | Airdate | Runtime | Summary |
| --- | --- | --- | --- | --- | --- |
| 1 | 5 | Minnie Riperton | 2009-06-07 | 60 | |
| 2 | 6 | Melba Moore | 2009-06-14 | 60 | |
| 3 | 7 | Shalamar | 2009-06-21 | 60 | |
| 4 | 8 | Florence Ballard | 2009-06-28 | 60 | |
| 5 | 9 | Teena Marie | 2009-11-01 | 60 | |
| 6 | 10 | Bootsy Collins | 2009-11-08 | 60 | |
| 7 | 11 | Klymaxx | 2009-11-15 | 60 | |
| 8 | 12 | Zapp and Roger | 2009-11-22 | 60 | |
Season 3
| Episode No. | No. Overall | Title | Airdate | Runtime | Summary |
| --- | --- | --- | --- | --- | --- |
| 1 | 13 | Rose Royce | 2010-03-22 | 60 | |
| 2 | 14 | Sylvester | 2010-03-29 | 60 | |
| 3 | 15 | Stacy Lattisaw | 2010-04-12 | 60 | |
| 4 | 16 | The Bar-Kays | 2010-04-19 | 60 | |
| 5 | 17 | Teddy Pendergrass | 2010-09-13 | 60 | |
| 6 | 18 | Tammi Terrell | 2010-09-20 | 60 | |
| 7 | 19 | Heatwave | 2010-09-27 | 60 | |
| 8 | 20 | Musical Youth | 2010-10-04 | 60 | |
| 9 | 21 | George Clinton | 2010-10-11 | 60 | |
| 10 | 22 | The Fat Boys | 2010-10-18 | 60 | |
| 11 | 23 | Angela Winbush | 2010-10-25 | 60 | |
| 12 | 24 | Miki Howard | 2010-11-01 | 60 | |
| 13 | 25 | The O'Jays | 2010-11-08 | 60 | |
Season 4
| Episode No. | No. Overall | Title | Airdate | Runtime | Summary |
| --- | --- | --- | --- | --- | --- |
| 1 | 26 | Deniece Williams | 2011-06-06 | 60 | |
| 2 | 27 | The Spinners | 2011-06-13 | 60 | |
| 3 | 28 | Alexander O'Neal & Cherrelle | 2011-06-20 | 60 | |
| 4 | 29 | Big Daddy Kane | 2011-06-27 | 60 | |
| 5 | 30 | The Ohio Players | 2011-07-04 | 60 | |
| 6 | 31 | Evelyn Champagne King | 2011-07-11 | 60 | |
| 7 | 32 | Billy Preston | 2011-07-25 | 60 | |
| 8 | 33 | The Sylvers | 2011-08-01 | 60 | |
| 9 | 34 | Mary Wells | 2011-08-15 | 60 | |
| 10 | 35 | Vesta Williams | 2012-01-02 | 60 | |
| 11 | 36 | Bobby Womack | 2012-01-09 | 60 | |
| 12 | 37 | Atlantic Starr | 2012-01-16 | 60 | |
| 13 | 38 | Freddie Jackson | 2012-01-23 | 60 | |
| 14 | 39 | Full Force | 2012-01-30 | 60 | |
| 15 | 40 | Millie Jackson | 2012-02-06 | 60 | |
| 16 | 41 | Ray Parker, Jr. | 2012-02-13 | 60 | |
Season 5
| Episode No. | No. Overall | Title | Airdate | Runtime | Summary |
| --- | --- | --- | --- | --- | --- |
| 1 | 42 | Sheila E. | 2012-02-27 | 60 | |
| 2 | 43 | David Ruffin | 2012-03-05 | 60 | |
| 3 | 44 | Whodini | 2012-03-12 | 60 | |
| 4 | 45 | Sly & The Family Stone | 2012-06-25 | 60 | |
| 5 | 46 | Angela Bofill | 2012-07-02 | 60 | |
| 6 | 47 | Con Funk Shun | 2012-07-09 | 60 | |
| 7 | 48 | Kool Moe Dee | 2012-07-16 | 60 | |
| 8 | 49 | The Marvelettes | 2012-07-23 | 60 | |
| 9 | 50 | Arrested Development | 2012-08-13 | 60 | |
| 10 | 51 | Gerald Levert | 2012-08-20 | 60 | |
| 11 | 52 | Isaac Hayes | 2013-01-23 | 60 | |
| 12 | 53 | Midnight Star | 2013-01-30 | 60 | |
| 13 | 54 | EPMD | 2013-02-06 | 60 | |
| 14 | 55 | Lou Rawls | 2013-02-13 | 60 | |
| 15 | 56 | Disco | 2013-02-20 | 120 | |
| 16 | 57 | Eddie Kendricks | 2013-02-27 | 60 | |
| 17 | 58 | The Whispers | 2013-03-06 | 60 | |
| 18 | 59 | Mint Condition | 2013-03-13 | 60 | |
| 19 | 60 | Johnny Gill | 2013-03-20 | 60 | |
Season 6
| Episode No. | No. Overall | Title | Airdate | Runtime | Summary |
| --- | --- | --- | --- | --- | --- |
| 1 | 61 | Heavy D & The Boyz | 2013-10-30 | 60 | |
| 2 | 62 | Lisa Lisa & Cult Jam | 2013-11-06 | 60 | |
| 3 | 63 | Geto Boys | 2013-11-13 | 60 | |
| 4 | 64 | The Delfonics | 2013-11-20 | 60 | |
| 5 | 65 | CeCe Peniston | 2013-11-27 | 60 | |
| 6 | 66 | Too $hort | 2014-01-29 | 60 | |
| 7 | 67 | The Manhattans | 2014-02-05 | 60 | |
| 8 | 68 | Gil Scott-Heron | 2014-02-12 | 60 | |
| 9 | 69 | Nile Rodgers & Chic | 2014-02-19 | 60 | |
Season 7
| Episode No. | No. Overall | Title | Airdate | Runtime | Summary |
| --- | --- | --- | --- | --- | --- |
| 1 | 70 | Montel Jordan | 2014-07-30 | 60 | |
| 2 | 71 | Hi-Five | 2014-08-06 | 60 | |
| 3 | 72 | The Emotions | 2014-08-13 | 60 | |
| 4 | 73 | Martha Wash | 2014-08-20 | 60 | |
| 5 | 74 | Troop | 2014-08-27 | 60 | |
| 6 | 75 | Bone Thugs-N-Harmony | 2014-09-03 | 60 | |
| 7 | 76 | Wilson Pickett | 2014-09-10 | 60 | |
| 8 | 77 | The Chi-Lites | 2014-09-17 | 60 | |
| 9 | 78 | Rick James | 2015-01-14 | 60 | |
| 10 | 79 | Peaches & Herb | 2015-01-21 | 60 | |
| 11 | 80 | Angie Stone | 2015-01-28 | 60 | |
| 12 | 81 | Meli'sa Morgan | 2015-02-04 | 60 | |
Season 8
| Episode No. | No. Overall | Title | Airdate | Runtime | Summary |
| --- | --- | --- | --- | --- | --- |
| 1 | 82 | Ike Turner | 2015-06-03 | 60 | |
| 2 | 83 | Otis Redding | 2015-06-10 | 60 | |
| 3 | 84 | DJ Quik | 2015-06-17 | 60 | |
| 4 | 85 | Chuck Brown and the Story of Go-Go | 2015-06-24 | 60 | |
| 5 | 86 | Unsung Revisited | 2015-07-01 | 60 | |
| 6 | 87 | Xscape | 2015-07-08 | 60 | |
| 7 | 88 | Kid 'N Play | 2015-07-15 | 60 | |
| 8 | 89 | Al B. Sure! | 2015-08-26 | 60 | |
| 9 | 90 | Yarbrough & Peoples | 2015-09-02 | 60 | |
| 10 | 91 | Force MDs | 2015-09-09 | 60 | |
| 11 | 92 | Yo-Yo | 2015-09-16 | 60 | |
| 12 | 93 | KC and The Sunshine Band | 2015-10-07 | 60 | |
| 13 | 94 | Kashif | 2015-10-14 | 60 | |
| 14 | 95 | Chantè Moore | 2015-10-28 | 60 | |
| 15 | 96 | Lakeside | 2015-10-28 | 60 | |
| 16 | 97 | H-Town | 2015-11-04 | 60 | |
| 17 | 98 | Jennifer Holliday | 2015-11-11 | 60 | |
| 18 | 99 | Nate Dogg | 2015-11-18 | 60 | |
| 19 | 100 | Sugarhill Gang | 2016-02-10 | 60 | |
| 20 | 101 | Patrice Rushen | 2016-02-17 | 60 | |
| 21 | 102 | Donnell Jones | 2016-02-24 | 60 | |
| 22 | 103 | Johnnie Taylor | 2016-03-02 | 60 | |
Season 9
| Episode No. | No. Overall | Title | Airdate | Runtime | Summary |
| --- | --- | --- | --- | --- | --- |
| 1 | 104 | Kelly Price | 2016-06-01 | 60 | |
| 2 | 105 | Next | 2016-06-08 | 60 | |
| 3 | 106 | Kwame | 2016-06-15 | 60 | |
| 4 | 107 | E-40 | 2016-06-22 | 60 | |
| 5 | 108 | Monifah | 2016-08-17 | 60 | |
| 6 | 109 | Howard Hewett | 2016-08-24 | 60 | |
| 7 | 110 | Kurupt | 2016-11-23 | 60 | Widely regarded as one of the greatest rap lyricists ever, Kurupt might be your favorite rapper's favorite rapper. He became a household name recording with longtime friends Snoop Dogg, Dr. Dre and Nate Dogg at the height of the Death Row Records era in the 1990's. |
| 8 | 111 | Frankie Knuckles and The Roots of House Music | 2016-11-30 | 60 | For three decades and counting, house music has dominated the dance floors by mixing the sonic innovation of hip hop with the ecstasy of soul and dance floor disco. Legendary djs, including rare interviews from the man known as the godfather of house – the late frankie knuckles – tell the story of an underground music that changed the world. |
| 9 | 112 | Bobby Blue Bland | 2016-12-07 | 60 | Known as one of the best voices in the business, Bobby "Blue" Bland's career spanned sixty years. With sixty-three charting singles, including the powerful, "Ain't No Love in the Heart of the City," Bobby had a sound ahead of his time, but needed the help of his wife to order his steps, and keep him from an early grave. Overcoming his demons, and learning deficiencies Bobby's legacy was cemented by his induction into the Rock and Roll hall of fame. |
Season 10
| Episode No. | No. Overall | Title | Airdate | Runtime | Summary |
| --- | --- | --- | --- | --- | --- |
| 1 | 113 | SWV | 2017-01-04 | 60 | |
| 2 | 114 | Fat Joe | 2017-01-11 | 60 | |
| 3 | 115 | Jon B. | 2017-01-18 | 60 | |
| 4 | 116 | Lenny Williams | 2017-01-25 | 60 | |
| 5 | 117 | Case | 2017-02-01 | 60 | |
| 6 | 118 | Dave Hollister | 2017-02-08 | 60 | |
| 7 | 119 | After 7 | 2017-02-15 | 60 | |
| 8 | 120 | A Tribute To James Brown | 2017-02-22 | 60 | |
Season 11
| Episode No. | No. Overall | Title | Airdate | Runtime | Summary |
| --- | --- | --- | --- | --- | --- |
| 1 | 121 | Wyclef Jean | 2017-07-09 | 60 | Wyclef Jean skyrockets to fame with his group, The Fugees, in the late '90s; hits like "We're Trying to Stay Alive'' and "Gone Till November.'' |
| 2 | 122 | Jagged Edge | 2017-07-09 | 60 | The melodic harmonies of Jagged Edge dominate the early 2000s with back-to-back No. 1 hits and two double-platinum albums. |
| 3 | 123 | Marvin Sapp | 2017-07-16 | 60 | Marvin Sapp spreads the Gospel through song for over three decades; dominating the gospel charts in the 2000s with seven Top 10 hits. |
| 4 | 124 | Switch | 2017-07-23 | 60 | Switch, the multi-talented, multi-instrumental Midwestern powerhouse band bursts onto the black music scene as newcomers to the legendary Motown roster in the mid-'70s. |
| 5 | 125 | The Dramatics | 2017-07-30 | 60 | Through the '70s, The Dramatics take the five-man vocal group to another level by seamlessly mixing powerful and piercing lead vocals with silky harmonies. |
| 6 | 126 | Shanice | 2017-08-06 | 60 | Shanice exploded on the worldwide stage in the early 90's with the four simple words "I Love Your Smile.'' |
| 7 | 127 | Ice-T | 2017-08-13 | 60 | With a no nonsense style and larger than life persona, Ice-T has lived nine lives: pimp, bank robber, DJ, army officer, con man and even award winning actor and producer. |
Series Cast
| | | | |
| --- | --- | --- | --- |
| | Gary Anthony Williams | as Narrator | |
| | Al B. Sure! | as Narrator | |
Series Crew
| | Position | Name |
| --- | --- | --- |
| | Executive Producer | Kent Weed |
| | Executive Producer | Frank Sinton |
| | Co-Executive Producer | Mark Rowland |
| | Executive Producer | Arthur Smith |
Related News
TVMaze