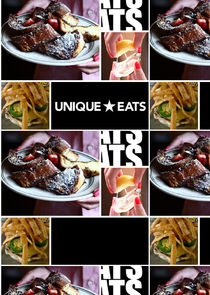 Unique Eats spotlights America's most exciting and revolutionary restaurants. It's the first look and the last word in everything extreme in food today. The locations range from high-end dining rooms to casual neighborhood treasures, and even roving eateries with no permanent addresses. We seek out the most amazing examples of modern dining across America.
Series Overview
Rating
imDb Rating: 7.5 (66 Votes)
Metascore: N/A
Plot
They travel across the country to find the most unique and exciting dishes in America.
Details
Rated: N/A
Released: 31 May 2010
Runtime: 30 min
Genre: N/A
Director: N/A
Writer: N/A
Actors: Lee Anne Wong, Tamara Reynolds, Amanda Freitag, Ian Knauer
Language: English
Country: USA
Awards: N/A
Total Seasons: 6
Previous Episode
Ethnic Eats
Episode 6x12; Oct 27, 2013
Authentic global flavors can be savored right here in America. Folks craving Mediterranean and Israeli food flock to charming Balaboosta in New York. Popular Nashville food truck Riff's Fine Street Food marries Caribbean and Asian flavors. At Cook's Torta in Los Angeles, there's always a crowd for their Latin-style sandwiches, while Pecking Order in Chicago serves Filipino-style chicken that comes roasted, grilled or fried.
Previous Episodes 6x12: Ethnic Eats 6x11: Hot Lunch Spots 6x10: Small Bites 6x9: New Asian 6x8: Reinvention 6x7: Modern Italian 6x6: Innovators 6x5: Chi-Town 6x4: Swine

View All Episodes
Skip to:
Season 1
| Episode No. | No. Overall | Title | Airdate | Runtime | Summary |
| --- | --- | --- | --- | --- | --- |
| 1 | 1 | Comfort Food | 2010-05-31 | 30 | We take you to some of the most unique eateries in New York City that are serving up their twists on comfort food staples. A rowdy meatball joint on the Lower East Side, a bustling restaurant serving knockout chicken and waffles in Brooklyn, an eco-friendly hot dog haven where the chef makes the condiments from scratch and a burger and fries shack in the middle of the city that boasts lines down the block every day. |
| 2 | 2 | Meats | 2010-05-31 | 30 | We'll find out why the burger at Minetta Tavern is the most talked about burger in town and what makes this eatery top everyone's reservation hot list. Plus, starred chef Daniel Boulud takes us inside his first downtown eatery for an international tour of his house-made sausages. And, there's nothing more unique than a restaurant that specializes in every kind of grilled meat imaginable -- and it's all you can eat. |
| 3 | 3 | Desserts | 2010-06-14 | 30 | Visit a pie shop in Brooklyn where they sell by the slice and are sold out within hours every single day. Discover an ice cream truck that sells artisanal ice creams with specialty ingredients sourced from around the world, and stop by a bakery filled with treats so good, you'd be shocked to know they never use butter, eggs, milk or flour. |
| 4 | 4 | Gastropubs | 2010-06-21 | 30 | These are places where the drink list may be long, but the dining is the real reason to visit. We meet the chef who brought the tradition of gastropubs over from England and experience her nose-to-tail cooking. Then, a gastropub that serves American favorites like hot dogs and tater tots, but this fare is far from the ordinary. Plus, a traditional German-style beer hall that boasts the best homemade charcuterie in town. |
| 5 | 5 | Hand-Held Eats | 2010-07-12 | 30 | The meals are hand-held at these hot spots, but the unique flavors are the big attraction. Authentic Mexican cuisine pioneer Rick Bayless celebrates Mexico's most beloved street food and snacks, while two brothers bring decadent Italian toasts to one of New York's hippest neighborhoods. A Top Chef winner turns traditional Eastern-European cuisine on its head with inspirations from his own Scottish-Israeli heritage. And a former fine dining chef feeds the need for cheese on the streets of Los Angeles, one gourmet grilled cheese sandwich at a time. |
| 6 | 6 | Americana | 2010-07-19 | 30 | From heavy metal-inspired burgers in Chicago and stick-to-your-ribs barbecue in Brooklyn to a downtown LA hot spot taking desserts to new heights and the craziest ice cream creations you can fit on a cone, classic American fare gets the royal treatment at these extraordinary spots. |
| 7 | 7 | Adventure | 2010-08-02 | 30 | We're taking you on a gastro tour of some of the most adventurous efforts in dining today. From a nine-course underground dinner party to a double-decker bus serving gourmet comfort food and an all-out Beef Seven Ways feast, these unique culinary adventures are not to be missed. |
| 8 | 8 | Food Fantasy | 2010-08-09 | 30 | Imagination roams free at these amazing dining spots where food and fantasy meet. A pioneer chef in molecular gastronomy pushes the boundaries between food, science and art at WD-50, while culinary innovator Jose Andres offers up a collection of magical dining experiences entwined in an artistic Spanish-inspired setting at The Bazaar. Plus, get an inside glimpse at an exclusive Hollywood speakeasy serving tea-inspired tastings to LA's most elite eaters. |
| 9 | 9 | Great Spaces | 2010-08-16 | 30 | Take a tour of the most unique places and spaces in dining today, from a food truck serving the most delectable Korean-Mexican dishes on four wheels and a bowling-alley-cum-music-venue boasting its own special Blue Ribbon menu to a locally inspired farm table dinner requiring reservations up to a year in advance. |
| 10 | 10 | Italian | 2010-08-23 | 30 | Classic Italian meets passion, authenticity and innovation at these noteworthy restaurants. Vetri has been called one of the best Italian restaurants in America, presenting simple, fresh and authentic Italian dishes in utterly unique ways. Chef Nate Appleman brings gourmet savory and dessert pizzas to Pulino's from brunch to late night, while Porchetta's Sara Jenkins draws a steady stream of the hip and hungry to the Lower East Side with her drop-dead-delicious pork. |
Season 2
| Episode No. | No. Overall | Title | Airdate | Runtime | Summary |
| --- | --- | --- | --- | --- | --- |
| 1 | 11 | Brunch | 2010-11-21 | 30 | Indulge your weekend cravings at some of the most unique brunch spots from the nation's capitol and New York to the Pacific Northwest. Check out a do-it-yourself pancake house, savor Italian versions of brunch favorites, dive into over-the-top sweets and treat yourself to an upscale brunch you won't forget. |
| 2 | 12 | Late-Night Eats | 2010-11-28 | 30 | Check out the eateries that serve food late into the night From never-seen-before doughnuts and crepes filled with decadent ingredients to a Korean feast cooked tableside and a soul-satisfying meal that includes everything from the nose to the tail, these spots are definitely worth staying up late for! |
| 3 | 13 | Cupcakes | 2010-12-05 | 30 | We're taking you from coast to coast to taste the most unique cupcakes in the country. Indulge in artisanal cupcakes paired with beer and wine, stuff yourself with custard-filled cupcakes, take a trip to the frosting bar to create your own unique combination and take your cupcakes to go in a jar! |
| 4 | 14 | Southern Favorites | 2010-12-12 | 30 | We highlight some of the most unique takes on Southern home cooking. From fiery hot chicken in Brooklyn and Southern heavies that are actually light and healthy to a decadent Southern Sunday brunch in Portland, OR, and a "Meat and Three" supper in Atlanta you'll want every night of the week. |
| 5 | 15 | Burgers | 2010-12-19 | 30 | Come see what's between the buns at these burger joints that are taking the American classic to the next level. Whether it's with foie gras in Philly, pimento cheese in Atlanta, umami in Los Angeles or truffles in New York, these burgers will blow your culinary mind! |
| 6 | 16 | Ice Cream | 2010-12-26 | 30 | If you like ice cream, you will be wowed by these unique treats. How about bourbon and corn flake flavored scoops at Humphry Slocombe? Or the sweets at Sweet Rose Creamery where everything from the cones to the chocolate chips are made from scratch? And don't forget to visit the Dairy Godmother for unique ice pop flavors like grilled pineapple and pink peppercorn. |
| 7 | 17 | Sandwiches | 2011-01-23 | 30 | We're showing you unique sandwiches from across the country and the people who make them so special. A Jewish deli in New York with roots in Montreal is serving up their signature smoked meat. Classically trained French chefs in San Francisco are upgrading some Asian classics while just down the street, a hands-on chef from Massachusetts is making everything from scratch. And in Portland, OR, three friends from North Carolina are turning out the best biscuit sandwiches in town. |
| 8 | 18 | Chocolate | 2011-02-06 | 30 | Give in to your cravings at these unique hot spots that make everything you could ever desire in chocolate! From gourmet confections like chocolate fleur de sel toffee and nostalgic baked treats like whoopie pies to outrageous hand-formed chocolate salami and chocolate sea salt crostatas, these handmade treats will tantalize your taste buds. |
| 9 | 19 | Street Food | 2011-02-20 | 30 | These unique eateries churn out some of the best street foods on the planet. Enjoy authentic Thai dishes in Portland, Oregon. Feast on succulent chicken and porchetta from a rolling rotisserie truck in San Francisco. Bite into coconut jam sandwiches in Los Angeles and grab a Belgian waffle to go in Portland. |
| 10 | 20 | Extreme Farm to Table | 2011-02-27 | 30 | Farm-to-table dining has certainly swept the nation, but these locations take the idea to the extreme. At Blue Hill at Stone Barns, they take farming to a scientific and educational level, then turn the fruits of their labor into fine dining. At Dinners at the Farm, you dine under the stars on the very farm where the ingredients were picked moments ago. And at Ubuntu, where the plates are like works of art, even meat eaters eat their vegetables -- and love it. |
| 11 | 21 | Drinks | 2011-03-06 | 30 | Check out creativity at its best at these eateries where it's not just about the food, but also the unique drinks. Visit a java boutique where coffee drinks come in the most unique flavors, a brew pub where the beer menu reads like a book and the ales are used in the dishes too, a Mexican eatery shaking up margaritas and mezcals in unusual combinations and a prohibition-style gin joint where even the ice is carefully crafted. |
| 12 | 22 | Cheese | 2011-03-13 | 30 | Everything is better with cheese, and these restaurants will show you why. Take a tour of a cheese cave and enjoy a world-renowned fondue and cheesecake in New York. Find out how many cheeses can fit into one macaroni and cheese dish in Connecticut. And enjoy some of the most unique and sought-after grilled cheese sandwiches in San Francisco. |
| 13 | 23 | Small Plates | 2011-03-27 | 30 | Small plates with big flavors are the attraction at these restaurants. Enjoy unique tapas in one of Boston's hottest hangouts, Peruvian seafood specialties by the bay in San Francisco, Mediterranean bites in Los Angeles and Southern twists on American comfort food in Charleston, South Carolina. |
Season 3
| Episode No. | No. Overall | Title | Airdate | Runtime | Summary |
| --- | --- | --- | --- | --- | --- |
| 1 | 24 | Seafood | 2011-04-03 | 30 | Roll up your sleeves and get ready to dive into some of the most unique seafood dishes. Discover a traditional oyster roast and seafood boil prepared right on the water in Charleston, South Carolina. Visit a New York restaurant that features 25 different mussel pots and a cozy restaurant in the heart of Boston's North End where you can get two different lobster rolls and lobster spaghetti. And stop by Montreal, Canada, where a Texas chef adds global flavors to his seafood menu. |
| 2 | 25 | Asian | 2011-04-10 | 30 | We've found the most unique Asian food in the country. Find out where all the foodies go to fill their bellies with the best dumplings and noodles in Chicago. Take a seat at the bar and be dazzled by Japanese robata-style cooking in New York City's East Village. Sample creative Chinese cooking like tea-smoked chicken, salt and pepper shrimp and steamed duck egg custards in North Carolina. And step inside a funky retro diner in Boston where a husband and wife team serve up innovative Cantonese and Taiwanese dishes. |
| 3 | 26 | Delis | 2011-04-17 | 30 | We're checking out some of the most unique delis in the country. Deli by day, intimate restaurant at night, Torrisi Italian Specialities in New York's Little Italy neighborhood is celebrating Italian-American food but peppered with many modern and delicious twists. Joan's on Third is the go-to gourmet deli in Los Angeles where you can rub elbows with celebrities while devouring a grilled cheese short rib sandwich. The humble hot dog gets a culinary upgrade at Neal's Deli in North Carolina, and for Jewish delicatessen classics just like bubby used to make, step into Eleven City Diner in Chicago. |
| 4 | 27 | Pubs | 2011-04-24 | 30 | Pull up a barstool at these unique pubs where the food is delicious and daring. Step into Joe Beef in Montreal for their signature creamy lobster spaghetti, rich Swedish Meatballs and indulgent Foie Gras. Visit Double D. Longman and Eagle in Chicago where there is a critically acclaimed gastropub downstairs and a cozy inn upstairs. Go to Citizen Public House in Boston for the Carpetbagger, a filet mignon with fried oysters and oyster butter. And, it's a step back in time at Henry Public in Brooklyn for pre-prohibition cocktails and comfort foods like braised turkey sandwiches and made-to-order doughnuts. |
| 5 | 28 | Pizza | 2011-06-05 | 30 | The beloved American comfort food is raised to new culinary heights. |
| 6 | 29 | BBQ | 2011-06-12 | 30 | It's a delicious taste of barbecue across America! Whether you like it pulled or chopped, you're guaranteed the best whole hog sandwich made by a legendary pit master in North Carolina. See why people line up early at an Austin eatery that serves the very best Central Texas-style brisket, ribs and something called the "Tipsy Texan." Follow the smoke signals to New Orleans, where three Southern brothers cook barbecue tacos and smoked pork cakes in a one hundred-year-old house. And big global flavors mingle with barbecue at a small restaurant in Williamsburg, New York. |
| 7 | 30 | Neighborhood Gems | 2011-06-19 | 30 | We're featuring neighborhood gems that have become restaurant legends. |
| 8 | 31 | Chicken | 2011-06-26 | 30 | Whether it's fried, roasted, or grilled, it's all about the chicken. |
| 9 | 32 | Cheap Eats | 2011-07-03 | 30 | If you're hungry for big flavors without breaking the bank, these unique cheap eats will deliver. In Chicago, a honky-tonk whiskey bar serves amazing tacos, and a small restaurant dresses house-made haute hot dogs and sausages with global flavors. In downtown New York, students flock to a delicious Cambodian sandwich shop the size of a dorm room, while in Williamsburg, Brooklyn, a quirky Venezuelan restaurant offers 17 different arepas that will fill you up quickly. |
| 10 | 33 | Bistro | 2011-07-10 | 30 | You don't have to go all the way to Europe to have the best bistro fare. In Los Angeles, a hip, new restaurant updates French bistro classics, while in Boston, seafood is highlighted in the famous Provencal dish, bouillabaisse. La Fourchette in South Carolina celebrates hearty French countryside dishes, and at Landmarc in Tribeca, Chef Marc Murphy pays homage to the foods he grew up eating in France and Italy. |
| 11 | 34 | Lunch Spots | 2011-07-17 | 30 | Longing to take a leisurely lunch break? Try these unique lunch spots. |
| 12 | 35 | Fried Food | 2011-07-24 | 30 | We're checking out the most unique spots for the ultimate guilty pleasure, fried food. At La Banquise in Montreal, choose from 25 different toppings to go with your poutine. Also in Montreal, a fish and chips shop offers different fish and unique batters like orange soda and maple syrup. In Brooklyn, fried risotto balls go gourmet with unique sweet and savory fillings, and in Austin, Texas, big fat doughnuts are piled high with the craziest combinations like deconstructed peach cobbler, fried chicken and honey butter. |
| 13 | 36 | Wine Bars | 2011-07-31 | 30 | Some of the country's best wine bars are serving innovative small plates to go with your glass or bottle. Simple, rustic Italian dishes shine at Terroir in Tribeca, New York, and at the Purple Pig in Chicago, a young chef impresses with his Mediterranean menu. At Cochon Butcher in New Orleans, shop for provisions and then have a delicious bite to eat and a glass of wine to sip. And at Max's Wine Dive in Austin, Texas, the portions and flavors of their American comfort food menu is anything but small. |
Season 4
| Episode No. | No. Overall | Title | Airdate | Runtime | Summary |
| --- | --- | --- | --- | --- | --- |
| 1 | 37 | Queens | 2011-11-28 | 30 | Taste your way through Queens, New York, and experience something culturally diverse and utterly unique. Check out Egyptian clay pot cooking, Mexican delights from scratch, grilled cheese in all of its gooey glory and Korean dishes where the atmosphere experience is just as thrilling as the food. |
| 2 | 38 | Between the Bun | 2011-12-04 | 30 | Forget the traditional hamburger, these meals between with bun are truly unique. Get a taste of gourmet hotdogs and sausages made from almost anything you can imagine, sandwiches with the most unusually tasty combinations, biscuits stuffed with ooey goodness and that all-time favorite, the burger. |
| 3 | 39 | Mexican | 2012-01-01 | 30 | We discover amazing Mexican food with a twist. Dive into a Mexican brunch in Boulder, Colorado. Find out how one chef in New York is really breaking the mold. Feast on small delicacies in Washington, DC, and then head to Cleveland for a grocery store-turned Mexican food hot spot. |
| 4 | 40 | Bar Food | 2012-01-08 | 30 | When you're out having a drink, you gotta have food to soak it up. So why not dig into something beautifully prepared and utterly unique, yet still sinfully delicious? Taste a devilish concoction called The New Luther, a hearty and addictive steak and kidney pie, a total twist on chicken wings and a curious bar snack called Num Nuts. |
| 5 | 41 | Eat & Sleep | 2012-01-15 | 30 | We travel across the country to visit great getaways. From a luxury seaside spa and restaurant and a romantic getaway nestled in the woods to a summer camp for grownups serving unique dishes fresh from the local farms and sea, the food is just as worthy of the trip as the lodging itself! |
| 6 | 42 | Maine Weekend | 2012-01-22 | 30 | Maine is a great vacation spot and a fantastic food destination. Feast at a Portland farm-to-table legend, dive into the most unique lobster rolls, stay at a resort serving innovative fare and don't forget that whoopie pie for dessert! |
| 7 | 43 | Wine Country Weekend | 2012-02-12 | 30 | Excite your palate with a gastronomical weekend in California Wine Country. Indulge in fried chicken at the more casual sister restaurant of a local legend, twirl your fork through unique pasta dishes, make room for amazing Mexican fare done right and find out how a "Truckstop Deluxe" fits right in, even in Napa Valley. |
| 8 | 44 | Local Legends | 2012-02-19 | 30 | These are eateries that have quickly become famous food destinations. From Ogunquit, Maine, and Cleveland to Baltimore and San Francisco, these restaurants showcase unique and pioneering dishes that turn first-time customers into long-time fans. |
| 9 | 45 | Dirt Cheap & Delicious | 2012-02-26 | 30 | You don't need to sacrifice taste to eat cheap at these joints. We're off to Cleveland for a pulled pork PBLT and squash dumplings, Brooklyn for an outdoor food market with a bevy of satisfying barbecue and biscuits, Washington, DC, for spicy Asian fare and finally Austin, Texas, where the weird tastes wonderful. |
| 10 | 46 | Food by Fire | 2012-03-04 | 30 | We're taking food back to its roots -- cooked by open flames but in new and inspiring ways. We discover the most unique dish to come out of the ashes, dive into Dungeness crab from a coal-stoked grill, savor skewers licked by flames and devour delights from a wood-burning oven. |
| 11 | 47 | Portland Weekend | 2012-03-18 | 30 | Spend a food-filled weekend in Portland, Oregon, where up and coming innovators meet local legends. Enjoy a breakfast of baked eggs and tomato stew, your favorite comfort foods turned into dumplings and Asian street food turned on its head. |
| 12 | 48 | Pasta | 2012-03-25 | 30 | Forget ordinary pasta with red sauce, we're visiting restaurants that are turning out pasta dishes like nothing you've tasted before in San Francisco, New York, Seattle and Boulder, Colorado. |
| 13 | 49 | Philadelphia Weekend | 2012-04-22 | 30 | Spend a weekend in the city of Brotherly Love and discover some truly unique eats. From exciting Spanish tapas and gut-busting Philly-style sandwiches to an osteria creating inventive Italian classics and an eatery dedicated to fried chicken and doughnuts, you'll feel as though you have tasted your way across the world. |
Season 5
| Episode No. | No. Overall | Title | Airdate | Runtime | Summary |
| --- | --- | --- | --- | --- | --- |
| 1 | 50 | Eat Your Veggies | 2012-04-29 | 30 | We travel from the east coast to the west, discovering restaurants that are creating truly innovative dishes with vegetables. This isn't just about a healthy diet, it's about completely changing the way you eat your veggies. |
| 2 | 51 | Craving Comfort | 2012-05-06 | 30 | Dive into the most unique variations of your favorite comfort foods. Double the fun with a pie filled with macaroni and cheese, crunch on nachos with a Japanese twist, indulge in doughnuts filled with jelly and foie gras or end your meal with a good old-fashioned chocolate cupcake -- with bacon. |
| 3 | 52 | Seafood | 2012-05-13 | 30 | Take a tour of restaurants with unique takes on seafood standards. In Philadelphia, oysters are smoked with hay, while in Portland, Oregon, you can savor a pot pie filled with local fish and shellfish. And how about a fish sandwich like you've never had before? It's all about the ocean's bounty served in the most one-of-a-kind way. |
| 4 | 53 | Hot Spots | 2012-05-27 | 30 | Find out what the buzz is all about at these dining hot spots across the country. Visit a San Francisco legend turning Chinese food on its head, a New York City favorite where American classics get a twist and a cozy Portland, Oregon, favorite where the menu changes every night. After this, you'll be calling for a reservation. |
| 5 | 54 | Nostalgic Noshes | 2012-06-10 | 30 | Join us for a trip down memory lane as we discover restaurants serving dishes that are reminiscent of the old days but with a deliciously modern twist. A renowned chef updates the Asian dishes from his childhood. Another takes good old British pub fare and throws in a curveball. And then there are savory pies brought to a whole new level and American barbecue that will reawaken your taste buds. |
| 6 | 55 | Romantic Spots | 2012-06-17 | 30 | We tour the Big Apple, dipping into eateries that are perfect for you and that special someone. Whether it's a first date or the tenth, a budding romance or the finale to a steamy weekend, these are the romantic hot spots to put in your little black book. |
| 7 | 56 | Global | 2012-06-24 | 30 | We travel across the country to taste our way across the globe. From New York to Las Vegas, we meet chefs who are creating extraordinary dishes that make you feel as though you've traveled to another continent. |
| 8 | 57 | Mash-Ups | 2012-07-01 | 30 | We're celebrating the best of all worlds with restaurants that mix different ethnic traditions to create new and unique flavors. A chef in Houston combines Texas tradition with Italian standards. In Las Vegas, burgers are flavored with Asian ingredients, while Japanese-Peruvian dishes are all the buzz at a Los Angeles hot spot. It's a mouthwatering journey of culinary mashups. |
| 9 | 58 | Hot & Spicy | 2012-07-08 | 30 | We're visiting hot spots around the country that are literally spicing it up in the kitchen. From dishes that will set your mouth on fire to plates with just enough heat to make your eyes water, find out why people keep coming back for more. |
| 10 | 59 | Off The Grid | 2012-07-15 | 30 | Go off the beaten path and visit extraordinary eateries that are unknown to the average tourist. Stop by a rustic Italian restaurant in Staten Island, New York, where the nonnas are in charge, a perfect pizza joint outside the bright lights of Las Vegas, a dining destination only for those in the know in Hawaii and a cool spot for shaved ice under the palm trees. |
| 11 | 60 | Vegas | 2012-07-22 | 30 | Interesting restaurants in Las Vegas. |
| 12 | 61 | Polynesian Paradise | 2012-08-26 | 30 | We're taking a trip to the 50th state for an indulgent culinary weekend, finding out which chefs and restaurants make Hawaii a true foodie destination. From unique takes on traditional Hawaiian seafood to inventive drinks to keep you cool b |
| 13 | 62 | Houston Weekend | 2012-09-02 | 30 | Spend 36 hours in Houston with us for a unique culinary tour of the most innovative restaurants. Whether it's big Texas beef plates or spicy Tex-Mex mashups, this is a feast that will have you booking your ticket to the Lone Star State right away. |
Season 6
| Episode No. | No. Overall | Title | Airdate | Runtime | Summary |
| --- | --- | --- | --- | --- | --- |
| 1 | 63 | Guilty Pleasures | 2013-08-04 | 30 | We feature restaurants that are pushing the envelope on some of America's beloved comfort foods. Plan Check in Los Angeles offers the most indulgent burgers, fried chicken and pastrami sandwiches, plus a unique towering doughnut dessert. A food truck in Nashville uses big, fat biscuits for hearty sweet and savory sandwiches. Cold fried chicken and baked potatoes are transformed into imaginative pizzas at Pete Zaaz in Brooklyn. And, in Atlanta, guilty pleasures can be found in creative hot dogs, sausages and fries at HD1. |
| 2 | 64 | Old School | 2013-08-11 | 30 | We're looking for the most unique old-school eats across America. Yardbird in Miami gives a taste of the true South with its fried chicken and fried green tomatoes. Dinic's in Philadelphia's Reading Terminal has been serving up some of the best old-school sandwiches to crowds for decades. In New York, old school meets new school at Quality Meats steakhouse, while La Camaronera in the Little Havana neighborhood of Miami honors a family seafood tradition. |
| 3 | 65 | Hotlanta | 2013-08-18 | 30 | Atlanta is a hotbed for unique eats. Heirloom Market BBQ brings together Korean and American barbecue in a quirky roadside eatery. Seafood dishes are brought to delicious new heights at swank newcomer The Optimist, while cozy corner restaur |
| 4 | 66 | Swine | 2013-08-25 | 30 | Americans continue to pine over all things swine. Korean restaurant Palsaik in Los Angeles serves bacon in eight different flavors. Martin's Bar-B-Q in Nashville smokes whole hog right in the center of their dining room. At Cemitas Puebla in Chicago, diners sink their teeth on quesadillas stuffed with chicharones or their signature Mexican sandwich stuffed with sliced deli ham, fried pork and grilled pork. New York's The Cannibal celebrates nose-to-tail eating with their whole slow-roasted half pig's head, whipped lardo toast and boudin noir sausages. |
| 5 | 67 | Chi-Town | 2013-09-01 | 30 | Chicago continues to draw hungry foodies from all corners of the country with their innovative restaurants. Publican Quality Meats sells farm-raised meats and housemade charcuterie from their butcher counter, but the real draw is the hearty, meat-filled sandwiches. Yusho creates a buzz with their creative Asian-inspired street food. Antique Taco in Wicker Park offers authentic Mexican tacos and classic American comforts foods with a Mexican twist. Familiar brunch dishes get a fine-dining makeover at the Trenchermen. |
| 6 | 68 | Innovators | 2013-09-08 | 30 | Chef Paul Qui of East Side King in Austin; chef Matt Lightner of New York City's Atera; an innovator keeps it kosher in Philadelphia; a couple's Los Angeles restaurant serves pan-Asian fare. |
| 7 | 69 | Modern Italian | 2013-09-15 | 30 | New York City's Parm serves Italian-American sandwiches; Italian comfort food is paired with beer at a gastropub in Philadelphia; fresh and dried pastas made with unusual ingredients; Italian sausages with a Southern twist. |
| 8 | 70 | Reinvention | 2013-09-22 | 30 | We love classic dishes, but appreciate when they're uniquely reinvented. The Wakin' and Bakin' Brunch at Eating House in Miami, Florida, has something new for both savory and sweet lovers. Lucy's Fried Chicken in Austin, Texas, spruces up the traditional fried chicken dinner with lots of creative fixings and sides, while Josh's Deli in Surfside, Florida, brings the traditional Jewish deli to a whole new level by reinventing the ubiquitous matzoh ball into gnocchi. And Easy Tiger in Austin combines an artisanal bakery with a beer hall. |
| 9 | 71 | New Asian | 2013-09-29 | 30 | We've found the most unique new Asian eats across the country. In Austin, Texas, an authentic ramen house is taking classic broths and adding intense flavors. At Pubbelly in Miami, Florida, the pig is big and served at this gastropub in uni |
| 10 | 72 | Small Bites | 2013-10-06 | 30 | It's easy to sample everything on the menu when it comes in the form of small bites. My Ceviche in Miami Beach, Florida, keeps it light with the freshest local fish and zesty dressings that define the traditionally Latin-American ceviche dishes. Barley Swine in Austin, Texas, features 13-15 small plates a day, each highlighting ingredients from the local farmers' market. Amis in Philadelphia puts a twist on classic Roman trattoria food where diners are encouraged to order several dishes to share, and Momo Sushi Shack in Bushwick, Brooklyn, serves sushi and dumplings that have Manhattanites crawling through the tunnel to try. |
| 11 | 73 | Hot Lunch Spots | 2013-10-13 | 30 | The lunch hour just got a little longer because the dishes at these restaurants are meant to be savored. Perla in New York City's West Village serves rich Italian sandwiches and delicious pizzas. It's all about the unique "baco" sandwich served daily at Baco Mercat in downtown Los Angeles. At Local Three Kitchen and Bar, diners order fast food classics without the guilt because only fresh, top-quality ingredients are used. Merchants Restaurant in downtown Nashville is a quiet retreat from bustling Broadway and serves elegant Southern food. |
| 12 | 74 | Ethnic Eats | 2013-10-27 | 30 | Authentic global flavors can be savored right here in America. Folks craving Mediterranean and Israeli food flock to charming Balaboosta in New York. Popular Nashville food truck Riff's Fine Street Food marries Caribbean and Asian flavors. At Cook's Torta in Los Angeles, there's always a crowd for their Latin-style sandwiches, while Pecking Order in Chicago serves Filipino-style chicken that comes roasted, grilled or fried. |
Related News
TVMaze