Female intelligence agents infiltrate the disparate aspects of a Colombian cartel in an attempt to take down the drug lords and their associates.
Series Overview
Rating
imDb Rating: 8.3 (98 Votes)
Metascore: N/A
Plot
A compelling mixture of a taught thriller and Latin telenova, made by Netflix. A Colombian product of characters who infiltrate the drug / narco scene to work undercover from the inside. ...
Details
Rated: N/A
Released: N/A
Runtime: N/A
Genre: N/A
Director: N/A
Writer: N/A
Actors: Patrick Forster-Delmas, Luis Mesa, Toto Vega, María Cecilia Botero
Language: Spanish
Country: Colombia
Awards: N/A
Total Seasons: 1
Previous Episode
Capítulo 60
Episode 1x60; Aug 31, 2018
The undercover agents work to pull of their most dangerous mission yet: going after Junior at Halcón and Tatiana's fake wedding.
Previous Episodes

1x60: Capítulo 60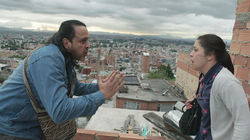 1x59: Capítulo 59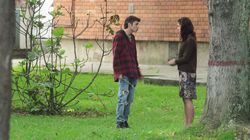 1x58: Capítulo 58


1x57: Capítulo 57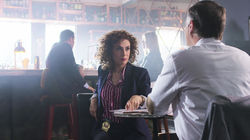 1x56: Capítulo 56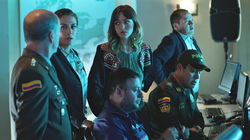 1x55: Capítulo 55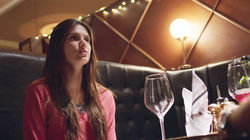 1x54: Capítulo 54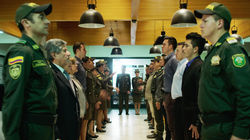 1x53: Capítulo 53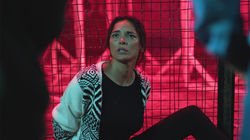 1x52: Capítulo 52

View All Episodes
Cast
Katherine Vélez as Maria Emma
Viña Machado as Sandra aka Laura
Fernando Gaviria as Lorenzo
Juana del Rio as Amélia aka Rosa
Luna Baxter as Tatiana
View Full Cast
Skip to:
Season 1
| Episode No. | No. Overall | Title | Airdate | Runtime | Summary |
| --- | --- | --- | --- | --- | --- |
| 1 | 1 | Capítulo 1 | 2018-08-31 | 60 | Undercover agent Amelia returns from the jungle with unsettling video footage, sparking a new operation. Arrested drug mule Alejandra is offered a deal. |
| 2 | 2 | Capítulo 2 | 2018-08-31 | 60 | Sandra and Coyote start their undercover life together. Alejandra tries to convince Diego to involve her more directly in the drug dealing. |
| 3 | 3 | Capítulo 3 | 2018-08-31 | 60 | Tatiana's husband gets frustrated by her job. Alejandra attempts to plant a camera. Sandra's father makes a suggestion. |
| 4 | 4 | Capítulo 4 | 2018-08-31 | 60 | Alejandra's custody of her niece is put in jeopardy. Coyote and Sandra work to find Binoche's vice. Amelia is pressured to talk about why she left. |
| 5 | 5 | Capítulo 5 | 2018-08-31 | 60 | Tatiana interferes with Jennifer's love life. Alejandra is invited to an important event, but is torn about what to do. |
| 6 | 6 | Capítulo 6 | 2018-08-31 | 60 | The ladies report back on what they've uncovered. Kimberly questions Alejandra's plan. Tatiana is saddened by thoughts of her mother. |
| 7 | 7 | Capítulo 7 | 2018-08-31 | 60 | Amelia's cooking becomes crucial to her mission, and she also worries about her mother's health. Coyote confronts Sandra about her son. |
| 8 | 8 | Capítulo 8 | 2018-08-31 | 60 | Tatiana must improvise to delay Halcón and ends up getting closer to him as a result. Alejandra feels bitter about Diego's betrayal. |
| 9 | 9 | Capítulo 9 | 2018-08-31 | 60 | Sandra and Coyote extend an offer to Catalina to join their business. Amelia makes a startling discovery. Alejandra searches for her sister. |
| 10 | 10 | Capítulo 10 | 2018-08-31 | 60 | Tatiana get into trouble during her trip. Sandra issues an ultimatum involving Lucas. Amelia gathers more intel as she's closely watched. |
| 11 | 11 | Capítulo 11 | 2018-08-31 | 60 | Alejandra's information leads the cops to a drug warehouse. Sandra and Coyote try to figure out what Blue Fish means. |
| 12 | 12 | Capítulo 12 | 2018-08-31 | 60 | Tatiana struggles to cope with what happened to her. Coyote bonds with Lucas at a special soccer game. Alejandra mourns her loss. |
| 13 | 13 | Capítulo 13 | 2018-08-31 | 60 | Alejandra meets with Ronaldo. Catalina gives Coyote her response about the business proposal. Amelia asks for help. |
| 14 | 14 | Capítulo 14 | 2018-08-31 | 60 | Four targets from Operation Phoenix come together and the team rejoices, until everything is suddenly put at risk. |
| 15 | 15 | Capítulo 15 | 2018-08-31 | 60 | Alejandra has an important decision to make. Binoche's wife and sister-in-law worry about his whereabouts. Amelia reports back. |
| 16 | 16 | Capítulo 16 | 2018-08-31 | 60 | Coyote offers Sandra a solution for what to do with Lucas. Tatiana works to cover up the GPS she planted in Halcón's watch. |
| 17 | 17 | Capítulo 17 | 2018-08-31 | 60 | Tatiana decides to take her undercover role in a new direction. Coyote accuses Sandra of being jealous of Catalina. |
| 18 | 18 | Capítulo 18 | 2018-08-31 | 60 | Alejandra becomes more invested as she continues her training. Bertha calls Sandra out on her feelings. Tatiana tries to get closer to Halcón. |
| 19 | 19 | Capítulo 19 | 2018-08-31 | 60 | Amelia angers Bigotes. Lerner Junior surprises everyone with his next move. Lucas finds an old photograph and shows it to Bertha. |
| 20 | 20 | Capítulo 20 | 2018-08-31 | 60 | Sandra worries about Genoveva's mental state. Bigotes grants Amelia a phone call. Bertha highlights the connection Lucas and Coyote have. |
| 21 | 21 | Capítulo 21 | 2018-08-31 | 60 | Porto asks Alejandra to complete one final task to earn her diploma. Binoche becomes suspicious of his neighbor. |
| 22 | 22 | Capítulo 22 | 2018-08-31 | 60 | Coyote, Bertha and Lucas are all concerned about Sandra. Tatiana is wracked with guilt about Jennifer. Amelia is put in danger. |
| 23 | 23 | Capítulo 23 | 2018-08-31 | 60 | Genoveva tells her husband she doesn't trust him. Coyote takes a huge risk while searching for Sandra. Alejandra reunites with Martín. |
| 24 | 24 | Capítulo 24 | 2018-08-31 | 60 | Halcón becomes distraught over what Tatiana tells him about Jennifer. Lerner Junior catches up with his father's old friends. |
| 25 | 25 | Capítulo 25 | 2018-08-31 | 60 | Riddled with paranoia, Halcón turns his suspicions on Tatiana. When Lucas has problems at school, Coyote offers to help him. |
| 26 | 26 | Capítulo 26 | 2018-08-31 | 60 | Tatiana's husband expresses his concern. Amelia helps Bigotes to seek medical attention. Kimberly runs away in search of her mother. |
| 27 | 27 | Capítulo 27 | 2018-08-31 | 60 | Sandra is asked once again about the identity of Lucas's father. Alejandra worries the Mexican cartel isn't buying her story. Amelia returns home. |
| 28 | 28 | Capítulo 28 | 2018-08-31 | 60 | Alejandra's constant phone calls create suspicion. Tatiana's husband asks about Eduardo. Porto attempts to convince Amelia to stay in the job. |
| 29 | 29 | Capítulo 29 | 2018-08-31 | 60 | Sandra and Coyote open their bar as they continue to lure in Lerner Junior. Alejandra has major issues in Mexico. |
| 30 | 30 | Capítulo 30 | 2018-08-31 | 60 | Halcón tries to win back Tatiana's trust. Coyote surprises Sandra with a special gift while she looks into something without his knowledge. |
| 31 | 31 | Capítulo 31 | 2018-08-31 | 60 | Bigotes hosts a meeting with Lerner Junior at Amelia's house. Martín is still not convinced that Juan Pablo and Laura are trustworthy. |
| 32 | 32 | Capítulo 32 | 2018-08-31 | 60 | Checho becomes protective of Amelia. Bertha makes Coyote doubt his proposal. Halcón opens up to Tatiana about his new feelings toward the drug business. |
| 33 | 33 | Capítulo 33 | 2018-08-31 | 60 | Bautista attempts to become more directly involved in the business. Bigotes takes his anger out on Amelia and violence ensues. |
| 34 | 34 | Capítulo 34 | 2018-08-31 | 60 | The team reels from the events involving Bigotes. Tatiana looks deeper into the disappearance of her father. Junior meets with the Mexican cartel. |
| 35 | 35 | Capítulo 35 | 2018-08-31 | 60 | Amelia is shocked by what the doctor tells her. Junior scolds Martín for what happened with Alejandra. Kimberly and Lucas befriend each other. |
| 36 | 36 | Capítulo 36 | 2018-08-31 | 60 | News about the deaths of the Mexican drug cartel leaders hits the television. Sandra receives the genetic test results. Tatiana makes a breakthrough. |
| 37 | 37 | Capítulo 37 | 2018-08-31 | 60 | Tatiana's mother is surprised by who her daughter brings home. Binoche becomes jealous of Catalina. Sandra stresses over the paternity results. |
| 38 | 38 | Capítulo 38 | 2018-08-31 | 60 | Halcón feels cooped up. Tatiana's husband, Manolo, raises his suspicions with Porto, who decides to investigate further. |
| 39 | 39 | Capítulo 39 | 2018-08-31 | 60 | Sandra's guilt overwhelms her. Tatiana's father goes to a psychological clinic. Alejandra becomes fed up with remaining in hiding. |
| 40 | 40 | Capítulo 40 | 2018-08-31 | 60 | Genoveva overhears a devastating conversation and is inconsolable. Amelia speaks with a doctor about her options. |
| 41 | 41 | Capítulo 41 | 2018-08-31 | 60 | Sandra and Coyote take advantage of Genoveva's anger at Binoche and carry out a new plan. Junior tells Halcón about his new role in the organization. |
| 42 | 42 | Capítulo 42 | 2018-08-31 | 60 | Amelia's secret gets out and she admits her fears to María Emma. Alejandra hears tragic news. Bertha dives deeper into the investigation. |
| 43 | 43 | Capítulo 43 | 2018-08-31 | 60 | Tatiana says goodbye to Manolo. Genoveva makes a decision about turning in her husband and sister. Martín and Junior worry about their future. |
| 44 | 44 | Capítulo 44 | 2018-08-31 | 60 | Coyote makes a meaningful proposal to Sandra. Tatiana defends Halcón to María Emma. Martín and Junior panic about Binoche's disappearance. |
| 45 | 45 | Capítulo 45 | 2018-08-31 | 60 | Tatiana's father finally recognizes her. Coyote and Lucas have an emotional conversation just before the boy is removed from the operation. |
| 46 | 46 | Capítulo 46 | 2018-08-31 | 60 | Amelia is proud of Checho. Junior concocts a plan to go after Binoche while he is being transferred. Sandra and Coyote start the adoption process. |
| 47 | 47 | Capítulo 47 | 2018-08-31 | 60 | Porto asks Sandra and Coyote to continue their mission. Tatiana worries about her father's mental state after finding out about his PTSD. |
| 48 | 48 | Capítulo 48 | 2018-08-31 | 60 | Coyote agrees to do one last job for the DPI. Halcón fears for his life when his shipment gets seized. Bertha and Alejandra work together. |
| 49 | 49 | Capítulo 49 | 2018-08-31 | 60 | Tatiana decides to make a confession to Halcón. Bertha helps Alejandra plan her new identity. Porto gives Sandra tragic news. |
| 50 | 50 | Capítulo 50 | 2018-08-31 | 60 | The DPI gather together to pay their respects. Amelia and Checho continue to work on their operation. An injured Bautista seeks refuge. |
| 51 | 51 | Capítulo 51 | 2018-08-31 | 60 | Sandra makes a very risky decision. Porto resigns from the DPI. Halcón summons Tatiana to meet up with him. Martín and Junior argue. |
| 52 | 52 | Capítulo 52 | 2018-08-31 | 60 | Alejandra investigates around Paloma's house. Sandra continues to insist she did not know what Coyote was doing. |
| 53 | 53 | Capítulo 53 | 2018-08-31 | 60 | Porto tells Alejandra about his counterintelligence surveillance plan. Halcón begins working with Tatiana. Amelia spies on Ibana. |
| 54 | 54 | Capítulo 54 | 2018-08-31 | 60 | Alejandra's time with Porto puts her mission with Paloma in jeopardy. Tatiana opens up to Halcón about her marriage. Junior begins to doubt Martín. |
| 55 | 55 | Capítulo 55 | 2018-08-31 | 60 | Alejandra's drug-filled night results in important information that could help determine who the DPI mole is. Tatiana worries about Halcón. |
| 56 | 56 | Capítulo 56 | 2018-08-31 | 60 | Andrea is discharged from rehab and wants to take Kimberly with her to live with her daughter's grandparents. Porto confronts María Emma. |
| 57 | 57 | Capítulo 57 | 2018-08-31 | 60 | Alejandra finds Paloma in a dangerous state. Tatiana goes undercover as Halcón's fiance, but Martín advises Junior not to trust them. |
| 58 | 58 | Capítulo 58 | 2018-08-31 | 60 | Tatiana comes across Sandra while Halcón and Martín fight. Bautista goes after Checho and threatens Amelia. Alejandra searches Paloma's apartment. |
| 59 | 59 | Capítulo 59 | 2018-08-31 | 60 | Amelia and Bautista face off, with Ivana in the cross hairs. Sandra finally gets to meet Blue Fish. The DPI mole is discovered. |
| 60 | 60 | Capítulo 60 | 2018-08-31 | 60 | The undercover agents work to pull of their most dangerous mission yet: going after Junior at Halcón and Tatiana's fake wedding. |
Series Cast
| | | | |
| --- | --- | --- | --- |
| | Katherine Vélez | as Maria Emma | |
| | Viña Machado | as Sandra aka Laura | |
| | Fernando Gaviria | as Lorenzo | |
| | Juana del Rio | as Amélia aka Rosa | |
| | Luna Baxter | as Tatiana | |
Related News
TVMaze