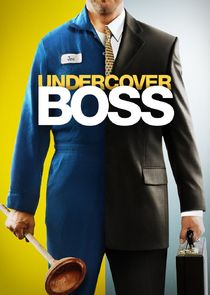 Undercover Boss is a reality series that follows high level corporate executives as they slip anonymously into the lowest level jobs within their companies. Once undercover, they'll get their hands dirty with the rank and file, find out what their employees REALLY think of them and discover how smoothly their companies are REALLY run. In the process, these senior executives learn about themselves, the perception of their company and the spirit of their work force.
Series Overview
Rating
imDb Rating: 5.8 (3,103 Votes)
Metascore: N/A
Plot
Bosses of chain businesses go undercover to their own stores in various locations and various jobs around the store and interact with the employees. Depending on the employee's impression, ...
Details
Rated: TV-PG
Released: 07 Feb 2010
Runtime: 60 min
Genre: Reality-TV
Director: N/A
Writer: Stephen Lambert, Greg Goldman
Actors: Mark Keller
Language: English
Country: USA
Awards: Won 2 Primetime Emmys. Another 9 wins & 14 nominations.
Total Seasons: 9
Previous Episode
Clean Harbors
Episode 10x4; Jan 27, 2020
When Alan S. McKim, Chairman and CEO of Clean Harbors, gets down and dirty to see if his company needs some cleaning up, he must face the challenges of a confined space while treating the inside of a dirty tank at a re-refinery that processes waste oil.
Clean Harbors is the leading environmental and industrial service provider and largest hazardous waste disposal company in North America, and it is a recognized leader in environmental emergency response services. The business provides a broad range of services, and maintains a vast network of service centers and waste management, treatment, disposal and recycling facilities. Publicly traded on the NYSE, Clean Harbors was founded by Alan S. McKim in 1980 as a four-person tank cleaning business.
Previous Episodes 10x4: Clean Harbors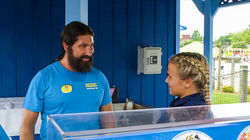 10x3: Dippin' Dots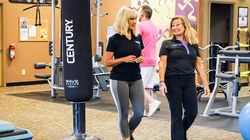 10x2: Anytime Fitness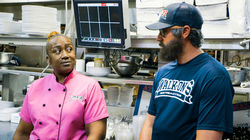 10x1: Walk-On's Bistreaux & Bar 9x7: Ashley Graham 9x6: Stephanie McMahon 9x5: Jewel 9x4: Deion Sanders


9x3: Bethany Mota

View All Episodes
Recent News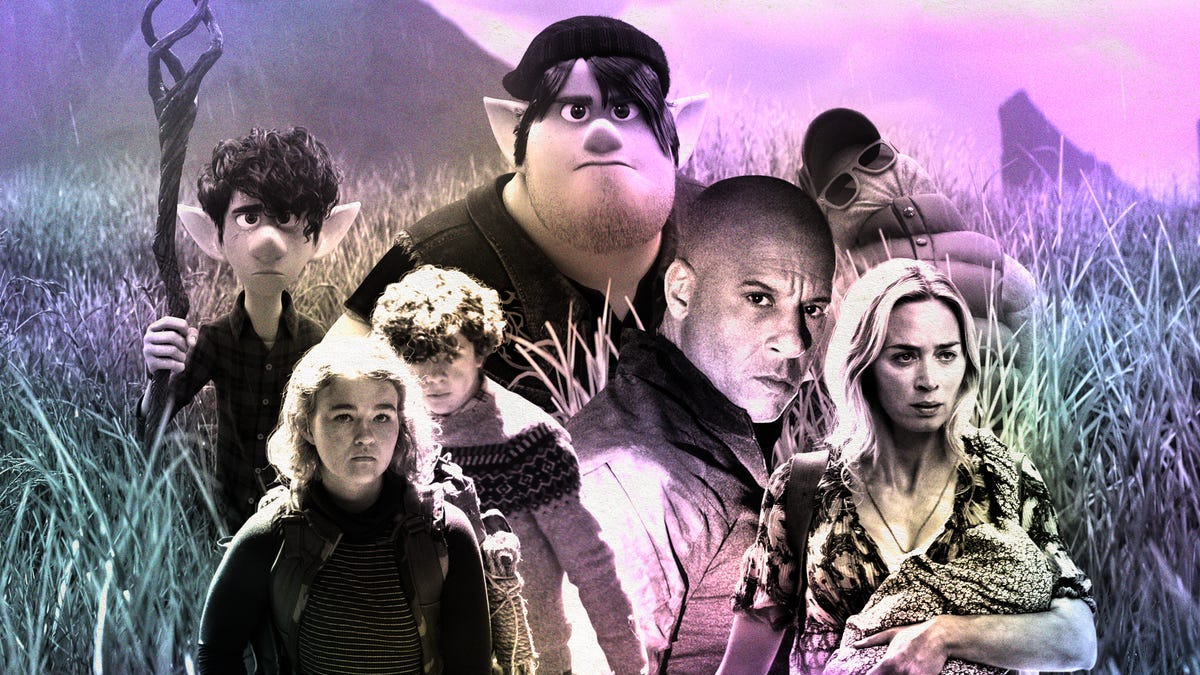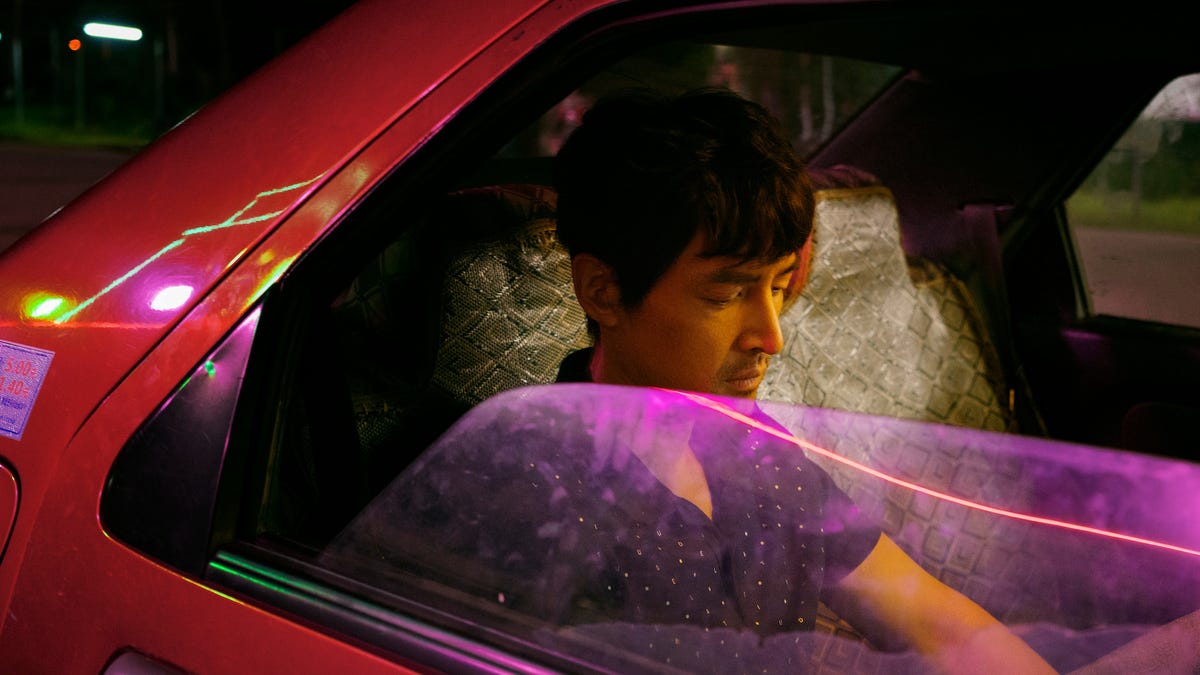 The Legend Of The Biggie Belt
The Notorious B.I.G. came to The Source in 1997 to do a photoshoot and left his belt. He would never return to retrieve it as he was killed weeks later in LA. A group of nine editors - dubbed by the author as Keepers of the Belt - kept it safe.
via NewsAPI
View More Related News
Skip to:
Season 1
| Episode No. | No. Overall | Title | Airdate | Runtime | Summary |
| --- | --- | --- | --- | --- | --- |
| 1 | 1 | Waste Management | 2010-02-07 | 60 | Waste Management president Larry O'Donnell pretends to be a new hire within his company. He works at a recycling plant and two landfills, rides along on a garbage truck and cleans porta-potties. |
| 2 | 2 | Hooters | 2010-02-14 | 60 | When Coby Brooks, President and CEO of "Hooters" goes undercover in his own company, he finds himself struggling to keep up in a fast-paced kitchen and is, later, forced to take immediate action when a restaurant manager steps out of line. |
| 3 | 3 | 7-Eleven | 2010-02-21 | 60 | The CEO and President of 7-Eleven, Joe DePinto, goes undercover in his own company where he discovers that one of his corporate policies has not been implemented on the frontlines and later finds himself inspired by one of his delivery driver's approach to life. |
| 4 | 4 | White Castle | 2010-02-28 | 60 | Dave Rife, the owner of White Castle, goes undercover in his own company where he accidentally ruins thousands of hamburger buns after mishandling equipment in one of his bakeries, and also discovers low morale among his employees at a local factory. |
| 5 | 5 | Churchill Downs | 2010-03-14 | 60 | Bill Carstanjen, COO of Churchill Downs, Inc., the corporation famously known for its Kentucky Derby, goes undercover at his own racetracks where he faces his fear of horses head-on, and is unable to hold back tears after working for one employee. |
| 6 | 6 | GSI Commerce | 2010-03-21 | 60 | Michael Rubin, CEO of the billion dollar e-commerce giant GSI, which provides customer service and product shipments for online orders to numerous top U.S. retailers, goes undercover in his own company where he discovers that rushing through a task can result in injury to others, and that his packing and shipping skills are not up to company standards. |
| 7 | 7 | Herschend Family Entertainment | 2010-03-28 | 60 | Joel Manby, President and CEO of Herschend Family Entertainment, a national theme park and amusement corporation, goes undercover in his own company where he meets a young man aspiring for his job, and finds that it might be easier to run a boardroom than to captain a boat full of kids. |
| 8 | 8 | Roto-Rooter | 2010-04-04 | 60 | President and COO of Roto-Rooter Rick L. Arquilla goes undercover in his own company and finds himself overwhelmed with emotion while working alongside several employees who force him to reflect on his past as well as his future legacy as the boss of their company. |
| 9 | 9 | 1-800-Flowers | 2010-04-11 | 60 | Chris McCann, President and COO of 1-800-FLOWERS, America's largest florist and online gift shop, goes undercover where he is shocked by customers' perception of their brand and is later forced to reveal his true identity (a first for the series) . |
Season 2
| Episode No. | No. Overall | Title | Airdate | Runtime | Summary |
| --- | --- | --- | --- | --- | --- |
| 1 | 10 | Choice Hotels International | 2010-09-26 | 60 | The President and CEO of Choice Hotels International (Steve Joyce), one of the world's largest hotel chains, will be the first boss to make an undercover journey. |
| 2 | 11 | Great Wolf Resorts | 2010-10-03 | 60 | Kim Schaefer, CEO of Great Wolf Resorts, North America's largest family of indoor waterpark resorts, struggles to keep pace working in an aquatic center that can hold nearly 3,000 guests at anytime, and is forced to get her hands dirty when she has to respond to a call no waterpark employee wants to receive. |
| 3 | 12 | DIRECTV | 2010-10-10 | 60 | Mike White, Chairman, President and CEO of DIRECTV, the world's most popular video service that delivers state-of-the-art-technology to over 25 million customers, goes undercover in his own company where he discovers that employees are spending their own money for a specific piece of equipment, and finds himself in an embarrassing situation when he accidentally offends a customer. |
| 4 | 13 | Frontier Airlines | 2010-10-17 | 60 | Bryan Bedford, Chairman of the Board, President and CEO of Frontier Airlines, a billion dollar a year business that ranks as one of the top air carriers in the country, goes undercover in his own company, where he "gets christened" while emptying a plane's lavatory, contributes to a flight's late departure time and discovers how company-wide pay cuts are impacting his employees' lives. |
| 5 | 14 | NASCAR | 2010-10-24 | 60 | Steve Phelps, Senior Vice President and Chief Marketing Officer for NASCAR, the sanctioning body for the #1 spectator sport in the U.S., goes undercover with one of the sport's pit crews, participating in an exhausting training session, and also struggles to keep pace working alongside a ground's crew preparing for the "Daytona 500,." |
| 6 | 15 | Chiquita | 2010-10-31 | 60 | Fernando Aguirre, Chairman and CEO of Chiquita, one of the largest producers of fruits and vegetables in the world, is unable to perform a physically demanding job at their flagship factory and has to be removed from the line. Also, tensions mount when he mishandles a forklift and angers an employee. |
| 7 | 16 | Chicago Cubs | 2010-11-07 | 60 | Todd Ricketts, one of the owners of the Chicago Cubs, goes undercover within one of baseball's most famous franchises and fights for the chance to redeem himself after being let go on the second day. Also, when a friend recognizes him parking cars, the boss panics that his cover has been blown. |
| 8 | 17 | Lucky Strike Lanes | 2010-11-14 | 60 | Steven Foster, Co-Founder and CEO of Lucky Strike Lanes, one of the nation's largest chains of upscale bowling alleys, takes an emotional trip inside his own company where he hits the streets as a walking bowling pin to drum up business, experiences a heavy heart when interacting with his employees, and has a heavy hand when working the bar. |
| 9 | 18 | Subway | 2010-11-21 | 60 | Don Fertman, the Chief Development Officer for SUBWAY restaurants, one of the world's largest food franchises, goes undercover where he must learn the endless sandwich combinations while being trained by one of the toughest, no-nonsense employees ever. |
| 10 | 19 | Abm Industries | 2010-12-05 | 60 | The President and CEO of ABM Industries (Henrik Slipsager), one of the nation's largest facilities services contractors, offering janitorial, engineering, parking and security services for thousands of clients, takes a journey within his own corporation. |
| 11 | 20 | Johnny Rockets | 2010-12-12 | 60 | John Fuller, President and CEO of Johnny Rockets, one of the nation's largest chains of retro-themed restaurants, goes undercover to work in a restaurant for the first time in his career. During his undercover stint, he fails his first taste test when tasked with preparing one of the company's signature hamburgers, and also panics when he thinks his cover has been blown. |
| 12 | 21 | Norwegian Cruise Line | 2011-01-02 | 60 | Kevin Sheehan, President and CEO of Norwegian Cruise Line, one of the world's largest cruise companies, finds himself in uncharted territory when he's asked to lead nearly 1,000 party-goers in a line dance, and is later forced to reveal his true identity after being recognized by an employee. |
| 13 | 22 | UniFirst | 2011-01-09 | 60 | Ronald Croatti, President and CEO of UniFirst, one of the nation's largest producers of workwear and uniforms, dons a "hippie" look during his undercover mission, where he finds himself struggling to keep pace with the fast-moving assembly line and is nearly injured while loading one of the company's industrial washing machines. |
| 14 | 23 | BELFOR | 2011-01-16 | 60 | Sheldon Yellen, the CEO of BELFOR, the world's largest disaster restoration company, goes undercover and becomes frustrated while struggling to hang drywall at a construction site. Also, the boss unexpectedly reveals himself while working alongside an employee. |
| 15 | 24 | Mack Trucks | 2011-02-20 | 60 | Denny Slagle, President and CEO of Mack Trucks, the second largest manufacturer of heavy-duty trucks in the world, goes undercover and accidently brings their plant's assembly line to sudden halt, and later discovers that rumors are circulating about Mack moving their operations to Mexico. |
| 16 | 25 | City of Cincinnati | 2011-03-06 | 60 | The mayor of Cincinnati, Mark Mallory, becomes the first elected official to go undercover as he trades in his key to the city for a stint as a municipal employee, working as a mechanic repairing public transportation vehicles and a sanitation worker whose job entails removing roadkill from the streets. |
| 17 | 26 | United Van Lines | 2011-03-13 | 60 | Rich McClure, the CEO of United Van Lines, the nation's largest moving company, asks his wife to assist him during one of his undercover jobs. Meanwhile, the boss' moving team fears he won't make it through the physically demanding task of wrapping, packing and loading an entire move. |
| 18 | 27 | MGM Grand | 2011-03-20 | 60 | Scott Sibella, President and COO of the MGM Grand in Las Vegas, goes undercover within the walls of the second-largest hotel in the world and faces a group of rowdy gamblers who are quick to point out his shortcomings as a dealer. Meanwhile, the boss also becomes frustrated with the slowness of their computer system while attempting to check-in guests. |
| 19 | 28 | Synagro | 2011-03-27 | 60 | Bill Massa, President and CEO of Synagro, the nation's largest waste water treatment corporation, goes undercover in the series' dirtiest mission to date where he finds himself cleaning a tank of 27-year-old sludge and also discovers a flaw that goes against one of the company's goals. |
| 20 | 29 | Baja Fresh | 2011-04-10 | 60 | When Baja Fresh CEO David Kim goes under cover, he encounters a problem in one of his stores and makes a shocking decision. |
| 21 | 30 | BrightStar Care | 2011-04-17 | 60 | Shelly Sun, the co-founder and CEO of BrightStar Care, one of the nation's fastest-growing providers of private healthcare, travels to the frontlines of her company, where she becomes overwhelmed while assisting a caregiver who's overseeing four toddlers. Also, when the boss' husband, her co-founding partner, joins her undercover, he discovers the game of Bingo is nothing to play around with. |
| 22 | 31 | University of California, Riverside | 2011-05-01 | 60 | Tim White, the Chancellor of the University of California, Riverside, is put to the test when his role as a teaching assistant is graded by more than 200 organic chemistry students. Later, his physical aptitude is under exam while working alongside the track team, on the second season finale of UNDERCOVER BOSS |
Season 3
| Episode No. | No. Overall | Title | Airdate | Runtime | Summary |
| --- | --- | --- | --- | --- | --- |
| 1 | 32 | Diamond Resorts | 2012-01-15 | 60 | The undercover experience is no vacation for Stephen J. Cloobeck, Chairman and CEO of Diamond Resorts International, one of the world's largest timeshare companies, as he finds himself performing a dangerous job that bursts into flames. Meanwhile, the boss also reaches his breaking point with an employee's job performance, forcing him to break his cover. |
| 2 | 33 | The Dwyer Group | 2012-01-22 | 60 | Dina Dwyer-Owens, Chairman and CEO of the Dwyer Group, the parent company for Mr. Rooter and other national repair brands, embarks on a grueling undercover experience where she works as a plumber, hauls water heaters, fixes ovens and works alongside a grounds crew. Meanwhile, the boss is also shocked to discover one of her franchises isn't following a company policy. |
| 3 | 34 | Kendall-Jackson Wine Estates | 2012-01-29 | 60 | Rick Tigner, President of Kendall- Jackson Wine Estates, causes a shutdown when he struggles to maintain pace on a bottling line, and is shocked by comments made by a delivery driver. |
| 4 | 35 | Checkers & Rally's | 2012-02-17 | 60 | Rick Silva, President and CEO of Checkers & Rally's, one of the nation's largest fast food chains, serving more than two million hamburgers a week, travels to the front lines of his industry, where he's forced to make a drastic decision regarding one of his restaurants. |
| 5 | 36 | American Seafoods | 2012-02-24 | 60 | Bernt Bodal, CEO of American Seafoods, one of the largest seafood companies in the U.S., realizes that despite his past experience as a deckhand, he's not prepared to return to the back-breaking work and dangers involved in a day's work on a fishing vessel. Also, Bodal reaches his boiling point after being lowered into a piping-hot pit at a processing plant for a different undercover assignment. |
| 6 | 37 | Popeyes Louisiana Kitchen | 2012-03-02 | 60 | Lynne Zappone, Chief Talent Officer of Popeyes Louisiana Kitchen, the world's second-largest fried chicken restaurant chain, is frustrated with an employee's lack of Southern charm behind the counter. Also, the Boss is brought to tears by another employee's generosity. |
| 7 | 38 | Oriental Trading Company | 2012-03-09 | 60 | Sam Taylor, CEO of Oriental Trading Company, the nation's largest direct retailer of party supplies and arts and crafts, is concerned when he discovers some of his employees aren't happy. Meanwhile, the Boss causes an unintentional shutdown in his plant when he's tasked with managing the assembly line. |
| 8 | 39 | Yankee Candle | 2012-03-30 | 60 | Harlan Kent, President and CEO of Yankee Candle, the leading designer, manufacturer, wholesaler and retailer of premium scented candles, goes undercover where his customer service skills leave several co-workers questioning his true identity, and the Boss grows frustrated with one store's lack of curb appeal. |
| 9 | 40 | Taylormade Golf Company | 2012-04-06 | 60 | Mark King, President and CEO of TaylorMade Golf Company, the largest manufacturer of golf equipment and apparel in the world, is forced to break cover when an employee grows suspicious of her new trainee and the Boss grows concerned with a disjointed structure of command at one of his factories. |
| 10 | 41 | Budget Blinds | 2012-04-13 | 60 | Chad Hallock, CEO and Co-Founder of Budget Blinds, the largest window coverings franchise in North America with more than 800 franchise locations, takes it personal when two separate franchisees criticize his advertising plan, and one employee turns up the heat when she considers inviting the Boss to her hot tub after work. |
| 11 | 42 | Philly Pretzel Factory | 2012-04-27 | 60 | Dan DiZio, CEO and Co-Founder of the Philly Pretzel Factory, which sells over 100 million pretzels a year throughout its 120 stores, is forced into action after one franchisee goes rogue, and the Boss is brought to tears when he realizes he let one of his franchise owners down. |
| 12 | 43 | Fastsigns | 2012-05-04 | 60 | Catherine Monson, CEO of FASTSIGNS International, who has never designed or installed one of their signs, finds herself plagued by air bubbles while trying to affix large decal signs, and is also forced to conquer her fear of heights. |
| 13 | 44 | Mastec | 2012-05-11 | 60 | Jose Mas, CEO of MasTec, one of the largest builders of telecommunication and energy systems in North America, receives an explosive surprise while heading down a manhole. Also, the Boss is shocked when he discovers that one employee feels rejected by a local community because of her job, on the third season finale of UNDERCOVER BOSS, Friday, May 11 (8:00-9:00 PM, ET/PT) on the CBS Television Network. |
Season 4
| Episode No. | No. Overall | Title | Airdate | Runtime | Summary |
| --- | --- | --- | --- | --- | --- |
| 1 | 45 | Modell's Sporting Goods | 2012-11-02 | 60 | Mitchell B. Modell, CEO of Modell's Sporting Goods, gets some major league advice from New York Yankee's pitcher CC Sabathia before beginning his undercover mission. Also, a discontent employee confronts the CEO when suspicions swell about his true identity, and shocking news from the boss causes one employee to collapse, on the fourth season premiere of UNDERCOVER BOSS, Friday, Nov. 2 (8:00-9:00 PM, ET/PT) on the CBS Television Network. |
| 2 | 46 | Tilted Kilt | 2012-11-09 | 60 | When Ron Lynch, President of Tilted Kilt, a Celtic-themed sports bar and restaurant, goes undercover in his own company, he discovers one Kilt Girl crossing the line with customers. Also, one employee struggles to keep a brave face during unbearable personal circumstances, and the pressure heats up when the boss struggles to keep up in the kitchen. |
| 3 | 47 | Cinnabon, Inc. | 2012-11-16 | 60 | While undercover in a Cinnabon micro-bakery, one customer nearly blows her cover by asking questions about the cameras. Meanwhile, as our youngest boss featured in the series at age 34, Cole discovers a couple of employees who share her zealous work ethic. |
| 4 | 48 | Diamond Resorts: Take 2 | 2012-11-30 | 60 | When Stephen J. Cloobeck, Chairman and CEO of Diamond Resorts International (originally featured on the "Diamond Resorts" episode on Jan. 15, 2012), obtains a new chain of resort properties, he goes on an undercover mission for a second time to see how the acquisition is going for the team members and from the perspective of a hotel guest. |
| 5 | 49 | Postnet | 2012-12-07 | 60 | Steve Greenbaum, CEO and Co-Founder of PostNet, the fastest-growing design, printing, copying and shipping franchise, dons a drastic disguise for his undercover mission, where he meets a former Marine working as a packing specialist while adjusting to civilian life. Also, he encounters a family that is struggling to keep their franchise alive, and another franchise owner who vents about failed marketing attempts. |
| 6 | 50 | Mood Media | 2013-01-04 | 60 | Lorne Abony, CEO and Chairman of Mood Media, a leading in-store media specialist that uses a mix of music, visual and scent media to help its clients communicate with consumers, faces his fear of heights when he has to climb a tall ladder to install equipment during his undercover mission. He also gets a lesson in using a soldering iron. |
| 7 | 51 | Kampgrounds Of America | 2013-01-11 | 60 | Jim Rogers, Chairman and CEO of Kampgrounds of America Inc., the world's largest system of family friendly franchised and company-owned campgrounds, with 486 locations throughout North America, faces his fears when he must zipline while undercover at a KOA site. The active Eagle Scout witnesses a staff member confronted with a difficult guest and later learns to operate a tractor to dig up an infested tree. |
| 8 | 52 | Moe's Southwest Grill | 2013-01-18 | 60 | Paul Damico, President of Moe's Southwest Grill, has to bite his tongue after realizing one of his restaurant supervisors is being pushy and rude to the line workers. Later, Damico works with a catering director who goes out of her way to bring in new business for the company. |
| 9 | 53 | Boston Market | 2013-02-01 | 60 | For the first time on UNDERCOVER BOSS, Sara Bittorf, Chief Brand Officer of Boston Market, makes the crucial decision to terminate an employee after he makes disparaging comments about the customers. During her undercover mission, Bittorf also learns to carve whole roasted chickens and struggles to manage a busy, timed drive-thru window. |
| 10 | 54 | O'Neill Clothing | 2013-02-22 | 60 | Toby Bost, CEO of O'Neill Clothing, USA, one of the largest surf wear and active lifestyle brands, is put in a difficult position when an employee's casual attitude crosses the line. Also, a stockroom worker encourages Bost to join him in doing pushups as a penalty. |
| 11 | 55 | Squaw Valley | 2013-03-08 | 60 | Andy Wirth, President and CEO of Squaw Valley and Alpine Meadows, two ski resorts located in Lake Tahoe, ventures to the top of an unsafe cliff to post warning signs while training with a ski patrol. Olympic Gold Medalist Jonny Moseley joins Wirth in a ruse to help protect his true identity in the small ski town. |
| 12 | 56 | Fatburger | 2013-04-05 | 60 | Andy Wiederhorn, CEO of Fatburger, a "fast casual" restaurant famous for their made-to-order burgers, goes on an undercover journey. |
| 13 | 57 | ADT | 2013-04-12 | 60 | Tony Wells, Chief Marketing and Customer Officer for The ADT Corporation, a leading provider of home security, goes on an undercover journey. |
| 14 | 58 | Retro Fitness | 2013-04-26 | 60 | When Eric Casaburi, CEO of Retro Fitness, a franchised full service fitness center, discovers an employee who hates customers and fails to follow directions, it leads to one of the biggest reveals ever on UNDERCOVER BOSS. Also, Casaburi works with an employee who credits Retro Fitness for a major lifestyle change. |
| 15 | 59 | Orkin | 2013-05-03 | 60 | John Wilson, President and Chief Operating Officer of Rollins, Inc., the parent company for Orkin, North America's largest pest control provider, cleans up a major cockroach infestation and tackles swarming bees. |
| 16 | 60 | Epic Employees | 2013-05-10 | 60 | This special episode of UNDERCOVER BOSS features updates on some of the most intriguing employees who have appeared on the show and how the experience impacted their life. Employees include a Philly Pretzel employee who went from minimum wage worker to franchise owner and a Modell's Sporting Goods employee who has moved out of a homeless shelter and into her very own home. Also, disgraced employees share the aftermath of getting fired. |
| 17 | 61 | Epic Bosses | 2013-05-17 | 60 | The bosses include the Diamond Resorts International CEO who created a crisis fund that saved an employee's life and the Kendall-Jackson Wine Estates President who has eased communication barriers among his workforce. Also, see where the Hooters CEO is now after experiencing one of the most shocking moments on the series and the Modell's Sporting Goods CEO's physical transformation. |
Season 5
| Episode No. | No. Overall | Title | Airdate | Runtime | Summary |
| --- | --- | --- | --- | --- | --- |
| 1 | 62 | Twin Peaks | 2013-09-27 | 60 | Randy Dewitt, co-founder and CEO of Twin Peaks, goes undercover in his popular sports bar and grill chain that features provocatively dressed waitresses. While there, he enlists the help of UNDERCOVER BOSS alum Coby Brooks ("Hooters"), now one of the largest franchise owners at Twin Peaks, who shaves his head and also goes undercover as an inappropriate customer. |
| 2 | 63 | Loehmann's | 2013-10-04 | 60 | Steven Newman, the CEO of Loehmann's, the original specialty retailer for designer and fashion brands at discount prices, attempts to measure up despite feeling awkward about helping his female customers shop for bras. |
| 3 | 64 | Donatos | 2013-10-11 | 60 | Jane Grote Abell, Chairman of Donatos Pizza, goes undercover in her family business and learns that the pizzas aren't the only things getting baked at one store. |
| 4 | 65 | Buffets, Inc. | 2013-10-18 | 60 | Anthony Wedo, CEO of Buffets, Inc., the country's largest steak buffet chain, breaks cover when he encounters a dish washer with a nasty attitude. Also, the high-energy Boss learns to work the grill station. |
| 5 | 66 | Menchie's | 2013-10-25 | 60 | Amit Kleinberger, CEO of Menchie's, a popular frozen yogurt franchise, delivers a baby calf while working as a herdsman at a dairy farm. Also, the youngest Boss featured to date in the series goes deeper undercover when he dons a Menchie's mascot uniform at a kid's birthday party. |
| 6 | 67 | Alfred Angelo | 2013-11-01 | 60 | Paul Quentel, President of Alfred Angelo, one of the largest bridal retailers in the U.S., is inspired after working with a hard-working, hearing impaired employee. Also, the boss isn't afraid to get in touch with his feminine side as he helps brides find their perfect wedding dress. |
| 7 | 68 | Family Dollar | 2013-11-08 | 60 | Mike Bloom, President and COO of Family Dollar Stores, one of the largest discount retail companies in the country, faces his fear of heights when learning to operate a forklift that takes him 35 feet into the air. Also, the boss nearly blows his rock 'n' roll disguise when one employee invites him to a jam session. |
| 8 | 69 | Dutch Bros. Coffee | 2013-11-15 | 60 | Travis Boersma, President and Co-Founder of Dutch Bros. Coffee, learns what keeps his high-energy coffee chain brewing when he journeys to El Salvador to work on the coffee plantation from which his company purchases their coffee beans. Also, the boss recruits a colleague to go undercover for him when he fears a familiar face may spill the beans on his mission at the company's headquarters. |
| 9 | 70 | Busted! | 2013-11-22 | 60 | Seven previously featured "Bosses" discuss the challenges they had with keeping their identity undercover. Also, they provide updates on some of their memorable employees. |
| 10 | 71 | Massage Heights | 2013-12-13 | 60 | Shane Evans, COO of Massage Heights, one of the largest massage chains in North America, must overcome her aversion to touching people when working as a massage therapist. Also, one store's disregard for company policy rubs Evans the wrong way. |
| 11 | 72 | Mohegan Sun Casino | 2014-01-17 | 60 | Bruce "Two Dogs" Bozsum, Chairman of Mohegan Sun, goes undercover in the gaming, hotel and entertainment destinations as he prepares to pass the business on to the next Chairman of his Native American Tribal Council. Bozsum learns the high-stakes role of slot attending and nearly runs out of gas as he retrieves cars from the valet. |
| 12 | 73 | Hudson Group | 2014-01-31 | 60 | Joe DiDomizio, President and CEO of Hudson Group, the travel retailer that operates in 70 airports and transit terminals in the U.S. and Canada, goes on an undercover mission in his company. |
| 13 | 74 | Utah Jazz | 2014-02-28 | 60 | Greg Miller, CEO of the Utah Jazz, one of the most recognizable basketball organizations in the NBA, attempts to make halftime history when he works undercover with their infamous Dunk Team. Also, the boss' team spirit is put to the test when he is asked to become a human basketball hoop as a member of the Interactive Team. |
| 14 | 75 | Undercover Employee | 2014-03-07 | 60 | For the first time on UNDERCOVER BOSS, three previously featured bosses - Amit Kleinberger, CEO of Menchie's; Randy Dewitt, Co-Founder and CEO of Twin Peaks; and Steve Greenbaum, CEO and Co-Founder of PostNet - send an employee undercover for a second look inside their companies. |
| 15 | 76 | Sky Zone | 2014-03-14 | 60 | Jeff Platt, CEO of Sky Zone, the world's first indoor trampoline park, jumps into action as a referee for a children's dodgeball game. On another assignment, the 29-year-old boss - the youngest in the show's history - has trouble hiding his in-depth knowledge of the company when working in community relations. |
Season 6
| Episode No. | No. Overall | Title | Airdate | Runtime | Summary |
| --- | --- | --- | --- | --- | --- |
| 1 | 77 | True Value | 2014-12-14 | 60 | John Hartmann, the President and CEO of True Value, one of the largest hardware cooperatives in the world, reactivates his undercover skills from his time as an FBI agent when he investigates the state of the True Value company and employees. |
| 2 | 78 | Mayor of Pittsburgh | 2014-12-21 | 60 | The Mayor of Pittsburgh, Bill Peduto, does a stint as a municipal employee. |
| 3 | 79 | Bikinis Sports Bar & Grill | 2014-12-28 | 60 | CEO/Founder Doug Guller of Bikinis Sports Bar & Grill, who welcomes controversy and proudly refers to his chain of restaurants as "breastaurants,". |
| 4 | 80 | Maaco | 2015-01-02 | 60 | Jose Costa, the Venezuelan-born President of Maaco, goes under the hood to inspect "America's Bodyshop,". |
| 5 | 81 | Phenix Salon INC. | 2015-01-09 | 60 | Gina Rivera, Founder and President of Phenix Salons INC., a franchise which offers independent salon and business professionals the opportunity to own and operate their own luxury salon suites, goes undercover to see if it will color her perception of how the company is running. |
| 6 | 82 | EmpireCLS | 2015-01-16 | 60 | David Seelinger, Chairman and CEO of EmpireCLS Worldwide Chauffeured Services, a luxury chauffeured transportation leader that provides services in more than 700 cities worldwide, goes undercover to see if his company is running smoothly. |
| 7 | 83 | Rocket Fizz | 2015-01-23 | 60 | Robert Powells, President and Co-Founder of The Rocket Fizz Soda Pop and Candy Shops, the largest candy and soda shop franchise in America, embarks on an emotional journey to discover what keeps his candy shops sweet. |
| 8 | 84 | Forman Mills | 2015-01-25 | 60 | Rick Forman, Founder and CEO of Forman Mills Inc., one of the fastest-growing discount clothing outlets in the country, discovers some defects in his organization. |
| 9 | 85 | Stella & Dot | 2015-01-30 | 60 | Jessica Herrin, CEO and Founder of Stella & Dot, a leading global direct sales company with its own boutique-style jewelry and accessories line, goes on an undercover journey to discover the real gems working within her company. |
| 10 | 86 | Armando Montelongo | 2015-02-06 | 60 | Armando Montelongo, CEO of Armando Montelongo Companies, a top real estate company that specializes in educational seminars that teach wealth creation and financial independence, goes undercover to see what keeps his real estate investment company on solid ground. |
| 11 | 87 | Gigi's Cupcakes | 2015-02-13 | 60 | Gigi Butler, Founder and CEO of Gigi's Cupcakes, America's largest cupcake franchise, hopes to discover that her company has the proper ingredients to keep rising to the top. |
| 12 | 88 | Peavey Electronics | 2015-02-15 | 60 | Courtland Gray, COO of Peavey Electronics, goes undercover to see what keeps his audio empire rocking. |
| 13 | 89 | Vivint | 2015-02-20 | 60 | The boss tries not to lose his grip while battling his fear of heights on a customer's sloping roof during a wireless installation, and he faces even more stress when tasked with taking calls at his company's monitoring center for home and commercial alarms. |
Season 7
| Episode No. | No. Overall | Title | Airdate | Runtime | Summary |
| --- | --- | --- | --- | --- | --- |
| 1 | 90 | Buffalo Wings & Rings | 2015-12-20 | 60 | When Buffalo Wings & Rings CEO Nader Masadeh goes under cover to make sure his restaurants have the recipe for success, he is faced with a fiery manager. |
| 2 | 91 | Nestle Toll House Cafe by Chip | 2015-12-27 | 60 | Shawnon Bellah, Crest Foods COO, works undercover at the company's Nestlé Toll House Café by Chip and experiences a sugar crash when she fails to meet her own customer service requirements. |
| 3 | 92 | Shopper's World | 2016-01-03 | 60 | Sam Dushey, President and CEO of Shoppers World, works undercover at his discount apparel and merchandise retail stores, and discovers a security deficient store where shoplifters are walking away with lots of items. |
| 4 | 93 | Muscle Maker Grill | 2016-01-08 | 60 | As Tim M. Betts, the new chairman of Muscle Maker Grill, goes undercover, Rod Silver, the high-energy founder of the company, secretly gives Betts ongoing commentary as he observes the action via a live video feed. |
| 5 | 94 | YESCO | 2016-01-15 | 60 | Jeffrey S. Young, co-owner of YESCO, a custom electric sign company that fabricates, installs and provides service for signs, electronic display systems and lighting, has to face his fear of heights when tasked with changing a light high above downtown Chicago. |
| 6 | 95 | Gerber Group | 2016-01-22 | 60 | Scott Gerber, Principal and CEO of Gerber Group, a hospitality industry leader with 14 chic hotel bar and restaurant venues, including Whiskey Park, Whisky Blue and The Roof, goes undercover to meet his employees who keep the party going. |
| 7 | 96 | Marco's Pizza | 2016-01-29 | 60 | Bryon Stephens, President and COO of Marco's Pizza, the nation's fastest-growing pizza franchise with nearly 700 locations in 35 states, goes undercover to meet the employees who rake in the "dough" for his company. |
| 8 | 97 | 4 Wheel Parts | 2016-02-05 | 60 | Greg Adler, President and CEO of 4 Wheel Parts, the global leader in truck, Jeep, SUV and off-road tires, wheels, lift kits and accessories, goes undercover to meet the employees who keep his company on the right track. |
| 9 | 98 | Hamburger Mary's | 2016-05-15 | 60 | Identical twin brothers Ashley and Brandon Wright, co-owners of Hamburger Mary's, a flamboyant franchise of LGBT-friendly restaurants that serve gourmet burgers and cocktails along with drag shows and nightly entertainment, each work undercover as the other watches via a live video feed. |
| 10 | 99 | United Real Estate Group | 2016-05-20 | 60 | Dan Duffy, the CEO of United Real Estate Group, a real estate franchise serving residential metropolitan markets and idyllic lifestyle and investment markets, goes undercover to meet the employees who close the deals at his company. Hoping to be appraised as a valuable employee on his assignments, Dan dons tie-dye and gets down and dirty on the front lines as a real estate agent, land appraisal specialist, interior decorator and auctioneer. |
| 11 | 100 | Wienerschnitzel | 2016-05-22 | 60 | Cynthia Galardi-Culpepper, CEO and Chairperson of Wienerschnitzel, the world's largest hot dog chain with more than 330 locations throughout the U.S., Panama and Guam, struggles to pull her weight as just another link in the chain, on the 100th episode of UNDERCOVER BOSS. |
| 12 | 101 | Golden Krust Caribbean Bakery & Grill | 2016-05-22 | 60 | Lowell Hawthorne, President and CEO of Golden Krust Caribbean Bakery & Grill, goes undercover at the family-owned manufacturer, distributor and franchisor of Caribbean-inspired cuisine with 120 locations and products in 20,000 supermarkets, and discovers some of the chefs don't have the company's official recipes. |
Season 8
| Episode No. | No. Overall | Title | Airdate | Runtime | Summary |
| --- | --- | --- | --- | --- | --- |
| 1 | 102 | Build-a-bear Workshop | 2016-12-21 | 60 | Build-A-Bear Workshop CEO Sharon Price John goes under cover to meet her employees. |
| 2 | 103 | Mayor of Gary, Indiana | 2016-12-21 | 60 | New York & Company CEO Greg Scott finds one of his stores in disarray. |
| 3 | 104 | New York & Company | 2016-12-28 | 60 | Greg Scott, CEO New York & Company, a women's fashion retailer designing on-trend, versatile, affordable collections that are available in over 480 domestic stores and on their ecommerce site, goes undercover to work alongside the people who keep his company "en vogue." |
| 4 | 105 | Painting with a Twist | 2017-01-04 | 60 | Renee Maloney, co-founder and CFO of Painting with a Twist, the nation's first and leading paint-and-sip franchise where guests come together to experience a unique night out that includes friends, paint and the option to BYOB, goes undercover to meet the people who make her company a masterpiece. |
| 5 | 106 | AdvantaClean | 2017-01-11 | 60 | Jeff Dudan, CEO and Founder of AdvantaClean, a Light Environmental Service franchise company that helps make homes clean, safe, healthy and energy efficient, gets down and dirty while tackling masses of mold in a water-damaged kitchen and in a tight, dark crawl space beneath another client's home. |
| 6 | 107 | The Coffee Bean & Tea Leaf | 2017-01-18 | 60 | One of the world's largest independent and privately owned specialty coffee and tea retailers, born and brewed in Southern California since 1963, goes undercover to meet the employees who keep his company brewing. |
| 7 | 108 | Taco Bueno | 2017-04-28 | 60 | Michael Roper, president and CEO of Taco Bueno, a high quality Tex-Mex chain founded in Abilene, Texas in 1967, with more than 175 restaurants, goes undercover to be certain everything at his company is "bueno." |
| 8 | 109 | Associa | 2017-05-05 | 60 | John Carona, founder and CEO of Associa, the leader in community association management for more than 37 years that oversees the day-to-day operations of over 9,000 HOAs and condominiums and protects the property value of 5 million owners' homes, goes undercover to meet the employees who keep his company's foundation strong. |
Season 9
| Episode No. | No. Overall | Title | Airdate | Runtime | Summary |
| --- | --- | --- | --- | --- | --- |
| 1 | 110 | Gabby Douglas | 2018-05-11 | 60 | Two-time U.S. Olympic women's gymnastics team member, three-time Olympic Gold medalist, a two-time New York Times bestselling author and one of the most celebrated Olympic gymnasts of all time. While disguised as a middle- aged aspiring gym owner, Douglas finds two incredibly talented child gymnasts and interacts with a class of young gymnastics students, none of whom realize that their hero has secretly tumbled her way into their lives. |
| 2 | 111 | Idina Menzel | 2018-05-18 | 60 | Tony Award-winning iconic Broadway star and multi-platinum recording artist and actress, who is celebrated for singing "Let It Go," the international phenomenon from the animated feature film "Frozen." Mendel goes undercover to find Broadway's next amazing talents. |
| 3 | 112 | Bethany Mota | 2018-05-25 | 60 | YouTube sensation and author with more than 12.7 million subscribers and over one billion views, who is one of the most powerful and inspiring voices in social media. Mota goes undercover to identify up-and-coming YouTube talent. |
| 4 | 113 | Deion Sanders | 2020-01-27 | 60 | Pro Football Hall of Famer, eight-time Pro Bowler, two-time Super Bowl champion and current NFL Network analyst who was one of the most electrifying athletes in the NFL and MLB. Sanders goes undercover to find amazing football coaches. |
| 5 | 114 | Jewel | 2018-06-08 | 60 | Four-time Grammy Award nominee Jewel, one of the most successful singer-songwriters of all time, who has sold over 30 million albums worldwide, goes undercover to discover gifted musicians and artisans to recruit for her Handmade Holiday Tour. While Jewel is in Nashville disguised as "Andrea," a bubbly brunette from New Jersey, she tries to fire up a crowd while assisting a talented painter with a unique style. Also, she's forced to fake a poor singing voice at an open mic night and a podcast while getting to know two aspiring musicians. |
| 6 | 115 | Stephanie McMahon | 2018-06-15 | 60 | Chief brand officer of World Wrestling Entertainment, Inc. (WWE), one of the most successful sports and entertainment brands in the world, and a longtime on-air villainous WWE character, Stephanie McMahon "slams" into undercover mode to find raw talent, and helps a young WWE fan's charitable dreams come true. While conducting her in-the-field talent search, McMahon is disguised as "Sam," with a blonde wig and southern accent, an amiable woman intent on learning about WWE for her blog, "I Don't Get It." While undercover, McMahon meets an aspiring wrestler with an inspirational message; is pushed into action at a photoshoot with sparring wrestlers; and assists at a fundraiser spearheaded by a young WWE fan who has survived cancer and, with his family, is determined to raise funds to help other children battling the disease. |
| 7 | 116 | Ashley Graham | 2018-06-22 | 60 | Ashley Graham, accomplished model and body activist, poses as an aspiring model while seeking out like-minded curvy models and meeting a trailblazing young ballerina with a massive social media following. While undercover as "Morgan," a raven-haired, face-pierced aspiring model, Graham is turned away at a model agency's open call, wants to slither away when forced to pose with a snake at a photoshoot with a curvy model, and spins into high gear in a dance studio while working with a gifted ballerina who defies the conventional body-type for talented dancers. |
Series Cast
| | | | |
| --- | --- | --- | --- |
| | Mark Keller | as Announcer | |
Series Crew
| | Position | Name |
| --- | --- | --- |
| | Executive Producer | Eli Holzman |
| | Creator | Stephen Lambert |
| | Executive Producer | Stephen Lambert |
Related News
TVMaze