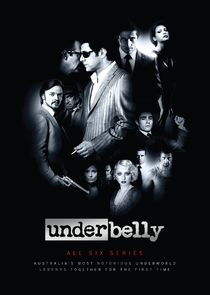 Underbelly is part review, part expose', and part skit comedy. We delve into the seedy underbelly of gaming, movies, comics, and the internets and attack its vulnerable underbelly for massive damage.
Series Overview
Rating
imDb Rating: 8.1 (4,046 Votes)
Metascore: N/A
Plot
Each season of this multi award winning Television series takes you through a 13 episode run in the rise and fall of real life Australian underworld figures as told from both sides of the ...
Details
Rated: N/A
Released: 13 Feb 2008
Runtime: 60 min
Genre: Crime, Drama, History, Mystery
Director: N/A
Writer: N/A
Actors: Caroline Craig, Gary Bennett, Marcus Shultz, Paul Tassone
Language: English
Country: Australia
Awards: 27 wins & 38 nominations.
Total Seasons: 6
Previous Episode
Squizzy Cooks a Goose
Episode 6x8; Sep 01, 2013
Previous Episodes 6x8: Squizzy Cooks a Goose 6x7: Squizzy Loses the Plot 6x6: Squizzy Makes the Front Page 6x5: Squizzy Tempts Fate 6x4: Squizzy Breaks Some Hearts 6x3: Squizzy Takes Charge 6x2: Squizzy Puts One Over 6x1: Squizzy Steps Out 5x8: Strike Force Tuno

View All Episodes
Cast
Asher Keddie as Senior Detective Constable Liz Cruickshank
Emma Booth as Kim Hollingsworth
Wil Traval as Joe Dooley
Robert Mammone as Tony Mokbel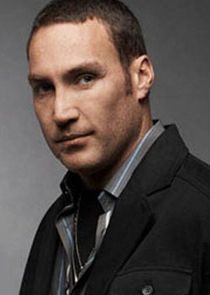 Callan Mulvey as Mark Moran
George Kapiniaris as George Defteros
View Full Cast
Skip to:
Season 1
| Episode No. | No. Overall | Title | Airdate | Runtime | Summary |
| --- | --- | --- | --- | --- | --- |
| 1 | 1 | The Black Prince | 2008-02-13 | 60 | |
| 2 | 2 | The Sorcerer's Apprentice | 2008-02-13 | 60 | |
| 3 | 3 | I Still Pray | 2008-02-20 | 60 | |
| 4 | 4 | Cocksure | 2008-02-27 | 60 | |
| 5 | 5 | The Good, the Bad, the Ugly | 2008-03-05 | 60 | |
| 6 | 6 | Luv U 4 Eva | 2008-03-12 | 60 | |
| 7 | 7 | Wise Monkeys | 2008-03-19 | 60 | |
| 8 | 8 | Earning a Crust | 2008-04-02 | 60 | |
| 9 | 9 | Suffer the Children | 2008-04-09 | 60 | |
| 10 | 10 | Scratched | 2008-04-16 | 60 | |
| 11 | 11 | Barbarians at the Gate | 2008-04-23 | 60 | |
| 12 | 12 | Best Laid Plans | 2008-04-30 | 60 | |
| 13 | 13 | Team Purana | 2008-05-07 | 60 | |
Season 2
| Episode No. | No. Overall | Title | Airdate | Runtime | Summary |
| --- | --- | --- | --- | --- | --- |
| 1 | 14 | Aussie Bob & Kiwi Terry | 2009-02-09 | 60 | |
| 2 | 15 | Bad Habits | 2009-02-09 | 60 | |
| 3 | 16 | Brave New World | 2009-02-16 | 60 | |
| 4 | 17 | Business as Usual | 2009-02-23 | 60 | |
| 5 | 18 | A Tale of Two Hitmen | 2009-03-02 | 60 | |
| 6 | 19 | Stranded | 2009-03-09 | 60 | |
| 7 | 20 | A Nice Little Earner | 2009-03-16 | 60 | |
| 8 | 21 | Diamonds | 2009-03-23 | 60 | |
| 9 | 22 | Judas Kiss | 2009-03-30 | 60 | |
| 10 | 23 | The Reckoning | 2009-04-20 | 60 | |
| 11 | 24 | The Brotherhood | 2009-04-20 | 60 | |
| 12 | 25 | O Lucky Man | 2009-04-27 | 60 | |
| 13 | 26 | The Loved Ones | 2009-05-04 | 60 | |
Season 3
| Episode No. | No. Overall | Title | Airdate | Runtime | Summary |
| --- | --- | --- | --- | --- | --- |
| 1 | 27 | Into the Mystic | 2010-04-11 | 60 | |
| 2 | 28 | The Crucible | 2010-04-11 | 60 | |
| 3 | 29 | Kingdom Come | 2010-04-18 | 60 | |
| 4 | 30 | Fall Guy | 2010-04-25 | 60 | |
| 5 | 31 | Saving Face | 2010-05-09 | 60 | |
| 6 | 32 | Women in Uniform | 2010-05-09 | 60 | |
| 7 | 33 | Full Force Gale | 2010-05-16 | 60 | |
| 8 | 34 | Crossroads | 2010-05-23 | 60 | |
| 9 | 35 | Dog Eat Dog | 2010-05-30 | 60 | |
| 10 | 36 | Hurt on Duty | 2010-06-06 | 60 | |
| 11 | 37 | Beauty and the Beast | 2010-06-13 | 60 | |
| 12 | 38 | The Good Lieutenant | 2010-06-20 | 60 | |
| 13 | 39 | Alpha and Omega | 2010-06-27 | 60 | |
Season 4
| Episode No. | No. Overall | Title | Airdate | Runtime | Summary |
| --- | --- | --- | --- | --- | --- |
| 1 | 40 | The Worst Woman in Sydney | 2011-08-21 | 60 | |
| 2 | 41 | Whips and Scorpions | 2011-08-21 | 60 | |
| 3 | 42 | Cat Amongst the Pigeons | 2011-08-28 | 60 | |
| 4 | 43 | The Damage Done | 2011-09-04 | 60 | |
| 5 | 44 | The Darlinghurst Outrage | 2011-09-11 | 60 | |
| 6 | 45 | Blood Alley | 2011-09-18 | 60 | |
| 7 | 46 | Tripe and Brains | 2011-09-25 | 60 | |
| 8 | 47 | A Big Shivoo | 2011-10-02 | 60 | |
| 9 | 48 | The Crash | 2011-10-09 | 60 | |
| 10 | 49 | The Sentimental Bloke | 2011-10-16 | 60 | |
| 11 | 50 | Jerusalem Revisited | 2011-10-23 | 60 | |
| 12 | 51 | Big Moves | 2011-10-30 | 60 | |
| 13 | 52 | Armageddon | 2011-11-06 | 60 | |
Season 5
| Episode No. | No. Overall | Title | Airdate | Runtime | Summary |
| --- | --- | --- | --- | --- | --- |
| 1 | 53 | Thy Will Be Done | 2012-08-13 | 60 | |
| 2 | 54 | Cut Snake and Crazy | 2012-08-20 | 60 | |
| 3 | 55 | The Loaded Dog | 2012-08-27 | 60 | |
| 4 | 56 | Year of the Rooster | 2012-09-03 | 60 | |
| 5 | 57 | Troubleshooting | 2012-09-10 | 60 | |
| 6 | 58 | Road to Nowhere | 2012-09-17 | 60 | |
| 7 | 59 | Bang, Bang, Kill, Kill | 2012-09-17 | 60 | |
| 8 | 60 | Strike Force Tuno | 2012-10-01 | 60 | |
Season 6
| Episode No. | No. Overall | Title | Airdate | Runtime | Summary |
| --- | --- | --- | --- | --- | --- |
| 1 | 61 | Squizzy Steps Out | 2013-07-28 | 60 | |
| 2 | 62 | Squizzy Puts One Over | 2013-07-28 | 60 | |
| 3 | 63 | Squizzy Takes Charge | 2013-08-04 | 60 | |
| 4 | 64 | Squizzy Breaks Some Hearts | 2013-08-11 | 60 | |
| 5 | 65 | Squizzy Tempts Fate | 2013-08-18 | 60 | |
| 6 | 66 | Squizzy Makes the Front Page | 2013-08-25 | 60 | |
| 7 | 67 | Squizzy Loses the Plot | 2013-09-01 | 60 | |
| 8 | 68 | Squizzy Cooks a Goose | 2013-09-01 | 60 | |
Series Cast
| | | | |
| --- | --- | --- | --- |
| | Asher Keddie | as Senior Detective Constable Liz Cruickshank | |
| | Emma Booth | as Kim Hollingsworth | |
| | Wil Traval | as Joe Dooley | |
| | Robert Mammone | as Tony Mokbel | |
| | Callan Mulvey | as Mark Moran | |
| | George Kapiniaris | as George Defteros | |
| | Jonathan LaPaglia | as Anthony "Rooster" Perish | |
| | Rodger Corser | as Det. Snr. Sgt. Steve Owen | |
| | Caroline Craig | as Snr Det. Jacqui James | |
| | Gerard Kennedy | as Graham Kinniburgh | |
| | Anna Hutchison | as Alison Dine | |
| | Roy Billing | as Robert Trimbole | |
| | Caroline Craig | as Narrator | |
| | Gyton Grantley | as Carl Williams | |
| | Alex Dimitriades | as "Mr T" | |
| | Simon Westaway | as Mick Gatto | |
| | Caroline Gillmer | as Judy Moran | |
| | Ian Bliss | as "Mr L" | |
| | Damian Walshe-Howling | as Andrew "Benji" Veniamin | |
| | Kat Stewart | as Roberta Williams | |
| | Chelsie Preston Crayford | as Tilly Devine | |
| | Kevin Harrington | as Lewis Moran | |
| | Les Hill | as Jason Moran | |
| | Nathan Page | as Ray 'Chuck' Bennett/ Henry Stokes | |
| | Cheree Cassidy | as Debbie Webb | |
| | Lliam Amor | as Greg Workman | |
| | Peter O'Brien | as George Freeman | |
| | Daniel Amalm | as Dino Dibra | |
| | Madeleine West | as Danielle McGuire | |
| | Firass Dirani | as John Ibrahim | |
| | Danielle Cormack | as Kate Leigh | |
| | Marcus Graham | as Lewis Caine | |
| | Frankie J. Holden | as Det. Inspector Garry Butterworth | |
| | Dieter Brummer | as Trevor Haken | |
| | Martin Sacks | as Mario Condello | |
| | Vince Colosimo | as Alphonse Gangitano | |
| | Don Hany | as Nik Radev | |
| | Matthew Newton | as Terry Clarke | |
Series Crew
| | Position | Name |
| --- | --- | --- |
| | Executive Producer | Jo Horsburgh |
| | Executive Producer | Des Monaghan |
Related News
TVMaze