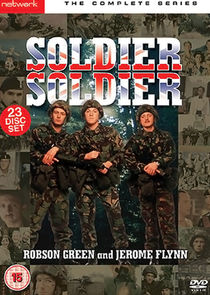 Soldier Soldier is a British television drama series. Produced by Central Television and broadcast on the ITV network, it ran for a total of seven series and 82 episodes from 1991 to 1997. It featured the daily lives of a group of soldiers in 'B' Company, 1st Battalion The King's Fusiliers, a fictional British Army infantry regiment loosely based on the Royal Regiment of Fusiliers.
Series Overview
Rating
imDb Rating: 6.7 (607 Votes)
Metascore: N/A
Plot
Drama following the life of the officers and men of the King's Own Fusiliers regiment, during their home lives, training exercises and battles.
Details
Rated: N/A
Released: 10 Jun 1991
Runtime: 50 min
Genre: Drama
Director: N/A
Writer: Lucy Gannon
Actors: Ben Nealon, Robson Green, Jerome Flynn, Rosie Rowell
Language: English
Country: UK
Awards: 2 wins.
Total Seasons: 7
Previous Episode
No Pain No Gain
Episode 7x12; Dec 09, 1997
Previous Episodes 7x12: No Pain No Gain 7x11: Sounds of War 7x10: Chain of Command 7x9: Fit to Explode 7x8: Out 7x7: The Road to Damascus 7x6: How Was It for You 7x5: Friends and Lovers 7x4: Under Fire

View All Episodes
Cast
Ben Nealon as Lt Jeremy Forsythe
Robson Green as Fusilier Dave Tucker
Jerome Flynn as Cpl Paddy Garvey
Rosie Rowell as Donna Tucker
Gary Love as Sgt Tony Wilton
Annabelle Apsion as Joy Wilton
View Full Cast
Skip to:
Season 1
| Episode No. | No. Overall | Title | Airdate | Runtime | Summary |
| --- | --- | --- | --- | --- | --- |
| 1 | 1 | All the Kings Men | 1991-06-10 | 60 | |
| 2 | 2 | Fun and Games | 1991-06-17 | 60 | |
| 3 | 3 | Dirty Work | 1991-06-24 | 60 | |
| 4 | 4 | Fighting Spirit | 1991-07-01 | 60 | |
| 5 | 5 | Battlefields | 1991-07-08 | 60 | |
| 6 | 6 | Loyal to the Corps | 1991-07-15 | 60 | |
| 7 | 7 | Flying Colours | 1991-07-22 | 60 | |
Season 2
| Episode No. | No. Overall | Title | Airdate | Runtime | Summary |
| --- | --- | --- | --- | --- | --- |
| 1 | 8 | A Man's Life | 1992-09-21 | 60 | |
| 2 | 9 | Something Old, Something New | 1992-09-28 | 60 | |
| 3 | 10 | A Touch of the Sun | 1992-10-05 | 60 | |
| 4 | 11 | Lifelines | 1992-10-12 | 60 | |
| 5 | 12 | Saving Face | 1992-10-19 | 60 | |
| 6 | 13 | Lost and Found | 1992-10-26 | 60 | |
| 7 | 14 | The Last Post | 1992-11-02 | 60 | |
Season 3
| Episode No. | No. Overall | Title | Airdate | Runtime | Summary |
| --- | --- | --- | --- | --- | --- |
| 1 | 15 | Shifting Sands | 1993-09-07 | 60 | |
| 2 | 16 | Live Fire | 1993-09-14 | 60 | |
| 3 | 17 | Base Details | 1993-09-21 | 60 | |
| 4 | 18 | Fall Out | 1993-09-28 | 60 | |
| 5 | 19 | Disintegration | 1993-10-05 | 60 | |
| 6 | 20 | Hide and Seek | 1993-10-12 | 60 | |
| 7 | 21 | Trouble and Strife | 1993-10-19 | 60 | |
| 8 | 22 | Hard Knocks | 1993-10-26 | 60 | |
| 9 | 23 | Camouflage | 1993-11-02 | 60 | |
| 10 | 24 | Staying Together | 1993-11-09 | 60 | |
| 11 | 25 | Dutch Courage | 1993-11-16 | 60 | |
| 12 | 26 | Stand by Me | 1993-11-23 | 60 | |
| 13 | 27 | Leaving | 1993-11-30 | 60 | |
Season 4
| Episode No. | No. Overall | Title | Airdate | Runtime | Summary |
| --- | --- | --- | --- | --- | --- |
| 1 | 28 | Stormy Weather | 1994-09-20 | 60 | |
| 2 | 29 | Away Games | 1994-09-27 | 60 | |
| 3 | 30 | Damage | 1994-10-04 | 60 | |
| 4 | 31 | Second Sight | 1994-10-11 | 60 | |
| 5 | 32 | Over the Top | 1994-10-18 | 60 | |
| 6 | 33 | Proud Man | 1994-10-25 | 60 | |
| 7 | 34 | Further Education | 1994-11-01 | 60 | |
| 8 | 35 | Baby Love | 1994-11-08 | 60 | |
| 9 | 36 | Band of Gold | 1994-11-15 | 60 | |
| 10 | 37 | Going Back | 1994-11-22 | 60 | |
| 11 | 38 | Poles Apart | 1994-11-29 | 60 | |
| 12 | 39 | Bombshell | 1994-12-06 | 60 | |
| 13 | 40 | Changing the Guard | 1994-12-13 | 60 | |
Season 5
| Episode No. | No. Overall | Title | Airdate | Runtime | Summary |
| --- | --- | --- | --- | --- | --- |
| 1 | 41 | For Better for Worse | 1995-09-05 | 60 | |
| 2 | 42 | Second Chances | 1995-09-12 | 60 | |
| 3 | 43 | Love Not Money | 1995-09-19 | 60 | |
| 4 | 44 | Bushed | 1995-09-26 | 60 | |
| 5 | 45 | Far Away | 1995-10-03 | 60 | |
| 6 | 46 | Ill Wind | 1995-10-10 | 60 | |
| 7 | 47 | Sweet Revenge | 1995-10-17 | 60 | |
| 8 | 48 | The Army Game | 1995-10-24 | 60 | |
| 9 | 49 | Love and War | 1995-10-31 | 60 | |
| 10 | 50 | Leaving | 1995-11-07 | 60 | |
| 11 | 51 | Hard Lessons | 1995-11-14 | 60 | |
| 12 | 52 | Stick Together | 1995-11-21 | 60 | |
| 13 | 53 | Under the Sun | 1995-11-28 | 60 | |
| 14 | 54 | Baptism of Fire | 1995-12-05 | 60 | |
| 15 | 55 | Twist of Fate | 1995-12-12 | 60 | |
Season 6
| Episode No. | No. Overall | Title | Airdate | Runtime | Summary |
| --- | --- | --- | --- | --- | --- |
| 1 | 56 | River Deep | 1996-09-03 | 60 | |
| 2 | 57 | Divided Loyalties | 1996-09-10 | 60 | |
| 3 | 58 | All for One | 1996-09-17 | 60 | |
| 4 | 59 | Walking on Air | 1996-09-24 | 60 | |
| 5 | 60 | Under the Gooseberry Bush | 1996-10-01 | 60 | |
| 6 | 61 | Flash Point | 1996-10-08 | 60 | |
| 7 | 62 | Money for Nothing | 1996-10-15 | 60 | |
| 8 | 63 | Dear Joe | 1996-10-22 | 60 | |
| 9 | 64 | Asking for It | 1996-10-29 | 60 | |
| 10 | 65 | Delayed Action | 1996-11-05 | 60 | |
| 11 | 66 | Beast | 1996-11-12 | 60 | |
| 12 | 67 | Fall for Love | 1996-11-19 | 60 | |
| 13 | 68 | War Path | 1996-11-26 | 60 | |
| 14 | 69 | Deliver Us from Evil | 1996-12-03 | 60 | |
| 15 | 70 | Hell and High Water | 1996-12-10 | 60 | |
Season 7
| Episode No. | No. Overall | Title | Airdate | Runtime | Summary |
| --- | --- | --- | --- | --- | --- |
| 1 | 71 | Divided We Fall | 1997-09-23 | 60 | |
| 2 | 72 | Things Can Only Get Better | 1997-09-30 | 60 | |
| 3 | 73 | Line of Departure | 1997-10-07 | 60 | |
| 4 | 74 | Under Fire | 1997-10-14 | 60 | |
| 5 | 75 | Friends and Lovers | 1997-10-21 | 60 | |
| 6 | 76 | How Was It for You | 1997-10-28 | 60 | |
| 7 | 77 | The Road to Damascus | 1997-11-04 | 60 | |
| 8 | 78 | Out | 1997-11-11 | 60 | |
| 9 | 79 | Fit to Explode | 1997-11-18 | 60 | |
| 10 | 80 | Chain of Command | 1997-11-25 | 60 | |
| 11 | 81 | Sounds of War | 1997-12-02 | 60 | |
| 12 | 82 | No Pain No Gain | 1997-12-09 | 60 | |
Series Cast
| | | | |
| --- | --- | --- | --- |
| | Ben Nealon | as Lt Jeremy Forsythe | |
| | Robson Green | as Fusilier Dave Tucker | |
| | Jerome Flynn | as Cpl Paddy Garvey | |
| | Rosie Rowell | as Donna Tucker | |
| | Gary Love | as Sgt Tony Wilton | |
| | Annabelle Apsion | as Joy Wilton | |
| | Denise Welch | as Marsha Stubbs | |
Related News
TVMaze