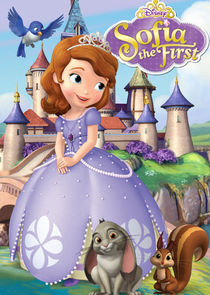 Sofia the First is a about a little girl, a commoner, until her mom marries the king and suddenly she's royalty.
Series Overview
Rating
imDb Rating: 7.0 (1,954 Votes)
Metascore: N/A
Plot
Sofia, is a little girl with a commoner's background until her mom marries the King and suddenly she is royalty.
Details
Rated: TV-Y
Released: 11 Jan 2013
Runtime: 30 min
Genre: Animation, Adventure, Family, Fantasy, Musical
Director: N/A
Writer: Craig Gerber
Actors: Ariel Winter, Darcy Rose Byrnes, Travis Willingham, Sara Ramirez
Language: English
Country: USA
Awards: Nominated for 2 Primetime Emmys. Another 6 wins & 17 nominations.
Total Seasons: 4
Previous Episode
Forever Royal
Episode 4x26; Sep 08, 2018
As Sofia, Amber and James prepare for their graduation from Royal Prep Academy, Sofia is called back to the Mystic Isles to face an evil witch named Vor who is trying to take over the kingdom of Enchancia. Series finale.
Previous Episodes 4x26: Forever Royal 4x25: The Elf Situation 4x24: Return to Merroway Cove 4x23: The Lost Pyramid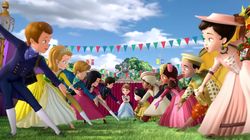 4x22: The Royal School Fair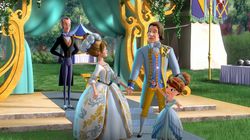 4x21: A Royal Wedding 4x20: The Mystic Isles: Undercover Fairies 4x19: The Mystic Isles: A Hero for the Hoodwinks 4x18: In Cedric We Trust

View All Episodes
Cast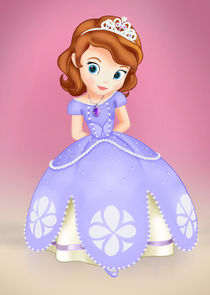 Ariel Winter as Princess Sofia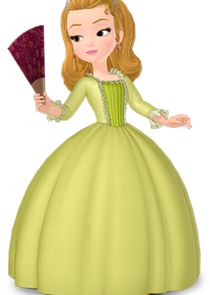 Darcy Rose Byrnes as Princess Amber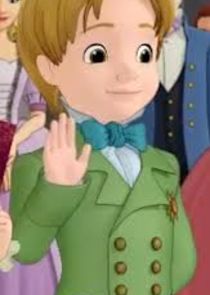 Zach Callison as Prince James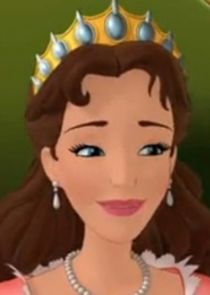 Sara Ramirez as Queen Miranda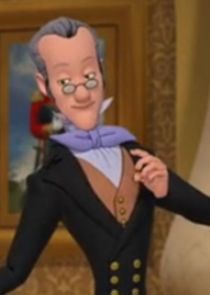 Tim Gunn as Baileywick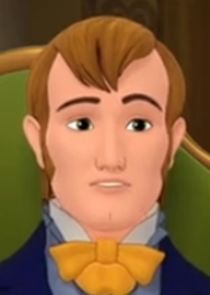 Travis Willingham as King Roland II
View Full Cast
Skip to:
Season 1
| Episode No. | No. Overall | Title | Airdate | Runtime | Summary |
| --- | --- | --- | --- | --- | --- |
| 1 | 1 | Just One of the Princes | 2013-01-11 | 30 | |
| 2 | 2 | The Big Sleepover | 2013-01-18 | 30 | |
| 3 | 3 | Let the Good Times Troll | 2013-01-25 | 30 | |
| 4 | 4 | Cedric's Apprentice | 2013-02-01 | 30 | |
| 5 | 5 | A Royal Mess | 2013-02-08 | 30 | |
| 6 | 6 | The Shy Princess | 2013-02-22 | 30 | |
| 7 | 7 | Blue Ribbon Bunny | 2013-03-15 | 30 | |
| 8 | 8 | The Princess Test | 2013-04-12 | 30 | |
| 9 | 9 | Baileywick's Day Off | 2013-04-26 | 30 | |
| 10 | 10 | Tri-Kingdom Picnic | 2013-05-17 | 30 | |
| 11 | 11 | The Little Witch | 2013-05-31 | 30 | |
| 12 | 12 | Two to Tangu | 2013-06-14 | 30 | |
| 13 | 13 | Finding Glover | 2013-06-28 | 30 | |
| 14 | 14 | The Amulet of Avalor | 2013-07-12 | 30 | |
| 15 | 15 | The Buttercups | 2013-08-02 | 30 | |
| 16 | 16 | Make Way for Miss Nettle | 2013-08-23 | 30 | |
| 17 | 17 | The Amulet and the Anthem | 2013-09-13 | 30 | |
| 18 | 18 | Tea for Too Many | 2013-09-27 | 30 | |
| 19 | 19 | Princess Butterfly | 2013-10-11 | 30 | |
| 20 | 20 | Great Aunt-Venture | 2013-10-25 | 30 | |
| 21 | 21 | The Baker King | 2013-11-08 | 30 | |
| 22 | 22 | The Floating Palace | 2013-11-24 | 30 | |
| 23 | 23 | Holiday in Enchancia | 2013-12-01 | 30 | |
| 24 | 24 | Four's a Crowd | 2014-02-14 | 30 | |
Season 2
| Episode No. | No. Overall | Title | Airdate | Runtime | Summary |
| --- | --- | --- | --- | --- | --- |
| 1 | 25 | Two Princesses and a Baby | 2014-03-07 | 30 | |
| 2 | 26 | The Enchanted Feast | 2014-04-04 | 30 | |
| 3 | 27 | The Flying Crown | 2014-04-11 | 30 | |
| 4 | 28 | Mom's the Word | 2014-04-25 | 30 | |
| 5 | 29 | The Silent Knight | 2014-05-09 | 30 | |
| 6 | 30 | Enchanted Science Fair | 2014-05-30 | 30 | |
| 7 | 31 | King for a Day | 2014-06-27 | 30 | |
| 8 | 32 | When You Wish Upon a Well | 2014-07-11 | 30 | |
| 9 | 33 | Gizmo Gwen | 2014-07-25 | 30 | |
| 10 | 34 | Sofia the Second | 2014-08-01 | 30 | |
| 11 | 35 | Mystic Meadows | 2014-08-08 | 30 | |
| 12 | 36 | Princesses to the Rescue! | 2014-08-15 | 30 | |
| 13 | 37 | Ghostly Gala | 2014-10-03 | 30 | |
| 14 | 38 | The Emerald Key | 2014-10-11 | 30 | |
| 15 | 39 | Scrambled Pets | 2014-10-17 | 30 | |
| 16 | 40 | The Princess Stays in the Picture | 2014-10-24 | 30 | |
| 17 | 41 | Baileywhoops | 2014-11-07 | 30 | |
| 18 | 42 | The Curse of Princess Ivy | 2014-11-23 | 30 | |
| 19 | 43 | Winter's Gift | 2014-12-12 | 30 | |
| 20 | 44 | The Leafsong Festival | 2015-01-16 | 25 | |
| 21 | 45 | Substitute Cedric | 2015-02-20 | 30 | |
| 22 | 46 | Clover Time | 2015-03-27 | 30 | |
| 23 | 47 | In a Tizzy | 2015-03-27 | 30 | Sofia's friend Ruby teams up with an over-eager fairy godmother and learns that a little assistance is nice but sometimes you have to do things on your own. |
| 24 | 48 | A Tale of Two Teams | 2015-03-27 | 30 | A game of dazzleball pits the villagers against the royals and puts Sofia in a difficult spot. She must decide whether to play with her old friends or her new family. |
| 25 | 49 | The Littlest Princess | 2015-07-01 | 30 | |
| 26 | 50 | Buttercup Amber | 2015-07-08 | 30 | |
| 27 | 51 | Carol of the Arrow | 2015-07-15 | 25 | |
| 28 | 52 | Sidekick Clio | 2015-07-22 | 25 | |
Season 3
| Episode No. | No. Overall | Title | Airdate | Runtime | Summary |
| --- | --- | --- | --- | --- | --- |
| 1 | 53 | Cool Hand Fluke | 2015-08-05 | 30 | |
| 2 | 54 | Minimus is Missing | 2015-08-12 | 30 | |
| 3 | 55 | Cedric Be Good | 2015-09-18 | 30 | |
| 4 | 56 | Princess Adventure Club | 2015-09-25 | 30 | |
| 5 | 57 | Minding the Manor | 2015-10-02 | 30 | |
| 6 | 58 | The Secret Library | 2015-10-12 | 30 | |
| 7 | 59 | New Genie on the Block | 2015-10-16 | 30 | |
| 8 | 60 | The Fliegel Has Landed | 2015-10-23 | 30 | |
| 9 | 61 | The Princess Ballet | 2015-11-01 | 30 | Princess Kari performs ballet at Royal Prep's Open House and Sofia teaches her that it's okay to not be perfect. |
| 10 | 62 | All the Sprite Moves | 2015-11-06 | 30 | Princess Vivian is upset about her family's move to a new castle. |
| 11 | 63 | Sofia in Elvenmoor | 2015-11-13 | 30 | Sofia and Clover discover an enchanted land of elves. |
| 12 | 64 | Stormy Lani | 2015-11-20 | 30 | Princess Lani alters the weather according to her moods. |
| 13 | 65 | Lord of the Rink | 2015-12-04 | 30 | |
| 14 | 66 | The Secret Library: Olaf and the Tale of Miss Nettle | 2016-02-15 | 30 | |
| 15 | 67 | Gone with the Wand | 2016-03-04 | 30 | |
| 16 | 68 | Bad Little Dragon | 2016-03-11 | 30 | |
| 17 | 69 | Bunny Swap | 2016-03-25 | 30 | |
| 18 | 70 | Her Royal Spyness | 2016-04-08 | 30 | |
| 19 | 71 | Best in Air Show | 2016-05-06 | 30 | When the Flying Starwings come to Enchancia, Minimus becomes determined to show his parents, the stars of the show, his talent as a capable stunt-flyer. |
| 20 | 72 | Dads and Daughters Day | 2016-06-17 | 30 | |
| 21 | 73 | The Secret Library: The Tale of the Noble Knight | 2016-07-01 | 30 | When Sofia visits The Secret Library, she learns The Tale of A Noble Knight seeking the Ice Fire Shield. |
| 22 | 74 | The Bamboo Kite | 2016-07-08 | 30 | Sofia visits the kingdom of Wei-Ling to attend the Festival of Kites, where Princess Jun has the honor of launching the first kite. |
| 23 | 75 | Beauty is the Beast | 2016-08-12 | 30 | Sofia helps Princess Charlotte undo a curse that has turned her into a beast. |
| 24 | 76 | Cauldronation Day | 2016-10-07 | 25 | Sofia must keep Lucinda's witch friends from ruining her Cauldronation Day. |
| 25 | 77 | Camp Wilderwood | 2016-10-28 | 25 | When James gets homesick at Camp Wilderwood, he and his friend Miles create a plan to escape. |
| 26 | 78 | Royal Vacation | 2016-11-11 | 25 | Miranda plans a family vacation in order to spend quality time together, but it turns out to be the worst vacation ever. |
| 27 | 79 | Hexley Hall | 2017-01-07 | 25 | When Sofia notices that her amulet is changing, she enlists Cedric's help to discover why. |
| 28 | 80 | The Princess Prodigy | 2017-02-10 | 25 | Sofia becomes concerned after she learns that Princess Vivian's music teacher plans to magically steal Vivian's musical talent. |
| 29 | 81 | One for the Books | 2017-03-31 | 25 | A new school year begins for Sofia and her classmates, and when she realizes that her classmate Desmond has difficulties, she helps him to get along. |
Season 4
| Episode No. | No. Overall | Title | Airdate | Runtime | Summary |
| --- | --- | --- | --- | --- | --- |
| 1 | 82 | Day of the Sorcerers | 2017-04-28 | 25 | After a secret meeting of sorcerers, Cedric must choose between taking over the kingdom and maintaining his friendship with Sofia. |
| 2 | 83 | The Secret Library: Tale of the Eternal Torch | 2017-05-05 | 30 | The secret library sends Sofia on a mission to help the dragons of the Blazing Palisades defend their home against invading sea serpents. |
| 3 | 84 | The Crown of Blossoms | 2017-05-12 | 30 | The secret library sends Sofia on a mission to help the dragons of the Blazing Palisades defend their home against invading sea serpents. |
| 4 | 85 | Pin the Blame on the Genie | 2017-05-19 | 30 | After Kazeem the genie is accused of wreaking havoc in Tangu, Sofia sets out to prove his innocence. |
| 5 | 86 | The Mystic Isles | 2017-06-24 | 30 | Sofia and Amber visit an enchanted new world; together with new friends, including an enthusiastic unicorn named Skye and mystical human-hawk creatures called WIndwalkers, they must stop an evil Crystalmaster from covering the isles in crystals. |
| 6 | 87 | The Mystic Isles: The Princess and the Protector | 2017-06-30 | 30 | Sofia travels to the Isle of Forever Frost to begin her first assignment. |
| 7 | 88 | Sofia the First : The Mystic Isles, Part 2 | 2017-07-13 | 30 | |
| 8 | 89 | The Mystic Isles, Part 3 | 2017-07-13 | 30 | |
| 9 | 90 | The Royal Dragon | 2017-07-21 | 30 | Sofia disguises herself as a dragon to attend the annual Dragon Roast n' Toast picnic with Crackle and meets her childhood rival, Sizzle. |
| 10 | 91 | The Mystic Isles: The Mare of the Mist | 2017-08-04 | 30 | While traveling to the Mystic Isles on a quest, Minimus and Skye compete for Sofia's affection. |
| 11 | 92 | Through the Looking Back Glass | 2017-08-18 | 30 | |
| 12 | 93 | Princess Jade | 2017-09-01 | 30 | Amber and Jade switch schools for a day. |
| 13 | 94 | Ivy's True Colors | 2017-09-29 | 30 | Sofia's amulet summons her to rescue a princess in need who turns out to be her former foe, Princess Ivy. |
| 14 | 95 | Too Cute to Spook | 2017-10-13 | 30 | |
| 15 | 96 | Pirated Away | 2017-10-20 | 30 | |
| 16 | 97 | The Mystic Isles: The Falcon's Eye | 2017-10-27 | 30 | |
| 17 | 98 | The Mystic Isles: The Great Pretender | 2017-11-03 | 30 | |
| 18 | 99 | In Cedric We Trust | 2018-01-26 | 30 | |
| 19 | 100 | The Mystic Isles: A Hero for the Hoodwinks | 2018-02-16 | 30 | |
| 20 | 101 | The Mystic Isles: Undercover Fairies | 2018-03-02 | 30 | |
| 21 | 102 | A Royal Wedding | 2018-05-14 | 30 | The arrival of the Queen Mum makes everyone question who will be the next king or queen; chaos ensues as Amber and James try to prove who will be the best. |
| 22 | 103 | The Royal School Fair | 2018-05-15 | 30 | Sofia must decide the right school for her; James fears he may not be talented enough to make it as a knight. |
| 23 | 104 | The Lost Pyramid | 2018-05-16 | 30 | |
| 24 | 105 | Return to Merroway Cove | 2018-05-17 | 30 | |
| 25 | 106 | The Elf Situation | 2018-05-18 | 30 | |
| 26 | 107 | Forever Royal | 2018-09-08 | 60 | As Sofia, Amber and James prepare for their graduation from Royal Prep Academy, Sofia is called back to the Mystic Isles to face an evil witch named Vor who is trying to take over the kingdom of Enchancia. Series finale. |
Series Cast
| | | | |
| --- | --- | --- | --- |
| | Ariel Winter | as Princess Sofia | |
| | Darcy Rose Byrnes | as Princess Amber | |
| | Zach Callison | as Prince James | |
| | Sara Ramirez | as Queen Miranda | |
| | Tim Gunn | as Baileywick | |
| | Travis Willingham | as King Roland II | |
| | Wayne Brady | as Clover the Rabbit | |
| | Meghan Strange | as Robin | |
| | Jess Harnell | as Cedric | |
| | Ashley Eckstein | as Mia the Bluebird | |
Series Crew
| | Position | Name |
| --- | --- | --- |
| | Executive Producer | Jamie Mitchell |
| | Co-Executive Producer | Craig Gerber |
| | Creator | Craig Gerber |
Related News
TVMaze