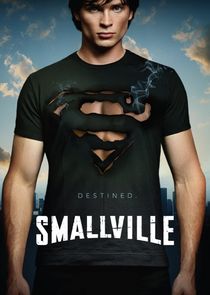 The end of the beginning starts here. Taking flight in its tenth and final season, this modern retelling of a hero's legendary origins continues to blend realism, action, heart and humor as Clark Kent soars toward claiming his birthright.

Clark has emerged from his darkest hour, only to find the path to his destiny blocked by ghosts from the past -- shadows in the present tempting Clark toward the darkness at every turn. Despite insurmountable odds, is Clark strong enough to step into the light and claim his rightful place as Earth's mightiest protector?
Series Overview
Rating
imDb Rating: 7.4 (110,860 Votes)
Metascore: N/A
Plot
A young Clark Kent struggles to find his place in the world as he learns to harness his alien powers for good and deals with the typical troubles of teenage life in Smallville, Kansas.
Details
Rated: TV-PG
Released: N/A
Runtime: 60 min
Genre: Adventure, Drama, Romance, Sci-Fi
Director: N/A
Writer: Alfred Gough, Miles Millar
Actors: Tom Welling, Allison Mack, Kristin Kreuk, Michael Rosenbaum
Language: English
Country: USA, Canada
Awards: Won 3 Primetime Emmys. Another 30 wins & 155 nominations.
Total Seasons: 10
Previous Episode
Finale (2)
Episode 10x22; May 13, 2011
In the conclusion of the series finale, Clark Kent's 10-year journey to become the Man of Steel culminates as Lex Luthor pays a visit to Smallville.
Previous Episodes

10x22: Finale (2)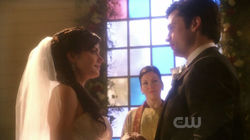 10x21: Finale (1)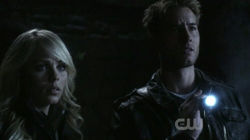 10x20: Prophecy


10x19: Dominion


10x18: Booster


10x17: Kent


10x16: Scion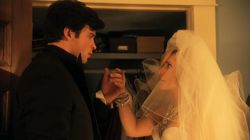 10x15: Fortune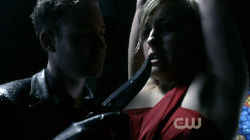 10x14: Masquerade

View All Episodes
Cast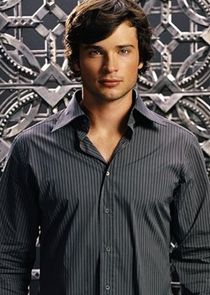 Tom Welling as Clark Kent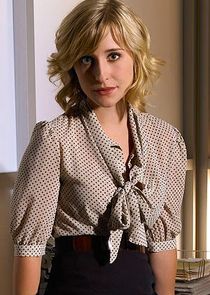 Allison Mack as Chloe Sullivan
Michael Rosenbaum as Lex Luthor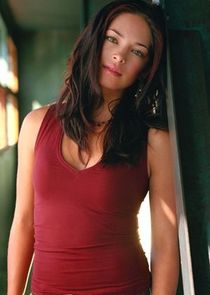 Kristin Kreuk as Lana Lang
Annette O'Toole as Martha Kent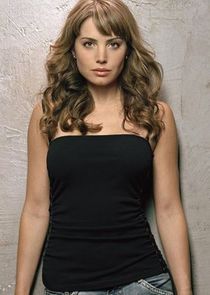 Erica Durance as Lois Lane
View Full Cast
Skip to:
Season 1
| Episode No. | No. Overall | Title | Airdate | Runtime | Summary |
| --- | --- | --- | --- | --- | --- |
| 1 | 1 | Pilot | 2001-10-16 | 60 | In rural Kansas, teenage Clark Kent saves the life of Lex Luthor after a car accident. |
| 2 | 2 | Metamorphosis | 2001-10-23 | 60 | A bug-loving teen is infused with superpowers after a bizarre accident, and the boy sets out to steal Lana's heart and dispose of her current boyfriend, an intimidating jock who warns the "bug boy" to stay away from Lana. Meanwhile, Lex asks the Kents to cater a party he is throwing. |
| 3 | 3 | Hothead | 2001-10-30 | 60 | The Smallville High School football coach asks Clark to join the squad, something Jonathan fears may jeopardize the teen's secret and the safety of the other players. What Clark doesn't know is that the coach has some powers up his sleeve as well, and he's using them to cover up a cheating scandal involving his players. Elsewhere, Lex faces off against his father over business practices; and Lana quits the cheerleading squad. |
| 4 | 4 | X-Ray | 2001-11-06 | 60 | Clark battles intense headaches as he tries to adjust to his emerging power of X-ray vision, an ability that he cannot control. Also, Lex is framed for an armed robbery by a teenage girl who can take on the appearance of anyone she chooses. Elsewhere, Lana finds her mother's journal and accuses her aunt of lying to her. |
| 5 | 5 | Cool | 2001-11-13 | 60 | After falling through the ice and nearly drowning, a teen finds that he cannot keep himself warm without extracting heat from an outside source---mainly other people. Meanwhile, Lex persuades Clark to ask Lana out on a platonic date. |
| 6 | 6 | Hourglass | 2001-11-20 | 60 | Clark volunteers at a nursing home, where he meets a blind woman who claims that she can see the future---and that someone close to him will die soon. Meanwhile, another resident of the home regains his youth after falling into a lake lined with kryptonite, and he sets out to kill the descendants of jurors who convicted him of murder when he was young. |
| 7 | 7 | Craving | 2001-11-27 | 60 | An overweight teen becomes excessively thin after eating vegetables tainted with kryptonite, but she also develops a voracious appetite for food---including human flesh. Meanwhile, Clark ponders what to get Lana for her birthday; Whitney gets a tryout for a college football team; and Lex learns some disturbing news about his health. |
| 8 | 8 | Jitters | 2001-12-11 | 60 | An old Kent family friend, who suffers from uncontrollably violent convulsions after working for Luthor Corp., shows up at the farm after accidentally killing a man in Metropolis. Meanwhile, when Clark's parents head to the city for a romantic getaway, the teen decides to host a party that soon gets out of hand. |
| 9 | 9 | Rogue | 2002-01-15 | 60 | A corrupt Metropolis police detective sees Clark stop an out-of-control bus barreling toward a homeless man, and the cop threatens to expose the teen's secret unless he does what the lawman wants. Meanwhile, a rich old flame visits Lex and asks him to reconsider his position in his father's company. |
| 10 | 10 | Shimmer | 2002-01-29 | 60 | A teen whose family lives and works in the Luthor mansion has a crush on Lex, and her jealousy of the tycoon's new girlfriend brings forth vandalism by an invisible perpetrator. Meanwhile, Clark volunteers to work with Lana on a school blood drive after she and Whitney have a fight. |
| 11 | 11 | Hug | 2002-02-05 | 60 | A crooked businessman who can get people to do whatever he wants by touching their hands sets out to buy the Kent farm so he can build an industrial plant in Smallville. Meanwhile, Clark and Lana argue over a physical confrontation between Whitney and a town hermit. |
| 12 | 12 | Leech | 2002-02-12 | 60 | Clark's superpowers are transferred to a fellow student after a bolt of lightning strikes the future Man of Steel while trying to rescue the awkward teen during a class trip. Meanwhile, Lana learns that her aunt is selling the family movie theater, which is of sentimental value to her. |
| 13 | 13 | Kinetic | 2002-02-26 | 60 | Chloe is seriously injured during a robbery at Lex's mansion that is perpetrated by three masked young men who can pass through walls. Meanwhile, Whitney's personal problems make him a target for the three bandits. |
| 14 | 14 | Zero | 2002-03-12 | 60 | An incident from Lex's past returns to haunt him when a man he believed died in a shooting incident returns from the grave to ruin his reputation. Meanwhile, Chloe starts digging into Clark's adoption history. |
| 15 | 15 | Nicodemus | 2002-03-19 | 60 | Dr. Hamilton irradiates an extinct flower with meteor radiation, releasing an infection that causes uninhibited behavior, coma, and death... and Jonathan and Lana are among its victims. |
| 16 | 16 | Stray | 2002-04-16 | 60 | The Kents take in a mysterious youngster who can read minds, after he is accidentally struck by their pickup truck while fleeing from a murderous thief. Meanwhile, Lionel Luther offers Lex a job in Metropolis, but Lex is skeptical of his father's generosity. |
| 17 | 17 | Reaper | 2002-04-23 | 60 | A fall from a tall building embeds a kryptonite fragment into a man's arm, and he develops the ability to burn his victims to death with his bare hands. Meanwhile, Clark dreads going on a yearly fishing trip with Jonathan and he tells him so in a fit of anger. |
| 18 | 18 | Drone | 2002-04-30 | 60 | Clark decides to run for class president after Pete nominates him, but the teen faces off against a candidate with the secret ability to control a swarm of killer bees. Meanwhile, a Metropolis newspaper reporter sets out to write an exclusive feature on Lex, against the billionaire's wishes. |
| 19 | 19 | Crush | 2002-05-07 | 60 | Clark finally learns that Chloe has a crush on him and he begins to question how he feels about her. But his indecisiveness leads to her interest in another student, an artist with telekinetic abilities whose hands were damaged in a car accident. |
| 20 | 20 | Obscura | 2002-05-14 | 60 | A head injury gives Lana the ability to see through the eyes of a kidnapper who abducts Chloe and keeps her bound and blindfolded in a dark room filled with giant teddy bears. Meanwhile, an ambitious newspaper reporter provides Lex with new information about the meteor shower. |
| 21 | 21 | Tempest | 2002-05-21 | 60 | Lionel Luthor announces plans to close the LutherCorp plant in Smallville, but Lex won't let his father shut it down without a fight. Meanwhile, Chloe tells Clark that she and her father may have to move back to Metropolis so her dad can find a new job; and Whitney surprises Lana by enlisting in the Marines. |
Season 2
| Episode No. | No. Overall | Title | Airdate | Runtime | Summary |
| --- | --- | --- | --- | --- | --- |
| 1 | 22 | Vortex | 2002-09-24 | 60 | Clark rescues Lana from a destructive twister that tears through town, but his good fortune is short-lived as he discovers that his dad is missing. Meanwhile, Lex's hesitation in a moment of crisis leads to serious injuries to his own father. |
| 2 | 23 | Heat | 2002-10-01 | 60 | Lex impulsively marries a woman two weeks after he meets her, unknowingly moved by her ability to control a man's mind by emitting a kind of pheromone mist. He's also unaware that she plans to kill him so that she can inherit his fortune. Elsewhere, Clark has trouble controlling his newest power---heat vision. |
| 3 | 24 | Duplicity | 2002-10-08 | 60 | Clark tells Pete about his extraterrestrial powers after Pete finds Clark's spaceship and insists on hiding it in a shed in his own yard, but the craft is soon stolen by a scientist. Meanwhile, Lionel Luthor claims he wants to spend more time with Lex; and Lana is suspicious of her aunt's new boyfriend. |
| 4 | 25 | Red | 2002-10-15 | 60 | Clark's behavior radically changes after getting his school ring, which has a red kryptonite stone in the setting. His reckless conduct threatens the safety of his family and friends. Meanwhile, a new student at Smallville High is hunted by a psychotic U.S. marshal. |
| 5 | 26 | Nocturne | 2002-10-22 | 60 | A teen who is kept locked in the basement of his parents' house during the day sneaks out at night and leaves love letters for Lana at her parents' graves. Meanwhile, Lionel Luthor hires Clark's mother as his personal assistant. |
| 6 | 27 | Redux | 2002-10-29 | 60 | Family secrets abound as Martha goes behind Jonathan's back to ask her father for money after the family's bills pile up; and Lana finds pictures of her mother with another man that were taken after her parents were married. Meanwhile, a healthy high-school student dies of old age shortly after kissing his girlfriend; and Clark has a run-in with the new school principal. |
| 7 | 28 | Lineage | 2002-11-05 | 60 | A woman arrives in Smallville and tells Clark that she's his biological mother and informs Lex that Lionel is the father. Plus, she wants Clark to take a DNA test to confirm her story. Meanwhile, Lana decides to meet the man who could be her biological father. |
| 8 | 29 | Ryan | 2002-11-12 | 60 | Clark rescues a teenage mind reader from a laboratory where a maniacal scientist performs cruel cognitive experiments on the youngster. Meanwhile, Lex crosses swords with the corrupt mayor of Smallville over a potential business deal. |
| 9 | 30 | Dichotic | 2002-11-19 | 60 | A Smallville honor student who can clone himself at will kills a teacher to avoid a bad grade, then develops a romantic interest in Chloe and Lana. Meanwhile, Martha feels guilty about her career choices after Jonathan is injured in an accident on the Kent farm while she is at work. |
| 10 | 31 | Skinwalker | 2002-11-26 | 60 | Clark meets a Native American girl in a cave and discovers drawings on the walls from the girl's ancestors that tell a tale mirroring Clark's arrival in Smallville during a meteor shower. Meanwhile, Lana learns the results of a DNA test that could prove her kinship to Henry Small. |
| 11 | 32 | Visage | 2003-01-14 | 60 | One of Clark's former adversaries returns to Smallville and causes a rift between Lana and Clark. Elsewhere, Lex accuses a woman he's dating of spying on him for Lionel Luthor. |
| 12 | 33 | Insurgence | 2003-01-21 | 60 | Lex hires goons to plant listening devices in his father's Metropolis office, but things go awry when the thugs decide to rob the tycoon's vault instead and end up taking two hostages: Lionel Luthor and Martha Kent. Meanwhile, Lana learns that her biological father's wife has agreed to meet with her, but the encounter proves to be a tense one. |
| 13 | 34 | Suspect | 2003-01-28 | 60 | Lionel Luthor is shot by an unknown assailant and Jonathan Kent is arrested for the crime after the police find him with a gun and a bottle of tequila. Meanwhile, Lex does some digging of his own and begins to suspect that someone else pulled the trigger, but his reluctance to share this information leads to a clash with Clark. |
| 14 | 35 | Rush | 2003-02-04 | 60 | A strange parasite invades Pete's body and feeds on the teen's adrenal glands, causing him to shake off his inhibitions and engage in wild and dangerous behavior. Meanwhile, Clark gathers his courage and asks Lana for a date, which she eagerly accepts. |
| 15 | 36 | Prodigal | 2003-02-11 | 60 | Lex finds his long-lost brother, Lucas, and tries to persuade his sibling to help him stage a financial coup against their father. Unfortunately, Lex's plan backfires. Meanwhile, Clark applies for a position at Lana's coffee shop. |
| 16 | 37 | Fever | 2003-02-18 | 60 | Martha is hospitalized after becoming seriously ill from exposure to kryptonite spores in the Kent's storm cellar, and Jonathan learns there are complications. Meanwhile, Lex's girlfriend is offered a lucrative position at a hospital far away from Smallville. |
| 17 | 38 | Rosetta | 2003-02-25 | 60 | After seeing a newspaper photo of a Kryptonian symbol burned into the side of the Kents' farmhouse, a reclusive physicist takes an interest in Clark and offers the teen information on his alien origins. Meanwhile, Chloe catches Lana looking through private files on her computer. |
| 18 | 39 | Visitor | 2003-04-15 | 60 | Clark thinks an awkward new student who claims to be an extraterrestrial might be telling the truth after he sees the teen start a fire with his eyes and heal a sick horse with his touch. Meanwhile, Lex's lovelife heats up when he asks Helen to move into the mansion with him. |
| 19 | 40 | Precipice | 2003-04-22 | 60 | Clark is arrested and his family faces a civil lawsuit after the teen defends Lana by hurling an unruly college student onto the hood of an oncoming police car. Elsewhere, Helen's former boyfriend arrives in Smallville and causes trouble for Lex by filing a false assault charge against him. |
| 20 | 41 | Witness | 2003-04-29 | 60 | Clark witnesses a popular Smallville baseball player steal a shipment of refined kryptonite from a LuthorCorp truck to enhance his athletic abilities. Meanwhile, Lana's relationship with her father improves, while Clark's friendship with Chloe deteriorates. |
| 21 | 42 | Accelerate | 2003-05-06 | 60 | Lana thinks she sees the ghost of a childhood friend who died years before when she's visited by a 10-year-old girl, so Clark sets out to find a logical explanation for the incidents. In other developments, Lex prepares for his wedding by meeting with an event coordinator; and Jonathan begins building a crib in anticipation of the new baby. |
| 22 | 43 | Calling | 2003-05-13 | 60 | Part 1 of two. Clark kisses Lana, then he hears a cryptic message from an unknown source that matches the ranting of a crazed linguist who was injured by a Kryptonian energy beam while inspecting the cave. Elsewhere, someone breaks into Helen's office and steals a sample of Clark's blood. |
| 23 | 44 | Exodus | 2003-05-20 | 60 | The conclusion of a two-part episode in which Clark learns the mysterious voice calling to him belongs to his Kryptonian father, who tells him to leave Smallville to prepare for his role as Earth's ruler. Meanwhile, Lex's wedding is jeopardized when he makes a confession to Helen that causes her to question their entire relationship. |
Season 3
| Episode No. | No. Overall | Title | Airdate | Runtime | Summary |
| --- | --- | --- | --- | --- | --- |
| 1 | 45 | Exile | 2003-10-01 | 60 | Part 1 of two. Clark, who was last seen donning a red-kryptonite ring and fleeing to Metropolis on a motorcycle, faces pressure to return home. Also: Lex's fate is revealed. |
| 2 | 46 | Phoenix | 2003-10-08 | 60 | In the conclusion, crime boss Morgan Edge tracks down Clark to get the package he took from LuthorCorp. Elsewhere, Lex confronts Helen about what really happened the night his plane crashed. |
| 3 | 47 | Extinction | 2003-10-15 | 60 | A teenager is hunting down Smallville residents who were altered by kryptonite rocks, and he inadvertently discovers Clark's abilities when the boy of steel saves Lex from being the hunter's next victim. |
| 4 | 48 | Slumber | 2003-10-22 | 60 | Clark has a dream that his new neighbor, whom he hasn't met, is being haunted by a mysterious demon-like figure. |
| 5 | 49 | Perry | 2003-10-29 | 60 | The future Daily Planet editor-in-chief Perry White, who's working as a tabloid TV reporter researching meteor phenomena, suspects Clark has super abilities after he's rescued by the teen. Meanwhile, Clark has trouble controlling his powers. |
| 6 | 50 | Relic | 2003-11-05 | 60 | After Clark sees visions of a 40-year-old murder involving Lana's great-aunt and great-uncle, he begins an investigation into the past that reveals secrets about his Kryptonian family history. |
| 7 | 51 | Magnetic | 2003-11-12 | 60 | Lana's sudden attraction to a teen with magnetic powers arouses Clark's suspicions that the boy is able to control her mind. Elsewhere, Lex confronts Chloe about her past investigations of his father. |
| 8 | 52 | Shattered | 2003-11-19 | 60 | Lex tells Clark that assassins tried to kill him and that he recently met with the presumed-dead Morgan Edge, but Clark is skeptical of his claims since Lex has been having trouble separating reality from paranoid delusions. |
| 9 | 53 | Asylum | 2004-01-14 | 60 | Clark tries to prove Lex's sanity and prevent Lionel from forcing electroshock therapy on his son. Also, Lana meets a mysterious guy in the hospital while recovering from her injuries; and Clark runs into former enemies who plan to steal his strength. |
| 10 | 54 | Whisper | 2004-01-21 | 60 | Clark loses his sight and gains superhuman hearing, which he can't control, when he attempts to stop a jewelry-store robbery involving a teen with a powerful scream. Also, Clark learns that Chloe did research on him for Lionel; Pete is kidnapped. |
| 11 | 55 | Delete | 2004-01-28 | 60 | Clark and Lana unwillingly attack Chloe on separate occasions after being hypnotized by subliminal e-mail messages. In other events, Lana grows suspicious of Adam after he reveals his unusually adept martial-arts skills. |
| 12 | 56 | Hereafter | 2004-02-04 | 60 | Clark befriends a teen who has uncontrollable premonitions about the future whenever he comes into contact with other people. Elsewhere, Lana grows more suspicious of Adam after he has a series of violent dreams. |
| 13 | 57 | Velocity | 2004-02-11 | 60 | Pete gets in over his head when he gets involved in illegal street racing using Kryptonite-fueled cars; Lana confronts Adam about his mysterious past; and Chloe continues to secretly investigate Adam's background. |
| 14 | 58 | Obsession | 2004-02-18 | 60 | A student who has the ability to teleport herself---as well as anything she touches---develops a crush on Clark after he reveals his own powers while saving her from an elevator mishap. Elsewhere, Lana learns Adam has been keeping a daily log on her and Clark and threatens to have him evicted. |
| 15 | 59 | Resurrection | 2004-02-25 | 60 | Clark befriends a teen whose brother is mysteriously raised from the dead after succumbing to liver disease. Also: Jonathan learns he must undergo triple-bypass surgery. |
| 16 | 60 | Crisis | 2004-03-03 | 60 | Clark gets a panicked phone call from Lana in which he hears her being killed. When he finds out the call is from the future, he tries to change the present, hoping to alter fate. Elsewhere, Lex tells his dad he wants to be in charge of the "resurrection serum" project. |
| 17 | 61 | Legacy | 2004-04-14 | 60 | Lionel makes a deal with Dr. Virgil Swann, hoping to uncover the secrets behind the Indian cave drawings. Elsewhere, Jonathan continues to struggle with his own mortality; and Lex works as an informant for the FBI against his will. |
| 18 | 62 | Truth | 2004-04-21 | 60 | A chemical accident at the LuthorCorp plant gives Chloe the ability to make people tell her the truth. When Lionel learns of Chloe's new power, he tries to exploit it by forcing her to uncover Clark's secrets. |
| 19 | 63 | Memoria | 2004-04-28 | 60 | Lex undergoes a series of experimental procedures with Dr. Garner to try and retrieve the memories he lost while he was delusional. Elsewhere, Lana is accepted to art school in Paris, but she has to find a way to pay for it. |
| 20 | 64 | Talisman | 2004-05-05 | 60 | A Kawatche grad student gets superpowers similar to Clark's when he picks up an ancient knife found in the Indian caves. Elsewhere, Lana and Chloe plan a surprise birthday party for Clark at Lex's mansion; and Lex wants to sell the Talon. |
| 21 | 65 | Forsaken | 2004-05-12 | 60 | Clark decides to reveal his secret to Lana, hoping his show of trust will persuade her not to leave Smallville, but before he can tell her, she is kidnapped by a childhood friend who has developed the ability to pass through objects. Meanwhile, Lionel learns that Lex is working with the FBI. |
| 22 | 66 | Covenant | 2004-05-19 | 60 | A mysterious stranger with powers similar to Clark's arrives at the Kent farm and tells the Teen of Steel that she's from Krypton and was sent to bring him home. Elsewhere, Lana says her goodbyes before her trip to Paris; and Lionel, who's locked in a prison cell, prepares for his day in court. |
Season 4
| Episode No. | No. Overall | Title | Airdate | Runtime | Summary |
| --- | --- | --- | --- | --- | --- |
| 1 | 67 | Crusade | 2004-09-22 | 60 | Lois Lane arrives in town to investigate her cousin Chloe's death and discovers an amnesiac Clark in a cornfield after she veers off the road during a storm. Lois takes him to the hospital and meets Martha, who's busy keeping watch over a severely injured Jonathan. Elsewhere, Lana finds a new beau in Paris; Clark discovers a new superpower; and Lex needs blood treatments to help keep him alive. |
| 2 | 68 | Gone | 2004-09-29 | 60 | Lois and Clark go to the safe house to investigate Chloe's death and end up running from military men. Later, Lois returns to her cousin's grave and discovers her casket is empty, but she has little time to react before she's attacked by an unusual being. |
| 3 | 69 | Facade | 2004-10-06 | 60 | Clark tries out for football again and learns that Jason is the new assistant coach---but Clark doesn't know Jason is also Lana's boyfriend. Meanwhile, a student gets a bizarre makeover with a dangerous side effect that gives her the power to alter the way others see themselves; Lois enrolls at Smallville High for a semester after she finds out she's a few credits shy of graduating; and Martha takes a managing job at the Talon. |
| 4 | 70 | Devoted | 2004-10-13 | 60 | When two cheerleaders develop a love potion that arouses feelings of extreme devotion and jealousy, it causes a football player to attack Jason for "checking out" his girlfriend and prompts Chloe to hit on Clark. Also: Clark is made starting quarterback, a promotion that doesn't sit well with his new teammates; and Lex donates new uniforms to the team, but Clark is put off by the gesture, which he takes as an attempt to buy back his friendship. |
| 5 | 71 | Run | 2004-10-20 | 60 | After a boy with superhuman speed saves Jonathan---and steals his wallet---Clark tracks him down and discovers he's a homeless kid who uses his powers to commit petty crimes. Also, Lex acquires an ancient manuscript with Kryptonian symbols, and Clark learns that it contains a mysterious map; Jason discovers Lana's tattoo. |
| 6 | 72 | Transference | 2004-10-27 | 60 | Clark switches bodies with Lionel after Clark interferes with the exchange of a Kryptonian stone that was meant for an unsuspecting Lex. Consequently, Clark takes Lionel's place in prison, while Lionel takes advantage of his newfound freedom---and superhuman abilities. |
| 7 | 73 | Jinx | 2004-11-03 | 60 | Clark accidentally injures another player when foreign-exchange student Mikail Mxyzptlk uses a form of telepathy to make him trip during a big game. As a result, Jonathan wants Clark to quit the team before he hurts anyone else, and Jason suspects Clark is using steroids. |
| 8 | 74 | Spell | 2004-11-10 | 60 | Lana, Lois and Chloe are possessed by the spirits of witches who were burned at the stake in the 17th century. Later, the girls crash a surprise party for Chloe at the Kent farm and use a spell to turn the event into a raucous affair. Making matters worse, a Princeton recruiter visits Clark the night of the party. |
| 9 | 75 | Bound | 2004-11-17 | 60 | Lana meets Jason's mom and is surprised to discover that she looks like a woman from a dream she had about Isobel, the 17th-century witch who possessed her. Elsewhere, Lex is the prime suspect in a murder case after he wakes up next to the body of a slain woman. |
| 10 | 76 | Scare | 2004-12-01 | 60 | The town's residents are infected by a toxin that causes unconsciousness and horrific nightmares when the LuthorCorp plant loses control of the dangerous substance. Meanwhile, Lionel's conviction is overturned, but he feels he deserves to stay in prison. |
| 11 | 77 | Unsafe | 2005-01-26 | 60 | A teen with teleportation abilities who was obsessed with Clark is released from the Belle Reve asylum and tracks him down. Though apparently reformed, she manipulates Clark's feelings for her using red kryptonite. Meanwhile, Lionel tries to convince Lex that he's a changed man; and Lana confronts Jason about the breakup. |
| 12 | 78 | Pariah | 2005-02-02 | 60 | Lana is attacked at her apartment and Alicia is the prime suspect. Clark believes she's innocent, but later has to accept that she may be guilty when the culprit attacks Jason and leaves one of Alicia's scarves behind. |
| 13 | 79 | Recruit | 2005-02-09 | 60 | Lois is arrested for severely injuring a Metropolis University football player who harassed her. Meanwhile, Clark visits the school on a recruiting trip and discovers scandalous activity involving the team; Jason takes Lex up on his job offer, which entails spying on Lana and Genevieve. |
| 14 | 80 | Krypto | 2005-02-16 | 60 | Clark takes in a dog with superpowers after Lois accidentally hits the pooch with her car. While looking for its owner, he discovers the dog was part of a LuthorCorp experiment and was being used to commit crimes. Elsewhere, Genevieve is revealed to be the person who helped free Lionel from prison. |
| 15 | 81 | Sacred | 2005-02-23 | 60 | The day after Dr. Swann dies, Clark receives a note from the professor leading him to a message from Jor-El that instructs him to find two sacred stones. Meanwhile, Jason and Lex are in China on a related mission; and Lana learns that the witch Isobel has been trying to find the stones by using her as a vessel. |
| 16 | 82 | Lucy | 2005-03-02 | 60 | Lois's younger sister, Lucy, arrives in town, and Clark learns that she has a shady past when he catches her stealing money from the Talon's register. Also, the ancient stone is taken from Lana's apartment, and Jason suspects Lionel. |
| 17 | 83 | Onyx | 2005-04-13 | 60 | A kryptonite-based explosion at the Luthorcorp lab creates an evil clone of Lex, and the sinister twin tries to prevent the process from being reversed by taking drastic measures, which include imprisoning Lex in the basement of his own mansion. |
| 18 | 84 | Spirit | 2005-04-20 | 60 | On the night before the prom, a popular student crashes her car into a kryptonite-filled ravine and her spirit ends up taking over other people's bodies. Elsewhere, the body of Dr. Swann's assistant, Bridgette Crosby, is found in a shallow grave on Lex's property, and Jason accuses Lex of killing her. Lifehouse performs at the dance. |
| 19 | 85 | Blank | 2005-04-27 | 60 | Clark's entire memory ends up getting erased when he confronts a thief who has a kryptonite-based ability to wipe out people's short-term memories. As Clark learns about his life, he's shocked to discover that he has superpowers. |
| 20 | 86 | Ageless | 2005-05-04 | 60 | Lana and Clark take care of a baby they find in a crater and are shocked when he ages seven years right in front of their eyes. They then turn to Lex for help, hoping LuthorCorp labs can find a way to curtail the child's growth. Elsewhere, Genevieve confronts Lionel about the missing sacred stone. |
| 21 | 87 | Forever | 2005-05-11 | 60 | A teen who has the power to turn people into stone wants to stay in high school forever, so he keeps students captive in a fake school that's built to look like Smallville High. Elsewhere, Genevieve and Jason threaten to kill Lex if Lionel doesn't give up the sacred stone. |
| 22 | 88 | Commencement | 2005-05-18 | 60 | The town is evacuated on graduation day in preparation for an impending meteor shower, and Jor-El warns Clark that the entire planet is in danger if the three sacred stones aren't reunited. |
Season 5
| Episode No. | No. Overall | Title | Airdate | Runtime | Summary |
| --- | --- | --- | --- | --- | --- |
| 1 | 89 | Arrival | 2005-09-29 | 60 | Two superpowered Kryptonian villains arrive as the town struggles to recover from the meteor shower. Elsewhere, Clark's Fortress of Solitude is created, and Chloe tells Clark that she knows about his abilities. |
| 2 | 90 | Mortal | 2005-10-06 | 60 | Clark is forced to steal a serum from a heavily guarded LuthorCorp research facility by three superhuman Belle Reve escapees who are holding Lana and his parents captive. |
| 3 | 91 | Hidden | 2005-10-13 | 60 | Clark is shot and Chloe is kidnapped by a computer wiz who has programmed a missile to annihilate Smallville in hopes of ridding the world of the town's "meteor freaks." Elsewhere, Lex questions Lana about the spaceship she saw. |
| 4 | 92 | Aqua | 2005-10-20 | 60 | Arthur Curry, better known as Aquaman, arrives in town to destroy a new sonar weapon designed by LuthorCorp. Meanwhile, Clark meets Prof. Milton Fine, a.k.a. Brainiac. |
| 5 | 93 | Thirst | 2005-10-27 | 60 | Lana pledges a sorority, unaware that its members are vampires. Elsewhere, Chloe sets out to impress the Daily Planet's editor-in-chief; and Lex threatens to have Prof. Fine fired if he continues to research LuthorCorp. |
| 6 | 94 | Exposed | 2005-11-03 | 60 | Tom Wopat makes a guest appearance as a state senator---and old friend of the Kents---who is linked to the murder of an exotic dancer. The woman told Chloe she had a big story, but was killed before she could pass on any details. |
| 7 | 95 | Splinter | 2005-11-10 | 60 | After Clark is pricked by a splinter of silver kryptonite, he becomes paranoid and thinks that everyone is conspiring against him---including his family and friends. Elsewhere, Lex asks Lana to help him uncover the secrets of the crashed spaceship. |
| 8 | 96 | Solitude | 2005-11-17 | 60 | When Martha is struck by a mysterious flash of light, Clark thinks it may have something to do with Jor-El's prediction that he'll lose someone close to him. He turns to Professor Fine for answers and is told that his mother only has a few hours to live. |
| 9 | 97 | Lexmas | 2005-12-08 | 60 | Lex is shot by muggers on Christmas Eve and, while unconscious, dreams that he has become a middle-class family man who's happily married to Lana. Meanwhile, Clark plays Santa Claus to underprivileged youngsters and, in so doing, impresses a depressed sidewalk Santa. |
| 10 | 98 | Fanatic | 2006-01-12 | 60 | One of the volunteers on Lex's campaign staff is far too devoted to the cause, and takes matters into her own hands, hatching a scheme that even shocks Lex. Meanwhile, Martha makes a deal with Lionel. |
| 11 | 99 | Lockdown | 2006-01-19 | 60 | Lex and Lana are at the mercy of a deranged Smallville deputy who plans to keep them captive until Lex reveals the location of the Kryptonian spaceship. Meanwhile, the Kents can't see eye-to-eye on campaign financing. |
| 12 | 100 | Reckoning | 2006-01-26 | 60 | The results of the election are revealed, and Clark returns to the Fortress of Solitude to appeal to Jor-El. |
| 13 | 101 | Vengeance | 2006-02-02 | 60 | A mysterious female vigilante stalks the Suicide Slums, and her path crosses Clark's as they both seek the same criminal; meanwhile, LuthorCorp experiences a shakeup. |
| 14 | 102 | Tomb | 2006-02-09 | 60 | When a young girl's body is found hidden behind a wall of the Talon, Chloe begins acting weird and Lois goes on the trail of the girl's murderer, who turns out to be a serial killer who has been preying on Smallville girls for 10 years. |
| 15 | 103 | Cyborg | 2006-02-16 | 60 | Clark befriends Victor, the unwilling victim of a cybernetics experiment at LuthorCorp, but Lex wants him back. Meanwhile, Martha may be the target of blackmail. |
| 16 | 104 | Hypnotic | 2006-03-30 | 60 | Clark is manipulated by Simone, who possesses a magical, hypnotic jewel that makes him love her. Meanwhile, Dr. Fine reappears in Honduras, and Lex is on his trail. |
| 17 | 105 | Void | 2006-04-06 | 60 | Lana gets hooked on a dangerous serum made of green kryptonite; Clark searches for Prof. Fine in Honduras, and discovers Lionel knows his secret. |
| 18 | 106 | Fragile | 2006-04-13 | 60 | A little girl who possesses telekinetic powers is befriended by Clark, who discovers the talent runs in her family and is tied to the first meteor shower; Lex and Lana get closer and Chloe doesn't like it. |
| 19 | 107 | Mercy | 2006-04-20 | 60 | Lionel Luthor finds himself the victim of a mysterious tormentor who uses a series of life-or-death riddles and puzzles that eventually pit Lionel against Martha Kent. |
| 20 | 108 | Fade | 2006-04-27 | 60 | Clark saves the life of Graham, a hit man with very unusual skills who is determined to repay the favor by eliminating Lex so Clark can win back Lana. |
| 21 | 109 | Oracle | 2006-05-04 | 60 | Suspicions about Lionel Luthor's intentions are raised when Clark and Martha receive ghostly visits from Jonathan, who tells them that Lionel must die. Meanwhile, Lex's trust in Milton Fine is taxed when Fine demands the vaccine. |
| 22 | 110 | Vessel | 2006-05-11 | 60 | Clark's Kryptonian origins sow seeds of sorrow and destruction on Earth as forces affecting Lex, Lionel, Lana and Clark are set in motion, culminating in the moment for which all his trials have prepared him. |
Season 6
| Episode No. | No. Overall | Title | Airdate | Runtime | Summary |
| --- | --- | --- | --- | --- | --- |
| 1 | 111 | Zod | 2006-09-28 | 60 | Clark is imprisoned in the Phantom Zone, deprived of his powers. Meanwhile, Lex/Zod keeps Lana captive so she can sire him an heir; Lois and Martha crash near the Fortress of Solitude, where Jor-El tells Martha how to kill Zod; and Chloe reunites with Jimmy Olsen. |
| 2 | 112 | Sneeze | 2006-10-05 | 60 | Clark thinks he's developed a cold, but it turns out to be a symptom of a new superpower; Lois gets a job at the Inquisitor, a local tabloid; Lana moves in with Lex, who suspects someone is stalking him. |
| 3 | 113 | Wither | 2006-10-12 | 60 | A guilt-ridden Lex throws a charity ball for the town and hires the All-American Rejects to perform; Clark and Chloe pursue a creature who uses male human bodies to spawn, and the hunt intensifies after the creature abducts Jimmy Olsen; Lois reluctantly agrees to go with Oliver Queen to Lex's ball. |
| 4 | 114 | Arrow | 2006-10-19 | 60 | The Green Arrow draws the attention of Lois after she sees him steal a rare diamond necklace off Martha's neck; Clark discovers Oliver Queen's secret; Lex mends fences with his father to test Lana's loyalty. |
| 5 | 115 | Reunion | 2006-10-26 | 60 | An old prep-school incident involving the apparent death of a schoolmate returns to haunt Lex and Oliver, and the consequences could be deadly. |
| 6 | 116 | Fallout | 2006-11-02 | 60 | Clark and Raya face another escapee from the Phantom Zone, Baern, who knows the secret of the Kryptonian Black Box and will be unstoppable if he accesses its power. |
| 7 | 117 | Rage | 2006-11-09 | 60 | Lex is covertly involved in the production of an experimental drug that Oliver Queen is taking. It gives Oliver superhuman powers to heal himself, but the side effects prove dangerous. |
| 8 | 118 | Static | 2006-11-16 | 60 | Lex disappears in front of Lana's eyes but nobody, including Lionel and Lex's security team, seems to believe her; Clark finds another refugee from the Phantom Zone---and this one eats human bones. |
| 9 | 119 | Subterranean | 2006-12-07 | 60 | An illegal immigrant from the nearby McNally farm seeks help from Clark, who soon discovers a sinister secret buried in the farm's cornfield, which had been bombarded during the last meteor shower. |
| 10 | 120 | Hydro | 2007-01-11 | 60 | The Planet's gossip columnist, Linda Lake, makes life miserable for Lana, Lex, Chloe and Clark; Lois begins to suspect a connection between Oliver and the Green Arrow; and Lex drops a bombshell on Clark. |
| 11 | 121 | Justice | 2007-01-18 | 60 | The Green Arrow, Impulse, Aquaman and Cyborg try to destroy LuthorCorp's secret laboratory, but Impulse is captured and tortured by Lex, prompting the others to join forces as a team to rescue him. |
| 12 | 122 | Labyrinth | 2007-01-25 | 60 | Clark finds himself trapped in a strange alternate reality, where he is stripped of his powers and under observation at an insane asylum, about to undergo a procedure. |
| 13 | 123 | Crimson | 2007-02-01 | 60 | It's Valentine's Day in Smallville, where love blooms and hearts are broken, but not for the usual reasons---red kryptonite is infused into cosmetics, and that makes Lois and Clark a little crazy. |
| 14 | 124 | Trespass | 2007-02-08 | 60 | A revealing photograph of Lana is sent to her, making her realize that she's being stalked; Jimmy breaks up with Chloe, forcing her to reevaluate her feelings about Clark. |
| 15 | 125 | Freak | 2007-02-15 | 60 | Clark and Chloe discover that a young man who was blinded in the meteor shower and has the ability to identify "meteor freaks" is being used by Lex to locate others with unusual abilities so Lex can experiment on them. |
| 16 | 126 | Promise | 2007-03-15 | 60 | On the day of Lex and Lana's wedding, Lex receives a call from Dr. Langston, who threatens him; Lana has second thoughts; and Clark decides he should tell Lana his secret. |
| 17 | 127 | Combat | 2007-03-22 | 60 | A Zoner called Titan turns up in a secret fight club that broadcasts its battles on the Internet. When Lois investigates, she's kidnapped and forced to participate, and Clark's attempt to save her sparks a surprising turnaround. |
| 18 | 128 | Progeny | 2007-04-19 | 60 | Chloe discovers she's being manipulated by someone with meteor-enhanced abilities. Meanwhile, Lana laments the loss of her child; and Chloe's mother is the subject of an experiment by Lex. |
| 19 | 129 | Nemesis | 2007-04-26 | 60 | Lex and Clark are trapped in an underground maze that's rigged with explosives, and the two reveal secrets about each other that were best left unsaid. |
| 20 | 130 | Noir | 2007-05-03 | 60 | Lana is shot after secretly meeting with Lionel at the Daily Planet. As Jimmy studies photos of the scene, he's knocked unconscious and dreams of a 1940s version of Smallville. Meanwhile, Clark discovers why Lana married Lex. |
| 21 | 131 | Prototype | 2007-05-10 | 60 | Lex's secret efforts to use DNA from meteor freaks to turn Wes Keenan into a "super soldier" may be exposed by a corrupt senator, so Lex sends Wes to kill him, but Lois sees everything and becomes Wes' next target. |
| 22 | 132 | Phantom | 2007-05-17 | 60 | In the sixth-season finale, Clark learns how Lionel got Lana to marry his son; Lana tells Lex that it's over; Martian Manhunter helps Clark stop Lex from finding the last Phantom Zone wraith, hoping to keep him from building his army of super soldiers; and Lois gets into serious trouble when she tries to investigate the secret lab. |
Season 7
| Episode No. | No. Overall | Title | Airdate | Runtime | Summary |
| --- | --- | --- | --- | --- | --- |
| 1 | 133 | Bizarro | 2007-09-27 | 60 | As the seventh season begins, Clark faces his most deadly enemy---his Bizarro doppelganger---after Lex's secret lab at Reeves dam is destroyed; Lex is saved from drowning by a mysterious female savior, but his past catches up with him. |
| 2 | 134 | Kara | 2007-10-04 | 60 | Clark meets his cousin Kara, but decides that there is nothing for him in Smallville without Lana, so he heads to the Fortress of Solitude to begin training as a superhero. Once there, Jor-El tells him Kara's father is evil and she is dangerous, so Clark must return to Smallville. |
| 3 | 135 | Fierce | 2007-10-11 | 60 | Clark hopes Kara will keep a low profile, but three meteor-infected girls want to use her as part of their scheme after one of them sees Kara's special powers. |
| 4 | 136 | Cure | 2007-10-18 | 60 | Lex employs Dr. Curtis Knox to cure the meteor-infected, and Chloe ends up a patient. Meanwhile, John Jones warns Clark that his cousin Kara should not be trusted. |
| 5 | 137 | Action | 2007-10-25 | 60 | Clark saves the life of a starlet on a film shoot in Smallville when a stunt car's brakes fail, but what happened was no accident. Meanwhile, Lionel finds himself the victim of a surprising captor. |
| 6 | 138 | Lara | 2007-11-01 | 60 | In the process of trying to get the crystal back, Kara is captured and sedated with a kryptonite serum; Clark follows and tries to release her, but not before the serum has caused both to have a vision of Clark's mother. |
| 7 | 139 | Wrath | 2007-11-08 | 60 | Lana absorbs Clark's powers and uses them to go after Lex, first trying to expose his secrets in the Daily Planet, then moving on to a more personal level. |
| 8 | 140 | Blue | 2007-11-15 | 60 | Clark makes a huge mistake when he releases Lara from the crystal, because Zor-El is also released. Elsewhere, the relationship between Lois and Grant heats up. |
| 9 | 141 | Gemini | 2007-12-13 | 60 | Clark comes home and tells Lana that Kara has vanished, and that they should work together to stop Lex; and a man named Adrian, infected with an alien substance, plants a bomb on Chloe, who then confesses to Jimmy that she is a meteor freak. |
| 10 | 142 | Persona | 2008-01-31 | 60 | Clark is frozen in the Fortress and Bizarro takes over his life, starting with Lana, who shares information about Brainiac. Elsewhere, Grant reveals he is a clone of Julian, and Lex is shocked at his father's reaction to this revelation. |
| 11 | 143 | Siren | 2008-02-07 | 60 | Chloe runs afoul of the Black Canary when she procures one of Lex's project files for Oliver. Lex suspects the Green Arrow and retaliates, while Lois discovers Oliver's secret. |
| 12 | 144 | Fracture | 2008-02-14 | 60 | Lois trails Lex to Detroit, where he has found Kara suffering from amnesia. A busboy obsessed with Kara shoots Lex so he can't take her away, and holds Kara and Lois captive. Chloe finds Lex and offers to heal him, but Clark will not let her. |
| 13 | 145 | Hero | 2008-03-13 | 60 | Former Smallville resident Pete Ross, now a roadie for the band OneRepublic, accidentally chews kryptonite-laced gum and gets superpowers. Clark and Chloe try to warn him about the effects, but Lex finds out and uses Pete for his nefarious schemes. |
| 14 | 146 | Traveler | 2008-03-20 | 60 | Lionel kidnaps Clark and holds him in a kryptonite-lined cell at a Luthorcorp facility; Chloe and Lana confront Lionel, who blames Lex, and they then take Kara to the Fortress and plead with Jor-El to restore her memory so she can save Clark. |
| 15 | 147 | Veritas | 2008-03-27 | 60 | Kara teaches Clark how to fly to help him fight against Brainiac, but Brainiac seems to be a step ahead of them. |
| 16 | 148 | Descent | 2008-04-17 | 60 | The secret of the Veritas society leads Lex into a collision course with Clark; and a death rocks Smallville. |
| 17 | 149 | Sleeper | 2008-04-24 | 60 | Clark searches for Brainiac, who is the only one who can reverse Lana's condition; Chloe accidentally sets off alarms as she hacks into government computers while trying to find info to help Clark; the Department of Security threatens Jimmy with jail time unless he helps them arrest Chloe, while Lex offers to help clear Chloe, but only if Jimmy agrees to be in his debt. |
| 18 | 150 | Apocalypse | 2008-05-01 | 60 | Clark, through a series of messages sent by Kara from Krypton, discovers what Earth would be like had he never arrived: Jonathan is still alive; Lex is the president; the Luthors have raised Kara; Lana is happily married; and Chloe and Lois are ace reporters. |
| 19 | 151 | Quest | 2008-05-08 | 60 | A cloaked stranger attacks Lex, leaving him with Kryptonian symbols carved on his chest. They were intended as a message for Clark, who investigates with Chloe and learns that one member from Veritas is still alive and hiding in a church. |
| 20 | 152 | Arctic | 2008-05-15 | 60 | In the seventh-season finale, Brainiac impersonates Kara, whom he has imprisoned in the Phantom Zone, and in her guise he takes Lex to the Fortress for a showdown with Clark. Meanwhile, Chloe is arrested by the Department of Domestic Security; and Lana awakens from her comatose state. |
Season 8
| Episode No. | No. Overall | Title | Airdate | Runtime | Summary |
| --- | --- | --- | --- | --- | --- |
| 1 | 153 | Odyssey | 2008-09-18 | 60 | In the eighth-season opener, the Justice League searches for Clark, but is stymied by the new CEO of Luthorcorp, Tess Mercer; and Chloe is held prisoner by a group who have discovered her powers, while Clark has been stripped of his by Jor-El. |
| 2 | 154 | Plastique | 2008-09-25 | 60 | Clark starts his new job at the Daily Planet, where he is partnered with Lois for a story on a bus explosion. Meanwhile, paramedic Davis Bloome is attracted to Chloe. |
| 3 | 155 | Toxic | 2008-10-02 | 60 | Oliver falls ill at a charity event and Clark and Chloe discover their friend has only hours to live. Oliver soon descends into delirium and is overcome by memories of his time on the island and when he first met Tess. Meanwhile, Clark and Chloe's fruitless search for a cure pushes Chloe to try out her new powers, much to Clark's surprise. |
| 4 | 156 | Instinct | 2008-10-09 | 60 | Maxima, a queen from planet Almerac, arrives on Earth after being accidentally summoned by Tess. Thinking that her soul mate called her, Maxima sets out to find him, starting with Jimmy, but the men of Metropolis better beware---her kiss is deadly. |
| 5 | 157 | Committed | 2008-10-16 | 60 | A psychotic jeweler kidnaps Jimmy and Chloe after their engagement party and subjects them to a shocking lie-detector test. Posing as a couple while trying to find their friends, Lois and Clark are also forced to answer questions about their feelings for each other. |
| 6 | 158 | Prey | 2008-10-23 | 60 | Clark suspects a recent murder at a theater may be the work of a meteor-infected serial killer, and he demands that Chloe give him names of people she's counseling at the Isis Foundation. A fearful Davis thinks he's the killer and confides in Chloe. |
| 7 | 159 | Identity | 2008-10-30 | 60 | Clark fears his identity may be revealed after Jimmy snaps a photo of him saving Lois from a mugger. Clark asks Chloe for help to prevent the picture from running on the front page, but to no avail. |
| 8 | 160 | Bloodline | 2008-11-06 | 60 | The Arctic crystal is anonymously delivered to Clark, and it sends him and Lois to the Phantom Zone, where they run into Kara. She returns Lois to Earth, but inadvertently releases Zod's wife, who takes over Lois' body and wreaks havoc on Metropolis. |
| 9 | 161 | Abyss | 2008-11-13 | 60 | Brainiac slowly takes over Chloe's mind until the only person she remembers is Davis. In an effort to save her, Clark rebuilds the Fortress of Solitude in order to seek help from Jor-El. |
| 10 | 162 | Bride | 2008-11-20 | 60 | Chloe has concerns that Davis will try to stop her wedding. Instead, the ceremony comes under attack by Doomsday, who tries to kidnap the bride. In the melee, Clark and Lois grow closer. Meanwhile, Oliver is off hunting for Lex in Cuba, where he is surprised to find Lana. |
| 11 | 163 | Legion | 2009-01-15 | 60 | Doomsday kidnaps Chloe, and Clark searches for her while battling the Persuader with a little help from three superheroes known as the Legion: Rokk, Imra and Garth. |
| 12 | 164 | Bulletproof | 2009-01-22 | 60 | Clark goes undercover as a cop to discover who shot John Jones. Meanwhile, Lana unsettles Tess with her opinion on Lex, prompting Luthorcorp's head to reconsider her position with the company. |
| 13 | 165 | Power | 2009-01-29 | 60 | Clark learns from Tess that Lex is alive and may have kidnapped Lana. She also reveals what Lana went through after her coma. Elsewhere, Tess breaks into a secret LuthorCorp facility and makes a shocking discovery. |
| 14 | 166 | Requiem | 2009-02-05 | 60 | An explosion at LuthorCorp injures Oliver, who suspects Lex is at fault. But Clark and Lana discover the culprit is Oliver's former employee Winslow Schott, a toymaker harboring a grudge against his old boss. |
| 15 | 167 | Infamous | 2009-03-12 | 60 | Reporter Linda Lake attempts to blackmail Clark for information on the "Red-Blue Blur" in hopes of regaining journalistic fame. Clark chooses instead to reveal his secret identity to Lois and asks her to write the story for the Daily Planet. |
| 16 | 168 | Turbulence | 2009-03-19 | 60 | Tess tries to manipulate Clark into revealing his powers by staging a midair plane accident as they fly to New York for a press conference. Meanwhile, Davis learns how to control his inner beast. |
| 17 | 169 | Hex | 2009-03-26 | 60 | The magician Zatanna comes to town and grants Chloe's birthday wish to be more like Lois, resulting in the two switching bodies. She also grants Clark his deepest wish. |
| 18 | 170 | Eternal | 2009-04-02 | 60 | Tess reveals Davis' childhood with the Luthors when she turns to Clark for help after she fails to kill Davis. Meanwhile, Davis seeks Chloe's assistance. |
| 19 | 171 | Stiletto | 2009-04-23 | 60 | Pretending she is the superhero Stiletto, Lois secures her star-reporter status by scoring exclusive interviews with the city's newest crimefighter. Clark fears for her safety until she ably saves him from Kryptonite-wielding thugs. |
| 20 | 172 | Beast | 2009-04-30 | 60 | Clark discovers Davis is alive and confronts Chloe about her role in hiding him. Meanwhile, Oliver and Jimmy are attacked by Davis at Chloe's apartment. |
| 21 | 173 | Injustice | 2009-05-07 | 60 | Unable to control Davis, Chloe asks Clark to kill him. Seizing the opportunity, Tess gathers Plastique and a crew of meteor freaks to track down Davis, all the while planning a double cross. Things go awry, however, when Tess' true plans are discovered. |
| 22 | 174 | Doomsday | 2009-05-14 | 60 | Oliver takes the lead when Clark exhibits resistance to killing Doomsday, and Chloe finds herself caught in the middle of the situation. Meanwhile, a fight between Lois and Tess takes a surprising turn. |
Season 9
| Episode No. | No. Overall | Title | Airdate | Runtime | Summary |
| --- | --- | --- | --- | --- | --- |
| 1 | 175 | Savior | 2009-09-25 | 60 | Season 9 opens with Clark ready to begin his training with Jor-El, who instructs him to first end things with Lois. Elsewhere, Lois returns to work with no memory of where she's been and meets a new reporter while on assignment; Clark refuses Chloe's request to turn back time to save Jimmy; Zod visits the Luthor home; and Oliver's dark turn continues. |
| 2 | 176 | Metallo | 2009-10-02 | 60 | John Corben is mysteriously transformed into a man-machine with superhuman strength after being hit by a truck. He uses his new powers to hunt down the Red-Blue Blur and in the process kidnaps Lois, who is investigating the Blur on her own. |
| 3 | 177 | Rabid | 2009-10-09 | 60 | Lois is infected by a zombie plague unleashed on the city by Zod. Its cure lies in the blood of a Kryptonian, and Chloe begs Clark to help, even though he would risk revealing his identity to Zod. |
| 4 | 178 | Echo | 2009-10-16 | 60 | The Toyman crashes a Queen Industries party that Oliver is attending, and threatens to bomb the gala if Oliver doesn't admit he killed Lex. Meanwhile, Jor-El gives Clark the ability to hear what people are thinking. |
| 5 | 179 | Roulette | 2009-10-23 | 60 | Oliver is kidnapped by a woman named Victoria, aka Roulette, who warns him his life is in danger. Later, Oliver is arrested after Victoria is found dead, prompting him to seek help from Chloe. Meanwhile, Lois is upset with Clark for not telling her about Oliver's attempted suicide. |
| 6 | 180 | Crossfire | 2009-10-30 | 60 | Oliver is double-crossed by Mia, aka Speedy, a young girl he tries to get off the streets by offering to train her. Meanwhile, Lois turns to Clark for help pursuing an on-air position, and they end up being offered a job as a team. |
| 7 | 181 | Kandor | 2009-11-06 | 60 | Jor-El meets Chloe at the Kent farm while searching for Clark. Meanwhile, Zod sets out to track down Jor-El, whom he believes is the Blur, and Clark tries to find his father before Zod does. |
| 8 | 182 | Idol | 2009-11-13 | 60 | Clark decides to admit he is the Blur after botched crime-fighting assistance from superhero twins Zan and Jayna lands him in trouble with the law. |
| 9 | 183 | Pandora | 2009-11-20 | 60 | Lois is kidnapped by Tess and forced to reveal what she learned during the weeks of her disappearance. She witnessed a future with Metropolis controlled by Zod and Clark left without his powers because of the red sun. With this information, Clark makes a big decision about Zod. |
| 10 | 184 | Disciple | 2010-01-29 | 60 | Oliver squares off against the Dark Archer, his revenge-minded former mentor, whose nefarious plans endanger Lois, Chloe and Mia. |
| 11 | 185 | Absolute Justice | 2010-02-05 | 120 | Clark and Chloe discover that someone is stalking and killing former criminals. Further research uncovers that the "criminals" are heroes of the last generation, framed by the government for crimes they didn't commit. Now new heroes must band with the old heroes--the Justice Society of America--if they hope to stop the killer. |
| 12 | 186 | Warrior | 2010-02-12 | 60 | Clark runs into the magician Zatanna at a comic-book convention, where a magical comic book is stolen by a young man who develops special powers. Calling himself the Warrior Angel, he rescues Chloe from an accident. Meanwhile, Lois grows envious of Clark and Zatanna's connection. |
| 13 | 187 | Persuasion | 2010-02-19 | 60 | Clark is unwittingly infected with wish-fulfilling Kryptonite on Valentine's Day. When he tells Lois he wishes they had a more conventional relationship, she moves in with him and begins to plan their nuptials. And Clark has a wish for Chloe as well: to better protect him. She responds by targeting Lois. |
| 14 | 188 | Conspiracy | 2010-02-26 | 60 | A once-dead doctor used by the Kandorians for experiments escapes with hostages to prove that aliens exist on Earth. Lois ends up kidnapped by the doctor when she refuses to write about his mission. Meanwhile, Zod discovers the doctor's lab, where he is shot just as Clark arrives. |
| 15 | 189 | Escape | 2010-04-02 | 60 | A romantic getaway turns awkward when Clark and Lois bump into Chloe and Oliver at a bed-and-breakfast. Things grow worse when the Silver Banshee arrives and targets Clark and Oliver. Meanwhile, Tess and Zod have a showdown. |
| 16 | 190 | Checkmate | 2010-04-09 | 60 | Tess kidnaps the Green Arrow and leaves him in the hands of Amanda Waller, but he escapes with his secret identity intact. Oliver, Clark and Chloe return to the scene to investigate the kidnapping and find John Jones doing the same. Later, Waller threatens Chloe's life to get information on the Justice League. |
| 17 | 191 | Upgrade | 2010-04-16 | 60 | John Corben rescues Lois from an explosion at one of Tess' labs. While investigating the explosion, Clark is infected with red Kryptonite and under its influence takes Zod to the fortress. Later, Chloe agrees to help Tess by sending John to the fortress to keep Clark from exposing the truth. |
| 18 | 192 | Charade | 2010-04-23 | 60 | The Blur's picture is snapped while rescuing Lois from a gun-wielding Raymond Sacks, the former DA she was questioning about his early prison release. While trying to intercept the photo's sale, Lois and Clark run into Checkmate agent Maxwell Lord, who is also hunting down the Blur's identity. Meanwhile, Chloe figures out Zod's secret. |
| 19 | 193 | Sacrifice | 2010-04-30 | 60 | Chloe becomes trapped inside Watchtower with Tess and tries to stop the Kandorians from accessing information on Watchtower's servers. Meanwhile, Clark learns that Zod's soldiers have superpowers, and a confrontation with Zod leaves Oliver near death and branded with a Z. |
| 20 | 194 | Hostage | 2010-05-07 | 60 | Martha surprises Clark when she returns to town with her boyfriend, Perry White; Chloe and Clark search for the Book of Rao, which may help them stop Zod; and Lois and Perry run into trouble while researching a story on the Red Queen. |
| 21 | 195 | Salvation | 2010-05-14 | 60 | In the Season 9 finale, Zod claims to be the Blur and asks Lois to steal the Book of Rao from Clark; Lois asks Clark for full disclosure, but he refuses; Oliver disappears while he and Chloe attempt to fight the Kandorians by reconnecting Watchtower's satellites; Tess is seriously injured after confronting Zod; and Clark and Zod have a showdown as they battle for Earth. |
Season 10
| Episode No. | No. Overall | Title | Airdate | Runtime | Summary |
| --- | --- | --- | --- | --- | --- |
| 1 | 196 | Lazarus | 2010-09-24 | 60 | In the Season 10 opener, Lois saves Clark's life by removing the blue kryptonite incapacitating him. Elsewhere, Chloe hunts for Oliver while Tess finds herself in a LuthorCorp lab. And Jonathan returns to the farm with a message for Clark. |
| 2 | 197 | Shield | 2010-10-01 | 60 | Cat Grant is hired by the Daily Planet to replace Lois, who has left for Egypt. When Clark saves Cat from an assassin named Deadshot he uncovers a plot against the Blur. Meanwhile, Lois finds herself under Carter Hall's protection in Egypt. |
| 3 | 198 | Supergirl | 2010-10-08 | 60 | A powerful dark force threatens Smallville, prompting Jor-El to send Kara, aka Supergirl, to town as backup for Clark. Meanwhile, an anti-hero shock jock becomes possessed by the dark force and takes Lois hostage, and Clark and Kara must save her. |
| 4 | 199 | Homecoming | 2010-10-15 | 60 | Clark attends his high-school reunion and is visited from the future by Brainiac. He reveals truths about Clark's past, present and future, including the real circumstances surrounding Jonathan's death, Clark's relationship with Lois and his role as a superhero. Meanwhile, Lois is perturbed that no one remembers her short stint as a student. |
| 5 | 200 | Isis | 2010-10-22 | 60 | Lois activates an artifact that turns her into a goddess with superpowers just as she decides to tell Clark she knows his secret. Cat witnesses Lois' new powers and tries to prove that Lois is the Blur. Meanwhile, Clark and Oliver approach Tess for help with Lois. |
| 6 | 201 | Harvest | 2010-10-29 | 60 | Upset with Clark's well-intended meddling, Lois insists she can protect herself, but soon ends up in danger when she becomes stranded with a flat tire. Meanwhile, Tess looks for ways to help Alexander, who is aging very quickly. |
| 7 | 202 | Ambush | 2010-11-05 | 60 | Lois' sister and dad visit unexpectedly for Thanksgiving. Tensions rise when the General bad-mouths superheroes and informs Clark of his efforts to pass the vigilante registration act. Meanwhile, Rick Flagg plots to kill the General. |
| 8 | 203 | Abandoned | 2010-11-12 | 60 | Lois views a video her mom made for her before her death. The tape prompts Lois to make a major decision about Clark, which leads to her encountering Jor-El and Lara at the Fortress. Meanwhile, Tess has a nightmare about a music box that she later finds at the mansion. Her and Clark's investigation takes them to an orphanage. |
| 9 | 204 | Patriot | 2010-11-19 | 60 | The truth behind the Vigilante Registration Act is revealed when Oliver is jailed and subjected to harsh testing by Col. Slade after he volunteers to participate. Clark is joined by Aquaman and his wife, Mera, in his efforts to rescue Oliver. And Lois is miffed when Clark won't let her help, so she sets out on her own. |
| 10 | 205 | Luthor | 2010-12-03 | 60 | Clark is transported to a parallel universe by a kryptonian box that once belonged to Lionel Luthor. In this world, he has been adopted by the Luthors instead of the Kents and has grown up to be a killer. Without tipping his hand, Clark looks for a way to get back to his own universe, where he has been replaced by his murderous double. |
| 11 | 206 | Icarus | 2010-12-10 | 60 | Anti-superhero citizens attack the Green Arrow as he tries to stop a mugging, and Clark learns the attackers all have a darkness tattoo. Elsewhere, Carter Hall and Star Girl help Clark pursue Slade, who has kidnapped Lois. |
| 12 | 207 | Collateral | 2011-02-04 | 60 | The VRA releases Clark, Oliver, Lois and Dinah, who all have flashbacks of Chloe's involvement in their capture. Trust becomes an issue when Chloe returns to town and Dinah fears she is now a traitor. |
| 13 | 208 | Beacon | 2011-02-11 | 60 | Clark sees his mom get shot while watching her speak at a pro-vigilante rally on TV. To raise his spirits Lois and Chloe share videos in support of the Blur with Clark. Elsewhere, Lionel Luther comes forth and reclaims his company from Oliver and Tess. |
| 14 | 209 | Masquerade | 2011-02-18 | 60 | Oliver and Chloe are kidnapped while investigating a rash of murders carried out by Desaad, who then attempts to sicken Chloe with the darkness. Meanwhile, Lois advises Clark to get a disguise to protect his identity. |
| 15 | 210 | Fortune | 2011-02-25 | 60 | Everyone loses their memory after drinking spiked champagne, courtesy of Zatanna, at Clark and Lois' bachelor and bachelorette parties. While hunting for her missing engagement ring with Oliver, Lois is accused of theft by Fortune, the casino owner. Elsewhere, Clark recalls stealing an armored truck. |
| 16 | 211 | Scion | 2011-03-04 | 60 | Clark and Lois receive a stunning gift from Tess. Meanwhile, Tess and Lionel struggle for control of the Luthor name. |
| 17 | 212 | Kent | 2011-04-15 | 60 | Lois turns to Emil for help after Clark Luthor sends Clark back to the alternate reality, where he encounters an irate Jonathan Kent. Meanwhile, Clark Luthor tells Tess he'll kill her if she doesn't take his side. |
| 18 | 213 | Booster | 2011-04-22 | 60 | Lois advises Clark on how to distinguish himself from the Blur, but when a fame-seeking superhero from the future begins stealing the limelight Lois goes on a mission to spotlight the Blur. Meanwhile, a boy becomes fused to an alien weapon and attacks Metropolis. |
| 19 | 214 | Dominion | 2011-04-29 | 60 | Oliver tricks Clark into taking him to the Phantom Zone to investigate its escape portal. Once there they discover that Zod has taken over as leader. Meanwhile, Lois is upset to learn that Clark has trusted Tess with a secret. |
| 20 | 215 | Prophecy | 2011-05-06 | 60 | Lois walks in Clark's shoes for a day when Jor-el bestows Clark's superpowers on her as a wedding gift. But when the Toyman returns to Metropolis it's Lois who must stop him. Meanwhile, Oliver bumps into Kara while searching for the Bow of Orion. |
| 21 | 216 | Finale (1) | 2011-05-13 | 60 | In Part 1 of the two-part series finale, Clark tries to persuade runaway bride Lois to still marry him. Meanwhile, Lionel kidnaps Tess, and darkness envelops Oliver. |
| 22 | 217 | Finale (2) | 2011-05-13 | 60 | In the conclusion of the series finale, Clark Kent's 10-year journey to become the Man of Steel culminates as Lex Luthor pays a visit to Smallville. |
Series Cast
| | | | |
| --- | --- | --- | --- |
| | Tom Welling | as Clark Kent | |
| | Allison Mack | as Chloe Sullivan | |
| | Michael Rosenbaum | as Lex Luthor | |
| | Kristin Kreuk | as Lana Lang | |
| | Annette O'Toole | as Martha Kent | |
| | Erica Durance | as Lois Lane | |
| | John Schneider | as Jonathan Kent | |
| | John Glover | as Lionel Luthor | |
| | Sam Jones III | as Pete Ross | |
| | Justin Hartley | as Oliver Queen / Green Arrow | |
| | Cassidy Freeman | as Tess Mercer | |
| | Aaron Ashmore | as Jimmy Olsen | |
| | Jensen Ackles | as Jason Teague | |
| | Eric Johnson | as Whitney Fordman | |
| | Laura Vandervoort | as Kara | |
| | Callum Blue | as Major Zod | |
| | Sam Witwer | as Davis Bloome | |
Series Crew
| | Position | Name |
| --- | --- | --- |
| | Co-Executive Producer | Kelly Souders |
| | Executive Producer | Kelly Souders |
| | Supervising Producer | Kelly Souders |
| | Co-Executive Producer | Brian Peterson |
| | Executive Producer | Brian Peterson |
| | Executive Producer | David Nutter |
| | Director Of Photography | Glen Winter |
| | Co-Producer | Holly Harold |
| | Associate Producer | Tim Scanlan |
| | Co-Executive Producer | Tim Scanlan |
| | Co-Producer | Tim Scanlan |
| | Supervising Producer | Tim Scanlan |
| | Co-Executive Producer | Michael W. Watkins |
| | Executive Producer | Michael W. Watkins |
| | Co-Executive Producer | Greg Beeman |
| | Executive Producer | Greg Beeman |
| | Producer | Tim Iacofano |
| | Co-Executive Producer | Turi Meyer |
| | Co-Producer | Turi Meyer |
| | Supervising Producer | Turi Meyer |
| | Co-Executive Producer | Al Septien |
| | Co-Producer | Al Septien |
| | Supervising Producer | Al Septien |
| | Co-Producer | Michael Green |
| | Producer | Michael Green |
| | Co-Executive Producer | Mark Verheiden |
| | Supervising Producer | Mark Verheiden |
| | Consulting Producer | Jeph Loeb |
| | Supervising Producer | Jeph Loeb |
| | Associate Producer | Tom Flores |
| | Co-Producer | Tom Flores |
| | Co-Producer | Doris Egan |
| | Producer | Doris Egan |
| | Co-Executive Producer | Darren Swimmer |
| | Co-Producer | Darren Swimmer |
| | Executive Producer | Darren Swimmer |
| | Supervising Producer | Darren Swimmer |
| | Co-Executive Producer | Todd Slavkin |
| | Co-Producer | Todd Slavkin |
| | Executive Producer | Todd Slavkin |
| | Supervising Producer | Todd Slavkin |
| | Producer | Robert Petrovicz |
| | Co-Producer | Luke Schelhaas |
| | Co-Producer | Holly Henderson |
| | Supervising Producer | Holly Henderson |
| | Co-Producer | Don Whitehead |
| | Supervising Producer | Don Whitehead |
| | Co-Executive Producer | John Litvack |
| | Consulting Producer | John Litvack |
| | Supervising Producer | Anne Cofell |
| | Co-Producer | Greg Walker |
| | Co-Executive Producer | Kenneth Biller |
| | Co-Executive Producer | Alex Taub |
| | Consulting Producer | Alex Taub |
| | Co-Executive Producer | Steven S. DeKnight |
| | Supervising Producer | Steven S. DeKnight |
| | Stunt Coordinator | Lauro Chartrand |
| | Visual Effects Producer | Bill Millar |
| | Co-Executive Producer | Tom Welling |
| | Executive Producer | Tom Welling |
| | Executive Producer | Mike Tollin |
| | Developer | Miles Millar |
| | Executive Producer | Miles Millar |
| | Executive Producer | Joe Davola |
| | Developer | Alfred Gough |
| | Executive Producer | Alfred Gough |
| | Co-Executive Producer | Ken Horton |
| | Executive Producer | Ken Horton |
| | Co-Executive Producer | Jae Marchant |
| | Co-Producer | Jae Marchant |
| | Co-Executive Producer | Rob Maier |
| | Construction Coordinator | Rob Maier |
| | Supervising Producer | Rob Maier |
| | Supervising Producer | Jordan Hawley |
| | Co-Producer | Scott Graham |
| | Associate Producer | Juanita Diana Feeney |
| | Associate Producer | Christopher Petry |
| | Associate Producer | Cristina Verano |
| | Associate Producer | Juanita F. Diana |
| | Associate Producer | Mark Warshaw |
| | Executive Producer | Brian Robbins |
| | Unit Production Manager | Matthew Chipera |
| | Executive Story Editor | Philip Levens |
| | Creator | Jerry Siegel |
| | Creator | Joe Shuster |
| | Co-Executive Producer | James Marshall |
| | Executive Producer | James Marshall |
| | Supervising Producer | James Marshall |
| | Director Of Photography | Attila Szalay |
| | Editor | Ron Spang |
| | Music | Mark Snow |
| | First Assistant Director | Bryan Knight |
| | Second Assistant Director | Robert Duncan |
| | Casting | Barbara Miller |
| | Property Master | Ken Davies |
| | Script Supervisor | Janet Munro |
| | Costume Designer | Caroline Cranstoun |
| | Makeup Artist | Lisa Love |
| | Hair Stylist | Christine O'Connor |
| | Camera Operator | Brad Creasser |
| | Special Effects Supervisor | Mike Walls |
| | Sound Mixer | Mark Holden |
| | Supervising Sound Editor | Michael E. Lawshe |
| | Music Editor | Chris McGeary |
| | Music Supervisor | Madonna Wade-Reed |
| | Music Supervisor | Jennifer Pyken |
| | Producer | Bob Hargrove |
| | Production Designer | Graeme Murray |
| | Unit Production Manager | Richard Bullock |
| | Casting | Deedee Bradley |
| | Casting | Coreen Mayrs |
| | Casting | Heike Brandstatter |
| | Set Decorator | James Willcock |
| | Script Coordinator | Kurt Langenhahn |
| | Re-Recording Mixer | Dan Hiland |
| | Re-Recording Mixer | Gary D. Rogers |
| | Editor | Stephen Mark |
| | First Assistant Director | Rob Vouriot |
| | Second Assistant Director | Brad Jubenville |
| | Set Decorator | Laura Killam |
| | Production Coordinator | Pat Taylor |
| | Gaffer | Bill Kassis |
| | Key Grip | Tom Kaczmarski |
| | Production Designer | Lance King |
| | First Assistant Director | Kevin Speckmaier |
| | Editor | David Ekstrom |
Related News
TVMaze