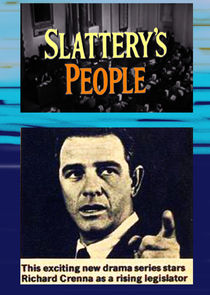 Slattery's People, starring Richard Crenna as the lawmaker hero, revolves around a state legislator facing modern social and political challenges. Appearing in the dramatic episodes with Crenna are Maxine Stuart in a regular supporting role. Miss Stuart will portray B.J. Clawson, secretary to James Slattery (Crenna). Also included in the supporting cast are Paul Geary as Slattery's young aide, Edward Asner as a veteran newsman on the legislative beat, and Tol Avery as the speaker of the legislature Slattery serves.
Series Overview
Rating
imDb Rating: 8.6 (70 Votes)
Metascore: N/A
Plot
Jim Slattery enters the state legislature, hopeful that he can make a difference. He finds dealing with endless rules and the majority opposition party frustrates any meaningful change but he stubbornly perseveres.
Details
Rated: N/A
Released: 21 Sep 1964
Runtime: 60 min
Genre: Drama
Director: N/A
Writer: James E. Moser
Actors: Richard Crenna
Language: English
Country: USA
Awards: Nominated for 1 Golden Globe. Another 7 nominations.
Total Seasons: 2
Previous Episode
Color Him Red
Episode 2x10; Nov 26, 1965
Slattery has that old problem of deciding what to do with an old friend (and college professor) who has been accused of being a Communist.
Previous Episodes 2x10: Color Him Red 2x9: The Last Commuter 2x8: Of Damon, Pythias and Sleeping Dogs 2x7: The Hero 2x6: What Can You Do with a Wounded Tiger? 2x5: Rally 'Round Your Own Flag, Mister 2x4: The Unborn 2x3: How Impregnable is a Magic Tower? 2x2: He Who Has Ears, Let Him Bug Somebody Else

View All Episodes
Cast
Richard Crenna as James Slattery
Edward Asner as Frank Radcliff
Paul Geary as Johnny Ramos
Maxine Stuart as B.J. Clawson
Tol Avery as Speaker Bert Metcalf
Kathie Browne as Liz Andrews, TV newscaster (season 2)
View Full Cast
Skip to:
Season 1
| Episode No. | No. Overall | Title | Airdate | Runtime | Summary |
| --- | --- | --- | --- | --- | --- |
| 1 | 1 | Question: What is Truth? | 1964-09-21 | 60 | Impressive opener of a series involving life in a state legislature, where voting is done by buttons and all talk revolves around the passage of a bill. Tonight, an earnest minority leader is forced to investigate a respected leader. The plot has its dramatic moments, but the main interest lies in the workings of the state body itself. |
| 2 | 2 | Question: Why the Lonely, Why the Misbegotten? | 1964-09-28 | 60 | Representative Slattery (Richard Crenna) goes to the aid of an ex-GI (Tommy Sands) who had defected to the Viet Cong in Vietnam. A resident of Slattery's district, the shattered youth returns home to find that he is no longer a citizen. |
| 3 | 3 | Question: Remember the Dark Sins of Youth? | 1964-10-05 | 60 | Joan Blackman has a secret that may destroy her father's life. |
| 4 | 4 | Question: Whatever Happened to Ezra? | 1964-10-12 | 60 | Ed Wynn, as spry old Ezra Tallicott, enlists the aid of State Representative Slattery. Earnest hero Slattery fights against closing a home for the aged. |
| 5 | 5 | Question: What Are You Doing Out There, Waldo? | 1964-10-19 | 60 | State representative Slattery (Richard Crenna) is crusading in a different direction. In an obvious effort to show a more romantic side to Slattery, you are to believe he is capable of being sidetracked by shapely lobbyist Sally Kellerman, one of "those Utopian reformers." |
| 6 | 6 | Question: What Became of the White Tortilla? | 1964-10-26 | 60 | Hero Slattery has a hard time convincing a high-minded representative that compromise isn't a dirty word but one of the basic laws of government. The plot is believable and guest Ricardo Montalban is fine as the idealistic Latin. |
| 7 | 7 | Question: Where Vanished the Tragic Piper? | 1964-11-02 | 60 | A study of a young couple who have adopted a Korean war orphan and who are faced with the state taking the baby away from them. |
| 8 | 8 | Question: Is Laura the Name of the Game? | 1964-11-09 | 60 | Best episode so far from this surprisingly good series. A Representative and his overly ambitious wife, eager for Washington, D. C dip low into the bucket for a sensational campaign issue, and look to help from a muck-raking broadcaster. Slattery fights the couple all the way. A good script is enhanced by two good performances by jack Warden and Georgann Johnson. |
| 9 | 9 | Question: What's a Genius Worth This Week? | 1964-11-16 | 60 | A scientist turns down a government hardware contract to save his company and Slattery jumps in the middle. |
| 10 | 10 | Question: What is Honor, What is Death? | 1964-11-23 | 60 | Bribery rears its ugly head in the legislature along with hand-wringing, emotional scenes. Slattery finds a fellow Representative suddenly switching sides on a tax bill and smells a rat. |
| 11 | 11 | Question: Do the Ignorant Sleep in Pure White Beds? | 1964-11-30 | 60 | A pertinent, well handled drama on sex education in school, as hero Slattery stands up to defend a suspended school teacher. Besides the interest in the subject matter, there's sufficient fireworks between Slattery and a no nonsense parent who happens to be a Board of Education member, to hold your attention throughout. "National Velvet's" Lori Martin plays a featured role. |
| 12 | 12 | Question: Which One Has the Privilege? | 1964-12-07 | 60 | A reporter is on the hook for a bribe story in a fairly Interesting entry. According to custom, the newsman refuses to name his source and takes quite a shellacking in the process. Good arguments crop up on both sides, something this series handles very neatly. |
| 13 | 13 | Question: How Long is the Shadow of a Man? | 1964-12-14 | 60 | Good drama, and an interesting behind-the-scenes look at political parties attempting to discipline their legislative members. A new lady Representative goes after Slattery's hide and almost sheds him of his power. Slattery shows a new toughness in this one and guest star Vera Miles plays the bitter, clever woman with finesse. |
| 14 | 14 | Question: What is a Requiem for a Loser? | 1964-12-21 | 60 | Two plots, capital punishment and the art of compromise, keep this hour humming. There's a good deal of palaver, some romance, and a nice performance by Martin Milner as an unlikable but idealistic new representative to hold you, even though you'll probably be in the dark about his change of thought at the end. |
| 15 | 15 | Question: What Did You Do All Day, Mr. Slattery? | 1965-01-15 | 60 | Good episode which focuses on the large number of problems that make up a Representative's daily fare. The main storyline concerns the extradition of a friend and Slattery puts his influence to work. |
| 16 | 16 | Question: How Do You Fall in Love with a Town? | 1965-01-22 | 60 | A grand show, thanks to a good script and the performances of two old pros, actors Lee Tracy and James Dunn. They fight a town boss in a local election which draws hero Slattery into the action. Actor Dick Crenna does right well with the veterans, but watching and listening to Lee Tracy snap out his lines is the greatest pleasure of the hour. |
| 17 | 17 | Question: Does Nero Still at Ringside Sit? | 1965-02-05 | 60 | Interesting, well acted drama about the sad state of boxing. Hero Slattery, who wants it abolished, puts up some very good reasons for his stand in a tale about a boxer on his way out after suffering brain damage in a fight. The anti-boxing arguments are telling, and so is Robert Blake's performance as fighter Joey Leon. |
| 18 | 18 | Question: How Do You Catch a Cool Bird of Paradise? | 1965-02-12 | 60 | The best part ol this drama about high school dope-addicts and a school teacher who advocates harsh measures to stamp out the problem is the acting of Raymond St. Jacques, Susan Bay and Richard Crenna. The plot twists are acceptable and so are the speeches by an angered Slattery and the teacher, but all are made more meaningful in performance. |
| 19 | 19 | Question: When Do We Hang the Good Samaritan? | 1965-02-19 | 60 | First class entry about a doctor who is sued for malpractice after treating an accident victim while out on a fishing trip. Both sides of the ticklish problem are examined in the script, and good performances by Crenna and guests Claude Akins, William Hansen and Barbara Eden give the show a boost. |
| 20 | 20 | Question: Is Democracy Too Expensive? | 1965-02-26 | 60 | The play examines the problem of political parties backing underdogs in campaigns. In this case, a poor college professor is running for Congress, and he's heard expressing himself on controversial and unpopular causes. The cast, led by hero Crenna and guest star John Larch, is splendid. |
| 21 | 21 | Question: Did He Who Made the Lamb Make Thee? | 1965-03-05 | 60 | Slattery defends a lady doctor on a slander charge in court. Actually, the issue is child beating and the problem tracing cruel parents. Hero Slattery becomes very emotional in the process and indulges in a good deal of speech making, but the play is informative and well cast, |
| 22 | 22 | Question: Who You Taking to the Main Event, Eddie? | 1965-03-12 | 60 | A woman prosecutor (Zohra Lampert) involves Slattery (Richard Crenna) in a politically explosive investigation of gambling corruption. Cicely Tyson and Tige Andrews are featured. |
| 23 | 23 | Question: What's New in Timbuctoo? | 1965-03-19 | 60 | Pat O'Brien as a bewildered, aging politician, contributes a touching performance. There is too much talk in this one, but viewers, especially older ones, should find interest in the theme concerning a fighting rooster, with weathered wings, who has been put out to pasture. Nancy Wickwire and David McLean co-star. |
| 24 | 24 | Question: Bill Bailey, Why Did You Come Home? | 1965-04-02 | 60 | Some interesting points are made in this drama about conformity in a large housing tract, but the play is weakened somewhat by characters that are overdrawn. Guest stars include Forrest Tucker, Fred Clark and Louise Troy. |
| 25 | 25 | Question: What Time is the Next Bandwagon? | 1965-04-09 | 60 | Absorbing story about backstage maneuvering at a state political convention. Through all the deals between candidates, the only oddity seems to be a lady campaign manager who flirts and bargains with Slattery. However, the acting is competent and the convention scenes well-paced and produced. |
| 26 | 26 | Question: What's a Swan Song for a Sparrow? | 1965-04-16 | 60 | Elsa Lanchester stars as a kooky, motor-scooter riding spinster who battles Slattery (Richard Crenna) and his plan to run a superhighway through her small town animal sanctuary. |
Season 2
| Episode No. | No. Overall | Title | Airdate | Runtime | Summary |
| --- | --- | --- | --- | --- | --- |
| 1 | 27 | A Sitting Duck Named Slattery | 1965-09-17 | 60 | Feeling is running high over a water division scheme, and an attempt is made to kill Slattery. |
| 2 | 28 | He Who Has Ears, Let Him Bug Somebody Else | 1965-09-24 | 60 | This episode comes up with a dramatic wire tapping tale. Everything Slattery and his new girl Liz say in confidence is put on tape, and the plot, making the hero a victim and romantically involved, comes across. |
| 3 | 29 | How Impregnable is a Magic Tower? | 1965-10-01 | 60 | Serafino Roca labored 30 years to construct three mosaic-encrusted concrete towers---which are about to be condemned. |
| 4 | 30 | The Unborn | 1965-10-08 | 60 | Slattery's career is at stake in a fight over over a bill to permit humane abortion. |
| 5 | 31 | Rally 'Round Your Own Flag, Mister | 1965-10-15 | 60 | Representative Slattery investigates a group called the Frontiersmen and listens to their leader spitting fear and hatred. |
| 6 | 32 | What Can You Do with a Wounded Tiger? | 1965-10-22 | 60 | Serious, downbeat drama about foster homes . The plot deals with a foster child who claims mistreatment and wants to go back to his undependable, drinking father. A good cast led by Ossie Davis, Audrey Christie and young Pat Cardi. |
| 7 | 33 | The Hero | 1965-11-05 | 60 | A war hero is willing to run for office, Slattery doubts the man's intentions are good. |
| 8 | 34 | Of Damon, Pythias and Sleeping Dogs | 1965-11-12 | 60 | A lively drama about bribery, kidnapping and Rep. Slattery's best friend, a man who's up for a state judgeship. |
| 9 | 35 | The Last Commuter | 1965-11-19 | 60 | Intriguing, pertinent David Karp drama about a commuter who fights a railroad when his stop is taken off the schedule. Representative Slattery and the news media join the commuter in the lost-cause battle, and their efforts provide a surprising climax. |
| 10 | 36 | Color Him Red | 1965-11-26 | 60 | Slattery has that old problem of deciding what to do with an old friend (and college professor) who has been accused of being a Communist. |
Series Cast
| | | | |
| --- | --- | --- | --- |
| | Richard Crenna | as James Slattery | |
| | Edward Asner | as Frank Radcliff | |
| | Paul Geary | as Johnny Ramos | |
| | Maxine Stuart | as B.J. Clawson | |
| | Tol Avery | as Speaker Bert Metcalf | |
| | Kathie Browne | as Liz Andrews, TV newscaster (season 2) | |
| | Alejandro Rey | as Mike Valera (season 2) | |
| | Francine York | as Wendy Wendkoski, secretary (season 2) | |
Related News
TVMaze