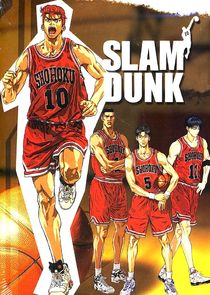 Hanamichi Sakuragi, an entering Shohoku high school freshman, holds a record for being rejected by 50 girls during middle school. His nearly 2 meters height and bright red hair causes most students to write him off as a delinquent.
One day, a girl named Haruko Akagi approaches Hanamichi without any fear. When she asks Hanamichi "do you like basketball?" Hanamichi falls head over heels for the girl of his dreams. Without missing a beat, Hanamichi tells her he loves basketball, and the two head to the gymnasium where Hanamichi learns about the slam dunk. He also learns of Rukawa, one of the country's top basketball prospects, also a freshman at Shohoku.
Series Overview
Rating
imDb Rating: 8.7 (3,595 Votes)
Metascore: N/A
Plot
About Sakuragi Hanamichi, a freshman of Shohoku High School who joins the basketball team because of the girl he has a crush on, Haruko. Although he is newbie in this sport, he is no ordinary basketball player.
Details
Rated: TV-PG
Released: 16 Oct 1993
Runtime: 22 min
Genre: Animation, Comedy, Drama, Sport
Director: N/A
Writer: N/A
Actors: Michael C. Pizzuto
Language: Japanese
Country: Japan
Awards: N/A
Total Seasons: 1
Previous Episode
SLAM DUNK!
Episode 1x101; Mar 23, 1996
Previous Episodes 1x101: SLAM DUNK! 1x100: The one who brought forth a miracle - Sakuragi! 1x99: Facing the strongest team, Shohoku in danger! 1x98: Shohoku vs. Shoyo/Ryonan 1x97: Mixed Feelings, Uozumi returns 1x96: Basketball Shoes Part II 1x95: The day when Sakuragi's fired up! 1x94: Shohoku vs. Jousei 1x93: Going toward 20000 shoots

View All Episodes
Cast
Hideyuki Tanaka as Kiminobu Kogure
Hikaru Midorikawa as Kaede Rukawa
Hôchû Ôtsuka as Akira Sendu
Tomomichi Nishimura as Anzai
Yukimasa Kishino as Jun Uozumi
Toshiyuki Morikawa as Kiyota Nobunaga
View Full Cast
Skip to:
Season 1
| Episode No. | No. Overall | Title | Airdate | Runtime | Summary |
| --- | --- | --- | --- | --- | --- |
| 1 | 1 | The Gifted Basketball Player Is Born!?! | 1993-10-16 | 30 | Hanamichi Sakuragi, an entering Shohoku high school freshman holds a record for being rejected by 50 girls during middle school. |
| 2 | 2 | Die Basketball! Hanamichi vs. Rukawa | 1993-10-30 | 30 | Rukawa, the object of Haruko's affection, runs into Hanamichi on the school roof. |
| 3 | 3 | Gorilla vs. Hanamichi! Big Showdown!! | 1993-11-06 | 30 | Gori and Hanamichi's confrontation continues, and the condition for the 1 on 1 game is set. |
| 4 | 4 | Basket Man Hanamichi Joins the Team | 1993-11-13 | 30 | Riding high on his victory over Akagi, Hanamichi breaks into the team locker room and wears Akagi's uniform. |
| 5 | 5 | A fruitless Afternoon | 1993-11-20 | 30 | Though one week has passed since the rookie, Hanamichi, is accepted into the team, he finds himself practicing dribbling in the corner of the court. |
| 6 | 6 | Rukawa vs. Akagi. The Real Showdown | 1993-12-04 | 30 | Hanamichi absorbs the lessons like a sponge and continues to become a respectable member of the basketball team. |
| 7 | 7 | Hanamichi Debut!! Dunk Sakuretsu!! Duel | 1993-12-11 | 30 | The pick-up game match between the freshmen and upperclassmen continues to heat up. |
| 8 | 8 | Hanamichi's Crisis! The Judo-man's Trap | 1993-12-18 | 30 | One rainy day Akagi learns from the captain of the Judo club, Aota, that the Judo club is plotting to recruit Hanamichi. |
| 9 | 9 | I'm Going to Play Basketball | 1993-12-25 | 30 | At the judo dojo, Hanamichi meets with Aota and is enticed into joining the judo club after being offered a photograph of Haruko. |
| 10 | 10 | The Commoner's Shoot is Difficult | 1994-01-08 | 30 | Hanamichi feels himself increasingly attracted to basketball, and he begins to take the sport more seriously. |
| 11 | 11 | Our Love's Special Secret Training | 1994-01-15 | 30 | During an early morning special training session, Hanamichi earnestly listens to Haruko's lessons. |
| 12 | 12 | Beat Ryonan! Tough Rules the Night before the Game | 1994-01-22 | 30 | A person appears in the gym where Hanamichi is practicing alone. |
| 13 | 13 | Shohoku vs Ryonan. The Secret Weapon | 1994-01-29 | 30 | Sparks quickly begin to fly between Akagi and Uozumi - the showdown has already begun. |
| 14 | 14 | Super Basketball Match With Ryonan | 1994-02-05 | 30 | The match begins and Shouhoku quickly lets the other opponent score. |
| 15 | 15 | Secret Weapon Hanamichi Steps Into the Spotlight | 1994-02-12 | 30 | The first half of the game ends with a score of 50 to 42 and Ryonan continues to overwhelm Shohoku. |
| 16 | 16 | All Out Counter Attack | 1994-02-19 | 30 | Hanamichi enters the game with 9 minutes left in the 2nd half. With the loss of Akagi, Coach Taoka believes the game is over. |
| 17 | 17 | The Rebound King Sakuragi Hanamichi's Distress | 1994-02-26 | 30 | Rukawa, who dominated in rebounds, brings Shohoku up to 70 to 67. |
| 18 | 18 | Last 2 Minutes! I'll Be the One to Defeat Sendo | 1994-03-05 | 30 | With Akagi's return, Rukawa resting on the bench, and Hanamichi remembering the fundamentals of rebounds. Shohoku regains momentum. |
| 19 | 19 | Time's Up! The Decisive Battle with Ryonan | 1994-03-12 | 30 | In deperation to hold off the raging Ryonan, Shohoku uses Hanamichi and Rukawa to double team on Sendo. |
| 20 | 20 | Basketball Shoes | 1994-03-19 | 30 | Hanamichi is still shocked after their loss to Ryonan but gains encouragement through Haruko's words. |
| 21 | 21 | Enormous Trouble Makers Hanamichi vs Miyaga | 1994-03-26 | 30 | The guy who Ohkusu and Youhei glare at is a second year guard of the basketball team, Ryota Miyagi. |
| 22 | 22 | The Fool with the Worst Record, A Combination is Born | 1994-04-16 | 30 | The battle between Hanamichi and Ryota continues...although Hanamichi starts it by playing dirty, and the fight is nothing more than a childish fight. |
| 23 | 23 | Shohoku Basketball Team's Last Day | 1994-04-23 | 30 | As Hanamichi and Ryota become friends, Mitsui brings the thug, Tetsuo, to the gym during practice. |
| 24 | 24 | The Allies of Justice, Sakuragi's Army Visits | 1994-04-30 | 30 | Rukawa can no longer put up with Mitsui who is doing whatever he pleases. |
| 25 | 25 | The Guy Who Wanted to Conquer the World | 1994-05-07 | 30 | Youhei and Sakuragi's Gang come to the rescue to defeat Mitsui and his gang. |
| 26 | 26 | Mitsui's Peak, Trouble at 15 | 1994-05-14 | 30 | After Kogure's confession, Hanamichi and the others learn of Mitsui's glorious past as a star basketball player entering high school. |
| 27 | 27 | I Want to Play Basketball! | 1994-05-21 | 30 | Mitsui's downfall... |
| 28 | 28 | The Beginning of Interhigh Preliminaries | 1994-05-28 | 30 | Mitsui, who changes his ways, rejoins the basketball team. |
| 29 | 29 | Hanamichi! Pennant Race Debut | 1994-06-18 | 30 | At the game against Miuradai, the key players--Hanamichi, Rukawa, Ryota, and Mitsu--are left on the bench. |
| 30 | 30 | The Introspective Army's Big Counterattack | 1994-06-25 | 30 | As Miuradai leads 22 to 8, Shohoku finally sends its best players out to court. |
| 31 | 31 | Formidable Enemy Miuradai's Secret Weapon | 1994-07-02 | 30 | |
| 32 | 32 | Genius Hanamichi! Certain Death Dunk | 1994-07-16 | 30 | |
| 33 | 33 | Walkout King!? Sakuragi's Righteousness | 1994-08-06 | 30 | |
| 34 | 34 | Gorilla's Initiation, Kill with Your Eyes! | 1994-08-20 | 30 | |
| 35 | 35 | Hot Blooded Guys | 1994-08-27 | 30 | |
| 36 | 36 | A Well Seeded School, Enter Shoyo | 1994-09-03 | 30 | |
| 37 | 37 | Hanamichi's First Start | 1994-09-10 | 30 | |
| 38 | 38 | Rukawa's Counterattack! | 1994-09-17 | 30 | |
| 39 | 39 | Lightning Flash Ryota! | 1994-09-24 | 30 | |
| 40 | 40 | Hanamichi the Genius shows off! | 1994-10-01 | 30 | |
| 41 | 41 | Shoyo Coach Enters the Court | 1994-10-14 | 30 | |
| 42 | 42 | Shoyo Ace Fujima's Real Ability | 1994-10-15 | 30 | |
| 43 | 43 | Has Mitsui Reached His Limit!? | 1994-10-22 | 30 | |
| 44 | 44 | Mitsui! Stormy 3 Points | 1994-11-03 | 30 | |
| 45 | 45 | Imminent Walkout!? Hanamichi's Pinch | 1994-11-26 | 30 | |
| 46 | 46 | Hanamichi, Hot Dunk | 1994-12-03 | 30 | |
| 47 | 47 | Challenge from a Rival | 1994-12-10 | 30 | |
| 48 | 48 | The Guy Who Pledged to Defeat Kainan | 1994-12-17 | 30 | |
| 49 | 49 | Takezono, Last Fight | 1994-12-24 | 30 | |
| 50 | 50 | Challenge to the King | 1995-01-07 | 30 | |
| 51 | 51 | Outside Accounts!? Hanamichi at His Best! | 1995-01-14 | 30 | |
| 52 | 52 | Sakuragi's Confinement's Secret Weapon | 1995-01-21 | 30 | |
| 53 | 53 | The Gorilla's Injury! Desperate Situation!? | 1995-01-28 | 30 | |
| 54 | 54 | King Kong, Younger Brother | 1995-02-04 | 30 | |
| 55 | 55 | The One that Dominates the Game | 1995-02-11 | 30 | |
| 56 | 56 | Ace Shepherd, Full Throttle | 1995-02-18 | 30 | |
| 57 | 57 | Anzai, Bet on Victory! | 1995-02-25 | 30 | |
| 58 | 58 | Stubborn Guys! | 1995-03-04 | 30 | |
| 59 | 59 | Last 10 Seconds! A Perfect Conclusion | 1995-03-11 | 30 | |
| 60 | 60 | To relieve guilt: Shave Head ?! | 1995-03-18 | 30 | |
| 61 | 61 | Baldy attacks back! | 1995-03-25 | 30 | |
| 62 | 62 | Three-day super training | 1995-04-08 | 30 | |
| 63 | 63 | Ryonan's genius plan | 1995-04-08 | 30 | |
| 64 | 64 | Kainan rebounds! | 1995-04-15 | 30 | |
| 65 | 65 | The strongest rival | 1995-04-29 | 30 | |
| 66 | 66 | Sendoh's scheme | 1995-05-13 | 30 | |
| 67 | 67 | The final battle! | 1995-05-20 | 30 | |
| 68 | 68 | Sakuragi Hanamichi comes to rescue! | 1995-05-27 | 30 | |
| 69 | 69 | Gorilla goes astray | 1995-06-03 | 30 | |
| 70 | 70 | King Kong number two! | 1995-06-10 | 30 | |
| 71 | 71 | Gorilla revives! | 1995-06-17 | 30 | |
| 72 | 72 | The greatest shame of one's life | 1995-07-01 | 30 | |
| 73 | 73 | Rukawa Kaede, gambling on the 2nd half | 1995-07-08 | 30 | |
| 74 | 74 | The most dangerous challenger! | 1995-07-15 | 30 | |
| 75 | 75 | Peak performance | 1995-07-22 | 30 | |
| 76 | 76 | The feeling of victory | 1995-08-05 | 30 | |
| 77 | 77 | You guys are strong! | 1995-08-12 | 30 | |
| 78 | 78 | Uozumi Revives | 1995-08-19 | 30 | |
| 79 | 79 | Blue waves - Ryonan attacks back! | 1995-08-26 | 30 | |
| 80 | 80 | Shohoku's problems | 1995-09-02 | 30 | |
| 81 | 81 | Sendoh attacks! Shohoku loses | 1995-09-23 | 30 | |
| 82 | 82 | Amateur Sakuragi Hanamichi shows off! | 1995-10-21 | 30 | |
| 83 | 83 | Kogure's determination | 1995-10-28 | 30 | |
| 84 | 84 | Win or Lose | 1995-11-04 | 30 | |
| 85 | 85 | New Challenge: the national championship! | 1995-11-11 | 30 | |
| 86 | 86 | Rukawa Kaede's Ambition | 1995-11-18 | 30 | |
| 87 | 87 | Japan's number basketball player | 1995-11-25 | 30 | |
| 88 | 88 | The basketball kingdom - United States of America | 1995-12-02 | 30 | |
| 89 | 89 | Rukawa Kaede's spirit | 1995-12-09 | 30 | |
| 90 | 90 | Shohoku's real ace | 1995-12-16 | 30 | |
| 91 | 91 | The sudden barrier to the nationals | 1995-12-23 | 30 | |
| 92 | 92 | Guys - Sakuragi Gang | 1996-01-13 | 30 | |
| 93 | 93 | Going toward 20000 shoots | 1996-01-20 | 30 | |
| 94 | 94 | Shohoku vs. Jousei | 1996-01-27 | 30 | |
| 95 | 95 | The day when Sakuragi's fired up! | 1996-02-03 | 30 | |
| 96 | 96 | Basketball Shoes Part II | 1996-02-10 | 30 | |
| 97 | 97 | Mixed Feelings, Uozumi returns | 1996-02-17 | 30 | |
| 98 | 98 | Shohoku vs. Shoyo/Ryonan | 1996-02-24 | 30 | |
| 99 | 99 | Facing the strongest team, Shohoku in danger! | 1996-03-02 | 30 | |
| 100 | 100 | The one who brought forth a miracle - Sakuragi! | 1996-03-09 | 30 | |
| 101 | 101 | SLAM DUNK! | 1996-03-23 | 30 | |
Series Cast
| | | | |
| --- | --- | --- | --- |
| | Hideyuki Tanaka | as Kiminobu Kogure | |
| | Hikaru Midorikawa | as Kaede Rukawa | |
| | Hôchû Ôtsuka | as Akira Sendu | |
| | Tomomichi Nishimura | as Anzai | |
| | Yukimasa Kishino | as Jun Uozumi | |
| | Toshiyuki Morikawa | as Kiyota Nobunaga | |
| | Hisao Egawa | as Shinichi Maki | |
| | Takeshi Kusao | as Hanamichi Sakuragi | |
| | Yoku Shioya | as Ryota Miyagi | |
| | Ryotaro Okiayu | as Hisashi Mitsui | |
| | Akiko Hiramatsu | as Haruko Akagi | |
Related News
TVMaze