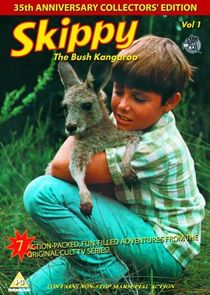 Skippy welcomes you to the Waratah National Park. Follow the life at Ranger Headquarters with the Hammond family. Matt Hammond (Ed Devereaux), the father and recently widowed; Mark (Ken James) and Sonny (Garry Pankhurst), the sons; Clancy (Liza Goddard), Sonny's best friend; Jerry King (Tony Bonner), the Flight Ranger and of course Skippy (Phil Judd - provided the tsch, tsch voice). Based in country New South Wales, Australia (this is known from several mentions of the city of Sydney). This was the first production done by Fauna Studios.
Series Overview
Rating
imDb Rating: 6.4 (803 Votes)
Metascore: N/A
Plot
Sonny and his kangaroo Skippy live in Waratah National Park in New South Wales. Matt Hammond, Sonny's father is the park ranger. Skippy saves the day in many adventures.
Details
Rated: N/A
Released: 03 Dec 1967
Runtime: 25 min
Genre: Adventure, Family
Director: N/A
Writer: Lee Robinson, Dennis Hill
Actors: Ed Devereaux, Tony Bonner, Ken James, Garry Pankhurst
Language: English
Country: Australia
Awards: 1 win.
Total Seasons: 3
Previous Episode
A Work of Art
Episode 3x1; Oct 06, 1969
Previous Episodes 3x13: Fred 3x12: Pigeon Pair 3x11: Merry-Go-Round 3x10: Up the Waratahs 3x9: The Rainmakers 3x8: The Veteran 3x7: The Medicine Man 3x6: Mr. Duffy 3x5: El Toro

View All Episodes
Skip to:
Season 1
| Episode No. | No. Overall | Title | Airdate | Runtime | Summary |
| --- | --- | --- | --- | --- | --- |
| 1 | 1 | Poachers | 1968-02-05 | 25 | |
| 2 | 2 | Sports Car Rally | 1968-02-12 | 25 | |
| 3 | 3 | The Golden Reef | 1968-02-19 | 25 | |
| 4 | 4 | Long Way Home | 1968-02-26 | 25 | |
| 5 | 5 | Cage of Koalas | 1968-03-04 | 25 | |
| 6 | 6 | The Lyre Bird | | 25 | |
| 7 | 7 | Dead or Alive | | 25 | |
| 8 | 8 | The Marine Biologist | | 25 | |
| 9 | 9 | No Time for Clancy | | 25 | |
| 10 | 10 | Time and Tide | | 25 | |
| 11 | 11 | Can You Keep a Secret? | | 25 | |
| 12 | 12 | The Swagman | | 25 | |
| 13 | 13 | The Honeymooners | | 25 | |
| 14 | 14 | Many Happy Returns | | 25 | |
| 15 | 15 | My Best Friend | | 25 | |
| 16 | 16 | When the Bough Breaks | | 25 | |
| 17 | 17 | The Waratah Festival | | 25 | |
| 18 | 18 | Summer Storm | | 25 | |
| 19 | 19 | The Rustlers | | 25 | |
| 20 | 20 | Double Trouble | | 25 | |
| 21 | 21 | Trapped | | 25 | |
| 22 | 22 | They're Singing Me Back | | 25 | |
| 23 | 23 | Tara - Part One | | 25 | |
| 24 | 24 | Tara - Part Two | | 25 | |
| 25 | 25 | Surf King | | 25 | |
| 26 | 26 | The Runaway | | 25 | |
| 27 | 27 | The Last Chance | | 25 | |
| 28 | 28 | No Trespassers | | 25 | |
| 29 | 29 | Mayday - Part One | | 25 | |
| 30 | 30 | Mayday - Part Two (aka Where There's Smoke) | | 25 | |
| 31 | 31 | Date in Dalmar | | 25 | |
| 32 | 32 | Ten Little Visitors | | 25 | |
| 33 | 33 | The Empty Chair | | 25 | |
| 34 | 34 | Aunt Evelyn | | 25 | |
| 35 | 35 | The Bushrangers | | 25 | |
| 36 | 36 | Man from Space | | 25 | |
| 37 | 37 | Be Our Guest | | 25 | |
| 38 | 38 | The Long Night | | 25 | |
| 39 | 39 | View Matt | | 25 | |
Season 2
| Episode No. | No. Overall | Title | Airdate | Runtime | Summary |
| --- | --- | --- | --- | --- | --- |
| 1 | 40 | The Raft | | 25 | |
| 2 | 41 | The Perfect Hosts | | 25 | |
| 3 | 42 | Honest Jack | | 25 | |
| 4 | 43 | Follow My Leader | | 25 | |
| 5 | 44 | Tex N. Ranger | | 25 | |
| 6 | 45 | Chicken | | 25 | |
| 7 | 46 | Belinda | | 25 | |
| 8 | 47 | The Mine | | 25 | |
| 9 | 48 | Rockslide | | 25 | |
| 10 | 49 | Hide and Seek | | 25 | |
| 11 | 50 | Flying Saucers | | 25 | |
| 12 | 51 | Esmeralda | | 25 | |
| 13 | 52 | Puppets | | 25 | |
| 14 | 53 | Vice Versa | | 25 | |
| 15 | 54 | Oats | | 25 | |
| 16 | 55 | The Black Spider | | 25 | |
| 17 | 56 | Tread Softly | | 25 | |
| 18 | 57 | Shark Taggers | | 25 | |
| 19 | 58 | Surprise, Surprise | | 25 | |
| 20 | 59 | Marco Polo | | 25 | |
| 21 | 60 | The Wombat | | 25 | |
| 22 | 61 | The Axeman | | 25 | |
| 23 | 62 | Up and Beyond | | 25 | |
| 24 | 63 | Round Up | | 25 | |
| 25 | 64 | The Hikers | | 25 | |
| 26 | 65 | For My Next Trick | | 25 | |
| 27 | 66 | A Bird in the Hand | | 25 | |
| 28 | 67 | Marathon | | 25 | |
| 29 | 68 | The Best Man | | 25 | |
| 30 | 69 | Plain Jane | | 25 | |
| 31 | 70 | Hi-Fi | | 25 | |
| 32 | 71 | Maggie | | 25 | |
| 33 | 72 | Mixed Company | | 25 | |
| 34 | 73 | Treasure Hunt | | 25 | |
| 35 | 74 | The Sport of Kings | | 25 | |
| 36 | 75 | Bon Voyage | | 25 | |
| 37 | 76 | Cobber | | 25 | |
| 38 | 77 | Tiger | | 25 | |
| 39 | 78 | Luna Park | | 25 | |
Season 3
| Episode No. | No. Overall | Title | Airdate | Runtime | Summary |
| --- | --- | --- | --- | --- | --- |
| 1 | 79 | A Work of Art | 1969-10-06 | 25 | |
| 2 | 80 | A Manner of Speaking | | 25 | |
| 3 | 81 | The Prince of Siam | | 25 | |
| 4 | 82 | High Fashion | | 25 | |
| 5 | 83 | El Toro | | 25 | |
| 6 | 84 | Mr. Duffy | | 25 | |
| 7 | 85 | The Medicine Man | | 25 | |
| 8 | 86 | The Veteran | | 25 | |
| 9 | 87 | The Rainmakers | | 25 | |
| 10 | 88 | Up the Waratahs | | 25 | |
| 11 | 89 | Merry-Go-Round | | 25 | |
| 12 | 90 | Pigeon Pair | | 25 | |
| 13 | 91 | Fred | | 25 | |
Related News
TVMaze