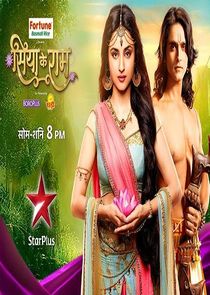 Siya Ke Ram is the classic epic of Ramayana retold through the eyes of the righteous, beautiful and brave Sita and her immense love for Ram!
Series Overview
Rating
imDb Rating: 7.8 (150 Votes)
Metascore: N/A
Plot
Traces the story of ramayan character Sita from a very different perspective. For the first time the story is televised in this detail.
Details
Rated: N/A
Released: 16 Nov 2015
Runtime: 24 min
Genre: History
Director: N/A
Writer: N/A
Actors: Madirakshi Mundle, Ashish Sharma, Dalip Tahil, J. Karthik
Language: Hindi, Bengali, Tamil, Telugu, Hindi, Malayalam
Country: India
Awards: N/A
Total Seasons: 1
Previous Episode
Ram Ends His Life
Episode 1x304; Nov 04, 2016
Previous Episodes 1x304: Ram Ends His Life 1x303: Hanuman's Promise to Ram 1x302: Lakshman Ends His Life! 1x301: Ram to Punish Lakshman? 1x300: Kaal Visits Ram 1x299: Will Ram Go with Kaal? 1x298: Ram Makes a Decision 1x297: Sita Breaks Down! 1x296: Sita Confronts Ram

View All Episodes
Skip to:
Season 1
| Episode No. | No. Overall | Title | Airdate | Runtime | Summary |
| --- | --- | --- | --- | --- | --- |
| 1 | 1 | Janak's Daughter, Sita Arrives! | 2015-11-16 | 22 | |
| 2 | 2 | Baby Sita Lifts Shiv Dhanush! | 2015-11-17 | 22 | |
| 3 | 3 | Dasharath Visits Guru Vashisht | 2015-11-18 | 22 | |
| 4 | 4 | Ram, Sita Impress Parents | 2015-11-19 | 22 | |
| 5 | 5 | Dasarath Spends Time with Ram | 2015-11-20 | 22 | |
| 6 | 6 | Gautum to Tutor Sita | 2015-11-21 | 22 | |
| 7 | 7 | Sita Questions Gautama Rishi | 2015-11-23 | 22 | |
| 8 | 8 | Ram and His Brothers Return Home | 2015-11-24 | 22 | |
| 9 | 9 | Ram Returns to Ayodhya | 2015-11-25 | 22 | |
| 10 | 10 | Ram and Brothers Visit Mothers | 2015-11-26 | 22 | |
| 11 | 11 | Kaikeyi's Happy to See Ram | 2015-11-27 | 22 | |
| 12 | 12 | Ram Attends Royal Court | 2015-11-28 | 22 | |
| 13 | 13 | Ram Has a Sister, Shanta! | 2015-11-30 | 22 | |
| 14 | 14 | Ram Makes a Vow | 2015-12-01 | 22 | |
| 15 | 15 | Kaushalya to Meet Shanta? | 2015-12-02 | 22 | |
| 16 | 16 | Shanta Meets Her Brothers | 2015-12-03 | 22 | |
| 17 | 17 | Dasharath Ignores Kaikeyi | 2015-12-04 | 22 | |
| 18 | 18 | Ram Shows His Kind Side | 2015-12-05 | 22 | |
| 19 | 19 | Kaikeyi Waits for Dasharath | 2015-12-07 | 22 | |
| 20 | 20 | Sita Protects Janak | 2015-12-08 | 22 | |
| 21 | 21 | Parshuram Meets Janak | 2015-12-09 | 22 | |
| 22 | 22 | Bharat-Shatrughan Leave for Kekaya | 2015-12-10 | 22 | |
| 23 | 23 | Kaikeyi Wants Bharat as King | 2015-12-11 | 22 | |
| 24 | 24 | Ram Feels Troubled | 2015-12-12 | 22 | |
| 25 | 25 | Ayodhya Celebrates Ram's Birthday | 2015-12-14 | 22 | |
| 26 | 26 | Ram-Lakshman Fight Mareech-Subahu. | 2015-12-15 | 22 | |
| 27 | 27 | Ashwamedh Yagna in Ayodhya. | 2015-12-16 | 22 | |
| 28 | 28 | Kaushalya's Advice to Ram | 2015-12-17 | 22 | |
| 29 | 29 | Ram Builds a Gold Horse | 2015-12-18 | 22 | |
| 30 | 30 | Ram Speaks About Ahimsa | 2015-12-19 | 22 | |
| 31 | 31 | Sita Learns About Her Birth | 2015-12-21 | 22 | |
| 32 | 32 | Kaikeyi Tests Bharath | 2015-12-22 | 22 | |
| 33 | 33 | Ram Surprises Bharath | 2015-12-23 | 22 | |
| 34 | 34 | Ram Impresses Vishwamitra | 2015-12-24 | 22 | |
| 35 | 35 | Vishwamitra Wants Ram's Help | 2015-12-25 | 22 | |
| 36 | 36 | Ram Leaves with Vishwamitra | 2015-12-26 | 22 | |
| 37 | 37 | Ram Enjoys Sita's Food | 2015-12-28 | 22 | |
| 38 | 38 | Vishwamitra Trains Ram, Lakshman | 2015-12-29 | 22 | |
| 39 | 39 | Sita Leaves Vishwamitra's Ashram | 2015-12-30 | 22 | |
| 40 | 40 | Ram, Lakshman Face Army | 2016-01-01 | 22 | |
| 41 | 41 | Ram Defeats Tataka | 2016-01-02 | 22 | |
| 42 | 42 | Sita Daydreams About Ram | 2016-01-04 | 22 | |
| 43 | 43 | Sita Agrees for Her Swayamvar | 2016-01-05 | 22 | |
| 44 | 44 | Janak Announces Sita's Swayamvar | 2016-01-06 | 22 | |
| 45 | 45 | Ram to End Ahalya's Curse | 2016-01-07 | 22 | |
| 46 | 46 | Ram Frees Ahalya from the Curse! | 2016-01-08 | 22 | |
| 47 | 47 | Ravan's Messenger Visits Mithila | 2016-01-09 | 22 | |
| 48 | 48 | Ram Arrives in Mithila | 2016-01-11 | 22 | |
| 49 | 49 | Sita, Ram See Each Other | 2016-01-12 | 22 | |
| 50 | 50 | Ravan to Attend Swayamvar | 2016-01-13 | 22 | |
| 51 | 51 | Here Comes Lankapati Ravan | 2016-01-14 | 22 | |
| 52 | 52 | Ravan Goes to Mithila | 2016-01-15 | 22 | |
| 53 | 53 | Janak, Sita Get Emotional | 2016-01-16 | 22 | |
| 54 | 54 | Ram's Missing at the Swayamvar | 2016-01-18 | 22 | |
| 55 | 55 | Sita's Swayamvar Begins | 2016-01-19 | 22 | |
| 56 | 56 | Ram Arrives at the Swayamvar! | 2016-01-20 | 22 | |
| 57 | 57 | Ram Lifts the Shiva Dhanush! | 2016-01-21 | 22 | |
| 58 | 58 | Sita Agrees to Marry Ram | 2016-01-22 | 22 | |
| 59 | 59 | Lord Parashuram Rages | 2016-01-23 | 22 | |
| 60 | 60 | Ravan Decides to Punish Janak | 2016-01-25 | 22 | |
| 61 | 61 | Kaikeyi Disapproves the Alliance | 2016-01-26 | 22 | |
| 62 | 62 | Sita Finds a Way to Ram's Heart | 2016-01-27 | 22 | |
| 63 | 63 | Manthara Angers Kaikeyi | 2016-01-28 | 22 | |
| 64 | 64 | Ram Saves Mithila | 2016-01-29 | 22 | |
| 65 | 65 | The Serpent Attacks Urmila | 2016-01-30 | 22 | |
| 66 | 66 | Ravan Attacks Yamraj | 2016-01-31 | 22 | |
| 67 | 67 | Dasharath Leaves for Mithila | 2016-02-01 | 22 | |
| 68 | 68 | Dasharath Can't Meet Sita! | 2016-02-02 | 22 | |
| 69 | 69 | Mahadev to Attend the Wedding | 2016-02-03 | 22 | |
| 70 | 70 | Bharat Upsets Mandvi | 2016-02-04 | 22 | |
| 71 | 71 | Blessings for Ram-Sita! | 2016-02-05 | 22 | |
| 72 | 72 | Ram's Bros to Wed Sita's Sisters? | 2016-02-06 | 22 | |
| 73 | 73 | Mandvi to Marry Bharath | 2016-02-08 | 22 | |
| 74 | 74 | Vishwakarma to Create a Mandap | 2016-02-09 | 22 | |
| 75 | 75 | Lord Shiva in Brahmin's Disguise | 2016-02-10 | 22 | |
| 76 | 76 | The Grooms' Procession Arrives | 2016-02-11 | 22 | |
| 77 | 77 | Ram-Sita's Var Puja and Kanyadan | 2016-02-12 | 22 | |
| 78 | 78 | Ram-Sita Take Mangal Phere | 2016-02-13 | 22 | |
| 79 | 79 | Janak Apologises to Ram | 2016-02-15 | 22 | |
| 80 | 80 | Janak Set for Sita's Bidai | 2016-02-16 | 22 | Janak Set For Sita's Bidai Ram is impressed by Sita as she convinces Janak to let her go. Janak decides to carry out his daughters' bidai the next day. Sita's sisters are upset at the thought of leaving Mithila. Sita assures Sunaina that she will not let her family down. |
| 81 | 81 | Ravan's Death Predictions | 2016-02-17 | 22 | |
| 82 | 82 | Vishwamitra Tells His Story | 2016-02-18 | 22 | |
| 83 | 83 | Vishwamitra: King to Sage | 2016-02-19 | 22 | |
| 84 | 84 | Janak Bids Farewell to Sita | 2016-02-20 | 22 | |
| 85 | 85 | Episode 85 | 2016-02-22 | 22 | |
| 86 | 86 | Ganga Blesses Ram-Sita | 2016-02-23 | 22 | |
| 87 | 87 | The Asuras Launch an Attack | 2016-02-24 | 22 | |
| 88 | 88 | Rishi Mudgal to Cure Bharat | 2016-02-25 | 22 | |
| 89 | 89 | Mandodari Wants to Save Ravan | 2016-02-26 | 22 | Mandodari Wants to Save Ravan Virad tells Mahashambar that they have to wait for the perfect time to kill Ram. Mandodari tells her father that Ravan's life is in danger, but he refuses to help. Her mother, however, guides her in getting the Amrit. |
| 90 | 90 | Will Shanta Go Home with Ram | 2016-02-27 | 22 | Will Shanta Go Home with Ram? Shanta is happy to see Ram, Lakshman, Bharat and Shatrughan with their brides. Mandodari goes to Chandralok to get the Amrit kalash. Sita tells Shanta that they have come to take her to Ayodhya. Mandodari succeeds in getting the kalash |
| 91 | 91 | Ravan Becomes Immortal | 2016-02-28 | 22 | Ravan Becomes Immortal! Ram tells Sita about his forefather, Raja Harishchandra. Vibhishan warns Mandodari that Ravan should not find out about his immortality. Mandodari succeeds in her plan of making Ravan immortal. Ravan feels stronger than ever after waking up. Mandodari is shocked to see his strength! |
| 92 | 92 | The Newly-Weds Arrive | 2016-02-29 | 22 | The Newly-Weds Arrive Ram, Lakshman, Bharat and Shatrughan reach Ayodhya with their brides. Kaushalya, Kaikeyi and Sumitra welcome them. Kaikeyi tells Rishi Vashisth about Sita's wish to enter the palace with her sisters. Later, Sita, Mandvi, Shrutakirti and Urmila enter the palace together |
| 93 | 93 | Manthara's Future is Predicted | 2016-03-01 | 22 | Manthara's Future is Predicted An Aghori predicts Manthara's future and tells her that she will be thrown out of the palace. Kaushalya asks the brides to sleep in their mother-in-laws' rooms until the Garbhadan Sanskar. Kaikeyi introduces Manthara to Sita. Manthara wants Bharat to become the king. |
| 94 | 94 | Manthara Spies on Sita | 2016-03-02 | 21 | Manthara Spies on Sita Ravan kills Kuber's messengers on reading his letter. Kuber asks Ravan to abandon the idea of conquering the world. Rishi Vashisth tells the couples that the Garbhadan Sanskar will be performed after 15 days. Manthara decides to find Sita's weakness and asks someone to spy on her. |
| 95 | 95 | Ram Has a Gift for Sita | 2016-03-03 | 21 | Ram Has a Gift For Sita Ram gifts a headpiece to Sita. Sita tells him Kaikeyi had given his letter to her. Mandvi gifts a painting to Bharat. A furious Ravan cruelly damages Kuber's eyes for insulting him. |
| 96 | 96 | Ravan to Attack Indradev | 2016-03-04 | 21 | Ravan to Attack Indradev Ravan challenges the gods to stop him from conquering the world. Lord Mahadev tells the gods that Amrit has been placed in Ravan's umbilicus. Kaikasi asks Ravan to attack Indradev. Meanwhile, Bharat and Shatrughan set off to meet Ashwapati. |
| 97 | 97 | Ravan Confronts Shurpnakha | 2016-03-05 | 21 | Ravan Confronts Shurpnakha Dashrath recalls the moment when Shravan's parents cursed him. Sita prepares an ayurvedic medicine for Dashrath when he falls ill. Sumantra asks Ram to fulfill Dashrath's responsibilities. Ravan confronts Shurpnakha for marrying a demon, Vidyutjivah. Mandodari tries to make Ravan realise his mistake. |
| 98 | 98 | Ram Comforts Dasharath | 2016-03-06 | 21 | Ram Comforts Dasharath Dasharath tells Sita about his nightmare. Ravan is angry with Shurpanakha for marrying Vidyujjihva, and bids her farewell. Sita tells Ram about the curse of Shravan's parents. Meanwhile, Manthara tries to provoke Mandvi against Sita. Dasharath finds comfort in Ram's words. |
| 99 | 99 | Ravan Attacks the Gods | 2016-03-07 | 21 | The Gods Attack Ravan Dashrath tells Rishi Vashisth that he has decided to crown Ram as the king of Ayodhya and makes an announcement about the same. The Gods attack Ravan, but fail. A demon tells Ravan that Indradev had gone to attend king Marut's yagya. Shurpnakha tells Vidyutjivah that Ravan has gone to kill Indradev. |
| 100 | 100 | Ram to Be Crowned King | 2016-03-08 | 21 | Ram to be Crowned King Dasharath announces Ram to be his heir to the throne! Kaushalya, Sumitra and Lakshman are ecstatic to know that Ram will be crowned the king of Ayodhya. Meanwhile, Indradev is frightened to see Ravan. Marut's rajguru asks Ravan to forgive him. |
| 101 | 101 | Indradev Runs for Cover | 2016-03-09 | 22 | Indradev Runs for Cover Manthara is determined to stop Ram from becoming the king. Vashisth asks Ram to get the Raj Tilak ceremony done immediately. Indradev tries to run away from Ravan. Kaikeyi learns about Dasharath's decision to crown Ram as king! Indradev blesses the peacocks for their help. The Raj Tilak ceremony begins. |
| 102 | 102 | Dasharath Apologises to Kaikeyi | 2016-03-10 | 22 | Dasharath Apologises to Kaikeyi Dasharath apologises to Kaikeyi for not informing her about Ram's Raj Tilak. Kaikeyi asks Manthara to begin preparations. Parvati tells Lord Shiva about Ravan's misdeed. Malyavan asks Ravan to gain special powers to defeat Indradev. |
| 103 | 103 | Kaikeyi Slaps Manthara | 2016-03-11 | 22 | Kaikeyi Slaps Manthara Ram vows to protect Raghukul's traditions and values. Rishi Vashisth talks to Ram about the latter's coronation. Manthara tries to provoke Kaikeyi against Ram and Kaushalya; tells her that Ram will not make her the Rajmata of Ayodhya. Kaikeyi slaps Manthara for insulting Ram! |
| 104 | 104 | Ravan to Captivate Indradev | 2016-03-12 | 22 | Ravan to Captivate Indradev Kaikeyi slaps Manthara for insulting Ram. Manthara reminds Kaikeyi about Dasharath's promise to Ashwapati. She tells Kaikeyi about Dasharath's conspiracy against her. The demon apologises to Ravan and offers to give his elusive powers to him. On getting the elusive powers, Ravan decides to captivate Indradev. |
| 105 | 105 | Kaikeyi to Stop Ram's Coronation | 2016-03-13 | 22 | Kaikeyi to Stop Ram's Coronation Ram seeks the blessings of the commoners so that he can become a good ruler. Kaikeyi is unhappy about Ram becoming the king. Dashrath wants to apologise to her. Kaikeyi decides to stop Ram's coronation. Manthra gives her an idea for this. Meanwhile, Ravan decides to visit Shurpanakha. |
| 106 | 106 | Kaikeyi Wants Ram Exiled! | 2016-03-14 | 22 | |
| 107 | 107 | Dasharath to Send Ram Away! | 2016-03-15 | 22 | |
| 108 | 108 | Ram Accepts Kaikeyi's Wish | 2016-03-16 | 22 | |
| 109 | 109 | Ram Apologizes to His Praja | 2016-03-17 | 22 | |
| 110 | 110 | Lakshman Will Follow Ram | 2016-03-18 | 22 | |
| 111 | 111 | Sita Wants to Go with Ram | 2016-03-19 | 22 | |
| 112 | 112 | Ram Refuses to Agree with Sita | 2016-03-20 | 22 | |
| 113 | 113 | Manthara Provokes Kaikeyi, Again | 2016-03-21 | 22 | Manthara Provokes Kaikeyi, Again Mandavi requests Kaikeyi to speak to Bharath about Ram's exile. Manthara provokes Kaikeyi against Kaushalya. Dasharath asks his men to take Kaikeyi out of his room. Ram apologises to Kaikeyi on Dasharath's behalf and decides to go on exile. |
| 114 | 114 | Sita to Go on Exile with Ram | 2016-03-22 | 22 | Sita to Go on Exile with Ram Sita urges Ram to take her along with him. Bharath and Shatrughan plan to return to Ayodhya. Urmila supports Lakshman's decision of accompanying Ram. Kaushalya, Sumitra and Vasishth are hesitant to allow Sita to go with Ram. Sita tries to convince them to let her go. |
| 115 | 115 | Ram Takes Dasharath's Leave | 2016-03-23 | 22 | |
| 116 | 116 | Kaikeyi Tells Ram Rules of Exile | 2016-03-24 | 22 | |
| 117 | 117 | Ravan Attacks Indradev! | 2016-03-25 | 22 | Ravan Attacks Indradev! Ram, Sita and Lakshman leave the palace. Rishi Jabali tells Ram that he does not have to fulfill the promise made to Kaikeyi. After Ravan attacks Indradev, Lord Brahma stops him from killing Indradev. The people tell Ram that they will accompany him on his exile. |
| 118 | 118 | Ram's Exile Begins | 2016-03-26 | 22 | Ram's Exile Begins Ram leaves Ayodhya on his exile. Kaikesi praises Ravan for defeating Indradev. Bharath and Shatrughan receive a message asking them to return to Ayodhya. Malyavan tells Shurpanakha that Vidyutjivah had attacked Ravan. |
| 119 | 119 | Ram's Devotees Welcome Him | 2016-03-27 | 22 | Ram's Devotees Welcome Him Ram, Sita and Lakshman leave at dawn. They head for the Ganga river. A devotee is elated to see Ram and welcomes him home. Surpanakha tells Ravan that she regrets being Vidyutjivah's wife. Sita is surprised to see people's love for Ram. |
| 120 | 120 | Ram, Sita Cross the Ganga | 2016-03-28 | 22 | Ram, Sita Cross The Ganga A boatman agrees to help Ram, Lakshman and Sita cross the Ganga. Sumantra informs Kaushalya that Ram left while he was sleeping. Bharath and Shatrughan head for Ayodhya. The boatman washes Ram's feet. Later, Sumantra informs Dasharath too about Ram's departure. |
| 121 | 121 | dasharath-breathes-his-last | 2016-03-29 | 22 | Dasharath Breathes His Last! Maharishi Bharadwaj invites Ram to his ashram. Sita and Ram get upset on seeing a fawn separated from its family. A grieving Dasharath passes away! Shrutkirti informs Kaikeyi about the same. |
| 122 | 122 | Sumitra Blames Kaikeyi | 2016-03-30 | 22 | Sumitra Blames Kaikeyi Kaikeyi laments over Dasharath's death. Sumitra blames Kaikeyi for his death. Ram performs the fawn's funeral. Vasishth decides to preserve Dasharath's body until Bharath and Shatrughan arrive. Sita consoles Ram on seeing him upset. |
| 123 | 123 | Bharat Leaves Kaikeyi | 2016-03-31 | 22 | Bharat Leaves Kaikeyi Manthara tells Kaikeyi that Bharat has returned to Ayodhya. Bharat asks Mandvi and Vashist about Ram. When he learns about Kaikeyi's misdeed, he blames her for Dashrath's death. He confronts her for her actions against Ram and decides to leave her. |
| 124 | 124 | Bharat Refuses the Crown | 2016-04-01 | 22 | Bharat Refuses the Crown Kaushalya consoles Bharath and tells him not to feel guilty about the past events. Bharath refuses to become the king of Ayodhya. He performs Dasharath's last rites. Kaikeyi tries to stop Shatrughan from harming Manthara. Ram, Lakshman and Sita leave Bharadwaj's ashram. Shatrughan punishes Manthara. |
| 125 | 125 | Bharat Expels Kaikeyi! | 2016-04-02 | 22 | Bharat Expels Kaikeyi! Lakshman tries to cheer up Ram and Sita. Kaushalya slaps Bharat for trying to expel Kaikeyi. Ram and Sita stop at a banyan tree to pray. Bharat grabs Kaikeyi by her hand and expels her from the Raj Bhavan. Ram, Lakshman and Sita are welcome by a few Rishis at Chitrakoot. Kaikeyi regrets for her deeds. |
| 126 | 126 | Kaikeyi Repents Her Mistakes | 2016-04-03 | 22 | Kaikeyi Repents Her Mistakes Lakshman sets up a shelter and a kitchen for Ram and Sita. Kaikeyi regrets her wrongdoings. Guru Vashisht stops Kaikeyi from committing suicide. He demands her to compensate for her mistakes. Ram helps Sita in making a few earthen pots. Janak offers to join Bharat in bringing Ram back to Ayodhya. |
| 127 | 127 | Lakshman Attacks Bharath | 2016-04-04 | 22 | Lakshman Attacks Bharath Bharath and Janak decide to bring Ram back to Ayodhya. Kaikeyi is grateful to Janak for reminding her about her love for Ram. She requests Bharath to take her along with him to meet Ram. Lakshman mistakes Bharath to be coming with an army to Chitrakoot to kill them and attacks him! |
| 128 | 128 | Ram Immerses Dasharath's ashes | 2016-04-05 | 22 | Ram Immerses Dasharath's ashes Lakshman apologises to Bharath for suspecting him. Ram is depressed on learning about Dasharath's death. He apologises to Kaushalya. Later, as per Vasishth's instructions, Ram immerses Dasharath's ashes with a heavy heart. |
| 129 | 129 | Ram Refuses to Return to Ayodhya | 2016-04-06 | 22 | Ram Refuses to Return to Ayodhya Sita tries to console a dejected Ram. Bharath requests Ram to return to Ayodhya, but he refuses. Ram tells Bharath that the Dharm Sabha will decide whether he needs to return or not. He tells Janak that he will not return because he wants to fulfil the promise he had made to Dasharath. |
| 130 | 130 | Kaikeyi Takes Back Her Vows | 2016-04-07 | 22 | Kaikeyi Takes Back Her Vows Ram vows to fulfill Dasharath's promises to Kaikeyi. Kaikeyi apologises to Ram and frees him from the promises. Janak favours Ram in the dharm sabha. Bharath insists that Ram return to Ayodhya. He assures Ram of fulfilling his responsibilities as his representative |
| 131 | 131 | Rams-promise-to-bharath | 2016-04-08 | 22 | Ram's Promise to Bharath Bharath asks Ram for his sandals. Janak is worried about Sita's well-being during the exile. Ram, Lakshman and Sita bid goodbye to their family. Ram promises Bharath to return after his exile. Bharath places Ram's sandals on the throne. He apologises to Vashist saying he cannot take over Ram's place. |
| 132 | 132 | Bharath Asks Mandavi for Support | 2016-04-09 | 22 | Bharath Asks Mandavi For Support Ram carries Sita as she is unable to walk after injuring her foot. Mandavi tries to placate guilty Bharath. He requests Mandavi to support him in his decision. Sita asks Ram if she is a burden on him when Lakshman says that they need to be more careful now as they are traveling with a lady. |
| 133 | 133 | Bharath to Become a Tapaswi | 2016-04-10 | 22 | Bharath to Become a Tapaswi Sita finds a kid wandering in the jungle. Ram rescues her from a vulture. Bharath apologises to Urmila for failing to bring back Ram, Lakshman and Sita. Shatrughan confronts Bharath for his decision of becoming a tapaswi. The kid tells Ram about the dangers in their journey ahead. |
| 134 | 134 | Bharath Decides to Leave! | 2016-04-11 | 22 | |
| 135 | 135 | Shatrugan Feels Dejected | 2016-04-12 | 22 | |
| 136 | 136 | Ram, Sita Save the Child | 2016-04-13 | 22 | |
| 137 | 137 | Lakshman Gets a Boon | 2016-04-14 | 22 | |
| 138 | 138 | Lord Hanuman to the Rescue | 2016-04-15 | 22 | |
| 139 | 139 | Ram to Take on the Demons | 2016-04-16 | 22 | |
| 140 | 140 | Sita's Birthday Gift to Ram | 2016-04-17 | 22 | |
| 141 | 141 | Ram Wants to Protect the Rishis | 2016-04-18 | 22 | |
| 142 | 142 | Bali Punishes Sugriva | 2016-04-19 | 22 | |
| 143 | 143 | Sugriva Wants to Marry Roma | 2016-04-20 | 22 | |
| 144 | 144 | Ram Rescues Sita | 2016-04-21 | 22 | |
| 145 | 145 | Hanuman Punishes Jayant | 2016-04-22 | 22 | |
| 146 | 146 | Goddess Parvati Rescues Sita | 2016-04-23 | 22 | |
| 147 | 147 | Meghnath Punishes a Soldier | 2016-04-24 | 22 | |
| 148 | 148 | Lakshman Captures Jatayu | 2016-04-25 | 22 | |
| 149 | 149 | Hanuman Saves a Child | 2016-04-26 | 22 | |
| 150 | 150 | Surpanakha Wakes Kumbhkaran! | 2016-04-27 | 22 | |
| 151 | 151 | Ram, Lakshman to Meet Jatayu | 2016-04-28 | 22 | |
| 152 | 152 | Dundubi Threatens to Kill Roma | 2016-04-29 | 22 | |
| 153 | 153 | Lakshman Apologises to Sita | 2016-04-30 | 22 | |
| 154 | 154 | Dundubi Battles with Bali | 2016-05-01 | 22 | |
| 155 | 155 | Bali Kills Dundubi | 2016-05-02 | 22 | |
| 156 | 156 | Ram Kills Virad | 2016-05-03 | 22 | |
| 157 | 157 | Bali in Danger? | 2016-05-04 | 22 | |
| 158 | 158 | Jayant Attacks Sita | 2016-05-05 | 22 | |
| 159 | 159 | Jayant Apologises to Ram | 2016-05-06 | 22 | |
| 160 | 160 | Surpanakha Calls Ram for Help | 2016-05-07 | 22 | |
| 161 | 161 | Sita Meets Surpanakha | 2016-05-08 | 22 | |
| 162 | 162 | Ravan Confronts Lord Shiva | 2016-05-09 | 22 | |
| 163 | 163 | Ravan Confronts Sulochana | 2016-05-10 | 22 | |
| 164 | 164 | Ram Turns Down Surpanakha | 2016-05-11 | 22 | |
| 165 | 165 | Surpanakha to Impress Ram | 2016-05-12 | 22 | |
| 166 | 166 | Surpanakha Attacks Sita | 2016-05-13 | 22 | |
| 167 | 167 | Ram Kills Khara | 2016-05-14 | 22 | |
| 168 | 168 | Ravan to Punish Ram | 2016-05-15 | 22 | |
| 169 | 169 | Sugriva's Coronation! | 2016-05-16 | 22 | |
| 170 | 170 | Ravan Decides to Abduct Sita | 2016-05-17 | 22 | |
| 171 | 171 | Hanuman Rescues Sugriva | 2016-05-18 | 22 | |
| 172 | 172 | Marich Helps Ravan | 2016-05-19 | 22 | |
| 173 | 173 | Marich to Be Deer | 2016-05-20 | 22 | |
| 174 | 174 | Ravan's Plan Worries Parvati | 2016-05-21 | 22 | |
| 175 | 175 | Marich Reaches Sita's Ashram | 2016-05-22 | 22 | |
| 176 | 176 | Lakshman to Guard Sita | 2016-05-23 | 22 | |
| 177 | 177 | Marich Misleads Ram | 2016-05-24 | 22 | |
| 178 | 178 | Sita Hears Ram's Cries! | 2016-05-25 | 22 | |
| 179 | 179 | Lakshman Goes Looking for Ram | 2016-05-26 | 22 | |
| 180 | 180 | Lakshman Leaves Sita Alone | 2016-05-27 | 22 | |
| 181 | 181 | Sita Realises Ravan's Ruse | 2016-05-29 | 22 | |
| 182 | 182 | Ravan Abducts Sita! | 2016-05-30 | 22 | |
| 183 | 183 | Sita Lands in Lanka! | 2016-05-31 | 22 | |
| 184 | 184 | Ravan Protects Sita! | 2016-06-01 | 22 | |
| 185 | 185 | A Revolt Against Ravan? | 2016-06-02 | 22 | |
| 186 | 186 | Ravan Confronts Surpanakha | 2016-06-03 | 22 | |
| 187 | 187 | Ram Learns About Sita's Abduction | 2016-06-04 | 22 | |
| 188 | 188 | Sulochana Offers to Help Sita | 2016-06-05 | 22 | |
| 189 | 189 | Trijata to Mislead Sita | 2016-06-06 | 22 | |
| 190 | 190 | Will Anyone Listen to Vibhishan? | 2016-06-07 | 22 | |
| 191 | 191 | Surpanakha Creates a Demon | 2016-06-08 | 22 | |
| 192 | 192 | Will Kumbhakaran Kill Sita? | 2016-06-09 | 22 | |
| 193 | 193 | Sita Learns About Ravan's Past | 2016-06-10 | 22 | |
| 194 | 194 | Ram Meets Shabari | 2016-06-11 | 22 | |
| 195 | 195 | Hanuman Meets Ram in Disguise | 2016-06-12 | 22 | |
| 196 | 196 | Hanuman Reveals His Identity! | 2016-06-13 | 22 | |
| 197 | 197 | Will Meghnath's Plan Work? | 2016-06-14 | 22 | |
| 198 | 198 | Ram's Plan to Kill Bali | 2016-06-15 | 22 | |
| 199 | 199 | Will Sita Escape? | 2016-06-16 | 22 | |
| 200 | 200 | Ram Vows to Rescue Sita | 2016-06-17 | 22 | |
| 201 | 201 | Will Sugriva Defeat Bali? | 2016-06-18 | 22 | |
| 202 | 202 | Ram Defeats Bali | 2016-06-19 | 22 | |
| 203 | 203 | Mandodari Stops Meghnath | 2016-06-20 | 22 | |
| 204 | 204 | Sugriva is the New King! | 2016-06-21 | 22 | |
| 205 | 205 | Why is Sita Happy? | 2016-06-22 | 22 | |
| 206 | 206 | Sugriva's Army on a Mission | 2016-06-23 | 22 | |
| 207 | 207 | Hanuman on a Rescue Mission | 2016-06-24 | 22 | |
| 208 | 208 | Hanuman Fights the Demons | 2016-06-25 | 22 | |
| 209 | 209 | Hanuman Punishes Lankini | 2016-06-26 | 22 | |
| 210 | 210 | Hanuman in Lanka | 2016-06-27 | 22 | |
| 211 | 211 | Hanuman Meets Sita | 2016-06-28 | 22 | |
| 212 | 212 | Akshay to Fight Hanuman | 2016-06-29 | 22 | |
| 213 | 213 | Will Hanuman Be Captured? | 2016-06-30 | 22 | |
| 214 | 214 | Ravan Wants Hanuman Dead! | 2016-07-01 | 22 | |
| 215 | 215 | Hanuman Sets Lanka on Fire | 2016-07-04 | 22 | |
| 216 | 216 | Hanuman Returns to Ram | 2016-07-05 | 22 | |
| 217 | 217 | Ram Prepares to Invade Lanka | 2016-07-06 | 22 | |
| 218 | 218 | Vibhishan Joins Ram! | 2016-07-07 | 22 | |
| 219 | 219 | Ram Reaches Lanka | 2016-07-08 | 22 | |
| 220 | 220 | Ravan Declares War! | 2016-07-11 | 22 | |
| 221 | 221 | Ravan Celebrates His Victory | 2016-07-12 | 22 | |
| 222 | 222 | Pakshiraj Garuda Revives Ram | 2016-07-13 | 22 | |
| 223 | 223 | Ravan Summons Dhumraksh | 2016-07-14 | 22 | |
| 224 | 224 | Ram Defeats Dhumraksh | 2016-07-15 | 22 | |
| 225 | 225 | Akampana Attacks Lakshman | 2016-07-18 | 22 | |
| 226 | 226 | Ravan's Powerful Asuras | 2016-07-19 | 22 | |
| 227 | 227 | Vajramushti Challenges Ram | 2016-07-20 | 22 | |
| 228 | 228 | Ravan Enters the Battlefield | 2016-07-21 | 22 | |
| 229 | 229 | Ravan Challenges Ram | 2016-07-22 | 22 | |
| 230 | 230 | Ravan Disguises as Ram | 2016-07-25 | 22 | |
| 231 | 231 | Ravan to Free Sita! | 2016-07-26 | 22 | |
| 232 | 232 | Kumbhakaran to Fight Ram | 2016-07-27 | 22 | |
| 233 | 233 | Hanuman Saves Angad | 2016-07-28 | 22 | |
| 234 | 234 | Kumbhakaran Fights Ram! | 2016-07-29 | 22 | |
| 235 | 235 | Kaikesi Realises Her Mistakes | 2016-08-01 | 22 | |
| 236 | 236 | Ram Needs Ravan | 2016-08-02 | 22 | |
| 237 | 237 | What Does Ravan Want? | 2016-08-03 | 22 | |
| 238 | 238 | Ravan Learns About Ram | 2016-08-04 | 22 | |
| 239 | 239 | Ram Kills Tarini | 2016-08-05 | 22 | |
| 240 | 240 | Lakshman Faces Meghnath | 2016-08-08 | 22 | |
| 241 | 241 | Lakshman is Critical! | 2016-08-09 | 22 | |
| 242 | 242 | Hanuman Leaves for the Himalayas | 2016-08-10 | 22 | |
| 243 | 243 | Lakshman is Saved! | 2016-08-11 | 22 | |
| 244 | 244 | Will Ram Stop Meghnath's Puja? | 2016-08-12 | 22 | |
| 245 | 245 | Lakshman Kills Meghnath | 2016-08-15 | 22 | |
| 246 | 246 | Ahiravan's Promise to Ravan | 2016-08-16 | 22 | |
| 247 | 247 | Hanuman Kills Ahiravan | 2016-08-17 | 22 | |
| 248 | 248 | Ravan Enters the Battlefield | 2016-08-18 | 22 | |
| 249 | 249 | Sita's Letter to Ram | 2016-08-19 | 22 | |
| 250 | 250 | Ravan to Kill Vibhishan | 2016-08-22 | 22 | |
| 251 | 251 | Goddess Parvati Blesses Ram! | 2016-08-23 | 22 | |
| 252 | 252 | Ram Beheads Ravan! | 2016-08-24 | 22 | |
| 253 | 253 | Ram Versus Ravan | 2016-08-25 | 22 | |
| 254 | 254 | Ram Learns Ravan's Secret | 2016-08-26 | 22 | |
| 255 | 255 | Sahastra Ravan Comes Back to Life | 2016-08-29 | 22 | |
| 256 | 256 | Sita Kills Sahastra Ravan | 2016-08-30 | 22 | |
| 257 | 257 | Kaikasi Attacks Sita | 2016-08-31 | 22 | |
| 258 | 258 | Vibhishan, the New King of Lanka | 2016-09-01 | 22 | |
| 259 | 259 | Ram's Shocking Decision | 2016-09-02 | 22 | |
| 260 | 260 | Sita Proves Her Fidelity | 2016-09-05 | 22 | |
| 261 | 261 | Ram Heads for Ayodhya | 2016-09-06 | 22 | |
| 262 | 262 | Hanuman Saves Bharath | 2016-09-07 | 22 | |
| 263 | 263 | Ram, Sita and Lakshman in Ayodhya | 2016-09-08 | 22 | |
| 264 | 264 | Ram, the King of Ayodhya | 2016-09-09 | 22 | |
| 265 | 265 | Sita Shares a Good News | 2016-09-12 | 22 | |
| 266 | 266 | Sita Shares a Good News | 2016-09-13 | 22 | |
| 267 | 267 | Ram to Prove Sita's Purity | 2016-09-14 | 22 | |
| 268 | 268 | Ram is in a Dilemma | 2016-09-15 | 22 | |
| 269 | 269 | Ram's Shocking Decision | 2016-09-16 | 22 | |
| 270 | 270 | Sita Learns About Ram's Decision | 2016-09-19 | 22 | |
| 271 | 271 | Will Sita Accept Ram's Decree? | 2016-09-20 | 22 | |
| 272 | 272 | Maruti by Sita's Side | 2016-09-21 | 22 | |
| 273 | 273 | Will Sita Return to Mithila? | 2016-09-22 | 22 | |
| 274 | 274 | Sita Gives Birth to Twins | 2016-09-23 | 22 | |
| 275 | 275 | Luv, Kush in Trouble? | 2016-09-26 | 22 | |
| 276 | 276 | Luv, Kush in Trouble? | 2016-09-27 | 22 | |
| 277 | 277 | Ram Kills Lavanasur | 2016-09-28 | 22 | |
| 278 | 278 | Ram to Meet Luv, Kush | 2016-09-29 | 22 | |
| 279 | 279 | Luv, Kush Question Ram | 2016-09-30 | 22 | |
| 280 | 280 | Sita Scolds Luv and Kush | 2016-10-03 | 22 | |
| 281 | 281 | Ram to Perform the Yagya | 2016-10-04 | 22 | |
| 282 | 282 | Ram to Perform the Yagya | 2016-10-05 | 22 | |
| 283 | 283 | Luv, Kush Put a Condition to Ram | 2016-10-06 | 22 | |
| 284 | 284 | Luv, Kush Put a Condition to Ram | 2016-10-07 | 22 | |
| 285 | 285 | Luv, Kush Put a Condition to Ram | 2016-10-10 | 22 | |
| 286 | 286 | Ram Faces Luv, Kush | 2016-10-11 | 22 | |
| 287 | 287 | Sita Confides in Luv, Kush | 2016-10-12 | 22 | |
| 288 | 288 | Sita Confides in Luv, Kush | 2016-10-13 | 22 | |
| 289 | 289 | Ram Announces About Sita! | 2016-10-14 | 22 | |
| 290 | 290 | Ram to Bring Sita Back | 2016-10-17 | 22 | |
| 291 | 291 | Ram to Bring Sita Back | 2016-10-18 | 22 | |
| 292 | 292 | Sita Refuses to Return to Ayodhya | 2016-10-19 | 22 | |
| 293 | 293 | Will Ram, Sita Reconcile? | 2016-10-20 | 22 | |
| 294 | 294 | Sita's Decision | 2016-10-21 | 22 | |
| 295 | 295 | Ayodhya Waits for Sita | 2016-10-24 | 22 | |
| 296 | 296 | Sita Confronts Ram | 2016-10-25 | 22 | |
| 297 | 297 | Sita Breaks Down! | 2016-10-26 | 22 | |
| 298 | 298 | Ram Makes a Decision | 2016-10-27 | 22 | |
| 299 | 299 | Will Ram Go with Kaal? | 2016-10-28 | 22 | |
| 300 | 300 | Kaal Visits Ram | 2016-10-31 | 22 | |
| 301 | 301 | Ram to Punish Lakshman? | 2016-11-01 | 22 | |
| 302 | 302 | Lakshman Ends His Life! | 2016-11-02 | 22 | |
| 303 | 303 | Hanuman's Promise to Ram | 2016-11-03 | 22 | |
| 304 | 304 | Ram Ends His Life | 2016-11-04 | 22 | |
Series Cast
| | | | |
| --- | --- | --- | --- |
| | Ashish Sharma | as Ram | |
| | Madirakshi Mundle | as Sita | |
Related News
TVMaze