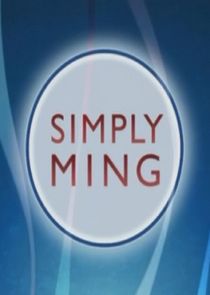 As the chef and owner of the acclaimed Blue Ginger restaurant in Wellesley, Massachusetts, and an Emmy award-winning television personality, Ming Tsai has become the standard-bearer of East-West cuisine, the innovative blending of Eastern flavors and techniques with Western ingredients and presentations. Now, in Simply Ming, he presents a breakthrough technique for bringing East-West flair to everyday cooking, making it possible to transform a handful of fresh ingredients into a delicious meal in a matter of minutes. The genius of Simply Ming is a versatile array of master recipes-intensely flavored sauces, pestos, salsas, dressings, rubs, and more that eliminate much of the last-minute prep work.
Series Overview
Rating
imDb Rating: 7.9 (94 Votes)
Metascore: N/A
Plot
Ming Tsai, former host of the Food Network's East Meets West, hosts a PBS cooking show.
Details
Rated: N/A
Released: 01 Aug 2003
Runtime: N/A
Genre: Documentary
Director: N/A
Writer: N/A
Actors: Ming Tsai
Language: English
Country: USA
Awards: 2 nominations.
Total Seasons: 15
Previous Episode
Jacques Pépin
Episode 17x2; Oct 12, 2019
Previous Episodes 17x2: Jacques Pépin 17x1: Andrew Zimmern 16x26: Fatima Ali 16x25: Jacques Pépin Special Episode 16x24: Michael Schlow 16x23: Jamie Bissonnette 16x22: On the Road -- Hudson Valley 16x21: On the Road -- Riquewihr 16x20: On the Road -- Heidelberg

View All Episodes
Skip to:
Season 1
| Episode No. | No. Overall | Title | Airdate | Runtime | Summary |
| --- | --- | --- | --- | --- | --- |
Season 2
| Episode No. | No. Overall | Title | Airdate | Runtime | Summary |
| --- | --- | --- | --- | --- | --- |
Season 3
| Episode No. | No. Overall | Title | Airdate | Runtime | Summary |
| --- | --- | --- | --- | --- | --- |
Season 4
| Episode No. | No. Overall | Title | Airdate | Runtime | Summary |
| --- | --- | --- | --- | --- | --- |
Season 5
| Episode No. | No. Overall | Title | Airdate | Runtime | Summary |
| --- | --- | --- | --- | --- | --- |
Season 6
| Episode No. | No. Overall | Title | Airdate | Runtime | Summary |
| --- | --- | --- | --- | --- | --- |
Season 7
| Episode No. | No. Overall | Title | Airdate | Runtime | Summary |
| --- | --- | --- | --- | --- | --- |
| 20 | 1 | Ginger-Kiwi-Jicama Salsa | 2010-02-20 | 30 | |
Season 8
| Episode No. | No. Overall | Title | Airdate | Runtime | Summary |
| --- | --- | --- | --- | --- | --- |
| 1 | 2 | Tamari & Chipotle Chiles | 2010-10-09 | 30 | |
Season 9
| Episode No. | No. Overall | Title | Airdate | Runtime | Summary |
| --- | --- | --- | --- | --- | --- |
Season 10
| Episode No. | No. Overall | Title | Airdate | Runtime | Summary |
| --- | --- | --- | --- | --- | --- |
| 16 | 3 | Cooking on the Fly: Reconstituting | 2013-03-23 | 30 | |
Season 11
| Episode No. | No. Overall | Title | Airdate | Runtime | Summary |
| --- | --- | --- | --- | --- | --- |
Season 12
| Episode No. | No. Overall | Title | Airdate | Runtime | Summary |
| --- | --- | --- | --- | --- | --- |
| 6 | 4 | Hungary and Seoul Satisfying: Stuffed Cabbage | 2014-11-08 | 30 | Korean steamed lion's head; Hungarian stuffed cabbage. |
| 24 | 5 | Let Them Eat Fish Cakes | 2015-03-14 | 30 | Salmon cakes with fennel salad; cod cakes with tartar sauce. |
| 26 | 6 | Spaghetti East Western | 2015-03-28 | 30 | Asian spaghetti boasts flavors of pork, ginger and garlic; a classic Bolognese with a mix of protein, carrots, celery and tomato sauce. |
Season 13
| Episode No. | No. Overall | Title | Airdate | Runtime | Summary |
| --- | --- | --- | --- | --- | --- |
| 1 | 7 | Carla Hall | 2015-10-03 | 30 | |
| 2 | 8 | Ed Lee | 2015-10-10 | 30 | Rib eye with gochujang butter; shiitake umami-glazed steak. |
| 3 | 9 | Tiffani Faison | 2015-10-17 | 30 | |
| 4 | 10 | Jamie Bissonnette | 2015-10-24 | 30 | |
| 5 | 11 | Todd English | 2015-10-31 | 30 | |
| 6 | 12 | Matt Jennings | 2015-11-07 | 30 | |
| 7 | 13 | Ken Oringer | 2015-11-14 | 30 | |
| 8 | 14 | Michael Schlow | 2015-11-14 | 30 | |
| 9 | 15 | Joanna Change | 2015-11-28 | 30 | |
| 10 | 16 | Ivan Orkin | 2015-12-05 | 30 | Shrimp, beef and broccoli over brown and white rice; Romanian steak served on shrimp toasts. |
| 11 | 17 | Mario Batali | 2015-12-12 | 30 | |
| 12 | 18 | Mom & Dad Part 1 | 2015-12-19 | 30 | |
| 13 | 19 | Mom & Dad Part 2 | 2015-12-26 | 30 | |
| 14 | 20 | California - Roy Choi - Part 1 | 2016-01-02 | 30 | |
| 15 | 21 | California - Animal - Part 2 | 2016-01-09 | 30 | |
| 16 | 22 | California - Richard Zarate - Part 3 | 2016-01-16 | 30 | |
| 17 | 23 | California - Part 4 | 2016-01-23 | 30 | |
| 18 | 24 | Michael Scelfo | 2016-01-30 | 30 | |
| 19 | 25 | Jody Adams | 2016-02-06 | 30 | |
| 20 | 26 | Jasper White | 2016-02-13 | 30 | |
| 21 | 27 | Barbara Lynch | 2016-02-20 | 30 | |
Season 14
| Episode No. | No. Overall | Title | Airdate | Runtime | Summary |
| --- | --- | --- | --- | --- | --- |
| 6 | 28 | Rick Bayless | 2016-11-05 | 30 | Rick Bayless prepares green chili adobo tacos that include roasted chayote with herbs and goat cheese and shrimp skillet tacos; surf-n-turf moo shu wraps |
| 7 | 29 | Johnny Iuzzini | 2016-11-12 | 30 | Pastry chef Johnny Iuzzini creates a frozen dark and stormy souffle; dark and stormy doughnuts with ginger cloud cream. |
| 10 | 30 | Sam Hayward | 2016-12-03 | 30 | |
| 11 | 31 | Gunnar Hvarnes | 2016-12-10 | 30 | |
| 12 | 32 | Geir Skeier | 2016-12-17 | 30 | |
| 13 | 33 | Ørjan Johannessen | 2016-12-24 | 30 | |
| 14 | 34 | Andreas Viestad | 2016-12-31 | 30 | Mackerel; farm apple kir. |
| 15 | 35 | Will Gilson | 2017-01-07 | 30 | Duck breast with hay-roasted carrots and toasted pistachios; pressure cooked Sichuan duck legs with Yukon gold potato fried rice. |
| 16 | 36 | Susan Regis | 2017-01-14 | 30 | |
| 17 | 37 | Andrew Taylor and Mike Wiley | 2017-01-21 | 30 | |
| 18 | 38 | Hawai'i - Isaac Boncaco | 2017-01-28 | 30 | |
| 19 | 39 | Hawai'i – Ed Kenney | 2017-02-04 | 30 | |
| 20 | 40 | Hawai'i - Lee Anne Wong | 2017-02-11 | 30 | |
| 21 | 41 | Hawai'i - Mom & Dad | 2017-02-18 | 30 | |
| 22 | 42 | Hawai'i - Roy Yamaguchi and Alan Wong | 2017-02-25 | 30 | |
| 23 | 43 | Robert Sisca | 2017-03-04 | 30 | |
| 24 | 44 | Jason Bond | 2017-03-11 | 30 | |
| 25 | 45 | Louis Dibiccari | 2017-03-18 | 30 | |
| 26 | 46 | Matt Louis | 2017-03-25 | 30 | |
Season 15
| Episode No. | No. Overall | Title | Airdate | Runtime | Summary |
| --- | --- | --- | --- | --- | --- |
| 1 | 47 | Carla Hall | 2017-10-07 | 30 | |
| 2 | 48 | Jacques Pepin | 2017-10-14 | 30 | |
| 3 | 49 | Aaron Sanchez | 2017-10-21 | 30 | |
| 4 | 50 | Barbara Lynch | 2017-10-28 | 30 | |
| 5 | 51 | Todd English | 2017-11-04 | 30 | |
| 6 | 52 | Amanda Freitag | 2017-11-11 | 30 | |
| 7 | 53 | Rick Bayless | 2017-11-18 | 30 | |
| 8 | 54 | Tiffani Faison | 2017-11-25 | 30 | |
| 9 | 55 | Mathew Peters | 2017-12-02 | 30 | |
| 10 | 56 | Ken Oringer | 2017-12-09 | 30 | |
| 11 | 57 | Mom and Pops | 2017-12-16 | 30 | |
| 12 | 58 | Adam Richman | 2017-12-23 | 30 | |
| 13 | 59 | Joanne Chang | 2017-12-30 | 30 | |
| 14 | 60 | Chris Hastings | 2018-01-06 | 30 | |
| 15 | 61 | Jamie Bissonnette | 2018-01-13 | 30 | |
| 16 | 62 | Seamus Mullen | 2018-01-20 | 30 | |
| 17 | 63 | Leah Cohen | 2018-01-27 | 30 | |
| 18 | 64 | Michael Schlow | 2017-02-03 | 30 | |
| 19 | 65 | Wild Cod with Chef Gisli Matthias Audunsson | 2018-02-10 | 30 | |
| 20 | 66 | Icelandic Lamb with Chef Thrainn Freyr Vigfusson | 2018-02-17 | 30 | |
| 21 | 67 | Arctic Char with Fanney Dora Sigurjonsdottir, Vodka Cocktail | 2018-02-24 | 30 | |
| 22 | 68 | Langoustine & Tomatoes with Chef Axel Bjorn Clausen | 2018-03-03 | 30 | |
| 23 | 69 | Minnesota Episode with Jamie Malone | 2018-03-10 | 30 | |
| 24 | 70 | Fish and Chips with Chef Craig Maw | 2018-03-17 | 30 | |
| 25 | 71 | Chef Simon Hulstone | 2018-03-24 | 30 | |
| 26 | 72 | Chef Daniel Galmiche | 2018-03-31 | 30 | |
Related News
TVMaze