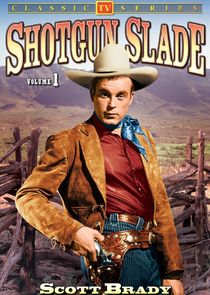 A late entry in the TV Westerns boom of the late 50s. Shotgun Slade unlike other show hero wasn't a marshal, sheriff or gunfighter for hire, but Slade was a private detective, hired to track down criminals, return stolen money, or solve mysteries surrounding the death of townspeople. The show has more in common with shows like Peter Gunn and 77 Sunset Strip than Gunsmoke and Bonanza. Shotgun Slade depended on strong characters and storylines than action.
Series Overview
Rating
imDb Rating: 7.6 (63 Votes)
Metascore: N/A
Plot
A late entry in the TV Westerns boom of the late 50s. Shotgun Slade unlike other show hero wasn't a marshal, sheriff or gunfighter for hire, but Slade was a private detective, hired to ...
Details
Rated: N/A
Released: 24 Oct 1959
Runtime: 30 min
Genre: Western
Director: N/A
Writer: Frank Gruber
Actors: Scott Brady
Language: English
Country: USA
Awards: N/A
Total Seasons: 2
Previous Episode
Something to Die For
Episode 2x39; Jul 15, 1961
Emil Cosca operated a foundry. Everyone in town believed he kept a treasure hidden in the foundry. A man from his past shows up for the treasure. They are both killed in a shootout. Mrs. Cosca hires Slade to find out if the treasure exists.
Previous Episodes 2x39: Something to Die For 2x38: The Ranch Ghost (aka Ghost Of A Chance) 2x37: A Gun and a Prayer 2x36: The Payrollers 2x35: Five Graves 2x34: Madame Vengeance 2x33: The Phantom Noose 2x32: The Search for Susan (aka Welcome Home) 2x31: The Lost Herds

View All Episodes
Cast
Scott Brady as Shotgun Slade
Monica Lewis as Monica Bristol
Frank Ferguson as Mike Oliver
View Full Cast
Skip to:
Season 1
Episode No.
No. Overall
Title
Airdate
Runtime
Summary
1
1
The Missing Train
1959-10-24
30

Slade is called upon to investigate a missing freight car carrying a large shipment of gold.

2
2
The Salted Mine
1959-10-26
30

Slade is hired to prove that a mine has been sprayed with gold dust to make It appear valuable in "The Salted Mine" (Guest stars Ernie Kovacs as Hack and Marie Windsor as A. S. Batson appear)

3
3
Too Smart to Live
1959-10-31
30

While trying to get a reward offered for two bank robbers, Shotgun receives a tip on their whereabouts.

4
4
Barbed Wire, Keep Out
1959-11-05
30

Slade is summoned to the site of a dispute over water rights.

5
5
Mesa of Missing Men
1959-11-16
30

Slade is hired to recover $100,000 that was stolen from a bank. The robber is holed up in a mountain fortress filled with criminals. Slade must figure out how to get in and then how to get out. High In the mountains, Ed Gideon runs a hide-out for fugitives.

6
6
Freight Line
1959-11-14
30

Slade investigates a slew of mysterious accidents occurring on a freight line that is jeopardising the contractor's deal.

7
7
Gunnar Yensen
1959-11-21
30

A tall blond Swede runs from an attack by two Indians. Gunnar is a carpenter looking for work and Slade has been summoned to Concho because someone has locked up the carpentry trade there.

8
8
Marked Money
1959-11-28
30

Slade reports for a job and receives a payment in advance for solving a bank robbery mystery. It turns out to be a set up. The money is marked and Slade is taken to jail.

9
9
The Stalker
1959-12-05
30

Slade is hired to recover a million dollars that has been embezzled.

10
10
Bob Ford
1959-12-12
30

Slade has been hired to stop a gang from train holdups. The train he is riding on is held up and he learns that the man sitting next to him is the notorious Bob Ford.

11
11
Treasure Trap
1959-12-12
30

Slade is sent by an insurance company to investigate a bank robbery where the details had been sketchy. When he gets to town, he suspects everyone and soon he realizes he is unwelcome there.

12
12
Omar the Sign Maker
1959-12-19
30

Slade is on his way to a job when he is mistaken as a rustler and receives a beating. A sign maker named Omar finds him, takes him home, patches him up, and helps him on his way so that Slade can get to town and solve the crime.

13
13
The Safe Crackers (aka The Peterman)
1959-12-26
30

Slade missed a rendezvous with a man carrying blueprints of bank vaults throughout the territory. He pursues him but finds the man dead. He wants to find the man's killers before they can rob any more banks.

14
14
Major Trouble
1960-01-04
30

Slade upsets the plans of Major Kennedy.

15
15
Murder in Gingham
1960-01-09
30

Doc Benson, a harmless old kleptomaniac, is an accepted fact in Central City, until the couple who operate the general store are killed, and all the evidence points to Doc, in "Murder In Gingham."

16
16
The Blue Dog
1960-01-16
30

While Slade is visiting an old friend, he becomes the only witness to a murder and the target of those who don't want him to testify, in "The Blue Dog."

Slade witnesses Hank Galter kill Sam Berry, a restaurant owner, during a fight Galter was trying to shakedown the restaurant man for a protection payoff. As the only witness to the crime, Slade is bushwhacked because he is scheduled to testify against Galter.

17
17
The Deadfall
1960-01-23
30

Slade is on his way to the next town when he stops to help a convict and ends up in a deadfall set up by three escaped prisoners who take his horse and gun. When Slade gets loose, he sets out to get his horse and gun back.

18
18
Lady and the Piano
1960-01-30
30

Slade is hired by Marve Lido, a piano-player to clear him of the charge of murdering a beautiful singer whom he had threatened because she scorned him, in "Lady and the Piano."

19
19
Plate of Death
1960-02-06
30

A photographer's plate becomes the important clue when Slade investigates a bank robbery that took place on the day the bank opened while the officials were having their pictures taken, in "Plate of Death."

20
20
Street of Terror
1960-02-13
30

Slade is on vacation when a woman hires him to try to find the sniper that killed her father. He starts to ask some questions and soon finds the sniper is after him.

21
21
The Pool Shark
1960-02-27
30

Slade is waiting for a stage connection when he enters into a game of billiards. When the man he is playing with hits the eight ball, the ball explodes and kills him. Slade is determined to find the murderer.

22
22
The Marriage Circle
1960-03-05
30

Hal Pardee controls Pardee county. Hal, Jr. wants to marry a saloon girl from Dodge City - Ruby Devers. When Ruby goes missing, Junior hires Slade to find what happened to her.

23
23
The Deadly Key
1960-03-08
30

An ancient key holds the secret to Conquistador treasure and death for four people, including the man who hired Slade.

24
24
The Swindle
1960-03-08
30

Slade is hired to carry $75000 from Denver to Tucson for the purchase of a ranch and falls victim to "The Swindle".

25
25
Donna Juanita
1960-03-21
30

Slade chases a mystery man, the key to a land swindle involving Spanish nobility in the form of a beautiful, treacherous young woman.

26
26
Shotgun Trial
1960-03-28
30

Slade is hired to protect the chief witness at a murder trial from the vengeance of a power-crazed man. SIade is charged with the murder of a lawyer.

27
27
The Golden Tunnel
1960-04-22
30

Slade is ambushed on the way to help an old friend find out who--or what--is stealing profits from his mine.

28
28
A Flower for Jenny
1960-04-29
30

Slade arrives in Deadwood to protect a singer who's life has been threatened, possibly by a former admirer, a gunman and gambler.

29
29
The Fabulous Fiddle
1960-05-06
30

Blade is hired by in Insurance company to guard a violin it is insuring and finds himself the target of all sorts of accidents, In "The Fabulous Fiddle."

30
30
Crossed Guns
1960-05-13
30

Slade comes by Phillips, an ex-con he sent to jail, and who has lost his right hand. The former gunfighter has hired a young colleague to kill Slade. The sheriff's daughter and some citizens offer to pay Slade's fee to get rid of Phillips and his minions.

31
31
Sudden Death
1960-05-20
30

After receiving an anonymous letter asking him to investigate a murder, Slade rides into Big Fir and ends up being hired as a bouncer in the local saloon. Scott Brady stars in "Sudden Death."

32
32
The Spanish Box
1960-05-21
30

In "The Spanish Box" Slade travels by stage to Lodestone where he has been hired to deliver a package to the town banker, and becomes the number one suspect in a murder charge.

33
33
Backtrack
1960-05-28
30

Slade captures embezzler Jason Baxter and when he takes him aboard a train bound for Denver, he himself becomes a prisoner in "Backtrack".

34
34
Ring of Death (aka Scales of Death)
1960-06-03
30

When a young man is robbed and killed just after presenting his fiancee with an engagement ring, his father hires Slade to find his son's killer, in "Scales of Death."

35
35
Killer's Brand
1960-06-04
30

Slade is called to the Cody ranch to Investigate a killing and the theft of many horses, and when he arrives he finds he has another killing on his hands, in "Killer's Brand."

36
36
A Flower on Boot Hill
1960-06-11
30

On his way to Toscato to investigate a bank robbery, Slade is jumped by two convicts who knock him unconscious, strip him of his gun, clothes and horse, and leave him in the road, in "Flower on Boot Hill."

37
37
Charcoal Bullet
1960-07-01
30

In Spring Oaks, as Slade is visiting with Peggy, a bank employee, two men hold up the bank, in "Charcoal Bullet". Scott Brady stars, with Jacqueline Holt featured.

38
38
Lost Gold
1960-07-05
30

Slide is hired by the Eastern headquarters of a mining company to investigate the theft of ore from their mine in Gold Run, Dakota Territory, in "Lost Gold."

39
39
The Smell of Money
1960-07-12
30

Slade is called in to investigate when the Willow Ridge Bank is held up and the teller killed in "The Smell of Money".
Season 2
| Episode No. | No. Overall | Title | Airdate | Runtime | Summary |
| --- | --- | --- | --- | --- | --- |
| 1 | 40 | Skyfire | 1960-10-17 | 30 | After solving a cattle rustling scheme, Slade collects his pay. As he is leaving the ranch, his former client is murdered. The man's widow and his best friend blame each other. Slade must find which one is telling the truth. |
| 2 | 41 | Ghost of Yucca Flats | 1960-10-24 | 30 | Slade rides into the mining town of Yucca Flats and finds the town completely deserted. Tacked on a building is a sign which reads, "Get out of town - you may be next." |
| 3 | 42 | Secret Gold | 1960-10-31 | 30 | Sam Hutchins, a jailed thief sends Slade after the loot from his last caper. Sam and his partners were sent to prison for stealing a fortune in gold. The man fears two former partners may kill him after forcing him to reveal the hiding to reveal the hiding place of the loot. |
| 4 | 43 | The Missing Dog | 1960-11-07 | 30 | Slade is hired by a sheriff to solve a bank robbery. As he is on the job, he is hired by a boy to find his missing dog. Slade soon realizes the two jobs are linked. On Investigating the bank robbery, Slade finds that all the residents are suspect. |
| 5 | 44 | Mountain Murderess | 1960-11-14 | 30 | A band of Indians blocks Slade's efforts to bring a murder suspect in for trial. A woman killer takes to the hills. |
| 6 | 45 | Dead Man's Tale | 1960-11-21 | 30 | Slade (Scott Brady) assumes a dead man's identity to crack an embezzlement case. |
| 7 | 46 | Vengeance | 1960-11-28 | 30 | Slade is accused of collecting a reward for a job he did not do. He is summoned to Silverado by the marshal who says he collected a $1,000 reward for a job he never finished. Slade was given $1,000 to straighten things out by an unknown client. |
| 8 | 47 | Rail Head at Rampart | 1960-12-05 | 30 | Slade (Scott Brady) suspects that a businessman is planning to swindle the railroad. |
| 9 | 48 | Woman from Wyoming | 1960-12-12 | 30 | Slade comes to town to meet Rebecca Howland - a woman coming from Wyoming on the train. She is an heiress to a fortune and desires protection from others who would try to take it away from her |
| 10 | 49 | The Laughing Widow | 1960-12-19 | 30 | A hard-bitten town taming sheriff is devastated when he's forced by law to hang his own son for theft of a gold shipment. Slade is convinced the man is innocent and sets out to prove it even as the hour of execution draws nigh. |
| 11 | 50 | Turkey Shoot | 1960-12-26 | 30 | About to be released from prison, a man plans to kill Slade at the annual "Turkey Shoot." |
| 12 | 51 | Hang Him Twice | 1961-01-02 | 30 | A man is wrongly Imprisoned for murder although his "victim" is alive. Vicky Martin's husband is in prison for the murder of a bank vice president whose body was never found, now rumored alive in Mexico, Vicky asks Slade for help. |
| 13 | 52 | Traveling Trunk | 1961-01-09 | 30 | An outlaw, a pretty woman, a boy, and an iron bound trunk combine to provide Slade with one of tho most baffling cases of his career. Slade discovers the body of his employer when he unloads a shipping trunk from a wagon. The missing man is found in trunk containing $20,000. |
| 14 | 53 | The Silver Queen | 1961-01-21 | 30 | A beautiful blonde's greed leads her to disaster. Ahab Jensen (King Calder) becomes a murder target after he weds a woman many years his junior. |
| 15 | 54 | Little Sister | 1961-01-28 | 30 | A woman saloon keeper, noted for her honesty, is suspected of complicity in robbery and murder. |
| 16 | 55 | Copper Cylinder | 1961-02-04 | 30 | Slade accompanies an historian who is seeking a priceless relic of the Spanish explorers. |
| 17 | 56 | Misplaced Genius | 1961-02-11 | 30 | An employee interrupts a burglary at a bank and is killed. When nothing is found missing, it is assumed the burglars panicked and ran. Months later when a cashier notices two bills with the same serial number, Slade is called in. |
| 18 | 57 | Mother Six Gun | 1961-02-18 | 30 | A bar is robbed. The Sheriff - who is a friend of Slade's - starts to investigate and then disappears. Slade arrives in town to visit his friend and is determined to find out what happened to him. |
| 19 | 58 | The Impatient Bullet | 1961-02-25 | 30 | Slade catches up with a man he has been trailing. The man has been leading a five man gang through a string of bank robberies. Slade gets him to jail but must now convince the man's ex-girlfriend to testify against him. |
| 20 | 59 | The Silent Man | 1961-03-04 | 30 | $50,000 in bank notes is stolen from the Tucson stage. Slade is hired by the insurance company to recover the notes. They have given him 30 days to get the job done. He stops at Martinsville looking for leads. |
| 21 | 60 | School Ma'am | 1961-03-11 | 30 | A demure school teacher In Salt Creek, once a successful bank robber, is determined not to become a convict. |
| 22 | 61 | Legend of a Hero | 1961-03-18 | 30 | Slade arrives in Old Town, only to find that the man who invited him has been murdered. Slade must clear out his host's murder. Huston: Adam West. Nora: Carol Ohmart. |
| 23 | 62 | The Mystery of Black River | 1961-03-25 | 30 | Slade investigates three apparently unconnected murders and learns that each had its beginning In a buffalo hunt at Black River 15 years earlier. |
| 24 | 63 | Widow of El Dorado | 1961-04-01 | 30 | Slade is hired to stop a wedding. When he arrives he is too late. When the bridegroom is killed, guilt is cast on the woman who hired Slade. He believes she is innocent but he must find the true murderer to clear her. |
| 25 | 64 | Valley of the Shadow | 1961-04-08 | 30 | Ethan Kellogg is receiving death threats to reverse his decision to close his mine. He asks Slade to find who is behind the threats. Before Slade decides whether or not to accept the job, Ethan is killed. Now, Slade wants the killer. |
| 26 | 65 | A Noose for Hurley (aka Noose Brand Frame-Up) | 1961-04-15 | 30 | An old man with a fading memory gives an invoice to the Widow Rankin. He says it was borrowed by her husband. She is not sure if it is legitimate and hires Slade to determine if the money is really owed. |
| 27 | 66 | A Grave at San Gallo | 1961-04-22 | 30 | Janet Milford is looking for her long lost husband and is offering a reward. She receives a letter from Frank Peeler saying he knows where he is. Janet hires Slade to accompany her on the trip to verify the claim. |
| 28 | 67 | Friends No More | 1961-04-29 | 30 | Slade encounters a former cavalry comrade who has become a cold-blooded killer. |
| 29 | 68 | Yankee Spy | 1961-05-06 | 30 | Slade is hired by the US Government to find a missing agent in southern Louisiana. |
| 30 | 69 | Skinner's Rainbow | 1961-05-13 | 30 | Hardluck Luke claims he has found a gold strike. He wants to sell to Ben Willard. Ben Willard wants Professor Simms to certify the claim before he buys the mine. Simms wants protection for the trip and Slade is hired for the job. |
| 31 | 70 | The Lost Herds | 1961-05-20 | 30 | A rancher named Roberts sends for Slade. There has been a rash of cattle rustling and his ranch is the only ranch untouched. Slade goes undercover to discover if anyone on the ranch is involved. |
| 32 | 71 | The Search for Susan (aka Welcome Home) | 1961-05-27 | 30 | Sam Emerson is one of the wealthiest people in the state. He is getting up in years and wants to find his long lost daughter. He hires Slade to track her down. His search for the missing heiress leads Slade to the lovely young wife of an outlaw, but instead of reaching the end of his task, he finds that it has only just begun. |
| 33 | 72 | The Phantom Noose | 1961-06-03 | 30 | Judge Beck is a hanging Judge. He has hung 27 men. He hires Slade to learn about 3 men that escaped judgment. Slade is asked to stay on after the job is done. He soon learns the Judge is haunted by the 27 men he has hung. |
| 34 | 73 | Madame Vengeance | 1961-06-10 | 30 | Lillian Leclair is a bank president. She is grieving the loss of her husband and father at the hands of bank robbers. She doesn't know who the robbers were, but wants to hire Slade to kill the bank robber and bring him to her. |
| 35 | 74 | Five Graves | 1961-06-17 | 30 | Slade is hired to persuade five men to visit the plantation of a man they have never met. |
| 36 | 75 | The Payrollers | 1961-06-24 | 30 | There have been a series of payroll holdups in the area. When $60,000 in gold is stolen and a clerk is killed, Slade is called in to find the Payrollers and the gold. |
| 37 | 76 | A Gun and a Prayer | 1961-07-01 | 30 | An old friend contacts Slade for a special favor. Slade owes him a favor and leaves immediately and soon finds that the friend needs a different kind of help. |
| 38 | 77 | The Ranch Ghost (aka Ghost Of A Chance) | 1961-07-08 | 30 | Slade is offered $500 to marry a woman. She has inherited a ranch but there is a condition: she must be married before she turns 27. Slade turns it down and is then hired to be her body guard. |
| 39 | 78 | Something to Die For | 1961-07-15 | 30 | Emil Cosca operated a foundry. Everyone in town believed he kept a treasure hidden in the foundry. A man from his past shows up for the treasure. They are both killed in a shootout. Mrs. Cosca hires Slade to find out if the treasure exists. |
Series Cast
| | | | |
| --- | --- | --- | --- |
| | Scott Brady | as Shotgun Slade | |
| | Monica Lewis | as Monica Bristol | |
| | Frank Ferguson | as Mike Oliver | |
Series Crew
| | Position | Name |
| --- | --- | --- |
| | Music Supervisor | Stanley Wilson |
| | Creator | Frank Gruber |
| | Producer | Ralph Dietrich |
| | Director Of Photography | Buddy Harris |
| | Executive Producer | Nat Holt |
| | Music | Gerald Fried |
| | Art Director | Martin Obzina |
| | Film Editor | Dolf Von Rudeen |
Related News
Yuba City man dies in apparent suicide in standoff after police answer assault call
(Yahoo.com)
A 29-year-old man died from an apparent self-inflicted gunshot wound in his Yuba City apartment during a standoff with police on Friday, according to a Yuba City police press release.
Article preview:
A 29-year-old man died from an apparent self-inflicted gunshot wound in his Yuba City apartment during a standoff with police on Friday, according to a Yuba City police press release. The mans wife had called police at 11:30 a.m. Friday, the release said. Sh… [+831 chars]
TVMaze