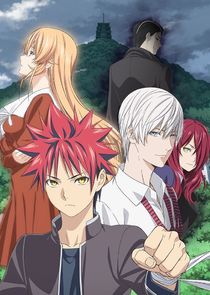 Ever since he was a child, fifteen-year-old Souma Yukihira has helped his father by working as the sous chef in the restaurant his father runs and owns. Throughout the years, Souma developed a passion for entertaining his customers with his creative, skilled, and daring culinary creations. His dream is to someday own his family's restaurant as its head chef.
Yet when his father suddenly decides to close the restaurant to test his cooking abilities in restaurants around the world, he sends Souma to Tootsuki Culinary Academy, an elite cooking school where only 10 percent of the students graduate. The institution is famous for its "Shokugeki" or "food wars," where students face off in intense, high-stakes cooking showdowns.
As Souma and his new schoolmates struggle to survive the extreme lifestyle of Tootsuki, more and greater challenges await him, putting his years of learning under his father to the test.
Series Overview
Rating
imDb Rating: 8.3 (4,155 Votes)
Metascore: N/A
Plot
Meet Souma, he is the son of the owner of a small eatery in Japan. For his age, Souma is a very talented person able to easily come up with new dishes; sometimes these dishes are some ...
Details
Rated: TV-14
Released: 03 Mar 2015
Runtime: 24 min
Genre: Animation, Comedy, Drama
Director: N/A
Writer: N/A
Actors: Yoshitsugu Matsuoka, Minami Takahashi, Maaya Uchida, Ai Kayano
Language: Japanese, English
Country: Japan
Awards: N/A
Total Seasons: 4
Next Episode
Episode 11
Episode 4x11; Dec 20, 2019
Previous Episode
How to Build a Specialty
Episode 4x10; Dec 13, 2019
Episodes 4x12: Episode 12 4x11: Episode 11 4x10: How to Build a Specialty 4x9: The First and Second Seats 4x8: Watching from Beside You 4x7: The Two Queens 4x6: A Single Blade 4x5: You're Through 4x4: Aim for Victory!

View All Episodes
Cast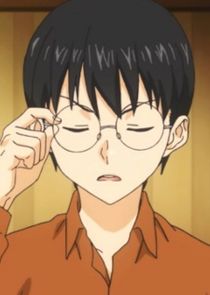 Yūsuke Kobayashi as Zenji Marui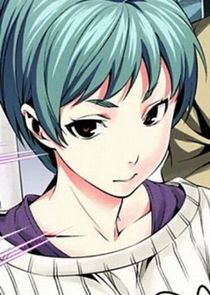 Ayako Kawasumi as Mizuhara, Fuyumi
Junji Majima as Sekimori, Hitoshi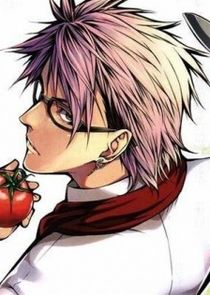 Yuichi Nakamura as Shinomiya, Kojirou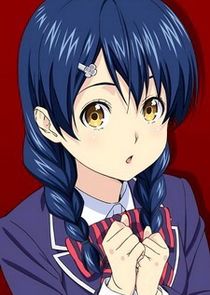 Minami Takahashi as Tadokoro, Megumi
Yoshitsugu Matsuoka as Yukihira, Souma
View Full Cast
Skip to:
Season 1
| Episode No. | No. Overall | Title | Airdate | Runtime | Summary |
| --- | --- | --- | --- | --- | --- |
| 1 | 1 | An Endless Wasteland | 2015-04-04 | 25 | |
| 2 | 2 | God Tongue | 2015-04-11 | 25 | |
| 3 | 3 | That Chef Never Smiles | 2015-04-18 | 25 | |
| 4 | 4 | The Madonna of the Polar Star | 2015-04-25 | 25 | |
| 5 | 5 | The Ice Queen and the Spring Storm | 2015-05-02 | 25 | |
| 6 | 6 | The Meat Invader | 2015-05-09 | 25 | |
| 7 | 7 | The Quiet Don, the Eloquent Don | 2015-05-16 | 25 | |
| 8 | 8 | The Concerto of Inspiration and Imagination | 2015-05-23 | 25 | |
| 9 | 9 | The Breading to Adorn the Mountains | 2015-05-30 | 25 | |
| 10 | 10 | The Heavenly Recette | 2015-06-06 | 25 | |
| 11 | 11 | The Magician from the East | 2015-06-13 | 25 | |
| 12 | 12 | The Memory of a Dish | 2015-06-20 | 25 | |
| 13 | 13 | Eggs Before Dawn | 2015-06-27 | 25 | |
| 14 | 14 | Metamorphosis | 2015-07-04 | 25 | |
| 15 | 15 | The Man Called the Demon | 2015-07-18 | 25 | |
| 16 | 16 | The Chef Who's Crossed a Thousand Leagues | 2015-07-25 | 25 | |
| 17 | 17 | The Seductive Karaage | 2015-08-01 | 25 | |
| 18 | 18 | The Karaage of Youth | 2015-08-08 | 25 | |
| 19 | 19 | The Chosen One | 2015-08-15 | 25 | |
| 20 | 20 | The Dragon Lies Down and Ascends the Skies | 2015-08-22 | 25 | |
| 21 | 21 | The Unknown Known | 2015-08-29 | 25 | |
| 22 | 22 | The One Who Surpasses the Ordinary | 2015-09-05 | 25 | |
| 23 | 23 | The Competition of the Blossoming Individuals | 2015-09-12 | 25 | |
| 24 | 24 | The Banquet of Warriors | 2015-09-26 | 25 | |
Season 2
| Episode No. | No. Overall | Title | Airdate | Runtime | Summary |
| --- | --- | --- | --- | --- | --- |
| 1 | 25 | What Fills the Box | 2016-07-02 | 25 | |
| 2 | 26 | The Interplay of Light and Shadow | 2016-07-09 | 25 | |
| 3 | 27 | The Generation of Prodigies | 2016-07-16 | 25 | |
| 4 | 28 | The Pursuer | 2016-07-23 | 25 | |
| 5 | 29 | The Secret in the First Bite | 2016-07-30 | 25 | |
| 6 | 30 | Dawn Will Come Again | 2016-08-06 | 25 | |
| 7 | 31 | Beasts Devouring Each Other | 2016-08-13 | 25 | |
| 8 | 32 | Battle of Seasonality | 2016-08-20 | 25 | |
| 9 | 33 | A Sword That Signals Autumn | 2016-08-27 | 25 | |
| 10 | 34 | A New Genius | 2016-09-03 | 25 | |
| 11 | 35 | The Stagiaire | 2016-09-10 | 25 | |
| 12 | 36 | The Magician Once More | 2016-09-17 | 25 | |
| 13 | 37 | Pomp and Circumstance | 2016-09-24 | 25 | |
Season 3
| Episode No. | No. Overall | Title | Airdate | Runtime | Summary |
| --- | --- | --- | --- | --- | --- |
| 1 | 38 | Challenging the Elite Ten | 2017-10-03 | 25 | |
| 2 | 39 | "Ma" and "La" | 2017-10-10 | 25 | |
| 3 | 40 | Moon Festival | 2017-10-17 | 25 | |
| 4 | 41 | Pride of Young Lions | 2017-10-24 | 25 | |
| 5 | 42 | The Darkening Dinner Table | 2017-10-31 | 25 | |
| 6 | 43 | The Imprisoned Queen | 2017-11-07 | 25 | |
| 7 | 44 | It Begins | 2017-11-14 | 25 | |
| 8 | 45 | The Alchemist | 2017-11-21 | 25 | |
| 9 | 46 | Hunting the Survivors | 2017-11-28 | 25 | |
| 10 | 47 | The Salmon Will Dance | 2017-12-05 | 25 | |
| 11 | 48 | Der Weiße Ritter der Tafel | 2017-12-12 | 25 | |
| 12 | 49 | The One Who Aims for the Summit | 2017-12-19 | 25 | |
| 13 | 50 | Advancement Exam | 2018-04-08 | 25 | |
| 14 | 51 | Onward on the Totsuki Train | 2018-04-15 | 25 | |
| 15 | 52 | Jeanne d'Arc Rising | 2018-04-22 | 25 | |
| 16 | 53 | Revenge Rematch | 2018-04-29 | 25 | |
| 17 | 54 | The Umami Tightrope | 2018-05-06 | 25 | |
| 18 | 55 | For Whom | 2018-05-13 | 25 | |
| 19 | 56 | Declaration of War | 2018-05-20 | 25 | |
| 20 | 57 | Erina's Diligent Studies | 2018-05-27 | 25 | |
| 21 | 58 | The Pioneer of the Wastelands | 2018-06-03 | 25 | |
| 22 | 59 | To the Final Battleground | 2018-06-10 | 25 | |
| 23 | 60 | Bearing Polar Star Dormitory | 2018-06-17 | 25 | |
| 24 | 61 | The Basis for Strength | 2018-06-24 | 25 | |
Season 4
| Episode No. | No. Overall | Title | Airdate | Runtime | Summary |
| --- | --- | --- | --- | --- | --- |
| 1 | 62 | What We Want to Protect | 2019-10-11 | 30 | |
| 2 | 63 | Camera Flash | 2019-10-18 | 30 | |
| 3 | 64 | Hope in Solidarity | 2019-10-25 | 25 | |
| 4 | 65 | Aim for Victory! | 2019-11-01 | 30 | |
| 5 | 66 | You're Through | 2019-11-08 | 30 | |
| 6 | 67 | A Single Blade | 2019-11-15 | 30 | |
| 7 | 68 | The Two Queens | 2019-11-22 | 30 | |
| 8 | 69 | Watching from Beside You | 2019-11-29 | 30 | |
| 9 | 70 | The First and Second Seats | 2019-12-06 | 30 | |
| 10 | 71 | How to Build a Specialty | 2019-12-13 | 30 | |
| 11 | 72 | Episode 11 | 2019-12-20 | 30 | |
| 12 | 73 | Episode 12 | 2019-12-27 | 30 | |
Series Cast
| | | | |
| --- | --- | --- | --- |
| | Yūsuke Kobayashi | as Zenji Marui | |
| | Ayako Kawasumi | as Mizuhara, Fuyumi | |
| | Junji Majima | as Sekimori, Hitoshi | |
| | Yuichi Nakamura | as Shinomiya, Kojirou | |
| | Minami Takahashi | as Tadokoro, Megumi | |
| | Yoshitsugu Matsuoka | as Yukihira, Souma | |
| | Chinatsu Akasaki | as Nakiri, Alice | |
| | Ai Kayano | as Sakaki, Ryouko | |
| | Saori Gotou | as Sadatsuka, Nao | |
| | Takahiro Sakurai | as Isshiki, Satoshi | |
| | Shizuka Ishigami | as Mito, Ikumi | |
| | Risa Taneda | as Nakiri, Erina | |
| | Ai Kakuma | as Kurase, Mayumi | |
| | Rikiya Koyama | as Yukihira, Jouichirou | |
| | Natsuki Hanae | as Aldini, Takumi | |
| | Yuuki Ono | as Aldini, Isami | |
| | Shinji Kawada | as Konishi, Kanichi | |
| | Rina Hidaka | as Sasaki, Yua | |
| | Asami Seto | as Houjou, Miyoko | |
| | Mamiko Noto | as Inui, Hinako | |
| | Nobuhiko Okamoto | as Kurokiba, Ryou | |
| | Maaya Uchida | as Yoshino, Yuuki | |
| | Junichi Suwabe | as Hayama, Akira | |
| | Taishi Murata | as Ibusaki, Shun | |
| | Saori Ōnishi | as Arato, Hisako | |
| | Hiroki Yasumoto | as Mimasaka, Subaru | |
| | Mikako Takahashi | as Shiomi, Jun | |
Related News
TVMaze