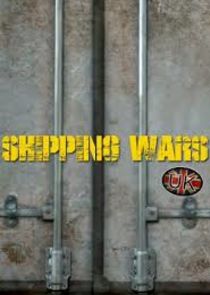 A group of delivery trucks criss-cross Britain, competing to collect and drop off some of the most gob-smacking goods for Britain's eBay generation.
Series Overview
Rating
imDb Rating: 7.0 (11 Votes)
Metascore: N/A
Plot
Shipping Wars UK features a dynamic group of delivery drivers criss-crossing Britain and Europe in vans and trucks. Each episode sees the drivers compete against each other to win some of ...
Details
Rated: N/A
Released: 05 Jan 2014
Runtime: N/A
Genre: Reality-TV
Director: N/A
Writer: N/A
Actors: Craig Kelly, Raymond Hamilton, Grant Hamilton, Shahbaz Khalid
Language: English
Country: UK
Awards: N/A
Total Seasons: 2
Previous Episode
Episode 40
Episode 2x40; Jul 01, 2016
Bev and Graham are the final drivers to deliver. But who will be crowned Transporter of the Week?
Previous Episodes 2x40: Episode 40 2x39: Episode 39 2x38: Episode 38 2x37: Episode 37 2x36: Episode 36 2x35: Episode 35 2x34: Episode 34 2x33: Episode 33 2x32: Episode 32

View All Episodes
Skip to:
Season 1
| Episode No. | No. Overall | Title | Airdate | Runtime | Summary |
| --- | --- | --- | --- | --- | --- |
| 1 | 1 | Episode 1 | 2015-02-02 | 30 | |
| 2 | 2 | Episode 2 | 2015-02-03 | 30 | |
| 3 | 3 | Episode 3 | 2015-02-04 | 30 | |
| 4 | 4 | Episode 4 | 2015-02-05 | 30 | |
| 5 | 5 | Episode 5 | 2015-02-06 | 30 | |
| 6 | 6 | Episode 6 | 2015-02-09 | 30 | |
| 7 | 7 | Episode 7 | 2015-02-10 | 30 | |
| 8 | 8 | Episode 8 | 2015-02-11 | 30 | |
| 9 | 9 | Episode 9 | 2015-02-12 | 30 | |
| 10 | 10 | Episode 10 | 2015-02-13 | 30 | |
| 11 | 11 | Episode 11 | 2015-02-16 | 30 | |
| 12 | 12 | Episode 12 | 2015-02-17 | 30 | |
| 13 | 13 | Episode 13 | 2015-02-18 | 30 | |
| 14 | 14 | Episode 14 | 2015-02-19 | 30 | |
| 15 | 15 | Episode 15 | 2015-02-20 | 30 | |
| 16 | 16 | Episode 16 | 2015-02-23 | 30 | |
| 17 | 17 | Episode 17 | 2015-02-24 | 30 | |
| 18 | 18 | Episode 18 | 2015-02-25 | 30 | |
| 19 | 19 | Episode 19 | 2015-02-26 | 30 | |
| 20 | 20 | Episode 20 | 2015-02-27 | 30 | |
Season 2
| Episode No. | No. Overall | Title | Airdate | Runtime | Summary |
| --- | --- | --- | --- | --- | --- |
| 1 | 21 | Episode 1 | 2016-05-02 | 30 | A group of delivery trucks criss-cross Britain, competing to collect and drop off some of the most gob-smacking goods for Britain's eBay generation. In the first episode of the new series, Russell secures a collection of tropical trees, including two giant palms that need moving from Gloucestershire to Kent. Phil grapples with a dragon statue, which needs moving 213 miles from Altrincham, Cheshire to Skewen in Wales. Are Phil and Russell in with a chance of winning 'Transporter of the Week'? |
| 2 | 22 | Episode 2 | 2016-05-03 | 30 | Horse-mad trucker Laurie is selected for the job of transporting a bespoke horse carriage 400 miles from West Sussex to an idyllic rural location in France. Phil and Kevin get caught up on a detour to collect a grandfather clock in Gainsborough. Will they jeopardise their full fee? |
| 3 | 23 | Episode 3 | 2016-05-04 | 30 | Husband and wife team Dave and Jenny take on a collection of 19th-century stained glass windows, moving them nearly 200 miles from Watford to West Yorkshire. Phil and 'Mad Dog' finally unload the wooden dragon, but has Phil done enough to get full payment and five star feedback? |
| 4 | 24 | Episode 4 | 2016-05-05 | 30 | Dave and Jenny hit the road with their load of stained glass windows. They take on a side load of a giant fish sculpture, but struggle to fit it in the van. Laurie drops off in Normandy and comes clean about the damage. Will her honesty ruin her chances of winning 'Transporter of the Week'? |
| 5 | 25 | Episode 5 | 2016-05-06 | 30 | Dave and Jenny deliver the giant fish to an expectant crowd and finally drop off the stained glass windows. And it is time to find out the winner of 'Transporter of the Week'. |
| 6 | 26 | Episode 6 | 2016-05-09 | 30 | Part-time wrestler and van driver Phil wins the bid to transport six boxes of live crayfish. Shahbaz's load is two grand pianos worth thousands. |
| 7 | 27 | Episode 7 | 2016-05-10 | 30 | Russell must transport a motor rickshaw worth ú10,000 from Axminster in Devon to Hamilton, Scotland. In London, Shahbaz must somehow load up a second grand piano. |
| 8 | 28 | Episode 8 | 2016-05-11 | 30 | Father and son team Raymond and Grant are transporting four giant illuminated letters spelling LOVE from Southampton to Kirkcaldy. To boost their profit they take on a side load, but it ends up costing them an extra night in a hotel. |
| 9 | 29 | Episode 9 | 2016-05-12 | 30 | Raymond and Grant collect a side load of live crabs headed for an aquarium in Ellesmere Port. And Russell stops off in Lancashire to pick up side load of theatre chairs. |
| 10 | 30 | Episode 10 | 2016-05-13 | 30 | Raymond and Grant take on an antique table as a second side load to boost their week's profit. And with all four loads completed, which driver wins the prize as 'Transporter of the Week'? |
| 11 | 31 | Episode 11 | 2016-05-16 | 30 | Former big rigger turned van driver Jemma transports a classic kit car, while Phil 'The Man Van' takes the law into his own hands, transporting a criminally light supersize polystyrene padlock. |
| 12 | 32 | Episode 12 | 2016-05-17 | 30 | Trucking couple Bev and Graham have three vintage Airstream caravans that need to be transported, and Phil 'The Man Van' aims to get a valuable supersize padlock to New Scotland Yard before his deadline runs out. |
| 13 | 33 | Episode 13 | 2016-05-18 | 30 | Dave and Jenny, aka 'the loader and the loafer' need to transport a handcrafted rowing boat worth ú750, and Bev and Graham arrive at their first Airstream drop off - but there are tensions over unloading methods. |
| 14 | 34 | Episode 14 | 2016-05-19 | 30 | With two loads delivered and two on the road, the title of 'Transporter of the Week' is still up for grabs. With the hand-built rowing boat on board, Dave and Jenny are taking on a side load. After a money-saving overnight in a truck stop, Bev and Graham head to collect the second caravan. |
| 15 | 35 | Episode 15 | 2016-05-20 | 30 | In the final show this week, three loads have been delivered and just one is still on the road. Dave and Jenny's side-load of goat furniture is precariously balanced around the pristine hand-built rowing boat. Who will win the coveted prize and title 'Transporter of the Week'? |
| 16 | 36 | Episode 16 | 2016-05-23 | 30 | Shahbaz transports a giant rat sculpture, made entirely of scrap metal and junk, to the set of an indie movie in Bedford, while Laurie takes two converted shipping container homes from Newquay, Cornwall to Manchester. |
| 17 | 37 | Episode 17 | 2016-05-24 | 30 | Dave and Jenny head to Shrewsbury to deliver a giant aquarium that weighs 700kg. The 87 mile trip from Leicester involves a detour via Solihull to pick up some aggressive tropical fish. |
| 18 | 38 | Episode 18 | 2016-05-25 | 30 | Father and son duo Raymond and Grant are in Newport, Wales, picking up an ice drinks luge for a boat party in Shrewsbury. In Solihull, Jenny and Dave collect their side load of rare tropical fish. But have they underestimated what a specialist cargo this is? |
| 19 | 39 | Episode 19 | 2016-05-26 | 30 | Everything is still to play for in the battle for 'Transporter of the Week' with two loads still on the road. Raymond dons a bubble wrap outfit to manage the ice boat while Dave and Jenny must take care that their tropical fish don't succumb to 'Malawi Bloat'. |
| 20 | 40 | Episode 20 | 2016-05-27 | 30 | Raymond and Grant are up against the clock to deliver the ice boat on time. But who will be crowned 'Transporter of the Week'? |
| 21 | 41 | Episode 21 | 2016-05-30 | 30 | Stu and Jemma win the first load of the week, a giant dinosaur statue worth £10,000. The journey is from Wells in Somerset to Weston-super-Mare. Russell gets to grips with a three-tonne houseboat, taking it from Liverpool to Nuneaton. |
| 22 | 42 | Episode 22 | 2016-05-31 | 30 | Raymond and Grant transport a vintage car worth a whopping ú27,000 almost 1000 miles from Livingston, Scotland to Plestin-les-Greves in France. The 1949 Triumph Roadster has been lovingly restored over 13 years by the seller, so Raymond and Grant are under strict instructions to protect it from any damage. |
| 23 | 43 | Episode 23 | 2016-06-01 | 30 | Laurie is shipping an eight tonne army tank from Grantham to Bristol - if she can get it inside her trailer. |
| 24 | 44 | Episode 24 | 2016-06-02 | 30 | Laurie is still battling with the army tank while Raymond and Grant arrive in France with their precious load of a restored vintage car. |
| 25 | 45 | Episode 25 | 2016-06-03 | 30 | All the loads have been delivered, but which trucker will be crowned 'Transporter of the Week'? |
| 26 | 46 | Episode 26 | 2016-06-06 | 30 | |
| 27 | 47 | Episode 27 | 2016-06-07 | 30 | |
| 28 | 48 | Episode 28 | 2016-06-08 | 30 | |
| 29 | 49 | Episode 29 | 2016-06-09 | 30 | |
| 30 | 50 | Episode 30 | 2016-06-10 | 30 | |
| 31 | 51 | Episode 31 | 2016-06-20 | 30 | Raymond and Grant secure the first load of the week: a wooden bear carving named Curly, weighing in at 500kg. The huge chunk of timber is moving 244 miles from County Durham to Banbury in Oxfordshire. Bev and Graham take on a 13-foot dinosaur sculpture headed for a golf course in south Wales. |
| 32 | 52 | Episode 32 | 2016-06-21 | 30 | Phil is moving a ú26,000 winged angel statue 28 miles, from London's Mayfair to a restoration workshop in Surrey. |
| 33 | 53 | Episode 33 | 2016-06-22 | 30 | Russell takes on two larger-than-life carnival bulls and eight carnival horse costumes, heading for a bull run in Stamford. Bev and Graham come to the end of their 184 mile run to Llanelli, where a makeshift bridge poses a final challenge. Phil and Ozzy take on a bomb from World War Two as a side-load. |
| 34 | 54 | Episode 34 | 2016-06-23 | 30 | Phil drops off a bomb from World War Two. Russell makes a controversial decision looking for somewhere to park in Southampton. |
| 35 | 55 | Episode 35 | 2016-06-24 | 30 | The race for 'Transporter of the Week' reaches its climax with Russell driving his big rig through the small Georgian streets of Stamford. |
| 36 | 56 | Episode 36 | 2016-06-27 | 30 | Laurie kicks off the week shifting ten golf buggies 58 miles from Desborough to Blenheim Palace, Oxfordshire. Jemma decides to ditch her usual load partner and take on her first solo delivery, moving two supersize drinks bars - one in the form of a giant teapot, the other an 18-foot mini galleon - to a foodie festival in south London. |
| 37 | 57 | Episode 37 | 2016-06-28 | 30 | Dave and Jenny set off on their first trip abroad together, moving a fragile Russian art collection from Canary Wharf, London to an international art fair in Amsterdam. |
| 38 | 58 | Episode 38 | 2016-06-29 | 30 | Bev and Graham must deliver three vintage superhero vehicles, worth a staggering ú165,000, to a 1960s film festival in Great Yarmouth on the Norfolk coast. Jemma's still battling with her two supersize drinks bars. And Dave and Jenny cross the Channel. |
| 39 | 59 | Episode 39 | 2016-06-30 | 30 | Bev and Graham battle to load the three vintage superhero vehicles on to their trailer; and Dave and Jenny are on the road to Amsterdam. |
| 40 | 60 | Episode 40 | 2016-07-01 | 30 | Bev and Graham are the final drivers to deliver. But who will be crowned Transporter of the Week? |
Related News
TVMaze