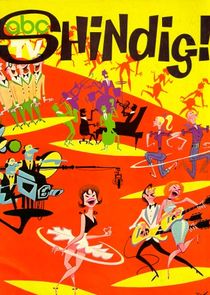 Shindig! was a rock 'n' roll series that aired on ABC from September 1964 through January 1966. Shindig! premiered on September 16, 1964 as a half-hour show. In January 1965, the series expanded to an hour. Instead of reruns, ABC aired new Shindig! episodes throughout the Summer of 1965. Most of the top American and British rock/pop acts of the mid-1960's appeared on Shindig!. The British performers often appeared in segments taped in the U.K. For its second season, Shindig was split into two 30-minutes shows, which aired on Thursdays and Saturdays at 7:30 pm. Shindig's second season was not as successful as its first. In an attempt to boost ratings, guest hosts were used during October 1965. Still, the ratings kept slipping and ABC announced Shindig's cancellation in late October 1965. The Shindig! episodes from November 1965 through January 1966 were an odd mixture of programming.
Series Overview
Rating
imDb Rating: 7.9 (113 Votes)
Metascore: N/A
Plot
A musical variety show featuring the biggest acts in rock-n-roll performing their latest hits.
Details
Rated: N/A
Released: 16 Sep 1964
Runtime: 60 min
Genre: Family, Music
Director: N/A
Writer: Jimmy O'Neill
Actors: The Blossoms, Carolyne Barry, Bobby Sherman, Diane Stuart
Language: English
Country: USA
Awards: N/A
Total Seasons: 2
Previous Episode
Final Saturday show: Knickerbockers; Jackie DeShannon
Episode 2x34; Jan 08, 1966
Previous Episodes 2x34: Final Saturday show: Knickerbockers; Jackie DeShannon 2x33: Final Thursday show: The Who; The Kinks; Ian Whitcomb 2x32: Shindig in Europe, Part 2 2x31: The Who; Kinks; Hollies; Manfred Mann 2x30: Christmas '65: Johnny Mathis 2x29: Yardbirds; Dave Clark 5; Lulu; Moody Blues 2x28: Shindig in Europe, Part 1 2x27: Yardbirds / Gloria Jones / Jackie Lee / Unit 4+2 / Georgie Fame 2x26: Barry McGuire / Mamas and the Papas / the Grassroots

View All Episodes
Cast
Jimmy O'Neill as Presenter
Carolyne Barry as Carolyne Barry
Bobby Sherman as Bobby Sherman
Glen Campbell as Glen Campbell
The Blossoms as The Blossoms
Diane Stuart as Diane Stuart
View Full Cast
Skip to:
Season 1
| Episode No. | No. Overall | Title | Airdate | Runtime | Summary |
| --- | --- | --- | --- | --- | --- |
| 1 | 1 | Sam Cooke / Everly Brothers / Righteous Brothers | 1964-09-16 | 30 | |
| 2 | 2 | Johnny Rivers / Jody Miller / Righteous Brothers | 1964-09-23 | 30 | |
| 3 | 3 | Gale Garnett; The Newbeats; Round Robin | 1964-09-30 | 30 | |
| 4 | 4 | From London: The Beatles; Sandie Shaw; P.J. Proby | 1964-10-07 | 30 | |
| 5 | 5 | Roy Orbison / Manfred Mann / The Hondells | 1964-10-14 | 30 | |
| 6 | 6 | Jackie Wilson; Jay and the Americans; Honeycombs | 1964-10-21 | 30 | |
| 7 | 7 | Billy J Kramer & the Dakotas; Dick & Dee Dee | 1964-10-28 | 30 | |
| 8 | 8 | The Miracles; Gerry & the Pacemakers; Gene Pitney; Ketty Lester | 1964-11-04 | 30 | |
| 9 | 9 | Billy J. Kramer / Hank Williams, Jr. / Jody Miller / Orriel Smith | 1964-11-11 | 30 | |
| 10 | 10 | The Supremes; Paul Petersen; Righteous Brothers | 1964-11-18 | 30 | |
| 11 | 11 | Special episode: Everly Brothers; Manfred Mann | 1964-11-18 | 30 | |
| 12 | 12 | Tina Turner / Neil Sedaka / Chad & Jeremy / Righteous Bros. | 1964-11-25 | 30 | |
| 13 | 13 | Bobby Vinton / Freddy Canon / Aretha Franklin | 1964-12-02 | 30 | |
| 14 | 14 | Manfred Mann / Chubby Checker / Dixie Cups | 1964-12-09 | 30 | |
| 15 | 15 | Dave Clark 5 / Isley Brothers / Newbeats / Adam Faith | 1964-12-16 | 30 | |
| 16 | 16 | Christmas '64: Beach Boys; Marvin Gaye; Righteous Bros. | 1964-12-23 | 30 | |
| 17 | 17 | Mary Wells / Jerry Lee Lewis / Bobby Rydell / Vic Dana | 1964-12-30 | 30 | |
| 18 | 18 | Sal Mineo / Righteous Brothers / Sandie Shaw | 1965-01-06 | 30 | |
| 19 | 19 | Johnny Cash / Herman's Hermits / Paul Petersen | 1965-01-13 | 30 | |
| 20 | 20 | First 60-minute show: Rolling Stones; Petula Clark; Kinks | 1965-01-20 | 30 | |
| 21 | 21 | Little Anthony / Duane Eddy / Zombies / Aretha Franklin | 1965-01-27 | 30 | |
| 22 | 22 | Kingsmen / Hondells / Peter & Gordon / Clara Ward Singers | 1965-02-03 | 30 | |
| 23 | 23 | Del Shannon / Coasters / Ventures / Marianne Faithfull | 1965-02-10 | 30 | |
| 24 | 24 | Jerry Lee Lewis / Linda Gail / Herman's Hermits / Moody Blues | 1965-02-17 | 30 | |
| 25 | 25 | Supremes / Barbarians / Neil Sedaka / Stan Getz / Ruth Price | 1965-02-24 | 30 | |
| 26 | 26 | Rolling Stones / Joe Tex / Little Eva / Jay & the Americans | 1965-03-03 | 30 | |
| 27 | 27 | Dobie Gray / Drifters / Beau Brummels / Tony Bennett | 1965-03-10 | 30 | |
| 28 | 28 | Shirley Ellis / Jackie Wilson / Bobby Goldsboro / Standells | 1965-03-24 | 30 | |
| 29 | 29 | Chuck Berry / Rosie Grier / The Spats / Adam Faith | 1965-03-31 | 30 | |
| 30 | 30 | Tina Turner; Marvin Gaye; Lesley Gore; Righteous Bros. | 1965-04-07 | 30 | |
| 31 | 31 | Neil Sedaka / Millie Small / Jerry Lee Lewis | 1965-04-14 | 30 | |
| 32 | 32 | Beach Boys / Shangri-Las / The Ikettes / Wayne Fontana | 1965-04-21 | 30 | |
| 33 | 33 | Four Tops / Manfred Mann / Freddie & Dreamers / Sandie Shaw | 1965-04-28 | 30 | |
| 34 | 34 | Tribute to Elvis: Isley Brothers; Sonny & Cher; Chambers Brothers | 1965-05-05 | 30 | |
| 35 | 35 | Olympics / Moody Blues / Brenda Holloway / Dino, Desi & Billy | 1965-05-12 | 30 | |
| 36 | 36 | Ray Charles / Zombies / Dinah Lee / Righteous Brothers | 1965-05-19 | 30 | |
| 37 | 37 | Rolling Stones / Howlin' Wolf / Sonny & Cher / Jackie DeShannon | 1965-05-26 | 30 | |
| 38 | 38 | Major Lance / Patty Duke / Diane Renay / Righteous Bros. | 1965-06-02 | 30 | |
| 39 | 39 | Everly Bros. / Righteous Bros. / Bettye Lavette / Piccola Pupa | 1965-06-09 | 30 | |
| 40 | 40 | Gary Lewis & the Playboys / Gerry & Pacemakers / P.J. Proby | 1965-06-16 | 30 | |
| 41 | 41 | The Byrds / Kingsmen / Micki Lynn / Jody Miller / Dave Berry | 1965-06-23 | 30 | |
| 42 | 42 | Jerry Lee Lewis / Chad and Jeremy / Jackie Wilson | 1965-06-30 | 30 | |
| 43 | 43 | Marianne Faithfull / Kinks / Sonny & Cher | 1965-07-07 | 30 | |
| 44 | 44 | Beau Brummels / Shelley Fabares / Sammy Jackson | 1965-07-14 | 30 | |
| 45 | 45 | Gene Pitney / Gary Lewis & Playboys / Sir Douglas Quintet | 1965-07-21 | 30 | |
| 46 | 46 | Dave Clark Five / Jay and the Americans / Dave Berry | 1965-07-28 | 30 | |
| 47 | 47 | Dixie Cups / Marianne Faithfull / Great Scots / Nooney Rickett 4 | 1965-08-04 | 30 | |
| 48 | 48 | Ronettes / Donovan / Rolling Stones / Bobby Goldsboro | 1965-08-11 | 30 | |
| 49 | 49 | Bo Diddley / Tina Turner / Jackie DeShannon / Eddie Hodges | 1965-08-18 | 30 | |
| 50 | 50 | James Brown; Booker T & the MG's; The Kinks | 1965-09-01 | 30 | |
| 51 | 51 | Final 60-minute show: Patty Duke; Barbara Lewis; The Searchers; Gilloteens | 1965-09-08 | 30 | |
Season 2
| Episode No. | No. Overall | Title | Airdate | Runtime | Summary |
| --- | --- | --- | --- | --- | --- |
| 1 | 52 | The Byrds / McCoys / Rolling Stones / Chad & Jill | 1965-09-16 | 30 | |
| 2 | 53 | Righteous Brothers / Dave Clark Five / Marianne Faithfull | 1965-09-18 | 30 | |
| 3 | 54 | Jerry Lee Lewis / Raquel Welch / Yardbirds | 1965-09-23 | 30 | |
| 4 | 55 | Mary Wells / Little Anthony / Georgie Fame | 1965-09-28 | 30 | |
| 5 | 56 | Mickey Rooney (guest host) / Major Lance / Turtles / Lesley Gore | 1965-09-30 | 30 | |
| 6 | 57 | Four Tops / The Who / Billy Joe Royal | 1965-10-02 | 30 | |
| 7 | 58 | Dee Dee Sharp / Kinks / Evie Sands / Charlie Rich | 1965-10-07 | 30 | |
| 8 | 59 | Carolyn Jones (guest host) / Jr. Walker / Jackie DeShannon | 1965-10-09 | 30 | |
| 9 | 60 | Zsa Zsa Gabor (guest host); The Animals; Millie Small | 1965-10-14 | 30 | |
| 10 | 61 | Hugh O'Brian (guest host); Lovin' Spoonful; Peter and Gordon | 1965-10-16 | 30 | |
| 11 | 62 | Hedy Lamarr (guest host); Kingsmen; Joe Tex; Dave Clark 5 | 1965-10-21 | 30 | |
| 12 | 63 | Ed Wynn (guest host); Shangri-Las; Byrds; Dobie Gray | 1965-10-23 | 30 | |
| 13 | 64 | Jack E. Leonard (guest host); Manfred Mann; The Toys; Dinah Lee | 1965-10-28 | 30 | |
| 14 | 65 | Halloween '65 with Boris Karloff; Ted Cassidy | 1965-10-30 | 30 | |
| 15 | 66 | Louis Armstrong, Part 1 | 1965-11-04 | 30 | |
| 16 | 67 | Fontella Bass; Rolling Stones; Billy Joe Royal; Strangeloves | 1965-11-06 | 30 | |
| 17 | 68 | Louis Armstrong, Part 2 | 1965-11-11 | 30 | |
| 18 | 69 | Rick Nelson; The Turtles; Barbara Lewis; Roy Head | 1965-11-13 | 30 | |
| 19 | 70 | The Wild Weird World of Dr. Goldfoot | 1965-11-18 | 30 | |
| 20 | 71 | Shindig in Hawaii, Part 1 | 1965-11-20 | 30 | |
| 21 | 72 | Shindig in Hawaii, Part 2 | 1965-11-25 | 30 | |
| 22 | 73 | George Maharis; The Young Americans | 1965-11-27 | 30 | |
| 23 | 74 | Gloria Jones / Hollies / Searchers / We Five / Melody Patterson | 1965-12-02 | 30 | |
| 24 | 75 | Shindig Goes to London, Part 1: Animals; Moody Blues | 1965-12-04 | 30 | |
| 25 | 76 | Shindig Goes to London, Part 2: The Who; Yardbirds | 1965-12-09 | 30 | |
| 26 | 77 | Barry McGuire / Mamas and the Papas / the Grassroots | 1965-12-11 | 30 | |
| 27 | 78 | Yardbirds / Gloria Jones / Jackie Lee / Unit 4+2 / Georgie Fame | 1965-12-16 | 30 | |
| 28 | 79 | Shindig in Europe, Part 1 | 1965-12-18 | 30 | |
| 29 | 80 | Yardbirds; Dave Clark 5; Lulu; Moody Blues | 1965-12-23 | 30 | |
| 30 | 81 | Christmas '65: Johnny Mathis | 1965-12-25 | 30 | |
| 31 | 82 | The Who; Kinks; Hollies; Manfred Mann | 1965-12-30 | 30 | |
| 32 | 83 | Shindig in Europe, Part 2 | 1966-01-01 | 30 | |
| 33 | 84 | Final Thursday show: The Who; The Kinks; Ian Whitcomb | 1966-01-06 | 30 | |
| 34 | 85 | Final Saturday show: Knickerbockers; Jackie DeShannon | 1966-01-08 | 30 | |
Series Cast
| | | | |
| --- | --- | --- | --- |
| | Jimmy O'Neill | as Presenter | |
| | Carolyne Barry | as Carolyne Barry | |
| | Bobby Sherman | as Bobby Sherman | |
| | Glen Campbell | as Glen Campbell | |
| | The Blossoms | as The Blossoms | |
| | Diane Stuart | as Diane Stuart | |
| | Donna Loren | as Donna Loren | |
| | The Wellingtons | as The Wellingtons | |
| | The Righteous Brothers | as The Righteous Brothers | |
| | Billy Preston | as Billy Preston | |
Related News
TVMaze