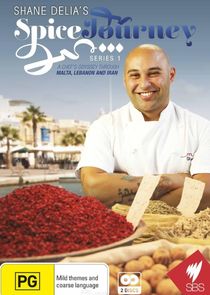 Shane Delia's Spice Journey takes us on a culinary pilgrimage to explore his heritage and discover food traditions that go back thousands of years.
Series Overview
Rating
imDb Rating: N/A (N/A Votes)
Metascore: N/A
Plot
Shane Delia's Spice Journey takes us on a culinary pilgrimage to explore his heritage, discover Middle Eastern food traditions that date back thousands of years...and then reinvent them for the 21st century.
Details
Rated: N/A
Released: 02 May 2013
Runtime: N/A
Genre: Documentary
Director: N/A
Writer: N/A
Actors: Shane Delia
Language: English
Country: Australia
Awards: N/A
Total Seasons: 3
Previous Episode
Made in Spain
Episode 3x10; Dec 17, 2015
The spice journey comes to an end for Shane Delia, as he makes his way from Granada down to Malaga on Spain's Mediterranean coast. But Shane's love affair with the cuisine of this region is only just beginning, and this final episode sees the Aussie chef learn new recipes from some of Andalucía's most accomplished (and humble) chefs. Back in his test kitchen, Shane's head is bursting with new ideas for dishes to serve up to his restaurant's diners.
Previous Episodes 3x10: Made in Spain 3x9: The City That Changed the World 3x8: Home of Tapas 3x7: Spanish Coast 3x6: Moor is More 3x5: African Coast 3x4: Marrakech 3x3: Mountains of Food 3x2: Desert Oasis

View All Episodes
Skip to:
Season 1
| Episode No. | No. Overall | Title | Airdate | Runtime | Summary |
| --- | --- | --- | --- | --- | --- |
| 1 | 1 | Malta to Lebanon | 2013-05-02 | 25 | In this first episode, Shane journeys back to his homeland of Malta where he follows ancient Phoenician trade routes across the sea to the original Land of Milk and Honey, Lebanon. Then, he returns to his Melbourne kitchen where he puts his own twist on ancient culinary traditions. |
| 2 | 2 | The Road to Tripoli | 2013-05-09 | 25 | Shane's mission of gastronomic discovery continues in the ancient port city of Tripoli, famous for its seafood, souks and sweets. He learns how food traditions here have been shaped by centuries of trade and travelers – before heading home to create his own modern day Tripoli banquet that includes samke harra, moghrabieh and traditional booza ice cream. |
| 3 | 3 | Mountain Secrets | 2013-05-16 | 25 | Shane explores mountain hideouts of central Lebanon where he learns age-old methods of meat preservation from members of the ancient and mysterious Druze sect and samples the quintessential kibbeh. Then he takes the knowledge back to his kitchen in Melbourne to create his own take on the Lebanese staples: awarma, kibbeh and of course, hummus! |
| 4 | 4 | Beqaa Valley | 2013-05-23 | 25 | Shane travels to the Beqaa Valley in Lebanon and visits the ancient ruins of Baalbeck including the temple of Bacchus, god of fertility. Here he learns about the origins and art of Middle Eastern winemaking, sampling wine at Lebanon's finest vineyards. After spending time with local farmers tasting some traditionally cured meats, he heads back to his kitchen for mezze! |
| 5 | 5 | The South | 2013-05-30 | 25 | Shane visits the twin port cities of Sidon, where the beautiful people play and pop-up restaurants cover the beach. From the beaches, he heads into the hills to the mountain town of Nabatieh – an area devastated by bombs – to taste some of the best goat's cheese in Lebanon. Back at Maha, he concocts a menu using Lebanon's signature spice mix – za'atar! |
| 6 | 6 | Beirut | 2013-06-06 | 25 | Having seen the traditional side of Lebanon, Shane Delia heads to Beirut, where, despite the visible scars of the recent civil war, a vibrant food scene is driving a renaissance in Arabic cuisine. He visits one of the oldest refugee camps in the world to learn a traditional Palestinian dish, explores the Armenian region of the city and samples some of Lebanon's finest falalel – the original dude food. Shane wraps up his Lebanese experience by using his skills and experiences to create an inspired feast! |
| 7 | 7 | Welcome to Iran | 2013-06-13 | 25 | Shane's gastronomic pilgrimage takes him to Iran, home to one of the world's most influential culinary traditions – Persian cuisine. From the Arabic and African spice coasts of the Persian Gulf, Shane travels inland to Shiraz, city of pomegranates, walled gardens and Persian haute cuisine. En route, Shane visits the ancient city of Persepolis, site of the world's oldest surviving menu. |
| 8 | 8 | Yazd | 2013-06-20 | 25 | Shane takes to the Silk Road to meet nomadic tribes that have been keeping ancient methods of bread making alive. He visits the largest saffron farms in the region and crosses a desert to the hottest city in Iran to taste pashmak – the original candy floss. |
| 9 | 9 | Tehran | 2013-06-27 | 25 | Shane travels from Isfahan, ancient capital of Persia, to Tehran, capital of contemporary Iran. From the ancient city of minarets, palaces and mosques to funky teahouses of the modern city, Shane discovers a very different culinary culture. His preconceptions about Iran thoroughly challenged, he returns to Melbourne to attempt the famously tricky Persian rice. |
| 10 | 10 | The Caspian Sea | 2013-07-04 | 25 | Having travelled close to 2,000 kilometres and gained glimpses into 2,000 years of Persian culinary history, Shane arrives in Iran's north, which borders Turkey and the Caspian Sea. Here the food influences are very Ottoman. In the series finale, he visits the world's oldest covered bazaar. |
Season 2
Episode No.
No. Overall
Title
Airdate
Runtime
Summary
1
11
Ottomania - Food Fit for Sultans (Istanbul)
2014-07-31
25

Shane witnesses the rebirth of Ottoman cuisine and traditions in Istanbul, the exotic city that straddles the continents of Europe and Asia and literally joins East and West.

From their gilded palace on Seraglio Point, the Ottoman Sultans ruled an empire that dominated the Mediterranean between 1453 and 1922, and spread their cuisine and culture throughout the Middle East, North Africa and South Eastern Europe. With renewed pride in their Ottoman past, Turkish chefs are rediscovering the ancient recipes that were served to the Sultans, and serving them to eager diners in restored palaces and renovated timber mansions, or konaks. We join Shane to see how he feels about life as a sultan. Then, wanting to see how the other half lived during Ottoman times, he joins the people of Istanbul in a public "Iftar" feast – a modern revival of an Ottoman tradition.

2
12
Warriors and Wine-dark Seas
2014-08-07
25

Shane alights at Gallipoli almost 100 years after the famed 1915 ANZAC landings, and gets to know the Dardanelles – witnessing how the local cuisine has been influenced by the incursion of so many different cultures.

He also travels to the hinterland to meet people who prepare food according to local traditions, which have survived because of the bonds that hold people together. As he joins a local resident hosting an evening meal on a picturesque terrace in Assos overlooking the Greek island of Lesvos, Shane comes to understand why people have been fighting to get their hands on this fertile and evocative region for millennia.

3
13
Shifting Sands of the Aegean
2014-08-14
25

Shane meets descendants of Greek Muslim families forcibly relocated to Turkey from Greece in the infamous population exchange of 1923, and is introduced to some of the culinary delicacies they brought with them.

Shane discovers how the state of flux that characterises this region has given rise to a cuisine and culture that draws on ancient traditions carried by people moving from one place to the next. Shane meets descendants of Greek Muslim families, forcibly relocated to Turkey from Greece in the infamous population exchange of 1923, and is introduced to some of the culinary delicacies they brought with them.

4
14
Bodrum Peninsula - Turkish Delights from the Deep
2014-08-21
25

Shane hops aboard a glamorous boat, manoeuvres between the billionaires' super yachts and motor cruisers that dock in Bodrum, and heads out over the briny blue to experience the seafood that makes this area a foodie heaven.

Shane heads off to explore the Bodrum Peninsula, on board the Regina – a luxury schooner that featured in the most recent James Bond film, Skyfall. After all, the best way to see the Bodrum Peninsula – the jewel of western Turkey and heartland of Turkish Aegean cuisine – is by sea.

5
15
Fethiye - Land of Plenty
2014-08-28
25

Shane visits Fethiye, an English tourist haven, to see whether local Turkish food culture has survived the onslaught of mass tourism.

It has always been one of Turkey's most fertile and ecologically diverse regions. Today, it's ground-zero for every English tourist seeking to escape the British climate. Shane wants to see what's going on beyond the beach bars and the bikini-clad tourists who flock to this impossibly picturesque seashore. Has the local cuisine – celebrated for thousands of years for its creative use of the peerless fresh produce and wild ingredients – been swamped by a glut of cheeseburgers, French fries and warm lager?

6
16
Cappadocia - The Heart of Anatolian Cuisine
2014-09-04
25

Shane explores some of Turkey's most famous flavours in Cappadocia, home to an ancient landscape, along with ancient underground cooking techniques.

The extraordinary – and very suggestive – "fairy chimneys" of Cappadocia are the result of a fairly mundane geological process, and for thousands of years, the locals have been chipping into the "tuff" to create massive underground cities. And from those cities have emerged some remarkable dishes, cooked using ancient underground techniques.

7
17
Food Culture at the Dawn of Civilisation (Gaziantep and Mardin)
2014-09-11
25

Shane journeys to the headlands of the Euphrates and Tigris Rivers in Turkey and encounters living history on a plate.

The flavours and dishes he experiences here are unlike any others he's discovered on his journey throughout Turkey. This is a cultural and culinary melting pot where political borders are meaningless. From a pistachio plantation in Gaziantep to an Assyrian kitchen in Midyat, Shane's palate is introduced to an ancient heritage that's still evolving today.

8
18
Trabzon - A Hungering for Hamsi
2014-09-18
25

Shane journeys north across the Pontic Mountains, to reach the Black Sea port town of Trabzon, where he tracks down a very special fish, known as the hamsi, as well as recipes that do this small, anchovy-like creature, justice.

Shane joins a long and venerable list of adventurers whose epic voyages have landed them in the legendary Black Sea port town of Trabzon. Along the way, Shane undertakes a culinary odyssey, stopping in villages while crossing the Pontic Mountains, to meet mountain folk who share the secrets of perfecting their simplistic food, including sutlac (rice pudding), and kuymak (a cheese dish), which is accompanied by cornbread.

9
19
Ordu - Where Georgia's Always on Your Mind
2014-09-25
25

In Ordu, Shane is introduced to a cuisine whose culinary heritage lies to the north in Georgia, the former Soviet state. As he joins the hazelnut harvest, and visits an emerald green tea plantation, Shane is introduced to an entirely different – and very surprising – school of Turkish cooking.

10
20
Istanbul Secrets: The Culinary Underbelly
2014-10-03
25

In Episode 1, Shane got to know the public face of Istanbul. In Episode 10, he peeks behind the veil to discover another side of this city, and its culinary traditions, rarely seen by visitors.

Shane arrives back in Istanbul along the Bosphorus in a private launch, past jet boats docked at renovated wooden waterside palaces, and crossing the wake of countless passenger boats. He can tell there's a whole lot going on here below the surface than meets the eye, and he's determined to find a way to access Istanbul's secret culinary world.
Season 3
| Episode No. | No. Overall | Title | Airdate | Runtime | Summary |
| --- | --- | --- | --- | --- | --- |
| 1 | 21 | Lost in Fes | 2015-10-15 | 25 | Ever wondered how chefs invent new dishes? Enter the mind of a master chef, as Shane Delia begins a brand new spice journey in the ancient Moroccan city of Fes. Throughout this series, Shane will seek out new ideas to try in his test kitchen, before serving up these creations to paying customers at his Melbourne restaurant, Maha. |
| 2 | 22 | Desert Oasis | 2015-10-22 | 25 | For centuries, roaming caravans have crossed the Saharan desert en-route to Morocco, bringing with them exotic spices and trade goods that have infused the cuisine of Northern Africa. Shane Delia spends an evening under the stars at a desert camp, immersing himself in the tastes and techniques of Amazigh cookery. |
| 3 | 23 | Mountains of Food | 2015-10-29 | 25 | The peaks and valleys of the High Atlas Mountains are rich pickings for Shane Delia as he continues his spice journey through Morocco. In a mountain village, Shane is taught the traditional methods of preparing and cooking couscous. It turns out to be a laborious, but rewarding process. The question is, how will Shane adopt these ancient techniques in his modern test kitchen? |
| 4 | 24 | Marrakech | 2015-11-05 | 25 | Shane Delia has arrived in Marrakech on a mission to uncover the tastes and cooking techniques of this dusty and exotic city. Exploring a rabbit warren of alleys, he makes discoveries in the bustling souk. Using this newfound knowledge, Shane goes to work in his Melbourne test kitchen, creating new dishes to serve to his restaurant customers. |
| 5 | 25 | African Coast | 2015-11-12 | 25 | Morocco's windswept Atlantic Coast is home to the world's largest sardine fishery and Shane Delia is keen to sample some of the local fish kefta, along with Morocco's marinade mainstay chermoula. Interestingly, it's the region's sought after argan oil that really allows Shane to unleash his creativity in his test kitchen. |
| 6 | 26 | Moor is More | 2015-11-19 | 25 | The Arabs invaded what is now Spain and Portugal in 711 AD, morphing the somewhat dysfunctional Christian society into an Arabic-speaking, majority Muslim state within the span of three generations. Shane Delia arrives in Andalucía and uncovers a cuisine whose roots are firmly grounded in Islamic cookery. |
| 7 | 27 | Spanish Coast | 2015-11-26 | 25 | Sherry has gained a bad reputation as a cheap tipple enjoyed by older folk, but in Spain's Sherry Triangle, the drink is loved by all. Shane Delia discovers the complex and nuanced flavours of this refreshing aperitif that is the perfect accompaniment to Andalucían cuisine and culture. But it's Michelin-starred chef Ángel León that really inspires Shane to lift his game - and back in his test kitchen the pressure is on! |
| 8 | 28 | Home of Tapas | 2015-12-03 | 25 | Spain's top shelf jamón ibérico is widely considered to be the world's best ham. Shane Delia travels to a pig farm in the Spanish hills to see the unique environment needed to produce ham of this quality. Later, on a bar crawl in Seville, Spain's home of tapas, Shane finds another dose of inspiration. Upon returning to his Melbourne test kitchen, he attempts to create the ultimate tapas menu. |
| 9 | 29 | The City That Changed the World | 2015-12-10 | 25 | With the arrival of the Moors, Spanish cuisine was changed forever. The group introduced new foods to the region, along with cooking techniques and tastes. Nowhere is this more apparent than in the southern city of Cordoba. Here, Shane Delia immerses himself in the creation of one of Spain's best cold soups salmorejo, before learning the recipe to Fighting Bull's tail stew. With so much inspiration, Shane is spoilt for choice as he attempts to reinvent these recipes for his restaurant clientele. |
| 10 | 30 | Made in Spain | 2015-12-17 | 25 | The spice journey comes to an end for Shane Delia, as he makes his way from Granada down to Malaga on Spain's Mediterranean coast. But Shane's love affair with the cuisine of this region is only just beginning, and this final episode sees the Aussie chef learn new recipes from some of Andalucía's most accomplished (and humble) chefs. Back in his test kitchen, Shane's head is bursting with new ideas for dishes to serve up to his restaurant's diners. |
Series Cast
| | | | |
| --- | --- | --- | --- |
| | Shane Delia | as Shane Delia | |
Related News
TVMaze