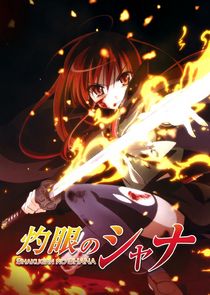 Sakai Yuuji, a high school student who expected his normal life to last forever, is dead. When he was on his way home he witnessed a shocking view as the world suddenly froze: people were engulfed by blue flames and a monster resembling a large doll swallowed them. Just as the monster prepared to consume Yuuji, a sword-wielding girl in black attire with flaming red eyes and hair that burns like embers saved him from the monster. The girl called herself a "Flame Haze" who hunts the "Guze no Tomogara", creatures from another world. As Yuuji noticed a blue flame in his chest, she called him a "Torch", a temporary replacement, saying that the "real" Yuuji's existence had already ended. Unfazed, Yuuji befriended the strange girl, named her "Shana", and joined her fight against Tomogara and other Flame Hazes.
Series Overview
Rating
imDb Rating: 7.2 (834 Votes)
Metascore: N/A
Plot
Yuji is returning from school when suddenly time stops and monsters appear to devour people. He is not frozen, however. When one of the monsters spots him, he is saved by Shana, the great equalizer, who tells him he's a fading spirit.
Details
Rated: TV-14
Released: 16 Sep 2005
Runtime: N/A
Genre: Animation, Action, Adventure, Drama, Fantasy, Romance
Director: N/A
Writer: N/A
Actors: Satoshi Hino, Rie Kugimiya, Kristian Ayre, Paul Dobson
Language: Japanese
Country: Japan
Awards: N/A
Total Seasons: 3
Previous Episode
The End in the Distance
Episode 3x24; Mar 23, 2012
Previous Episodes 3x24: The End in the Distance 3x23: God's Dream 3x22: Stranger's Dream 3x21: One Reason 3x20: The Egg of the World 3x19: What the Wind Calls 3x18: Spiral of Conflict 3x17: For Whose Sake? 3x16: To Battle, Once More

View All Episodes
Cast
Ayako Kawasumi as Kazumi Yoshida
Hirofumi Nojima as Ayato Ike
Kenji Nojima as Keisaku Satou
Rie Kugimiya as Shana
Sho Hayami as Sairei no Hebi
Masashi Ebara as Alastor
View Full Cast
Skip to:
Season 1
| Episode No. | No. Overall | Title | Airdate | Runtime | Summary |
| --- | --- | --- | --- | --- | --- |
| 1 | 1 | The End of Everything, the One Beginning | 2005-10-05 | 25 | |
| 2 | 2 | Burning Flame | 2005-10-12 | 25 | |
| 3 | 3 | Torch and Flame Haze | 2005-10-19 | 25 | |
| 4 | 4 | Flame Haze of Illusion | 2005-10-26 | 25 | |
| 5 | 5 | Respective Thoughts | 2005-11-02 | 25 | |
| 6 | 6 | Complication. Invocation. Confrontation | 2005-11-09 | 25 | |
| 7 | 7 | The Two Flame Hazes | 2005-11-16 | 25 | |
| 8 | 8 | The Magnificent Goblet | 2005-11-23 | 25 | |
| 9 | 9 | The Poolside of Love and Desire | 2005-11-30 | 25 | |
| 10 | 10 | Entwined Feelings | 2005-12-07 | 25 | |
| 11 | 11 | Yuji, Shana, and a Kiss | 2005-12-14 | 25 | |
| 12 | 12 | The Flower That Blooms in the Cradle | 2005-12-21 | 25 | |
| 13 | 13 | Declaration of War Behind the School Building | 2005-01-04 | 25 | |
| 14 | 14 | A Remarkable Person | 2006-01-11 | 25 | |
| 15 | 15 | The Day When the Flame Was Born | 2006-01-18 | 25 | |
| 16 | 16 | The Flame-Haired Scorching-Eyed Slayer | 2006-01-25 | 25 | |
| 17 | 17 | A New Beginning | 2006-02-01 | 25 | |
| 18 | 18 | A Shattering Wish | 2006-02-08 | 25 | |
| 19 | 19 | In the Midst of Battle | 2006-02-15 | 25 | |
| 20 | 20 | Heartless Wilhelmina | 2006-02-22 | 25 | |
| 21 | 21 | Diverging Feelings | 2006-03-01 | 25 | |
| 22 | 22 | The Flickering Flame | 2006-03-08 | 25 | |
| 23 | 23 | Battle at the Dawn Star Temple | 2006-03-15 | 25 | |
| 24 | 24 | Crimson Thoughts | 2006-03-22 | 25 | |
Season 2
| Episode No. | No. Overall | Title | Airdate | Runtime | Summary |
| --- | --- | --- | --- | --- | --- |
| 1 | 25 | The Time for the Second Time | 2007-10-05 | 25 | |
| 2 | 26 | The Prologue of Everything | 2007-10-12 | 25 | |
| 3 | 27 | The Suspicious Transfer Student | 2007-10-19 | 25 | |
| 4 | 28 | The Anxious Girls | 2007-10-26 | 25 | |
| 5 | 29 | Family Dining | 2007-11-02 | 25 | |
| 6 | 30 | Eve of Trouble | 2007-11-09 | 25 | |
| 7 | 31 | Ike Hayato : Day of Glory | 2007-11-16 | 25 | |
| 8 | 32 | The Door to the Past | 2007-11-23 | 25 | |
| 9 | 33 | The Milestone of Sorrow | 2007-11-30 | 25 | |
| 10 | 34 | The Man Who Returned | 2007-12-07 | 25 | |
| 11 | 35 | Two People's Promise | 2007-12-14 | 25 | |
| 12 | 36 | Fall Festival Clearly Begins | 2007-12-21 | 25 | |
| 13 | 37 | Convergence, Then a Hint | 2008-01-11 | 25 | |
| 14 | 38 | Eternal Lovers | 2008-01-18 | 25 | |
| 15 | 39 | Awakening | 2008-01-25 | 25 | |
| 16 | 40 | Everlasting Love | 2008-02-01 | 25 | |
| 17 | 41 | Each and Every Person's Path | 2008-02-08 | 25 | |
| 18 | 42 | Complexed Yuuji | 2008-02-15 | 25 | |
| 19 | 43 | The Thing I Couldn't Say | 2008-02-22 | 25 | |
| 20 | 44 | Madder Red Struggle to the Death | 2008-02-29 | 25 | |
| 21 | 45 | Combined Strength | 2008-03-07 | 25 | |
| 22 | 46 | Christmas Eve | 2008-03-14 | 25 | |
| 23 | 47 | Quickening Peril | 2008-03-21 | 25 | |
| 24 | 48 | The Ones You Must Protect | 2008-03-28 | 25 | |
Season 3
| Episode No. | No. Overall | Title | Airdate | Runtime | Summary |
| --- | --- | --- | --- | --- | --- |
| 1 | 49 | Lost Existence | 2011-10-08 | 25 | |
| 2 | 50 | Things to Come | 2011-10-15 | 25 | |
| 3 | 51 | To Start the Journey | 2011-10-22 | 25 | |
| 4 | 52 | Reunions and Chance Meetings | 2011-10-29 | 25 | |
| 5 | 53 | The Captured Flame Haze | 2011-11-05 | 25 | |
| 6 | 54 | Inside the Palm of Their Hands | 2011-11-12 | 25 | |
| 7 | 55 | Shrine Gates | 2011-11-19 | 25 | |
| 8 | 56 | The War Begins | 2011-11-26 | 25 | |
| 9 | 57 | To the Palace of Stars | 2011-12-03 | 25 | |
| 10 | 58 | Crossing | 2011-12-10 | 25 | |
| 11 | 59 | Feelings Heard | 2011-12-17 | 25 | |
| 12 | 60 | Words of a Vow | 2011-12-24 | 25 | |
| 13 | 61 | From Rift to Rift | 2012-01-07 | 25 | |
| 14 | 62 | Declaration of the Grand Order | 2012-01-14 | 25 | |
| 15 | 63 | Rout in the Rain | 2012-01-21 | 25 | |
| 16 | 64 | To Battle, Once More | 2012-01-28 | 25 | |
| 17 | 65 | For Whose Sake? | 2012-02-04 | 25 | |
| 18 | 66 | Spiral of Conflict | 2012-02-11 | 25 | |
| 19 | 67 | What the Wind Calls | 2012-02-18 | 25 | |
| 20 | 68 | The Egg of the World | 2012-02-25 | 25 | |
| 21 | 69 | One Reason | 2012-03-03 | 25 | |
| 22 | 70 | Stranger's Dream | 2012-03-10 | 25 | |
| 23 | 71 | God's Dream | 2012-03-17 | 25 | |
| 24 | 72 | The End in the Distance | 2012-03-23 | 25 | |
Series Cast
| | | | |
| --- | --- | --- | --- |
| | Ayako Kawasumi | as Kazumi Yoshida | |
| | Hirofumi Nojima | as Ayato Ike | |
| | Kenji Nojima | as Keisaku Satou | |
| | Rie Kugimiya | as Shana | |
| | Sho Hayami | as Sairei no Hebi | |
| | Masashi Ebara | as Alastor | |
| | Satoshi Hino | as Yūji Sakai | |
| | Mamiko Noto | as Hecate | |
Related News
TVMaze