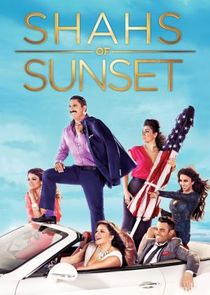 Bravo gives viewers a never-before-seen look inside the captivating lives of six young Persian-American friends in Los Angeles when Shahs of Sunset premieres on Sunday, March 11th at 10PM ET/PT. Partnering for the first time with Ryan Seacrest Productions, the network's latest docu-series follows a group of friends who are trying to juggle their active social lives and up-and-coming careers while balancing the demands of their families and traditions. These passionate socialites are fervent on the dating and party scene, but seeking approval from their families they face pressures to settle down and marry within the community. From outings on Rodeo Drive to traditional Persian feasts at home, this series celebrates the unique lifestyle of a group of friends who have worked hard for what they have and are not afraid to flaunt it.
Series Overview
Rating
imDb Rating: 4.7 (1,258 Votes)
Metascore: N/A
Plot
Follows a group of affluent young Persian-American friends who juggle their flamboyant, fast-paced L.A. lifestyles with the demands of their families and traditions.
Details
Rated: N/A
Released: 11 Mar 2012
Runtime: 44 min
Genre: Documentary
Director: N/A
Writer: N/A
Actors: Reza Farahan, Golnesa Gharachedaghi, Mercedes Javid, Asa Soltan Rahmati
Language: English
Country: USA
Awards: N/A
Total Seasons: 7
Previous Episode
Reunion Part 2
Episode 7x15; Nov 29, 2018
The dramatic sit-down continues as the group recounts a series of exhilarating highs and challenging lows. Destiney reexamines the emotionally-draining search for her father and shares what she found out about him. Nema and Golnesa come clean about just how far their flirtatious encounters went, while Mike and Reza deal with the remnants of their fallout in Las Vegas. Mercedes, with Vida and Tommy by her side, divulges secrets about her wedding and their hopes for the future.
Previous Episodes 7x15: Reunion Part 2 7x14: Reunion Part 1 7x13: A Very Mj Wedding 7x12: Bless This Mess 7x11: Vida Knows Best 7x10: The Prenup Hiccup 7x9: Sex, Lies, and iPhone Videos 7x8: Clash The Persians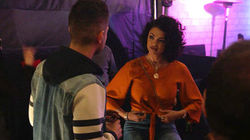 7x7: It's Passover: Let Your Girlfriend Go!

View All Episodes
Cast
Mercedes Javid as Mercedes Javid
Shervin Roohparvar as Shervin Roohparvar
Sammy Younai as Sammy Younai
Lilly Ghalichi as Lilly Ghalichi
Asifa Mirza as Asifa Mirza
Reza Farahan as Reza Farahan
View Full Cast
Skip to:
Season 1
| Episode No. | No. Overall | Title | Airdate | Runtime | Summary |
| --- | --- | --- | --- | --- | --- |
| 1 | 1 | Image is Everything | 2012-03-11 | 60 | |
| 2 | 2 | It's My Birthday Bitches | 2012-03-18 | 60 | |
| 3 | 3 | Champagne Wars | 2012-03-25 | 60 | |
| 4 | 4 | Waiting for MJ | 2012-04-01 | 60 | |
| 5 | 5 | The Shahs of Great Neck | 2012-04-08 | 60 | |
| 6 | 6 | Old Friends New Problems | 2012-04-15 | 60 | |
Season 2
| Episode No. | No. Overall | Title | Airdate | Runtime | Summary |
| --- | --- | --- | --- | --- | --- |
| 1 | 7 | The Whisky Makes You Frisky | 2012-12-02 | 60 | |
| 2 | 8 | The Persian Nose Business | 2012-12-09 | 60 | |
| 3 | 9 | I Love You But I Dont Like You | 2012-12-16 | 60 | |
| 4 | 10 | You Shouldn't Have Worn That Dress | 2012-12-23 | 60 | |
| 5 | 11 | Please Bring a Man | 2012-12-30 | 60 | |
| 6 | 12 | You Took an Ambien | 2013-01-06 | 60 | |
| 7 | 13 | Mo-Cedes, Mo Problems | 2013-01-13 | 60 | |
| 8 | 14 | Happy New Year | 2013-01-20 | 60 | |
| 9 | 15 | Hard for Me to Say I'm Sorry | 2013-01-27 | 60 | |
| 10 | 16 | Persh-A-Pelooza | 2013-02-10 | 60 | |
| 11 | 17 | Reunion Part 1 | 2013-02-17 | 60 | |
| 12 | 18 | Reunion Part 2 | 2013-03-03 | 60 | |
| 13 | 19 | Lost Footage | 2013-03-10 | 60 | |
Season 3
| Episode No. | No. Overall | Title | Airdate | Runtime | Summary |
| --- | --- | --- | --- | --- | --- |
| 1 | 20 | Only Guilty Men Bring Flowers | 2013-11-05 | 60 | |
| 2 | 21 | These People Are Not Your Friends | 2013-11-12 | 60 | |
| 3 | 22 | Bad Things Happen When I Eat Salami | 2013-11-19 | 60 | |
| 4 | 23 | Sorry. Not Sorry. | 2013-11-26 | 60 | |
| 5 | 24 | Fresh Off the Boat | 2013-12-03 | 60 | |
| 6 | 25 | Persian Pride | 2013-12-08 | 60 | |
| 7 | 26 | The Velvet Rage | 2013-12-10 | 60 | |
| 8 | 27 | Caught in a Bad Bro-Mance | 2013-12-17 | 60 | |
| 9 | 28 | Sometimes You Just Have to Drink It Off | 2014-01-07 | 60 | |
| 10 | 29 | The Buttery, Chocolate Croissant | 2014-01-14 | 60 | |
| 11 | 30 | In Love There Must Be Torture | 2014-01-21 | 60 | |
| 12 | 31 | Return to the Homeland — Part 1 | 2014-01-28 | 60 | |
| 13 | 32 | Return to the Homeland — Part 2 | 2014-02-04 | 60 | |
| 14 | 33 | Is This 40? | 2014-02-11 | 60 | |
| 15 | 34 | Reunion - Part 1 | 2014-02-18 | 60 | |
| 16 | 35 | Reunion - Part 2 | 2014-02-25 | 60 | |
Season 4
| Episode No. | No. Overall | Title | Airdate | Runtime | Summary |
| --- | --- | --- | --- | --- | --- |
| 1 | 36 | I Am Gay Ghandi | 2015-03-02 | 60 | |
| 2 | 37 | What Happened in Turkey? | 2015-03-09 | 60 | |
| 3 | 38 | The Devil's Staycation | 2015-03-16 | 60 | |
| 4 | 39 | The Secret Is Out | 2015-03-23 | 60 | |
| 5 | 40 | It's Nuclear Now | 2015-03-30 | 60 | |
| 6 | 41 | Will You Marry Me? | 2015-04-06 | 60 | |
| 7 | 42 | Crunch vs. Munch | 2015-04-13 | 60 | |
| 8 | 43 | An Inconclusive Truth | 2015-04-20 | 60 | |
| 9 | 44 | Can't Fake The Funk | 2015-04-27 | 60 | |
| 10 | 45 | One Wedding and a Dog Funeral | 2015-05-04 | 60 | |
| 11 | 46 | Tale of Two Parties | 2015-05-11 | 60 | |
| 12 | 47 | Bubbles of Fertility | 2015-05-18 | 60 | |
| 13 | 48 | Big Trouble in a Little Phuket | 2015-05-25 | 60 | |
| 14 | 49 | Lions and Buddhists and Persians, Oh My! | 2015-06-01 | 60 | |
| 15 | 50 | Reunion Part 1 | 2015-06-08 | 60 | |
| 16 | 51 | Reunion Part 2 | 2015-06-15 | 60 | |
Season 5
| Episode No. | No. Overall | Title | Airdate | Runtime | Summary |
| --- | --- | --- | --- | --- | --- |
| 1 | 52 | Persian of the Pacific | 2016-04-10 | 60 | |
| 2 | 53 | C'est La Vida | 2016-04-17 | 60 | When Reza announces his plans for a surprise wedding, he encounters an unexpected foe - MJ. The cracks in Mike's relationship begin to show as Jessica challenges her husband about what she expects from married life. Asa struggles with her new family business, Asa Kaftans, and MJ prepares to introduce the new man in her life to her ultimate critic, her mother Vida. |
| 3 | 54 | Oy Vey, MJ! | 2016-04-24 | 60 | As vGG's health issues escalate, she calls on Shervin for support during a painful medical procedure. In an effort to rebuild relationships with the group, Mike and Jessica throw a backyard Shabbat party, but tensions fray when MJ reveals a secret Reza's not ready to share. |
| 4 | 55 | Are We Out Of The Woods Yet? | 2016-05-01 | 60 | Fashion designer Asa deals with the stress of a new business and a photo shoot for her rapidly expanding new line, Asa Kaftans. The group plans a camping trip to address GG's increasingly erratic behavior, and a night at home with Mike and Jessica reveals bigger issues in their marriage. |
| 5 | 56 | Back To Nurture | 2016-05-08 | 60 | GG's health problems take center stage during a camping trip-turned-intervention. At the campground, a checked-out Mike continues to deal with his crumbling marriage, but refuses to confide in his friends. A ropes course bonds the group together, but when GG refuses to accept her real issues, the group must take matters into their own hands. |
| 6 | 57 | A Cat-astrophic Night | 2016-05-15 | 60 | Back from camping, an invigorated MJ focuses on her new goal of starting a family with Tommy. Mike and Jessica start therapy, and Shervin gives his best game on a date with a sexy Australian. At Asa's mother's retirement party, the group discovers a shocking bombshell about Mike. |
| 7 | 58 | Surprise! You're Married | 2016-05-22 | 60 | Reza and Asa head to Palm Springs to plan his surprise wedding to Adam. When a tight-lipped Mike shows up without his wife, MJ's insecurities come out to play, and GG attempts to keep the peace. And as an unsuspecting Adam arrives in the desert, Reza's anxiety rises to the surface. Has Adam healed enough from last year's canceled wedding? |
| 8 | 59 | Six Persians Walk Into A Bar | 2016-06-05 | 60 | Back from Palm Springs, MJ faces fallout from her disintegrating relationship with Tommy. Newly wed and brimming with fresh confidence, Reza throws himself headfirst into a new passion: stand-up comedy. And when the group rallies together for Reza's debut performance at a local improv night, Mike makes a valiant attempt at winning his wife back. |
| 9 | 60 | Lights, Camera, Kaftans! | 2016-06-12 | 60 | After their night of romance, Mike and Jessica meet to discuss how to repair their relationship. Meanwhile, MJ confides in Asa that her relationship with Tommy has worsened and he's moved out. Asa's debut fashion show for Asa Kaftans brings high glamor and big drama, when Shervin accosts GG about rumors concerning the severity of her illness. |
| 10 | 61 | Belize It Or Not | 2016-06-19 | 60 | In an effort to save Mike and Jessica's marriage, Reza plansa last minute group trip to Belize where the couple can work out their issues. As the group touches down in the Belizean jungle, Mike waits nervously for his wife to arrive. Alone without her man, MJ contemplates life without Tommy, and GG's resentments toward Shervin explode during a tense first night dinner. |
| 11 | 62 | Trouble In Paradise | 2016-06-26 | 60 | Attempting to forget his marital problems, Mike escapes to the Belizean rainforest for a day of sightseeing with Shervin, Nima and GG. Back at the resort, MJ confides to Asa that her Vida-like ways may have cost her Tommy. A surprise visitor shocks the group, and Reza confronts Mike with newfound proof about his marriage, forcing Mike to reveal a dark secret. |
| 12 | 63 | Is It Too Late to Say I'm Sorry? | 2016-07-10 | 60 | An altercation between Reza and GG lowlights a trip to the Mayan ruins. Also: A remorseful Mike tries to win his wife back; GG engages in a drastic health regimen, shocking her inner circle; and Reza courageously returns to the comedy stage. |
| 13 | 64 | Mr. Shouhed's Wild Ride | 2016-07-17 | 60 | |
| 14 | 65 | La Vida Loca | 2016-07-24 | 60 | |
| 15 | 66 | OMGG | 2016-07-31 | 60 | |
| 16 | 67 | Reunion Part 1 | 2016-08-02 | 60 | Golneza and Reza pick up their relationship where it left off; Asa and Mercedes butt heads; Mike opens up about his pending divorce from Jessica; Mama Vida Javid expresses brutally honest opinions about her daughter's tight-knit circle. |
| 17 | 68 | Reunion Part 2 | 2016-08-03 | 60 | Asa is chastised for refusing to share her ``real'' life on camera; Golnesa faces difficult truths about her rheumatoid arthritis; a heartbreaking meltdown leads to an unexpected moment. |
Season 6
| Episode No. | No. Overall | Title | Airdate | Runtime | Summary |
| --- | --- | --- | --- | --- | --- |
| 1 | 69 | The Miracle Baby | 2017-07-16 | 60 | MJ and Tommy butt heads with a neighbor; Asa reveals her ``miracle'' pregnancy to Reza; former ``train wreck'' GG practices Zen; Mike hosts a housewarming party; Asa's announcement forces MJ and Reza to face a crossroads in their own lives. |
| 2 | 70 | A Long Trip for a Short Apology | 2017-07-23 | 60 | Reza and Adam throw an anniversary celebration, during which Shervin reveals he is an exclusive relationship with Annalise; Shervin hosts a party and invites Reza and GG; GG apologizes to Adam while avoiding Reza; MJ and Reza visit her father. |
| 3 | 71 | Hava Nagila, Hava Tequila | 2017-07-30 | 60 | A planned trip to Israel causes a rift; Reza throws a Peace in the Middle East costume party to bring about harmony; GG tries responsibility on for size during LA Fashion Week; MJ and Tommy decide to take the next step toward becoming parents. |
| 4 | 72 | Let My People Go | 2017-08-06 | 60 | |
| 5 | 73 | Dreidels and Betrayals | 2017-08-13 | 60 | |
| 6 | 74 | Hooray For Holy Land! | 2017-08-20 | 60 | |
| 7 | 75 | You Got Sherv'd | 2017-08-27 | 60 | |
| 8 | 76 | The Art Of Deflection | 2017-09-10 | 60 | |
| 9 | 77 | A Tale Of Two Turkeys | 2017-09-17 | 60 | |
| 10 | 78 | The Lying Game | 2017-09-24 | 75 | MJ takes steps to renovate her condominium; Shervin and Annalise have an unwanted guest who brings some unwanted news; GG's boyfriend helps her pack; Reza plans to put on a play of his own; MJ tells her mother that she wants to have a baby. |
| 11 | 79 | The Shahs Take Manhattan | 2017-10-01 | 60 | As the crew sets out on a trip to see GG's performance, everyone is at a crossroads in their relationships; Reza and Adam meet with a gay rabbi to find some clarity in regards to their future; MJ and Tommy endure the aftermath of a fight. |
| 12 | 80 | Sex (Tips) In The City | 2017-10-08 | 60 | GG prepares for the opening night of her play. Destiney embarks upon a juicy new business venture, but her big night is interrupted when Shervin arrives and their previous fight bubbles to the surface. LaToya Jackson gives Asa advice on how to deal with being a member of a famously infamous family. Tommy, MJ and some of the crew enjoy a warm welcome when they visit Tommy's family in Queens. The risqué subject of GG's play may put her newly-engaged status in danger and her newfound Oosa is put to the test on the night of her first performance. |
| 13 | 81 | The Thread That Broke The Shahs' Backs | 2017-10-15 | 60 | GG and Reza uncover some information regarding Mike and Jessica's relationship and decide to take action. Asa, nearing the end of her pregnancy, makes a decision regarding her future with the group. Reza makes a statement to the world with his play. Adam and Reza's small tiffs come to a head when Reza makes a comment that may push Adam over the edge. At the Winter Wonderland Ball, GG and Reza put their plan to run interference between Jessica, Mike and Mike's mother into action, yielding surprising results. Mike's relationship is hurled into perspective, but Reza and Adam's remains on the edge. |
| 14 | 82 | Reunion Part 1 | 2017-10-22 | 60 | |
| 15 | 83 | Reunion Part 2 | 2017-10-29 | 60 | |
Season 7
| Episode No. | No. Overall | Title | Airdate | Runtime | Summary |
| --- | --- | --- | --- | --- | --- |
| 1 | 84 | A Short Kiss Goodnight | 2018-08-02 | 60 | The Shahs are back! Mike, having finally begun to move past his marriage drama, is single and ready to mingle with new crush Mona, who he invites (along with her brother Nema) on a trip to Big Bear. Nema meanwhile, only has eyes for GG, who is still in the middle of a contentious divorce. On the group trip up to the mountains, the Shahs work to maintain their balance on the slopes and back at their shared house. |
| 2 | 85 | It's My Party and I'll Make You Cry If I Want To | 2018-08-09 | 60 | At the end of a fun-filled vacation, Reza and MJ make an exciting announcement that incites an argument amongst the group. Back in LA, new homeowner Mike has a reluctant but hardworking project manager in Reza, who is slowly becoming irritated with Mike's reliance on him. MJ plans a Valentine's Day party, but her hopes for a love-fest are dashed as the night ends with a dramatic showdown. Nema, on the other hand, is in the midst of a relationship crisis and realizes he needs to come clean about his flirtation with GG to his live-in girlfriend. |
| 3 | 86 | A Date with Destiney | 2018-08-16 | 60 | MJ rides an emotional roller coaster as she deals with the fallout from the Valentine's Day party, as well as her dad's declining health. Nema comes clean to his live-in girlfriend about his flirtation with GG and faces the consequences. Reza, whose husband Adam has been not-so-subtly hinting about having a baby for over a year now, considers an investment opportunity that would likely push the baby plans back. Meanwhile, Destiney begins to dip her toes back into the dating pool. |
| 4 | 87 | Javid Shah: Long Live the King | 2018-08-23 | 60 | After the tragic loss of her father, the Shahs rally around MJ as she tries to maintain her stability while continuing to plan her wedding. Nema is put in an awkward position when his crush GG and his ex-girlfriend, who he still has feelings for, come face-to-face at his sister Mona's birthday party. GG takes the next steps in her divorce from her estranged husband, in the hopes of moving forward. |
| 5 | 88 | Bridal Bath Wrath | 2018-09-06 | 60 | As she prepares for her Bridal Bath in Palm Springs, MJ continues to deal with the loss of her beloved father and becomes increasingly frustrated with Tommy's lack of participation in planning their wedding. Reza takes the plunge and invests a large sum of money into his new business – without telling Adam. GG is also starting a new business with help from Nema, who she begins to warm up to. Against his mother's wishes, Mike also decides to take on a new business venture. |
| 6 | 89 | Emeralds Aren't Forever | 2018-09-13 | 60 | The Shahs ring in Nowruz (Persian New Year) with food, fun, and plenty of drama. Haunted by his past, Mike chooses not to invite his girlfriend to the festivities at his mother's house – and everyone has an opinion. Reza grows anxious in his attempts to tell Adam about his costly haircare line investment. After stalling for a bit, GG attempts to take the next steps in her divorce proceedings. |
| 7 | 90 | It's Passover: Let Your Girlfriend Go! | 2018-09-20 | 60 | Hoping to get to the root of her issues with men, Destiney hires a private detective to find her father. This inspires Reza to confront his own daddy issues and he realizes he may not be ready for the children Adam so desperately wants. Mike takes tentative steps to move forward in his relationship with Morgan, but the group attempts to push things further than he is comfortable with. |
| 8 | 91 | Clash The Persians | 2018-09-27 | 60 | |
| 9 | 92 | Sex, Lies, and iPhone Videos | 2018-10-11 | 60 | |
| 10 | 93 | The Prenup Hiccup | 2018-10-18 | 60 | |
| 11 | 94 | Vida Knows Best | 2018-10-25 | 60 | |
| 12 | 95 | Bless This Mess | 2018-11-01 | 60 | |
| 13 | 96 | A Very Mj Wedding | 2018-11-08 | 60 | |
| 14 | 97 | Reunion Part 1 | 2018-11-15 | 60 | As the reunion kicks off, the Shahs waste no time shaking things up. Newlyweds Mercedes and husband Tommy have life-changing news to share with their friends, but only after they've spoken with Mercedes' opinionated mother Vida. Reza, joined by his husband Adam, recounts the challenging hurdles that led them to the brink of divorce. Mike finds himself on the defense after talk of his most recent failed relationship leads Destiney and Nema to question his treatment of women. |
| 15 | 98 | Reunion Part 2 | 2018-11-29 | 60 | The dramatic sit-down continues as the group recounts a series of exhilarating highs and challenging lows. Destiney reexamines the emotionally-draining search for her father and shares what she found out about him. Nema and Golnesa come clean about just how far their flirtatious encounters went, while Mike and Reza deal with the remnants of their fallout in Las Vegas. Mercedes, with Vida and Tommy by her side, divulges secrets about her wedding and their hopes for the future. |
Series Cast
| | | | |
| --- | --- | --- | --- |
| | Mercedes Javid | as Mercedes Javid | |
| | Shervin Roohparvar | as Shervin Roohparvar | |
| | Sammy Younai | as Sammy Younai | |
| | Lilly Ghalichi | as Lilly Ghalichi | |
| | Asifa Mirza | as Asifa Mirza | |
| | Reza Farahan | as Reza Farahan | |
| | Golnesa Gharachedaghi | as Golnesa Gharachedaghi | |
| | Asa Soltan Rahmati | as Asa Soltan Rahmati | |
| | Mike Shouhed | as Mike Shouhed | |
Related News
TVMaze