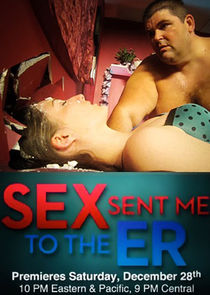 Having sex while skydiving? Falling in a grave after having sex in a cemetery? Being bit by a giant centipede during sex? These are just some of the extraordinary situations ordinary people get themselves into while being too adventurous with their significant others. But when dreaming up these outrageous fantasies, most don't expect such activities to land them in the emergency room as a result. We head into the emergency room for horrifying and hilarious sex adventures turned medical mishaps, retold by emergency room physicians and the actual couples who took part in the sexual escapades.
Series Overview
Rating
imDb Rating: 5.5 (314 Votes)
Metascore: N/A
Plot
Couples, friends and ER doctors reminisce about hilariously horrifying injuries that stemmed from sexual escapades.
Details
Rated: TV-14
Released: 28 Dec 2013
Runtime: 60 min
Genre: Documentary, Comedy, Drama
Director: N/A
Writer: N/A
Actors: Michael Guirguis, Yvette Esmeralda paz Favela, Kara C. Roberts, Geoffrey Kennedy
Language: English
Country: USA
Awards: N/A
Total Seasons: 4
Previous Episode
Top 10 Moments in the Wild
Episode 2x15; Mar 26, 2016
In this special episode, we count down the Top 10 Moments in the Wild from the first season of Sex Sent me to the ER. From outdoor romps gone wrong to animals interfering at inopportune times, this hour features wild things that ended in the ER.
Previous Episodes 2x15: Top 10 Moments in the Wild 2x14: Routine Romance 2x13: Bedroom Eyes 2x12: Super Secrets 2x11: Mannequin Mischief 2x10: Prison Problems 2x9: Motivated Patient 2x8: Dirty Laundry 2x7: Top 10 Mishaps

View All Episodes
Skip to:
Season 1
| Episode No. | No. Overall | Title | Airdate | Runtime | Summary |
| --- | --- | --- | --- | --- | --- |
| 1 | 1 | It Was a Doozy/Triple Play/440 Pound Virgin | 2013-12-28 | 60 | |
| 2 | 2 | It Won't Stop!/Cleaning Windows/Welcome Home | 2014-01-04 | 60 | |
| 3 | 3 | Hot in Vegas/Oh No!/Out on a Limb | 2014-01-11 | 60 | |
| 4 | 4 | Valentine's Surprise | 2014-01-24 | 60 | |
| 5 | 5 | Sticky Situation | 2014-04-12 | 60 | |
| 6 | 6 | Chaperone Required/Get a Room/Kama Sutra Crazy! | 2014-04-19 | 60 | |
| 7 | 7 | Natural Disaster | 2014-04-26 | 60 | |
| 8 | 8 | Clean Up on Aisle 4 | 2014-05-03 | 60 | |
| 9 | 9 | Get Your Rocks Off | 2014-05-10 | 60 | |
| 10 | 10 | Bedroom Slip-Up | 2014-05-17 | 60 | |
| 11 | 11 | Game Over | 2014-05-24 | 60 | |
| 12 | 12 | Man in Steel | 2014-05-31 | 60 | |
| 13 | 13 | Hot Air Affair | 2014-06-07 | 60 | |
| 14 | 14 | Drama Down Under | 2014-06-14 | 60 | |
| 15 | 15 | Give a Dog a Bone | 2014-06-21 | 60 | |
| 16 | 16 | Forbidden Fruit | 2014-06-28 | 60 | |
| 17 | 17 | Motorcycle Mayhem | 2014-07-05 | 60 | |
| 18 | 18 | Birthday Surprise! | 2014-07-12 | 60 | |
| 19 | 19 | Stuck on Me | 2014-07-19 | 60 | |
| 20 | 20 | The Skydive Club | 2014-10-25 | 60 | |
| 21 | 21 | Have a Ball | 2014-11-01 | 60 | |
| 22 | 22 | Pole Position | 2014-11-08 | 60 | |
| 23 | 23 | Rock n' Romp | 2014-11-15 | 60 | |
| 24 | 24 | Body Building Blunder | 2014-11-22 | 60 | |
| 25 | 25 | Busted! | 2014-11-29 | 60 | |
| 26 | 26 | Wax On, Wax Off | 2014-12-06 | 60 | |
| 27 | 27 | Retirement Hobby | 2014-12-06 | 60 | |
| 28 | 28 | Holiday Hanky-Panky | 2014-12-13 | 60 | |
| 29 | 29 | Can't Get Up | 2014-12-20 | 60 | |
| 30 | 30 | Study Buddies | 2014-12-27 | 60 | |
| 31 | 31 | The Buck Stops Here | 2015-01-03 | 60 | |
| 32 | 32 | Mile High Mishap | 2015-01-10 | 60 | |
| 33 | 33 | Cut It Off! | 2015-01-10 | 60 | |
| 34 | 34 | Mardi Gras Mischief | 2015-01-17 | 60 | |
| 35 | 35 | Scorching Secret! | 2015-01-24 | 60 | |
| 36 | 36 | Mime Your Business | 2015-01-31 | 60 | |
| 37 | 37 | Lock and Key | 2015-02-07 | 60 | |
| 38 | 38 | Old Flame Shame | 2015-02-14 | 60 | |
| 39 | 39 | 5 Times & No Fun | 2015-02-28 | 60 | |
Season 2
| Episode No. | No. Overall | Title | Airdate | Runtime | Summary |
| --- | --- | --- | --- | --- | --- |
| 1 | 40 | Zombie Apocalypse | 2016-01-02 | 60 | |
| 2 | 41 | Three's a Crowd | 2016-01-09 | 60 | |
| 3 | 42 | Pump and Go | 2016-01-16 | 60 | |
| 4 | 43 | Hitting the Hay | 2016-01-23 | 60 | |
| 5 | 44 | One Wild Ride | 2016-01-30 | 60 | |
| 6 | 45 | Handy Man | 2016-02-06 | 60 | A boyfriend turns a door knob installation into a sexy chore that ends poorly; a couples' game night ends with a woman in severe pain and extreme worry; a paramedic rescues a young couple that fell into a well. |
| 7 | 46 | Top 10 Mishaps | 2016-02-13 | 60 | Counting down the top 10 mishaps that have been featured on the show. |
| 8 | 47 | Dirty Laundry | 2016-02-20 | 60 | A weekly date night on a washing machine sends a woman to the E.R.; a couple sneaks around a meat packing plant to find the perfect place to make love; a woman's naughty knitting causes a strange diagnosis. |
| 9 | 48 | Motivated Patient | 2016-02-27 | 60 | |
| 10 | 49 | Prison Problems | 2016-03-05 | 60 | A paint and sip date is ruined after a closet quickie causes a catastrophe; a toy is stuck and won't stop buzzing but a couple is determined to get to dinner with the guy's boss anyway; a prisoner has problems after a conjugal visit |
| 11 | 50 | Mannequin Mischief | 2016-03-12 | 60 | A couple working at a mannequin factory takes a sexy time break; getting a tongue piercing at a high school reunion makes one guy adventurous and regretful; a witch's non-traditional wedding prep causes problems below. |
| 12 | 51 | Super Secrets | 2016-03-19 | 60 | A pregnant woman tries anything to start labor but a trip to the ER brings her a surprise; a couple cleaning a pool make a big splash while hearing inspirational singing; a self-proclaimed superhero can't stay up after a night on the neighborhood watch. |
| 13 | 52 | Bedroom Eyes | 2016-03-19 | 60 | A pirate and his first mate throw a party that causes a situation below deck; a couple gets in a tangle that causes a trip to the ER after one of them is tied up for the night; a woman could be permanently blind if her bedroom eyes aren't treated. |
| 14 | 53 | Routine Romance | 2016-03-26 | 60 | A couple vacationing in Ecuador gets on a love boat and head to the ER after a marine mishap; a Reiki instructor and her hubby use their energy for a 12 hour sex-a-thon that ends with a collapse; a silks performer can't move his legs after a sexy routine. |
| 15 | 54 | Top 10 Moments in the Wild | 2016-03-26 | 60 | In this special episode, we count down the Top 10 Moments in the Wild from the first season of Sex Sent me to the ER. From outdoor romps gone wrong to animals interfering at inopportune times, this hour features wild things that ended in the ER. |
Season 3
| Episode No. | No. Overall | Title | Airdate | Runtime | Summary |
| --- | --- | --- | --- | --- | --- |
Season 4
| Episode No. | No. Overall | Title | Airdate | Runtime | Summary |
| --- | --- | --- | --- | --- | --- |
Related News
TVMaze