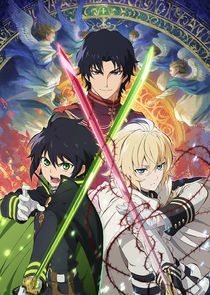 One day, a mysterious virus appeared on Earth which killed every infected human over the age of 13. At the same time, vampires emerged from the world's dark recesses and enslaved mankind. Enter Hyakuya Yuuichirou, a young boy, who along with the rest of the children from his orphanage, are treated as livestock by the vampires. Even in captivity, Yuuichirou dreams big. He dreams of killing vampires. He dreams of killing them all.
Series Overview
Rating
imDb Rating: 7.5 (2,588 Votes)
Metascore: N/A
Plot
In 2012, the world allegedly comes to an end at the hands of a human-made virus, ravaging the global populace and leaving only children untouched. It is at this time that vampires emerge from the recesses of the earth.
Details
Rated: TV-14
Released: 04 Apr 2015
Runtime: 24 min
Genre: Animation, Action, Adventure, Drama, Fantasy, Sci-Fi
Director: N/A
Writer: N/A
Actors: Miyu Irino, Micah Solusod, Saori Hayami, Nobuhiko Okamoto
Language: Japanese
Country: Japan
Awards: N/A
Total Seasons: 3
Previous Episode
Seraph of the End
Episode 2x12; Dec 26, 2015
It is the vampire apocalypse and Yuu wants to avenge his brother. To do this Yuu will have to learn many new skills. On his adventure he meets many new people such as Shinowa and many more.
Previous Episodes

2x12: Seraph of the End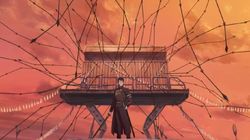 2x11: Arrogant Love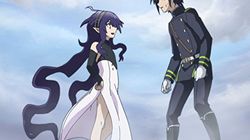 2x10: Yuu and Mika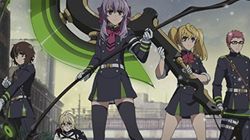 2x9: Traitorous Allies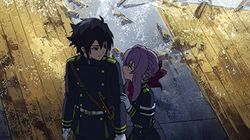 2x8: Demon's Lullaby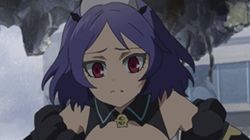 2x7: Shinya and Guren


2x6: Sword of Justice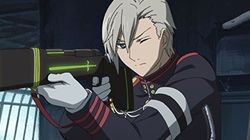 2x5: Livestock Revolt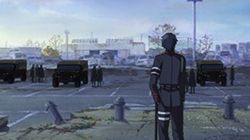 2x4: The Moon Demon's Orders

View All Episodes
Cast
Kaito Ishikawa as Kimizuki, Shihou
Nobuhiko Okamoto as Saotome, Yoichi
Kensho Ono as Hyakuya, Mikaela
Miyu Irino as Hyakuya, Yuuichirou
Yuichi Nakamura as Ichinose, Guren
Saori Hayami as Hiiragi, Shinoa
View Full Cast
Skip to:
Season 1
| Episode No. | No. Overall | Title | Airdate | Runtime | Summary |
| --- | --- | --- | --- | --- | --- |
| 1 | 1 | The World of Blood Legacy | 2015-04-04 | 25 | A deadly virus sweeps the earth, leaving behind only children and vampires. Yuuichi Nakamura and the other orphans are captured by these vampires and are forced to provide them blood in order to survive. Fed up, they plan on an escape... |
| 2 | 2 | Humanity After the Fall | 2015-04-11 | 25 | Four years later, Yuichiro Hyakuya is a soldier in the Japanese Imperial Demon Army, but he gets suspended for insubordination. As punishment, he attends a school with the order to "make friends. |
| 3 | 3 | The Demon in Your Heart | 2015-04-18 | 25 | Yu, Yoichi, and Shinoa go to a restricted area to save someone who was possessed by a demon there. |
| 4 | 4 | Vampire Mikaela | 2015-04-25 | 25 | Mikaela, who was thought to be dead, was actually turned into a vampire by Krul and is working with them. Meanwhile, Yuichiro starts his first day at the Extermination Unit's training school, and already he gets into a fight with one of his classmates... |
| 5 | 5 | Black Demon's Contract | 2015-05-02 | 25 | Eager to obtain the Cursed Gear, Yuichiro tracks down Guren and persuades him to provide him a chance at the Contract Ceremony. Passing Guren's test, Yuichiro, Kimizuki, and Yoichi puts their lives on the line to make a contract with the demon kings. |
| 6 | 6 | New Family | 2015-05-09 | 25 | Kimizuki, Yuichiro, and Yoichi fight against the hallucinations caused by the Black Demons they chose in order to attain their power. They face their tragic memories and fight for control. |
| 7 | 7 | Mitsuba's Squad | 2015-05-16 | 25 | Yuichiro, Shinoa, Kimizuki, and Yoichi meet Mitsuba Sangu and form a squad lead by Shinoa. They leave the walls of the Japanese Imperial Demon Army to exterminate vampires. In the meantime, Guren takes a separate route. |
| 8 | 8 | First Extermination | 2015-05-23 | 25 | With the information obtained from the little girl they saved, Yuichiro and his squad goes to the subway station where the vampires are in order to free the people. However, they quickly learn that everything was a trap from the start... |
| 9 | 9 | Vampire Attack | 2015-05-30 | 25 | After saving the captured people from vampires, Yu and his unit reach Shinjuku. However, by the time they reach there, the war had already begun and some vampires had gotten through. To prevent Shijuku from falling, they must fight off the vampires. |
| 10 | 10 | Results of the Choice | 2015-06-06 | 25 | Learning that Mitsuba, Kimizuki, and Yoichi are in a pinch, Yu and Shinoa rushes to their rescue. Meanwhile, Guren and his troops fight off the vampire's main forces, but Ferid's strength seems to be out of their league, cornering Guren in a tough spot. |
| 11 | 11 | Reunion of Childhood Friends | 2015-06-13 | 25 | Finally, Mika and Yu reunite, but their circumstances does not allow for much time. Mika tries to "save" Yu from the humans, who have been experimenting on him, but Yu wants to save his squad. Torn between Mika and his squad, something in Yu is awaken... |
| 12 | 12 | Everyone's a Sinner | 2015-06-20 | 25 | Trying to figure out what happened to Yu, Shinoa tracks down Guren and asks what he's conspiring to do. However, Guren doesn't answer and keeps it a mystery. When Yu finally wakes up from a seven-day-coma, he explains he doesn't remember what happened. |
Season 2
| Episode No. | No. Overall | Title | Airdate | Runtime | Summary |
| --- | --- | --- | --- | --- | --- |
| 1 | 13 | Human World | 2015-10-10 | 25 | Kureto Hiragi summons Yu to ask him about a vampire spy while torturing some friends to make him tell the truth. |
| 2 | 14 | Complicated Connections | 2015-10-17 | 25 | Yu begins the next step of his training and battles against Asuramaru. Ferid discusses the battle at Shinjuku. Kimizuki struggles in battle against Kiseki-o and faces memories where he was told to kill his sister. |
| 3 | 15 | Ambition in the Demon Army | 2015-10-24 | 25 | Shinoa Squad meets, and Kureto Hiragi and Guren Ichinose do the same. Kureto announces his plan to attack and wipe out ten noble vampires in Nagoya before the vampires bring their main army down on Japan in one month. |
| 4 | 16 | The Moon Demon's Orders | 2015-10-31 | 25 | Shinoa Squad travels to the Ebina rest stop but their squad arrives late. As punishment, Guren, Mito, and Shinya fight against Shinoa Squad. Elsewhere, Mika and Lacus collect stray human children as a gift for vampires in Nagoya. |
| 5 | 17 | Livestock Revolt | 2015-11-07 | 25 | Shinoa and Narumi Squads discuss their mission to exterminate Fifteenth Progenitor Lucal Wesker. Meanwhile, Shinya and Yoichi wait from their sniping point. Underground, Ichinose Squad struggles to defeat Nineteenth Progenitor Mel Stefano. |
| 6 | 18 | Sword of Justice | 2015-11-14 | 25 | The Shinoa squad re-learns the hard cold fact that it's very possible to lose comrades, but there's no time to mourn. They must move on to go rescue the hostages. Right after their departure, Mika and the other vampires arrive to Nagoya as well. |
| 7 | 19 | Shinya and Guren | 2015-11-21 | 25 | Guren, Shinoa, and Narumi squads arrive at the city hall and see the hostages. Knowing it's a set-up, they still decide to go save the hostages, but Guren and Shinya is way over their head with Crowley, as they struggle just to run away from him. |
| 8 | 20 | Demon's Lullaby | 2015-11-28 | 25 | Shinoa's squad goes to save Guren, but unfortunately, they run out of time. Reluctantly, they leave him behind and retreat, but Yu just cannot bring himself to do that. Instead, he takes more of the Curse Stimulant Pills to go save Guren himself. |
| 9 | 21 | Traitorous Allies | 2015-12-05 | 25 | The power of angels forces Yu to stay alive, and Asuramaru lures him from their power. Mika waits for the Moon Demon Company and charges in to rescue Yu. |
| 10 | 22 | Yuu and Mika | 2015-12-12 | 25 | Yu and Mika are finally reunited, but the injuries Mika had sustained from fighting the Demon Company threatens his life. Determined to keep Mika alive, Yu tries to persuade Mika into drinking his blood... Even if it means Mika will become a true vampire. |
| 11 | 23 | Arrogant Love | 2015-12-19 | 25 | The survivors of the Moon Demon Company get to the rendezvous point, only to find out that their orders are to "standby." Enraged, they decide to ignore the orders to save Guren, when Kureto appears. Apparently, Kureto has something else on the agenda. |
| 12 | 24 | Seraph of the End | 2015-12-26 | 25 | It is the vampire apocalypse and Yuu wants to avenge his brother. To do this Yuu will have to learn many new skills. On his adventure he meets many new people such as Shinowa and many more. |
Season 3
| Episode No. | No. Overall | Title | Airdate | Runtime | Summary |
| --- | --- | --- | --- | --- | --- |
Series Cast
| | | | |
| --- | --- | --- | --- |
| | Kaito Ishikawa | as Kimizuki, Shihou | |
| | Nobuhiko Okamoto | as Saotome, Yoichi | |
| | Kensho Ono | as Hyakuya, Mikaela | |
| | Miyu Irino | as Hyakuya, Yuuichirou | |
| | Yuichi Nakamura | as Ichinose, Guren | |
| | Saori Hayami | as Hiiragi, Shinoa | |
| | Yuka Iguchi | as Sanguu, Mitsuba | |
Related News
TVMaze