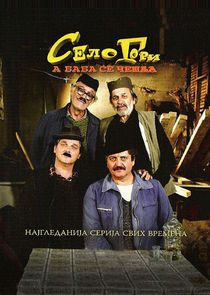 The series is based in a small village between Big, South and East Morava. Despite its comedy the show displays a deep emotional connection between family, tradition and the land. The village is at the heart of the show, often displaying how things are changing in Serbian villages and how these rural communities are quickly disappearing due to the exodus of young people from the country to the city. The show emphasises that the village is the heart of Serbian culture and pride, a place where humanity has outlasted many challenges. The show further emphasises the finest qualities of the Serbian people such as honesty and kindness and aims to break down the tarnished stereotypical view of Serbian people crafted during the 1990s. The show revolves around the character of Radašin. The entire story is based around his recount of the time when he lived in the village and how he spent hi...
Series Overview
Rating
imDb Rating: 5.7 (656 Votes)
Metascore: N/A
Plot
The adventures of the residents of Petlovac, a typical Serbian village where the old customs and values are preserved in contrast to the contemporary, alienated world of the city.
Details
Rated: N/A
Released: 10 Mar 2007
Runtime: 50 min
Genre: Comedy, Drama, Romance
Director: N/A
Writer: N/A
Actors: Rados Bajic, Milorad Mandic, Mirko Babic, Nenad Okanovic
Language: Serbian
Country: Serbia
Awards: N/A
Total Seasons: 6
Previous Episode
Testament
Episode 6x12; Jan 07, 2017
Previous Episodes 6x12: Testament 6x11: Zavičaj 6x10: Sudbine 6x9: Ljubostinja 6x8: Pašenog 6x7: Kosovo 6x6: Proslava 6x5: Plotun 6x4: Rasplet

View All Episodes
Skip to:
Season 1
| Episode No. | No. Overall | Title | Airdate | Runtime | Summary |
| --- | --- | --- | --- | --- | --- |
| 1 | 1 | Bagrenče | 2007-03-10 | 60 | |
| 2 | 2 | Muškatle | 2007-03-17 | 60 | |
| 3 | 3 | Vampir | 2007-03-24 | 60 | |
| 4 | 4 | Ispratnica | 2007-03-31 | 60 | |
Season 2
| Episode No. | No. Overall | Title | Airdate | Runtime | Summary |
| --- | --- | --- | --- | --- | --- |
| 1 | 5 | Riba | 2008-01-19 | 60 | |
| 2 | 6 | Preobraženje | 2008-01-26 | 60 | |
| 3 | 7 | Drumovi | 2008-02-02 | 60 | |
| 4 | 8 | Potraga | 2008-02-09 | 60 | |
| 5 | 9 | Sinovi | 2008-02-16 | 60 | |
| 6 | 10 | Povratak | 2008-02-23 | 60 | |
| 7 | 11 | Kapara | 2008-03-01 | 60 | |
| 8 | 12 | Nesanica | 2008-03-08 | 60 | |
| 9 | 13 | Paprika | 2008-03-15 | 60 | |
| 10 | 14 | Snovi | 2008-03-22 | 60 | |
| 11 | 15 | Krštenje | 2008-03-29 | 60 | |
| 12 | 16 | Obračun | 2008-04-05 | 60 | |
| 13 | 17 | Prosidba | 2008-04-12 | 60 | |
| 14 | 18 | Rastanak | 2008-04-19 | 60 | |
| 15 | 19 | Crni | 2008-04-26 | 60 | |
| 16 | 20 | Škripac | 2008-05-03 | 60 | |
| 17 | 21 | Sudar | 2008-05-10 | 60 | |
| 18 | 22 | Slava | 2008-05-17 | 60 | |
| 19 | 23 | Paterice | 2008-05-24 | 60 | |
| 20 | 24 | Svadba | 2008-05-31 | 60 | |
Season 3
| Episode No. | No. Overall | Title | Airdate | Runtime | Summary |
| --- | --- | --- | --- | --- | --- |
| 1 | 25 | Som | 2008-12-20 | 60 | |
| 2 | 26 | Pismo | 2008-12-27 | 60 | |
| 3 | 27 | Zelje | 2008-12-31 | 60 | |
| 4 | 28 | Dovodak | 2009-01-10 | 60 | |
| 5 | 29 | Beograd | 2009-01-17 | 60 | |
| 6 | 30 | Nevinost | 2009-01-24 | 60 | |
| 7 | 31 | Kruške | 2009-01-31 | 60 | |
| 8 | 32 | Grom | 2009-02-07 | 60 | |
| 9 | 33 | Slutnja | 2009-02-14 | 60 | |
| 10 | 34 | Dom | 2009-02-21 | 60 | |
| 11 | 35 | Rodjenje | 2009-02-28 | 60 | |
| 12 | 36 | Dojka | 2009-03-07 | 60 | |
| 13 | 37 | Praznina | 2009-03-14 | 60 | |
| 14 | 38 | Operacija | 2009-03-21 | 60 | |
| 15 | 39 | Zadušnice | 2009-03-28 | 60 | |
| 16 | 40 | Kanada | 2009-04-04 | 60 | |
| 17 | 41 | Kućni prag | 2009-04-11 | 60 | |
| 18 | 42 | Krekevac | 2009-04-18 | 60 | |
| 19 | 43 | Mitrovdan | 2009-04-25 | 60 | |
| 20 | 44 | Zbogom | 2009-05-02 | 60 | |
| 21 | 45 | Svilena buba | 2009-05-16 | 60 | |
| 22 | 46 | Belina | 2009-05-23 | 60 | |
| 23 | 47 | Vradžbina | 2009-05-30 | 60 | |
| 24 | 48 | Materice | 2009-06-06 | 60 | |
| 25 | 49 | Djeneral | 2009-06-13 | 60 | |
| 26 | 50 | Lazarica | 2009-06-20 | 60 | |
Season 4
| Episode No. | No. Overall | Title | Airdate | Runtime | Summary |
| --- | --- | --- | --- | --- | --- |
| 1 | 51 | Šuma | 2009-12-31 | 60 | |
| 2 | 52 | Koma | 2010-01-23 | 60 | |
| 3 | 53 | Pukotine | 2010-01-30 | 60 | |
| 4 | 54 | Budjenje | 2010-02-06 | 60 | |
| 5 | 55 | Prinova | 2010-02-13 | 60 | |
| 6 | 56 | Odluka | 2010-02-20 | 60 | |
| 7 | 57 | Bekstvo | 2010-02-27 | 60 | |
| 8 | 58 | Srna | 2010-03-06 | 60 | |
| 9 | 59 | Ženeva | 2010-03-13 | 60 | |
| 10 | 60 | Gubitnik | 2010-03-20 | 60 | |
| 11 | 61 | Gas | 2010-03-27 | 60 | |
| 12 | 62 | Sveta Petka | 2010-04-03 | 60 | |
| 13 | 63 | Jovan | 2010-04-10 | 60 | |
| 14 | 64 | Suze | 2010-04-17 | 60 | |
| 15 | 65 | Spomenica | 2010-04-24 | 60 | |
| 16 | 66 | Sreća | 2010-05-01 | 60 | |
| 17 | 67 | Duvanište | 2010-05-08 | 60 | |
Season 5
| Episode No. | No. Overall | Title | Airdate | Runtime | Summary |
| --- | --- | --- | --- | --- | --- |
| 1 | 68 | Bratunac | 2010-11-06 | 60 | |
| 2 | 69 | Sat | 2010-11-13 | 60 | |
| 3 | 70 | Diverzanti | 2010-11-20 | 60 | |
| 4 | 71 | Guska | 2010-11-27 | 60 | |
| 5 | 72 | Zarobljenici | 2010-12-04 | 60 | |
| 6 | 73 | Stanislav | 2010-12-11 | 60 | |
| 7 | 74 | Odlazak | 2010-12-18 | 60 | |
| 8 | 75 | Kufer | 2010-12-25 | 60 | |
| 9 | 76 | Vavedenje | 2010-12-31 | 60 | |
| 10 | 77 | Razlaz | 2011-01-08 | 60 | |
| 11 | 78 | Pobeda | 2011-01-15 | 60 | |
| 12 | 79 | Latice | 2011-01-22 | 60 | |
| 13 | 80 | Previranje | 2011-01-29 | 60 | |
| 14 | 81 | Badnji dan | 2011-02-05 | 60 | |
| 15 | 82 | Vaskrs | 2011-02-12 | 60 | |
| 16 | 83 | Lek | 2011-02-19 | 60 | |
| 17 | 84 | Istina | 2011-02-26 | 60 | |
| 18 | 85 | Zetva | 2011-03-05 | 60 | |
| 19 | 86 | Sveti Toma | 2011-03-12 | 60 | |
| 20 | 87 | Krugovi | 2011-03-19 | 60 | |
| 21 | 88 | Odbrojavanje | 2011-03-26 | 60 | |
| 22 | 89 | Amanet | 2011-04-02 | 60 | |
Season 6
| Episode No. | No. Overall | Title | Airdate | Runtime | Summary |
| --- | --- | --- | --- | --- | --- |
| 1 | 90 | Koverat | 2016-10-15 | 60 | |
| 2 | 91 | Tumaranje | 2016-10-22 | 60 | |
| 3 | 92 | Beograd | 2016-10-29 | 60 | |
| 4 | 93 | Rasplet | 2016-11-05 | 60 | |
| 5 | 94 | Plotun | 2016-11-19 | 60 | |
| 6 | 95 | Proslava | 2016-11-26 | 60 | |
| 7 | 96 | Kosovo | 2016-12-03 | 60 | |
| 8 | 97 | Pašenog | 2016-12-10 | 60 | |
| 9 | 98 | Ljubostinja | 2016-12-17 | 60 | |
| 10 | 99 | Sudbine | 2016-12-24 | 60 | |
| 11 | 100 | Zavičaj | 2016-12-31 | 60 | |
| 12 | 101 | Testament | 2017-01-07 | 60 | |
Related News
TVMaze