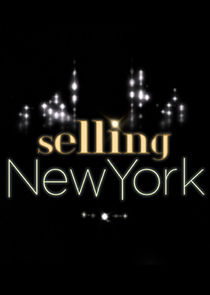 They are assertive, razor-sharp and always compelling real estate brokers in the country's most competitive market. In a city of over 8 million people, where the average sale price is over $2 million, the competition to seal the deal is stiff. Now, catch a rare glimpse into a world where a solid reputation at the top of the real estate food chain involves swimming with the sharks, going head-to-head with the best, and rubbing shoulders with the wealthiest and trendiest of New York's social, political and artistic elite. This is Selling New York.
Series Overview
Rating
imDb Rating: 6.4 (108 Votes)
Metascore: N/A
Plot
In New York City the average price of a home is $2 million plus. This series gives you a glimpse into the lives of buyers, sellers and the brokers. Competition is is stiff, but these ...
Details
Rated: N/A
Released: 18 Mar 2010
Runtime: N/A
Genre: Reality-TV
Director: N/A
Writer: Kirk Hipkiss, Beth Shuman, Courtney Campbell
Actors: Michele Kleier, Samantha Kleier Forbes, Sabrina Kleier Morgenstern, Shaun Osher
Language: English
Country: USA
Awards: N/A
Total Seasons: 8
Previous Episode
With a Baby on the Way, One Agent is Rushed to Find a New Home Before Time is Up
Episode 8x6; Jan 23, 2014
Previous Episodes 8x6: With a Baby on the Way, One Agent is Rushed to Find a New Home Before Time is Up 8x5: Clients Seek to Gain a Fresh Start from Moving to New Homes 8x4: As a New Agent Tries to Impress, Another Tries to Help a Client Who is New to the Real Estate World 8x3: Will Combining a Triplex and a Duplex Prove the Right Decision for the Kleier's? 8x2: As a Family Continues to Grow, One Agent Has to Find a Bigger Home Fast 8x1: Brokers Use Documentary Films to Sell Two Homes 7x13: Empty Nesters Try to Sell Their Loft While One Family Looks to Save Money by Downsizing 7x12: A Fabulous Party Could Open Many Doors for One Broker 7x11: Sometimes the Hardest Part About Selling a Place is Cutting Emotional Ties

View All Episodes
Skip to:
Season 1
| Episode No. | No. Overall | Title | Airdate | Runtime | Summary |
| --- | --- | --- | --- | --- | --- |
| 1 | 1 | The Big Event | 2010-03-18 | 30 | |
| 2 | 2 | Time is Money | 2010-03-25 | 30 | |
| 3 | 3 | Setting the Stage | 2010-04-01 | 30 | |
| 4 | 4 | Cooking Up a Real Estate Deal | 2010-04-08 | 30 | |
| 5 | 5 | Educated Decisions | 2010-04-15 | 30 | |
| 6 | 6 | All in the Family | 2010-04-22 | 30 | |
| 7 | 7 | Extra Special Spaces | 2010-04-29 | 30 | |
| 8 | 8 | Location, Location, Location | 2010-05-06 | 30 | |
| 9 | 9 | Managing Expectations | 2010-05-13 | 30 | |
| 10 | 10 | Property Hunters | 2010-05-20 | 30 | |
| 11 | 11 | The Push | 2010-05-27 | 30 | |
| 12 | 12 | Eye of the Beholder | 2010-06-03 | 30 | |
| 13 | 13 | Galmour and High Business | 2010-06-10 | 30 | |
Season 2
| Episode No. | No. Overall | Title | Airdate | Runtime | Summary |
| --- | --- | --- | --- | --- | --- |
| 1 | 14 | Developing a Deal | 2011-01-01 | 30 | |
| 2 | 15 | Smells Like a Deal | 2011-01-06 | 30 | |
| 3 | 16 | Getting the Buy In | 2011-01-13 | 30 | |
| 4 | 17 | The Price is Right | 2011-01-20 | 30 | |
| 5 | 18 | Real Estate, Friends and Neighbors | 2011-01-27 | 30 | |
| 6 | 19 | Dream Homes | 2011-02-03 | 30 | |
| 7 | 20 | Launch Pad | 2011-02-10 | 30 | |
| 8 | 21 | Big City Dreams | 2011-02-17 | 30 | |
| 9 | 22 | Hot Property | 2011-02-24 | 30 | |
| 10 | 23 | Positive Change | 2011-03-03 | 30 | |
| 11 | 24 | Home Improvements | 2011-03-10 | 30 | |
| 12 | 25 | Starter Homes | 2011-03-17 | 30 | |
| 13 | 26 | Demanding Attention | 2011-03-24 | 30 | |
Season 3
| Episode No. | No. Overall | Title | Airdate | Runtime | Summary |
| --- | --- | --- | --- | --- | --- |
| 1 | 27 | Deal or No Deal | 2011-04-07 | 30 | |
| 2 | 28 | Market the Place | 2011-04-14 | 30 | |
| 3 | 29 | Teaming with Sales | 2011-04-21 | 30 | |
| 4 | 30 | Property Values | 2011-04-28 | 30 | |
| 5 | 31 | Property Virgin | 2011-07-07 | 30 | |
| 6 | 32 | Above and Beyond | 2011-07-14 | 30 | |
| 7 | 33 | All Eyes on It | 2011-07-21 | 30 | |
| 8 | 34 | Hard Sell | 2011-07-28 | 30 | |
| 9 | 35 | Growing Pains | 2011-08-04 | 30 | |
| 10 | 36 | Sales Partners | 2011-08-11 | 30 | |
| 11 | 37 | Seeing is Believing | 2011-08-18 | 30 | |
| 12 | 38 | Finders Keepers | 2011-08-25 | 30 | |
| 13 | 39 | Moving Deadlines | 2011-09-01 | 30 | |
Season 4
| Episode No. | No. Overall | Title | Airdate | Runtime | Summary |
| --- | --- | --- | --- | --- | --- |
| 1 | 40 | Making It Personal | 2011-10-13 | 30 | |
| 2 | 41 | The Right Moves | 2011-10-20 | 30 | |
| 3 | 42 | Trophy Property | 2011-10-27 | 30 | |
| 4 | 43 | The Big Stage. Michele Kleier Trains Regis Philbin | 2011-11-03 | 30 | |
| 5 | 44 | Youth Movement: Young Agents Search for Innovative Sales Tactics | 2011-11-10 | 30 | |
| 6 | 45 | Center Stage - Transforming Stale Places for Stellar Showings | 2011-11-17 | 30 | |
| 7 | 46 | Lucky Dogs and New York Newbies | 2011-12-01 | 30 | |
| 8 | 47 | New Beginnings, New Homes | 2011-12-08 | 30 | |
| 9 | 48 | Big Decisions and Fast Deadlines | 2011-12-15 | 30 | |
| 10 | 49 | A Family Affair | 2011-12-29 | 30 | |
| 11 | 50 | One Family Prepares to Move Cross-Country While Another Looks to Expand Their Nest | 2012-01-05 | 30 | |
| 12 | 51 | Satisfaction Guaranteed | 2012-01-12 | 30 | |
| 13 | 52 | TBA | 2012-01-19 | 30 | |
Season 5
| Episode No. | No. Overall | Title | Airdate | Runtime | Summary |
| --- | --- | --- | --- | --- | --- |
| 1 | 53 | Press Worthy Properties | 2012-01-26 | 30 | |
| 2 | 54 | Old Listings, New Life | 2012-02-02 | 30 | |
| 3 | 55 | Accomodations | 2012-02-09 | 30 | |
| 4 | 56 | NYC Newbies | 2012-02-16 | 30 | |
| 5 | 57 | High Expectations | 2012-02-23 | 30 | |
| 6 | 58 | Moving On | 2012-03-01 | 30 | |
| 7 | 59 | Creative Tactics | 2012-03-08 | 30 | |
| 8 | 60 | Deal or No Deal | 2012-03-15 | 30 | |
| 9 | 61 | Strategic Marketing | 2012-03-22 | 30 | |
| 10 | 62 | House of Lords: Princely Properties for Unique Clients | 2012-06-14 | 30 | |
| 11 | 63 | Old Listings Get Some New Life | 2012-06-21 | 30 | |
| 12 | 64 | The Best Laid Plans | 2012-06-28 | 30 | |
| 13 | 65 | NYC Newbies | 2012-07-05 | 30 | |
Season 6
| Episode No. | No. Overall | Title | Airdate | Runtime | Summary |
| --- | --- | --- | --- | --- | --- |
| 1 | 66 | Sometimes a Broker's Biggest Challenge is Getting Their Clients to Commit to the Search | 2012-12-06 | 30 | |
| 2 | 67 | One Agent Wants to Use Time-tested Methods While Another Looks Outside the Box to Make the Deal | 2012-12-13 | 30 | |
| 3 | 68 | For Some Clients, the Answer to Their Real Estate Woes is Written in the Stars | 2012-12-20 | 30 | |
| 4 | 69 | Brokers Know That Giving Up is Not an Option in the Fast Moving Real Estate Business | 2012-12-27 | 30 | |
| 5 | 70 | Brokers Dress Up Fabulous Apartments by Highlighting Classic City Views and Original Works of Art | 2013-01-03 | 30 | |
| 6 | 71 | New York Brokers Teach Their Clients to Compromise and Learn a Few New Tricks Along the Way | 2013-01-10 | 30 | |
| 7 | 72 | Brokers Work to Cater to Their Clients' Quirky Preferences in Order to Make Deals Happen | 2013-01-17 | 30 | |
| 8 | 73 | A Chef Client Knows That the Right Ingredients Are Crucial to Good Food and to Good Real Estate | 2013-01-24 | 30 | |
| 9 | 74 | To Keep Their Client's Full Attention, Ambitious Agents Come Up with Unique Marketing Strategies | 2013-01-31 | 30 | |
| 10 | 75 | Brokers Attempt to Put Their Clients on a Different Track in Order to Make a Sale | 2013-02-07 | 30 | |
| 11 | 76 | Buyers Get Inspired by Artsy Spaces and Modern-classic Country Homes | 2013-02-14 | 30 | |
| 12 | 77 | Drive and Pride Are Key in Making Big Deals in Hot Properties | 2013-02-21 | 30 | |
| 13 | 78 | Family Pressures Causes Buyers to Put Their Agents Under Strict Time Crunches | 2013-02-28 | 30 | |
Season 7
| Episode No. | No. Overall | Title | Airdate | Runtime | Summary |
| --- | --- | --- | --- | --- | --- |
| 1 | 79 | Brokers Try to Sell Two Apartments in Order to Move on to Bigger and Better Things | 2013-04-04 | 30 | |
| 2 | 80 | Can Brokers Convince Their Clients to Step Outside of Their Comfort Zone? | 2013-06-07 | 30 | |
| 3 | 81 | Brokers Look for Homes That Will Please All Family Members | 2013-06-07 | 30 | |
| 4 | 82 | Big Obstacles Force Brokers to Get Creative in Order to Sell Two Homes | 2013-06-21 | 30 | |
| 5 | 83 | Agents Constantly Have to Prove Themselves Whether They're Just Beginning, or Seasoned Professionals | 2013-06-21 | 30 | |
| 6 | 84 | Can Brokers Find Middle Ground Between Polar Opposites? | 2013-07-18 | 30 | |
| 7 | 85 | Two Brokers Seek to Put a Positive Spin on Difficult Aspects of Their Listings | 2013-07-18 | 30 | |
| 8 | 86 | Incredibly Particular Clients Stunt an Already Difficult Home Search | 2013-07-25 | 30 | |
| 9 | 87 | Emotions Run High as a Mother and Daughter Try to Sell Real Estate to One Another | 2013-06-25 | 30 | |
| 10 | 88 | The Pressures on When a Celebrity Client Needs a Home Sold Fast | 2013-07-25 | 30 | |
| 11 | 89 | Sometimes the Hardest Part About Selling a Place is Cutting Emotional Ties | 2013-07-25 | 30 | |
| 12 | 90 | A Fabulous Party Could Open Many Doors for One Broker | 2013-08-01 | 30 | |
| 13 | 91 | Empty Nesters Try to Sell Their Loft While One Family Looks to Save Money by Downsizing | 2013-08-01 | 30 | |
Season 8
| Episode No. | No. Overall | Title | Airdate | Runtime | Summary |
| --- | --- | --- | --- | --- | --- |
| 1 | 92 | Brokers Use Documentary Films to Sell Two Homes | 2013-09-13 | 30 | |
| 2 | 93 | As a Family Continues to Grow, One Agent Has to Find a Bigger Home Fast | 2014-01-07 | 30 | |
| 3 | 94 | Will Combining a Triplex and a Duplex Prove the Right Decision for the Kleier's? | 2014-01-14 | 30 | |
| 4 | 95 | As a New Agent Tries to Impress, Another Tries to Help a Client Who is New to the Real Estate World | 2014-01-21 | 30 | |
| 5 | 96 | Clients Seek to Gain a Fresh Start from Moving to New Homes | 2014-01-23 | 30 | |
| 6 | 97 | With a Baby on the Way, One Agent is Rushed to Find a New Home Before Time is Up | 2014-01-23 | 30 | |
Related News
TVMaze