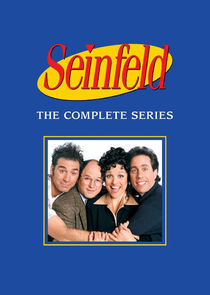 Seinfeld is the story of a fictionalized version of stand-up comedian Jerry Seinfeld, his life in New York City and his quirky group of friends who join him in wrestling with life's most perplexing, yet often trivial questions. Often described as "a show about nothing," Seinfeld mines the humor in life's mundane situations like waiting in line, searching for a lost item, or the trials and tribulations of dating.
Series Overview
Rating
imDb Rating: 8.8 (240,276 Votes)
Metascore: N/A
Plot
The continuing misadventures of neurotic New York City stand-up comedian Jerry Seinfeld and his equally neurotic New York City friends.
Details
Rated: TV-PG
Released: 05 Jul 1989
Runtime: 22 min
Genre: Comedy
Director: N/A
Writer: Larry David, Jerry Seinfeld
Actors: Jerry Seinfeld, Michael Richards, Jason Alexander, Julia Louis-Dreyfus
Language: English
Country: USA
Awards: Won 3 Golden Globes. Another 71 wins & 185 nominations.
Total Seasons: 9
Previous Episode
The Finale (2)
Episode 9x24; May 14, 1998
After George and Jerry land a production deal with NBC, the four head out for Paris on NBC's private plane and are waylaid in a small Massachusetts town.
Previous Episodes

9x24: The Finale (2)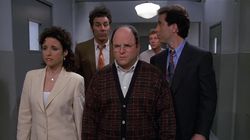 9x23: The Finale (1)


9x22: The Clip Show (2) (a.k.a. The Chronicle (2))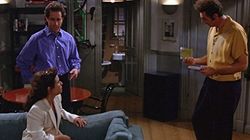 9x21: The Clip Show (1) (a.k.a. The Chronicle (1))


9x20: The Puerto Rican Day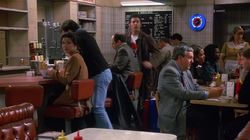 9x19: The Maid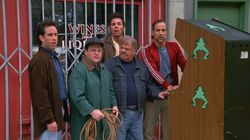 9x18: The Frogger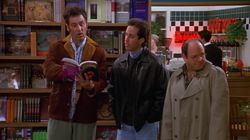 9x17: The Bookstore


9x16: The Burning

View All Episodes
Cast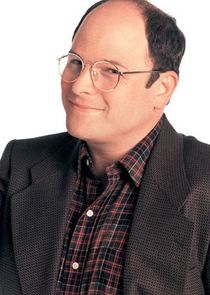 Jason Alexander as George Costanza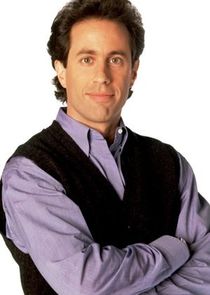 Jerry Seinfeld as Jerry Seinfeld
Michael Richards as Cosmo Kramer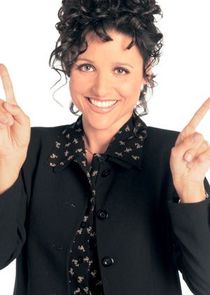 Julia Louis-Dreyfus as Elaine Benes
Lee Garlington as Claire
View Full Cast
Skip to:
Season 1
| Episode No. | No. Overall | Title | Airdate | Runtime | Summary |
| --- | --- | --- | --- | --- | --- |
| 1 | 1 | Good News, Bad News | 1989-07-05 | 30 | Jerry is excited that a woman he met on the road is coming to visit him in New York. However, he has a tough time discerning whether her intentions are romantic or platonic. |
| 2 | 2 | The Stakeout | 1990-05-31 | 30 | When Jerry goes to a birthday party with Elaine, he meets a woman he'd like to ask out, but doesn't get the chance to. When she leaves before he gets a chance to find out her name, he and George stakeout her office building. |
| 3 | 3 | The Robbery | 1990-06-07 | 30 | When Jerry's apartment gets robbed, he decides to move out. George shows him a great apartment, which he plans to take… that is, until George expresses his own desire for the apartment. |
| 4 | 4 | Male Unbonding | 1990-06-14 | 30 | Jerry ponders a few courses of action when he sees that he no longer has anything in common with a clingy and obnoxious childhood friend. George has trouble with his latest relationship. Kramer has the idea to open a chain of pizza parlors where you make your own pizza pie. |
| 5 | 5 | The Stock Tip | 1990-06-21 | 30 | Jerry and George invest based on an insider stock tip, but then lose touch with their inside source. A nervous Jerry lets the declining stock ruin his weekend away with Vanessa, while George decides he's all in. |
Season 2
| Episode No. | No. Overall | Title | Airdate | Runtime | Summary |
| --- | --- | --- | --- | --- | --- |
| 1 | 6 | The Ex-Girlfriend | 1991-01-23 | 30 | Jerry begins to date George's ex - girlfriend before he discovers how clingy she is. Meanwhile George refuses to pay a physical therapist, convinced he did nothing and Elaine has a run - in with a friend who has stopped saying "hello" to her. |
| 2 | 7 | The Pony Remark | 1991-01-30 | 30 | Jerry worries that he may have killed an old relative, after he offends her with an off-the-cuff comment about hating kids who had ponies growing up. |
| 3 | 8 | The Jacket | 1991-02-06 | 30 | Jerry splurges on an expensive new suede jacket, but the colorful inner lining leaves something to be desired. When Elaine does Kramer a favor, Jerry and George get stuck alone with Elaine's intimidating, curmudgeonly father. |
| 4 | 9 | The Phone Message | 1991-02-13 | 30 | George regrets not going upstairs for "coffee" after a date, and proceeds to leave his girlfriend a series of increasingly embarrassing phone messages. Meanwhile, Jerry and his girlfriend argue over the comedic value of a TV commercial. |
| 5 | 10 | The Apartment | 1991-04-04 | 30 | Jerry helps Elaine get the apartment above his, but later regrets doing so. George's experiment of wearing a wedding band to attract women goes horribly awry. |
| 6 | 11 | The Statue | 1991-04-11 | 30 | Jerry finds a statue in a box of his grandfather's old things, that George wants to replace a similar one he broke as a child. When Jerry hires the boyfriend of an author Elaine is working with, to clean his apartment, the cleaning job is spectacular, but the statue goes missing. |
| 7 | 12 | The Revenge | 1991-04-18 | 30 | George quits his job in a huff, but comes to regret the decision, and is later humiliated by his boss. Jerry believes that the man at the laundromat has stolen a large sum of money from his laundry bag. Employing Elaine's and Kramer's help, respectively, they each plan revenge. |
| 8 | 13 | The Heart Attack | 1991-04-25 | 30 | George thinks he's had a heart attack. The doctor tells him otherwise, but he might want to get his tonsils and adenoids removed. Elaine is interested in the doctor and he is interested in her tongue. George not wanting to deal with the cost and the procedure decides to take Kramer's advice of going to see a naturalist, which only makes the situation worse. |
| 9 | 14 | The Deal | 1991-05-02 | 30 | Jerry and Elaine establish a new set of ground rules so they can remain friends but still sleep with each other often. With Jerry in a dilemma to find Elaine an "appropriate" birthday gift and with George's skepticism, their new deal is doomed from the start. |
| 10 | 15 | The Baby Shower | 1991-05-16 | 30 | When Jerry goes out of town, Elaine uses his apartment for the baby shower of a woman George once dated. However, the party goes awry when Kramer shows up to install illegal cable, Jerry's trip is cancelled, and George intends to confront the mother-to-be for mistreating him on their date years earlier. |
| 11 | 16 | The Chinese Restaurant | 1991-05-23 | 30 | Jerry, Elaine, and George endure a series of misadventures while waiting the entire episode to get a table at a Chinese restaurant. |
| 12 | 17 | The Busboy | 1991-06-26 | 30 | George continuously yet inadvertently meddles in the life of a busboy. Elaine has a man come to visit her for a week, we she soon finds is far too long for her liking. |
Season 3
| Episode No. | No. Overall | Title | Airdate | Runtime | Summary |
| --- | --- | --- | --- | --- | --- |
| 1 | 18 | The Note | 1991-09-18 | 30 | Jerry and George's massages end up being more pain than pleasure when Jerry has a misunderstanding with the masseusse and George gets his massage from a man. Jerry and George get Jerry's dentist friend into trouble when they ask him for doctor's notes for physical therapy. Meanwhile, Kramer is convinced he's seen Joe DiMaggio in a neighbourhood donut shop. |
| 2 | 19 | The Truth | 1991-09-25 | 30 | Jerry's audit becomes more trouble than he can handle when George breaks up with the former IRS worker who was helping Jerry, and she ends up in a sanitorium. Meanwhile, Kramer and Elaine have trouble getting along while Kramer dates Elaine's roommate. |
| 3 | 20 | The Pen | 1991-10-02 | 30 | Jerry and Elaine travel to Florida to see Jerry's parents which they soon regret when Elaine injures her back on a fold - out couch and Jerry gets caught up in a scandal by just saying that he liked someone's pen. |
| 4 | 21 | The Dog | 1991-10-09 | 30 | When a fellow airline passenger is sent to hospital, Jerry gets stuck watching his unruly dog for several days. With Jerry stuck in his apartment, George and Elaine discover they have very little to talk about on their own. Meanwhile, Kramer has difficulty breaking up with his girlfriend. |
| 5 | 22 | The Library | 1991-10-16 | 30 | Jerry is investigated by the library for a book he checked out in 1971 and never returned. Elaine fears for her career when her boss hates her recommendations, and Kramer strikes up a relationship with the librarian. Meanwhile, George believes that a homeless man is his old gym teacher, whom he got fired. |
| 6 | 23 | The Parking Garage | 1991-10-30 | 30 | The gang experience a series of misadventures while trying to find Kramer's car in a mall parking garage. |
| 7 | 24 | The Cafe | 1991-11-06 | 30 | Jerry tries helping the owner of a small restaurant attract customers by giving him a suggestion. George must take an IQ test for his latest girlfriend, so Elaine helps him in "a caper" where she takes the test for him. Kramer tries to keep his mother's ex-boyfriend's jacket, because it helps him meet women; however the ex-boyfriend comes looking for it. |
| 8 | 25 | The Tape | 1991-11-13 | 30 | While listening to a tape of his previous nights show, Jerry hears the voice of a mysterious woman who talks dirty into his tape recorder and everyone becomes excited by the voice. George tries a new cure for baldness. Kramer searches for the jacket. |
| 9 | 26 | The Nose Job | 1991-11-20 | 30 | Jerry's brain and penis play chess against one another to decide whether he should keep dating a vacuous model with whom the "sex is great" but not anything else. George is dating a woman with a big nose, Kramer tells her it like it is and she gets a nose job; however, there is a complication. Kramer gets Elaine to help him retrieve the jacket. |
| 10 | 27 | The Stranded | 1991-11-27 | 30 | Jerry & Elaine go to a party with George, while there they send signals to each other to get out of bad party conversations. Afterward, George abandons them there, when he leaves with a co-worker he has a chance with. Jerry & Elaine keeping the hosts up real late, while waiting for Kramer to come and pick them up. The host later takes Jerry up on his offer to drop by when he is in the city, just as Jerry is leaving. He stays in Jerry's apartment for the evening and parties with Kramer and a lady of the evening. Later George pays the price for his romance in the workplace (he must quit) and he tries to shoplift at the drug store where he says they still owe him ten dollars. |
| 11 | 28 | The Alternate Side | 1991-12-04 | 30 | Jerry's car is stolen and the criminal picks up his car phone. George decides to take a fill-in job moving cars from one side of the street to the other; this turns into a disaster for local traffic flow. Kramer gets a chance to do a line in a Woody Allen film; "these pretzels are making me thirsty." Elaine gets tired of her 66-year-old boyfriend and when she is about to break up with him, he has a stroke. |
| 12 | 29 | The Red Dot | 1991-12-11 | 30 | Jerry is the unwitting cause of Elaine's boyfriend falling off the wagon. Elaine gets George a job, so he buys her a gift, an $85 cashmere sweater. The sweater has a little red dot on it; hence the price. Elaine gives it back, then George gives it to the cleaning woman, to keep her quiet about them having sex on his desk. George gets fired. |
| 13 | 30 | The Subway | 1992-01-08 | 30 | Everyone has an uncommon experience while going their separate ways on the subway. George meets a beautiful woman who distracts him from his intended destination, a job interview. Jerry falls asleep and then wakes up across from a fat naked man. Elaine's train stops in the middle of a tunnel on her way to be best man at a lesbian wedding. Kramer overhears a hot tip on a horse on his way to pay $600 in traffic violations. |
| 14 | 31 | The Pez Dispenser | 1992-01-15 | 30 | Kramer joins the "Polar Bear Club." Jerry gets one of Kramer's Pez dispensers which makes Elaine laugh during a piano recital of George's girlfriend, and that puts their relationship in jeopardy. Kramer has an idea for a cologne that smells like the beach and suggests that George make a preemptive breakup with his girlfriend, that will give him the "upper hand." The Pez dispenser has a remarkable effect during a drug confrontation. |
| 15 | 32 | The Suicide | 1992-01-29 | 30 | Elaine needs to fast before an x-ray, so she tries stuffing herself three days before the test. After his neighbor Martin tries suicide, Jerry is hit on by his girlfriend, Gina, while at the hospital. A psychic warns George to cancel his vacation to the Cayman Islands, but never can tell George why. Jerry becomes worried when Newman (a friend of Martins) sees him with Gina. Elaine starts hallucinating from hunger. Everything hinges on a Drake's coffee cake. |
| 16 | 33 | The Fix-Up | 1992-02-05 | 30 | After selling each other on the idea, Jerry and Elaine sell George and Elaine's friend on a blind date, then they await the results. They promise to keep each other updated with "full disclosure," though that doesn't happen. There also may be a problem with a defective condom. |
| 17 | 34 | The Boyfriend (1) | 1992-02-12 | 30 | Jerry becomes increasingly jealous of Elaine's relationship with Keith Hernandez. The unemployed George Constanza schemes to collect unemployment checks, while the illustrated JFK "second spitter theory" is further investigated. |
| 18 | 35 | The Boyfriend (2) | 1992-02-12 | 30 | Jerry becomes increasingly jealous of Elaine's relationship with Keith Hernandez. The unemployed George Constanza schemes to collect unemployment checks, while the illustrated JFK "second spitter theory" is further investigated. |
| 19 | 36 | The Limo | 1992-02-26 | 30 | Jerry and George lie their way into a limo heading for Madison Square Garden to, or so they think, a Knicks/Bulls basketball game. Along the way they pick up Elaine and Kramer but soon become fearful of two Neo-Nazis and discover the event they're really headed to. |
| 20 | 37 | The Good Samaritan | 1992-03-04 | 30 | Jerry trails a hit-and-run driver but is attracted to her and begins dating her; he later learns her victim was a longtime quarry and dates the latter as well. Kramer begins having seizures whenever he hears Mary Hart's voice. |
| 21 | 38 | The Letter | 1992-03-25 | 30 | Jerry learns that his new artist friend, from whom George has been forced to buy a painting, plagiarized a letter to keep him from breaking up with her. Elaine refuses to remove her Baltimore Orioles cap during a New York Yankees game. |
| 22 | 39 | The Parking Space | 1992-04-22 | 30 | Coming from an outing to a flea market in New Jersey, Elaine and George damage Jerry's car when George drives over a large pothole. When they get to his apartment they end up spending the whole day arguing over a parking space. Elaine meanwhile has to come with a story about the damage to the car. |
| 23 | 40 | The Keys | 1992-05-06 | 30 | Jerry is fed up with Kramer coming into his apartment any time he feels like it and asks him to return his spare set of keys. Kramer begrudgingly complies but then lets it be known that he's leaving for California. When Jerry forgets his keys, he gets George to let him into Elaine's apartment so her can get his spare set. |
Season 4
| Episode No. | No. Overall | Title | Airdate | Runtime | Summary |
| --- | --- | --- | --- | --- | --- |
| 1 | 41 | The Trip (1) | 1992-08-12 | 30 | When Jerry is asked to appear on The Tonight Show in Los Angeles, George accompanies him to look for Kramer. |
| 2 | 42 | The Trip (2) | 1992-08-19 | 30 | Kramer is arrested when he is mistaken for a serial killer. After he is exonerated, Jerry, George, and he return to New York. |
| 3 | 43 | The Pitch | 1992-09-16 | 30 | NBC executives ask Jerry to come up with an idea for a TV series. George decides he can be a sitcom writer and comes up with "nothing." Kramer trades a radar detector for a helmet, and later Newman receives a speeding ticket. |
| 4 | 44 | The Ticket | 1992-09-16 | 30 | Newman uses Kramer as his witness when the former refuses to pay for a speeding ticket. |
| 5 | 45 | The Wallet (1) | 1992-09-23 | 30 | Jerry is asked to explain to his parents why he does not wear the watch they gave him. Morty Seinfeld thinks his wallet to have been stolen from him at his doctor's appointment. |
| 6 | 46 | The Watch (2) | 1992-09-30 | 30 | Jerry tries to buy his watch back from Uncle Leo, who found it in the garbage, having been thrown there by Jerry. George tries to resurrect the fledgling NBC deal, while Elaine plans a break up from her psychotherapist with Kramer's help. |
| 7 | 47 | The Bubble Boy | 1992-10-07 | 30 | Jerry agrees to visit a boy who lives in a plastic bubble on the way to Susan's parents' cabin. Jerry and Elaine, however, get lost; George and Susan visit the bubble boy instead, which later results in a fight after a misprint in Trivial Pursuit. |
| 8 | 48 | The Cheever Letters | 1992-10-28 | 30 | Jerry offends Elaine's assistant. Kramer makes a contact for Cuban cigars. A box of letters from John Cheever is all that remains after Susan's father's cabin burns down. |
| 9 | 49 | The Opera | 1992-11-04 | 30 | Elaine unknowingly is dating Crazy Joe Davola, who has just left a threatening message on Jerry's recorder. |
| 10 | 50 | The Virgin | 1992-11-11 | 30 | Not having come up for a script for their new sitcom, George and Jerry now have to face the music when they meet with NBC executives. George's lack of discretion however has repercussions. Jerry see Marla Penny in a bar and mentions to George that when he last saw her, she was a virgin. Jerry asks her out and finds out she still is. Elaine, on hearing the news, decides to give her a bit of coaching about men and what she can expect. |
| 11 | 51 | The Contest | 1992-11-18 | 30 | After George is caught masturbating by his mother, the four main characters devise a contest to see who can go the longest without pleasuring him/herself. Marla, Jerry's girlfriend, with whom he has yet to have sex, learns of the contest and is disgusted. |
| 12 | 52 | The Airport | 1992-11-25 | 30 | Jerry and Elaine fly back to New York. Jerry travels on first class while Elaine on coach. George and Kramer run into trouble while trying to arrive on time to pick up Jerry and Elaine at the airport. |
| 13 | 53 | The Pick | 1992-12-16 | 30 | George lobbies to get Susan back, only to regret the success of his efforts. Tia (the model Jerry met in "The Airport") dumps Jerry after she sees what appears to be Jerry picking his nose while driving. Elaine decides to send out Christmas cards with her picture on them, and accidentally chooses a revealing shot. |
| 14 | 54 | The Movie | 1993-01-06 | 30 | Jerry does a set at a comedy club, then goes to meet George, Elaine, and Kramer afterward to see a screening of Checkmate. However, a simple miscommunication causes the four to keep missing each other at two different theaters. |
| 15 | 55 | The Visa | 1993-01-27 | 30 | George meets an attractive lawyer, Cheryl, who is impressed by his sense of humor. George attempts to keep Elaine and Jerry from meeting Cheryl, believing that Jerry's sense of humor will eclipse him. Babu Bhatt, the former restaurant owner who Jerry helped drive out of business in "The Cafe" (Season 3), has trouble with the INS because Babu's visa renewal was accidentally delivered to Jerry. |
| 16 | 56 | The Shoes | 1993-02-04 | 30 | Elaine cant seem to figure out why her shoes are a subject of conversation. Jerry and George pitch their pilot to NBC, but the deal is nearly jinxed when George takes a peek at the cleavage of the NBC president's daughter. |
| 17 | 57 | The Outing | 1993-02-11 | 30 | A prank by Elaine leads a newspaper journalist to think that Jerry and George are gay. |
| 18 | 58 | The Old Man | 1993-02-18 | 30 | Elaine gets the gang to volunteer at an old folks' home. She gets freaked out by hers, George gets fired by his guy, and Jerry loses his. Kramer and Newman scheme to sell records to a vintage music store and steal the records from Jerry's old guy. |
| 19 | 59 | The Implant | 1993-02-25 | 30 | Jerry insists that his new girlfriend has implants. But she keeps insisting that they're "real and spectacular". The mystery goes even deeper when Elaine meets her in the sauna and trips and lands on her breasts. |
| 20 | 60 | The Junior Mint | 1993-03-18 | 30 | Elaine's ex-boyfriend is recovering in the hospital and has surgery. The gang goes to visit. Kramer gets the idea to paint his apartment to simulate the feel of a ski lodge. While at the hospital, Kramer's concern about the operation gets him and Jerry in to watch. But when Kramer sneaks in candy and forces it on Jerry, Jerry starts a chain reaction that causes the Junior Mints to land in Elaine's ex-boyfriend. Jerry thinks he may have killed the guy while George, who learns that he has recently come into some money, decides to invest in the ex-boyfriend's artwork. |
| 21 | 61 | The Smelly Car | 1993-04-15 | 30 | Jerry and Elaine realize that the valet who parked Jerry's car has really bad B.O. Jerry soon realizes that the smell isn't just a mere odor, but an entity unto itself, and finally decides that he has to get rid of his car. Meanwhile, George gets reacquainted with Susan and discovers that he drove her to lesbianism, and Kramer dates Susan's girlfriend. |
| 22 | 62 | The Handicap Spot | 1993-05-13 | 30 | At Kramer's insistence, George parks his Dad's car in a handicap spot. After a woman is injured because of it, George becomes his Dad's butler while Kramer tries to help the woman. |
| 23 | 63 | The Pilot (1) | 1993-05-20 | 30 | "Jerry"'s pilot finally airs. Elaine avoids the romantic pursue of Dalrymple. |
| 24 | 64 | The Pilot (2) | 1993-05-20 | 30 | "Jerry"'s pilot finally airs. Elaine avoids the romantic pursue of Dalrymple. |
Season 5
| Episode No. | No. Overall | Title | Airdate | Runtime | Summary |
| --- | --- | --- | --- | --- | --- |
| 1 | 65 | The Mango | 1993-09-16 | 30 | Elaine makes a startling confession. |
| 2 | 66 | The Puffy Shirt | 1993-09-23 | 30 | Kramer and his soft-spoken friend Leslie start a new line of clothing and Jerry accidentally agrees to wear it on the Today show. |
| 3 | 67 | The Glasses | 1993-09-30 | 30 | George loses his glasses at the health club. |
| 4 | 68 | The Sniffing Accountant | 1993-10-07 | 30 | The gang gets suspicious of their accountant. |
| 5 | 69 | The Bris | 1993-10-14 | 30 | Jerry and Elaine are asked to be godparents. |
| 6 | 70 | The Lip Reader | 1993-10-28 | 30 | George decides to use Jerry's girlfriend to spy on his friends by having her read their lips. Kramer claims he can also read lips and tries to prove it. |
| 7 | 71 | The Non-Fat Yogurt | 1993-11-04 | 30 | Kramer invests in a new non-fat yogurt store. |
| 8 | 72 | The Barber | 1993-11-11 | 30 | Jerry regrets giving his longtime barber the heave-ho after he gets a ridiculous-looking haircut. George gets a job interview but the boss leaves him with a very cryptic ending. Kramer begs Elaine to let him take part in her charity bachelor auction. |
| 9 | 73 | The Masseuse | 1993-11-18 | 30 | Jerry gets mad when he dates a masseuse. Kramer and George get massages while Jerry doesn't. Meanwhile, Elaine's new boyfriend is Joel Rifkin, an innocent man who shares the same name as one of New York's most notorious serial killers. |
| 10 | 74 | The Cigar Store Indian | 1993-12-09 | 30 | Jerry is deemed a racist when he purchases a Native American statue for Elaine. Kramer tries to get Elaine's company to publish his coffee table book. Elaine runs into a really creepy man on the subway who steals Frank's TV Guide and follows her to the Costanza's house. Meanwhile, George gets grounded when he has sex with a woman in his parents' bed. |
| 11 | 75 | The Conversion | 1993-12-16 | 30 | George decides to convert to Latvian Orthodox to impress a girl, against his angry parents' objections. Meanwhile, Kramer converts a nun at the church, and Jerry takes a peek in his girlfriend's medicine cabinet and is stunned by what he finds. |
| 12 | 76 | The Stall | 1994-01-06 | 30 | Jerry's new girlfriend and Elaine have an argument at the toilet, unaware of each other's identities. Jerry finds himself in an awkward position, as both parties claim their right on the matter, as well as trying to avoid confrontation between the two. |
| 13 | 77 | The Dinner Party | 1994-02-03 | 30 | En route to a dinner party, Jerry and Elaine stop off at a bakery and get held up when the bakery runs out of what they want to purchase. Meanwhile, George and Kramer, en route to said dinner party, stop off at a liquor store to buy a bottle of wine and have a hard time picking one out. |
| 14 | 78 | The Marine Biologist | 1994-02-10 | 30 | George starts dating a woman who (told by Jerry) thinks George is a marine biologist. Elaine's electronic organizer injures a person after being launched from a limo by a Russian novelist. Kramer decides to golf on the beach. |
| 15 | 79 | The Pie | 1994-02-17 | 30 | While shopping for a new suit for a job interview, George and the others stumble upon a mannequin which scarily resembles Elaine. Meanwhile Jerry tries to figure out why his girlfriend won't try his apple pie at Monks. |
| 16 | 80 | The Stand-In | 1994-02-24 | 30 | Kramer gets a job with Mickey as a TV stand-in. Jerry sets Elaine up with a guy who he says would be perfect for her. At the end of their first date he takes "it" out. |
| 17 | 81 | The Wife | 1994-03-17 | 30 | While Jerry keeps up the pretense of a pretend marriage with new girlfriend, Meryl, so she can share his dry cleaning discount, Elaine tries to decipher whether a guy at the gym likes her and simultaneously tries to keep him from reporting George to the manager for peeing in the shower; and Kramer prepares to meet his girlfriend, Anna's parents. |
| 18 | 82 | The Raincoats (1) | 1994-04-28 | 30 | In this two-part episode, Jerry's parents are visiting before leaving for France which prevents Jerry from having alone time with his new girlfriend, Rachel. George uses the trip to get out of volunteering for the Big Brother program. Kramer and Morty team up to sell Morty's old belt-less trench coat "The Executive" to a vintage clothing store. Elaine's creepy new boyfriend is a "close talker" who enjoys spending time with Jerry's parents. |
| 19 | 83 | The Raincoats (2) | 1994-04-28 | 30 | In this two-part episode, Jerry's parents are visiting before leaving for France which prevents Jerry from having alone time with his new girlfriend, Rachel. George uses the trip to get out of volunteering for the Big Brother program. Kramer and Morty team up to sell Morty's old belt-less trench coat "The Executive" to a vintage clothing store. Elaine's creepy new boyfriend is a "close talker" who enjoys spending time with Jerry's parents. |
| 20 | 84 | The Fire | 1994-05-05 | 30 | Kramer pitches his idea for a coffee table book about coffee tables. Kramer takes Toby to see Jerry's act but she heckle's him from the audience. George overreacts somewhat to a fire in the kitchen, showing a side of his character that his new girlfriend does not like. |
| 21 | 85 | The Hamptons | 1994-05-12 | 30 | The gang goes to the Hamptons for the weekend to visit Elaine's friend new baby. |
| 22 | 86 | The Opposite | 1994-05-19 | 30 | George decides to turn his life around by doing the exact opposite of what he would usually do. Elaine is having a lot of bad luck. Jerry keeps breaking even. Kramer gets the coffee table book published. |
Season 6
| Episode No. | No. Overall | Title | Airdate | Runtime | Summary |
| --- | --- | --- | --- | --- | --- |
| 1 | 87 | The Chaperone | 1994-09-22 | 30 | Jerry dates a Miss America contestant. |
| 2 | 88 | The Big Salad | 1994-09-29 | 30 | Kramer thinks that a simple penalty stroke may have driven his golf partner, Steve Gennison, to murder a dry cleaner. Jerry is stunned to learn that his girlfriend not only went out with, but was dumped by Newman. George thinks Elaine gave his girlfriend an incorrect thank you when it was actually George who paid for Elaine's lunch. Elaine flirts with a stationery store employee and thinks that she may have sent him the wrong message. |
| 3 | 89 | The Pledge Drive | 1994-10-06 | 30 | Kramer finds Jerry's old birthday checks from his grandmother and insists he deposits them, which puts Nana in unexpected debt. Elaine accidentally tells the high talker a secret. Mr Pitt eats a Snickers bar with utensils. |
| 4 | 90 | The Chinese Woman | 1994-10-13 | 30 | George's telephone line crosses with that of a woman named Donna Chang, and everyone seeks her advice when she convinces them that she's Chinese. Jerry winds up dating her. Things get worse when Frank and Estelle announce a separation. Jerry and Elaine can't seem to figure out why Frank Costanza is having mysterious business dealings with a man in a cape. |
| 5 | 91 | The Couch | 1994-10-27 | 30 | Elaine dates a moving guy, and things are going well for her until Jerry wants to know what his opinion on abortion is. Poppy returns and he and Kramer are going into business together to create a restaurant where you make your own pizza. Meanwhile, George goes out of his way to cheat on a book club test by renting "Breakfast At Tiffany's" instead of reading the book. |
| 6 | 92 | The Gymnast | 1994-11-03 | 30 | George's girlfriend's mom thinks he is a bum when she catches George eating an éclair out of the trash can, among various other coincidences. Jerry dates a woman who is a former Olympic gymnast and ventures into the territory of sexual pleasures that most men dare not dream of. Elaine tries to pry Mr. Pitt away from looking at Kramer's new 3-D art poster. Meanwhile, Kramer gets a kidney stone. |
| 7 | 93 | The Soup | 1994-11-10 | 30 | Kramer convinces Jerry to get a free Armani suit from hack comic Kenny Bania. But when Bania decides that he doesn't want anything except for dinner, Jerry has a hard time accepting the suit knowing that there is a far greater catch involved. Things get even worse when, during the dinner, Bania insists that soup doesn't count as a meal. Meanwhile, Elaine has a British friend stay with her for a week. |
| 8 | 94 | The Mom & Pop Store | 1994-11-17 | 30 | George buys a convertible he thinks was once owned by Jon Voight. Kramer tries to save a small shoe-repair business. Elaine answers a radio quiz, enabling Mr. Pitt to participate in the Macy's Thanksgiving Day Parade. Meanwhile, Jerry tries to solve the mystery of whether or not he's invited to Tim Whatley's annual Pre-Thanksgiving party. |
| 9 | 95 | The Secretary | 1994-12-08 | 30 | George gets a secretary, saying he will go for efficiency and smarts rather than beauty. He hires a librarian-esque woman, only to find himself falling in love with her. |
| 10 | 96 | The Race | 1994-12-15 | 30 | Jerry dates a girl named Lois, though her boss is Duncan Meyer, an old high school rival of Jerry's, who Jerry once defeated in a track meet, though Duncan has protested the race ever since, and now wants a rematch. Elaine finds out her boyfriend is a communist, George contacts a personal ad from "The Daily Worker", and Kramer gets a job as a shopping center Santa. |
| 11 | 97 | The Switch | 1995-01-05 | 30 | Elaine loans Mr. Pitt's expensive tennis racket to an executive from Doubleday who hints there may be a job opening for Elaine soon. Jerry's girlfriend never smiles or laughs at his jokes but her roommate laughs at everything he says so he contemplates the switch. George's girlfriend, a model, eats a lot but never puts on weight. |
| 12 | 98 | The Label Maker | 1995-01-19 | 30 | Tim Whatley gives Jerry a label maker as a thank you for his Super Bowl tickets. George is uncomfortable with his girlfriend's male roommate. Kramer and Newman play a game of Risk. |
| 13 | 99 | The Scofflaw | 1995-01-26 | 30 | When George learns that their friend Gary never had cancer as he claimed, he promises to keep it a secret from Jerry. Elaine gets all tied up in knots when she learns that someone said hi to her ex-boyfriend on her behalf. Kramer has a run-in with the local beat cop who tells him there's someone in the neighborhood who has amassed parking tickets for years. |
| 14 | 100 | Highlights of a Hundred (1) | 1995-02-02 | 30 | For the series' 100th episode, Jerry Seinfeld hosts a one hour retrospective with clips from previous episodes: the idea for a show about nothing; the smelly car; the puffy shirt; the astronaut pen; Jerry's hair; George's lack of hair; Mulva; Jerry's virgin girlfriend; the Hernandez incident; the outing; the masters of their domain; the bubble boy - are only a few of the episodes included. |
| 15 | 101 | Highlights of a Hundred (2) | 1995-02-02 | 30 | For the series' 100th episode, Jerry Seinfeld hosts a one hour retrospective with clips from previous episodes: the idea for a show about nothing; the smelly car; the puffy shirt; the astronaut pen; Jerry's hair; George's lack of hair; Mulva; Jerry's virgin girlfriend; the Hernandez incident; the outing; the masters of their domain; the bubble boy - are only a few of the episodes included. |
| 16 | 102 | The Beard | 1995-02-09 | 30 | Elaine attempts to convert a gay man to heterosexuality. Kramer sets George up with a woman and, not having a photograph, describes her to a police sketch artist. Jerry hooks up with a female officer who then has Jerry take a polygraph test on whether or not he's seen the show "Melrose Place." |
| 17 | 103 | The Kiss Hello | 1995-02-16 | 30 | Kramer tries to create a Utopian society when he puts up pictures of all the residents of his and Jerry's building. Jerry doesn't mind until the women of the building want to be greeted with a kiss. After Jerry objects to kissing hello, he's vilified and nearly kicked out of the building. Meanwhile, Elaine's friend who is a chiropractor skips out on George's appointment and goes skiing instead, and they have a hard time telling her about her dated hairdo. |
| 18 | 104 | The Doorman | 1995-02-23 | 30 | Elaine house-sits for Mr. Pitt. Jerry goes to meet up with her to go to the movies and winds up offending the Doorman. So to make up for it, Jerry watches the door. But when Jerry leaves his post and the couch in the lobby is stolen, Jerry and Elaine formulate a plan to cover their tracks. Meanwhile, Kramer invents a bra for men and George tries to find a way to get his father out of his apartment. |
| 19 | 105 | The Jimmy | 1995-03-16 | 30 | The gang has various encounters with a man named Jimmy, who talks about himself in the 3rd person. Jerry suspects Tim Whatley and his assistant are using patients for sexual pleasures. George cuts a deal with Jimmy to sell Jimmy's shoes, but Jimmy gets injured thanks to Kramer's drooling. |
| 20 | 106 | The Doodle | 1995-04-06 | 30 | George dates a girl from Elaine's art class and wonders whether or not her humorous caricature of him is a sign that she likes him or not. Thanks to Newman's fleas, Jerry's visiting parents are forced to stay in Elaine's luxury hotel room. Elaine gets a potential job offer but accidentally leaves the manuscript in Jerry's flea-infested apartment. |
| 21 | 107 | The Fusilli Jerry | 1995-04-27 | 30 | Kramer gets new license plates, but a DMV screw-up gives him a new vanity license plate. George's mom gets plastic surgery. Jerry tells Puddy about his "move", which he proceeds to use on Elaine. |
| 22 | 108 | The Diplomat's Club | 1995-05-04 | 30 | Jerry's new agent thinks he's a celebrity who needs his hand held on every little decision. After she tells him that the pilot who flew the plane to Ithaca is in the audience, Jerry freaks out. Kramer goes to the Diplomat's Club to meet up with Jerry and winds up gambling with a Texas business man on which plane is going to arrive first. Meanwhile, Mr. Pitt puts Elaine in his will, and Mr. Pitt's lawyer has reason to suspect that Elaine is up to something. |
| 23 | 109 | The Face Painter | 1995-05-11 | 30 | Jerry scores premium tickets to a New Jersey Devils playoff game. But Jerry gets weirded out when Puddy shows up at the game and paints his face to match the team colors. Kramer enjoys the game so much that he tries to convince Jerry to get more tickets from the guy Jerry got them from. Meanwhile, George decides to tell his girlfriend that he loves her, only to have the plans backfire on him while Kramer battles a chimpanzee at the zoo. |
| 24 | 110 | The Understudy | 1995-05-18 | 30 | Jerry begins to date a girl who is an understudy for Bette Midler in her new Broadway musical, Rochelle, Rochelle. Jerry, George and Kramer all play on the Improv softball team and happen to be playing against the cast and crew of Rochelle, Rochelle. Kramer fawns over Bette and Jerry's girlfriend cries about her frankfurter falling on the ground but not about her grandmother dying. |
Season 7
| Episode No. | No. Overall | Title | Airdate | Runtime | Summary |
| --- | --- | --- | --- | --- | --- |
| 1 | 111 | The Engagement | 1995-09-21 | 30 | Elaine has a problem sleeping in her new apartment because of a dog that keeps barking. Meanwhile, George gets back together with Susan Ross, proposes to her, then begins to have seconds thoughts about it. Jerry breaks up with Melanie because of her peculiar eating habits and Kramer's solution to help Elaine includes Newman, a van and a case of dog-napping. |
| 2 | 112 | The Postponement | 1995-09-28 | 30 | Feeling overwhelmed, George wants to postpone marrying Susan. |
| 3 | 113 | The Maestro | 1995-10-05 | 30 | Elaine dates the conductor of an orchestra who insists everyone calls him "Maestro." |
| 4 | 114 | The Wink | 1995-10-12 | 30 | Jerry squirts grapefruit into George's eye at breakfast, and for the rest of the day George is misinterpreted because everyone thinks he is winking at them. |
| 5 | 115 | The Hot Tub | 1995-10-19 | 30 | George picks up a bad habit from some visiting baseball officials. During the time of the New York City Marathon, Elaine has an out of country runner as her house guest. The runner had overslept and missed the big race at the last Olympics and Jerry obsesses with ensuring that it doesn't happen again. Kramer gets a hot tub from his friend Lomez, and Elaine has writer's block. |
| 6 | 116 | The Soup Nazi | 1995-11-02 | 30 | A soup stand owner obsesses about his customers' ordering procedure, but his soup is so good that people line up down the block for it anyway. |
| 7 | 117 | The Secret Code | 1995-11-09 | 30 | George refuses to give anyone his secret code (BOSCO). Kramer buys a police scanner. Jerry does a series of ads for Leapin' Larry's Appliance Store. Elaine has dinner with J. Peterman but after she and Jerry bail on the dinner, George is stuck to dine with Peterman. George spills his secret code to Peterman's dying mother and gets in trouble for it. |
| 8 | 118 | The Pool Guy | 1995-11-16 | 30 | Jerry has a hard time telling the pool guy at his new health club that there isn't room for a 5th member of the group. George's worlds collide when Elaine starts hanging out with Susan. Kramer discovers that his phone number is one digit off from that of a popular movie-finding service and offers help to those that mistakenly call his number. |
| 9 | 119 | The Sponge | 1995-12-07 | 30 | After learning that her prophylactic of choice is being discontinued, Elaine buys a case of Today sponges and scrutinizes her dates for their sponge-worthiness. |
| 10 | 120 | The Gum | 1995-12-14 | 30 | Lloyd Braun comes back from the insane asylum. Kramer takes him under his wing and convinces Jerry to buy gum from him and wear glasses that don't belong to him to prove that Lloyd isn't crazy. George tries to prove to his old neighbor Deena that he isn't crazy after a cashier short changes him. |
| 11 | 121 | The Rye | 1996-01-04 | 30 | After George's parents take back the bread they gifted to Susan's parents, George makes Jerry find another loaf and tries to appease Susan's parents by taking them on Kramer's Manhattan horse tours, to disastrous consequences. |
| 12 | 122 | The Caddy | 1996-01-25 | 30 | Elaine's floozy former ex-roommate Sue Ellen Mischkie returns. George locks his keys in his car and leaves it in the Yankees parking lot. Elaine, out of spite, buys Sue Ellen a bra for a birthday gift as she has never worn one. Elaine decides that Sue Ellen is a menace to society, and Kramer hires smooth-talking attorney Jackie Chiles to represent them. Unfortunately, the trial is jeopardized when Kramer asks Stan The Caddy for advice. |
| 13 | 123 | The Seven | 1996-02-01 | 30 | George meets Susan's cousins. The wife is expecting a baby and they are having a hard time agreeing on the name. George reveals that he wants to name his kid Seven after Mickey Mantle. The cousins like the idea of naming their kid Seven, but nobody else does. Elaine buys an antique bicycle and hurts her neck in the process. Kramer fixes her neck and wants the bicycle in exchange for payment. Jerry's new girlfriend wears the same dress every single day. |
| 14 | 124 | The Cadillac (1) | 1996-02-08 | 30 | In this hour-long episode, Jerry decides to buy his father a Cadillac. Unfortunately, doing so puts Morty in the hot seat with the condo board of directors. Meanwhile, thanks to Elaine, George can score a date with "My Cousin Vinny" star Marisa Tomei but Elaine objects because of George's engagement with Susan. Kramer turns the tables on the cable company when they want to disconnect his service. |
| 15 | 125 | The Cadillac (2) | 1996-02-08 | 30 | In this hour-long episode, Jerry decides to buy his father a Cadillac. Unfortunately, doing so puts Morty in the hot seat with the condo board of directors. Meanwhile, thanks to Elaine, George can score a date with "My Cousin Vinny" star Marisa Tomei but Elaine objects because of George's engagement with Susan. Kramer turns the tables on the cable company when they want to disconnect his service. |
| 16 | 126 | The Shower Head | 1996-02-15 | 30 | Peterman wants Elaine to go to Africa, but when Elaine tests positive for Opium in her physical, that means no dice. George tries to convince his parents to move to Florida so that he finally gets his "buffer zone", but they have problems with Jerry's parents. Kramer and Newman scheme to buy black market shower heads when the building switches to low-flow ones. |
| 17 | 127 | The Doll | 1996-02-22 | 30 | George freaks out when he discovers that Susan has a doll that looks exactly like his mother. Jerry decides to use that as a bit on the Charles Grodin show when his prop gets destroyed in his carry-on luggage, but fellow comedian Sally Weaver screws up his bit by bringing him the wrong doll. |
| 18 | 128 | The Friars Club | 1996-03-07 | 30 | Jerry has a hard time getting membership in the Friar's Club when the Flying Santos Brothers take his jacket during a show. Meanwhile, Elaine suspects that a new co-worker (Rob Schnieder) is faking a hearing disorder to get out of doing work. |
| 19 | 129 | The Wig Master | 1996-04-04 | 30 | Susan's friends are in town for the Broadway production of Joseph And The Amazing Technicolor Dreamcoat. Kramer gets to wear the coat and is mistaken for a pimp in public when he accuses a local parking lot of running a prostitution ring out of his car. Jerry buys a jacket and later returns it for spite. Elaine tries to buy a dress from the same guy Jerry gets the jacket from, but is stunned to learn that he's holding it until Elaine sleeps with him. |
| 20 | 130 | The Calzone | 1996-04-25 | 30 | George gets Steinbrenner hooked on eggplant calzones from a local Italian restaurant. But George gets banned from the restaurant when he's accused of stealing from the tip jar. He then asks Kramer to pick up the calzones, but Kramer gets kicked out when he tries to pay with pennies. George's last resort in getting the calzones is Newman who wants a cut of every delivery. Meanwhile, Kramer will only wear clothing if it's straight from the dryer. |
| 21 | 131 | The Bottle Deposit (1) | 1996-05-02 | 30 | A garage mechanic steals Jerry's car. Elaine tries to win J. Peterman JFK's presidential golf clubs at an auction. George is asked to work on a mysterious assignment. Kramer and Newman run a recycling scam. |
| 22 | 132 | The Bottle Deposit (2) | 1996-05-02 | 30 | A garage mechanic steals Jerry's car. Elaine tries to win J. Peterman JFK's presidential golf clubs at an auction. George is asked to work on a mysterious assignment. Kramer and Newman run a recycling scam. |
| 23 | 133 | The Wait Out | 1996-05-09 | 30 | A comment from George ends up causing a married couple to get divorced and Jerry and Elaine to date the soon-to-be exes. Kramer tries wearing jeans. |
| 24 | 134 | The Invitations | 1996-05-16 | 30 | It's finally time for George and Susan's wedding. George doesn't think he can go through with the wedding. But when Susan puts George in charge of the wedding invitations, George gets the cheapest ones in the lot, knowing that the glue for the envelopes is cheap. Unfortunately for Susan, the glue is also toxic and licking the envelopes has fatal consequences. Meanwhile, Jerry courts a woman just like him named Janeanne Steinberg and holds up his end of George's "pact". |
Season 8
| Episode No. | No. Overall | Title | Airdate | Runtime | Summary |
| --- | --- | --- | --- | --- | --- |
| 1 | 135 | The Foundation | 1996-09-19 | 30 | George enjoys the single life. Elaine takes over the catalog when J. Peterman suddenly goes missing. Kramer is taking karate lessons. |
| 2 | 136 | The Soul Mate | 1996-09-26 | 30 | George thinks the Board of Directors are talking behind his back. Kramer has a crush on Jerry's new girlfriend. Elaine doesn't see the big deal in having a baby. |
| 3 | 137 | The Bizarro Jerry | 1996-10-03 | 30 | George uses Susan's death to pick up women. Elaine's new friend is Jerry's exact opposite. Jerry's new girlfriend has manly hands. Kramer pretends to work for an upscale firm. |
| 4 | 138 | The Little Kicks | 1996-10-10 | 30 | Jerry is forced to bootleg a movie for Kramer's friend. George tries the "bad boy" image. No one has the heart to tell Elaine that she's a terrible dancer. |
| 5 | 139 | The Package | 1996-10-17 | 30 | A mysterious package arrives for Jerry. Elaine is curious about what the doctors are writing in her records. George tries to hit on the cute girl at the "One Hour Photo" place. |
| 6 | 140 | The Fatigues | 1996-10-31 | 30 | Jerry's new girlfriend's mentor is dating Bania. Kramer volunteers to host a Jewish singles mixer. George tries to study up on risk management. Elaine promotes a man she is afraid to fire. |
| 7 | 141 | The Checks | 1996-11-07 | 30 | Jerry gets hundreds of royalty checks, worth 12 cents each, for appearing on a Japanese TV program and gets writer's cramp. George and Jerry pitch their pilot to Japanese TV executives. |
| 8 | 142 | The Chicken Roaster | 1996-11-14 | 30 | Kenny Rogers' Roasters sets up shop across the street from Jerry and Kramer's apartment. Elaine gets comfortable in her position as president of the catalog but is quickly accused of abusing her company credit card benefits. George purposefully leaves a hat at his girlfriend's apartment in hopes that it will score another date. |
| 9 | 143 | The Abstinence | 1996-11-21 | 30 | Abstinence allows George to become a genius, but it turns Elaine into an idiot. Jerry gets bumped from career day at his old Jr. High School. Kramer turns his apartment into a smoking lounge and all the smoke disfigures his face. |
| 10 | 144 | The Andrea Doria | 1996-12-19 | 30 | A survivor of a shipwreck beats George out of an apartment, so George decides to tell the landlords the tragedies of his life in hopes of getting it back based on pity. |
| 11 | 145 | The Little Jerry | 1997-01-09 | 30 | Jerry bounces a check. Kramer buys a live chicken. George dates a female convict. Elaine dates a man who shaves his head. |
| 12 | 146 | The Money | 1997-01-16 | 30 | Jerry's parents believe he is financially unstable. Kramer has trouble sleeping with his girlfriend. Elaine enjoys her position as President of the J. Peterman catalog. George hopes to get his parents' money when they die. |
| 13 | 147 | The Comeback | 1997-01-30 | 30 | George tries to come up with a good comeback after someone insults him. Elaine falls in love with a mysterious employee at the video store. Kramer wants to die a certain way. Jerry takes advice from a tennis player who stinks. |
| 14 | 148 | The Van Buren Boys | 1997-02-06 | 30 | Kramer gets mixed up with a gang when he is mugged by them and mistakenly shows their secret sign. |
| 15 | 149 | The Susie | 1997-02-13 | 30 | Kramer sets his watch an hour ahead. George tries to avoid a breakup with his girlfriend. A colleague keeps calling Elaine, Susie. Jerry gambles on a basketball game, but the bookie can't pay him. |
| 16 | 150 | The Pothole | 1997-02-20 | 30 | Jerry accidentally drops his girlfriends toothbrush in the toilet. George loses his car keys in a newly paved pothole. Elaine orders food from a restaurant that refuses to deliver to her area. Kramer adopts a highway. |
| 17 | 151 | The English Patient | 1997-03-13 | 30 | Elaine is dragged to see the movie "The English Patient" on multiple occasions, even though she absolutely hates the film. |
| 18 | 152 | The Nap | 1997-04-10 | 30 | George takes a nap under his desk. Kramer swims in the East River. Jerry has some maintenance done on his kitchen. Elaine's new boyfriend buys her a new mattress. |
| 19 | 153 | The Yada Yada | 1997-04-24 | 30 | George's new girlfriend keeps including "Yada Yada" in her stories. Jerry is offended by Tim Whatley's Jewish jokes. Elaine tries to help her friends adopt a baby. Kramer and Mickey fight over two women. |
| 20 | 154 | The Millennium | 1997-05-01 | 30 | Kramer and Newman compete during the early planning of each of their millennium parties. |
| 21 | 155 | The Muffin Tops | 1997-05-08 | 30 | Elaine opens a new bakery that sells only the tops of the muffins. |
| 22 | 156 | The Summer of George | 1997-05-15 | 30 | Unemployed again, George decides to have a "memorable" summer. Jerry's new girlfriend has another dude. Kramer wins a Tony Award. A new girl at work is hostile towards Elaine. |
Season 9
| Episode No. | No. Overall | Title | Airdate | Runtime | Summary |
| --- | --- | --- | --- | --- | --- |
| 1 | 157 | The Butter Shave | 1997-09-25 | 30 | Kramer discovers the amazing yet unknown uses of butter, but accidentally fries himself after using it as sunscreen. |
| 2 | 158 | The Voice | 1997-10-02 | 30 | George's colleagues try to force him to leave. Jerry makes fun of his girlfriend's bellybutton. Kramer hires an intern. Elaine gets back together with David Puddy. |
| 3 | 159 | The Serenity Now | 1997-10-09 | 30 | Jerry opens up his feelings. Elaine is getting hit on by the Jews. Kramer gets a screen door. George helps his father sell computers. |
| 4 | 160 | The Blood | 1997-10-16 | 30 | Jerry's parents hire their friend Izzy Mandelbaum to become Jerry's personal trainer while George decides to associate food and television with his love life. |
| 5 | 161 | The Junk Mail | 1997-10-30 | 30 | Kramer is annoyed with the catalogs he keeps getting in the mail. Elaine falls in love with a guy because of his smile. George's parents are avoiding him. Jerry can't find it in his heart to reject a gift from an old school friend. |
| 6 | 162 | The Merv Griffin Show | 1997-11-06 | 30 | George runs over a flock of pigeons. Jerry's new girlfriend has a toy collection. A new co-worker is freaking Elaine out. Kramer rebuilds the set of the Merv Griffin Show in his apartment. |
| 7 | 163 | The Slicer | 1997-11-13 | 30 | Elaine borrows Kramer's meat slicer to feed her neighbor's cat while George tries to hide his not-so-great past from his new boss. |
| 8 | 164 | The Betrayal | 1997-11-20 | 30 | The gang goes to a wedding in India in this special episode told in reverse. Meanwhile, Kramer uses his superstition to try to make sure he won't drop dead. |
| 9 | 165 | The Apology | 1997-12-11 | 30 | Jerry dates a nudist, and George seeks an apology from an old friend. |
| 10 | 166 | The Strike | 1997-12-18 | 30 | Jerry goes out with a woman who is beautiful one day and ugly the next. Kramer goes back to work at H&H Bagels. George makes up a charity. Elaine gives a fake number to a man. |
| 11 | 167 | The Dealership | 1998-01-08 | 30 | Jerry looks to buy a new car from Elaine's boyfriend. George tries to find a snack. Kramer test drives a car. |
| 12 | 168 | The Reverse Peephole | 1998-01-15 | 30 | Elaine is embarrassed by Puddy's fur coat. Kramer tries to keep Newman from getting evicted. George carries everything in his wallet. Jerry is through with wallets. |
| 13 | 169 | The Cartoon | 1998-01-29 | 30 | Sally Weaver makes fun of Jerry. George's new girlfriend looks just like Jerry. Kramer takes a vow of silence. Elaine gets a job drawing cartoons for the New Yorker. |
| 14 | 170 | The Strongbox | 1998-02-05 | 30 | George's new girlfriend refuses to break up with him. Jerry doesn't help out a neighbor. Elaine's new boyfriend is poor. Kramer tries to find a good place to hide his key for his strongbox. |
| 15 | 171 | The Wizard | 1998-02-26 | 30 | Jerry goes down to Florida for his father's birthday. George tries to avoid Susan's parents. Elaine can't figure out her new boyfriend's nationality. Kramer decides to retire. |
| 16 | 172 | The Burning | 1998-03-19 | 30 | Elaine finds out that Puddy is religious. Kramer pretends to have gonorrhea. Jerry's new girlfriend has a tractor story to tell him. George wants everyone at work to like him. |
| 17 | 173 | The Bookstore | 1998-04-09 | 30 | George is forced to buy a book he brought into the bathroom. Jerry finds out that his Uncle Leo is a shop lifter. Elaine doesn't want to be known as the office skank. Kramer and Newman start a Hong Kong rickshaw business. |
| 18 | 174 | The Frogger | 1998-04-23 | 30 | George tries to acquire an old Frogger machine on which he's held the top score since high school. |
| 19 | 175 | The Maid | 1998-04-30 | 30 | Jerry winds up dating the maid he hired, and she starts to slack off on her duties. |
| 20 | 176 | The Puerto Rican Day | 1998-05-07 | 30 | Jerry, George, Kramer and Elaine get stuck in standstill traffic due to the massive Puerto Rican Day Parade. |
| 21 | 177 | The Clip Show (1) (a.k.a. The Chronicle (1)) | 1998-05-14 | 30 | Just as the four are about to go to the movies, Jerry looks back on the past nine years with the audience. |
| 22 | 178 | The Clip Show (2) (a.k.a. The Chronicle (2)) | 1998-05-14 | 30 | Just as the four are about to go to the movies, Jerry looks back on the past nine years with the audience. |
| 23 | 179 | The Finale (1) | 1998-05-14 | 30 | After George and Jerry land a production deal with NBC, the four head out for Paris on NBC's private plane and are waylaid in a small Massachusetts town. |
| 24 | 180 | The Finale (2) | 1998-05-14 | 30 | After George and Jerry land a production deal with NBC, the four head out for Paris on NBC's private plane and are waylaid in a small Massachusetts town. |
Series Cast
| | | | |
| --- | --- | --- | --- |
| | Jason Alexander | as George Costanza | |
| | Jerry Seinfeld | as Jerry Seinfeld | |
| | Michael Richards | as Cosmo Kramer | |
| | Julia Louis-Dreyfus | as Elaine Benes | |
| | Lee Garlington | as Claire | |
Series Crew
| | Position | Name |
| --- | --- | --- |
| | Executive Producer | Alec Berg |
| | Supervising Producer | Alec Berg |
| | Line Producer | Joan Van Horn |
| | Co-Producer | Carol Leifer |
| | Associate Producer | Tim Kaiser |
| | Associate Producer | Suzy Mamann Greenberg |
| | Producer | Suzy Mamann Greenberg |
| | Associate Producer | Morgan Sackett |
| | Consulting Producer | Max Pross |
| | Supervising Producer | Max Pross |
| | Producer | Max Pross |
| | Consulting Producer | Tom Gammill |
| | Supervising Producer | Tom Gammill |
| | Producer | Tom Gammill |
| | Executive Producer | Jeff Schaffer |
| | Supervising Producer | Jeff Schaffer |
| | Co-Producer | David Mandel |
| | Supervising Producer | David Mandel |
| | Creator | Jerry Seinfeld |
| | Producer | Jerry Seinfeld |
| | Executive Producer | Howard West |
| | Executive Producer | George Shapiro |
| | Executive Producer | Andrew Scheinman |
| | Executive Producer | Fred Barron |
| | Co-Executive Producer | Andy Robin |
| | Supervising Producer | Andy Robin |
| | Co-Executive Producer | Peter Mehlman |
| | Co-Producer | Peter Mehlman |
| | Supervising Producer | Peter Mehlman |
| | Producer | Peter Mehlman |
| | Co-Executive Producer | Gregg Kavet |
| | Co-Producer | Spike Feresten |
| | Supervising Producer | Spike Feresten |
| | Supervising Producer | Tom Cherones |
| | Producer | Tom Cherones |
| | Supervising Producer | Larry Charles |
| | Producer | Larry Charles |
| | Co-Producer | Elaine Pope |
| | Co-Producer | Steve Koren |
| | Co-Producer | Jennifer Crittenden |
| | Associate Producer | Rick Corcoran |
| | Co-Producer | Larry David |
| | Creator | Larry David |
| | Executive Producer | Larry David |
| | Producer | Larry David |
| | Re-Recording Mixer | Kathy Oldham |
| | Re-Recording Mixer | Charlie McDaniel |
| | Associate Producer | Nancy Sprow |
| | Producer | Jan Siegelman |
| | Executive Producer | Gary Gilbert |
| | Creative Consultant | Bruce Kirschbaum |
Related News
TVMaze