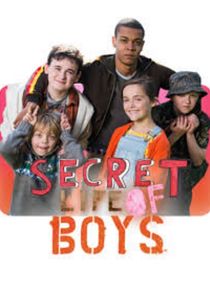 Secret Life of Boys is a CBBC comedy drama series about Ginger Boxwell, who flies from Australia to the UK to spend the summer with her four cousins she's never met before. The summer turns out to be fun, surprising, loud and messy!
Series Overview
Rating
imDb Rating: 7.8 (12 Votes)
Metascore: N/A
Plot
Ginger moves from her home in Sydney into the Hughes house, full of boys! Ginger learns how to fit in and how to live the summer with all the boys.
Details
Rated: N/A
Released: 02 Nov 2015
Runtime: 22 min
Genre: Comedy
Director: N/A
Writer: Anthony Q. Farrell
Actors: Elizabeth Bower, Erica Brown, Grant Burgin, Reece Buttery
Language: English
Country: UK
Awards: N/A
Total Seasons: 2
Previous Episode
Episode 11
Episode 4x11; Apr 04, 2019
Previous Episodes 4x11: Episode 11 4x10: Episode 10 4x9: Episode 9 4x8: Episode 8 4x7: Episode 7 4x6: Episode 6 4x5: Episode 5 4x4: Episode 4 4x3: Episode 3

View All Episodes
Skip to:
Season 1
| Episode No. | No. Overall | Title | Airdate | Runtime | Summary |
| --- | --- | --- | --- | --- | --- |
| 1 | 1 | Just One of the Boys | 2015-11-07 | 25 | Ginger Boxwell flies from Australia to the UK to spend the summer with four cousins she's never met before. |
| 2 | 2 | Make Yourself at Home | 2015-11-14 | 25 | Corey and Bob leave Ginger and her cousins alone together in the hope that they will bond while they have the house to themselves. |
| 3 | 3 | Girls | 2015-11-21 | 25 | Aunt Corey takes it upon herself to set up a play date for Ginger with a girl from down the road. |
| 4 | 4 | Sharing Is Caring | 2015-11-28 | 25 | While searching for Ethan's lost dragon, Ginger finds a game console. When she asks Robbie who it belongs to, he implores her to hide it. |
| 5 | 5 | Seasons Change | 2015-12-05 | 25 | It's Ginger's last weekend before she goes home and she decides to tell her cousins the truth about her dad. |
Season 2
| Episode No. | No. Overall | Title | Airdate | Runtime | Summary |
| --- | --- | --- | --- | --- | --- |
| 1 | 6 | I Wish | 2017-03-27 | 25 | Summer is here and Chris is excited! That is until Ginger lets slip that the summer fairy isn't real. Chris is heartbroken! And so is Aunt Corey because her little boy is growing up. Ginger works with Aunt Corey to get Chris to believe again, but what if they fail? Will they only make things worse? Meanwhile, uncle Bob is trying to lay down a concrete path in the garden, but Robbie and Ethan interrupt him with their own projects. Robbie needs assistance raising a ramp and Ethan needs help capturing a bat in the greenhouse. Matt begins his journey to uni, trying to figure out whether to go to school nearby or far away. |
| 2 | 7 | The Call | 2017-03-28 | 25 | Ethan and Robbie become over-protective of Ginger when a boy calls the house for her. Ginger maintains that Heath is just a friend, but they don't like the idea of any boy calling their cousin. In an act of defiance, Ginger invites Heath over for the day, but now Ginger is worried that Heath will get the wrong idea. Is this a date? Is Heath a boyfriend or just a friend who's a boy? Penny's rooting for boyfriend! Meanwhile, Chris takes a very grown-up journey to get sugar from a neighbour. What he doesn't know is that Matt has dressed up as a bush to keep tabs on him. While Aunt Corey and Uncle Bob worry about Chris, they work on their own distractions. Aunt Corey tries to perfect her aunt Carole's biscuits and uncle Bob works on perfecting his homemade lemonade. |
| 3 | 8 | Ears Everywhere | 2017-03-29 | 25 | Aunt Corey's psychic powers have gone from good to amazing. Ginger, Robbie and Ethan start getting suspicious - just where is she getting her information? The truth is that aunt Corey has placed a hidden camera in the kitchen. She is very happy with the results of her little experiment and convinces uncle Bob that they should expand the operation. They put cameras all over the house to make sure the kids are behaving. When the kids find out, they fight fire with fire and put their own hidden camera in the workshop. Now everyone is watching everyone. Matt stays out of the way while he works on his new big money-making idea. He's invented the perfect food. Part cookie, part bacon, all delicious. |
| 4 | 9 | Happy Both-Day | 2017-03-30 | 25 | Matt and Chris share a birthday and always have a big joint party. But with Matt turning 18 and Chris still being a 'grown-up', this looks like the year that everything changes. Matt asks if he can spend his big day in town with his mates and Chris doesn't want a little kid party. Aunt Corey enlists uncle Bob to help her throw Chris a party that will change him back to being the silly kid he is inside. Ginger has a different plan for finding the old Chris. Robbie and Ethan are kicked out of the house after one of their birthday pranks catches aunt Corey off guard. They use the time to track down a dead goat that is allegedly near the old barn. They think it will be cool, but when they find it the moment has a much deeper effect than they expected. |
| 5 | 10 | The Visitor | 2017-03-31 | 25 | Ethan and Ginger stumble upon Matt's big secret and find out why he's been so mysterious all summer. He's been talking to his biological father! Now that Qyle and Matt have reunited, it's clear that they're two peas in a pod. Unfortunately, aunt Corey and Qyle are not on the best of terms. When Ginger convinces Matt to come clean to aunt Corey about Qyle, he reluctantly tells his mum the truth. Aunt Corey is not happy with Qyle's arrival, but is even more put off with Matt's news - he's moving to America. Aunt Corey's extreme efforts to keep Matt at home eventually get Matt to reveal the true reasoning behind his choice. Uncle Bob and Qyle, who are meeting for the first time, build a mutual respect for each other while trying to track down Robbie's rogue battle bot, the Rubbisher. |
| 6 | 11 | Can You Dig it? | 2017-05-19 | 20 | Ethan and Uncle Bob discover an old map that leads to 200-year-old pirate treasure somewhere in the garden. They secretly go about digging holes around the property, hoping to strike it rich. Unfortunately, Aunt Corey trips in one of the holes and sprains her ankle. While Aunt Corey is stuck inside, Uncle Bob and Ethan continue their search. Matt, however, knows a secret about the map - it is fake! The map was originally one of his geography projects that he buried years ago in hopes of tricking Ethan and Robbie. Matt had long forgotten it, but now that it is back in play, Matt plans on using it to get back at Ethan for some hurtful remarks he made earlier in the day. When Uncle Bob and Ethan discover Matt and Robbie's ruse, they turn the tables on them. Ginger, meanwhile, has an odd conversation with a friend of hers from Australia. It seems that Ginger's accent has become more British and less Aussie over the last year. |
| 7 | 12 | Ginger's Arrow | 2017-05-26 | 20 | Ginger meets Tabitha, a cool Aussie girl, at an Australian festival. They hit it off, but Ginger worries that they won't be able to hang out because she is older. Ginger really feels like Tabitha is the key to regaining her Aussie-ness before she heads back home and is desperate to keep her around. Ginger comes up with a plan that will convince Tabitha to stay close: Ginger gets Matt to ask Tabitha out. Once Matt and Tabitha become an item, it completely backfires on Ginger. Both Matt and Tabitha change for the worse, in the eyes of Ginger and her cousins, and inspire the kids to try and break up their union. Uncle Bob joins Aunt Corey's boot camp in an effort to get in shape. While cheating on his diet, Uncle Bob gets caught by Robbie, Ethan and Chris. They use the information to blackmail Uncle Bob into building a giant hamster wheel that will bring electricity to the treehouse. By the end, the diet completely blows up in Uncle Bob's face. |
| 8 | 13 | Holes in the Story | 2017-06-09 | 20 | Someone has broken uncle Bob's new TV, but none of the kids are talking. Aunt Corey and uncle Bob are determined to find out the truth. They divide the kids up and listen to their individual stories, which turn out to be very different. In Robbie's story, Ethan's the villain who interrupts Robbie's science time to watch a programme he's seen many times before. In Ethan's version, Robbie is the culprit. Getting nowhere, Aunt Corey and Uncle Bob try to find out from Matt what happened since he was in charge. Unfortunately, he's not much help because he was completely distracted. Chris tries to help, but his story is undecipherable. Fearing the worse for everyone, Ginger comes clean and takes responsibility. But even that story turns out to be a lie. In the end, the mystery is solved, but not before aunt Corey reveals a secret of her own. |
| 9 | 14 | Action | 2017-06-16 | 20 | Ginger is distracted from finishing her stop-motion film by best friend Penny being extra clingy for some reason. Penny tries to help, but accidentally deletes the whole film. Now the race is on to make a new film before the competition deadline. When Ginger is caught raiding her cousins' bedrooms to find props for her film, Ethan, Robbie and Matt strike a deal with her. Meanwhile, Uncle Bob gives Aunt Corey her anniversary present - an air hockey table. He thought it would be a sweet gesture to remind Corey of how he proposed, but it quickly turns into an epic and extremely competitive air hockey battle, cheered on by Chris. |
| 10 | 15 | Secrets Out | 2017-06-23 | 20 | Matt and Tabitha discover Ginger's big secret - she's been secretly filming her cousins and sharing the vlogs with her friends back in Australia. The problem? Her supposedly 'secret' vlogs have gone viral! Now everyone knows her cousins' secrets and Ginger has to work extra hard to get the boys to forgive her before she goes home to Australia. Meanwhile, uncle Bob discovers a mistake with his wedding paperwork - he may not be legally married to aunt Corey! The kids convince him to throw a 'fake' wedding for Corey, which will actually be real. Ethan trains lizard Stan to be the ring bearer, Chris decorates the wedding arch, Robbie sets up some entertainment and Matt tries to become a vicar. |
Series Crew
| | Position | Name |
| --- | --- | --- |
| | Creator | Anthony Q. Farrell |
Related News
TVMaze