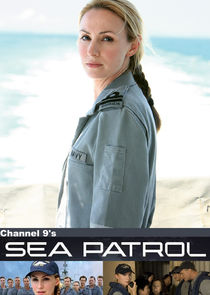 Set amid the awesome beauty of the Australian Gold Coast, Sea Patrol follows sailors from every walk of life, age and temperament all crammed aboard the Naval Patrol boat Hammersley, a veritable pressure cooker of emotions desires and ambitions. Whether they are hunting down well armed drug smugglers, chasing thieves or pirates, helping fools, or saving reckless illegal immigrants, their adventures serve to bring the crew together to forge deep and longstanding friendships that cross the class and gender divide. Filmed on the Great Barrier Reef and Mission Beach, Far North Queensland and at Warner Roadshow Studios, Gold Coast, QLD.
Series Overview
Rating
imDb Rating: 7.4 (1,548 Votes)
Metascore: N/A
Plot
Following the crew of the patrol boat HMAS Hammersley, as they patrol the northern sea border of Australia. They have to deal with foreign fishermen poaching fish, smugglers and with political unrest in a neighbouring island state.
Details
Rated: N/A
Released: 05 Jul 2007
Runtime: 42 min
Genre: Action, Crime, Drama
Director: N/A
Writer: Di McElroy, Hal McElroy
Actors: John Batchelor, Matthew Holmes, Lisa McCune, Kristian Schmid
Language: English
Country: Australia
Awards: 1 win & 3 nominations.
Total Seasons: 5
Previous Episode
One Perfect Day
Episode 5x13; Jul 12, 2011
Previous Episodes 5x13: One Perfect Day 5x12: Saving Ryan 5x11: The Morning After 5x10: The Hunted 5x9: Dead Sea 5x8: Lifeline 5x7: Black Flights 5x6: The Stinger 5x5: Dead Zone

View All Episodes
Cast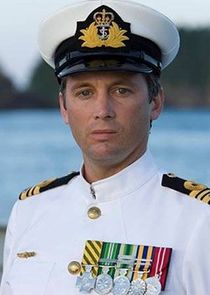 Ian Stenlake as Lieutenant Commander Mike "CO" Flynn
John Batchelor as Chief Petty Officer Andy "Charge" Thorpe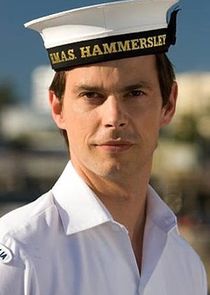 Kristian Schmid as Leading Seaman Communicator Robert "RO" Dixon
Jeremy Lindsay Taylor as Petty Officer Bosun Peter "Buffer" Tomashevski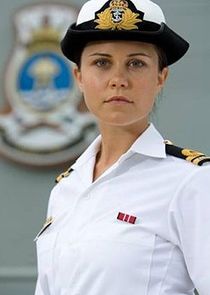 Saskia Burmeister as Lieutenant Nikki "Nav" Caetano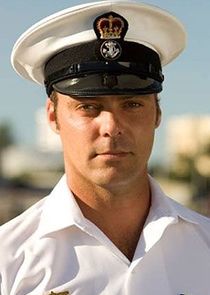 Matthew Holmes as Petty Officer Chris "Swain" Blake
View Full Cast
Skip to:
Season 1
| Episode No. | No. Overall | Title | Airdate | Runtime | Summary |
| --- | --- | --- | --- | --- | --- |
| 1 | 1 | Welcome Aboard | 2007-07-05 | 60 | When HMAS Hammersley answers a distress call from Bright Island, Captain Mike Flynn and his crew discover a young woman lying paralysed on the beach. She is conscious but unable to talk, and despite their best efforts they are unable to save her. Thus begins new Executive Officer Lieutenant Kate McGregor's first day aboard a patrol boat, and CO Mike Flynn's obsession with the mystery of Bright Island. Something very odd is happening in connection with the Island. The Federal Police move in to investigate the woman's death, but no-one is talking. Her colleague, the striking Doctor Ursula Morrell, seems to know more than she's letting on, and Mike finds himself drawn to her cool beauty and her vulnerability. |
| 2 | 2 | What Lies Beneath | 2007-07-12 | 60 | The Hammersley uncovers a sophisticated drug smuggling network, with explosive results. Mike is convinced the Federal Police are covering up the poisoning death of a marine biologist. Kate is jealous of Mike's relationship with Ursula Morrell, while Nikki struggles to restrain her feelings for ET. |
| 3 | 3 | Ghost of Things Past | 2007-07-19 | 60 | The crew of the HMAS Hammersley come across an abondonned catamaran in the middle of the ocean, which uncovers the beginnings of a murder mystery. A sailor has gone missing and Nikki puts her navigational sklls to the test in the attempt to find them. The ship is then hit by a cyclone. |
| 4 | 4 | Irukandji | 2007-07-26 | 60 | The crew must stop beach frolicking now Toby 'Chefo' Jones plans to propose, for a mayday. It seems a pirate boat, but carries only boat refugees. Alas some splashing water contains microscopic Irukandji jellyfish, whose poisonous bite may be fatal for Chefo and John 'Jack' Jaffah. Chief petty officer Andy 'Charge' Thorpe has something irritating an eye. Petty officer Pete 'Buffer' Tomashevski gets refugee Samira to talk about the scum firing a flair at them and takes their side, unlike Robert 'RO' Dixon, who grumbles he must fill in as cook. Billy 'Spider' Webb is heartbroken when his recruitment 'class clown' Jaffah doesn't make it. |
| 5 | 5 | Under the Radar | 2007-08-02 | 60 | The Hammersley attempts the daring capture of an illegal fishing 'mother ship' but is thwarted by violent eco-terrorists. Mike finds himself falling in love with beautiful marine biologist Ursula Morrell, who later goes missing under mysterious circumstances. |
| 6 | 6 | Precious Cargo | 2007-08-09 | 60 | The crew uncovers a people smuggling racket, when they almost collide with a floating shipping container full of North Korean refugees. The Hammersley races to capture the smugglers' ship and save the lives of their human cargo. Kate is wooed by a charming civilian sailor. Meanwhile, Mike is determined to solve the mystery of Ursula's disappearance. |
| 7 | 7 | Rescue Me | 2007-08-16 | 60 | The HMAS Hammersley confronts a series of new menaces in the northern waters from pirates to toxic crabs, not to mention a gorgeous solo yachtswomen with a rescue fetish. |
| 8 | 8 | Through the Storm | 2007-08-23 | 60 | The video of Chefo's bucks night finds its way into Kate's hands and she is humiliated by what she finds on it. The HMAS Hammersley comes across an unexploded sea mine and Spider manages to save the life of a boy who was near the mine, but have Spider's days in the navy come to an end? |
| 9 | 9 | Under the Hammer | 2007-08-30 | 60 | Disaster looms for the Hammersley crew when a fire erupts in the engine room, after the mascot is stolen by a rival Patrol Boat crew. Meanwhile, an eye injury threatens to destroy Charge's career, and ET takes a vow of chastity in a desperate attempt to prove himself to Nikki. |
| 10 | 10 | Damage Control | 2007-09-06 | 60 | The crew pursues a distraught father who has kidnapped his own children. Then, while searching a crocodile-infested swamp for the missing family, the crew discovers a badly mauled fisherman. |
| 11 | 11 | Chinese Whispers | 2007-09-13 | 60 | The Hammersley saves sailors from a sinking ship, only to learn they are diamond smugglers who will kill to save their cargo. Swain is kidnapped by smugglers and left trapped in their sinking ship. Will Buffer rescue him before the ship sinks? Mike is reprimanded by Navy brass over his obsession with the Bright Island mystery. |
| 12 | 12 | Deep Water | 2007-09-27 | 60 | The Hammersley races to save a boatload of tourists from being murdered as part of a bizarre terrorist publicity stunt. Meanwhile, Swain and the crew help deliver the baby of a runaway teenager, found lost at sea with her criminal boyfriend. A series of emergencies at sea prevent Swain from attending the birth of his first baby. |
| 13 | 13 | Cometh the Hour | 2007-10-04 | 60 | As the decommissioning of the HMAS Hammersley draws near, the crew risks life and ship to hunt down a rogue terrorist boat and retrieve its cargo of bio-toxins. In ordering the sinking of the rogue ship, Mike makes the most difficult decision of his career. |
Season 2
Episode No.
No. Overall
Title
Airdate
Runtime
Summary
1
14
The Dogs of War
2008-03-31
60

After the Hammersley successfully pulls off the tricky evacuation of all the Australian citizens from an island in the Samaru Archipelago, it comes across an FFV which isn't what it pretends to be. Charge discovers first-hand exactly how dangerous his job can be. And Nikki and ET have to decide what to do now that they're working together.

2
15
Fortune Favours
2008-04-07
60

Despite being determined to earn respect, Hammersley's new chef "Bomber" Brown but faces discipline after losing her temper with another crew member. Also, the crew discover a dead pirate and a killer cargo on board a stolen boat.

3
16
Takedown
2008-04-14
60

An ugly hostage situation on board HMAS Hammersley sees two of the ship's female officers taken hostage below decks. It's a day of high tension, which begins when a group of shipwrecked illegal immigrants is rescued from a sand bay. Along with Afghan refugees, and a chronically ill Asian girl, are three super-fit Eastern Europeans who waste no time once they are safe on board.

4
17
Heaven Born Captains
2008-04-21
60

After going on a blind date with an SAS commander, Kate believes her love life is starting to look up. When a French naval captain attempts to seduce Mike, he has to call on all his diplomacy skills. An illegal fishing boat is the subject of a perilous boarding.

5
18
Giving Up the Dead
2008-04-28
60

Robert fails a drug test but is determined to prove his innocence. Meanwhile, the Hammersley uncovers a smuggling operation by Samaruian rebels which is designed to destabilise the government.

6
19
Birds
2008-05-05
60

The crew of the Hammersley are joined by a federal agent and go in search of an illegal fishing boat. Whilst on board the Navy find evidence on the boat and find the fishing boat crew start to exhibit symptoms of bird flu. One crew member faces a gruesome operation, while the federal agent learns that blackmail can work both ways.

7
20
Hidden Agendas
2008-05-12
60

The crew find a boy who has found a cache of guns. The boy is later kidnapped which ends up ruining a date for Kate and Jim. Meanwhile, one crew member faces losing the love of his life.

8
21
Heart of Glass
2008-05-19
60

Bomber Brown and Spider Webb fall overboard and as the man of the watch, Buffer takes it hard that the two missing officers might drown. Meanwhile Buffer also deals with a personal tragedy.




9
22
Shadow Line
2008-05-26
60

The Hammersley is once again in hot pursuit of the cabin cruiser responsible for trafficking weapons and ammunition to the Samaru Islands. Meanwhile Mike Flynn receives a tempting offer from Ray Walsman and Kate's life is placed in danger when she becomes isolated from the crew.

10
23
Rules of Engagement
2008-06-02
60

Unresolved romantic tension has a dramatic effect on some of the Hammersley crew, after a savage mortar attack by insurgents on the Samaru island of Minatu. Mike and Jim are both critically injured during a bold rescue mission on Samaru. Meanwhile, Kate is made acting CO of the Hammersley.

It's up to Kate to handle a volatile beachside confrontation, and the medical evacuation of Mike

11
24
A Brilliant Career
2008-06-09
60

A change of command on HMAS Hammersley results in divided loyalties and the humiliation of the ship's most senior female officer. After a dangerous departure from Samaru, Commander Mike Flynn is recovering in hospital.

12
25
Friends Close; Enemies Closer
2008-06-16
60

Awaiting a call from his girlfriend, Buffer's attention is distracted by the Russian Special Forces tattoo on an aggressive passer by, which leads him to be inadvertently locked in a container on a suspect barge, heading upriver. Meanwhile, Commander Mike Flynn has recovered and is back in charge of the Hammersley, quickly reacting to a "mayday" call from the luxurious yacht owned by Ray Walsman.

13
26
Soldiers of Fortune
2008-06-23
60

Buffer becomes a marked man after providing evidence allowing the Hammersley team to arrest Ray Walsman, and among a team of UN observers later taken on board, is one man with murderous intent. Walsman meanwhile has escaped, but a quick thinking Mike has him back in custody.
Season 3
| Episode No. | No. Overall | Title | Airdate | Runtime | Summary |
| --- | --- | --- | --- | --- | --- |
| 1 | 27 | Catch and Release | 2009-05-18 | 60 | |
| 2 | 28 | Monkey Business | 2009-05-25 | 60 | |
| 3 | 29 | China Dolls | 2009-06-01 | 60 | |
| 4 | 30 | Guns | 2009-06-08 | 60 | |
| 5 | 31 | Ghost Net | 2009-06-15 | 60 | |
| 6 | 32 | Oh Danny Boy | 2009-06-22 | 60 | |
| 7 | 33 | Half Life | 2009-06-29 | 60 | |
| 8 | 34 | Red Sky Morning | 2009-07-06 | 60 | |
| 9 | 35 | Pearls Before Swine | 2009-07-13 | 60 | |
| 10 | 36 | Safeguard | 2009-07-20 | 60 | |
| 11 | 37 | Secret Cargo | 2009-07-20 | 60 | |
| 12 | 38 | Black Gold | 2009-07-27 | 60 | |
| 13 | 39 | Red Reef | 2009-07-27 | 60 | |
Season 4
| Episode No. | No. Overall | Title | Airdate | Runtime | Summary |
| --- | --- | --- | --- | --- | --- |
| 1 | 40 | Night of the Long Knives | 2010-04-15 | 60 | |
| 2 | 41 | Crocodile Tears | 2010-04-22 | 60 | |
| 3 | 42 | The Right Stuff | 2010-04-29 | 60 | |
| 4 | 43 | Ransom | 2010-05-06 | 60 | |
| 5 | 44 | Paradise Lost | 2010-05-13 | 60 | |
| 6 | 45 | Big Fish | 2010-05-20 | 60 | |
| 7 | 46 | Shoes of the Fisherman | 2010-05-27 | 60 | |
| 8 | 47 | Universal Donor | 2010-06-03 | 60 | |
| 9 | 48 | Dutch Courage | 2010-06-10 | 60 | |
| 10 | 49 | Rawhide | 2010-06-17 | 60 | |
| 11 | 50 | Brotherhood of the Sea | 2010-06-24 | 60 | |
| 12 | 51 | Rumble in the Jungle | 2010-07-01 | 60 | |
| 13 | 52 | Soft Target | 2010-07-08 | 60 | |
| 14 | 53 | Live Catch | 2010-07-15 | 60 | |
| 15 | 54 | Flotsam and Jetsam | 2010-07-22 | 60 | |
| 16 | 55 | In Too Deep | 2010-07-29 | 60 | |
Season 5
| Episode No. | No. Overall | Title | Airdate | Runtime | Summary |
| --- | --- | --- | --- | --- | --- |
| 1 | 56 | The Third Man | 2011-04-26 | 60 | |
| 2 | 57 | Eye for an Eye | 2011-05-03 | 60 | |
| 3 | 58 | Crimes of Passion | 2011-05-10 | 60 | |
| 4 | 59 | Spoils of War | 2011-05-17 | 60 | |
| 5 | 60 | Dead Zone | 2011-05-24 | 60 | |
| 6 | 61 | The Stinger | 2011-05-31 | 60 | |
| 7 | 62 | Black Flights | 2011-05-31 | 60 | |
| 8 | 63 | Lifeline | 2011-06-07 | 60 | |
| 9 | 64 | Dead Sea | 2011-06-14 | 60 | |
| 10 | 65 | The Hunted | 2011-06-21 | 60 | |
| 11 | 66 | The Morning After | 2011-06-28 | 60 | |
| 12 | 67 | Saving Ryan | 2011-07-05 | 60 | |
| 13 | 68 | One Perfect Day | 2011-07-12 | 60 | |
Series Cast
| | | | |
| --- | --- | --- | --- |
| | Ian Stenlake | as Lieutenant Commander Mike "CO" Flynn | |
| | John Batchelor | as Chief Petty Officer Andy "Charge" Thorpe | |
| | Kristian Schmid | as Leading Seaman Communicator Robert "RO" Dixon | |
| | Jeremy Lindsay Taylor | as Petty Officer Bosun Peter "Buffer" Tomashevski | |
| | Saskia Burmeister | as Lieutenant Nikki "Nav" Caetano | |
| | Matthew Holmes | as Petty Officer Chris "Swain" Blake | |
| | Jay Ryan | as Seaman Billy "Spider" Webb | |
| | Lisa McCune | as Lieutenant Kate "XO" McGregor | |
| | David Lyons | as Leading Seaman Josh "ET" Holliday | |
| | Kirsty Lee Allan | as Able Seaman Rebecca "Bomber" Brown | |
| | Josh Lawson | as Able Seaman Cook Toby "Chefo" Jones | |
| | Nikolai Nikolaeff | as Leading Seaman Leo "2 Dads" Kosov-Meyer | |
| | Conrad Coleby | as Petty Officer Bosun Dylan "Dutchy" Mulholland | |
| | Dominic Deutscher | as Midshipman Ryan "Ry" White | |
| | Danielle Horvat | as Seaman Jessica "Gap Girl" Bird | |
Series Crew
| | Position | Name |
| --- | --- | --- |
| | Executive Producer | Jo Horsburgh |
| | Creator | Di McElroy |
| | Executive Producer | Di McElroy |
| | Creator | Hal McElroy |
| | Executive Producer | Hal McElroy |
Related News
TVMaze