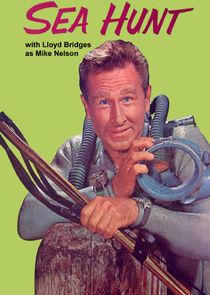 Mike Nelson is a former Navy SCUBA diver who goes independent. Now Mike will go anywhere, take on any underwater challenge... and deal with any danger along the way.
Series Overview
Rating
imDb Rating: 7.6 (1,009 Votes)
Metascore: N/A
Plot
Mike Nelson is a S.C.U.B.A. diver in the days when it was still very new. He works alone, and the plot was mostly carried through his voice-over narrations. These gave the show a flavor of ...
Details
Rated: N/A
Released: 04 Jan 1958
Runtime: 30 min
Genre: Action, Adventure
Director: N/A
Writer: James Buxbaum
Actors: Lloyd Bridges
Language: English
Country: USA
Awards: N/A
Total Seasons: 4
Previous Episode
Round Up
Episode 4x38; Sep 23, 1961
Previous Episodes 4x38: Round Up 4x37: Crime at Sea 4x36: Skipper 4x35: Starting Signal 4x34: P.T. Boat 4x33: Roustabout 4x32: Superman 4x31: Impostor 4x30: The Saint Story

View All Episodes
Skip to:
Season 1
| Episode No. | No. Overall | Title | Airdate | Runtime | Summary |
| --- | --- | --- | --- | --- | --- |
| 1 | 1 | Sixty Feet Below | 1958-01-04 | 30 | |
| 2 | 2 | Flooded Mine | 1958-01-11 | 30 | |
| 3 | 3 | Rapture of the Deep | 1958-01-25 | 30 | |
| 4 | 4 | Mark of the Octopus | 1958-02-01 | 30 | |
| 5 | 5 | The Sea Sled | 1958-02-08 | 30 | |
| 6 | 6 | Female of the Species | 1958-02-15 | 30 | |
| 7 | 7 | Mr. Guinea Pig | 1958-02-22 | 30 | |
| 8 | 8 | Sonar Queen | 1958-03-01 | 30 | |
| 9 | 9 | Gold Below | 1958-03-08 | 30 | |
| 10 | 10 | Recovery | 1958-03-15 | 30 | |
| 11 | 11 | Killer Whale | 1958-03-22 | 30 | |
| 12 | 12 | Midget Submarine | 1958-03-29 | 30 | |
| 13 | 13 | The Shark Cage | 1958-04-05 | 30 | |
| 14 | 14 | Hardhat | 1958-04-12 | 30 | |
| 15 | 15 | Continental Rift | 1958-04-19 | 30 | |
| 16 | 16 | The Poacher | 1958-04-26 | 30 | |
| 17 | 17 | Girl in the Trunk | 1958-05-03 | 30 | |
| 18 | 18 | The Sponge Divers | 1958-05-10 | 30 | |
| 19 | 19 | Diamond River | 1958-05-17 | 30 | |
| 20 | 20 | Alligator Story | 1958-05-24 | 30 | |
| 21 | 21 | Magnetic Mine | 1958-05-31 | 30 | |
| 22 | 22 | Underwater Patrol | 1958-06-07 | 30 | |
| 23 | 23 | Legend of the Mermaid | 1958-06-14 | 30 | |
| 24 | 24 | Pressure Suit | 1958-06-21 | 30 | |
| 25 | 25 | The Prospectors | 1958-06-28 | 30 | |
| 26 | 26 | The Hero | 1958-07-05 | 30 | |
| 27 | 27 | Underwater Station | 1958-07-12 | 30 | |
| 28 | 28 | The Lost Ones | 1958-07-19 | 30 | |
| 29 | 29 | Capture of the Santa Rosa | 1958-07-26 | 30 | |
| 30 | 30 | The Shipwreck | 1958-08-02 | 30 | |
| 31 | 31 | The Big Dive | 1958-08-09 | 30 | |
| 32 | 32 | The Birthday Present | 1958-08-16 | 30 | |
| 33 | 33 | Dead Man's Cove | 1958-08-23 | 30 | |
| 34 | 34 | Explosion | 1958-08-30 | 30 | |
| 35 | 35 | The Amphibian | 1958-09-06 | 30 | |
| 36 | 36 | Lord Christobal | 1958-09-13 | 30 | |
| 37 | 37 | Decoy | 1958-09-20 | 30 | |
| 38 | 38 | The Sea Has Ears | 1958-09-27 | 30 | |
| 39 | 39 | The Manganese Story | 1958-10-04 | 30 | |
Season 2
| Episode No. | No. Overall | Title | Airdate | Runtime | Summary |
| --- | --- | --- | --- | --- | --- |
| 1 | 40 | The Alcatraz Story | 1959-01-04 | 30 | |
| 2 | 41 | Operation Greenback | 1959-01-11 | 30 | |
| 3 | 42 | Underwater Security | 1959-01-18 | 30 | |
| 4 | 43 | Underwater Labyrinth | 1959-01-25 | 30 | |
| 5 | 44 | Monte Cristo | 1959-02-01 | 30 | |
| 6 | 45 | The Stunt | 1959-02-08 | 30 | |
| 7 | 46 | Diving for the Moon | 1959-02-15 | 30 | |
| 8 | 47 | The Search | 1959-02-22 | 30 | |
| 9 | 48 | Jettisoned | 1959-03-01 | 30 | |
| 10 | 49 | Murder at 60 Feet | 1959-03-08 | 30 | |
| 11 | 50 | Air Pockets | 1959-03-15 | 30 | |
| 12 | 51 | The Dam | 1959-03-22 | 30 | |
| 13 | 52 | Dock Fire | 1959-03-29 | 30 | |
| 14 | 53 | The Persuaders | 1959-04-05 | 30 | |
| 15 | 54 | Nerve Gas | 1959-04-12 | 30 | |
| 16 | 55 | Strange Salvage | 1959-04-19 | 30 | |
| 17 | 56 | Underwater Survey | 1959-04-26 | 30 | |
| 18 | 57 | Underwater Curtain | 1959-05-03 | 30 | |
| 19 | 58 | Hermes | 1959-05-10 | 30 | |
| 20 | 59 | The Briefcase | 1959-05-17 | 30 | |
| 21 | 60 | Cave Diving | 1959-05-24 | 30 | |
| 22 | 61 | Water Ski Show | 1959-07-01 | 30 | |
| 23 | 62 | Underwater Shrine | 1959-06-07 | 30 | |
| 24 | 63 | Chain of Evidence | 1959-06-14 | 30 | |
| 25 | 64 | Treasure Hunt | 1959-06-21 | 30 | |
| 26 | 65 | Sea Serpent | 1959-06-28 | 30 | |
| 27 | 66 | The Getaway | 1959-07-05 | 30 | |
| 28 | 67 | Underwater Ejection | 1959-07-12 | 30 | |
| 29 | 68 | The Female | 1959-07-19 | 30 | |
| 30 | 69 | Port Security | 1959-07-26 | 30 | |
| 31 | 70 | Underwater Park | 1959-08-02 | 30 | |
| 32 | 71 | Underwater Unit | 1959-08-09 | 30 | |
| 33 | 72 | Proof of Guilt | 1959-08-16 | 30 | |
| 34 | 73 | Chained | 1959-08-23 | 30 | |
| 35 | 74 | Ransom | 1959-08-30 | 30 | |
| 36 | 75 | Oil Island | 1959-09-06 | 30 | |
| 37 | 76 | Base of Operations | 1959-09-13 | 30 | |
| 38 | 77 | Kelp Forest | 1959-09-20 | 30 | |
| 39 | 78 | The Raft | 1959-09-27 | 30 | |
Season 3
| Episode No. | No. Overall | Title | Airdate | Runtime | Summary |
| --- | --- | --- | --- | --- | --- |
| 1 | 79 | Asylum | 1960-01-09 | 30 | |
| 2 | 80 | Water Nymphs | 1960-01-16 | 30 | |
| 3 | 81 | Mister Big | 1960-01-23 | 30 | |
| 4 | 82 | Hot Cargo | 1960-01-30 | 30 | |
| 5 | 83 | Underwater Drop | 1960-02-06 | 30 | A group of enemy agents use an underwater cave as a microfilm drop, and end up with an accidental death on their hands. |
| 6 | 84 | Cobalt Bomb | 1960-02-13 | 30 | |
| 7 | 85 | Counterfeit | 1960-02-20 | 30 | |
| 8 | 86 | Missile Watch | 1960-02-27 | 30 | |
| 9 | 87 | Jade Cavern | 1960-03-05 | 30 | While in the Bahamas, Mike helps out a female diver and becomes involved in her quest to trace the origin of a jade statue. |
| 10 | 88 | Expatriate's Return | 1960-03-12 | 30 | |
| 11 | 89 | Strong Box | 1960-03-19 | 30 | |
| 12 | 90 | The Fearmakers | 1960-03-26 | 30 | |
| 13 | 91 | Revolutionary Spoils | 1960-04-02 | 30 | |
| 14 | 92 | Pirate Gold | 1960-04-09 | 30 | |
| 15 | 93 | The Living Fossil | 1960-04-16 | 30 | |
| 16 | 94 | Submarine Explosion | 1960-04-23 | 30 | |
| 17 | 95 | Sacred Pool | 1960-04-30 | 30 | |
| 18 | 96 | Cindy | 1960-05-07 | 30 | |
| 19 | 97 | Cross Current | 1960-05-14 | 30 | |
| 20 | 98 | Synthetic Hero | 1960-05-21 | 30 | |
| 21 | 99 | The Cellini Vase | 1960-05-28 | 30 | |
| 22 | 100 | Target | 1960-06-04 | 30 | |
| 23 | 101 | Ghost Light | 1960-06-11 | 30 | |
| 24 | 102 | Rebreather | 1960-06-18 | 30 | |
| 25 | 103 | Blind Spot | 1960-06-25 | 30 | |
| 26 | 104 | The Replacement | 1960-07-02 | 30 | |
| 27 | 105 | Underwater Beacon | 1960-07-09 | 30 | |
| 28 | 106 | Time Fuse | 1960-07-16 | 30 | |
| 29 | 107 | Storm Drain | 1960-07-23 | 30 | |
| 30 | 108 | The Invader | 1960-07-30 | 30 | |
| 31 | 109 | Changing Patterns | 1960-08-06 | 30 | |
| 32 | 110 | The Catalyst | 1960-08-13 | 30 | |
| 33 | 111 | The Missing Link | 1960-08-20 | 30 | |
| 34 | 112 | Underwater Narcotics | 1960-08-27 | 30 | |
| 35 | 113 | The Sound of Nothing | 1960-09-03 | 30 | |
| 36 | 114 | Prima Donna | 1960-09-10 | 30 | |
| 37 | 115 | Beyond Limits | 1960-09-17 | 30 | |
| 38 | 116 | Diplomatic Pouch | 1960-09-24 | 30 | |
| 39 | 117 | Man Overboard | 1960-10-01 | 30 | |
Season 4
| Episode No. | No. Overall | Title | Airdate | Runtime | Summary |
| --- | --- | --- | --- | --- | --- |
| 1 | 118 | Point of No Return | 1961-01-07 | 30 | |
| 2 | 119 | River Treasure | 1961-01-14 | 30 | |
| 3 | 120 | The Destroyers | 1961-01-21 | 30 | |
| 4 | 121 | Vital Error | 1961-01-28 | 30 | |
| 5 | 122 | The Dancer | 1961-02-04 | 30 | |
| 6 | 123 | Sperling of Lamatsue | 1961-02-11 | 30 | |
| 7 | 124 | Rescue | 1961-02-18 | 30 | |
| 8 | 125 | Mercy Trip | 1961-02-25 | 30 | |
| 9 | 126 | Hot Tracer | 1961-03-04 | 30 | |
| 10 | 127 | Sonar Story | 1961-03-11 | 30 | To stop a gang of heroin smugglers operating underwater, Mike joins forces with Dr. Briggs, a sonar expert. |
| 11 | 128 | Amigo | 1961-03-18 | 30 | In Mexico, a young boy helps Mike access fossils from an underwater cave. |
| 12 | 129 | The Aquanettes | 1961-03-25 | 30 | |
| 13 | 130 | Survival Kit | 1961-04-01 | 30 | |
| 14 | 131 | Expedition | 1961-04-08 | 30 | |
| 15 | 132 | Bionics | 1961-04-15 | 30 | |
| 16 | 133 | The Defector | 1961-04-22 | 30 | |
| 17 | 134 | Niko | 1961-04-29 | 30 | |
| 18 | 135 | Cougar | 1961-05-06 | 30 | |
| 19 | 136 | Sub Hatch | 1961-05-13 | 30 | |
| 20 | 137 | The Octopus Story | 1961-05-20 | 30 | |
| 21 | 138 | Quicksand | 1961-05-27 | 30 | |
| 22 | 139 | Lost Island | 1961-06-03 | 30 | |
| 23 | 140 | Baby | 1961-06-10 | 30 | |
| 24 | 141 | Confidential Mission | 1961-06-17 | 30 | |
| 25 | 142 | Underwater Pirates | 1961-06-24 | 30 | |
| 26 | 143 | The Meet | 1961-07-01 | 30 | |
| 27 | 144 | Dark Evil | 1961-07-08 | 30 | |
| 28 | 145 | Sunken Car | 1961-07-15 | 30 | |
| 29 | 146 | Hit and Run | 1961-07-22 | 30 | |
| 30 | 147 | The Saint Story | 1961-07-29 | 30 | |
| 31 | 148 | Impostor | 1961-08-05 | 30 | |
| 32 | 149 | Superman | 1961-08-12 | 30 | |
| 33 | 150 | Roustabout | 1961-08-19 | 30 | |
| 34 | 151 | P.T. Boat | 1961-08-26 | 30 | |
| 35 | 152 | Starting Signal | 1961-09-02 | 30 | |
| 36 | 153 | Skipper | 1961-09-09 | 30 | |
| 37 | 154 | Crime at Sea | 1961-09-16 | 30 | |
| 38 | 155 | Round Up | 1961-09-23 | 30 | |
Series Cast
| | | | |
| --- | --- | --- | --- |
| | Lloyd Bridges | as Mike Nelson | |
Series Crew
| | Position | Name |
| --- | --- | --- |
| | Executive Producer | Frederick W. Ziv |
| | Set Decorator | Charles S. Thompson |
| | Assistant Director | Donald Verk |
| | Producer | Leon Benson |
| | Director Of Photography | Jack Marquette |
| | Art Director | Jack T. Collis |
| | Assistant Director | Bert Glazer |
| | Sound Mixer | Robert Post |
| | Film Editor | Charles Craft |
| | Audio Engineer | Al Lincoln |
| | Sound Editor | Bert Schoenfeld |
| | Music Editor | Thomas Downing |
| | Story Editor | Stanley H. Silverman |
| | Executive Producer | Maurice Ziv |
| | Creator | Ivan Tors |
| | Executive Producer | Ivan Tors |
| | Director Of Photography | Brick Marquard |
| | Assistant Director | William Owens |
| | Sound Mixer | Jay Ashworth |
| | Film Editor | Harold McKenzie |
| | Set Decorator | Carl Biddiscombe |
| | Director Of Photography | William F. Whitley |
| | Art Director | Robert Kinoshita |
| | Sound Editor | Lawrence Kaufman |
| | Music Editor | Hayes Pagel |
| | Director Of Photography | Dick Rawlings |
| | Sound Editor | James Fritch |
| | Set Decorator | Lucien Hafley |
| | Creator | James Buxbaum |
Related News
TVMaze