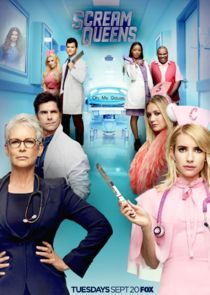 The girls of Kappa House are dying for new pledges. Scream Queens is a new killer comedy-horror series from Ryan Murphy, Brad Falchuk and Ian Brennan, the Emmy- and Golden Globe Award-winning executive producers of Glee and American Horror Story. Wallace University is rocked by a string of murders. Kappa House, the most sought-after sorority for pledges, is ruled with an iron fist (in a pink glove) by its Queen Bitch, Chanel Oberlin.
But when anti-Kappa Dean Munsch decrees that sorority pledging must be open to all students, and not just the school's silver-spooned elite, all hell is about to break loose, as a devil-clad killer begins wreaking havoc, claiming one victim, one episode at a time. Part black comedy, part slasher flick, Scream Queens is a modern take on the classic whodunit, in which every character has a motive for murder... or could easily be the next blood-soaked casualty.
Series Overview
Rating
imDb Rating: 7.1 (32,185 Votes)
Metascore: N/A
Plot
A semi-anthology series that centers on characters being terrorized by a serial killer in different locations, including a university and a hospital.
Details
Rated: TV-14
Released: 22 Sep 2015
Runtime: 45 min
Genre: Comedy, Horror, Mystery
Director: N/A
Writer: Ian Brennan, Brad Falchuk, Ryan Murphy
Actors: Emma Roberts, Lea Michele, Abigail Breslin, Keke Palmer
Language: English
Country: USA
Awards: Nominated for 1 Golden Globe. Another 3 wins & 18 nominations.
Total Seasons: 2
Previous Episode
Drain the Swamp
Episode 2x10; Dec 20, 2016
The Green Meanie sets its final plan for revenge in motion as Hester makes a bold move to secure her future, and Brock performs a dangerous surgery to save Dean Munsch's life.
Previous Episodes

2x10: Drain the Swamp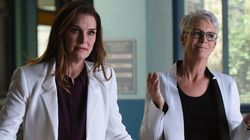 2x9: Lovin the D


2x8: Rapunzel, Rapunzel


2x7: The Hand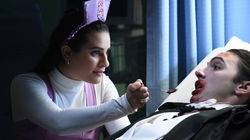 2x6: Blood Drive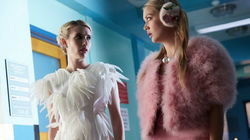 2x5: Chanel Pour Homme-icide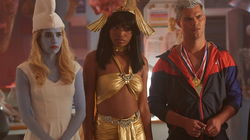 2x4: Halloween Blues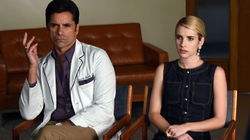 2x3: Handidates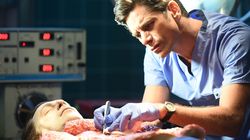 2x2: Warts and All

View All Episodes
Cast
Billie Lourd as Chanel #3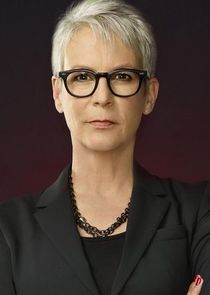 Jamie Lee Curtis as Dean Cathy Munsch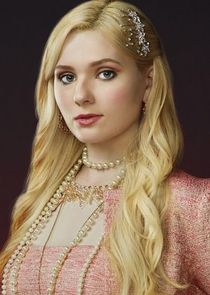 Abigail Breslin as Chanel #5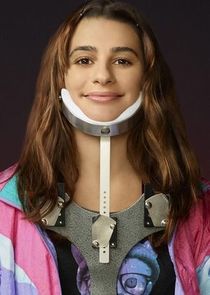 Lea Michele as Hester Ulrich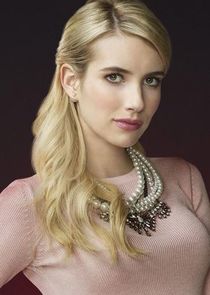 Emma Roberts as Chanel Oberlin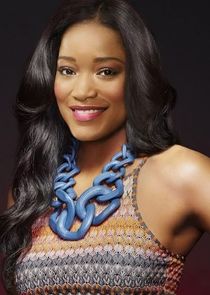 Keke Palmer as Zayday Williams
View Full Cast
Skip to:
Season 1
| Episode No. | No. Overall | Title | Airdate | Runtime | Summary |
| --- | --- | --- | --- | --- | --- |
| 1 | 1 | Pilot | 2015-09-22 | 60 | The girls of Kappa House are dying for new pledges. Kappa House, the most sought-after sorority for pledges, is ruled with an iron fist (in a pink glove) by Chanel Oberlin (Emma Roberts, "American Horror Story: Freak Show," "Scream 4"). But when anti-Kappa DEAN CATHY MUNSCH (Jamie Lee Curtis, "Halloween," "A Fish Called Wanda," "True Lies") decrees that sorority pledging must be open to all students, and not just the school's silver-spooned elite, all hell is about to break loose, as a devil-clad killer begins wreaking havoc across the campus. |
| 2 | 2 | Hell Week | 2015-09-22 | 60 | A serial killer continues to stalk members of a sorority. |
| 3 | 3 | Chainsaw | 2015-09-29 | 60 | Chanel finds a new project in Hester, Chanel #3 confesses a secret and Grace and Zayday uncover a surprising connection between two fellow students. Meanwhile, Denise sets her sights on one of the Kappas, and Dean Munsch appoints a new Wallace University mascot as Chad and Earl Grey lead the fraternity on a witch hunt for the Red Devil. |
| 4 | 4 | Haunted House | 2015-10-06 | 60 | As Halloween approaches, Chanel creates a devious plan after Zayday makes a shocking announcement. Meanwhile Grace and Pete pay a visit to a mysterious woman with ties to Kappa's past. Also, Hester grows closer to Chad, Denise continues her search for the red devil killer and Dean Munsch does everything in her power to keep Wallace University open. |
| 5 | 5 | Pumpkin Patch | 2015-10-13 | 60 | With Halloween just days away, Dean Munsch makes an announcement affecting the campus and, specifically, Chanel's plan to throw a pumpkin patch party in support of her Kappa Kappa Tau presidential campaign. Meanwhile, Grace and Pete lead a search party for a missing friend, which steers them closer to the Red Devil than ever before, and Chanel #3 and #5 learn what life would be like without Chanel. |
| 6 | 6 | Seven Minutes in Hell | 2015-10-20 | 60 | In an attempt to protect herself from the killer, Chanel makes a surprising decision, which leaves Zayday in a position of power. To stay close to each other, the girls of Kappa Kappa Tau host a slumber party, but when a shocking discovery is made, not everyone will survive the night. |
| 7 | 7 | Beware of Young Girls | 2015-11-03 | 60 | Dean Munsch is left in a desperate situation when a shocking event leads her to come face-to-face with her ex-husband's mistress. Meanwhile, in an attempt to determine who the Red Devil killer is, the Kappas use a Ouija board to communicate with Chanel #2 from beyond the grave and learn of a wicked plot against one of their own. |
| 8 | 8 | Mommie Dearest | 2015-11-10 | 60 | Grace enlists Chanel's help to learn more about KKT's past, and ends up realizing she might not be so different from her nemesis after all. Dean Munsch goes "psycho" when she becomes the latest target of the Red Devils. Meanwhile, Denise becomes the new house mother of Kappa House and a shocking figure from the past returns. |
| 9 | 9 | Ghost Stories | 2015-11-17 | 60 | Denise does little to calm the Kappas' fears when she spins a terrifying ghost story. Meanwhile, Hester's shocking announcement pushes Chanel to the edge, and a familiar face returns to campus as the Red Devil claims another victim. |
| 10 | 10 | Thanksgiving | 2015-11-24 | 60 | Chad takes Chanel to his family home for Thanksgiving, where she meets his brothers, Brad and Thad, as well as his parents. However, an uninvited guest throws the holiday into chaos. Meanwhile, Dean Munsch gathers the survivors at Kappa House, but dinner quickly explodes into accusations of who among them is really the killer. Then, the Red Devil carves up a deadly main course as another victim falls |
| 11 | 11 | Black Friday | 2015-12-01 | 60 | After the horror-filled events of Thanksgiving, the Chanels decide to celebrate their favorite holiday -- Black Friday, but the Red Devil has plans to stop their shopping spree. When the Kappas conclude that Dean Munsch is the killer, they set a plan in motion to stop her once and for all. Meanwhile, Denise lands yet another job, Chad offers Pete a chance to join the Dickie Dollar Scholars and someone confesses to being the murderer |
| 12 | 12 | Dorkus | 2015-12-08 | 60 | Shocking confessions are made as the Red Devil is finally unmasked and the killer revealed. |
| 13 | 13 | The Final Girl(s) | 2015-12-08 | 60 | In the Season 1 finale, startling confessions lead to the unmasking of the Red Devil and the identity of the killer. |
Season 2
| Episode No. | No. Overall | Title | Airdate | Runtime | Summary |
| --- | --- | --- | --- | --- | --- |
| 1 | 14 | Scream Again | 2016-09-20 | 60 | Years after the murderous events at Kappa House, Dean Munsch purchases an abandoned hospital under the guise of fixing the healthcare system in America. After recruiting surgeons, Dr. Brock Holt and Dr. Cassidy Cascade, as well as medical student Zayday Williams, the Dean shocks everyone when she enlists the services of the disgraced Chanels to join the ranks at the teaching hospital. Meanwhile, secrets from the hospital's past begin to reveal themselves and a new killer surfaces. |
| 2 | 15 | Warts and All | 2016-09-27 | 60 | A new patient with a hideous ailment visits the hospital in hope of a cure, but finds a love interest instead. Meanwhile, Chad returns to win Chanel back and, in the process, discovers a dark secret of Brock's. Then, after another run-in with the killer, Munsch enlists the help of new Quantico special agent Denise Hemphill. |
| 3 | 16 | Handidates | 2016-10-11 | 60 | Determined to find out who the killer is, Dean Munsch, Denise and the Chanels question Hester, as well as the sole survivor (guest star Alec Mapa) of the Halloween massacre. Chad accuses Brock of being the killer and makes a shocking proposal to Chanel. Meanwhile, a new patient with an outrageous disorder (guest star Cheri Oteri) leads Chanel #3 and Cassidy to grow closer, and another victim crashes a celebration. |
| 4 | 17 | Halloween Blues | 2016-10-18 | 60 | After the latest attack by The Green Meanie leaves everyone shocked and saddened, Dean Munsch and Denise, along with Hester, devise a plan to catch the killer by throwing a Halloween party in the hospital. Meanwhile, Chanel celebrates a different kind of Chanel-O-Ween and attempts to make contact with the killer's latest victim from beyond the grave. Once the party begins, an outbreak surprises the hospital, leading Brock and Cassidy to jump into action, and another victim falls. |
| 5 | 18 | Chanel Pour Homme-icide | 2016-11-15 | 60 | After the terrifying events of Halloween, Dean Munsch is forced to notify the authorities of the murders occurring at the C.U.R.E. Institute, which surprisingly leads to an influx of new patients. Fed up with doing dirty work, Chanel concocts a plan to put the new patients to use by recruiting them to join the Chanels. Meanwhile, Zayday and Chanel #5 pay a visit to someone with ties to the hospital's past, and a new patient's ailment causes the hospital staff to go a little mad. |
| 6 | 19 | Blood Drive | 2016-11-22 | 60 | After an influx of patents at the C.U.R.E. institute, Dean Munsch and Chanel organize a blood drive to solve the hospital's severe shortage. Meanwhile, Nurse Hoffel sets a plan of revenge in motion, Hester finds a way to join the hospital's staff and a shocking revelation involving The Green Meanie occurs. |
| 7 | 20 | The Hand | 2016-11-29 | 60 | In an effort to secure positive press for the hospital, Dean Munsch pitches a risky surgery to Dr. Holt, whose hand begins expressing more of a wild and dangerous personality than ever before. Meanwhile, Chanel #3 forces Cassidy to undergo a psych test to find the root of his condition with surprising results, and Nurse Hoffel sets a devious plan in motion |
| 8 | 21 | Rapunzel, Rapunzel | 2016-12-06 | 60 | A man from Dean Munsch's past checks in to the C.U.R.E. institute with plans to win her back, causing a jealous Brock to further question his relationship with Chanel. Meanwhile, Zayday and Chamberlain devise a plan to discover the origins of The Green Meanie killer with shocking results. |
| 9 | 22 | Lovin the D | 2016-12-13 | 60 | The Chanels are overwhelmed when their TV idol, Dr. Scarlett Lovin, visits the C.U.R.E. Institute. Meanwhile, Hester calls a Green Meanie summit as the killer(s) put their final kill plan into effect. |
| 10 | 23 | Drain the Swamp | 2016-12-20 | 60 | The Green Meanie sets its final plan for revenge in motion as Hester makes a bold move to secure her future, and Brock performs a dangerous surgery to save Dean Munsch's life. |
Series Cast
| | | | |
| --- | --- | --- | --- |
| | Billie Lourd | as Chanel #3 | |
| | Jamie Lee Curtis | as Dean Cathy Munsch | |
| | Abigail Breslin | as Chanel #5 | |
| | Lea Michele | as Hester Ulrich | |
| | Emma Roberts | as Chanel Oberlin | |
| | Keke Palmer | as Zayday Williams | |
| | Glen Powell | as Chad Radwell | |
| | Oliver Hudson | as Wes Gardner | |
| | Skyler Samuels | as Grace Gardner | |
| | Diego Boneta | as Pete Diller | |
| | Nasim Pedrad | as Gigi Caldwell | |
| | Taylor Lautner | as Dr. Cassidy Cascade | |
| | John Stamos | as Dr. Brock Holt | |
| | Lucien Laviscount | as Earl Grey | |
| | Kirstie Alley | as Ingrid Marie Hoffel | |
| | James Earl | as Chamberlain Jackson | |
Series Crew
| | Position | Name |
| --- | --- | --- |
| | Creator | Brad Falchuk |
| | Executive Producer | Brad Falchuk |
| | Creator | Ian Brennan |
| | Executive Producer | Ian Brennan |
| | Creator | Ryan Murphy |
| | Executive Producer | Ryan Murphy |
| | Executive Producer | Alexis Martin |
| | Producer | Robert M. Williams, Jr. |
| | Producer | Barry Berg |
Related News
TVMaze