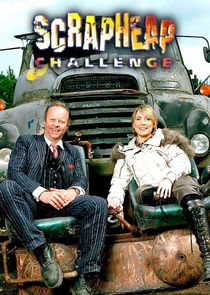 Before there was a Junkyard Wars in the States there was Scrapheap Challenge in the UK (Which gave birth to Junkyard Wars). Two teams of engineers give mechanical life to a pile of junk and go head to head over whose creation dominates.
Series Overview
Rating
imDb Rating: 7.5 (691 Votes)
Metascore: N/A
Plot
A show in which, each week, two rival teams are given the task of building some kind of machine, in one day, using only the items found in an unusually well-stocked scrapyard. Machines ...
Details
Rated: N/A
Released: 01 Jan 2000
Runtime: 60 min
Genre: Game-Show
Director: N/A
Writer: N/A
Actors: Robert Llewellyn, Lisa Rogers
Language: English
Country: UK, USA
Awards: N/A
Total Seasons: 11
Previous Episode
Football Machines
Episode 12x4; Jun 27, 2010
Previous Episodes 12x4: Football Machines 12x3: Water Powered Racers 12x2: Off-Road Mine-Retrieval Machines 12x1: Chariots 11x20: Grand Final 11x19: Semi Final 11x18: Caber Tosser 2 11x17: Mobile Mortars 2 11x16: Super Surfboards 2

View All Episodes
Cast
Dave Price as Dave Price
Robert Llewellyn as Presenter
Dick Strawbridge as Presenter
Mike Connell as Mike Connell
Anne Saunders as Anne Saunders
Cathy Rogers as Presenter
View Full Cast
Skip to:
Season 1
| Episode No. | No. Overall | Title | Airdate | Runtime | Summary |
| --- | --- | --- | --- | --- | --- |
| 1 | 1 | Hovercraft (Pilot) | 1998-04-12 | 60 | |
| 2 | 2 | Siege Engines | 1998-09-13 | 60 | |
| 3 | 3 | Power Pullers | 1998-09-20 | 60 | |
| 4 | 4 | Sub-Aqua | 1998-09-27 | 60 | |
| 5 | 5 | Powerboats | 1998-10-04 | 60 | |
| 6 | 6 | Off Road Buggies | 1998-10-11 | 60 | |
| 7 | 7 | Rockets | 1998-10-18 | 60 | |
Season 2
| Episode No. | No. Overall | Title | Airdate | Runtime | Summary |
| --- | --- | --- | --- | --- | --- |
| 1 | 8 | Flying Machines | 1999-09-05 | 60 | |
| 2 | 9 | Cannons | 1999-09-12 | 60 | |
| 3 | 10 | Amphibious Vehicles | 1999-09-19 | 60 | |
| 4 | 11 | Land Yachts | 1999-09-26 | 60 | |
| 5 | 12 | Mileage Marathon | 1999-10-03 | 60 | |
| 6 | 13 | Marine Salvage | 1999-10-10 | 60 | |
| 7 | 14 | Walking Machines | 1999-10-17 | 60 | |
Season 3
| Episode No. | No. Overall | Title | Airdate | Runtime | Summary |
| --- | --- | --- | --- | --- | --- |
| 1 | 15 | Demolition | 2000-09-17 | 60 | |
| 2 | 16 | Aerial Bomber | 2000-09-24 | 60 | |
| 3 | 17 | Underwater Chariot | 2000-10-01 | 60 | |
| 4 | 18 | Windmill | 2000-10-08 | 60 | |
| 5 | 19 | Missile Launcher | 2000-10-15 | 60 | |
| 6 | 20 | Bridging Machines | 2000-10-22 | 60 | |
| 7 | 21 | Giant Mower | 2000-11-05 | 60 | |
| 8 | 22 | Steam-Powered Car | 2000-10-29 | 60 | |
| 9 | 23 | Fireboat | 2000-11-12 | 60 | |
| 10 | 24 | Dragster | 2000-12-24 | 60 | |
Season 4
| Episode No. | No. Overall | Title | Airdate | Runtime | Summary |
| --- | --- | --- | --- | --- | --- |
| 1 | 25 | Egg Shooter | 2001-12-05 | 60 | |
| 2 | 26 | Monster Trucks | 2001-12-12 | 60 | |
| 3 | 27 | Torpedo | 2001-12-19 | 60 | |
| 4 | 28 | Street Cleaner | 2001-12-26 | 60 | |
| 5 | 29 | White Water Rider | 2002-01-02 | 60 | |
| 6 | 30 | Snowmobile | 2002-01-09 | 60 | |
| 7 | 31 | Mobile Crane | 2002-01-16 | 60 | |
| 8 | 32 | Minesweeper | 2002-01-23 | 60 | |
| 9 | 33 | Hill Climber | 2002-01-30 | 60 | |
| 10 | 34 | Tunneller | 2002-02-06 | 60 | |
| 11 | 35 | Hydrofoil | 2002-02-13 | 60 | |
| 12 | 36 | Car Jousting | 2002-02-20 | 60 | |
Season 5
| Episode No. | No. Overall | Title | Airdate | Runtime | Summary |
| --- | --- | --- | --- | --- | --- |
| 1 | 37 | Mud Monsters | 2002-10-23 | 60 | |
| 2 | 38 | Hovercraft | 2002-10-30 | 60 | |
| 3 | 39 | Golfball Gatling Gun | 2002-11-06 | 60 | |
| 4 | 40 | Blind Navigation | 2002-11-13 | 60 | |
| 5 | 41 | Railroad Racers | 2002-11-20 | 60 | |
| 6 | 42 | Clockwork Cars | 2002-11-27 | 60 | |
| 7 | 43 | Smooth Riders | 2002-12-04 | 60 | |
| 8 | 44 | Mono-wheels | 2002-12-11 | 60 | |
| 9 | 45 | Tugboats | 2002-12-18 | 60 | |
| 10 | 46 | Diggers | 2003-01-08 | 60 | |
| 11 | 47 | Destroyers | 2003-01-15 | 60 | |
| 12 | 48 | Car Flinger | 2003-01-22 | 60 | |
Season 6
| Episode No. | No. Overall | Title | Airdate | Runtime | Summary |
| --- | --- | --- | --- | --- | --- |
| 1 | 49 | Wheelie Cars | 2003-10-15 | 60 | |
| 2 | 50 | Bomb Disposal | 2003-10-22 | 60 | |
| 3 | 51 | Backpack Cars | 2003-10-29 | 60 | |
| 4 | 52 | Amphibious Motorcycles | 2003-11-05 | 60 | |
| 5 | 53 | Ice Racers | 2003-11-12 | 60 | |
| 6 | 54 | Giant Darts | 2003-11-19 | 60 | |
| 7 | 55 | Jet Cars | 2003-11-26 | 60 | |
| 8 | 56 | Speedboats | 2003-12-03 | 60 | |
| 9 | 57 | Fire Engines | 2003-12-10 | 60 | |
| 10 | 58 | Car Curlers | 2003-12-17 | 60 | |
| 11 | 59 | Tanks | 2003-12-30 | 60 | |
| 12 | 60 | Grand Prix | 2004-01-06 | 60 | |
| 13 | 61 | Best of Scrapheap Challenge | 2003-12-07 | 60 | |
Season 7
| Episode No. | No. Overall | Title | Airdate | Runtime | Summary |
| --- | --- | --- | --- | --- | --- |
| 1 | 62 | Sand-racers | 2004-09-05 | 60 | |
| 2 | 63 | Dam Buster | 2004-09-12 | 60 | |
| 3 | 64 | Bowling Bangers | 2004-09-19 | 60 | |
| 4 | 65 | Off Road Rescue | 2004-09-26 | 60 | |
| 5 | 66 | Jet Boat | 2004-10-03 | 60 | |
| 6 | 67 | Propeller Car | 2004-10-10 | 60 | |
| 7 | 68 | Power Rower | 2004-10-17 | 60 | |
| 8 | 69 | Spy Cars | 2004-10-24 | 60 | |
| 9 | 70 | Landing Craft | 2004-10-31 | 60 | |
| 10 | 71 | Flaming Flingers | 2004-11-06 | 60 | |
| 11 | 72 | Roman Motor-Chariot | 2004-11-13 | 60 | |
| 12 | 73 | Juggernauts | 2008-11-16 | 60 | |
| 13 | 74 | Series 7 Award show | 2008-11-23 | 60 | |
| 14 | 75 | Series 7 Best of | 2008-11-23 | 60 | |
Season 8
| Episode No. | No. Overall | Title | Airdate | Runtime | Summary |
| --- | --- | --- | --- | --- | --- |
| 1 | 76 | Underwater Cars | 2005-09-18 | 60 | |
| 2 | 77 | Kung Fu Cars | 2005-09-25 | 60 | |
| 3 | 78 | Sharp Shooters | 2005-10-02 | 60 | |
| 4 | 79 | AC/DC Dairy Dash | 2005-10-09 | 60 | |
| 5 | 80 | Polar Pinball | 2005-10-16 | 60 | |
| 6 | 81 | Caber Tossers | 2005-10-23 | 60 | |
| 7 | 82 | Drag Boats | 2005-10-30 | 60 | |
| 8 | 83 | Car Fishing | 2005-11-06 | 60 | |
| 9 | 84 | Monster Drag | 2005-11-13 | 60 | |
| 10 | 85 | Steeplechase | 2005-11-20 | 60 | |
| 11 | 86 | Rock Crawler | 2005-11-27 | 60 | |
| 12 | 87 | Flying Machines | 2005-12-04 | 60 | |
Season 9
| Episode No. | No. Overall | Title | Airdate | Runtime | Summary |
| --- | --- | --- | --- | --- | --- |
| 1 | 88 | Human Cannonball | 2007-04-15 | 60 | |
| 2 | 89 | Monster Trikes | 2007-04-22 | 60 | |
| 3 | 90 | Muscle Trains | 2007-04-29 | 60 | |
| 4 | 91 | Snowmobiles | 2007-05-06 | 60 | |
| 5 | 92 | Giant Skateboards | 2007-05-13 | 60 | |
| 6 | 93 | Mechanical Mortars | 2007-05-20 | 60 | |
| 7 | 94 | Airboats | 2007-05-27 | 60 | |
| 8 | 95 | Skid Pan Sumo | 2007-06-03 | 60 | |
| 9 | 96 | Earth Movers | 2007-11-04 | 60 | |
| 10 | 97 | Drag Sleds | 2007-11-11 | 60 | |
| 11 | 98 | Swamp Racers | 2007-11-18 | 60 | |
| 12 | 99 | Bulldozers | 2007-11-25 | 60 | |
| 13 | 100 | Paddle Boats | 2007-12-09 | 60 | |
| 14 | 101 | Sofa Speedway | 2007-12-16 | 60 | |
| 15 | 102 | Welly Wanging | 2007-12-23 | 60 | |
| 16 | 103 | Scrapheap Retrospective | 2008-01-30 | 60 | |
Season 10
| Episode No. | No. Overall | Title | Airdate | Runtime | Summary |
| --- | --- | --- | --- | --- | --- |
| 1 | 104 | Scrap Speed Record | 2008-04-27 | 60 | |
| 2 | 105 | Scooter Shooters | 2008-05-04 | 60 | |
| 3 | 106 | Speedy Superbikes | 2008-05-11 | 60 | |
| 4 | 107 | Decoration Dash | 2008-05-18 | 60 | |
| 5 | 108 | Dune Bashers | 2008-05-25 | 60 | |
| 6 | 109 | Powerboats | 2008-06-01 | 60 | |
| 7 | 110 | Rocket Railway | 2008-06-08 | 60 | |
| 8 | 111 | Fire Fighters | 2008-06-15 | 60 | |
| 9 | 112 | Snow Shifters | 2008-06-22 | 60 | |
| 10 | 113 | Savvy Salvaging | 2008-06-29 | 60 | |
| 11 | 114 | Land Tugs | 2008-07-06 | 60 | |
| 12 | 115 | Manphibious Madness | 2008-07-13 | 60 | |
| 13 | 116 | Hovercraft Bother | 2008-07-27 | 60 | |
| 14 | 117 | Dragsters | 2008-08-03 | 60 | |
| 15 | 118 | Ballistas | 2008-08-10 | 60 | |
| 16 | 119 | 10 Years on the Heap | 2008-08-10 | 60 | |
Season 11
| Episode No. | No. Overall | Title | Airdate | Runtime | Summary |
| --- | --- | --- | --- | --- | --- |
| 1 | 120 | Chariot Jousting | 2009-07-01 | 60 | |
| 2 | 121 | Stuck in the Mud | 2009-07-03 | 60 | |
| 3 | 122 | Water Power | 2009-07-03 | 60 | |
| 4 | 123 | Blow Football 1 | 2009-07-06 | 60 | |
| 5 | 124 | Medieval Siege Weapons | 2009-07-07 | 60 | |
| 6 | 125 | Giant Golf 1 | 2009-07-08 | 60 | |
| 7 | 126 | Super Surf Boards 1 | 2009-07-09 | 60 | |
| 8 | 127 | Mobile Mortars 1 | 2009-07-10 | 60 | |
| 9 | 128 | Caber Tosser 1 | 2009-07-13 | 60 | |
| 10 | 129 | Chariot Jousting 2 | 2009-07-14 | 60 | |
| 11 | 130 | Stuck in the Mud 2 | 2009-07-15 | 60 | |
| 12 | 131 | Water Power 2 | 2009-07-16 | 60 | |
| 13 | 132 | Blow Football 2 | 2009-07-17 | 60 | |
| 14 | 133 | Medieval Throwers 2 | 2009-07-20 | 60 | |
| 15 | 134 | Monster Golf 2 | 2009-07-21 | 60 | |
| 16 | 135 | Super Surfboards 2 | 2009-07-22 | 60 | |
| 17 | 136 | Mobile Mortars 2 | 2009-07-23 | 60 | |
| 18 | 137 | Caber Tosser 2 | 2009-07-24 | 60 | |
| 19 | 138 | Semi Final | 2009-07-27 | 60 | |
| 20 | 139 | Grand Final | 2009-07-28 | 60 | |
Series Cast
| | | | |
| --- | --- | --- | --- |
| | Dave Price | as Dave Price | |
| | Robert Llewellyn | as Presenter | |
| | Dick Strawbridge | as Presenter | |
| | Mike Connell | as Mike Connell | |
| | Anne Saunders | as Anne Saunders | |
| | Cathy Rogers | as Presenter | |
| | Lisa Rogers | as Presenter | |
Related News
TVMaze