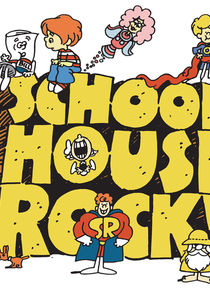 "Schoolhouse Rock!" is an American interstitial programming series of animated musical educational short films that aired during the Saturday morning children's programming on the U.S. television network ABC. The topics covered included grammar, science, economics, history, mathematics, and civics. This television program was often rated TV-G in the United States. The series' original run lasted from 1973 to 1985; it was later revived with both old and new episodes airing from 1993 to 1999. Additional episodes were produced in 2009 for direct-to-video release.
Series Overview
Rating
imDb Rating: 8.1 (2,838 Votes)
Metascore: N/A
Plot
A series of shorts illustrating various songs that teach multiplication tables, grammar, science, American history, computers, economics, and environmentalism.
Details
Rated: TV-Y
Released: 06 Jan 1973
Runtime: 3 min
Genre: Animation, Short, Family, Musical
Director: N/A
Writer: N/A
Actors: Bob Dorough, Jack Sheldon
Language: English
Country: USA
Awards: 4 wins & 4 nominations.
Total Seasons: 7
Previous Episode
The 3 R's
Episode 7x12; Mar 31, 2009
Previous Episodes 7x12: The 3 R's 7x11: Don't Be a Carbon Sasquatch 7x10: Windy and the Windmills 7x9: Solar Power to the People 7x8: A Tiny Urban Zoo 7x7: Fat Cat Blue: The Clean Rivers Song 7x6: Save the Ocean 7x5: The Rainforest 7x4: You Oughta Be Savin' Water

View All Episodes
Skip to:
Season 1
| Episode No. | No. Overall | Title | Airdate | Runtime | Summary |
| --- | --- | --- | --- | --- | --- |
| 1 | 1 | Three is a Magic Number | 1973-01-06 | | |
| 2 | 2 | My Hero, Zero | 1973-01-13 | | |
| 3 | 3 | Elementary, My Dear | 1973-01-20 | | |
| 4 | 4 | The Four-Legged Zoo | 1973-01-27 | | |
| 5 | 5 | Ready or Not, Here I Come | 1973-02-03 | | |
| 6 | 6 | I Got Six | 1973-02-10 | | |
| 7 | 7 | Lucky Seven Sampson | 1973-02-17 | | |
| 8 | 8 | Figure Eight | 1973-02-24 | | |
| 9 | 9 | Naughty Number Nine | 1973-03-03 | | |
| 10 | 10 | The Good Eleven | 1973-03-24 | | |
| 11 | 11 | Little Twelvetoes | 1973-03-31 | | |
Season 2
| Episode No. | No. Overall | Title | Airdate | Runtime | Summary |
| --- | --- | --- | --- | --- | --- |
| 1 | 12 | A Noun is a Person Place or Thing | 1973-09-15 | | |
| 2 | 13 | Verb: That's What's Happening | 1973-09-22 | | |
| 3 | 14 | Conjunction Junction | 1973-11-17 | | |
| 4 | 15 | Interjections! | 1974-02-23 | | |
| 5 | 16 | Unpack Your Adjectives | 1974-03-02 | | |
| 6 | 17 | Lolly, Lolly Lolly, Get Your Adverbs Here | 1974-04-13 | | |
| 7 | 18 | Rufus Xavier Sarsaparilla | 1976-04-27 | | |
| 8 | 19 | Busy Prepositions | 1993-10-04 | | |
| 9 | 20 | The Tale of Mr. Morton | 1993-12-08 | | |
Season 3
| Episode No. | No. Overall | Title | Airdate | Runtime | Summary |
| --- | --- | --- | --- | --- | --- |
| 1 | 21 | No More Kings | 1975-09-20 | | |
| 2 | 22 | The Shot Heard Round the World | 1975-10-18 | | |
| 3 | 23 | The Preamble | 1975-11-01 | | |
| 4 | 24 | Sufferin' 'til Sufferage | 1976-02-21 | | |
| 5 | 25 | I'm Just a Bill | 1976-03-27 | | |
| 6 | 26 | The Great American Melting Pot | 1976-05-01 | | |
| 7 | 27 | Elbow Room | 1976-05-22 | | |
| 8 | 28 | Fireworks | 1976-07-03 | | |
| 9 | 29 | Mother Necessity | 1976-07-10 | | |
| 10 | 30 | Three-Ring Government | 1979-02-03 | | |
| 11 | 31 | I'm Gonna Send Your Vote to College | 2002-01-01 | | |
| 12 | 32 | Presidential Minute [multiple versions] | 2008-01-01 | | |
| 99 | 33 | ***TRASH*** | 2008-01-01 | | |
Season 4
| Episode No. | No. Overall | Title | Airdate | Runtime | Summary |
| --- | --- | --- | --- | --- | --- |
| 1 | 34 | A Victim of Gravity | 1978-09-16 | | |
| 2 | 35 | Interplanet Janet | 1978-11-18 | | |
| 3 | 36 | The Body Machine | 1979-01-13 | | |
| 4 | 37 | Do the Circulation | 1979-03-10 | | |
| 5 | 38 | The Energy Blues | 1979-03-27 | | |
| 6 | 39 | Them Not-So-Dry Bones | 1979-05-05 | | |
| 7 | 40 | Electricity, Electricity | 1979-05-19 | | |
| 8 | 41 | Telegraph Line | 1979-06-30 | | |
| 9 | 42 | The Weather Show | 1979-07-14 | | |
Season 5
| Episode No. | No. Overall | Title | Airdate | Runtime | Summary |
| --- | --- | --- | --- | --- | --- |
| 1 | 43 | Dollars And Sense | 1994-09-10 | | |
| 2 | 44 | Tax Man Max | 1995-06-26 | | |
| 3 | 45 | Where the Money Goes | 1995-07-13 | | |
| 4 | 46 | $7.50 Once a Week | 1995-10-23 | | |
| 5 | 47 | Tyrannosaurus Debt | 1996-01-21 | | |
| 6 | 48 | This For That | 1996-05-06 | | |
| 7 | 49 | Walkin' on Wall Street | 1996-09-12 | | |
| 8 | 50 | The Check's in the Mail | 1996-11-22 | | |
Season 6
| Episode No. | No. Overall | Title | Airdate | Runtime | Summary |
| --- | --- | --- | --- | --- | --- |
| 1 | 51 | Scooter Computer and Mr Chips - Introduction | 1982-01-01 | | |
| 2 | 52 | Scooter Computer and Mr Chips - Hardware | 1982-01-01 | | |
| 3 | 53 | Scooter Computer and Mr Chips - Software | 1983-01-01 | | |
| 4 | 54 | Scooter Computer and Mr Chips - Number Cruncher | 1984-01-01 | | |
Season 7
| Episode No. | No. Overall | Title | Airdate | Runtime | Summary |
| --- | --- | --- | --- | --- | --- |
| 1 | 55 | Report from the North Pole | 2009-03-31 | 3 | |
| 2 | 56 | The Little Things We Do | 2009-03-31 | 3 | |
| 3 | 57 | The Trash Can Band | 2009-03-31 | 3 | |
| 4 | 58 | You Oughta Be Savin' Water | 2009-03-31 | 3 | |
| 5 | 59 | The Rainforest | 2009-03-31 | 3 | |
| 6 | 60 | Save the Ocean | 2009-03-31 | 3 | |
| 7 | 61 | Fat Cat Blue: The Clean Rivers Song | 2009-03-31 | 3 | |
| 8 | 62 | A Tiny Urban Zoo | 2009-03-31 | 3 | |
| 9 | 63 | Solar Power to the People | 2009-03-31 | 3 | |
| 10 | 64 | Windy and the Windmills | 2009-03-31 | 3 | |
| 11 | 65 | Don't Be a Carbon Sasquatch | 2009-03-31 | 3 | |
| 12 | 66 | The 3 R's | 2009-03-31 | 3 | |
Related News
TVMaze