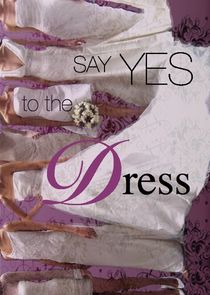 Say Yes to the Dress delves into the heart of world famous Kleinfeld Bridal where the staff face immense pressure to help each bride find the dress if her dreams.Take a peak at the brides as they try on their dream dresses! The show brings us up close and into the dressing room as brides prepare for their big day. Moms, bridemaids and friends all express their opinions and often frustrate both bride and staff. In the end though, most brides find that "dream dress" and walk down with their grooms into wedded bliss.
Series Overview
Rating
imDb Rating: 5.5 (1,583 Votes)
Metascore: N/A
Plot
Brides-to-be from all over America come to Kleinfeld in New York to finally say yes to their wedding dress.
Details
Rated: N/A
Released: N/A
Runtime: 30 min
Genre: Reality-TV
Director: N/A
Writer: N/A
Actors: Roger Craig Smith, Randy Fenoli, Ronnie Rothstein, Mara Urshel
Language: English
Country: USA
Awards: N/A
Total Seasons: 102
Previous Episode
Crazy Uncle Randy
Episode 18x10; Sep 21, 2019
Tracey's determined to find a black gown but mom says no; Randy helps his niece Danielle find the perfect dress.
Previous Episodes 18x10: Crazy Uncle Randy 18x9: Bedazzled Truck Driver 18x8: Fashionably Late 18x7: Cinderella Gone Wrong 18x6: Love At First Flight 18x5: Randy Will Show You the Door 18x4: Mom's Not On the Guest List 18x3: 200% Trouble with This Dress 18x2: I'm the Evil Mom Here

View All Episodes
Cast
Roger Craig Smith as Narrator
Randy Fenoli as Randy Fenoli
View Full Cast
Skip to:
Season 1
| Episode No. | No. Overall | Title | Airdate | Runtime | Summary |
| --- | --- | --- | --- | --- | --- |
| 1 | 1 | Here Comes the Bridal Salon / Three Times a Bride | 2007-10-12 | 30 | |
| 2 | 2 | Rocking the Dress / I Do or I Don't | 2007-10-19 | 30 | |
| 3 | 3 | That's Not My Dress / Bridal Breakdown | 2007-10-26 | 30 | |
| 4 | 4 | Lucky in Love / Wedding Dress Blues | 2007-11-02 | 30 | |
| 5 | 5 | To Buy or Not to Buy / What a Girl Wants | 2007-11-09 | 30 | |
| 6 | 6 | Italian Dressing / Here Comes the Groom | 2007-11-16 | 30 | |
Season 2
| Episode No. | No. Overall | Title | Airdate | Runtime | Summary |
| --- | --- | --- | --- | --- | --- |
| 1 | 7 | Here Comes the Bride Again...and Again | 2008-07-15 | 30 | |
| 2 | 8 | Bridal BFFs | 2008-07-22 | 30 | |
| 3 | 9 | Mother Knows Best | 2008-07-29 | 30 | |
| 4 | 10 | I Do Redux | 2008-08-05 | 30 | |
| 5 | 11 | Daddy's Little Girl | 2008-08-12 | 30 | |
| 6 | 12 | Bridal Blow Out | 2008-08-19 | 30 | |
| 7 | 13 | Runway Bridal | 2008-09-05 | 30 | |
| 8 | 14 | Every Bride Counts | 2008-09-12 | 30 | |
| 9 | 15 | Grooms in Gowns | 2008-09-19 | 30 | |
| 10 | 16 | What a Bride Wants | 2008-09-26 | 30 | |
| 11 | 17 | Double the Trouble | 2008-10-03 | 30 | |
| 12 | 18 | It's Always Something | 2008-10-10 | 30 | |
| 13 | 19 | It's My Wedding, But Tell the Bridesmaids | 2008-11-21 | 30 | |
| 14 | 20 | One is Not Enough | 2008-11-21 | 30 | |
| 15 | 21 | To Have and to Hold | 2008-11-28 | 30 | |
| 16 | 22 | Ciao and Cherrio | 2008-11-28 | 30 | |
| 17 | 23 | I'm Not the Problem | 2008-12-05 | 30 | |
| 18 | 24 | Bridal Nightmares | 2008-12-05 | 30 | |
| 19 | 25 | Under Pressure | 2008-12-12 | 30 | |
| 20 | 26 | Emotions Run Wild | 2008-12-12 | 30 | |
| 21 | 27 | Second Chances | 2008-12-19 | 30 | |
| 22 | 28 | That's My Dress | 2008-12-19 | 30 | |
| 23 | 29 | Daddy Knows Best | 2008-12-26 | 30 | |
| 24 | 30 | Time to Cut the Cord | 2008-12-26 | 30 | |
Season 3
| Episode No. | No. Overall | Title | Airdate | Runtime | Summary |
| --- | --- | --- | --- | --- | --- |
| 1 | 31 | Changes and Challenges | 2009-03-06 | 30 | |
| 2 | 32 | In My Opinion | 2009-03-06 | 30 | |
| 3 | 33 | Once Upon a Dress | 2009-03-13 | 30 | |
| 4 | 34 | Bridal Wave | 2009-03-20 | 30 | |
| 5 | 35 | Playing Dress Up | 2009-04-03 | 30 | |
| 6 | 36 | The Dress Ties That Bind | 2009-04-10 | 30 | |
| 7 | 37 | Seeing Red | 2009-04-17 | 30 | |
| 8 | 38 | Hot Dress, Cold Feet | 2009-04-24 | 30 | |
| 9 | 39 | There's a First for Everything | 2009-05-01 | 30 | |
| 10 | 40 | The Art of Negotiation | 2009-05-08 | 30 | |
| 11 | 41 | Getting in the Spirit | 2009-05-15 | 30 | |
| 12 | 42 | Second Time Around | 2009-06-05 | 30 | |
| 13 | 43 | Two for One | 2009-06-19 | 30 | |
| 14 | 44 | Missing Mom | 2009-06-26 | 30 | |
| 15 | 45 | Clicking with Brides | 2009-07-10 | 30 | |
| 16 | 46 | Family Dynamics | 2009-07-17 | 30 | |
| 17 | 47 | Indecisive Brides | 2009-07-24 | 30 | |
| 18 | 48 | Goals | 2009-07-31 | 30 | |
Season 4
| Episode No. | No. Overall | Title | Airdate | Runtime | Summary |
| --- | --- | --- | --- | --- | --- |
| 1 | 49 | Overbooked | 2009-09-11 | 30 | |
| 2 | 50 | Practically Family | 2009-09-11 | 30 | |
| 3 | 51 | Going the Extra Mile | 2009-09-18 | 30 | |
| 4 | 52 | Veterans vs. Rookies | 2009-09-18 | 30 | |
| 5 | 53 | Ready or Not | 2009-09-25 | 30 | |
| 6 | 54 | 100 Dresses and Counting | 2009-10-02 | 30 | |
| 7 | 55 | Voice of Reason | 2009-10-09 | 30 | |
| 8 | 56 | The Blowout Sale | 2009-10-02 | 30 | Jessica dresses three brides simultaneously; Maria brings three generations of her family to an appointment. |
| 9 | 57 | She's a Vision | 2009-10-16 | 30 | |
| 10 | 58 | Plan B | 2009-10-23 | 30 | |
| 11 | 59 | Moms and Daughters | 2009-10-30 | 30 | |
| 12 | 60 | Two to Say I Do | 2009-11-06 | 30 | |
| 13 | 61 | The Price of Beauty | 2009-11-13 | 30 | |
| 14 | 62 | Family Support | 2009-11-20 | 30 | |
| 15 | 63 | Nightmares and Dreams | 2009-11-27 | 30 | |
| 16 | 64 | Princess Brides | 2009-12-04 | 30 | |
| 17 | 65 | Daddy's Little Girl | 2009-12-11 | 30 | |
| 18 | 66 | Cinderella Comes in All Sizes | 2009-12-18 | 30 | |
| 19 | 67 | Seeing Eye to Eye | 2009-12-18 | 30 | |
Season 5
| Episode No. | No. Overall | Title | Airdate | Runtime | Summary |
| --- | --- | --- | --- | --- | --- |
| 1 | 68 | Anything Goes...in Bridal | 2010-04-23 | 30 | A pageant queen is determined to have all eyes on her on her wedding day; a wannabe bride gets a jump on wedding dress shoppping; a self-proclaimed "Goth girl" returns to the salon. |
| 2 | 69 | The Cardinal Rules | 2010-04-23 | 30 | |
| 3 | 70 | Wallet Woes | 2010-04-30 | 30 | Donna can't find anything in her budget so her father doubles the number; Daisy searches for a Spanish style gown; Heidi tries on her ball gown. |
| 4 | 71 | Going Bridal | 2010-04-30 | 30 | Danielle's aunt brings the family's "wooden spoon" to keep order; brides Erika and Devin want matching dresses; after eight months the fitter struggles to close Amy's dress. |
| 5 | 72 | Family Ties | 2010-05-07 | 30 | Grace brings her father, who is conflicted about letting go of his "little girl." Bride Lauren is shopping with her opinionated family. Sharon is shopping with her best friend, Wendy, who's like a sister. |
| 6 | 73 | Dress Distress | 2010-05-07 | 30 | Lindsay's dress gets ruined at the cleaners; Heather is panicked at the salon; Caitlyn's dream dress wasn't the right size during the fitting at another salon. |
| 7 | 74 | Randy to the Rescue | 2010-05-14 | 30 | A bride wants something sexy and bling. |
| 8 | 75 | Mama Drama | 2010-05-21 | 30 | Carla wants a glitzy dress but her mother disagrees; Natasha hopes to reconnect with her mother; Erin nervously tries on the dress her mother loves. |
| 9 | 76 | The Entourage | 2010-06-04 | 30 | |
| 10 | 77 | Top 10 Dress Dramas | 2010-06-04 | 30 | |
| 12 | 78 | Struggling to Commit | 2010-06-11 | 30 | Bride Joey has tried on over 100 dresses at other stores; a first time dress shopper is distracted by a tiara; a nervous bride's dress was not love at first sight. |
| 13 | 79 | Top 10 Unforgettable Moments | 2010-06-11 | 30 | |
| 14 | 80 | Dress Mates | 2010-06-18 | 30 | A bride must choose a second dress when her fiance' disapproves of the first purchase; a bride with breast cancer shares the dress shopping experience with her fiance'. |
| 15 | 81 | Fantasy Unhinged | 2010-06-18 | 30 | A bride is determined to buy a third wedding gown; a bride admits to planning the wedding before the proposal; a bride tries on her fantasy dress. |
| 16 | 82 | All in the Family | 2010-06-25 | 30 | |
| 17 | 83 | Top 10 Pickiest Brides | 2010-06-25 | 30 | |
| 18 | 84 | Man Tears | 2010-07-02 | 30 | |
| 19 | 85 | Top 10 Families | 2010-07-02 | 30 | |
| 20 | 86 | Fit for a Fantasy | 2010-07-09 | 30 | Bride Cherine wants to look like an Egyptian Barbie; bride Jessica looks for a dress that will go with fairy wings. |
| 21 | 87 | Randy's Top 10 Dresses | 2010-07-09 | 30 | |
| 22 | 88 | The Path to the Dress | 2010-07-16 | 30 | Jessica brings her faince and his mother to find her dream gown; Jamie's vision of her wedding day is not clear; Carla wants to make ammends after picking a dress against her mother's wishes. |
| 23 | 89 | Love Connection | 2010-07-23 | 30 | |
| 24 | 90 | In the Spotlight | 2010-07-30 | 30 | Paul Teutul, Jr. ("American Chopper") helps his fiancee' search for a wedding gown. |
Season 6
| Episode No. | No. Overall | Title | Airdate | Runtime | Summary |
| --- | --- | --- | --- | --- | --- |
| 1 | 91 | The First Dress Syndrome | 2011-01-07 | 30 | Kristy wants to look like a pirate and is armed with a picture of a pirate dress she loves. Even though Laura's dad is reluctant to attend the appointment, he is not shy from voicing his outrageous ideas. Donna visits to try on her pink dress. |
| 2 | 92 | Best Laid Plans | 2011-01-07 | 30 | Sarah and Randy vow to turn Virginia's appointment around when they realize the dress of her dreams has been sold; Jennifer rushes because of the upcoming redeployment of her fiance'; Kelly's dress must be taken apart seam by seam. |
| 3 | 93 | The Group Calls It | 2011-01-14 | 30 | Syndai is on the verge of marrying into New York Yankee royalty. Sarah and company come armed with notepads to help rate each dress she tries on. Danielle has returned to the salon with her vocal family in tow for her first dress fitting. |
| 4 | 94 | Dad Knows Best | 2011-01-14 | 30 | Kate is at the salon with an entourage that includes her father; Leah's dad can't attend because he is a quadriplegic; Nancy has arrived in alterations with her fashionista father. |
| 5 | 95 | Beat the Dress | 2011-01-21 | 30 | Liza has returned to the salon to top the dress with 2 skirts that she designed. Leanne purchased a cheap gown but doesn't love it. Ivania has arrived with her opinionated fiance'. |
| 6 | 96 | Torn Between Two Styles | 2011-01-21 | 30 | Janine has a princess ball gown in mind for her wedding; Celeste is used to thinking about others before herself; Christina is pregnant and self-conscious of her body. |
| 7 | 97 | Sticker Shock | 2011-01-28 | 30 | Michelle travels to try on dresses designed by Pnina Tornai; Kiki, a Greek "Southern Belle", loves a bargain; Audrey and Randy search for the perfect dress for Lillian. |
| 8 | 98 | Secrets and Surprises | 2011-02-04 | 30 | Nikki Ann has a budget of $5000, or so she thinks; Dawn's mom arrives with a little present; Kristyn plans to wow her wedding guests. |
| 9 | 99 | Mom's Way or the Highway | 2011-02-11 | 30 | Jesyca wants a dress that is flattering; Duvae wants a dress that makes her look grown up; Sara is back for her fitting. |
| 10 | 100 | Bride, Interrupted | 2011-02-18 | 30 | Justyna's eloped and is tying the knot in 22 hours, so she must walk out of the salon with a dress today. |
| 11 | 101 | Double or Nothing | 2011-02-25 | 30 | |
| 12 | 102 | New Beginnings | 2011-02-25 | 30 | Bride Lindsay has been through her share of tragedies; Cher brought her new blended family along; Vera is having a big day in fittings. |
| 13 | 103 | Make Room for the Green Groom | 2011-03-04 | 30 | |
| 14 | 104 | Search and Dress-cue | 2011-03-11 | 30 | A bride with a list of dress expectations; a former NFL cheerleader has already bought and returned one dress; a military bride. |
| 15 | 105 | Men of Honor | 2011-03-18 | 30 | |
| 16 | 106 | Great Gown Expectations | 2011-03-25 | 30 | |
| 17 | 107 | Decisions, Decisions, Decisions… | 2011-04-01 | 30 | |
| 18 | 108 | Happily Ever After...Sort of | 2011-04-08 | 30 | |
Season 7
| Episode No. | No. Overall | Title | Airdate | Runtime | Summary |
| --- | --- | --- | --- | --- | --- |
| 1 | 109 | Pushing the Limits | 2011-10-07 | 30 | |
| 2 | 110 | Fashion Police | 2011-10-07 | 30 | |
| 3 | 111 | Too Many Cooks in the Kitchen | 2011-10-14 | 30 | |
| 4 | 112 | One of a Kind | 2011-10-14 | 30 | |
| 5 | 113 | Worth the Wait | 2011-10-21 | 30 | |
| 6 | 114 | Together as One | 2011-10-21 | 30 | |
| 7 | 115 | Dress Obsess | 2011-10-28 | 30 | |
| 8 | 116 | The Devil Is in the Details | 2011-10-28 | 30 | |
| 9 | 117 | The Facilitators | 2011-11-04 | 30 | |
| 10 | 118 | Never Settle | 2011-11-04 | 30 | |
| 11 | 119 | Sister Resistors | 2011-11-11 | 30 | |
| 12 | 120 | The Majority Rules | 2011-11-18 | 30 | |
| 13 | 121 | A One Track Mind | 2011-11-25 | 30 | |
| 14 | 122 | That Special Someone | 2011-12-02 | 30 | |
| 15 | 123 | Same Dress, Different Girl | 2011-12-09 | 30 | |
| 16 | 124 | For the LOVE of MOM | 2011-12-16 | 30 | |
| 17 | 125 | Ready, Aim, Focus | 2011-12-23 | 30 | |
| 18 | 126 | Princess for a Day | 2011-12-30 | 30 | |
Season 8
| Episode No. | No. Overall | Title | Airdate | Runtime | Summary |
| --- | --- | --- | --- | --- | --- |
| 1 | 127 | You're Sexy and You Know It | 2012-06-15 | 30 | |
| 2 | 128 | Extreme Entourage | 2012-06-15 | 30 | |
| 3 | 129 | Not Your Mama's Dress | 2012-06-22 | 30 | |
| 4 | 130 | Sister, Sister | 2012-06-22 | 30 | |
| 5 | 131 | 2 Dresses, 1 Dream | 2012-06-29 | 30 | |
| 6 | 132 | Race Against Time | 2012-06-29 | 30 | |
| 7 | 133 | His Opinion… | 2012-07-06 | 30 | |
| 8 | 134 | What's My Style | 2012-07-06 | 30 | |
| 9 | 135 | Image is Everything | 2012-07-13 | 30 | |
| 10 | 136 | Big Budget Brides | 2012-07-13 | 30 | Monisha is looking for a dress for her three ceremonies; Mary has a budget to buy two dresses; Andrea is a bling loving bride. |
| 11 | 137 | Rocker Brides | 2012-07-20 | 30 | |
| 12 | 138 | Worth the Weight | 2012-07-20 | 30 | |
| 13 | 139 | Expecting Brides | 2012-07-27 | 30 | Tisa is looking for a dress that makes her look hot; Victoria is looking for a dress for her wedding just eight weeks away; Emily is trying on her gown for the first time. |
| 14 | 140 | NFL Brides | 2012-08-03 | 30 | |
| 15 | 141 | Red She Said | 2012-08-03 | 30 | |
| 16 | 142 | Staying True Before Saying 'I Do' | 2012-08-10 | 30 | |
| 17 | 143 | Bling It On! | 2012-08-17 | 30 | |
| 18 | 144 | New Beginnings | 2012-08-17 | 30 | |
Season 9
| Episode No. | No. Overall | Title | Airdate | Runtime | Summary |
| --- | --- | --- | --- | --- | --- |
| 1 | 145 | Big Entourage, Bigger Opinions | 2012-12-28 | 30 | |
| 2 | 146 | Daddy-Daughter Dilemma | 2012-12-28 | 30 | |
| 3 | 147 | Mother May I? | 2013-01-04 | 30 | |
| 4 | 148 | A Very Merry Wedding | 2013-01-04 | 30 | |
| 5 | 149 | Princess Fantasy | 2013-01-11 | 30 | |
| 6 | 150 | Beat the Clock | 2013-01-11 | 30 | |
| 7 | 151 | Second Time Around | 2013-01-18 | 30 | |
| 8 | 152 | Size Me Up | 2013-01-18 | 30 | |
| 9 | 153 | The Blowout Sale | 2013-01-25 | 30 | |
| 10 | 154 | Keeping an Open Mind | 2013-01-25 | 30 | |
| 11 | 155 | Grands Know Best | 2013-02-01 | 30 | |
| 12 | 156 | Dare to Be Different | 2013-02-01 | 30 | Randi is having a carnival wedding and wants a polka dot gown to match; Mary is an opera singer; Boo and Piper are having a dog wedding. |
| 13 | 157 | Queen for the Day | 2013-02-08 | 30 | |
| 14 | 158 | Love the Skin I'm In | 2013-02-08 | 30 | |
| 15 | 159 | Day of Challenges | 2013-02-15 | 30 | |
| 16 | 160 | It's Just Money | 2013-02-15 | 30 | |
| 17 | 161 | Picky Brides | 2013-02-22 | 30 | Violet wants a tight and sexy gown to wear at her Dominican Republic wedding; Rachel hopes Kleinfelds will be her last stop; Leighanns first dress did meet her standards. |
| 18 | 162 | Requests Like None of the Rest | 2013-03-01 | 30 | |
Season 10
| Episode No. | No. Overall | Title | Airdate | Runtime | Summary |
| --- | --- | --- | --- | --- | --- |
| 1 | 163 | Sisters Know Best | 2013-08-16 | 30 | Kristin Chenoweth comes to Kleinfelds with her bride-to-be assistant; Amy and her twin sister have very different opinions; Heather tries to please her picky sister. |
| 2 | 164 | A Family Affair | 2013-08-16 | 30 | Saralyn needs two dresses in order to share her wedding with her sister Megan who has Down syndrome; Rachel brings her sister. |
| 3 | 165 | Showing Off Your Assets | 2013-08-23 | 30 | |
| 4 | 166 | Brides and Their Boys | 2013-08-23 | 30 | |
| 5 | 167 | Family Rules | 2013-08-30 | 30 | |
| 6 | 168 | Father of the Bride | 2013-09-06 | 30 | |
| 7 | 169 | Better Than the First | 2013-09-06 | 30 | |
| 8 | 170 | More Than a Wedding | 2013-09-13 | 30 | |
| 9 | 171 | Race to the Altar | 2013-09-13 | 30 | |
| 10 | 172 | You're Making Me Blush | 2013-09-20 | 30 | |
| 11 | 173 | Mom's Day, Mom's Way | 2013-09-20 | 30 | |
| 12 | 174 | Not What I Had in Mind | 2013-09-27 | 30 | |
| 13 | 175 | Day of Challenges | 2013-10-04 | 30 | |
| 14 | 176 | Not What I Was Expecting | 2013-10-11 | 30 | |
| 15 | 177 | I'll Know It When I See It | 2013-10-25 | 30 | |
| 16 | 178 | A Surprising Turn of Events | 2013-10-25 | 30 | |
| 17 | 179 | A Mother's Touch | 2013-11-01 | 30 | Amanda is mourning the recent loss of her future mother-in-law during her shopping trip; Dana searches for a dress of which her late mother would approve; Katy wants to incorporate her late mother's wedding gown fabric into her dress. |
| 18 | 180 | Apple of His Eye | 2013-11-01 | 30 | |
Season 11
| Episode No. | No. Overall | Title | Airdate | Runtime | Summary |
| --- | --- | --- | --- | --- | --- |
| 1 | 181 | New Dress -- New Beginning | 2014-02-21 | 30 | |
| 2 | 182 | A Gown Worth the Trip | 2014-02-21 | 30 | |
| 3 | 183 | More Money, More Problems | 2014-02-28 | 30 | |
| 4 | 184 | Nothing Ordinary Here | 2014-02-28 | 30 | |
| 5 | 185 | No Room for Compromise | 2014-03-07 | 30 | |
| 6 | 186 | It Fits, She Scores! | 2014-03-07 | 30 | A glitzy dress to compliment a luxurious lifestyle; a sports fan bride; a bride's boss helps find a dress. |
| 7 | 187 | Til Dress Do Us Part | 2014-03-14 | 30 | |
| 8 | 188 | One of a Kind Dress Requests | 2014-03-14 | 30 | |
| 9 | 189 | If You've Got It, Flaunt It | 2014-03-21 | 30 | |
| 10 | 190 | My Day, Mom's Way | 2014-03-28 | 30 | |
| 11 | 191 | Design Intervention | 2014-04-04 | 30 | |
| 12 | 192 | A Kleinfeld Family Affair | 2014-04-11 | 30 | |
| 13 | 193 | For His Consideration | 2014-04-18 | 30 | |
| 14 | 194 | More, More, More! | 2014-04-25 | 30 | |
| 15 | 195 | Always the Pageant Girl... | 2014-05-02 | 30 | |
| 16 | 196 | Smother's Day | 2014-05-09 | 30 | |
| 17 | 197 | Sister Act! | 2014-05-16 | 30 | |
| 18 | 198 | A Chart Topping Dress | 2014-05-23 | 30 | |
Season 12
| Episode No. | No. Overall | Title | Airdate | Runtime | Summary |
| --- | --- | --- | --- | --- | --- |
| 1 | 199 | Surprise, Surprise! | 2014-10-10 | 30 | |
| 2 | 200 | When in Doubt, Customize | 2014-10-17 | 30 | Host Courtney Cason only wants a Mark Zunino gown; bride Zabrina looks for a ball gown for her New Year's Eve wedding; bride Cheryl has never seen her custom dress. |
| 3 | 201 | Tight, Strapless, and Sexy! | 2014-10-17 | 30 | |
| 4 | 202 | All Hands on Deck | 2014-10-24 | 30 | |
| 5 | 203 | Mom's Seal of Approval | 2014-10-24 | 30 | A bride wants to look sexy, but her mother wants a more modest look; a second-time bride whose mother is very opinionated; a bride worries her mother won't approve of a $13,000 gown she bought without her. |
| 6 | 204 | 200th Episode: Brotherly Love | 2014-11-07 | 30 | Searching for a $14,000 Pnina dress no one can find; a brides two NFL star brothers secretly plan to purchase her gown; one bride's unwanted addition to her dress. |
| 7 | 205 | Father Knows Dress | 2014-11-07 | 30 | |
| 8 | 206 | A Dress Like None the Rest | 2014-11-14 | 30 | Actress Suttor Foster searches for a dress; a wedding dress model fears she has worn too many gown to find one that feels special; Hope wants her dream dress for her vow renewal. |
| 9 | 207 | The Quest for Perfection | 2014-11-14 | 30 | An actress on tour with the musical "Wicked" wants a dress unlike her stage costumes; a picky bride who has tried on over 100 dresses. |
| 10 | 208 | Top My Dream Dress! | 2014-11-21 | 30 | |
| 11 | 209 | Entourage Sabotage | 2014-11-21 | 30 | Entourages that are bossy instead of helpful; bridesmaids insist on their styles; a mother demands her daughter try on a pink gown; a bride's family argues over the length of her hem. |
| 12 | 210 | Dueling Visions | 2014-11-28 | 30 | Bride Kristin is torn between a sexy or traditional look; bride Alexa has a conservative father but wants a dress with sex appeal. |
| 13 | 211 | Dazed and Gown-fused | 2014-11-28 | 30 | Bride Nicole has a specific dress style in mind, but finds out it may not suit her; another bride has tried on 50 gowns. |
| 14 | 212 | Style Therapy | 2014-12-05 | 30 | |
| 15 | 213 | A Thorn in the Bride's Side | 2014-12-05 | 30 | |
| 16 | 214 | Challenge After Challenge | 2014-12-19 | 30 | |
| 17 | 215 | Sample Sale Madness! | 2014-12-19 | 30 | |
Season 13
| Episode No. | No. Overall | Title | Airdate | Runtime | Summary |
| --- | --- | --- | --- | --- | --- |
| 1 | 216 | A Comedian Walks Into a Bridal Salon... | 2015-03-06 | 30 | |
| 2 | 217 | Performance Piece | 2015-03-06 | 30 | Actor Tony Danza helps his Broadway co-star find a costume; a ballerina bride wants a gown that is nothing like her princess dance costumes. |
| 3 | 218 | Vision Confusion | 2015-03-13 | 30 | Bride Lauren wants to look like a classy porn star; bride Amanda is hoping her custom gown lives up to her vision. |
| 4 | 219 | A Situation in the Salon | 2015-03-13 | 30 | |
| 5 | 220 | Breaking the Bank | 2015-03-20 | 30 | A bride finds the gown she has been searching for only to learn it is double her budget; a bride is committed to going over budget on her see-through bodice. |
| 6 | 221 | Agree to Disagree | 2015-03-20 | 30 | One bride's second visit and her picky entourage; a bride wants a nontraditional gown but her mother disagrees; a reception dress with a top that is completely sheer. |
| 7 | 222 | Please Love My Dress | 2015-03-27 | 30 | A feathered or black ball gown; one bride loves every dress she tries on, but her family likes none of them; head over heels for a bohemain gown. |
| 8 | 223 | Booby Trap | 2015-03-27 | 30 | A brides size 34 chest is blowing her budget; a bride's mother does not want her showing off the goods; a bride hope her bust will fit after loosing weight. |
| 9 | 224 | Love at First Sight | 2015-04-03 | 30 | HuffPost Live correspondent and host Caitlyn Becker is torn between two dresses; one bride claims her dream dress is the first she tries on. |
| 10 | 225 | Designer Dreams | 2015-04-10 | 30 | A bride wants to show off her new body; a bride who said yes to a designer's sketch now awaits the real gown; looking for a fashion-forward dress. |
| 11 | 226 | Case of Dress Distress | 2015-04-17 | 30 | A bossy bridesmaid picks out an over-budget gown, leaving a bride devastated; a bride has trouble committing to a dress with her ill mother absent. |
| 12 | 227 | Worth the Wait | 2015-04-24 | 30 | A bride who has always been the bridesmaid; a bride determined to make her second wedding perfect; a bride who bought her dress four years ago. |
| 13 | 228 | Daddy Dearest | 2015-05-01 | 30 | |
| 14 | 229 | Like Mother, Unlike Daughter | 2015-05-08 | 30 | A bride's father grants an unlimited budget, but her mother disagrees with her sexy dress choices; one bride wants a ball gown, but her mother thinks form fitting is best; one bride allows her mother to dress shop for her. |
| 15 | 230 | Drama, Drama, Drama! | 2015-05-15 | 30 | |
| 16 | 231 | V.I.Pnina | 2015-05-22 | 30 | VIP brides with unlimited budgets meet with designer Pnina Tornai, and try on gorgeous gown with bling. |
| 17 | 232 | Sexy Sells | 2015-05-29 | 30 | A bride's husband pushes her to choose a sexy gown; a bride returns for a dress that is even racier than her last; a bride is hesitant of her fiance's form fitting preference. |
| 18 | 233 | The Sale is On! | 2015-06-05 | 30 | Brides come from around the country for Kleinfeld's famous sample sale where they will have only three hours to sort through hundreds of designer options to find their dream dress. |
Season 14
| Episode No. | No. Overall | Title | Airdate | Runtime | Summary |
| --- | --- | --- | --- | --- | --- |
| 1 | 234 | What Does Martha Think? | 2016-03-04 | 30 | The wedding guru herself, Martha Stewart, visits Kleinfeld to help bride Bailey decide if she truly chose her perfect dress; bride Jessica's indecisiveness may keep her from finding a gown; bride Crystal wants impossible alterations. |
| 2 | 235 | I've Stalked This Dress on Instagram | 2016-03-04 | 30 | Designer Hayley Paige makes three unique dresses for her big day; bride Elisabeth comes to Kleinfeld to buy her dream gown from Hayley Paige; LaKesha, a big fan of designer Lazaro, gets a huge shock at the salon. |
| 3 | 236 | The Sasha Dress | 2016-03-11 | 65 | "High School Musical'' star Corbin Bleu helps his fiancé Sasha find her dream dress; bride Lauren loves a dress that will blow her budget; Liz is anxious to wear the Pnina dress she chose with friend Danielle Jonas. |
| 4 | 237 | I Am a Bride on a Budget | 2016-03-11 | 30 | Lauren is in love with a dress that will blow her budget to shreds; Shoshana is paying for her own dress to complete her special day; Sara is over budget and must convince her father the dress is worth the money. |
| 5 | 238 | This is Your Day | 2016-03-18 | 65 | Randy gives back to Iraq and Afghanistan War veteran Alicia by surprising the shocked bride with a day at Kleinfeld; brides Margo, Brenda and Amy all struggle to get their sisters' approval. |
| 6 | 239 | I Won the Battle Against My Twin! | 2016-03-18 | 30 | Bride Margo struggles to get her twin sister's approval of her dresses; Brenda needs all four of her sisters to agree with her dress choice; Amy worries her twin sister will think her dress is too revealing. |
| 7 | 240 | I Am Bride-yoncé | 2016-03-25 | 30 | Bride Lauren loves dressing sexy, but she wants a gown that still feels bridal; Ali wants to look like Beyoncé on her big day day, and needs a dress with tons of sparkle; Blair hopes her grandmother approves of her sexy dress. |
| 8 | 241 | Say Yes to the Address | 2016-03-25 | 30 | |
| 9 | 242 | You Are a Daredevil! | 2016-04-01 | 30 | Paralympic snowboarder Amy Purdy, not afraid to take risks, waits until three weeks before her wedding to find a dress; Katie brings a list ranking her top gowns; Lori hopes her dress fits for her wedding in 9 days. |
| 10 | 243 | I'm Not the Size of a Hanger! | 2016-04-08 | 30 | |
| 11 | 244 | A Rainbow Unicorn Dress | 2016-04-15 | 30 | Sharde dreams of a colorful dress to suit her rainbow unicorn wedding; bride Spencer wants a very avant-garde and dramatic gown for her big day; Sarah is shocked when the scissors come out during her fitting appointment. |
| 12 | 245 | Bling, Lace, and Cleavage | 2016-04-22 | 30 | Krystle loves attention, but her friends have reservations about her over-the-top dress; Maria shocks her pastor father with a sexy sheer bodice; only Pnina can help Jaclyn when she faces a major dress dilemma. |
| 13 | 246 | Dad's Being a Dadzilla | 2016-04-29 | 30 | Alyssa's father rules the day with his opinions; wedding planner Michelle feels extra pressure to find the perfect dress; when Emily's custom Pnina gown is all wrong, her dad demands a solution. |
| 14 | 247 | Come on In, Grandma! | 2016-05-06 | 30 | Amanda needs to find a dress both she and her opinionated grandmother love; Hillary searches for a specific gown that her late grandmother adored; Macie has found her dream dress, but her grandmother wants her to try something different. |
| 15 | 248 | The Male Perspective | 2016-05-13 | 30 | |
| 16 | 249 | I'm a Legacy | 2016-05-20 | 30 | |
| 17 | 250 | Not Afraid to Try New Things | 2016-06-03 | 30 | |
| 18 | 251 | That Looks Like a Torture Device | 2016-06-10 | 30 | |
| 19 | 252 | I'm a Firm Believer in Signs | 2016-06-17 | 30 | |
| 20 | 253 | There's a New Guy in Town | 2016-06-24 | 122 | Randy discovers major changes & staffing shakeups at Kleinfeld. The biggest surprise: Kleinfeld hired its first male consultant! Bride Tolu contends with her opinionated sister, and Amanda fears her gown won't be modest enough for her orthodox wedding. |
Season 15
| Episode No. | No. Overall | Title | Airdate | Runtime | Summary |
| --- | --- | --- | --- | --- | --- |
| 1 | 254 | 10 Years Later and Busier Than Ever! | 2017-03-04 | 126 | When Grammy-nominated rocker Elle King arrives, Randy and Shay have a dress disagreement; bride Lisa needs a gown for a wedding with dolphins. |
| 2 | 255 | The Shay Way | 2017-03-12 | 125 | Jamiee and fiancée Lisa are shopping together, and to keep the brides from seeing each other's looks, the consultants plan a wild surprise; wedding planner Michelle tries to let go and enjoy being the bride; Shay confronts Randy. |
| 3 | 256 | I Want My Daughter to Look Like a Sexpot | 2017-03-19 | 124 | Randy's mom visits for her 93rd birthday, and she's happy to share her fiery opinions with everyone; timid bride Courtney's appointment gets hijacked by her provocative mother; Katie needs a gown suitable for two big secrets. |
| 4 | 257 | Love is Love | 2017-03-26 | 124 | Transgender bride Gabrielle hopes to find a dress that rivals her fierce drag queen gowns; Kathleen, a budget-conscious accountant, needs a dress for her Tax Day wedding; bride Mykia's father is a Kleinfeld super-fan with a big surprise in store. |
| 5 | 258 | We're Going to Say "I Do" Underwater! | 2017-04-08 | 60 | Omarosa, of The Apprentice, is determined to find a colorful, dramatic gown for her big day; jet-setting bride Valerie wants a dress fit for her lavish Ibiza wedding; Randy rescues bride Magaly who needs a dress for her underwater ceremony. |
| 6 | 259 | Not Hell nor High Water | 2017-04-15 | 60 | Randy is in Louisiana to save bride Kelli's big day after she lost everything in a devastating flood; social media star Claudia Oshry brings the sass to her appointment; Pnina Tornai feels the heat during Bridal Fashion Week. |
| 7 | 260 | We Don't Do Anything Normal | 2017-04-22 | 60 | Bodybuilder Melissa needs a dress that shows off her muscles; Shay loses his cool with Randy as they help Kat, a bride with a tight budget;.Jasmine wants a unique bridal look to match her one-of-a-kind wedding on top of the Grand Canyon. |
| 8 | 261 | My Sisters Are Picking Out My Dress! | 2017-04-29 | 60 | |
| 9 | 262 | This is My Fiancé...and This is His Wife! | 2017-05-06 | 60 | Bride Jennifer arrives at Kleinfeld with her fiancé and his wife; Glori only wants the trendiest of gowns straight off the runway; Amanda needs to leave with a dress today for her wedding inside a chapel made of ice. |
| 10 | 263 | Empire State of Bride | 2017-05-13 | 60 | The entire Kleinfeld team comes together to help Emily, who needs a dress for her 10-year vow renewal atop the Empire State Building in two days; Olympian Queen Harrison faces new hurdles while deciding on her dream wedding gown. |
| 11 | 264 | Overwhelmed | 2017-06-10 | 180 | Bridezillas Ameena and Jordan demand the perfect dress; opinionated sisters threaten to ruin Jordan and Arlicia's appointments. |
| 12 | 265 | Second-Time | 2017-06-17 | 180 | Nellie wants a gown to outshine her first; unique wedding locations provide a challenge for finding the perfect dress. |
| 13 | 266 | Fit for a Princess | 2017-06-24 | 180 | Demanding moms take over the appointments; Claire wants to find a dress for her castle wedding. |
| 14 | 267 | Total Control | 2017-07-01 | 180 | |
| 15 | 268 | Style Wars | 2017-07-08 | 180 | |
| 16 | 269 | Outside the Box Dresses | 2017-07-15 | 180 | |
| 17 | 270 | Uk - More is More! | 2017-07-22 | 180 | |
Season 16
| Episode No. | No. Overall | Title | Airdate | Runtime | Summary |
| --- | --- | --- | --- | --- | --- |
| 1 | 271 | Everything Is on the Line | 2018-01-06 | 60 | Excitement's in the air at the salon for the brides & Randy: he's going back to his bridal design roots! Flipping Out's Jenni Pulos has a huge surprise for her friend & nanny, bride Monica. Bride Carly may be demanding, but Mother Nature rules all. |
| 2 | 272 | Randy Just Showed You the Door! | 2018-01-13 | 60 | Twins Marlo & Margo are back but this time Marlo is the bride! Karma can be cruel as Margo's sass is unleashed and family drama further escalates when a major secret is revealed. Bride Val needs a gown for her icy wedding atop an Alaskan glacier! |
| 3 | 273 | A Dress to Match My Black Heart | 2018-01-20 | 60 | |
| 4 | 274 | I'm Having a Moment | 2018-01-27 | 60 | |
| 5 | 275 | Coco Is Not Impressed | 2018-02-03 | 60 | |
| 6 | 276 | The Twins Are Back | 2018-02-17 | 60 | |
| 7 | 277 | Launching a New Marriage | 2018-02-24 | 60 | Dress shopping with Cat Cora ("Iron Chef") and her fiancee, Nicole Ehrlich; to keep things spicy the girls want to hide their final looks fro one another with blindfolds; Rain needs a dress that fits inside one of Coney Island's scariest rides. |
| 8 | 278 | There's a Shark in the Salon! | 2018-03-03 | 60 | |
| 9 | 279 | I'm the Bride, Leave Some Space! | 2018-03-10 | 60 | Fashion-forward Nikki is looking for a fun, party-ready dress for her wild New Year's Eve wedding; Natalie dreams of a finding a ball gown so massive that wedding guests will struggle to get close to her, and someone could even hide under it. |
| 10 | 280 | Did I Hear Someone Say $16,000? | 2018-03-17 | 60 | |
| 11 | 281 | That's How You Dress a Lady | 2018-03-24 | 60 | Randy's runway show is a big opportunity to prove he's back as a bridal designer for good; "Gold Rush" star Monica Beets and her colorful family have fun being fish out of water at Kleinfeld; bride Jaqueline and her mom butt heads. |
| 12 | 282 | Randy's Favorite Celebrity Moments | 2018-03-31 | 60 | Randy Fenoli looks back on some of his favorite celebrity moments, from celebrity brides and entourage members to big star surprises, revisit moments with Joan Rivers, Kelly Ripa, Kathy Griffin, Jillian Michaels and more. |
Season 17
| Episode No. | No. Overall | Title | Airdate | Runtime | Summary |
| --- | --- | --- | --- | --- | --- |
| 1 | 283 | Hell Yes to the Dress | 2019-01-05 | 60 | |
| 2 | 284 | Randy's Most Memorable Moments | 2019-01-05 | 60 | Randy Fenoli revisits some of the most memorable appointments from the series; every bridal appointment is about finding an unforgettable gown, but often it's the brides and entourage members themselves that are truly memorable. |
| 3 | 285 | A Purple Unicorn | 2019-01-12 | 60 | |
| 4 | 286 | Morticia Addams in a Good Way | 2019-01-19 | 60 | |
| 5 | 287 | 7 People With 7 Opinions | 2019-01-26 | 60 | |
| 6 | 288 | Don't Show the Goodies | 2019-02-02 | 60 | |
| 7 | 289 | The Wag | 2019-02-09 | 60 | |
| 8 | 290 | Cheetah Bride | 2019-02-16 | 60 | |
| 9 | 291 | Not with Those Chubby Arms | 2019-02-23 | 60 | |
| 10 | 292 | Bionic Bride | 2019-03-02 | 60 | |
| 11 | 293 | A Walk Down The Aisle | 2019-03-09 | 60 | |
Season 18
| Episode No. | No. Overall | Title | Airdate | Runtime | Summary |
| --- | --- | --- | --- | --- | --- |
| 1 | 294 | This Is Showtime | 2019-07-20 | 60 | Jenna and Val from Dancing with the Stars waltz into Kleinfeld to find her dream dress; WWE Hall of Famer Mick Foley steps out of the ring to help his friend Heather find a last minute dress after her first dress was ruined. |
| 2 | 295 | I'm the Evil Mom Here | 2019-07-27 | 60 | Samantha must rise above her bullying mom to find the perfect dress; Lia procrastinates so long that she's left with only one day to find her dress. |
| 3 | 296 | 200% Trouble with This Dress | 2019-08-03 | 60 | Samantha falls for a dress that's twice her budget; Krystina wants simple while her mom wants over the top; Shannon orders a custom gown for her Irish ceremony. |
| 4 | 297 | Mom's Not On the Guest List | 2019-08-10 | 60 | Kayla comes to Kleinfeld with her family to find a wedding dress but with one catch: they're not invited to the wedding; Dori wants to show her own style with a new dress while mom and Mama Dolly strongly encourage her to wear their 1950s gown. |
| 5 | 298 | Randy Will Show You the Door | 2019-08-17 | 60 | Randy steps in to quell Jessica's feisty friends as they help her make a decision; Marlo hopes she can keep her twin Margo's brutally honest comments in check. |
| 6 | 299 | Love At First Flight | 2019-08-24 | 60 | Julianna wants the sexiest dress ever, but her fiancé's family are afraid she'll say yes to a dress she'll regret; jumpsuit enthusiast Randell wants a wedding onesie. |
| 7 | 300 | Cinderella Gone Wrong | 2019-08-31 | 60 | After losing her dress in the California wildfires, Eryka comes to Kleinfeld hoping she can fall in love with a new dress; Shay helps Ashley feel sexy after losing over 100 pounds; Randy helps a desperate bride who's dress has disappeared. |
| 8 | 301 | Fashionably Late | 2019-09-07 | 60 | Chelsea's princess dream dress goes missing from the store; Cheryl finds fault with every gown she sees. |
| 9 | 302 | Bedazzled Truck Driver | 2019-09-14 | 60 | Rebecca has lost 90 pounds and won't let her mom keep her from her dream dress; Cassidy has her heart set on one particular Hayley Paige gown. |
| 10 | 303 | Crazy Uncle Randy | 2019-09-21 | 60 | Tracey's determined to find a black gown but mom says no; Randy helps his niece Danielle find the perfect dress. |
Season 19
| Episode No. | No. Overall | Title | Airdate | Runtime | Summary |
| --- | --- | --- | --- | --- | --- |
Season 20
| Episode No. | No. Overall | Title | Airdate | Runtime | Summary |
| --- | --- | --- | --- | --- | --- |
Season 21
| Episode No. | No. Overall | Title | Airdate | Runtime | Summary |
| --- | --- | --- | --- | --- | --- |
Season 22
| Episode No. | No. Overall | Title | Airdate | Runtime | Summary |
| --- | --- | --- | --- | --- | --- |
Season 23
| Episode No. | No. Overall | Title | Airdate | Runtime | Summary |
| --- | --- | --- | --- | --- | --- |
Season 24
| Episode No. | No. Overall | Title | Airdate | Runtime | Summary |
| --- | --- | --- | --- | --- | --- |
Season 25
| Episode No. | No. Overall | Title | Airdate | Runtime | Summary |
| --- | --- | --- | --- | --- | --- |
Season 26
| Episode No. | No. Overall | Title | Airdate | Runtime | Summary |
| --- | --- | --- | --- | --- | --- |
Season 27
| Episode No. | No. Overall | Title | Airdate | Runtime | Summary |
| --- | --- | --- | --- | --- | --- |
Season 28
| Episode No. | No. Overall | Title | Airdate | Runtime | Summary |
| --- | --- | --- | --- | --- | --- |
Season 29
| Episode No. | No. Overall | Title | Airdate | Runtime | Summary |
| --- | --- | --- | --- | --- | --- |
Season 30
| Episode No. | No. Overall | Title | Airdate | Runtime | Summary |
| --- | --- | --- | --- | --- | --- |
Season 31
| Episode No. | No. Overall | Title | Airdate | Runtime | Summary |
| --- | --- | --- | --- | --- | --- |
Season 32
| Episode No. | No. Overall | Title | Airdate | Runtime | Summary |
| --- | --- | --- | --- | --- | --- |
Season 33
| Episode No. | No. Overall | Title | Airdate | Runtime | Summary |
| --- | --- | --- | --- | --- | --- |
Season 34
| Episode No. | No. Overall | Title | Airdate | Runtime | Summary |
| --- | --- | --- | --- | --- | --- |
Season 35
| Episode No. | No. Overall | Title | Airdate | Runtime | Summary |
| --- | --- | --- | --- | --- | --- |
Season 36
| Episode No. | No. Overall | Title | Airdate | Runtime | Summary |
| --- | --- | --- | --- | --- | --- |
Season 37
| Episode No. | No. Overall | Title | Airdate | Runtime | Summary |
| --- | --- | --- | --- | --- | --- |
Season 38
| Episode No. | No. Overall | Title | Airdate | Runtime | Summary |
| --- | --- | --- | --- | --- | --- |
Season 39
| Episode No. | No. Overall | Title | Airdate | Runtime | Summary |
| --- | --- | --- | --- | --- | --- |
Season 40
| Episode No. | No. Overall | Title | Airdate | Runtime | Summary |
| --- | --- | --- | --- | --- | --- |
Season 41
| Episode No. | No. Overall | Title | Airdate | Runtime | Summary |
| --- | --- | --- | --- | --- | --- |
Season 42
| Episode No. | No. Overall | Title | Airdate | Runtime | Summary |
| --- | --- | --- | --- | --- | --- |
Season 43
| Episode No. | No. Overall | Title | Airdate | Runtime | Summary |
| --- | --- | --- | --- | --- | --- |
Season 44
| Episode No. | No. Overall | Title | Airdate | Runtime | Summary |
| --- | --- | --- | --- | --- | --- |
Season 45
| Episode No. | No. Overall | Title | Airdate | Runtime | Summary |
| --- | --- | --- | --- | --- | --- |
Season 46
| Episode No. | No. Overall | Title | Airdate | Runtime | Summary |
| --- | --- | --- | --- | --- | --- |
Season 47
| Episode No. | No. Overall | Title | Airdate | Runtime | Summary |
| --- | --- | --- | --- | --- | --- |
Season 48
| Episode No. | No. Overall | Title | Airdate | Runtime | Summary |
| --- | --- | --- | --- | --- | --- |
Season 49
| Episode No. | No. Overall | Title | Airdate | Runtime | Summary |
| --- | --- | --- | --- | --- | --- |
Season 50
| Episode No. | No. Overall | Title | Airdate | Runtime | Summary |
| --- | --- | --- | --- | --- | --- |
Season 51
| Episode No. | No. Overall | Title | Airdate | Runtime | Summary |
| --- | --- | --- | --- | --- | --- |
Season 52
| Episode No. | No. Overall | Title | Airdate | Runtime | Summary |
| --- | --- | --- | --- | --- | --- |
Season 53
| Episode No. | No. Overall | Title | Airdate | Runtime | Summary |
| --- | --- | --- | --- | --- | --- |
Season 54
| Episode No. | No. Overall | Title | Airdate | Runtime | Summary |
| --- | --- | --- | --- | --- | --- |
Season 55
| Episode No. | No. Overall | Title | Airdate | Runtime | Summary |
| --- | --- | --- | --- | --- | --- |
Season 56
| Episode No. | No. Overall | Title | Airdate | Runtime | Summary |
| --- | --- | --- | --- | --- | --- |
Season 57
| Episode No. | No. Overall | Title | Airdate | Runtime | Summary |
| --- | --- | --- | --- | --- | --- |
Season 58
| Episode No. | No. Overall | Title | Airdate | Runtime | Summary |
| --- | --- | --- | --- | --- | --- |
Season 59
| Episode No. | No. Overall | Title | Airdate | Runtime | Summary |
| --- | --- | --- | --- | --- | --- |
Season 60
| Episode No. | No. Overall | Title | Airdate | Runtime | Summary |
| --- | --- | --- | --- | --- | --- |
Season 61
| Episode No. | No. Overall | Title | Airdate | Runtime | Summary |
| --- | --- | --- | --- | --- | --- |
Season 62
| Episode No. | No. Overall | Title | Airdate | Runtime | Summary |
| --- | --- | --- | --- | --- | --- |
Season 63
| Episode No. | No. Overall | Title | Airdate | Runtime | Summary |
| --- | --- | --- | --- | --- | --- |
Season 64
| Episode No. | No. Overall | Title | Airdate | Runtime | Summary |
| --- | --- | --- | --- | --- | --- |
Season 65
| Episode No. | No. Overall | Title | Airdate | Runtime | Summary |
| --- | --- | --- | --- | --- | --- |
Season 66
| Episode No. | No. Overall | Title | Airdate | Runtime | Summary |
| --- | --- | --- | --- | --- | --- |
Season 67
| Episode No. | No. Overall | Title | Airdate | Runtime | Summary |
| --- | --- | --- | --- | --- | --- |
Season 68
| Episode No. | No. Overall | Title | Airdate | Runtime | Summary |
| --- | --- | --- | --- | --- | --- |
Season 69
| Episode No. | No. Overall | Title | Airdate | Runtime | Summary |
| --- | --- | --- | --- | --- | --- |
Season 70
| Episode No. | No. Overall | Title | Airdate | Runtime | Summary |
| --- | --- | --- | --- | --- | --- |
Season 71
| Episode No. | No. Overall | Title | Airdate | Runtime | Summary |
| --- | --- | --- | --- | --- | --- |
Season 72
| Episode No. | No. Overall | Title | Airdate | Runtime | Summary |
| --- | --- | --- | --- | --- | --- |
Season 73
| Episode No. | No. Overall | Title | Airdate | Runtime | Summary |
| --- | --- | --- | --- | --- | --- |
Season 74
| Episode No. | No. Overall | Title | Airdate | Runtime | Summary |
| --- | --- | --- | --- | --- | --- |
Season 75
| Episode No. | No. Overall | Title | Airdate | Runtime | Summary |
| --- | --- | --- | --- | --- | --- |
Season 76
| Episode No. | No. Overall | Title | Airdate | Runtime | Summary |
| --- | --- | --- | --- | --- | --- |
Season 77
| Episode No. | No. Overall | Title | Airdate | Runtime | Summary |
| --- | --- | --- | --- | --- | --- |
Season 78
| Episode No. | No. Overall | Title | Airdate | Runtime | Summary |
| --- | --- | --- | --- | --- | --- |
Season 79
| Episode No. | No. Overall | Title | Airdate | Runtime | Summary |
| --- | --- | --- | --- | --- | --- |
Season 80
| Episode No. | No. Overall | Title | Airdate | Runtime | Summary |
| --- | --- | --- | --- | --- | --- |
Season 81
| Episode No. | No. Overall | Title | Airdate | Runtime | Summary |
| --- | --- | --- | --- | --- | --- |
Season 82
| Episode No. | No. Overall | Title | Airdate | Runtime | Summary |
| --- | --- | --- | --- | --- | --- |
Season 83
| Episode No. | No. Overall | Title | Airdate | Runtime | Summary |
| --- | --- | --- | --- | --- | --- |
Season 84
| Episode No. | No. Overall | Title | Airdate | Runtime | Summary |
| --- | --- | --- | --- | --- | --- |
Season 85
| Episode No. | No. Overall | Title | Airdate | Runtime | Summary |
| --- | --- | --- | --- | --- | --- |
Season 86
| Episode No. | No. Overall | Title | Airdate | Runtime | Summary |
| --- | --- | --- | --- | --- | --- |
Season 87
| Episode No. | No. Overall | Title | Airdate | Runtime | Summary |
| --- | --- | --- | --- | --- | --- |
Season 88
| Episode No. | No. Overall | Title | Airdate | Runtime | Summary |
| --- | --- | --- | --- | --- | --- |
Season 89
| Episode No. | No. Overall | Title | Airdate | Runtime | Summary |
| --- | --- | --- | --- | --- | --- |
Season 90
| Episode No. | No. Overall | Title | Airdate | Runtime | Summary |
| --- | --- | --- | --- | --- | --- |
Season 91
| Episode No. | No. Overall | Title | Airdate | Runtime | Summary |
| --- | --- | --- | --- | --- | --- |
Season 92
| Episode No. | No. Overall | Title | Airdate | Runtime | Summary |
| --- | --- | --- | --- | --- | --- |
Season 93
| Episode No. | No. Overall | Title | Airdate | Runtime | Summary |
| --- | --- | --- | --- | --- | --- |
Season 94
| Episode No. | No. Overall | Title | Airdate | Runtime | Summary |
| --- | --- | --- | --- | --- | --- |
Season 95
| Episode No. | No. Overall | Title | Airdate | Runtime | Summary |
| --- | --- | --- | --- | --- | --- |
Season 96
| Episode No. | No. Overall | Title | Airdate | Runtime | Summary |
| --- | --- | --- | --- | --- | --- |
Season 97
| Episode No. | No. Overall | Title | Airdate | Runtime | Summary |
| --- | --- | --- | --- | --- | --- |
Season 98
| Episode No. | No. Overall | Title | Airdate | Runtime | Summary |
| --- | --- | --- | --- | --- | --- |
Season 99
| Episode No. | No. Overall | Title | Airdate | Runtime | Summary |
| --- | --- | --- | --- | --- | --- |
Season 100
| Episode No. | No. Overall | Title | Airdate | Runtime | Summary |
| --- | --- | --- | --- | --- | --- |
Season 101
| Episode No. | No. Overall | Title | Airdate | Runtime | Summary |
| --- | --- | --- | --- | --- | --- |
Season 102
| Episode No. | No. Overall | Title | Airdate | Runtime | Summary |
| --- | --- | --- | --- | --- | --- |
Series Cast
| | | | |
| --- | --- | --- | --- |
| | Roger Craig Smith | as Narrator | |
| | Randy Fenoli | as Randy Fenoli | |
Series Crew
| | Position | Name |
| --- | --- | --- |
| | Executive Producer | Abby Greensfelder |
Related News
TVMaze