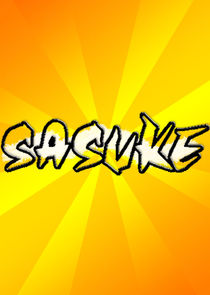 Sasuke is a Japanese sports entertainment television special in which 100 competitors attempt to complete a four stage obstacle course. An edited version, renamed Ninja Warrior, is screened in at least 18 other countries. Shot on location at Midoriyama, Aoba-ku, Yokohama, Kanagawa, Japan, it airs on the Tokyo Broadcasting System (TBS) between Japanese television drama seasons.
Series Overview
Rating
imDb Rating: 8.2 (531 Votes)
Metascore: N/A
Plot
100 competitors test their skills against physically and mentally demanding four-stage obstacle course.
Details
Rated: N/A
Released: 26 Sep 1997
Runtime: 173 min
Genre: Game-Show, Sport
Director: N/A
Writer: N/A
Actors: Shingo Yamamoto, Katsumi Yamada, Keisuke Hatsuta, Toshihiro Takeda
Language: Japanese
Country: Japan
Awards: N/A
Total Seasons: 35
Previous Episode
Sasuke 36
Episode 36x1; Dec 31, 2018
Previous Episodes 36x1: Sasuke 36 35x1: Sasuke 35 34x1: Sasuke 34 33x1: Sasuke 2017 32x1: Sasuke 32 31x1: Sasuke 31 30x1: Sasuke 30 29x1: Sasuke 29 (RISING 2) 28x1: Sasuke 28 (RISING 1)

View All Episodes
Skip to:
Season 1
| Episode No. | No. Overall | Title | Airdate | Runtime | Summary |
| --- | --- | --- | --- | --- | --- |
| 1 | 1 | Sasuke 1 | 1997-09-26 | 180 | |
Season 2
| Episode No. | No. Overall | Title | Airdate | Runtime | Summary |
| --- | --- | --- | --- | --- | --- |
| 1 | 2 | Sasuke 2 | 1998-09-27 | 180 | |
Season 3
| Episode No. | No. Overall | Title | Airdate | Runtime | Summary |
| --- | --- | --- | --- | --- | --- |
| 1 | 3 | Sasuke 3 | 1999-04-13 | 180 | |
Season 4
| Episode No. | No. Overall | Title | Airdate | Runtime | Summary |
| --- | --- | --- | --- | --- | --- |
| 1 | 4 | Sasuke 4 | 1999-10-16 | 180 | |
Season 5
| Episode No. | No. Overall | Title | Airdate | Runtime | Summary |
| --- | --- | --- | --- | --- | --- |
| 1 | 5 | Sasuke 5 | 2000-04-18 | 180 | |
Season 6
| Episode No. | No. Overall | Title | Airdate | Runtime | Summary |
| --- | --- | --- | --- | --- | --- |
| 1 | 6 | Sasuke 6 | 2000-09-09 | 180 | |
Season 7
| Episode No. | No. Overall | Title | Airdate | Runtime | Summary |
| --- | --- | --- | --- | --- | --- |
| 1 | 7 | Sasuke 7 | 2001-04-17 | 180 | |
Season 8
| Episode No. | No. Overall | Title | Airdate | Runtime | Summary |
| --- | --- | --- | --- | --- | --- |
| 1 | 8 | Sasuke 8 | 2001-09-29 | 180 | |
Season 9
| Episode No. | No. Overall | Title | Airdate | Runtime | Summary |
| --- | --- | --- | --- | --- | --- |
| 1 | 9 | Sasuke 9 | 2002-04-16 | 180 | |
Season 10
| Episode No. | No. Overall | Title | Airdate | Runtime | Summary |
| --- | --- | --- | --- | --- | --- |
| 1 | 10 | Sasuke 10 | 2002-09-25 | 180 | |
Season 11
| Episode No. | No. Overall | Title | Airdate | Runtime | Summary |
| --- | --- | --- | --- | --- | --- |
| 1 | 11 | Sasuke 11 | 2003-04-21 | 180 | |
Season 12
| Episode No. | No. Overall | Title | Airdate | Runtime | Summary |
| --- | --- | --- | --- | --- | --- |
| 1 | 12 | Sasuke 12 | 2003-10-01 | 180 | |
Season 13
| Episode No. | No. Overall | Title | Airdate | Runtime | Summary |
| --- | --- | --- | --- | --- | --- |
| 1 | 13 | Sasuke 13 | 2004-04-06 | 180 | |
Season 14
| Episode No. | No. Overall | Title | Airdate | Runtime | Summary |
| --- | --- | --- | --- | --- | --- |
| 1 | 14 | Sasuke 14 | 2005-01-04 | 180 | |
Season 15
| Episode No. | No. Overall | Title | Airdate | Runtime | Summary |
| --- | --- | --- | --- | --- | --- |
| 1 | 15 | Sasuke 15 | 2005-07-20 | 180 | |
Season 16
| Episode No. | No. Overall | Title | Airdate | Runtime | Summary |
| --- | --- | --- | --- | --- | --- |
| 1 | 16 | Sasuke 16 | 2005-12-30 | 180 | |
Season 17
| Episode No. | No. Overall | Title | Airdate | Runtime | Summary |
| --- | --- | --- | --- | --- | --- |
| 1 | 17 | Sasuke 17 | 2006-10-11 | 180 | |
Season 18
| Episode No. | No. Overall | Title | Airdate | Runtime | Summary |
| --- | --- | --- | --- | --- | --- |
| 1 | 18 | Sasuke 18 | 2007-04-21 | 180 | |
Season 19
| Episode No. | No. Overall | Title | Airdate | Runtime | Summary |
| --- | --- | --- | --- | --- | --- |
| 1 | 19 | Sasuke 19 | 2007-09-19 | 180 | |
Season 20
| Episode No. | No. Overall | Title | Airdate | Runtime | Summary |
| --- | --- | --- | --- | --- | --- |
| 1 | 20 | Sasuke 20 | 2008-04-26 | 180 | |
Season 21
| Episode No. | No. Overall | Title | Airdate | Runtime | Summary |
| --- | --- | --- | --- | --- | --- |
| 1 | 21 | Sasuke 21 | 2008-09-17 | 180 | |
Season 22
| Episode No. | No. Overall | Title | Airdate | Runtime | Summary |
| --- | --- | --- | --- | --- | --- |
| 1 | 22 | Sasuke 22 | 2009-04-30 | 180 | |
Season 23
| Episode No. | No. Overall | Title | Airdate | Runtime | Summary |
| --- | --- | --- | --- | --- | --- |
| 1 | 23 | Sasuke 23 | 2009-09-27 | 180 | |
Season 24
| Episode No. | No. Overall | Title | Airdate | Runtime | Summary |
| --- | --- | --- | --- | --- | --- |
| 1 | 24 | Sasuke 24 | 2010-01-01 | 180 | |
Season 25
| Episode No. | No. Overall | Title | Airdate | Runtime | Summary |
| --- | --- | --- | --- | --- | --- |
| 1 | 25 | Sasuke 25 | 2010-04-28 | 180 | |
Season 26
| Episode No. | No. Overall | Title | Airdate | Runtime | Summary |
| --- | --- | --- | --- | --- | --- |
| 1 | 26 | Sasuke 26 | 2011-01-02 | 180 | |
Season 27
| Episode No. | No. Overall | Title | Airdate | Runtime | Summary |
| --- | --- | --- | --- | --- | --- |
| 1 | 27 | Sasuke 27 | 2011-07-31 | 180 | |
Season 28
| Episode No. | No. Overall | Title | Airdate | Runtime | Summary |
| --- | --- | --- | --- | --- | --- |
| 1 | 28 | Sasuke 28 (RISING 1) | 2012-12-27 | 180 | |
Season 29
| Episode No. | No. Overall | Title | Airdate | Runtime | Summary |
| --- | --- | --- | --- | --- | --- |
| 1 | 29 | Sasuke 29 (RISING 2) | 2013-06-27 | 180 | |
Season 30
| Episode No. | No. Overall | Title | Airdate | Runtime | Summary |
| --- | --- | --- | --- | --- | --- |
| 1 | 30 | Sasuke 30 | 2014-07-03 | 180 | |
Season 31
| Episode No. | No. Overall | Title | Airdate | Runtime | Summary |
| --- | --- | --- | --- | --- | --- |
| 1 | 31 | Sasuke 31 | 2015-07-01 | 180 | |
Season 32
| Episode No. | No. Overall | Title | Airdate | Runtime | Summary |
| --- | --- | --- | --- | --- | --- |
| 1 | 32 | Sasuke 32 | 2016-07-03 | 180 | |
Season 33
| Episode No. | No. Overall | Title | Airdate | Runtime | Summary |
| --- | --- | --- | --- | --- | --- |
| 1 | 33 | Sasuke 2017 | 2017-03-26 | 180 | |
Season 34
| Episode No. | No. Overall | Title | Airdate | Runtime | Summary |
| --- | --- | --- | --- | --- | --- |
| 1 | 34 | Sasuke 34 | 2017-10-08 | 180 | |
Season 35
| Episode No. | No. Overall | Title | Airdate | Runtime | Summary |
| --- | --- | --- | --- | --- | --- |
| 1 | 35 | Sasuke 35 | 2018-03-26 | 180 | |
Related News
TVMaze