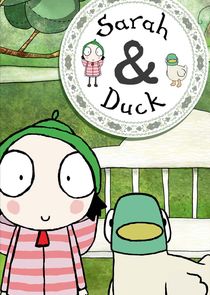 The series focuses on the quieter but more lucid side of childhood, focusing on the day-to-day new experiences and learnings of growing up. No matter what they are doing, Sarah & Duck do it with an infectious wonder and curiosity that will have have everyone joining in on their simple but exciting adventures.
Series Overview
Rating
imDb Rating: 8.3 (514 Votes)
Metascore: N/A
Plot
Sarah is a young british girl whose best friend happens to be a mallard named, Duck. Everyday they embark on small adventures learning about the world as they go with the help of their ...
Details
Rated: TV-G
Released: 01 Feb 2013
Runtime: 7 min
Genre: Animation, Family
Director: N/A
Writer: N/A
Actors: Roger Allam, Tasha Lawrence
Language: English
Country: UK
Awards: 3 wins & 3 nominations.
Total Seasons: 3
Previous Episode
Ribbon Alvida
Episode 3x40; Dec 15, 2017
An excited Sarah and Duck take the Shallots to see the Ribbon Sisters perform with their family circus.
Previous Episodes 3x40: Ribbon Alvida 3x39: Snowball Skate 3x38: Cinema Scoot 3x37: The Haber Dasher 3x36: Park Trimming 3x35: Hedge Opera 3x34: Brolly Bus 3x33: Whatsathingy 3x32: Comet's Coming

View All Episodes
Skip to:
Season 1
| Episode No. | No. Overall | Title | Airdate | Runtime | Summary |
| --- | --- | --- | --- | --- | --- |
| 1 | 1 | Lots of Shallots | 2013-02-18 | 7 | |
| 2 | 2 | Sarah, Duck and the Penguins | 2013-02-19 | 7 | |
| 3 | 3 | Cheer Up Donkey | 2013-02-20 | 7 | |
| 4 | 4 | Cake Bake | 2013-02-21 | 7 | |
| 5 | 5 | Bouncy Ball | 2013-02-22 | 7 | |
| 6 | 6 | Robot Juice | 2013-02-25 | 7 | |
| 7 | 7 | Scarf Lady's House | 2013-03-26 | 7 | |
| 8 | 8 | Rainbow Lemon | 2013-02-27 | 7 | |
| 9 | 9 | Sit Shop | 2013-02-28 | 7 | |
| 10 | 10 | Kite Flight | 2013-03-01 | 7 | |
| 11 | 11 | Umbrella and the Rain | 2013-03-18 | 7 | |
| 12 | 12 | Big Shop | 2013-03-19 | 7 | |
| 13 | 13 | Woollen Music | 2013-03-20 | 7 | |
| 14 | 14 | Doubles | 2013-03-21 | 7 | |
| 15 | 15 | Fairground | 2013-03-22 | 7 | |
| 16 | 16 | Sarah Gets a Cold | 2013-03-25 | 7 | |
| 17 | 17 | Ribbon Sisters | 2013-03-26 | 7 | |
| 18 | 18 | Stargazing | 2013-03-29 | 7 | |
| 19 | 19 | Coloured Light | 2013-03-28 | 7 | |
| 20 | 20 | Strawberry Souffle | 2013-03-27 | 7 | |
| 21 | 21 | Camera | 2013-08-12 | 7 | |
| 22 | 22 | Tapping Shoes | 2013-08-13 | 7 | |
| 23 | 23 | Bobsleigh | 2013-08-14 | 7 | |
| 24 | 24 | Fireworks Dance | 2013-08-15 | 7 | |
| 25 | 25 | Fancy Park | 2013-08-16 | 7 | |
| 26 | 26 | Pipe Conductor | 2013-08-19 | 7 | |
| 27 | 27 | Slow Quest | 2013-08-20 | 7 | |
| 28 | 28 | World Bread Day | 2013-08-21 | 7 | |
| 29 | 29 | Pond Princess | 2013-08-22 | 7 | |
| 30 | 30 | Scared of Stairs | 2013-08-23 | 7 | |
| 31 | 31 | Balloon Race | 2013-11-04 | 7 | |
| 32 | 32 | Puncture Pump | 2013-11-05 | 7 | |
| 33 | 33 | Plate Fog | 2013-11-06 | 7 | |
| 34 | 34 | Moon Paint | 2013-11-07 | 7 | |
| 35 | 35 | The Play | 2013-11-09 | 7 | |
| 36 | 36 | Bread Bike | 2013-11-11 | 7 | |
| 37 | 37 | Bug's Button Bank | 2013-11-12 | 7 | |
| 38 | 38 | No More Wool | 2013-11-13 | 7 | |
| 39 | 39 | Octagon Club | 2013-11-14 | 7 | |
| 40 | 40 | Petal Light Picking | 2013-12-19 | 7 | |
Season 2
| Episode No. | No. Overall | Title | Airdate | Runtime | Summary |
| --- | --- | --- | --- | --- | --- |
| 1 | 41 | Outside Outside | 2014-08-11 | 7 | |
| 2 | 42 | Umbrella Bubbles | 2014-08-12 | 7 | |
| 3 | 43 | Cloud Tower | 2014-08-13 | 7 | |
| 4 | 44 | Sound Jumble | 2014-08-14 | 7 | |
| 5 | 45 | The Mouse's Birthday | 2014-08-15 | 7 | |
| 6 | 46 | Tortoise Snooze | 2014-10-14 | 7 | |
| 7 | 47 | Fast Slow Bungalow | 2014-10-21 | 7 | |
| 8 | 48 | Bag of Bags | 2014-10-28 | 7 | |
| 9 | 49 | Ribbon Fall | 2014-11-04 | 7 | |
| 10 | 50 | Garden Gaming | 2014-11-11 | 7 | |
| 11 | 51 | Seacow Snow Trail | 2014-12-16 | 7 | |
| 12 | 52 | Origami Overload | 2015-01-27 | 7 | |
| 13 | 53 | Shallot Circus | 2015-01-28 | 7 | |
| 14 | 54 | Toy Tidy | 2015-01-29 | 7 | |
| 15 | 55 | Plate Escape | 2015-01-30 | 7 | |
| 16 | 56 | The Big Sleepover | 2015-02-03 | 7 | |
| 17 | 57 | Paisley Sea | 2015-02-04 | 7 | |
| 18 | 58 | Duck's Quack | 2015-02-05 | 7 | |
| 19 | 59 | Rainbow's Niece | 2015-02-06 | 7 | |
| 20 | 60 | Decorating Donkey | 2015-02-10 | 7 | |
| 21 | 61 | Duck Hotel | 2015-02-11 | 7 | |
| 22 | 62 | Parasol Show | 2015-05-12 | 7 | |
| 23 | 63 | Extra Bounce | 2015-05-13 | 7 | |
| 24 | 64 | Cake Relocate | 2015-05-14 | 7 | |
| 25 | 65 | Lost Librarian | 2015-05-15 | 7 | |
| 26 | 66 | Scooter Stand Still | 2015-05-19 | 7 | |
| 27 | 67 | Music Fixer | 2015-05-20 | 7 | |
| 28 | 68 | Wool on Wheels | 2015-05-21 | 7 | |
| 29 | 69 | Lemon Café | 2015-05-22 | 7 | |
| 30 | 70 | Star Renovation | 2015-08-21 | 7 | |
| 31 | 71 | Woolly Memories | 2015-08-28 | 7 | |
| 32 | 72 | Beach Break | 2015-08-31 | 7 | |
| 33 | 73 | Bubble Bumbling | 2015-09-04 | 7 | |
| 34 | 74 | Toggle Tangle | 2015-09-11 | 7 | |
| 35 | 75 | Tummy Talk | 2015-11-27 | 7 | |
| 36 | 76 | Moon's Exhibition | 2015-12-01 | 7 | |
| 37 | 77 | Pond Prose | 2015-12-02 | 7 | |
| 38 | 78 | The Art of Pink | 2015-12-03 | 7 | |
| 39 | 79 | Bug Bop | 2015-12-04 | 7 | |
| 40 | 80 | Duck Flies | 2015-12-15 | 7 | |
Season 3
| Episode No. | No. Overall | Title | Airdate | Runtime | Summary |
| --- | --- | --- | --- | --- | --- |
| 1 | 81 | Picture Planes | 2016-10-18 | 7 | |
| 2 | 82 | Hat Fuss | 2016-10-19 | 7 | |
| 3 | 83 | Dewy Morning | 2016-10-20 | 7 | |
| 4 | 84 | Sticker Swap | 2016-10-25 | 7 | |
| 5 | 85 | Train Fudge | 2016-10-26 | 7 | |
| 6 | 86 | Magic Panic | 2016-10-27 | 7 | |
| 7 | 87 | Birthday Buoy | 2016-11-01 | 7 | |
| 8 | 88 | Alarm Cluck | 2016-11-02 | 7 | |
| 9 | 89 | Twang Ball | 2016-11-03 | 7 | |
| 10 | 90 | Auto Cat | 2016-11-04 | 7 | |
| 11 | 91 | Fluff Bread | 2017-04-04 | 5 | Sarah and Duck help Bread Man and Cake bake some very unique bread for Flamingo and John. |
| 12 | 92 | Moon Bow | 2017-04-05 | 5 | Rainbow gets to experience the night for the first time. |
| 13 | 93 | Mountain Mints | 2017-04-06 | 5 | Scarf Lady's poetry records inspire a snowy train ride to the mountains. |
| 14 | 94 | Bench Blocked | 2017-04-11 | 5 | When Sarah and Duck's favourite bench is in use, the pair find other things to do in the park. |
| 15 | 95 | Planetarium Aquarium | 2017-04-12 | 5 | When Sarah and Duck's favourite bench is in use, the pair find other things to do in the park. |
| 16 | 96 | Shallot Boat | 2017-04-13 | 5 | After a night of strong rain, the Shallots set sail on a seafaring adventure. |
| 17 | 97 | Cake Decorate | 2017-04-18 | 5 | Cake decides to teach Sarah and Duck how to decorate with icing. |
| 18 | 98 | Balloon Barnacles | 2017-04-19 | 5 | Sarah's hat goes on an adventure without her, on top of a balloon. |
| 19 | 99 | Basking Shark | 2017-04-20 | 5 | Sarah is keen to adopt a sea creature, but doesn't get her first choice. |
| 20 | 100 | Old Toys | 2017-04-25 | 5 | Duck is bored of his toy collection, so he and Sarah search for old toys in the attic. |
| 21 | 101 | Hair Cut | 2017-06-20 | 5 | Sarah's hair keeps getting in her way, so it's time for a trip to the hairdresser. |
| 22 | 102 | Constable Quack | 2017-06-27 | 5 | After their snacks go missing, Sergeant Sarah and Constable Quack are on the trail of a biscuit burglar. |
| 23 | 103 | Arcade Dance Off | 2017-07-04 | 5 | Stumbling across an arcade, Sarah takes on a dancing challenge with John, whilst Duck and Flamingo team up to try and win a video game. |
| 24 | 104 | Mars as Moon | 2017-07-11 | 5 | Mars tries to fill in for a missing moon, but needs a little coaching from Sarah and Duck. |
| 25 | 105 | Donkey Jump | 2017-07-18 | 5 | Sarah and Duck try to help Donkey get his jumping confidence back by building a surprise for him in their back garden. |
| 26 | 106 | Rainbow Race | 2017-07-25 | 5 | The changeable weather means Rainbow has to leave before finishing his story. Sarah and Duck try to find out how the story ends. |
| 27 | 107 | Perimeter Pals | 2017-08-01 | 5 | Sarah, Duck and Bug set off on a big adventure through uncharted territory as they attempt to cycle all the way around the park. |
| 28 | 108 | Pillow Fill | 2017-08-08 | 5 | Scarf Lady helps Sarah and Duck catch the fluffs and puffs to refill their pancaked pillows. |
| 29 | 109 | Castle Scribbling | 2017-08-15 | 5 | Whilst visiting a castle, Sarah and Duck's drawings lead them to an exciting discovery. |
| 30 | 110 | Cloud Jam | 2017-08-22 | 5 | Music Lady needs Sarah and Duck's help to return a music-loving stowaway back to the Cloud Tower. |
| 31 | 111 | Boo Night | 2017-10-28 | 10 | Sarah and Duck learn all about Boo Night and attempt to make their own scary costumes. |
| 32 | 112 | Comet's Coming | 2017-11-14 | 5 | Sarah and Duck are excited to visit the observatory to see a passing comet. |
| 33 | 113 | Whatsathingy | 2017-11-15 | 5 | Sarah and Duck try to work out exactly what it is that Scarf Lady has been busily knitting in her sleep. |
| 34 | 114 | Brolly Bus | 2017-11-16 | 5 | When Umbrella gets left on the bus, Sarah and Duck head to the bus depot in search of their friend. |
| 35 | 115 | Hedge Opera | 2017-11-17 | 5 | Sarah is fascinated by some mysterious music coming from the hedge. |
| 36 | 116 | Park Trimming | 2017-11-21 | 5 | Duck. Sarah and Duck spot a patch of garden in the park that needs some care, but can't seem to find a gardener. |
| 37 | 117 | The Haber Dasher | 2017-11-22 | 5 | When the zip on Sarah's hoodie breaks, Scarf Lady suggests a trip to the haberdasher to get it fixed. |
| 38 | 118 | Cinema Scoot | 2017-11-23 | 5 | Sarah and Duck join Scooter Boy at the cinema to watch his favourite film, but the sound doesn't seem to be working. |
| 39 | 119 | Snowball Skate | 2017-12-14 | 5 | Duck. Sarah and Duck explore a Winter Fair in the park and discover an amazing skating rink inside a giant snowball! |
| 40 | 120 | Ribbon Alvida | 2017-12-15 | 5 | An excited Sarah and Duck take the Shallots to see the Ribbon Sisters perform with their family circus. |
Series Cast
| | | | |
| --- | --- | --- | --- |
| | Tasha Lawrence | as Sarah | |
| | Roger Allam | as Narrator | |
Related News
TVMaze