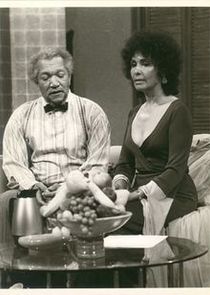 Sanford is the adventures of Fred Sanford without his Son Lamont and he has a new partner and a new girlfriend.
Series Overview
Rating
imDb Rating: 7.0 (222 Votes)
Metascore: N/A
Plot
Further adventures of Fred Sanford. The old cast is here, except Lamont. Fred has a new partner and a new girlfriend.
Details
Rated: N/A
Released: 15 Mar 1980
Runtime: 30 min
Genre: Comedy
Director: N/A
Writer: N/A
Actors: Redd Foxx, Dennis Burkley, Marguerite Ray, Clinton Derricks-Carroll
Language: English
Country: USA
Awards: N/A
Total Seasons: 2
Previous Episode
To Keep a Thief
Episode 2x12; Jul 10, 1981
Fred and Cal are on the watch for a neigborhood burglar. In the process, they catch him breaking in. It ends up to be a punk kid who stole $200 worth of stuff. A judge then sentences the kid to work at Fred's until he works off the money. The kid drives Fred crazy with his smart mouth and his rudeness. Fred then tells him a fake story about Lamont to put him back on track and it takes some impact.
Previous Episodes 2x12: To Keep a Thief 2x11: Private Lives 2x10: Cal's Illegal Alien 2x9: Jury Duty 2x8: Freeway 2x7: Gaslight 2x6: Cal's Mom 2x5: Love is Blind 2x4: Cal the Coward

View All Episodes
Cast
Dennis Burkley as Cal Pettie
Redd Foxx as Fred G. Sanford
View Full Cast
Skip to:
Season 1
| Episode No. | No. Overall | Title | Airdate | Runtime | Summary |
| --- | --- | --- | --- | --- | --- |
| 1 | 1 | The Meeting (1) | 1980-03-15 | 30 | Fred delivers merchandise to a widow, only to discover she is rich. |
| 2 | 2 | The Meeting (2) | 1980-03-15 | 30 | Fred accidentally overhears Evelyn's friends making fun of him. |
| 3 | 3 | The Meeting (3) | 1980-03-22 | 30 | Fred attempts to trick Evelyn into terminating their engagement. |
| 4 | 4 | The Still of the Night | 1980-03-29 | 30 | Fred and Winston open a business together. |
| 5 | 5 | Dinner at George's | 1980-04-05 | 30 | Evelyn attempts to contribute money to the costs of an expensive date. |
| 6 | 6 | Younger Than Springtime Am I | 1980-04-08 | 30 | A salesman cons Fred into marketing a fountain-of-youth pill. |
| 7 | 7 | Retrospective (1) | 1980-04-15 | 30 | Evelyn gives Fred and Cal some things that she doesn't want anymore before she goes out with her maid. The cops all of a sudden arrest the two thinking that they are stealing from the posh building. After the arrest, Fred calls Evelyn's place and Winston answers the phone. After Fred talks and explains the conditions to Winston, Winston laughs and hangs up on him. As the two are in jail, they reminisce about past episodes from this season. |
| 8 | 8 | Retrospective (2) | 1980-04-15 | 30 | Fred and Cal continue to reminisce. Evelyn finally gets a note that Winston left her about the situation and she comes to bail Fred out of jail. A cop then tells the two that they are free to go and that the goods that were in Fred's truck were stolen by a real thief. Mad at the cops for making their mistake and costing them the goods, Fred gets angry and the cops lock him up again.....at least until he cools off. |
| 9 | 9 | Perfect Husband | 1980-04-26 | 30 | Evelyn is depressed because she is haunted by the memories of her late husband John. Fred then talks her into talking about him and bringing her memories of him back to life. Fred all of a sudden starts to get a little jealous because she starts talking about him too much. Fred then ends up going home and looking over wedding photos of him and Elizabeth, and after talking to Cal, he goes to Evelyn and says that she needs to let go of him. |
| 10 | 10 | The Ring | 1980-05-10 | 30 | After three months of going with Evelyn, Fred decides to get her a ring. After the jewelry store is robbed, the ring that Fred wants to buy her accidentally falls in his hat. After getting home, Fred realizes that the ring is stuck to his hair. When Fred calls the officers over to tell them about the ring, the officers tell Fred that the store doesn't care about the stolen jewelry since they can collect on the insurance money. However with the ball in Fred's court completely, he decides what the best thing is to do. |
| 11 | 11 | Cissy and the Nephew | 1980-05-17 | 30 | Everyone is ending up at Sanford's. Cliff, Aunt Esther's son moves in with Fred while he is going to college. Cissy, Evelyn's daughter stays the night because she and her mom had a fight. When Cal tries to sleep on the couch, his fat body breaks the couch and sleeping areas are severely limited. I mean so limited that Fred and Cal end up having to share a bed. Eventually nobody gets any sleep. |
| 12 | 12 | Cal's Diet (1) | 1980-05-24 | 30 | Upset about being single, Cal decides to move back to Texas. He asks Fred for the $2000 he invested in the junk business at the beginning. Fred then suggests that Cal go on a diet and that he might look attractive after losing some pounds. Well Cal starts the diet, but it starts to get too hard for him. |
| 13 | 13 | Cal's Diet (2) | 1980-05-24 | 30 | Fred, Rollo, and Cliff take Cal to a singles bar where he meets a meter maid. Cal and the lady date, but the woman ends up not really liking Cal because he is so fat. She tells Fred that that is the reason why she won't go out with him anymore. After that, Fred sticks up for Cal and when he breaks the news to him about the girl, it's back to the refrigerator for him. |
| 14 | 14 | The Benefit | 1980-05-31 | 30 | Evelyn is trying to book a celebrity for her Children's Welfare charity and she remembers that Sammy Davis volunteered a year ago. On that information, Fred disguises himself as the Cello (Bass violin) player. After trying to hold Sammy to his year-old promise to perform, he mysteriously doesn't show up at the benefit. The guests start to get restless and Fred ends up dressing like Sammy Davis and pretending to be him to keep them happy. The real Sammy Davis then walks in on Fred's act, explains that his car broke down and that is why he was late, and the two singChicago (That Tottlin' Town)together. |
Season 2
| Episode No. | No. Overall | Title | Airdate | Runtime | Summary |
| --- | --- | --- | --- | --- | --- |
| 1 | 15 | Here Comes the Bride (1) | 1981-01-09 | 30 | Aunt Esther moves in to watch her son Cliff because she thinks that Fred's influence has caused him to slip in his grades. Then, she breaks Fred and Evelyn apart from kissing and degrades Evelyn by calling her names and tells Fred what a "disgrace" he is to Elizabeth. After getting a hold Fred's marriage license, Cal tells Fred that Fred and Esther are married. You see, it turns out that Elizabeth signed where the witness was suppose to sign and Esther signed where the bride was suppose to sign. This age-old mistake causes a lawyer to stop by to tell the "newlyweds" that they have to go back to the state of Missouri (Where Fred and Elizabeth originally got married) to fix the problem. |
| 2 | 16 | Here Comes the Bride (2) | 1981-01-09 | 30 | After reaching Freemont Missouri, Fred and Esther try to get divorced, but they end up getting a judge that hates divorce. When Fred explains the problem, the judge understands but doesn't understand. He says the only way that he can fix the problem is if they get married officially and then get a divorce. |
| 3 | 17 | Fred Has the Big One | 1981-01-16 | 30 | Cal tries to get Fred to do some work around the house, but Fred says that he doesn't feel good. Cal then thinks he is fibbing like he has done many times before, just to get out of doing some chores. When Cal and Cliff go outside to get the truck loaded, Fred has a real heart attack and colapses. Cal and Cliff rush him to the hospital, but the hospital seems too busy to help. When they do finally find time for him, thanks to Cal and his hot violent temper, they realize that Fred needs to take better care of himself. |
| 4 | 18 | Cal the Coward | 1981-01-23 | 30 | Fred is enjoying himself on the porch when all of a sudden a Police chase causes the crooks to "dump" a bag of gold which happens to land on Fred's property. Later crooks later end up at Fred's looking for the gold worth $65,000 at gunpoint. Fred makes up every excuse in the book and when things look good, Cal comes in and sits down on the couch. After feeling something weird he pulls out gold coins which cause the crooks to trap Fred and Cal in the closet. Risking everything Fred tries to chase them out by breaking out of the closet, but they left. Cal then gets depressed because he was too scared to do anything. Fred then comes up with some schemes to try and make Cal look like a hero. |
| 5 | 19 | Love is Blind | 1981-01-30 | 30 | Cliff's girfriend is blind and he hasn't told Fred yet. After staying out all night, Fred gets mad and labels her as a "hussy". Fred then tells Cliff to invite her over, so that Cliff can prove that she is not a hussy. When Fred and Cal both find out that she's blind, Fred has a talk with him and makes serious sense. Cliff's girlfriend then sides with Fred and tells Cliff what he's getting himself into when it comes to the responsibilities and all. |
| 6 | 20 | Cal's Mom | 1981-05-29 | 30 | Cal's mother visits and seems to like Fred, that is until he leaves the room. It is revealed that she is a racist and does not approve of her son living with a black man. She then ends up not wanting to stay at Fred's overnight. Cal then tries to break the news to Fred, who tries to get her to change her mind. When it looks like there is no other hope for her, Fred tells her a story that hurt him when he was young. She does not take it to heart and then has Cal decide who he would rather side with. Cal then makes a decision. |
| 7 | 21 | Gaslight | 1981-06-05 | 30 | A series of misunderstandings (like rat poison, pills, a shovel, and doctor's advice to "get rid of the old thing") causes a sick Fred to think that Cal is trying to kill him. |
| 8 | 22 | Freeway | 1981-06-12 | 30 | With water dripping everywhere and the place falling apart, Fred decides that he wants to sell the house... that is until he learns that there are plans to build a freeway, either through a rich neighborhood or Fred's neighborhood. Worrying about their neighborhood, Fred and his neighbors plan on taking their case to the State Government. After a debate with the rich and them, Fred's persuasion hits and his side wins the case. Just after winning the case, an earthquake erupts, causing big damage to Fred's house and Fred saying "Earthquake! I got to dump this dump!" |
| 9 | 23 | Jury Duty | 1981-06-19 | 30 | Fred tries to convince a jury that looks shouldn't determine whether someone is guilty or not guilty. In this case, a mob-looking man who looks guilty and who Fred is afraid of. |
| 10 | 24 | Cal's Illegal Alien | 1981-06-26 | 30 | Manny, a Mexican friend sneaks his illegal-alien sister Maria into the country. Maria offers service in exchange for Fred to take her under his wing. Along the way, Cal falls in love with Maria. As a way to make her more dependant, Cal sends her out to get a cake, but the bakery is raided by immigration. Cal and Fred head down to immigration to try and get her. Cal even proposes marriage to her and she lets him down. So it's back to Mexico for her as she gets deported. |
| 11 | 25 | Private Lives | 1981-07-03 | 30 | Fred doesn't feel like taking Evelyn out to where she wants to go, so Fred and Evelyn both end up getting new dates. After the competition of who they end up with, it draws Fred and Evelyn closer together. |
| 12 | 26 | To Keep a Thief | 1981-07-10 | 30 | Fred and Cal are on the watch for a neigborhood burglar. In the process, they catch him breaking in. It ends up to be a punk kid who stole $200 worth of stuff. A judge then sentences the kid to work at Fred's until he works off the money. The kid drives Fred crazy with his smart mouth and his rudeness. Fred then tells him a fake story about Lamont to put him back on track and it takes some impact. |
Series Cast
| | | | |
| --- | --- | --- | --- |
| | Dennis Burkley | as Cal Pettie | |
| | Redd Foxx | as Fred G. Sanford | |
Related News
TVMaze