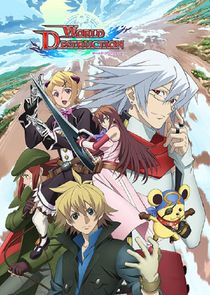 An anime adaptation of the game of the same name, the story follows a young man named Kyrie, who possesses a power greater than he realizes, and a young woman named Morte, who wants to destroy the world.
Series Overview
Rating
imDb Rating: 6.8 (55 Votes)
Metascore: N/A
Plot
SEGA and FUNimation are joining forces to bring you a thrilling new anime based on the epic adventure RPG of the same name. Available exclusively on Nintendo DS. Morte is a lonely beauty ...
Details
Rated: TV-14
Released: 07 Jul 2008
Runtime: N/A
Genre: Animation, Adventure, Fantasy
Director: N/A
Writer: N/A
Actors: Todd Haberkorn, Bryan Massey
Language: Japanese
Country: Japan
Awards: N/A
Total Seasons: 1
Previous Episode
There Are Two Kinds of Futures
Episode 1x13; Sep 29, 2008
Naja and Rhi'a end up in the Labyrinth of Memories, where Rhi'a has a memory of her childhood in which she was helped by a man who looked like Kyrie with red hair 300 years ago. Meanwhile, the Eagle Master finds out that the Alligator has the Destruct Code. So, the Alligator Master bestows the Destruct Code, demanding the custody of the World Destruction Committee in exchange. Nonetheless, Kyrie, Morte, and Taupy manage to escape from the World Salvation Committee, ultimately returning back into the Labyrinth of Memories. They are followed by the Eagle Master, who then fires a rocket launcher at Kyrie, blowing a hole in the wall of the labyrinth which Kirie falls into. Kirie has recalls to the moment when Reve died in the battle, where he meets himself with red hair. The red-haired Kyrie tells the blond-haired Kryie that the black orb in Morte's ownership is merely a decoy. Meanwhile, Morte and Taupy, who have been captured by the Eagle Master, are being torture to leak information regarding the Destruct Code. After Kirie wakes up, Naja and Rhi'a, surprised to see with red hair. The Alligator Master, behind them reveals that Kyrie himself is indeed the Destruct Code. Rhi'a engages in a fight with the Alligator Master, defeating him. Kyrie turns into sand and dashes to save Morte and Taupy from the Eagle Master. He reveals the secret that he is the true Destruct Code, rather than the black orb that was given to Morte. He further explains that the Destruct Code contained all his memories, and it would activate when there was someone who truly wanted world annihilation. Kirie then proceeds to start destroying the world, turning everything into sand striking with bolts of lightning. Morte, Taupy, Naja and Rhi'a all jump aboard the ship of Agan, who was nearby on a trade mission, as he attempts to sail away from the chaos. However, Morte leaps toward Kyrie, giving him a sign of affection, after she realizes that she no long wishes for the world to be destroyed. This restores Kyrie to his normal self, halting the activation of the Destruct Code.
Previous Episodes 1x13: There Are Two Kinds of Futures 1x12: There Are Two Kinds of Pasts 1x11: There Are Two Kinds of Powers 1x10: There Are 108 Rules to Mechanical Robots 1x9: There Are Two Kinds of Autumn 1x8: There Are Two Kinds of Transporters 1x7: There Are Two Kinds of Allies 1x6: There Are Two Kinds of Summer 1x5: There Are Two Kinds of Men

View All Episodes
Cast
Mamoru Miyano as Kylie Ilnis
Daisuke Ono as Naja Gurefu
Maaya Sakamoto as Morte Ashela
Hiroyuki Yoshino as Agan Mādoru
Yu Kobayashi as Lia Dragonell
Tohru Furuya as Toppy Topuran
View Full Cast
Skip to:
Season 1
| Episode No. | No. Overall | Title | Airdate | Runtime | Summary |
| --- | --- | --- | --- | --- | --- |
| 1 | 1 | There Are Two Kinds of Warriors | 2008-07-07 | 22 | Kyrie Illunis and Morte Asherah embark on a journey to flee the World Salvation Committee, because Morte has a bounty for working for the World Destruction Committee. They stay at a local village to recuperate, but they soon find out that the village is part of the World Salvation Committee of cats. As the World Salvation Committee attempts to capture Morte as a Human sacrifice to a wild water beast, they mistakenly capture Kyrie instead. Morte arrives to save him, and Taupy Toplan comes to help defeat the beast. Ultimately, Morte threatens the World Salvation Committee with the Destruct Code, a spherical object able to destroy the world. However, it is Kyrie that is able to activate the Destruct Code, eliminating the World Salvation Committee as well as the beast. Kyrie, Morte, and Taupy set sail in preparation for world annihilation. |
| 2 | 2 | There Are Two Kinds of Worlds | 2008-07-14 | 22 | As Kyrie, Morte, and Taupy are drifting in the ocean, they soon encounter the World Salvation Committee of walruses. Kyrie, Morte, and Taupy are then saved by Agan Mardrus, who boards them on his ship. Agan docks the ship and tells them to board a casino ship. It is revealed that Naja Gref and Rhi'a Dragunel, members of the World Salvation Committee, are in search for Kyrie, Morte, and Taupy, as the latter group is unaware of the arrival of the former group. Naja approaches Morte, inviting her to play poker with him. As it climaxes, Morte begins to lose against Naja. Naja offers Morte to wager the Destruct Code as collateral for the last hand to bet. However, it is soon discovered that the Destruct Code was stolen by a girl named Winno, who wanted money to pay her father's debt. This seems to agitate Rhi'a, as she transforms into a dragon. After causing a ruckus, Kyrie, Morte, and Taupy escape from Naja and Rhi'a, offering Winno to come with them. Winno declines, and the three exit the casino ship via canoe, and find themselves on an island. Kyrie and Taupy decide to help Morte fulfill her wish for world annihilation. |
| 3 | 3 | There Are Two Kinds of Beastmen | 2008-07-21 | 22 | Kyrie, Morte, and Taupy are immediately put into custody by a group of prison guards of beastmen, because the three of them have bounties for working for the World Destruction Committee. The next day, Naja and Rhi'a are informed that Kyrie, Morte, and Taupy are imprisoned on the island. As the three do manual labor throughout the day, Morte concocts a plan to break out of prison. Taupy is to dig a tunnel that leads to the prison guards' office to retrieve the key to unlock their prison cell. It is revealed that one of the prison guards, named Shin, is helping Kyrie, Morte, and Taupy abscond with another prisoner, named Aya. However, the other prison guards figure out their breakout, surrounding the three. The prison guards eventually become defeated, and the three escape with Shin and Aya. Naja and Rhi'a arrive at the prison, witnessing the defeated prison guards. Meanwhile, Kyrie, Morte, and Taupy say farewell to Shin and Aya. The three continue their journey as they head to a continent known for its blossoming cherry trees. |
| 4 | 4 | There Are Two Kinds of Humans | 2008-07-28 | 22 | As Kyrie, Morte, and Taupy arrive on the continent, they are informed that the cherry trees have been removed, as it is legend that the cherry trees blossomed from the blood of beastmen. They are guided to an extinct cherry tree. However, Kyrie accidentally breaks off a branch of the tree, which later frightens the residential beastmen. Kyrie and Taupy rendezvous with Agan, who tels them that the cherry tree is cursed, bringing bad luck to the one who harms it. They later explain the situation to Morte. Naja and Rhi'a arrive on the continent, and Agan tells them where Kyrie, Morte, and Taupy are located, also explaining the situation. Kyrie, Morte, and Taupy meet a young man, named Jade, who is to meet his fiancée under the cherry tree. It is later revealed that the cherry tree is not cursed, as it was a rumor spread by Jade in order to protect the cherry tree. Kyrie and Taupy construct a plan to fake the curse of the cherry tree. However, things go wrong when Naja and Rhi'a show up at the scene. Rhi'a transforms into a dragon, viciously attacking Kyrie and Taupy. Kyrie and Taupy run toward a river, with Naja and Rhi'a behind them. Through some unknown force, a bridge collapses, making the residential beastmen believe that the curse is true. After the plan carries out well, Jade goes to see Kyrie and Taupy before his departure. Meanwhile, Morte was investigating about Jade's history, and it is discovered that the young man died decades ago. As the three depart, it is revealed that the fiancée is still alive. |
| 5 | 5 | There Are Two Kinds of Men | 2008-08-04 | 22 | Kyrie and Morte are kidnapped by a group of beastmen and are brought to a colosseum to battle against other beastmen. Meanwhile, Taupy searches for the two in the nearby town, saving a damsel in distress, known as Mutton, in the process. Morte defeats one of the beastmen in the colosseum, apparently raising profits for the owner. Meanwhile, Taupy reunite with Yappy, a member of his clan. It is then that Taupy realizes that Kyrie and Morte are imprisoned in the colosseum. It is later revealed that Yappy and his crew were responsible for bringing Kyrie and Morte to the colosseum. Late in the night, Yappy attempts to steal the profits acquired, but runs into Kyrie, Morte, and Taupy. Taupy is betrayed by Yappy, and is later forced to battle alongside Kyrie and Morte in battle against the beastmen. One by one, the three battle a series of elite beastmen. The three eventually face off against Yappy and his crew. In the end, Taupy took the blame for Yappy for attempting to steal the profits acquired. He also mentions that he along with Kyrie and Morte are part of the World Destruction Committee, causing an uproar in the audience allowing them to escape. |
| 6 | 6 | There Are Two Kinds of Summer | 2008-08-11 | 22 | As Kyrie, Morte, and Taupy are travelling through a continent of a summer desert, Kyrie passes out from dehydration. Agan runs into them, offering them a ride to a nearby hospital. Dr. Elephant, the director of the hospital, cares for Kyrie, while Rigolet, the assistant director of the hospital, escorts Morte and Taupy to a lodge. Later in the night, Kyrie has a dream of a deceased young man lying in a coffin with a flower next to him and Morte was in tears. The next morning, Naja and Rhi'a arrive on the continent, in which Naja also passes out from dehydration. After Naja regains consciousness, he and Rhi'a are given directions to the hospital. Naja and Rhi'a tells Dr. Elephant that Kyrie, Morte, and Taupy are members on the World Destruction Committee. In the middle of the night, Morte finds out that Kyrie, Taupy, and a few orphans are baking a cake for Dr. Elephant's birthday. Morte soon find Dr. Elephant tied up in ropes and surrounded by oil. Rigolet reveals Dr. Elephant's past secret, saying that he was a former assassin, as he was responsible for the death of Rigolet's family. However, Dr. Elephant started directing the hospital in order to atone for his sinful acts as an assassin. Morte then reveals that her family was killed by beastmen as well, as it is realized that the young man in Kyrie's dream was Reve, Morte's younger brother. Kyrie, Taupy, and later the orphans witness Dr. Elephant's captives, attempting to protect him. However the oil is made contact with one of the candles of the cake, enflaming the lodge. Kyrie, Morte, Taupy run out with the orphans, and later Dr. Elephant walks out with an injured Rigolet. Morte starts to leave, recommending Kyrie and Taupy to stay with Dr. Elephant. However, Dr. Elephant suggested the two to go with her, in an effort to help her ease her emotional pain from the beastmen. |
| 7 | 7 | There Are Two Kinds of Allies | 2008-08-18 | 22 | Kyrie, Morte, and Taupy are informed by an innkeeper that impostors of the World Destruction Committee have been spotted in a human town. These impostors were last seen at a restaurant, causing an exclamation among many customers. Taupy runs off to investigate the situation on his own, after being annoyed by the fact that there is an impostor using his name. Naja and Rhi'a enter the restaurant asking for the whereabouts of the World Destruction Committee. They are told that the World Destruction Committee, being the impostors, headed toward a beastman town nearby. Taupy goes to see a sheriff, who tells him that the impostors recently ate at the restaurant, and they are reported for stealing various antiques. Maya, a girl at the restaurant at the time, says that he saw the imposing bear named Taupy, who just so happens to be the opposite of the real Taupy. Naja and Rhi'a, at the beastman town, are told that the World Destruction Committee, being the impostors, headed toward another town nearby. Meanwhile the imposing World Destruction Committee arrive at the inn, seeing the real World Destruction Committee there. The sheriff interrogates both groups to find out who truly is the actual World Destruction Committee. Ironically, however, the innkeeper, the chef, and a bear acting as a statue were the perpetrators for stealing the various antiques, putting the other two groups in shock. Morte defeats these three while Kyrie, Taupy, and the imposing World Destruction Committee evacuate the inn. Taupy suggested the impostors to compensate every restaurant that they have been to. He also requested them to run the inn, for it is their dream to have humans and beastmen coincide in one world. |
| 8 | 8 | There Are Two Kinds of Transporters | 2008-08-25 | 22 | Kyrie, Morte, and Taupy are headed to the continent of autumn leaves, and they manage to catch a ride with Agan. However, the World Salvation Committee of walruses returns again, only to find the World Destruction Committee aboard Agan's ship. The four eventually become captured inside the World Salvation Committee's submarine, however they soon find themselves submerging underwater. Naja and Rhi'a manage to board the submarine before it submerged. Naja reveals to the rest that Agan was smuggling a bomb aboard. Kyrie, Morte, and Taupy begin to defeat the submarine crew, while Naja and Rhi'a attempt to defuse the bomb. However, the bomb drops to the ground, thereby activating it. Everyone scurries away from the bomb, and the bomb explodes. This causes many leaks and damages throughout the submarine. Due to the massive flooding Morte, Naja, and Agan separate from Kyrie, Taupy, and Rhi'a in the control room and the bathroom, respectively. A plan is deducted to manually restart the engine, due to the unresponsive controls, and the only way to get there is through a small duct passage in the submarine. Taupy is guided to the engine room, but could not restart the engine, since there was a leak in the fuel tank. Agan reminisces of meeting a young man, later realized as Reve, a year ago, who tells Agan to send a message to Morte, saying that she must wait for him as he is trying to change the world. However, Agan never knew that the message was supposed to be sent to Morte until now. Hearing this, Morte is determined to know that there is enough fuel in the engine itself for the submarine to surface. They are able to surface and arrive on the continent. Naja and Rhi'a call a truce on the World Destruction Committee, and Agan is glad to finally have his message delivered to Morte. |
| 9 | 9 | There Are Two Kinds of Autumn | 2008-09-01 | 22 | Kyrie, Morte, and Taupy go to a town on the continent of autumn leaves. Morte walks off after thinking about what Dr. Elephant had told her before. Morte suddenly sees an adolescent male, named Eeyore, resembling the appearance of Reve in a library, but he turns out to be a beastman rather than a human. He is shutting down the library, packing and storing all the books. He tells her that he has an older sister and a father, who both were killed trying to make humans and beastmen coexist in the same place. Meanwhile, Kyrie goes to a museum to find more information regarding the Destruct Code. He soon finds a book written by the Alligator Master, filled with research about the Destruct Code. He goes to see Morte, who is still helping the Eeyore sorting out the books. Kyrie later realizes that Morte's lust for world annihilation is because of Reve's death. Kyrie, Morte, and Eeyore spend the night cleaning the library. In the morning, they gaze upon a portrait of Eeyore and his sister, which led Eeyore to break down into tears. |
| 10 | 10 | There Are 108 Rules to Mechanical Robots | 2008-09-08 | 22 | Kyrie, Morte, and Taupy arrive in a town populated with clockwork robots. Kyrie and Morte, disguised as beastmen, are quickly recognized as humans, since the clockwork robots are programmed only to comply to beastmen. The Alligator Master, creator of the clockwork robots, demands to have the World Destruction Committee captured as well as to have the World Salvation Committee stalled from entrance. Kyre, Morte, and Taupy are soon surrounded by the robots, however Taupy was able to have control over one of the robots, known as Number 28. Nonetheless, the three are surrounded by the clockwork robots once again, forcing Taupy and Number 28 to run for safety while Kyrie and Morte surrender to be taken to the Alligator Master. The Alligator Master, knowing that they came for information about the Destruct Code, tells Kyrie and Morte that both humans and beastmen alike will be annihilated under the power of the Destruct Code. The Alligator Master then clamors for the Destruct Code, however Taupy had possession of it when they separated. Suddenly, Taupy and Number 28 arrive to save the two, however Rhi'a also arrives as she begins to recklessly use her handguns. She accidentally shots the detector, causing an electrical surge that grabs the Destruct Code into place. The Destruct Code reacts and displays a holographic image of a valley in the continent of winter snow. Kyrie, Morte, Taupy, and Number 28 flee, defeated several clockwork robots in the process. As the four are in an elevator shaft, the Alligator Master orders his clockwork robots to continue to attack them. In the end, after the four climb through the shaft, while being followed by the robots, Number 28 cuts the rope, sending it plummeting to the ground floor. As the three depart from the town, it was realized that Number 28 took possession of the Destruct Code in the elevator shaft. However, it reappears to give back the Destruct Code. It is requested by Taupy to return to the town, and the three start to head over to the continent of winter snow. |
| 11 | 11 | There Are Two Kinds of Powers | 2008-09-15 | 22 | The Eagle Master comes to see the Alligator Master, looking for the World Destruction Committee and the Destruct Code. The Eagle Master then scolds Naja and Rhi'a for failing to apprehend the World Destruction Committee and abducting the Destruct Code, so he relieves them of their duties and searches for the Destruct Code himself. Later, Naja and Rhi'a wonder if the World Destruction Committee really will cause world annihilation. It is revealed that Rhi'a's homeland is location in the valley on the continent of winter snow. Kyrie, Morte, and Taupy board Agan's ship once again to head toward the continent. Naja is told that Rhi'a is heading toward the valley, while the Alligator Master is on his way as well. Meanwhile, Kyrie, Morte, and Taupy are hiking up a mountain that leads toward the valley, when it is noticed that Taupy is succumbing to hibernating. The three encounter Rhi'a, who is enraged to see them there. Morte engages in battle against Rhi'a, while Kyrie carries Taupy to safety. Morte drops the Destruct Code during the battle. The Alligator Master appears and blasts a cannon toward Rhi'a, causing her to fall in the depths of the valley. Naja dives in the depths in an attempt to save her. The Alligator Master locates the Destruct Code, and he manages to retrieve it, cackling at Kyrie, Morte, and Taupy. |
| 12 | 12 | There Are Two Kinds of Pasts | 2008-09-22 | 22 | As the Alligator Master leaves, Morte becomes very frustrated. She then wakes Taupy from hibernation by tossing him across the mountain. Ironically, Taupy lands in front of a cave known as the Labyrinth of Memories. The three note the skeletons lying around in the cave, as they all died by natural causes. Morte has a hallucination of the events that led her to obtain the Destruct Code proceeding Reve's death. Kyrie flashes back to when he first applied at the restaurant he worked at before acquainting Morte. Taupy reminisces about a time in which he was with his friends, eating and drinking happily. Meanwhile, the Alligator Master tells the Eagle Master that both the World Destruction Committee and the Destruct Code were buried in the snowy valley, even though the Alligator Master now has possession of the Destruct Code. He also knows that the World Destruction Committee is within the Labyrinth of Memories. Morte has memories of when Reve decided to join the Golden Lions. She views more about her past to when she was younger with her family. Kyrie later flashes back to when Reve tells Agan to deliver a message to Morte, saying that she must wait for him as he is trying to change the world. Taupy reminisces about a time in which he was with his friends, eating and drinking happily. Kyrie also witness a subsequent battle of the World Salvation Committee, led by the Alligator Master, against the humans. Meanwhile, the Alligator Master looks into the Destruct Code and sees images of the past, noting that there is a red-haired Kyrie as well as a blond-haired one. Taupy eventually snaps out of his hallucination, and manage to snap Kyrie out of his. Both of them proceed to find Morte, who wants to relive her life with her family. She refuses to wake up out of the dream because she does not want to face reality. However, she is convinced to stop hiding from the future by living in the past. The labyrinth begins to collapse, and Kyrie, carrying Morte on his back, as well as Taupy, exit the labyrinth. As Morte wakes up, the Eagle Master appears, asking for them to hand over the Destruct Code to him. |
| 13 | 13 | There Are Two Kinds of Futures | 2008-09-29 | 22 | Naja and Rhi'a end up in the Labyrinth of Memories, where Rhi'a has a memory of her childhood in which she was helped by a man who looked like Kyrie with red hair 300 years ago. Meanwhile, the Eagle Master finds out that the Alligator has the Destruct Code. So, the Alligator Master bestows the Destruct Code, demanding the custody of the World Destruction Committee in exchange. Nonetheless, Kyrie, Morte, and Taupy manage to escape from the World Salvation Committee, ultimately returning back into the Labyrinth of Memories. They are followed by the Eagle Master, who then fires a rocket launcher at Kyrie, blowing a hole in the wall of the labyrinth which Kirie falls into. Kirie has recalls to the moment when Reve died in the battle, where he meets himself with red hair. The red-haired Kyrie tells the blond-haired Kryie that the black orb in Morte's ownership is merely a decoy. Meanwhile, Morte and Taupy, who have been captured by the Eagle Master, are being torture to leak information regarding the Destruct Code. After Kirie wakes up, Naja and Rhi'a, surprised to see with red hair. The Alligator Master, behind them reveals that Kyrie himself is indeed the Destruct Code. Rhi'a engages in a fight with the Alligator Master, defeating him. Kyrie turns into sand and dashes to save Morte and Taupy from the Eagle Master. He reveals the secret that he is the true Destruct Code, rather than the black orb that was given to Morte. He further explains that the Destruct Code contained all his memories, and it would activate when there was someone who truly wanted world annihilation. Kirie then proceeds to start destroying the world, turning everything into sand striking with bolts of lightning. Morte, Taupy, Naja and Rhi'a all jump aboard the ship of Agan, who was nearby on a trade mission, as he attempts to sail away from the chaos. However, Morte leaps toward Kyrie, giving him a sign of affection, after she realizes that she no long wishes for the world to be destroyed. This restores Kyrie to his normal self, halting the activation of the Destruct Code. |
Series Cast
| | | | |
| --- | --- | --- | --- |
| | Mamoru Miyano | as Kylie Ilnis | |
| | Daisuke Ono | as Naja Gurefu | |
| | Maaya Sakamoto | as Morte Ashela | |
| | Hiroyuki Yoshino | as Agan Mādoru | |
| | Yu Kobayashi | as Lia Dragonell | |
| | Tohru Furuya | as Toppy Topuran | |
Related News
TVMaze