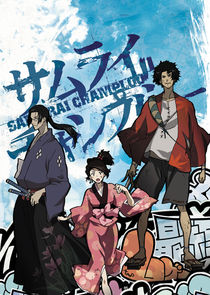 From the makers of Cowboy Bebop comes Samurai Champloo! Sometime during the 17th-19th century, during the Japanese "Edo era", two Samurai Warriors known as Mugen and Jin, have a chance meeting with a 15 year old girl named Fuu. Through a series of events, Fuu leads the warriors on a quest into several differant Japanese locations to find the samurai who smells of sunflowers. Little do the 3 unique characters realize just where fate will take them through situations of sex, violence, and drugs.
Series Overview
Rating
imDb Rating: 8.6 (35,679 Votes)
Metascore: N/A
Plot
Fuu, a waitress who works in a teahouse, rescues two master swordsmen, Mugen and Jin, from their execution to help her find the "samurai who smells of sunflowers."
Details
Rated: TV-MA
Released: 11 Jan 2005
Runtime: 24 min
Genre: Animation, Action, Adventure, Comedy, Drama, Thriller
Director: N/A
Writer: N/A
Actors: Kazuya Nakai, Ginpei Sato, Ayako Kawasumi, Steve Blum
Language: Japanese
Country: Japan
Awards: N/A
Total Seasons: 1
Previous Episode
Evanescent Encounter (Part 3)
Episode 1x26; Mar 19, 2005
As Fuu finally confronts the Sunflower Samurai, Mugen and Jin face their ultimate tests. While Mugen must face the remaining brothers, Jin continues his battle with Kagetoki Kariya. And there's the small matter of their own duel.
Previous Episodes

1x26: Evanescent Encounter (Part 3)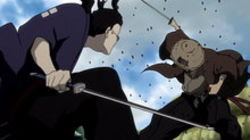 1x25: Evanescent Encounter (Part 2)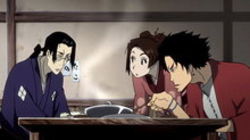 1x24: Evanescent Encounter (Part 1)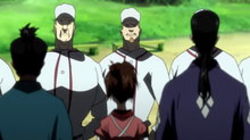 1x23: Baseball Blues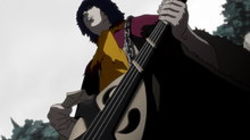 1x22: Cosmic Collisions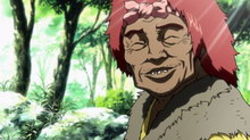 1x21: Elegy of Entrapment (Part 2)


1x20: Elegy of Entrapment (Part 1)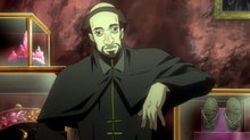 1x19: Unholy Union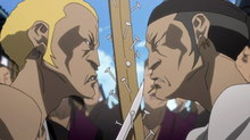 1x18: War of the Words

View All Episodes
Cast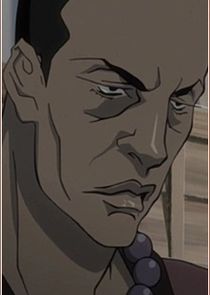 Ryûzaburô Ôtomo as Ishimatsu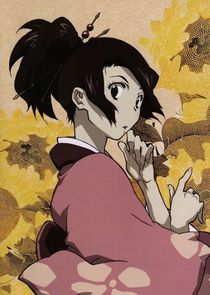 Ayako Kawasumi as Fuu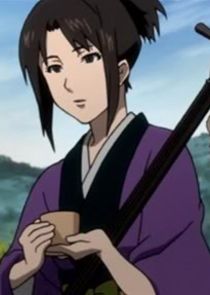 Sakiko Tamagawa as Sara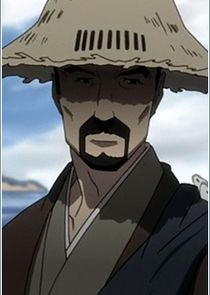 Takayuki Sugo as Kariya Kagetoki
Fumihiko Tachiki as Rikie
Ginpei Sato as Jin
View Full Cast
Skip to:
Season 1
| Episode No. | No. Overall | Title | Airdate | Runtime | Summary |
| --- | --- | --- | --- | --- | --- |
| 1 | 1 | Tempestuous Temperaments | 2004-05-20 | 25 | Fuu, a waitress who is being intimidated by the village prefect's son and his guard, begs 19-year-old vagabond Mugen for help. Across town, skilled 20-year-old rōnin Jin kills the prefect's bodyguards as they prepare to kill a peasant. Jin enters the restaurant, where Mugen mistakes him for the prefect's elite bodyguards and, seeking a worthy adversary, engages him in combat. One of the prefect's son's guards sets the restaurant on fire and it burns to the ground. The local authorities capture both Mugen and Jin, who were knocked unconscious by coal gas, and sentence them to death. After escaping their execution with some help from Fuu, she asks them to join her on a quest to find a mysterious man who smells of sunflowers. |
| 2 | 2 | Redeye Reprisal | 2004-06-03 | 25 | A bodyguard of the prefect's son plots revenge against Mugen after he sliced off his arm in the restaurant. To do so, he convinces his large, ogre-like companion from his remote hut in the woods to kidnap Fuu. |
| 3 | 3 | Hellhounds for Hire (Part 1) | 2004-06-10 | 25 | Mugen and Jin, annoyed with Fuu's demands, disband the group at a fork in the road, each taking separate paths, unknowingly joining the ranks of two gangs involved in a conflict. Meanwhile, Fuu is captured by yakuza and turned into a harlot and dice dealer. |
| 4 | 4 | Hellhounds for Hire (Part 2) | 2004-06-17 | 25 | A dice-rolling contest will decide the fate of the gang warfare. Who will end up dying as a result? |
| 5 | 5 | Artistic Anarchy | 2004-06-24 | 25 | Fuu models for ukiyo-e artist Hishikawa Moronobu, only to end up targeted as a kidnapper group's next victim. Will the others be able to save her in time? |
| 6 | 6 | Stranger Searching | 2004-07-01 | 25 | The trio enters into an eating competition with Mugen's and Jin's swords on the line. After a mysterious man wins the eating competition, they must find a way to get their swords back and save the mysterious man. Will they succeed? |
| 7 | 7 | A Risky Racket | 2004-07-08 | 25 | While Fuu, Jin, and Mugen are going to get some soup, Fuu's purse is stolen by a thief in the town. |
| 8 | 8 | The Art of Altercation | 2004-07-15 | 25 | A singing swordsman hunts for Jin, challenging any samurai wearing glasses he can find, accompanied by a beat-boxing duo of thugs when he becomes infatuated with Fuu. |
| 9 | 9 | Beatbox Bandits | 2004-07-22 | 25 | Mugen, Jin, and Fuu need to cross a border so they purchase travel passes since they don't have any. When their passes turn out to be fake, the trio are sentenced to death. However, the guards offer Mugen a chance to save his friends; if he can deliver an object through a forest full of bandits and return in time, Jin and Fuu will be spared. |
| 10 | 10 | Lethal Lunacy | 2004-07-29 | 25 | Mugen faces the lethal challenge of a Shaolin-trained swordsman and proves equal to the test, while Jin gets stuck doing all the housework. Can Mugen defeat this trained swordsman or will he suffer from his mistakes? |
| 11 | 11 | Gamblers and Gallantry | 2004-08-05 | 25 | Jin comes to the rescue of a lady in distress. He falls in love and tries to rescue this woman from the hard life she has come to face. Will he save her and himself? In the meantime, Mugen trains a rhinoceros beetle for a bug-fighting tournament in which he expects to win money. |
| 12 | 12 | The Disorder Diaries | 2004-08-12 | 25 | Mugen steals Fuu's diary that she has been keeping since they first started on their journey to find the sunflower samurai. The episode is a humorous recap on what has happened so far in the series as seen through Fuu's viewpoint, which is in turn criticized by Jin and Mugen. |
| 13 | 13 | Misguided Miscreants (Part 1) | 2004-08-26 | 25 | Mugen's past memories lure him back into his violent past, a pirate makes secret plans, and the lust for gold brings betrayal. |
| 14 | 14 | Misguided Miscreants (Part 2) | 2004-09-02 | 25 | When Mugen finds out what the pirate was planning to do, he gets his revenge. |
| 15 | 15 | Bogus Booty | 2004-09-09 | 25 | The shogun's prettiest ninja ends up giving Mugen an evening that he will never forget. Meanwhile, Fuu gets large from eating too much. |
| 16 | 16 | Lullabies of the Lost (Part 1) | 2004-09-16 | 25 | When Mugen, Jin, and Fuu get into a quarrel and separate, they have unexpected encounters. New opponents appear, old grievances return, and Mugen and Fuu meet a mysterious archer. |
| 17 | 17 | Lullabies of the Lost (Part 2) | 2004-09-23 | 25 | Jin ends a life he hoped to spare. |
| 18 | 18 | War of the Words | 2005-01-22 | 25 | Fuu gets a facelift when kids trade in the sword for the graffiti brush; Jin keeps a promise to a long-lost friend and confronts the shock of the new, while Mugen learns to read and conquers a castle. |
| 19 | 19 | Unholy Union | 2005-01-29 | 25 | A cynical charlatan fleeces the hidden Christian flock, Fuu gets closer to the Sunflower Samurai, and a truth is finally revealed. |
| 20 | 20 | Elegy of Entrapment (Part 1) | 2005-02-05 | 25 | Fuu, Mugen, and Jin meet up with a blind girl who is a traveling musician. Because of her blindness, she is able to sense the emotions of the group. Is this girl more than just a musician? |
| 21 | 21 | Elegy of Entrapment (Part 2) | 2005-02-12 | 25 | Jin learns the Way of Water, a woman's sorrow comes to an end, and Mugen both gives and receives an assassin's last gift. |
| 22 | 22 | Cosmic Collisions | 2005-02-19 | 25 | On the way to Nagasaki the trio fall through a mine shaft. They're introduced to its charismatic owner and start working for a share of treasure. As the days drag on, things take a turn for the bizarre. |
| 23 | 23 | Baseball Blues | 2005-02-26 | 25 | An American sea vessel arrives in town and a canny ninja-turned-team manager enlists our heroes to do battle with them on the field of honor... which in this case is a baseball diamond. Behold Mugen's pitching skills and tremble! |
| 24 | 24 | Evanescent Encounter (Part 1) | 2005-03-05 | 25 | Fuu, Mugen, and Jin have finally arrived in Nagasaki to find Ikitsuki Island in search of the Sunflower Samurai. There seems to be one small problem that might keep them from getting there though: a group of assassins are following closely behind. |
| 25 | 25 | Evanescent Encounter (Part 2) | 2005-03-12 | 25 | As Jin duels Kagetoki Kariya, the most powerful man in the shogunate, Mugen has to contend with three brothers who want his head. |
| 26 | 26 | Evanescent Encounter (Part 3) | 2005-03-19 | 25 | As Fuu finally confronts the Sunflower Samurai, Mugen and Jin face their ultimate tests. While Mugen must face the remaining brothers, Jin continues his battle with Kagetoki Kariya. And there's the small matter of their own duel. |
Series Cast
| | | | |
| --- | --- | --- | --- |
| | Ryûzaburô Ôtomo | as Ishimatsu | |
| | Ayako Kawasumi | as Fuu | |
| | Sakiko Tamagawa | as Sara | |
| | Takayuki Sugo | as Kariya Kagetoki | |
| | Fumihiko Tachiki | as Rikie | |
| | Ginpei Sato | as Jin | |
| | Sayuri | as Osuzu | |
| | Ai Maeda | as Koza | |
| | Otoya Kawano | as Ryujiro Sasaki | |
| | Unshō Ishizuka | as Manzou Sakami | |
| | Kazuya Nakai | as Mugen | |
Related News
TVMaze