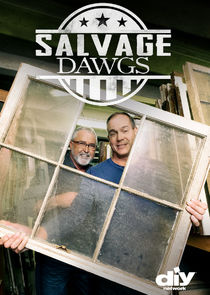 Salvage Dawgs is a trip into a world of shrewd negotiations as Robert Kulp and Mike Whiteside — co-owners of one of the premier architectural salvage operations in the United States, Black Dog Salvage — bid on homes and buildings condemned to be demolished. Their goal is to secure the remarkable pieces of America's past hidden inside these old structures before they are lost forever. These salvaged vintage pieces include everything from doors, windows, mantels and more. Once they are recovered, the guys sell these valuable pieces to a wide range of clients, from construction workers to high-end interior designers, who use them to restore other historical buildings and add character to newer structures.
Series Overview
Rating
imDb Rating: 7.4 (143 Votes)
Metascore: N/A
Plot
Entertaining show about saving beautiful old doors, stained glass, floors, mantels, etc. from buildings that are slated to be torn down. The crew works hard to ensure future generations can enjoy the wonderful craftsmanship of the past.
Details
Rated: N/A
Released: 08 Nov 2012
Runtime: N/A
Genre: Reality-TV
Director: N/A
Writer: N/A
Actors: Robert Kulp, Mike Whiteside, Grayson Goldsmith, Tay Whiteside
Language: English
Country: USA
Awards: N/A
Total Seasons: 9
Next Episode
Return to Jamestown, NY
Episode 11x3; Nov 18, 2019
The Dawgs return to Jamestown, NY, for their second go at salvaging a home that's been expanded to create a 26,000-square-foot Moose Lodge. The mixed architecture turns over an array of treasures, including neon lights and ornate roofing tiles.
Previous Episode
Maryland Strip Mall
Episode 11x2; Nov 11, 2019
The crew returns to Largo, MD, where they harvest items from a sporting goods store at the Boulevard at the Capital Centre. Robert and Grayson salvage the electrical system while Mike, Tay and Ted remove exterior beams for a future cantilever bench.
Episodes 11x3: Return to Jamestown, NY 11x2: Maryland Strip Mall 11x1: Jamestown Moose Lodge 10x13: Return to Cap Centre 10x12: Timberville House 10x11: Boulevard at Capital Centre 10x10: Martinsville Burned House 10x9: Moneta Diner and Drive-In 10x8: Baltimore Fireboat

View All Episodes
Recent News
Salvage Dawgs S11E01 WEB x264-CAFFEiNE
Season 11, Episode 01 – "Jamestown Moose Lodge" The Dawgs head to Blacksburg, Virginia, to salvage an 1800s barn with an internal log structure. This should be a textbook job, but with a hurricane on the horizon, the team is under a tighter deadline to make i…
via NewsAPI
View More Related News
Skip to:
Season 1
| Episode No. | No. Overall | Title | Airdate | Runtime | Summary |
| --- | --- | --- | --- | --- | --- |
| 1 | 1 | Izard House | 2012-11-08 | 30 | Robert, Mike and the Black Dog crew salvage the Izard House, a two-room cabin built in the late 1892. The team removes a box bay window in one piece. Other key finds include a Dixie Oak stove, a stairwell and old poplar wood. Mike also delivers a Victorian doorway to be used in a log cabin. |
| 2 | 2 | Washington Mill | 2012-11-15 | 30 | Mike, Robert and the Black Dog crew salvage the Washington Mill, an old cotton mill from the late 1800s. Key finds include wooden louvers, open wire baskets and an old barber chair. Mike and Ted also make a couch from an old bathtub. |
| 3 | 3 | Robert E. Lee Hotel | 2012-11-22 | 30 | Robert, Mike and the Black Dog crew salvage the Robert E.Lee Hotel, a six-story luxury hotel built in 1926 in Lexington, Va. Key finds include a peg leg sink, French doors and pelican urinals. Mike and his daughter build a coffee table out of a salvaged panel and wood from the Izard House. The crew also picks through a junkyard in hopes of finding salvaged goods. |
| 4 | 4 | Bent Mountain Mill | 2012-11-29 | 30 | Robert, Mike and the Black Dog crew salvage the Bent Mountain Mill, a grist mill used for grinding wheat and other grains. Key finds include patina doors, mill stones and running gears. Robert buys an exercise machine from the late 1950s. Ted also makes a bar from Egyptian iron and wood. |
| 5 | 5 | James House | 2012-12-06 | 30 | Robert, Mike and the Black Dog crew salvage the James House, a 5,000 square foot home built in 1893. The team removes a hand-crafted Carrara marble mantle. Other key finds include a cast iron sink, a vintage cabinet and historical glass negative pictures. Mike also makes a repurposed hall tree out of a salvaged door. |
| 6 | 6 | Ghent Row | 2013-06-01 | 30 | Mike, Robert, and the Black Dog Salvage crew tackle an entire city block of Victorian houses in Norfolk, VA. One of which is The Painted Lady, an old tearoom originally built in 1892 and renovated in 1997. Key items include mantles, a cupola, a large wooden bar, and a glass rack. Back at the warehouse, Mike builds a bathroom sink from a US Navy chest. |
| 7 | 7 | Smith Mountain Lake | 2013-06-08 | 30 | Mike, Robert, and the Black Dog crew salvage wood from a cabin at Smith Mountain Lake. From that wood, Mike builds a four-post bed to sell in the shop. Robert and Tay save light fixtures and a bathtub from an old house in Southwestern Virginia. Meanwhile, Mike and Ted travel to New York City to install fire doors previously salvaged from the Washington Mill. |
| 8 | 8 | First Baptist Church | 2013-06-15 | 30 | Mike, Robert, and the Black Dog Salvage crew save parts from the former First Baptist Church in Bluefield, WV. Key finds include accordion doors, a pipe organ, and a balcony. Mike builds a kitchen pantry from an old 1950s-style refrigerator. |
| 9 | 9 | Homestead Stables | 2013-06-22 | 30 | Mike, Robert, and the Black Dog crew tackle the Homestead Stables and carriage house in Hot Springs, VA. Key finds include stable doors, a carriage, trusses, and a hand-operated carriage elevator. Courtney assists with completing a bench that Mike made from an old headboard. |
| 10 | 10 | Foursquare Church | 2013-06-29 | 30 | Mike, Robert, and the Black Dog Salvage crew take on extracting large and fragile stained glass windows at a church in Salisbury, NC. The guys also pick through a local piano store for some interesting finds. Back at the shop, Mike builds a bench using the back of a Chris Craft boat. |
| 11 | 11 | Post-War Colonial Revival Home | 2013-07-06 | 30 | Mike, Robert, and the Black Dog Salvage crew salvage a house from the 1940's in Washington, DC. Key items include a large conservatory, bottle glass windows, and dark room supplies. Mike also builds a bar and cabinet from an old piano previously salvaged from the Homestead Stables. |
| 12 | 12 | American Foursquare House | 2013-07-13 | 30 | Mike, Robert, and the Black Dog Salvage crew tackle an American Foursquare house from 1910 in Fairmont, WV. Key finds include huge built-in cabinets, mahogany wainscoting, and a porcelain tub. Mike also works with a local winery to create a chandelier from a wine barrel. |
| 13 | 13 | Stick Style House | 2013-07-20 | 30 | Mike, Robert, and the Black Dog Salvage crew salvage an extremely dirty house in Knoxville, TN. Key finds include some East Lake hardware, mantles, surround tiles, and front porch columns. The team also transforms an old bus front into a bar back and install it in a burger joint in downtown Roanoke, VA. |
Season 2
| Episode No. | No. Overall | Title | Airdate | Runtime | Summary |
| --- | --- | --- | --- | --- | --- |
| 1 | 14 | Salvaging a House in Roanoke, VA Into Repurposed Housing Items | 2014-01-16 | 30 | The entire Black Dog Salvage crew pitches in to help save parts of a house in Roanoke, VA. Main items include floors, trim, front porch columns, and a large built in cabinet. While salvaging, hosts Mike and Robert also search for buried treasure on the property. Back at the shop, Ted builds a fire pit and fountain from old syrup kettles. |
| 2 | 15 | Northeast Farmhouse | 2014-01-16 | 30 | Mike, Robert, and the Black Dog Salvage crew save parts of an early 1800s farmhouse and barn in Edison, NJ. Key items include corner plinths, thick floorboards, and an elaborate front entryway. |
| 3 | 16 | Salvaging Items from Columbus, Ohio Into Repurposed Goods | 2014-01-23 | 30 | Mike, Robert, and the Black Dog Salvage guys tackle disassembling a 40 foot Eiffel Tower replica in Columbus, OH. While in Columbus, they meet a fellow salvager and pick through his collection. Grayson also builds a floor lamp with salvaged materials back at the warehouse. |
| 4 | 17 | Hill Crest Bed and Breakfast | 2014-01-23 | 30 | Mike, Robert, and the Black Dog Salvage crew extract a fireclay tub and window frame from a bed and breakfast. The crew also picks through a large auto graveyard. Key finds include a fire truck, a vintage cooler, and PBR sign. Back at the shop, Tay and Grayson collaborate on building an album end table. |
| 5 | 18 | Lakeside Marina | 2014-01-30 | 30 | Mike, Robert, and the Black Dog Salvage crew travel to Smith Mountain Lake to save parts off a sinking boat. While at the marina, they discover other boats on the property to salvage. At the warehouse, Mike builds a commissioned bar from wine barrels for a local winery. |
| 6 | 19 | Salvaging Items in Norfolk and Petersburg Into Repurposed Goods | 2014-01-30 | 30 | The Black Dog Salvage crew splits up for the week. Robert and Grayson salvage a spiral staircase in Norfolk, while Mike and the guys pick through a restoration shop in Petersburg. Back at the shop, the crew pays homage to their old red truck by turning it into a bench. |
| 7 | 20 | Salvaging Items from a Foursquare Farmhouse in Roanoke, VA | 2014-02-06 | 30 | The Black Dog Salvage crew take on a foursquare farmhouse in Roanoke, VA. Key items include colonnades, pocket doors, and a large front door. Back at the shop, Mike works on building a tailgater grill unit for a customer. |
| 8 | 21 | Salvaging Items in Roanoke, VA Into Repurposed Goods | 2014-02-06 | 30 | Mike, Robert, and Ted remove a stock teletrade from a brokerage firm in downtown Roanoke, VA. The whole crew then heads north to Granville, OH, to pick through a two-story barn. At the warehouse, Mike builds a coffee table from a panel door. |
| 9 | 22 | Salvaging Items from an Old Navy Ship in Norfolk, VA Into Repurposed Goods | 2014-02-13 | 30 | Mike, Robert, and the Black Dog Salvage crew salvage parts off a former navy ship, the USS Zuni/USCG Tamaroa. Key finds include an officer's table, portholes, and wooden ship frames. At the warehouse, Mike builds a table from an airplane wing. |
| 10 | 23 | Salvaging Items from an Apple Orchard Into Repurposed Goods | 2014-02-13 | 30 | The Black Dog Salvage crew head into the mountains to salvage different structures of an old apple orchard. Key finds include roof tin, apple picking ladders, and apple crates. Robert also helps Ted build a commissioned iron gate. |
| 11 | 24 | Salvaging Items from a Train Caboose Into Repurposed Goods | 2014-02-20 | 30 | Hosts Mike and Robert salvage conductor chairs from a train caboose. The whole crew then picks through the Old Cold Storage warehouse in Arrington, VA. Back at the shop, Mike and Tay work together to build a large iron table. |
| 12 | 25 | Salvaging Items in Boardman, OH Into Repurposed Goods | 2014-02-20 | 30 | The Black Dog Salvage crew tackles removing a two-story terracotta theater facade in Boardman, OH. Back at the shop, Mike builds a bed frame from horse jump poles. The crew also brings in an expert to learn about a printing press they picked up in Petersburg, VA. |
| 13 | 26 | Salvaging Items from a High School Into Repurposed Goods | 2014-02-27 | 30 | Mike, Robert and the Black Dog Salvage crew save parts from a 1917 high school up in Youngwood, PA. Key finds include lockers, chalkboards, sinks, and a gothic window transom. In the warehouse, Mike builds a unique coffee table from horse tack previously salvaged from the Homestead Stables. |
Season 3
| Episode No. | No. Overall | Title | Airdate | Runtime | Summary |
| --- | --- | --- | --- | --- | --- |
| 1 | 27 | Nelson House | 2014-10-26 | 30 | The Black Dog Salvage crew saves pieces of a house in Mt. Jackson, VA. Their main focus is on the clay-fired roof and on the oversized cornice brackets. Back in the woodshop, Mike makes a bench from an old dresser. |
| 2 | 28 | Old Stagecoach Inn | 2014-11-02 | 30 | Hosts Mike & Robert salvage a house previously damaged by a tornado near Abingdon, VA. Key items include floors, doors, and a complete staircase. While at the warehouse, Mike makes a commissioned desk for a child from a balance beam. |
| 3 | 29 | Reel Theatres | 2014-11-09 | 30 | Mike, Robert, & the team salvage a movie theater in Sevierville, TN. Key items include analog projectors, movie screens, and neon letters. Mike also builds a commissioned table from a window frame. |
| 4 | 30 | St. Mary's Rectory | 2014-11-16 | 30 | The Black Dog crew salvages St. Mary's Church rectory in Chillicothe, OH. Key items include cast-iron mantles, a large built-in cabinet, and a stained-glass front doorway. Back at the shop, Tay and his dad work together to make a truck from a Volkswagen bus. |
| 5 | 31 | Bowman House | 2014-11-23 | 30 | Mike, Robert, and the Black Dog crew salvage an early 1800s farmhouse in Mt. Jackson, VA. Key items include pocket doors, a primitive armoire, and heart pine flooring. Grayson brings a new idea to Mike to make a bench from three chairs. |
| 6 | 32 | Nehi Bottling Plant | 2014-11-30 | 30 | Mike and the team salvage large industrial doors from the old Nehi Bottling Plant in Covington, VA. Back at the shop, Robert and Tay work on a gate made from a bicycle. The guys also pick through a collection brought in by a local vendor. |
| 7 | 33 | Byrd Log Cabin | 2014-12-07 | 30 | The Salvage Dawgs team returns to a previously salvaged house to save its original log structure. Mike and Tay also learn how that wood is milled for a custom building project. Mike uses that same wood to build an end table for the property owner. |
| 8 | 34 | Meek Farmhouse | 2014-12-07 | 30 | Mike & Robert remove a two-piece staircase from a farmhouse in Marion, VA. The guys also pick through a train yard. Back at the shop, Mike builds a bar from panel doors as a surprise for a customer's husband. |
| 9 | 35 | Hylton Victorian | 2014-12-14 | 30 | The Black Dog Salvage team saves parts of an old Victorian-style farmhouse in Laurel Forks, VA. Mike & Robert also learn how to hand throw bricks at the local Old Virginia Brick Company. At the shop, Tay transforms a busted up VW bus into a flatbed truck. |
| 10 | 36 | Roanoke College | 2014-12-14 | 30 | The Black Dog Salvage team saves architectural elements at Roanoke College in Salem, VA. Key items include railings, brick pavers, gothic lighting, and a safe from the 1940s. Back at the warehouse, Mike and Courtney repurpose a mantle into a hanging wall piece. |
| 11 | 37 | Weatherford Farmhouse | 2014-12-21 | 30 | The Salvage Dawgs crew saves parts of a farmhouse in South Boston, VA. Key items include chairs, milk-painted paneling, and an arched window. Mike and Robert also get to pick through some of the owner's personal collections. Back at the warehouse, Robert repurposes a previously salvaged porch roof into an outdoor kitchen. |
| 12 | 38 | Fringer Cannery | 2014-12-21 | 30 | Mike, Robert, and the crew salvage an old iron ore mine that was converted into a cannery in the 1930s. Main items include a curved I-beam, oversized pressure-cookers, and a canning carousel. Back at the shop, Mike builds a custom bar from an old Cissell steam press table. |
| 13 | 39 | St. Andrews Church Spires | 2014-12-28 | 30 | The Dawgs help save copper elements from the St. Andrews Catholic Church spires in Roanoke, VA. The guys also bring in an expert to learn more about a large lithograph from a previous salvage. At the warehouse, Mike's daughter Grace shows off her skills by building a bookshelf from a panel door and old tin. |
Season 4
| Episode No. | No. Overall | Title | Airdate | Runtime | Summary |
| --- | --- | --- | --- | --- | --- |
| 1 | 40 | Cast Iron Storefront | 2015-06-07 | 30 | |
| 2 | 41 | Geyser Gulch | 2015-06-14 | 30 | The Dawgs salvage the amusement park attraction, Geyser Gulch, at Silver Dollar City in Branson, MO. Key items include a water tower, air pressure guns, and a blue slide. While at the shop, Mike builds a custom hostess stand for a local restaurant in Leesville, VA. |
| 3 | 42 | Bemis Cotton Mill | 2015-06-21 | 30 | Mike, Robert, & the rest of the team salvage the Bemis Cotton Mill in Jackson, TN. Key finds include fire doors, earthenware sinks, factory carts, and a gang sink. At the warehouse, Mike builds a bookshelf using the panels from a door. |
| 4 | 43 | Old Robeson County Jail | 2015-06-28 | 30 | Mike, Robert, & the Dawgs salvage a 1950s jail in Lumberton, NC. Key items include a holding cell, sinks, and slate countertops. At the shop, Mike & Tay build a bar from bowling alley flooring. |
| 5 | 44 | Clapp Farm Windmill | 2015-07-05 | 30 | Mike, Robert, and the rest of the team salvage an Aeromotor windmill in Liberty, NC. They also pick through various barns on the property. Back in the woodshop, Mike uses salvaged barn wood and iron to build a floor lamp. |
| 6 | 45 | Elks National Home | 2015-07-05 | 30 | The Dawgs head to the Elks National Home in Bedford, VA, to salvage parts of the old lodge. Other items they save include doors, theater seats, and subway tile. Back in the woodshop, Mike builds a swing from a salvaged apple crate and upholsters cushions from old postal bags. |
| 7 | 46 | Terracotta Silo | 2015-07-12 | 30 | The Dawgs struggle to take down a terracotta silo in Bedford, VA. While in town, Mike takes Tay and Grayson to visit the National D-Day Memorial. Back at the shop, Mike builds a coffee table from an old factory cart. |
| 8 | 47 | Return to Geyser Gulch | 2015-07-12 | 30 | The Dawgs return to Geyser Gulch at Silver Dollar City in Branson, MO. Key items this time include a birdhouse, oversized frying pans, and water guns. Back at the warehouse, Mike builds a garden arbor out of two doors. |
| 9 | 48 | P.A. Denny Riverboat | 2015-07-19 | 30 | The Salvage Dawgs save a calliope from a riverboat in Parkersburg, WV. They also split into teams to pick through the owner's large warehouse. At the shop, Courtney collaborates with Mike to build a mirror from pieces of wall trim. |
| 10 | 49 | Wheeling Apartment | 2015-07-19 | 30 | Mike, Robert, and the rest of the team salvage elements from an apartment building in Wheeling, WV. Key items include arched doors, a double drainboard sink, and wooden medallions. At Black Dog Salvage, Mike builds a wine tasting table from an old lamppost and barrel staves. |
| 11 | 50 | American Viscose Plant | 2015-07-26 | 30 | The Dawgs save a kiln from the American Viscose Plant in Roanoke, VA. Mike and Tay work together to build custom tables for a local optometrist office. Will Farmer also returns to appraise a map from 1853. |
| 12 | 51 | Tully Choice Cabin | 2015-07-26 | 30 | The Salvage Dawgs save steps and chimney rocks from a 1765 log cabin at Smith Mountain Lake. Gracie takes the team to a local glassblowing artist to make pieces for a chandelier. Robert and Ted also pick through a barn. |
| 13 | 52 | Scott Boulevard Baptist Church | 2015-08-02 | 30 | The Salvage Dawgs travel to Decatur, GA, to salvage the Scott Boulevard Baptist Church. Key items include arched doorways, large stained glass windows, and a reredos. Back at the shop, Mike and Tay build an iron console. |
Season 5
| Episode No. | No. Overall | Title | Airdate | Runtime | Summary |
| --- | --- | --- | --- | --- | --- |
| 1 | 53 | Drayton Mill | 2016-02-28 | 30 | The Salvage Dawgs travel to the Drayton Mill in Spartanburg, SC. Key items salvaged include a large fan and valves. Mike builds a new desk for his office out of a salvaged airplane wing. |
| 2 | 54 | Former First National Bank | 2016-02-28 | 30 | The Salvage Dawgs take on the former first National Bank in Gastonia, NC. Key items salvaged include elevator parts and chicken wire windows. At the shop, Robert builds a bar out of a boat salvaged from Smith Mountain Lake. |
| 3 | 55 | Covington Church | 2016-03-06 | 30 | The Salvage Dawgs work on Covington church and find tambour doors, stairs and a jukebox. Mike and Tay build a locker bench, then the crew finds a propane spotlight. |
| 4 | 56 | Rising Sun Ranch | 2016-03-06 | 30 | The Dawgs tackle a ranch house in Alderson, WV. Key items salvaged include stained glass and corbels. In the shop, Mike reuses timber to build a beam table. |
| 5 | 57 | Trenton Central High School | 2016-03-13 | 30 | The Salvage Dawgs team takes on a huge high school in Trenton, NJ. Key items found include fireclay sinks and oak cabinets. Mike and Tay build an N-shaped desk in the shop. |
| 6 | 58 | Portside Marina | 2016-03-13 | 30 | The Dawgs save the bow and stern of a boat on Smith Mountain Lake in Moneta, VA. The team cuts up an old Chevy van for a commissioned wall art piece. New dogs Molly May and Stella make their debut. |
| 7 | 59 | Return to Trenton High School | 2016-03-20 | 30 | The Dawgs return to Trenton Central High School in Trenton, NJ. Key items found include four large clock faces and library ladders. In the shop, Mike and Tay build a table from an old jail bed. |
| 8 | 60 | Reed Creek Mill | 2016-03-20 | 30 | The Dawgs return to Trenton Central High School in Trenton, NJ. Key items found include four large clock faces and library ladders. In the shop, Mike and Tay build a table from an old jail bed. |
| 9 | 61 | Wilberger Funeral Home | 2016-03-27 | 30 | The Salvage Dawgs team saves parts of the Wilberger Funeral Home in New Hope, VA. Key items salvaged include an elevator and barn door hardware. Back in Roanoke, Mike and the guys build a collapsible bookcase. |
| 10 | 62 | Mt. Vernon Greek Revival | 2016-03-27 | 30 | The Salvage Dawgs save as much as they can from a burnt-down house in Mt. Vernon, OH. In the shop, Mike builds a chair from a shopping cart. |
| 11 | 63 | Riverfront House | 2016-04-03 | 30 | The Salvage Dawgs take on a Victorian house in Wellsville, OH. Key items salvaged include harlequin windows, corbels and front porch columns. Back at the shop, Mike and Tay build a wine rack from old brick molds. |
| 12 | 64 | Little Chef Diner | 2016-04-03 | 30 | The Dawgs stay in Roanoke to salvage an old diner sign. The crew also picks through a huge warehouse in Greensboro, NC. Back at the shop, the Whiteside family works together to build a clock from road signs. |
| 13 | 65 | Roanoke Chamber of Commerce | 2016-04-10 | 30 | The Dawgs save pieces from the Roanoke Chamber of Commerce, including safe deposit boxes and a pneumatic messaging system. The team also works on a large bar commissioned for the Natural Bridge Hotel. |
Season 6
| Episode No. | No. Overall | Title | Airdate | Runtime | Summary |
| --- | --- | --- | --- | --- | --- |
| 1 | 66 | St. Michael's Catholic School | 2016-07-31 | 30 | In the Season 6 premiere, the Dawgs head to Pittsburgh to salvage materials from St. Michael's Catholic School. Later: they construct a ladder console and uncover a vintage army record player. |
| 2 | 67 | Greek Revival Farmhouse | 2016-08-07 | 30 | The Dawgs visit Pennsylvania to preserve a Greek Rival farm house where they salvage mantles, tiles and a chicken coop. Elsewhere: Mike and Tay build a freight cart back in the shop. |
| 3 | 68 | Vaughan Furniture Company | 2016-08-14 | 30 | The Dawgs head to Virginia and visit a furniture company, where they salvage a furniture press and encounter explosion-proof lights. Also: Mike and Grayson build a chair with pieces from an old suitcase. |
| 4 | 69 | Pickle Mansion | 2016-08-21 | 30 | |
| 5 | 70 | Mine Master's House | 2016-08-28 | 30 | |
| 6 | 71 | Free Will House | 2016-09-04 | 30 | |
| 7 | 72 | Rural Retreat Historical Society | 2016-09-11 | 30 | |
| 8 | 73 | Grace Family Church | 2016-09-18 | 30 | The Black Dog Salvage crew travels to Vinton, Virginia, in order to salvage a massive piece of stained glass from the Grace Family Church. They run into challenges when equipment is delayed. Tay and Grayson buy a tandem bike for the shop, and Mike and Tay build a beam lamp. |
| 9 | 74 | Marion Bowling Alley | 2016-09-25 | 30 | |
| 10 | 75 | Texas Tavern Sign | 2016-10-02 | 30 | The Salvage Dawgs work at home in Roanoke, Virginia, where they salvage a sign for the Texas Tavern and learn the history of the local restaurant over burgers and bowls of chili. Afterwards, the team heads to a warehouse in Philadelphia where they engage in fierce negotiations over bread molds and wine racks. Robert buys a cash register for the shop, and Mike builds a bed for Robert's daughter Caroline. |
| 11 | 76 | St. Agatha's Catholic Church | 2016-10-09 | 30 | The Salvage Dawgs travel to snowy Ellwood City, Pennsylvania, to reclaim pieces of St. Agatha's Catholic Church. In the bitterly cold weather, they salvage stained glass, spiral ducting and lights. Tay and Mike buy an EKG machine for the shop, and Mike and Tay build a media center console. |
| 12 | 77 | Noland Sign Company | 2016-10-16 | 30 | The Black Dog Salvage team works in Roanoke, Virginia, at the Noland Sign Company. On a windy day, they salvage metal lettering, copper cupolas and vintage plumbing. Grayson buys an initial machine for the shop, and Gracie, Tay and Mike build a lamp that shows off Gracie's glass-blowing skills. |
| 13 | 78 | St Agatha's Church Rectory | 2016-10-23 | 30 | The Black Dog Salvage team heads back to snowy Ellwood City, Pennsylvania, to salvage the rectory of St. Agatha's Catholic Church. Robert, Mike and the crew brave snow and ice to salvage a triple sink, glass blocks and storm door. Afterward, they take a tour of the Bally Block Factory where Robert's grandfather used to work. Robert and Ted buy some antique household items for the shop, and Mike and Tay build an office bar for Robert and Mike's new office space. |
Season 7
| Episode No. | No. Overall | Title | Airdate | Runtime | Summary |
| --- | --- | --- | --- | --- | --- |
| 1 | 79 | Esther Ludwig Mansion | 2017-03-26 | 30 | |
| 2 | 80 | Trinity Lutheran Church | 2017-03-26 | 30 | |
| 3 | 81 | 19th Century Corn Crib | 2017-04-02 | 30 | |
| 4 | 82 | Virginia Victorian Home | 2017-04-02 | 30 | |
| 5 | 83 | Storybook Style House | 2017-04-09 | 30 | Black Dog Salvage travels south to Winston-Salem, North Carolina, to save what they can from a storybook-style home in two days. The heat takes a toll on the team, but they find some unique chandeliers, sinks, windows and a nice Dutch door. Mike comes up with a functional design for a garment rack that can be rolled anywhere and Robert is excited about some old items that remind him of his Navy days. |
| 6 | 84 | Wayne Lanes Bowling Alley | 2017-04-09 | 30 | The Salvage Dawgs go to Wayne Lanes in Waynesboro, VA, to salvage bowling balls, bowling pins, bowling shoes and whatever else they can find in the alley. Robert is determined to redeem himself from last season's bowling fiasco, while Grayson finds some cool items including a bowling ball for Robert's girls. |
| 7 | 85 | Return to Ludwig Mansion | 2017-04-16 | 30 | Black Dog Salvage returns to the Ludwig mansion in Pennsylvania to get what they left behind from the first salvage. They're concentrating on the outside of the house including the roof tiles, windows and the boiler room. Tay gets competitive by racing to quickly take out the casement windows while Mike and Ted go up high and try to salvage as many of the roof tiles as they can. Down at the shop, Grayson looks for materials to build a spice rack for her kitchen and Robert brings in a vintage scale to see who, exactly, has been slacking on the job. |
| 8 | 86 | Park-n-Shop Grocery Store | 2017-04-16 | 30 | The Black Dog Salvage crew heads to Mike's hometown of Charlotte, North Carolina, to check out the signage they can save from his very first job. Mike and Robert check out the Virginia Transportation Museum and learn that a new bank being built in Roanoke has a need for a large conference table. |
| 9 | 87 | Lexington Burnout House | 2017-04-23 | 30 | The team goes to Lexington, VA, to see what they can save from a fire damaged house that had recently been converted to apartments. Mike and Robert work on removing a large door while Grayson and Tay work the perimeter of the house. The build doesn't go as planned, however, forcing Mike to get creative with his problem-solving skills. Meanwhile, Robert and Mike get good news on an appraisal of a shuffleboard table they recently acquired in Greensboro, NC. |
| 10 | 88 | Beechcraft Airplane Salvage | 2017-04-23 | 30 | The Salvage Dawgs try something a little different by bidding on a 1947 Beechcraft airplane. Mike goes a little over budget to win the auction and the crew has to hire professionals to figure out how to disassemble it properly. Meanwhile, Mike and Tay build a functional shelf out of a mantle and Mike brings in an old piece of farm equipment to Robert's dismay. |
| 11 | 89 | Victorian Free Classic House | 2017-04-30 | 30 | The Salvage Dawgs return to Hot Springs, VA, to salvage another home before it gets demolished. The house has some great Eastlake hardware worth salvaging as well as Majorca tile, mantles and pocket doors. Mike mixes steel and wood for a modern side table with floating shelves, while Robert brings in some old ceramic glove molds to sell in the store. |
| 12 | 90 | Burlington Wall Unit | 2017-04-30 | 30 | The teams visits Burlington, NC, to save an old apothecary unit from a 1930s pharmacy. Then, Mike and Robert search for some new patterns for the shop in West Virginia, while Grayson builds a console. |
| 13 | 91 | Christiansburg House | 2017-05-07 | 30 | The team travels down the road to Christansburg to salvage an old home. They get some good meat and potatoes from the house, including the mantles, banisters and all the gingerbread trim. Also, Mike and Tay build a couch that can fit a Whiteside. |
Season 8
| Episode No. | No. Overall | Title | Airdate | Runtime | Summary |
| --- | --- | --- | --- | --- | --- |
| 1 | 92 | Former United Methodist Church | 2017-09-17 | 30 | The team members salvage what they can from a former Methodist church that fell victim to water damage; the team removes pews, a bronze bell and a greenhouse skylight before heading back to the shop to work on a beam console. |
| 2 | 93 | Peanut Silo Salvage | 2017-09-17 | 30 | The Salvage Dawgs score some doors from the Virginia Military Institute before taking on a peanut silo salvage in Skippers, Va.; after a precarious roof removal, the team devises a different plan to dismantle the silos while keeping them intact. |
| 3 | 94 | Lerner House | 2017-09-24 | 30 | The crew travels to Orange, Va., to salvage a 1930s brick mansion, including its columns and windows; Mike and Robert return Gen. George C. Marshall's door to the Virginia Military Institute; Tay and Mike build a coffee table from a door. |
| 4 | 95 | Peacock Salem Cleaners | 2017-09-24 | 30 | In Salem, Va., the crew salvages Salem Peacock Cleaners, which is filled with antique laundromats parts; Mike removes the fur fumigator door, while Tay and Ted remove a steam press; Robert works on removing the soapstone sink. |
| 5 | 96 | Teacherage | 2017-10-01 | 30 | |
| 6 | 97 | Pinehurst Steam Plant | 2017-10-01 | 30 | |
| 7 | 98 | Return To Delaware | 2017-10-08 | 30 | |
| 8 | 99 | Former Dixie Furniture Plant | 2017-10-08 | 30 | |
| 9 | 100 | Navy SEAL Boat | 2017-10-15 | 30 | |
| 10 | 101 | Cosby Brothers Mill | 2017-10-15 | 30 | |
| 11 | 102 | C&O Railway | 2017-10-22 | 30 | The team travels to Clifton Forge, Virginia, to conquer C&O Railway's vast repair space. Using force and lots of tools, they work to salvage the steam engine repair plant by saving railway bases and corrugated glass. Later, the guys take apart a baby grand piano and repurpose it into a shelf. |
| 12 | 103 | Parkville Farmhouse | 2017-10-22 | 30 | The team heads to Parkville, MD, to salvage a classic farmhouse. Working on the outside the Dawgs remove steel from the front porch, doors, and windows while indoors they work to remove radiators, banisters and wainscoting. With the house picked clean, Mike rewards the Dawgs with indoor skydiving! Once back in the shop, Mike and Tay build an ironwood coffee table. |
| 13 | 104 | Splitting Up Jobs | 2017-10-29 | 30 | Robert sends Tay and Grayson to salvage on their own in Salem, Virginia, until the crew comes together to help finish the job. Mike and Ted travel to Norfolk, VA, to pick up a special nautical structure for a client, then Tay and Mike build a nautical chandelier for the same buyer. |
Season 9
| Episode No. | No. Overall | Title | Airdate | Runtime | Summary |
| --- | --- | --- | --- | --- | --- |
| 1 | 105 | Laverock Hill Estate | 2018-05-13 | 30 | The crew heads to Glenside, PA, to salvage a huge estate. The sprawling 1918 mansion gives the Dawgs a run for their money as they try to save columns, doors, mantles, bathtubs and more. Mike and Tay visit Rural Retreat to find a piece for a custom coffee table. |
| 2 | 106 | Twin Capes Ferry | 2018-05-20 | 30 | The crew heads to Norfolk, VA, to test their sea legs and salvage an obsolete ferry including lights, skylights and a mural. Back at the shop, Grayson helps Mike and Tay with a commissioned build for a fellow maker. |
| 3 | 107 | Country Store And Gas Station | 2018-05-27 | 30 | The crew heads to Grottoes, Virginia, to salvage and demolish an old country store. Using materials from the project, Mike and Robert create a tribute bench for a veterans' retreat. |
| 4 | 108 | Price Fuller Machine Shop | 2018-06-10 | 30 | |
| 5 | 109 | Saving A Gem | 2018-06-17 | 30 | Season 9, Episode 11Saving a GemThe crew finds a gem with a log cabin tucked inside an old farmhouse, but they struggle to disassemble and demo the property due to the ever-increasing mud. The team must also meticulously document the placement of each beam, board and panel for when they rebuild the cabin for a lucky buyer. |
| 6 | 110 | Downtown Kannapolis | 2018-06-24 | 30 | |
| 7 | 111 | Taylor Family Farm | 2018-06-03 | 30 | The team heads to Yorktown, VA, to pick through an old farm and former Native American settlement. Mike and Tay handle the heavy lifting outside to save a galvanized steel boat, while Robert, Grayson and Ted tackle the farmhouse that features doors and hardware from the 1700s and 1800s. |
| 8 | 112 | Return To The Ferry | 2018-10-14 | 30 | |
| 9 | 113 | Marine Salvage | 2018-10-21 | 30 | |
| 10 | 114 | Roanoke Shopping Center | 2018-10-28 | 30 | |
| 11 | 115 | Return To K-town | 2018-11-04 | 30 | |
| 12 | 116 | Apple Barn | 2018-11-11 | 30 | |
| 13 | 117 | Carpenters Hall | 2018-11-18 | 30 | |
Related News
TVMaze