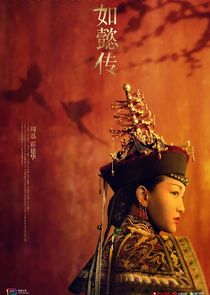 With the Ulanara clan in disgrace after Empress Yixiu falls out of favour, Ruyi learns the politics of the harem and steadily climbs up the ranks to become Empress. Even after surviving through multiple conspiracies and successfully proving her innocence, her relationship with Qianlong had become irreparable. Ruyi eventually becomes disillusioned with her husband and the harsh reality of life in the Palace. Although the love and trust between them gradually disappeared, Ulanara serves as a distinguished empress until her death.
Series Overview
Rating
imDb Rating: 7.8 (239 Votes)
Metascore: N/A
Plot
Chronicle the marriage of Qianlong Emperor and the Step Empress, Ru Yi Ulanara.
Details
Rated: N/A
Released: 20 Aug 2018
Runtime: N/A
Genre: Drama, History
Director: N/A
Writer: N/A
Actors: Xun Zhou, Wallace Huo, Janine Chun-Ning Chang, Youming Huang
Language: Chinese
Country: China
Awards: N/A
Total Seasons: 1
Previous Episode
Episode 87
Episode 1x87; Oct 15, 2018
Previous Episodes 1x87: Episode 87 1x86: Episode 86 1x85: Episode 85 1x84: Episode 84 1x83: Episode 83 1x82: Episode 82 1x81: Episode 81 1x80: Episode 80 1x79: Episode 79

View All Episodes
Cast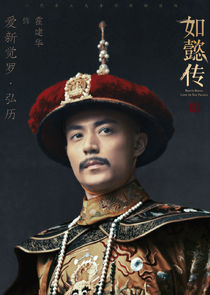 Wallace Huo as Aisin-Gioro Hongli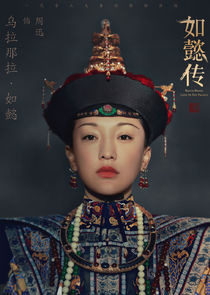 Zhou Xun as Ulanara Ruyi
View Full Cast
Skip to:
Season 1
| Episode No. | No. Overall | Title | Airdate | Runtime | Summary |
| --- | --- | --- | --- | --- | --- |
| 1 | 1 | Episode 1 | 2018-08-20 | 60 | |
| 2 | 2 | Episode 2 | 2018-08-20 | 60 | |
| 3 | 3 | Episode 3 | 2018-08-20 | 60 | |
| 4 | 4 | Episode 4 | 2018-08-20 | 60 | |
| 5 | 5 | Episode 5 | 2018-08-20 | 60 | |
| 6 | 6 | Episode 6 | 2018-08-20 | 60 | |
| 7 | 7 | Episode 7 | 2018-08-20 | 60 | |
| 8 | 8 | Episode 8 | 2018-08-20 | 60 | |
| 9 | 9 | Episode 9 | 2018-08-21 | 60 | |
| 10 | 10 | Episode 10 | 2018-08-21 | 60 | |
| 11 | 11 | Episode 11 | 2018-08-22 | 60 | |
| 12 | 12 | Episode 12 | 2018-08-22 | 60 | |
| 13 | 13 | Episode 13 | 2018-08-23 | 60 | |
| 14 | 14 | Episode 14 | 2018-08-23 | 60 | |
| 15 | 15 | Episode 15 | 2018-08-27 | 60 | |
| 16 | 16 | Episode 16 | 2018-08-27 | 60 | |
| 17 | 17 | Episode 17 | 2018-08-28 | 60 | |
| 18 | 18 | Episode 18 | 2018-08-28 | 60 | |
| 19 | 19 | Episode 19 | 2018-08-29 | 60 | |
| 20 | 20 | Episode 20 | 2018-08-29 | 60 | |
| 21 | 21 | Episode 21 | 2018-08-30 | 60 | |
| 22 | 22 | Episode 22 | 2018-08-30 | 60 | |
| 23 | 23 | Episode 23 | 2018-08-31 | 60 | |
| 24 | 24 | Episode 24 | 2018-08-31 | 60 | |
| 25 | 25 | Episode 25 | 2018-08-31 | 60 | |
| 26 | 26 | Episode 26 | 2018-08-31 | 60 | |
| 27 | 27 | Episode 27 | 2018-09-03 | 60 | |
| 28 | 28 | Episode 28 | 2018-09-03 | 60 | |
| 29 | 29 | Episode 29 | 2018-09-04 | 60 | |
| 30 | 30 | Episode 30 | 2018-09-04 | 60 | |
| 31 | 31 | Episode 31 | 2018-09-05 | 60 | |
| 32 | 32 | Episode 32 | 2018-09-05 | 60 | |
| 33 | 33 | Episode 33 | 2018-09-06 | 60 | |
| 34 | 34 | Episode 34 | 2018-09-06 | 60 | |
| 35 | 35 | Episode 35 | 2018-09-07 | 60 | |
| 36 | 36 | Episode 36 | 2018-09-07 | 60 | |
| 37 | 37 | Episode 37 | 2018-09-10 | 60 | |
| 38 | 38 | Episode 38 | 2018-09-10 | 60 | |
| 39 | 39 | Episode 39 | 2018-09-11 | 60 | |
| 40 | 40 | Episode 40 | 2018-09-11 | 60 | |
| 41 | 41 | Episode 41 | 2018-09-12 | 60 | |
| 42 | 42 | Episode 42 | 2018-09-12 | 60 | |
| 43 | 43 | Episode 43 | 2018-09-13 | 60 | |
| 44 | 44 | Episode 44 | 2018-09-13 | 60 | |
| 45 | 45 | Episode 45 | 2018-09-14 | 60 | |
| 46 | 46 | Episode 46 | 2018-09-14 | 60 | |
| 47 | 47 | Episode 47 | 2018-09-17 | 60 | |
| 48 | 48 | Episode 48 | 2018-09-17 | 60 | |
| 49 | 49 | Episode 49 | 2018-09-18 | 60 | |
| 50 | 50 | Episode 50 | 2018-09-18 | 60 | |
| 51 | 51 | Episode 51 | 2018-09-19 | 60 | |
| 52 | 52 | Episode 52 | 2018-09-19 | 60 | |
| 53 | 53 | Episode 53 | 2018-09-20 | 60 | |
| 54 | 54 | Episode 54 | 2018-09-20 | 60 | |
| 55 | 55 | Episode 55 | 2018-09-21 | 60 | |
| 56 | 56 | Episode 56 | 2018-09-21 | 60 | |
| 57 | 57 | Episode 57 | 2018-09-24 | 60 | |
| 58 | 58 | Episode 58 | 2018-09-24 | 60 | |
| 59 | 59 | Episode 59 | 2018-09-25 | 60 | |
| 60 | 60 | Episode 60 | 2018-09-25 | 60 | |
| 61 | 61 | Episode 61 | 2018-09-26 | 60 | |
| 62 | 62 | Episode 62 | 2018-09-26 | 60 | |
| 63 | 63 | Episode 63 | 2018-09-27 | 60 | |
| 64 | 64 | Episode 64 | 2018-09-27 | 60 | |
| 65 | 65 | Episode 65 | 2018-09-28 | 60 | |
| 66 | 66 | Episode 66 | 2018-09-28 | 60 | |
| 67 | 67 | Episode 67 | 2018-10-01 | 60 | |
| 68 | 68 | Episode 68 | 2018-10-01 | 60 | |
| 69 | 69 | Episode 69 | 2018-10-02 | 60 | |
| 70 | 70 | Episode 70 | 2018-10-02 | 60 | |
| 71 | 71 | Episode 71 | 2018-10-03 | 60 | |
| 72 | 72 | Episode 72 | 2018-10-03 | 60 | |
| 73 | 73 | Episode 73 | 2018-10-04 | 60 | |
| 74 | 74 | Episode 74 | 2018-10-04 | 60 | |
| 75 | 75 | Episode 75 | 2018-10-05 | 60 | |
| 76 | 76 | Episode 76 | 2018-10-05 | 60 | |
| 77 | 77 | Episode 77 | 2018-10-08 | 60 | |
| 78 | 78 | Episode 78 | 2018-10-08 | 60 | |
| 79 | 79 | Episode 79 | 2018-10-09 | 60 | |
| 80 | 80 | Episode 80 | 2018-10-09 | 60 | |
| 81 | 81 | Episode 81 | 2018-10-10 | 60 | |
| 82 | 82 | Episode 82 | 2018-10-10 | 60 | |
| 83 | 83 | Episode 83 | 2018-10-11 | 60 | |
| 84 | 84 | Episode 84 | 2018-10-11 | 60 | |
| 85 | 85 | Episode 85 | 2018-10-12 | 60 | |
| 86 | 86 | Episode 86 | 2018-10-12 | 60 | |
| 87 | 87 | Episode 87 | 2018-10-15 | 60 | |
Series Cast
| | | | |
| --- | --- | --- | --- |
| | Wallace Huo | as Aisin-Gioro Hongli | |
| | Zhou Xun | as Ulanara Ruyi | |
Related News
TVMaze