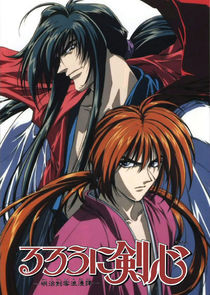 Welcome to the Meiji Era. Japan is a land experiencing times of troubled peace and renewal after a long and bloody civil war. Swords and killing are outlawed, but all is not as well as it would seem. Lurking in the shadows are many survivors of the revolution awaiting their chance for vengeance. Only the former government assassin, Kenshin Himura can keep the peace. Kenshin gives up the life of "Battousai The Man Slayer" and sets off as a lone wanderer. His travels lead to the Kamiya Dojo where he discovers the chance to start life over.
Series Overview
Rating
imDb Rating: 8.5 (16,885 Votes)
Metascore: N/A
Plot
The adventures of a young wandering swordsman who stumbles upon a struggling martial arts school in Meiji era Japan.
Details
Rated: TV-14
Released: 17 Mar 2003
Runtime: 24 min
Genre: Animation, Action, Adventure, Comedy, Drama, Fantasy, History, Romance, Thriller
Director: N/A
Writer: N/A
Actors: Mayo Suzukaze, Richard Cansino, Dorothy Elias-Fahn, Rebecca Forstadt
Language: Japanese
Country: Japan
Awards: N/A
Total Seasons: 3
Previous Episode
End of Wanderings
Episode 3x33; Sep 15, 1998
Previous Episodes

3x33: End of Wanderings


3x32: The Elegy Of The Wind And The Water. Now They Make Desperate Efforts Here!


3x31: The Enemy Awaits In Senjo Gahara! Searching For The Hisui Crest


3x30: Tokyo's Under Martial Law! Strike Of The Spiral Weapon, Ryu Myaku


3x29: Resist The Fusui's Magical Power. Next Target: The Kamiya Dojo!


3x28: Fusui's Surprise Attack! The Mystery Of The Satanic Pentagram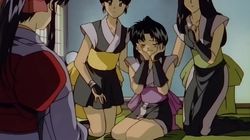 3x27: To My Angel Misao... Special Delivery From Kyoto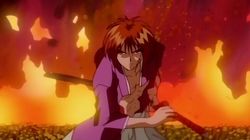 3x26: Two Other Directions. Yahiko And Yutaro's Eternal Promise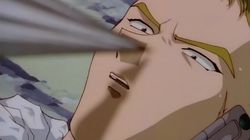 3x25: Schneider's Bet. The Collapse Of The Black Knights

View All Episodes
Cast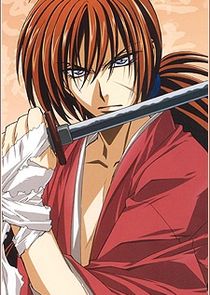 Mayo Suzukaze as Kenshin Himura
Miki Fujitani as Kaoru Kamiya
Yuji Ueda as Sanosuke Sagara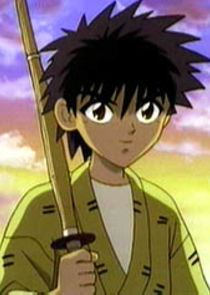 Miina Tominaga as Yahiko Myoujin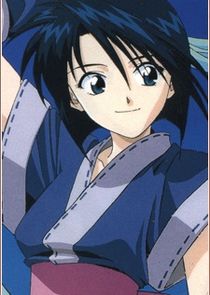 Tomo Sakurai as Misao Makimachi
Hirotaka Suzuoki as Hajime Saito
View Full Cast
Skip to:
Season 1
| Episode No. | No. Overall | Title | Airdate | Runtime | Summary |
| --- | --- | --- | --- | --- | --- |
| 1 | 1 | Handsome Swordsman of Legend | 1996-01-10 | 25 | |
| 2 | 2 | The Bratty Samurai...Why Don't You Become My Student? | 1996-01-17 | 25 | |
| 3 | 3 | The Swordsman in Sorrow. The Man That Cuts The Past | 1996-01-24 | 25 | |
| 4 | 4 | One Word: Evil. The Fighter Sanosuke Appears | 1996-01-31 | 25 | |
| 5 | 5 | Sakaba Sword vs. Zanba Sword. At the Battle's End! | 1996-02-07 | 25 | |
| 6 | 6 | Visitor From The Darkness... The Kurogasa Appears | 1996-02-14 | 25 | |
| 7 | 7 | Fight To The Death Under The Moon... Protect The Ones You Love! | 1996-02-21 | 25 | |
| 8 | 8 | A New Battle! The Mysterious And Beautiful Woman Who Jumped In Suddenly | 1996-02-28 | 25 | |
| 9 | 9 | The Ultimate Stealth Army... The Dreaded Oniwa Banshu! | 1996-03-06 | 25 | |
| 10 | 10 | Aoshi... The Man So Scary As To Seem Almost Beautiful | 1996-03-13 | 25 | |
| 11 | 11 | Farewell, The Ultimate Men! The Clash Of Light And Darkness | 1996-04-24 | 25 | |
| 12 | 12 | The Birth Of A Junior Samurai! First Disciple, Yahiko's Battle | 1996-05-01 | 25 | |
| 13 | 13 | You Can Do It! Toramaru's Dosukoi Journey | 1996-05-08 | 25 | |
| 14 | 14 | To Save A Small Life! Challenge! Doctor Megumi! | 1996-05-15 | 25 | |
| 15 | 15 | The Operation Starts! The Terrorist Group Jinpu Tai | 1996-05-22 | 25 | |
| 16 | 16 | Take a Pledge! The Hidden Sword Technique, Shiden No Tachi! | 1996-06-05 | 25 | |
| 17 | 17 | Blast To Your Dream. The Adventure Of Marimo The Flying Bullet | 1996-06-12 | 25 | |
| 18 | 18 | Run! Yahiko, Bring The Sakabatou Back! | 1996-06-19 | 25 | |
| 19 | 19 | Raijuuta's Desire. Vision Of A Forbidden Empire | 1996-06-26 | 25 | |
| 20 | 20 | Shinko Ryu's Revived! Show Of Evil, Ultimate Killing Technique! | 1996-07-10 | 25 | |
| 21 | 21 | The Nightmare Falls Apart! Raijuuta's Dream | 1996-07-21 | 25 | |
| 22 | 22 | First Time! Crazy, Insane Steam Engine Train Trip | 1996-07-31 | 25 | |
| 23 | 23 | Betrayed By Sanosuke?! Greetings Of Fate | 1996-08-14 | 25 | |
| 24 | 24 | Midnight Fight! Sansuke VS Kenshin Again! | 1996-08-21 | 25 | |
| 25 | 25 | Scarlet Pirate! Tear Up Kenshin And Kaoru | 1996-08-28 | 25 | |
| 26 | 26 | An Incarnation Of Thunder Storm! The Mysterious Nobility Of The Female Pirate Shura | 1996-09-04 | 25 | |
| 27 | 27 | Ferocious Fighting Island! Scarlet Pirate | 1996-10-16 | 25 | |
| 28 | 28 | Prelude To A New Threat. The Shadow Of The Wolf Is Drawing Near | 1996-10-30 | 25 | |
Season 2
| Episode No. | No. Overall | Title | Airdate | Runtime | Summary |
| --- | --- | --- | --- | --- | --- |
| 1 | 29 | The Ultimate Fatal Rival! The Waylay Of The Desperate Fangs | 1996-11-06 | 25 | |
| 2 | 30 | Evil Monster Of Revenge... Shishio Makoto's Plot! | 1996-11-13 | 25 | |
| 3 | 31 | Newer Reaching Feelings... Kenshin's Departure | 1996-11-27 | 25 | |
| 4 | 32 | Changing Tears To Courage! The Path Chosen By Kamiya Kaoru | 1996-12-04 | 25 | |
| 5 | 33 | Time To Be The Strongest Warrior! Aoshi's New Battle! | 1996-12-11 | 25 | |
| 6 | 34 | The Little Thief... Makimachi Misao's Deceptive Looks! | 1997-01-08 | 25 | |
| 7 | 35 | Occupied Village! Shishio's Evil Shadow, Ever Closer! | 1997-01-15 | 25 | |
| 8 | 36 | After The End Of The Dynasty. First Meeting Of Kenshin And Shishio | 1997-01-22 | 25 | |
| 9 | 37 | Shock! Sakabatou Broken... Soujirou "The Heavenly Sword" vs. Kenshin | 1997-01-29 | 25 | |
| 10 | 38 | Sanosuke, The Secret Of Patience... Challenge The Hakai Priest, Anji | 1997-02-05 | 25 | |
| 11 | 39 | The Man Who Makes Sakabatou... Arai Shatku's Masterpiece! | 1997-02-12 | 25 | |
| 12 | 40 | Cold Blooded Samurai! Battle With Juppon Gatana Chou! | 1997-02-19 | 25 | |
| 13 | 41 | A Hidden Technique Of Hiten Mitsurugi Ryu! Reunion With Master Hiko Seijuro! | 1997-02-26 | 25 | |
| 14 | 42 | Alliance Agreed! The Day When Shishio And Aoshi Unite! | 1997-03-05 | 25 | |
| 15 | 43 | Between Life And Death! Succession Technique, Mastered. Ama Kakeru Ryuu no Hirameki | 1997-03-12 | 25 | |
| 16 | 44 | Battle Of Indignation, Gathering His Strongest, Juppon Gatana! | 1997-03-19 | 25 | |
| 17 | 45 | Blown Away! The Battleship Rengoku, Stop Its Sails! | 1997-04-16 | 25 | |
| 18 | 46 | Burning Rengoku! Shishio Makoto's Fortune | 1997-04-23 | 25 | |
| 19 | 47 | Crush! Futae No Kiwami. Pain Of Sanosuke's Fist! | 1997-04-30 | 25 | |
| 20 | 48 | The Focus Of His Gaze, Anji's New Reflection | 1997-05-14 | 25 | |
| 21 | 49 | A Wolf Sees The Shin Gan. Explosive Zero Gatotsu! | 1997-05-28 | 25 | |
| 22 | 50 | Time To Keep A Promise. Kenshin And Aoshi Battle Once Again! | 1997-06-04 | 25 | |
| 23 | 51 | Now Is The Time To Awaken... True And Perfect Solution | 1997-06-11 | 25 | |
| 24 | 52 | Miracle In The Making! The Battle At Aoiya Continues | 1997-06-18 | 25 | |
| 25 | 53 | A Giant Versus Superman! Saving Grace At The Edge Of Despair | 1997-06-25 | 25 | |
| 26 | 54 | Hiten Versus Shukuchi. Soujiro, God'd Gift To Nature | 1997-07-02 | 25 | |
| 27 | 55 | Tragedy In The Storm. Soujiro's Past | 1997-07-09 | 25 | |
| 28 | 56 | Fight To The Limit! Shun Ten Satsu Versus Ama Kakeru Ryuu No Hirameki | 1997-07-16 | 25 | |
| 29 | 57 | Two Men Betting Their Lives On The End Of The Dynasty. Shishio Versus Kenshin, Final Battle! | 1997-08-06 | 25 | |
| 30 | 58 | Will The Era Inherit Shishio? Kenshin's Most Critical Moment! | 1997-08-13 | 25 | |
| 31 | 59 | Luck Hasn't Run Out Yet! Warrior Spirit Revived Again | 1997-08-20 | 25 | |
| 32 | 60 | The One Who Permits Victory. Shishio versus Kenshin, Last Stage! | 1997-09-03 | 25 | |
| 33 | 61 | Remaining Juppon Gatana. Choice Of Life! | 1997-09-10 | 25 | |
| 34 | 62 | Kyoto... Engraved Memory. Starting With Fulfilled Feelings | 1997-09-17 | 25 | |
Season 3
| Episode No. | No. Overall | Title | Airdate | Runtime | Summary |
| --- | --- | --- | --- | --- | --- |
| 1 | 63 | Legend Of The Wishing Fireflies. The Girl Who Waits For Her Sword Master | 1997-10-14 | 25 | |
| 2 | 64 | Prince Yahiko's Born? Debut On High Society | 1997-10-28 | 25 | |
| 3 | 65 | Find Out Missing Treasure! Great Treasure Hunting Dog, Notaro | 1997-11-04 | 25 | |
| 4 | 66 | Happy Kaoru! Kenshin's Proposal! | 1997-11-11 | 25 | |
| 5 | 67 | Shining Legendary Sword! Mysterious Swordmaster, Amakusa Shougo | 1997-11-18 | 25 | |
| 6 | 68 | A Medallion Of Destiny. Sanosuke And Sayo Meet | 1997-11-25 | 25 | |
| 7 | 69 | The Place Of Battle. Shimabara! Judgement Day of Who Is The Chosen | 1997-12-02 | 25 | |
| 8 | 70 | The Impact Of The Rai Ryu Sen. Kenshin Is Sentenced To The Dark! | 1997-12-09 | 25 | |
| 9 | 71 | Kaioh's Conspiracy. Shougo's Trapped! | 1997-12-16 | 25 | |
| 10 | 72 | The Reminiscent Days... Shougo And Sayo's Painful Past | 1998-01-06 | 25 | |
| 11 | 73 | Evil With A Sneer! Shouzo, Karyu's Damaged In The Explosion | 1998-01-13 | 25 | |
| 12 | 74 | Sanosuke's Tears... Eternal Separation Between Them | 1998-01-20 | 25 | |
| 13 | 75 | Final Holy Battle... Crash Together Two Ama Kakeru Ryuu No Hirameki! | 1998-01-27 | 25 | |
| 14 | 76 | The Sea of Departure... Hope Will Surf Over the Sadness | 1998-02-03 | 25 | |
| 15 | 77 | Himura Dojo in Shimonoseki? Another Battousai Appears | 1998-02-10 | 25 | |
| 16 | 78 | The Girl Who Longs For Her Art Student... Love Shock In Hakone Hot Springs | 1998-02-17 | 25 | |
| 17 | 79 | Katsu Kaishu And Kenshin... Fated Survivors From the End Of The Edo Dynasty | 1998-02-24 | 25 | |
| 18 | 80 | The Never Ending Of Edo Dynasty... Kaishu's Mission Of Fate | 1998-03-03 | 25 | |
| 19 | 81 | Ben Aoi's Trap... Ghosts Of The Edo Dynasty Haunt Kaishu! | 1998-03-10 | 25 | |
| 20 | 82 | The Decision Of Katsu Kaishu. The Truth Beyond The Era | 1998-04-14 | 25 | |
| 21 | 83 | Yutaro Returns. The Ambitions Of The Black Knights Hide In The Shadows | 1998-04-21 | 25 | |
| 22 | 84 | Sanada Ninja And The Divine Medicine. Their Leader, Misanagi's Goal | 1998-05-05 | 25 | |
| 23 | 85 | A Puzzling Journey. The Trap Of Holy Crossing Has Been Laid! | 1998-05-19 | 25 | |
| 24 | 86 | Dancing Underground. Red Day Fly Cutthroat! Sanada Sasshin | 1998-05-26 | 25 | |
| 25 | 87 | Schneider's Bet. The Collapse Of The Black Knights | 1998-06-02 | 25 | |
| 26 | 88 | Two Other Directions. Yahiko And Yutaro's Eternal Promise | 1998-06-09 | 25 | |
| 27 | 89 | To My Angel Misao... Special Delivery From Kyoto | 1998-06-16 | 25 | |
| 28 | 90 | Fusui's Surprise Attack! The Mystery Of The Satanic Pentagram | 1998-06-23 | 25 | |
| 29 | 91 | Resist The Fusui's Magical Power. Next Target: The Kamiya Dojo! | 1998-07-21 | 25 | |
| 30 | 92 | Tokyo's Under Martial Law! Strike Of The Spiral Weapon, Ryu Myaku | 1998-08-04 | 25 | |
| 31 | 93 | The Enemy Awaits In Senjo Gahara! Searching For The Hisui Crest | 1998-08-18 | 25 | |
| 32 | 94 | The Elegy Of The Wind And The Water. Now They Make Desperate Efforts Here! | 1998-09-08 | 25 | |
| 33 | 95 | End of Wanderings | 1998-09-15 | 25 | |
Series Cast
| | | | |
| --- | --- | --- | --- |
| | Mayo Suzukaze | as Kenshin Himura | |
| | Miki Fujitani | as Kaoru Kamiya | |
| | Yuji Ueda | as Sanosuke Sagara | |
| | Miina Tominaga | as Yahiko Myoujin | |
| | Tomo Sakurai | as Misao Makimachi | |
| | Hirotaka Suzuoki | as Hajime Saito | |
| | Masanori Ikeda | as Makoto Shishio | |
| | Shuuichi Ikeda | as Seijuro Hiko | |
| | Yoshito Yasuhara | as Aoshi Shinomori | |
| | Noriko Hidaka | as Soujiro Seta | |
| | Junichi Inoue | as Shougo Amakusa | |
| | Yoku Shioya | as Dr. Gensai | |
| | Mika Doi | as Megumi Takani | |
Series Crew
| | Position | Name |
| --- | --- | --- |
| | Executive Producer | Ryuzo Shirakawa |
| | Executive Producer | Kenji Shimizu |
Related News
TVMaze