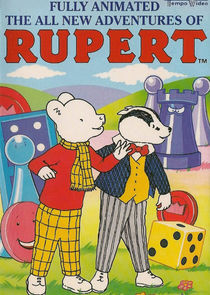 "Rupert" is an animated television series based on the Mary Tourtel character Rupert Bear, produced by Nelvana, Ellipse Programmé and TVS for the first season, with Scottish Television (now STV Central) taken over control when TVS closed. Aired from 1991 to 1997 with 65 half-hour episodes produced. It was broadcast in syndication on YTV in Canada. In the United States, the show first aired on Nickelodeon before moving to CBS; repeats of the series came to Disney Channel on the Playhouse Disney block, Toon Disney, and on Qubo's digital service in January 2007, until May 2013. The show was broadcast in the UK on CITV and has recently been re-airing on the satellite and cable channels Tiny Pop and KidsCo. In Australia, the show was broadcast on the ABC public broadcasting network and on TV2 in New Zealand as part of the Jason Gunn Show.
Series Overview
Rating
imDb Rating: 7.2 (1,089 Votes)
Metascore: N/A
Plot
The adventures of a young bear named Rupert who unintentionally ends up in faraway/mystical places, but at the end manages to make it back safely to his home of Nutwood.
Details
Rated: TV-Y
Released: 07 Sep 1991
Runtime: N/A
Genre: Animation, Adventure, Family
Director: N/A
Writer: N/A
Actors: Julie Lemieux, Valerie Boyle, Guy Bannerman, Torquil Campbell
Language: English
Country: Canada, France, UK
Awards: N/A
Total Seasons: 5
Previous Episode
Rupert and the Whizz Watch
Episode 5x13; Jun 19, 1997
Previous Episodes 5x13: Rupert and the Whizz Watch 5x12: Rupert and the Dragon Festival 5x11: Rupert and the Chalk Drawing 5x10: Rupert and the Deep Freeze 5x9: Rupert and the Water Works 5x8: Rupert and Queen Bess 5x7: Rupert and the Song Snatcher 5x6: Rupert and the Sun Bandit 5x5: Rupert and the Crystal Ball

View All Episodes
Skip to:
Season 1
| Episode No. | No. Overall | Title | Airdate | Runtime | Summary |
| --- | --- | --- | --- | --- | --- |
| 1 | 1 | Rupert and Pong Ping | 1991-09-07 | 10 | |
| 2 | 2 | Rupert and the Sage of Um | 1991-09-08 | 10 | |
| 3 | 3 | Rupert and Algy's Misadventure | 1991-09-14 | 10 | |
| 4 | 4 | Rupert and the Purple Cakes | 1991-09-15 | 10 | |
| 5 | 5 | Rupert and Bill in Gameland | 1991-09-21 | 10 | |
| 6 | 6 | Rupert and the Little Yum | 1991-09-28 | 10 | |
| 7 | 7 | Rupert and the Knight | 1991-10-12 | 10 | |
| 8 | 8 | Rupert and the Crocodiles | 1991-10-13 | 10 | |
| 9 | 9 | Rupert and Raggedy | 1991-10-20 | 10 | |
| 10 | 10 | Rupert's Undersea Adventure | 1991-10-26 | 10 | |
| 11 | 11 | Rupert and the Twilight Fan | 1991-11-09 | 10 | |
| 12 | 12 | Rupert and Billy Blizzard | 1991-11-17 | 10 | |
| 13 | 13 | Rupert and the Pirates | 1991-11-23 | 10 | |
Season 2
| Episode No. | No. Overall | Title | Airdate | Runtime | Summary |
| --- | --- | --- | --- | --- | --- |
| 1 | 14 | Rupert and the Temple Ruins | 1992-09-13 | 10 | |
| 2 | 15 | Rupert and the Missing Snow | 1992-09-20 | 10 | |
| 3 | 16 | Rupert and the Leprechauns | 1992-09-27 | 10 | |
| 4 | 17 | Rupert in Timeland | 1992-10-04 | 10 | |
| 5 | 18 | Rupert and the Tiger's Eye | 1992-10-14 | 10 | |
| 6 | 19 | Rupert and the BIGsmall Machine | 1992-10-21 | 10 | |
| 7 | 20 | Rupert and Uncle Grizzly | 1992-10-28 | 10 | |
| 8 | 21 | Rupert and the Fiddle | 1992-11-04 | 10 | |
| 9 | 22 | Rupert and Nessie | 1992-11-11 | 10 | |
| 10 | 23 | Rupert and the Ghost | 1992-11-18 | 10 | |
| 11 | 24 | Rupert and the Lamp | 1992-11-25 | 10 | |
| 12 | 25 | Rupert and the Firebird | 1992-12-02 | 10 | |
| 13 | 26 | Rupert and the Mulp Gulper | 1992-12-09 | 10 | |
Season 3
| Episode No. | No. Overall | Title | Airdate | Runtime | Summary |
| --- | --- | --- | --- | --- | --- |
| 1 | 27 | Rupert and Ginger | 1994-03-03 | 10 | |
| 2 | 28 | Rupert and Growler | 1994-03-10 | 10 | |
| 3 | 29 | Rupert and the Dragon Race | 1994-03-17 | 10 | |
| 4 | 30 | Rupert and the Hedgehog | 1994-03-24 | 10 | |
| 5 | 31 | Rupert and the Ottoline | 1994-03-31 | 10 | |
| 6 | 32 | Rupert and the Cloud Pirates | 1994-04-07 | 10 | |
| 7 | 33 | Rupert and the Nile | 1994-04-14 | 10 | |
| 8 | 34 | Rupert and the Lost Memory | 1994-04-21 | 10 | |
| 9 | 35 | Rupert and the Sea Serpent | 1994-04-28 | 10 | |
| 10 | 36 | Rupert and the Bell | 1994-05-05 | 10 | |
| 11 | 37 | Rupert and the Carousel | 1994-05-12 | 10 | |
| 12 | 38 | Rupert and the April Fool | 1994-05-19 | 10 | |
| 13 | 39 | Rupert and the Clock Cuckoo | 1994-05-26 | 10 | |
Season 4
| Episode No. | No. Overall | Title | Airdate | Runtime | Summary |
| --- | --- | --- | --- | --- | --- |
| 1 | 40 | Rupert and the Giant | 1995-09-03 | 10 | |
| 2 | 41 | Rupert and the Wool Gatherers | 1995-09-10 | 10 | |
| 3 | 42 | Rupert and the Marsh Mystery | 1995-09-17 | 10 | |
| 4 | 43 | Rupert and Archie | 1995-09-24 | 10 | |
| 5 | 44 | Rupert in Toyland | 1995-10-01 | 10 | |
| 6 | 45 | Rupert in Dreamland | 1995-10-08 | 10 | |
| 7 | 46 | Rupert's Roman Adventure | 1995-10-15 | 10 | |
| 8 | 47 | Rupert in Mirrorland | 1995-10-22 | 10 | |
| 9 | 48 | Rupert and the Crystal Kingdom | 1995-10-29 | 10 | |
| 10 | 49 | Rupert and the Space Pilots | 1995-11-05 | 10 | |
| 11 | 50 | Rupert and the Mystery Isle | 1995-11-12 | 10 | |
| 12 | 51 | Rupert and Mum's Adventure | 1995-11-19 | 10 | |
| 13 | 52 | Rupert's Christmas Adventure | 1995-11-26 | 10 | |
Season 5
| Episode No. | No. Overall | Title | Airdate | Runtime | Summary |
| --- | --- | --- | --- | --- | --- |
| 1 | 53 | Rupert and Jolly Roger | 1997-03-27 | 10 | |
| 2 | 54 | Rupert and the Great Mephisto | 1997-04-03 | 10 | |
| 3 | 55 | Rupert and the Little Bear | 1997-04-10 | 10 | |
| 4 | 56 | Rupert and the Paper Folders | 1997-04-17 | 10 | |
| 5 | 57 | Rupert and the Crystal Ball | 1997-04-24 | 10 | |
| 6 | 58 | Rupert and the Sun Bandit | 1997-05-01 | 10 | |
| 7 | 59 | Rupert and the Song Snatcher | 1997-05-08 | 10 | |
| 8 | 60 | Rupert and Queen Bess | 1997-05-15 | 10 | |
| 9 | 61 | Rupert and the Water Works | 1997-05-22 | 10 | |
| 10 | 62 | Rupert and the Deep Freeze | 1997-05-29 | 10 | |
| 11 | 63 | Rupert and the Chalk Drawing | 1997-06-05 | 10 | |
| 12 | 64 | Rupert and the Dragon Festival | 1997-06-12 | 10 | |
| 13 | 65 | Rupert and the Whizz Watch | 1997-06-19 | 10 | |
Related News
TVMaze