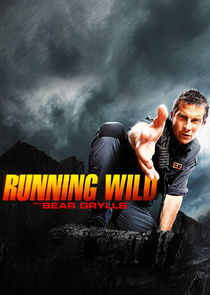 Running Wild with Bear Grylls is an hour-long alternative series, the famed adventurer, writer and television host will take eight entertainment and sports stars into the most remote and pristine locations in the U.S. and around the world for a 48-hour journey of a lifetime.
Series Overview
Rating
imDb Rating: 7.8 (1,950 Votes)
Metascore: N/A
Plot
Bear Grylls, British adventurer, takes A-list celebrities on wild outdoor adventures, pushing them beyond their comfort zone.
Details
Rated: TV-14
Released: 28 Jul 2014
Runtime: 60 min
Genre: Adventure, Reality-TV
Director: N/A
Writer: Delbert Shoopman
Actors: Bear Grylls
Language: English
Country: USA
Awards: N/A
Total Seasons: 4
Next Episode
Episode 1
Episode 5x1; Nov 05, 2019
Previous Episode
Uzo Aduba
Episode 4x8; Jul 15, 2018
Dropped amidst snow-capped mountains, Uzo and Bear move quickly as a storm sets in, sending hail, lightning and flash floods their way. Along the way they come face-to-face with a poisonous viper, get creative to secure a dinner of field mice, and use a crossbow to zip-line across a 250 ft. drop. Despite the elements, Uzo shines as she recounts her long road to fame, her family's emigration from Nigeria, and her pride in representing the American dream.
Episodes 5x1: Episode 1 4x8: Uzo Aduba 4x7: Roger Federer 4x6: Scott Eastwood 4x5: Derek Hough 4x4: Don Cheadle 4x3: Lena Headey 4x2: Keri Russell 4x1: Joseph Gordon-Levitt

View All Episodes
Recent News
Fall TV 2019 Premiere Dates for New and Returning Shows
'Batwoman,' starring Ruby Rose, premieres on The CW on October 6. (Photo Credit: The CW Network) Summer may be over, but it also means the 2019-20 TV season is upon us. And what a season it will be. New shows such as HBO's Watchmen, The CW's Batwoman, Shudder…
via NewsAPI
View More Related News
Skip to:
Season 1
| Episode No. | No. Overall | Title | Airdate | Runtime | Summary |
| --- | --- | --- | --- | --- | --- |
| 1 | 1 | Zac Efron | 2014-07-28 | 60 | Bear Grylls takes actor Zac Efron on an adventure-filled trip into the wilds of the Catskill Mountains. |
| 2 | 2 | Ben Stiller | 2014-08-04 | 60 | World-renowned survivalist Bear Grylls ("Get Out Alive with Bear Grylls," "Man vs. Wild") meets actor Ben Stiller ("Secret Life of Walter Mitty") on the rugged mountains of the Isle of Skye in Northern Scotland to go on a once in a lifetime adventure. As they explore their surroundings Bear tests Ben's limits in an effort to see how he measures up to the unpredictable and unforgiving challenges of Mother Nature. |
| 3 | 3 | Channing Tatum | 2014-08-11 | 60 | World-renowned survivalist Bear Grylls ("Get Out Alive with Bear Grylls," "Man vs. Wild") spends two days with actor Channing Tatum ("22 Jump Street") traveling through the tough terrain of Yosemite National Park in California. As they encounter challenging obstacles, Channing approaches his adventure with the attitude that if Bear can do it, then he can too..or he'll die trying. |
| 4 | 4 | Tom Arnold | 2014-08-18 | 60 | World-renowned survivalist Bear Grylls ("Get Out Alive with Bear Grylls," "Man vs. Wild") takes Tom Arnold ("Sons of Anarchy") through the unpredictable coastal mountains of Oregon, taking on steep terrain, river crossings and oceanside cliffs. Arnold attempts to channel the courage and determination from his weight-loss struggle in order to tackle a journey that takes him to the brink of mental and physical exhaustion. |
| 5 | 5 | Tamron Hall | 2014-09-01 | 60 | World-renowned survivalist Bear Grylls ("Get Out Alive with Bear Grylls," "Man vs. Wild") spends two days in the remote Utah desert with Tamron Hall ("The Today show") getting to know the depths of her personal tragedies and triumphs of her life, while challenging her along the way. Hall makes small talk with an unlikely friend in the wild and later struggles when she finds him on her dinner plate. |
| 6 | 6 | Deion Sanders | 2014-09-08 | 60 | World-renowned survivalist Bear Grylls ("Get Out Alive with Bear Grylls," "Man vs. Wild") takes NFL hall of famer Deion Sanders to the mesas and canyons of Utah for his first ever camping trip. Even though Sanders is a fish out of water, he takes a huge leap of faith and accepts Bear's challenges. |
Season 2
| Episode No. | No. Overall | Title | Airdate | Runtime | Summary |
| --- | --- | --- | --- | --- | --- |
| 1 | 7 | Kate Hudson | 2015-07-13 | 60 | Famed adventurer, writer and television host Bear Grylls is back for a second season of "Running Wild with Bear Grylls." In the premiere episode, Bear takes Oscar nominee Kate Hudson ("Glee") on an adventure she will not soon forget. Their 48 hour journey finds them in the midst of the Dolomites, one of the most treacherous mountain ranges in Italy. As they hike toward the Austrian border on snow-covered exposed rock cliffs, they make some historical discoveries and work together to survive the elements. Kate also gives Bear a peek into her unique upbringing. . |
| 2 | 8 | Jesse Tyler Ferguson | 2015-07-20 | 60 | High above the Italian Alps, Emmy-nominated actor Jesse Tyler Ferguson joins Bear Grylls for a 48 hour adventure of a lifetime. As the two negotiate the Croda Dei Toni, a snowy peak referred to as the "Mountain of Thunders," they will make a 6,000 foot descent along steep sheer cliffs and sharp ridges, build a snow cave for shelter and eventually rappel a frozen waterfall to their extraction point. Along the way, Ferguson shares some personal insight about his sudden rise to fame with "Modern Family," his fight for marriage equality and the challenges he faced growing up. |
| 3 | 9 | Kate Winslet | 2015-07-27 | 60 | Bear Grylls takes Oscar-winning actress Kate Winslet on the ride of her life as they "paramotor" to the top of the Snowdonia Mountains in Wales. They will descend through jagged, rocky cliffs and ascend up deep canyons to get to their destination on the coast. They will gather trout and earth worms and must set up camp in the very windy environment to rest before their final swim in the icy ocean waves. Along the way, Kate talks humorously about her humble upbringing and also reveals the unwavering determination that has helped her achieve movie star status. |
| 4 | 10 | Ed Helms | 2015-08-03 | 60 | Funnyman Ed Helms ("Vacation") pushes himself to the limit when he joins Bear Grylls high atop the Colorado Mountains. Admittedly fearful of heights, Helms comes face to face with sheer cliffs, crumbling rock and mountain-top perches where the bottom is nowhere in sight. As Bear puts him through the paces with a cringe-worthy dinner menu, Helms manages to conquer his limitations and discover a new side of himself. He also opens up about the trials and tribulations that lead him into a career in comedy. |
| 5 | 11 | Michelle Rodriguez | 2015-08-10 | 60 | Bear takes Hollywood bad girl Michelle Rodriguez ("Furious 7") to one of the harshest desert in all of North America- The Red Deserts of Nevada- for a rigorous and scenic adventure. The two make a breathtaking free fall skydive from 10,000 but unexpected high winds push Michelle off course. They navigate down a massive peak and work together to survive as they repel and free climb up and out of the dangerous slot canyons to reach the desert floor. With water in scarce supply, they must come up with clever ways to stay hydrated in the punishing environment. Rodriguez has lived a daring life but learns that Mother Nature shows no mercy and sometimes slow and steady is a better strategy than Fast & Furious. |
| 6 | 12 | James Marsden | 2015-08-24 | 60 | James Marsden ("X-Men: Days of Future Past") joins Bear on an adventure into the heart of Rattle Snake Canyon Utah, where they helicopter on to one of the highest arches in the area. Once atop the arch, they must repel down the narrow canyons and find a way to get up the towering cliffs on the other side. Along the way, they come face to face with their dinner - a Chuck Walla lizard. As they navigate the dangerous and unpredictable terrain, Marsden shares some insight about his unconventional rise to stardom, starting with his humble beginnings in Oklahoma. |
| 7 | 13 | Michael B. Jordan | 2015-08-31 | 60 | Superhero Michael B. Jordan ("Fantastic Four") joins famed adventurer Bear Grylls for a 48 hour adventure in Wales. Jordan and Grylls begin their journey with a daring drop into the rough ocean waters off the coast and the tenacious team makes their way up the windswept coastline, through the jagged cliffs of Cwmorthin and to the top of the mountains for their exit. Forced to battle the elements, the two must contend with copious amounts of rain and wind and get creative about finding warmth for the evening and food for dinner. |
| 8 | 14 | Drew Brees | 2015-09-07 | 60 | Bear Grylls ventures deep into Panama's Camino de Cruces jungle with Super Bowl winning quarterback Drew Brees. Together, the two climb a bat-infested cave, descend hundreds of feet into a secluded cavern and ultimately wrestle a six-foot crocodile. Along the way, Brees shares his personal stories of triumph and tragedy and reveals the drive and focus that make him a world-class athlete. |
| 9 | 15 | President Barack Obama | 2015-12-17 | 60 | Bear and President Obama venture into the wilds of Alaska, sharing stories and conversing on everything from fatherhood to climate change. |
Season 3
| Episode No. | No. Overall | Title | Airdate | Runtime | Summary |
| --- | --- | --- | --- | --- | --- |
| 1 | 16 | Nick Jonas | 2016-08-01 | 60 | In the season premiere of "Running Wild with Bear Grylls," music sensation Nick Jonas joins Bear for an icy journey across the Sierra Nevada Mountains. With a blizzard bearing down, Nick and Bear must rappel down a sheer cliff before navigating an avalanche-prone mountain face. Building camp under harsh conditions, the two feast on a frozen bird, and eventually make a heart-stopping swim across a freezing lake. Along the way, Nick discusses his career, his family, and reveals how his struggle with diabetes gave him the drive to reach the pinnacle of the music world. |
| 2 | 17 | Julianne Hough | 2016-08-02 | 60 | Julianne Hough and Bear initially navigate the unforgiving African terrain on ATV and must elude a pack of elephants that block their path. Rappelling from a sheer cliff, they enter a remote canyon where they evade big cats, come face-to-face with a massive snake, and navigate treacherous waterfalls before reaching their extraction point. As they make their way through the dangerous and unpredictable landscape, Julianne shares her personal story of adolescence, and the positivity and unwavering determination that got her to the top. |
| 3 | 18 | Courteney Cox | 2016-08-22 | 60 | Dropped along the wind swept coastline of Ireland, television icon Courteney Cox and Bear must navigate jagged peaks and descend sheer cliffs, only to be battered by ocean swells. As they contend with the elements, the two struggle to stay warm and must subsist on a meager diet of maggots sourced from a rotting sheep. Courteney's limits will be tested, but her spirit shines while sharing insights on life, loss and the joy of motherhood. |
| 4 | 19 | Shaquille O'Neal | 2016-08-29 | 60 | After being plucked from a freight train via helicopter, Bear and NBA legend Shaquille O'Neal battle dense forest, blood-sucking leeches and 200 ft. sheer rock faces in the remote Adirondacks, in search of their extraction point. Along the way, O'Neal's infectious energy, tales of legendary NBA moments and unwavering drive to help others reminds us why he is beloved around the world. The Wild will dole out everything it's got, but it's never met a force of nature like Shaquille O'Neal. |
| 5 | 20 | Lindsey Vonn | 2016-09-05 | 60 | After roaring across crystal-clear waters in a speedboat, Bear and Lindsey must strip down and swim to shore before inching their way along the rugged coastline. After rappelling down a sheer rock wall, the two get inventive and use a spear-gun to traverse a hundred-foot deep chasm. With the sun setting, they collect a dinner of sea urchins and Bear challenges Lindsey to a swimming competition with hilarious results. Along the way Lindsey shares her journey of love, Olympic glory, and displays the focus and determination that has made her one of the most successful female athletes of all time. |
| 6 | 21 | Mel B | 2016-09-07 | 60 | Adrift on the open sea in a small rowboat, Mel B is rescued by Bear in a way you'll have to see to believe. Once ashore, the two must navigate two hundred foot cliffs, impenetrable terrain, and a final descent that sends Mel into full breakdown mode. Things don't get any easier when Bear is stung by a jellyfish, forcing Mel to employ some unusual first aid skills. Along the way, Mel details her humble upbringing, an exclusive take on the Spice Girls' triumph, and reveals the grit and determination that allowed her to conquer the world. |
| 7 | 22 | Marshawn Lynch | 2016-09-12 | 60 | Plucked from a medieval tower along the Corsica coastline, Bear and Super Bowl Champion Marshawn Lynch are dropped deep in a rugged mountain range where they navigate cliffs, dark chasms, and come face-to-face with the secretive French Foreign Legion. Spying a wild hog, the pair pursues the beast, but securing it for dinner will require Marshawn to dig deeper than he ever did on the gridiron. Along the way, Marshawn details his upbringing in Oakland, his "beast" mentality on the field, and his unexpected retirement. |
| 8 | 23 | Sterling K. Brown | 2017-05-22 | 60 | Breakout star of "This is Us" and "The People vs. OJ Simpson," Sterling K. Brown, joins Bear for an icy journey across the high mountains of Colorado. After a harrowing delivery into frozen wilderness via helicopter, Sterling and Bear battle plummeting temperatures as they descend a shear rock face with near disastrous consequences, track an elusive deer before settling on a less-than-appetizing dinner option, and rappel a massive frozen waterfall with heart-stopping results. Along the way, Sterling reveals the struggles of losing his father as a young boy, his commitment to family, and recounts his landmark Emmy victory. |
| 9 | 24 | Julia Roberts | 2017-05-25 | 60 | In honor of Red Nose Day, Oscar-winning actress Julia Roberts accompanies Bear on a two-day wilderness trek to deliver lifesaving vaccines to a remote Kenyan village. |
| 10 | 25 | Vanessa Hudgens | 2017-09-16 | 60 | After a breathtaking repel from a helicopter, Bear and Hollywood sweetheart Vanessa Hudgens evade a boulder avalanche, summit a massive dormant volcano, and come face-to-face with a rattlesnake, which makes for a cringe-worthy dinner. Along the way, Vanessa shares insights on her meteoric rise to stardom and draws strength and determination from the memory of her late father. |
Season 4
| Episode No. | No. Overall | Title | Airdate | Runtime | Summary |
| --- | --- | --- | --- | --- | --- |
| 1 | 26 | Joseph Gordon-Levitt | 2018-05-07 | 60 | Bear and Joseph Gordon-Levitt navigate Kenya's terrain, which includes battling a crocodile for dinner and milking a camel for hydration. |
| 2 | 27 | Keri Russell | 2018-05-14 | 60 | Actress Keri Russell joins Bear on an epic journey to the Canary Islands off the coast of Africa. After battling the dangerous, rolling rocks of a massive volcano, the duo descend into a mysterious canyon where they source a meager dinner of undigested seeds from a pigeon carcass, and test their luck with a grappling hook to escape the towering canyon walls. Later, after a cringe-worthy breakfast of crickets, Keri and Bear make a daring escape from a mountain peak using a paraglider. Along the way, Keri reveals her path to fame, her love of family, and the playful struggles of co-starring alongside her husband. . |
| 3 | 28 | Lena Headey | 2018-05-21 | 60 | Actress Lena Headey joins Bear on a two-day expedition through the unforgiving landscape of the Iberian Peninsula, complete with steep cliffs and icy waters. Lena's known for playing fierce women, but is she tough enough to survive the wild? |
| 4 | 29 | Don Cheadle | 2018-06-18 | 60 | Dropped from a helicopter into unyielding terrain, Don and Bear get creative with a deer antler to cross a raging river, rappel a massive cliff, and attempt a commando-worthy climb to the top of a towering railroad bridge. But the discovery of a rotting porcupine carcass, which Bear eyes for dinner, will raise Don's pulse like nothing else. Along the way, Don details his family-oriented home life, the ups and downs of a legendary career, and the secretive workings of a Marvel movie set. |
| 5 | 30 | Derek Hough | 2018-06-25 | 60 | "World of Dance" judge Derek Hough joins Bear on a whirlwind adventure across the mountains of Bulgaria. Dropped amidst snow-capped peaks, Derek and Bear must ascend a jagged mountain ridge, make a steep rappel with Derek's cell phone as their only safety, and swim a freezing lake to reach their destination. But a surprise, death-defying final challenge will test Derek like nothing before. Along the way, Derek reveals his struggles with being bullied as a child, his devotion to his craft, and teaches Bear some much-needed dance moves. |
| 6 | 31 | Scott Eastwood | 2018-07-02 | 60 | Dropped into a vast labyrinth of limestone rock formations, the duo must rappel from a towering arch, cross a raging river and descend into a dark cave to survive their journey. As they dodge a colony of bats and face-off against a snake that Bear eyes for dinner, Scott details growing up with his famous father, his love of the outdoors, and his drive to carve his own path in Hollywood. |
| 7 | 32 | Roger Federer | 2018-07-08 | 60 | Tennis great Roger Federer joins Bear on a grand slam journey through the Swiss Alps. After meeting up amidst stunning snow-capped peaks, Bear and Roger descend a frozen waterfall and use tennis rackets as snowshoes to cross a frozen lake. After a quick snack of fish eyeballs, the pair get creative with a tennis ball to ascend a steep cliff that is their only way home. Along the way, Roger discusses the hard work it takes to achieve victory, his amusing experiences raising two sets of twins, and takes on the challenge when Bear invites him to a hilarious match of ping pong. |
| 8 | 33 | Uzo Aduba | 2018-07-15 | 60 | Dropped amidst snow-capped mountains, Uzo and Bear move quickly as a storm sets in, sending hail, lightning and flash floods their way. Along the way they come face-to-face with a poisonous viper, get creative to secure a dinner of field mice, and use a crossbow to zip-line across a 250 ft. drop. Despite the elements, Uzo shines as she recounts her long road to fame, her family's emigration from Nigeria, and her pride in representing the American dream. |
Series Cast
| | | | |
| --- | --- | --- | --- |
| | Bear Grylls | as Bear Grylls | |
Series Crew
| | Position | Name |
| --- | --- | --- |
| | Executive Producer | Viki Cacciatore |
| | Executive Producer | Ben Silverman |
| | Executive Producer | Chris Grant |
| | Executive Producer | Bear Grylls |
| | Executive Producer | Laura Caraccioli |
| | Executive Producer | Delbert Shoopman |
Related News
TVMaze