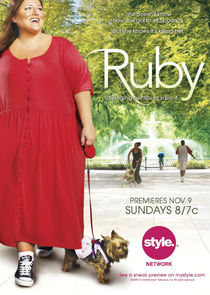 Ruby follows the life of Ruby Gettinger who lives in Savannah, Georgia as she attempts to lose weight.
Series Overview
Rating
imDb Rating: 8.4 (574 Votes)
Metascore: N/A
Plot
In the tradition of "Little People, Big World" comes this unscripted series, which gives viewers a look at life from the perspective of a woman living in Savannah, GA., who happens to weigh 500 pounds.
Details
Rated: N/A
Released: N/A
Runtime: N/A
Genre: Reality-TV
Director: N/A
Writer: N/A
Actors: Ruby Gettinger
Language: English
Country: USA
Awards: 1 nomination.
Total Seasons: 4
Previous Episode
Ruby Faces Rosie
Episode 4x10; May 08, 2011
Ruby & Jeff go to New York City for Ruby's appearance on Rosie O'Donnell's radio show. They walk and Ruby struggles when she constantly is bumping into the passing people. Ruby appears on the radio show and tells Rosie about what she has been going through. She also meets at Rosie's house to discuss more, where she thinks Ruby has been sexually abused, something that Ruby denies. While in New York, Ruby & Jeff do more walking and Jeff records on the camera. The season concludes with Ruby talking with Jeff atop the arch bridge in New York.
Previous Episodes 4x10: Ruby Faces Rosie 4x9: Ghosts of Childhood 4x8: 50 Pounds & Gaining 4x7: Always a Bridesmaid 4x6: Ruby Falls for a New Guy 4x5: Ruby's Beach Meltdown 4x4: Ruby Goes Under 4x3: Ruby's High School Reunion 4x2: Secrets in the Attic

View All Episodes
Recent News
5 tips to stress less at work during the holiday season
ADVERTISING CONTENT FROM EPSON Whether it's a multiplying inbox, a million meetings, or technical difficulties, the little things at work make the biggest difference — in our mood, our productivity, and our overall job satisfaction. Add holiday parties and wh…
via NewsAPI
View More Related News
Skip to:
Season 1
| Episode No. | No. Overall | Title | Airdate | Runtime | Summary |
| --- | --- | --- | --- | --- | --- |
| 1 | 1 | Meet Ruby | 2008-11-09 | 30 | |
| 2 | 2 | Denny Returns | 2008-11-16 | 30 | |
| 3 | 3 | Extreme Makeover | 2008-11-23 | 30 | |
| 4 | 4 | Ruby's Secret Storm | 2008-11-30 | 30 | |
| 5 | 5 | Ruby Hits the Road | 2008-12-07 | 30 | |
| 6 | 6 | Ruby's Revelation | 2008-12-14 | 30 | |
| 7 | 7 | The Summit | 2008-12-21 | 30 | |
| 8 | 8 | Real Women Have Curves | 2008-12-28 | 30 | |
| 9 | 9 | One Hundred Pounds of Hope | 2009-01-04 | 30 | |
Season 2
| Episode No. | No. Overall | Title | Airdate | Runtime | Summary |
| --- | --- | --- | --- | --- | --- |
| 1 | 10 | Ruby's Road to Rascal Flatts Premier Version | 2009-07-05 | 30 | |
| 2 | 11 | Gurus Gone Wild | 2009-07-12 | 30 | |
| 3 | 12 | Let's Get Physical | 2009-07-19 | 30 | |
| 4 | 13 | Training Daze | 2009-07-26 | 30 | |
| 5 | 14 | Making Room for Ruby | 2009-08-02 | 30 | |
| 6 | 15 | Ruby's Missing Memories | 2009-08-09 | 30 | |
| 7 | 16 | Beach Blanket Ruby | 2009-08-16 | 30 | |
| 8 | 17 | The Doctor Is In | 2009-08-23 | 30 | |
| 9 | 18 | Losing a Best Friend | 2009-08-30 | 30 | |
| 10 | 19 | The Final Weight-In | 2009-09-06 | 30 | |
Season 3
| Episode No. | No. Overall | Title | Airdate | Runtime | Summary |
| --- | --- | --- | --- | --- | --- |
| 1 | 20 | Ruby's Road to Recovery | 2010-02-14 | 30 | |
| 2 | 21 | Mississippi Memories | 2010-02-21 | 30 | |
| 3 | 22 | Ruby's Swimsuit Issue | 2010-02-28 | 30 | |
| 4 | 23 | Plus Size Beauty | 2010-03-14 | 30 | |
| 5 | 24 | Sleepless in Savannah | 2010-03-21 | 30 | |
| 6 | 25 | Trimming the Fat | 2010-03-28 | 30 | |
| 8 | 26 | Skin Tight Ruby | 2010-04-11 | 30 | |
| 9 | 27 | Hacky Thanksgiving | 2010-04-18 | 30 | |
| 10 | 28 | Ruby Fires Back | 2010-04-25 | 30 | |
| 11 | 29 | The Thinner Child | 2010-05-02 | 30 | |
Season 4
| Episode No. | No. Overall | Title | Airdate | Runtime | Summary |
| --- | --- | --- | --- | --- | --- |
| 1 | 30 | Ruby & Denny: Toxic Relationship Premiere Version | 2011-03-06 | 30 | Ruby gets Denny to come into town to teach her about cooking healthy because she feels that she has gained weight. They get into a series of arguments, then they have a counseling session that ends in them agreeing to leave each other's life for good. Ruby gets on the scale and discovers that she has gained 30 pounds. |
| 2 | 31 | Secrets in the Attic | 2011-03-13 | 30 | Following her weight gain, Ruby discovers letters from her childhood while cleaning out the attic and is shocked and upset at them. She has a counseling session and a meeting for her Woman's Fat Night group, where pastor Paula White makes an appearance. |
| 3 | 32 | Ruby's High School Reunion | 2011-03-20 | 30 | Ruby & friends have a garage sale to raise money for Ben's move to Los Angeles for music school. Ruby's childhood friends show up and they have a dinner. Meanwhile, Ruby tries to discover more about her letters with the help of pastor Paula White & her therapist. Ruby & friends then head out to a horse center where they get Zach, who is autistic, to ride a horse in hopes of him forgetting that Ben is leaving. |
| 4 | 33 | Ruby Goes Under | 2011-03-27 | 30 | Ruby & the gang go out to LA to help Ben set up for music school. While there, they enjoy time at a water park. Ruby then speaks with Melissa and they go to a Reiki session, where she starts blowing up with emotions. They then get Ruby into the backyard pool where she overcomes the fears of the deep end. |
| 5 | 34 | Ruby's Beach Meltdown | 2011-04-03 | 30 | Ruby, Georgia & Jeff go to a mall, where she meets someone at Lane Bryant. She then decides to go to a yogurt shop, while her friends go get hot dogs on a stick, which is a decision she didn't like. The new friends agreed. Ruby sees what Jeff is talking about when he says that she is sick. Ruby has a Woman's Fat Night with her new LA friends. She endures a beach workout with a trainer that she thinks is trying to hurt her. During the episode, she weighs in, only to discover that she has gained even more weight. |
| 6 | 35 | Ruby Falls for a New Guy | 2011-04-10 | 30 | Ruby & friends go to a show, where she meets a guy named Ian. All throughout the episode, Jeff & Georgia think that Ian & Ruby are in a relationship, something she constantly denies. She goes for a walk on a long path, having breathing troubles, but ends up making it to the end. She then goes to Ken Paves and gets hair extensions. She invites Ian to Ben's concert, then they go to a dream art gallery. They then finish off at a French restaurant. The next day, Ruby has a discussion with her close friends about the date the previous night. The episode closes with a conversation over the phone with Dr. Jane. |
| 7 | 36 | Always a Bridesmaid | 2011-04-17 | 30 | Ruby is throwing an engagement party for an old friend named Anna. Denny comes into town and Ruby does her best to control herself. An argument breaks out at the pool. Her gang surprises her with a dummy for her to beat up on. She beats up on it and tries to get Denny to find fault in the situation. Denny realizes there is fault in him for what happened. It is engagement party time and Ruby does enjoy herself at the party, but she thinks that they don't know she is on a diet. Denny & Ruby share a kiss at the party, to which Jeff hopes that they are not getting back together. The next morning, the gang packs up and gives Ben their hugs goodbye. Ruby finds it hard to say bye to Ben. They have a last minute talk before she heads back to Savannah, Georgia. |
| 8 | 37 | 50 Pounds & Gaining | 2011-04-24 | 30 | Ruby returns from her month in Los Angeles and meets with Dr. Jane, then afterwards, Carrington calls and she invites her to spend a day with her. Jeff & Ruby go to a store to get gifts for Carrington. Denny calls and wants to come to town to see her. Ruby & Denny go to get their body test done, in which it is revealed that Ruby has over half of her weight in fat. She then gets the people of her system together and she decides to have a summit to hopefully get back on track after having met with her trainers and revealing that she had gained the weight, then working out. Her and Carrington then have lunch together before her mother comes to get her. |
| 9 | 38 | Ghosts of Childhood | 2011-05-01 | 30 | Ruby & her friends make little signs on paper to post around the house. Ruby & Denny go out to dinner, where Denny asks her to please continue the journey. They then go to a charity baseball game, where Ruby's church wins. She then speaks with Paula White on the phone. They then meet up and she opens up about how she doesn't want the little version of Ruby to live. Finally, after more discussion & prayer, she admits that she wants the little Ruby to live, signaling a breakthrough that Ruby Gettinger has been waiting for. After the meeting with the pastor, she goes through the healing workbook that Paula gave her. |
| 10 | 39 | Ruby Faces Rosie | 2011-05-08 | 30 | Ruby & Jeff go to New York City for Ruby's appearance on Rosie O'Donnell's radio show. They walk and Ruby struggles when she constantly is bumping into the passing people. Ruby appears on the radio show and tells Rosie about what she has been going through. She also meets at Rosie's house to discuss more, where she thinks Ruby has been sexually abused, something that Ruby denies. While in New York, Ruby & Jeff do more walking and Jeff records on the camera. The season concludes with Ruby talking with Jeff atop the arch bridge in New York. |
Series Cast
| | | | |
| --- | --- | --- | --- |
| | Ruby Gettinger | as Ruby Gettinger | |
Related News
TVMaze