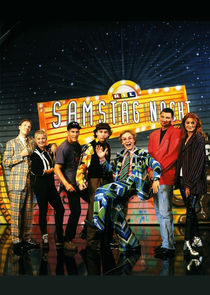 RTL Samstag Nacht was a comedy show, which ran from 6 November 1993 to 23 May 1998 on the German TV network RTL. RTL Samstag Nacht was the first major comedy show in German television, created after the example of the long-running American show Saturday Night Live and broadcast late on Saturday night. It helped comedy in German television to a breakthrough and was a model for several later comedy shows.
Karl Ranseier was a recurring character featured in fake news reports telling about his death at the end of each episode. The name Karl Ranseier has become a catchphrase in Germany that has led to its own joke category of Ranseiers which are in widespread usage outside of the comedy origin.
Series Overview
Rating
imDb Rating: 7.6 (195 Votes)
Metascore: N/A
Plot
RTL Saturday night comedy show.
Details
Rated: N/A
Released: 06 Nov 1993
Runtime: N/A
Genre: Comedy
Director: N/A
Writer: N/A
Actors: Rüdiger Hoffmann, Ingo Appelt, Wigald Boning, Esther Schweins
Language: German
Country: Germany
Awards: 6 wins.
Total Seasons: 4
Previous Episode
Piet Klocke & Simone Thomalla
Episode 5x30; May 23, 1998
Previous Episodes 5x30: Piet Klocke & Simone Thomalla 5x29: Anja Franke & Markus Maria Profitlich 5x28: Rudiger Hoffmann 5x27: Christoph Bruske & Andy Steil 5x26: Ingo Appelt & DJ Bobo 5x25: Rudiger Hoffmann & Peter Lohmeyer 5x24: Thomas Hackenberg & Jenny Elvers 5x23: Ottfried Fischer & Erdogan Atalay 5x22: Gaby Koster

View All Episodes
Skip to:
Season 1
| Episode No. | No. Overall | Title | Airdate | Runtime | Summary |
| --- | --- | --- | --- | --- | --- |
| 1 | 1 | Olaf Kracht | 1993-11-06 | 60 | |
| 2 | 2 | Ingo Appelt & Gerd Haucke | 1993-11-13 | 60 | |
| 3 | 3 | Helge Schneider | 1993-11-20 | 60 | |
| 4 | 4 | Lotty Huber & Ingo Appelt | 1993-11-27 | 60 | |
| 5 | 5 | Hella von Sinnen | 1993-12-04 | 60 | |
| 6 | 6 | Rudiger Hoffmann & Elmar Horig | 1993-12-11 | 60 | |
| 7 | 7 | Herbert Fux | 1993-12-18 | 60 | |
| 8 | 8 | Jorg Knor | 1994-01-08 | 60 | |
| 9 | 9 | Tom Gerhardt | 1994-01-15 | 60 | |
| 10 | 10 | Dieter Nur & Rainer Basedow | 1994-02-05 | 60 | |
| 11 | 11 | Tatjana Simic & Richardo Greico | 1994-02-12 | 60 | |
| 12 | 12 | Ulla Kock am Brink, Walter Freiwald & Harry Winjvoord | 1994-02-19 | 60 | |
| 13 | 13 | Dirk Bach & Rudiger Hoffmann | 1994-03-05 | 60 | |
| 14 | 14 | Erika Berger & Andreas Elsholz | 1994-03-12 | 60 | |
| 15 | 15 | Karl Dall & Angelika Milster | 1994-03-19 | 60 | |
| 16 | 16 | Rudi Carell | 1994-04-09 | 60 | |
| 17 | 17 | Karsten Speck & Maddin Schneider | 1994-04-16 | 60 | |
| 18 | 18 | Uli Potofski | 1994-04-23 | 60 | |
| 19 | 19 | Rainer Krohnert | 1994-04-30 | 60 | |
| 20 | 20 | Jorg Wontorra & Rudiger Hoffmann | 1994-05-14 | 60 | |
| 21 | 21 | Jochen Busse | 1994-05-21 | 60 | |
| 22 | 22 | Linda de Mol | 1994-05-28 | 60 | |
| 23 | 23 | Howard Carpendale & Georg Schramm | 1994-06-11 | 60 | |
| 24 | 24 | Thomas Freitag | 1994-06-25 | 60 | |
| 25 | 25 | Mike Kruger | 1994-07-02 | 60 | |
Season 2
| Episode No. | No. Overall | Title | Airdate | Runtime | Summary |
| --- | --- | --- | --- | --- | --- |
| 1 | 26 | Hannes Jaenicke | 1994-09-24 | 60 | |
| 2 | 27 | Rudiger Hoffman, Werner Schulze-Erdel, Kai Pflaume & Matthias Frings | 1994-10-01 | 60 | |
| 3 | 28 | Hans Werner Olm | 1994-10-08 | 60 | |
| 4 | 29 | Reiner Krohnert & Birgit Schrowange | 1994-10-15 | 60 | |
| 5 | 30 | Rudiger Hoffmann | 1994-10-22 | 60 | |
| 6 | 31 | Anja Franke | 1994-10-29 | 60 | |
| 7 | 32 | Hans Clarin & Tom Gerhardt | 1994-11-05 | 60 | |
| 8 | 33 | Jochen Busse & Rudiger Hoffmann | 1994-11-12 | 60 | |
| 9 | 34 | Harry Wijnvoord, April Hailer, Walter Freiwald & Heinrich Pachl | 1994-11-19 | 60 | |
| 10 | 35 | Dirk Bach | 1994-11-26 | 60 | |
| 11 | 36 | Rudiger Hoffmann, Teri Ann Linn & Dietman Bar | 1994-12-03 | 60 | |
| 12 | 37 | Robert Englund, Uwe Friedrichsen & Bernd Gieseking | 1994-12-17 | 60 | |
| 13 | 38 | Helly von Sinnen & Liane Hielscher | 1995-01-07 | 60 | |
| 14 | 39 | Lutz Reichert | 1995-01-14 | 60 | |
| 15 | 40 | Leslie Malton & Rudiger Hoffmann | 1995-01-21 | 60 | |
| 16 | 41 | Heino & Rudiger Hoffmann | 1995-01-28 | 60 | |
| 17 | 42 | Wolfgang Lippert | 1995-02-04 | 60 | |
| 18 | 43 | Mike Kruger | 1995-02-11 | 60 | |
| 19 | 44 | Jurgen von der Lippe & Lutz Herkenath | 1995-02-18 | 60 | |
| 20 | 45 | Rudi Carell & Rudiger Hoffmann | 1995-02-25 | 60 | |
| 21 | 46 | Herbert Feuerstein | 1995-03-04 | 60 | |
| 22 | 47 | Martin Semmelrogge | 1995-03-11 | 60 | |
| 23 | 48 | Carol Campbell & Jochen Horst | 1995-03-18 | 60 | |
| 24 | 49 | Stefan Raab & Eva Hermann | 1995-03-25 | 60 | |
| 25 | 50 | Michel Courtemanche & Gisela Schneeberger | 1995-04-01 | 60 | |
Season 3
| Episode No. | No. Overall | Title | Airdate | Runtime | Summary |
| --- | --- | --- | --- | --- | --- |
| 1 | 51 | Otto, Rudiger Hoffmann & Susanne Uhlen | 1995-09-23 | 60 | |
| 2 | 52 | Barbel Schafer | 1995-09-30 | 60 | |
| 3 | 53 | Nils Bokelberg & Heike Makatsch | 1995-10-07 | 60 | |
| 4 | 54 | Hella von Sinnen | 1995-10-28 | 60 | |
| 5 | 55 | Karl Dall & Dirk Bielefeldt | 1995-11-04 | 60 | |
| 6 | 56 | Gotthilf Fischer & Birgit Schrowange | 1995-11-11 | 60 | |
| 7 | 57 | Stephanie Tucking & Rudiger Hoffmann | 1995-11-18 | 60 | |
| 8 | 58 | Toni Polster & Mike Hansen | 1995-11-25 | 60 | |
| 9 | 59 | Klaus Lage & Anka Zink | 1995-12-02 | 60 | |
| 10 | 60 | Tina Plate, Mike Kruger & Helge Schneider | 1995-12-16 | 60 | |
| 11 | 61 | Sissi Perlinger & Rudiger Hoffmann | 1995-12-23 | 60 | |
| 12 | 62 | Rudiger Hoffmann & Gaby Koster | 1995-12-30 | 60 | |
| 13 | 63 | Diether Krebs | 1996-01-13 | 60 | |
| 14 | 64 | Tom Gerhardt | 1996-01-20 | 60 | |
| 15 | 65 | Jurgen von der Lippe | 1996-01-27 | 60 | |
| 16 | 66 | Jochen Busse & Rudiger Hoffmann | 1996-02-03 | 60 | |
| 17 | 67 | Ingo Appelt | 1996-02-10 | 60 | |
| 18 | 68 | Familie Heinz Becker & Dirk Bielefeld | 1996-02-24 | 60 | |
| 19 | 69 | DIe Toten Hosen & Kabarett A-Z | 1996-03-02 | 60 | |
| 20 | 70 | Veronica Ferres | 1996-03-09 | 60 | |
| 21 | 71 | Marioni Kracht | 1996-03-16 | 60 | |
| 22 | 72 | Hildegard Krekel | 1996-03-23 | 60 | |
| 23 | 73 | Dirk Bielefeldt & Rufus Beck | 1996-03-30 | 60 | |
| 24 | 74 | Dirk Bach & Fools Garden | 1996-04-06 | 60 | |
| 25 | 75 | Mel Brooks & Jurgen Becker | 1996-04-13 | 60 | |
| 26 | 76 | Anouschka Renzi | 1996-04-27 | 60 | |
| 27 | 77 | Jorg Kachelmann & Ingo Appelt | 1996-05-04 | 60 | |
| 28 | 78 | Muriel Baumeister & Rudiger Hoffmann | 1996-05-11 | 60 | |
| 29 | 79 | Walburga Kwiet-Gittner & Reiner Krohnert | 1996-05-18 | 60 | |
| 30 | 80 | Jurgen Vogel | 1996-06-01 | 60 | |
| 31 | 81 | Leslie Malton & Rudiger Hoffmann | 1996-06-08 | 60 | |
| 32 | 82 | Gaby Koster | 1996-06-15 | 60 | |
| 33 | 83 | Gerd Haucke | 1996-06-29 | 60 | |
| 34 | 84 | Jorg Wontorra & Stefan Raab | 1996-07-06 | 60 | |
Season 4
| Episode No. | No. Overall | Title | Airdate | Runtime | Summary |
| --- | --- | --- | --- | --- | --- |
| 1 | 85 | Dame Edna, Marena Kroymann & Jochen Busse | 1996-09-21 | 60 | |
| 2 | 86 | DJ Bobo & Ludger Pistor | 1996-09-28 | 60 | |
| 3 | 87 | Witta Kruger & Milena Preradovic | 1996-10-05 | 60 | |
| 4 | 88 | Markus Maria Profitlich & Ali Kahn | 1996-10-26 | 60 | |
| 5 | 89 | Pe Werner & Michael Lesch | 1996-11-02 | 60 | |
| 6 | 90 | Gaby Koster | 1996-11-09 | 60 | |
| 7 | 91 | Hape Kerkeling & Ingo Appelt | 1996-11-16 | 60 | |
| 8 | 92 | Piet Klocke, Luco van Org & ralf Goldkind | 1996-11-30 | 60 | |
| 9 | 93 | Ernst Dieter Lueg & Thomas Freitag | 1996-12-14 | 60 | |
| 10 | 94 | Piet Klocke & Dieter Pfaff | 1996-12-21 | 60 | |
| 11 | 95 | Hans-Hermann Thielke & Helmut Zierl | 1996-12-28 | 60 | |
| 12 | 96 | Ingo Appelt | 1997-01-04 | 60 | |
| 13 | 97 | Mola Adebisi & Jochen Busse | 1997-01-11 | 60 | |
| 14 | 98 | Peter Shub & Dirk Bach | 1997-01-18 | 60 | |
| 15 | 99 | Henry Maske, Iris Berben & Piet Klocke | 1997-01-25 | 60 | |
| 16 | 100 | Til Schweiger & Ingo Appelt | 1997-02-01 | 60 | |
| 17 | 101 | Peter Lohmeyer & Black Fooss | 1997-02-08 | 60 | |
| 18 | 102 | Stephen Durr & Hans-Peter Korff | 1997-02-15 | 60 | |
| 19 | 103 | Helge Schneider & Rudiger Hoffmann | 1997-02-22 | 60 | |
| 20 | 104 | Earl Okin & Die Camper | 1997-03-01 | 60 | |
| 21 | 105 | Gaby Koster & Michael Winslow | 1997-03-08 | 60 | |
| 22 | 106 | Ingo Appelt & Cecilia Kunz | 1997-03-15 | 60 | |
| 23 | 107 | Piet Klocke & Ingo Naujoks | 1997-03-29 | 60 | |
| 24 | 108 | Tatjana Simic & Klaus Wennemann | 1997-04-05 | 60 | |
| 25 | 109 | Hans-Hermann Thielke | 1997-04-12 | 60 | |
| 26 | 110 | Rudiger Hoffmann & Ottofried Frischer | 1997-04-19 | 60 | |
| 27 | 111 | Jurgen Heinrich & Icepickels | 1997-04-26 | 60 | |
| 28 | 112 | Ingo Appelt & Emex Love | 1997-05-03 | 60 | |
| 29 | 113 | Depeche Mode & Gaby Koster | 1997-05-10 | 60 | |
| 30 | 114 | Karl Dall, Acapickels & Rudiger Hoffmann | 1997-05-17 | 60 | |
| 31 | 115 | Hardy Kruger | 1997-05-24 | 60 | |
| 32 | 116 | Ingrid Steeger & Piet Klocke | 1997-05-31 | 60 | |
Related News
TVMaze