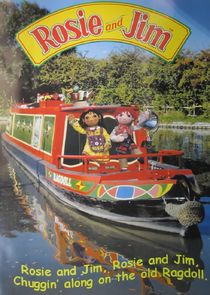 The programme features two ragdolls, Rosie and Jim, in a narrowboat called the Ragdoll. In this boat they would travel along the waterways of Central England with their friend Duck and the Ragdoll's owner. The owner is convinced that Rosie and Jim are just ordinary ragdolls; however, each time the boat is docked and the owner visits the town or village, Duck gives the signal by quacking and Rosie and Jim magically come to life and secretly follow the owner, often causing mishaps and hijinks that leave the boat owner and the person or people he/she visits quite bemused.
Series Overview
Rating
imDb Rating: 6.5 (182 Votes)
Metascore: N/A
Plot
Rosie and Jim are two rag dolls that magically come to life when no-one is looking. They explore different aspects of Great Britain as they travel along the canal network aboard the narrow-boat "Ragdoll" with the boat's owner.
Details
Rated: N/A
Released: 03 Sep 1990
Runtime: 15 min
Genre: Adventure, Family
Director: N/A
Writer: N/A
Actors: Robin Stevens, Rebecca Nagan, Pat Hutchins
Language: English
Country: UK
Awards: N/A
Total Seasons: 8
Previous Episode
One Last Goodbye
Episode 8x21; Mar 31, 2000
Previous Episodes 8x21: One Last Goodbye 8x20: The Magic Show 8x19: Runaway Roller Blades 8x18: Little Ducklings 8x17: The Window Cleaner 8x16: Lazy Day 8x15: Hop to the Hospital 8x14: Water, Water Everywhere 8x13: Rescue the Rubbish

View All Episodes
Skip to:
Season 1
| Episode No. | No. Overall | Title | Airdate | Runtime | Summary |
| --- | --- | --- | --- | --- | --- |
| 1 | 1 | Locks | 1990-09-03 | 20 | |
| 2 | 2 | Painting | 1990-09-04 | 20 | |
| 3 | 3 | Tunnel | 1990-09-05 | 20 | |
| 4 | 4 | Supermarket | 1990-09-06 | 20 | |
| 5 | 5 | Horse Towing | 1990-09-07 | 20 | |
| 6 | 6 | Glass | 1990-09-10 | 20 | |
| 7 | 7 | Boat Building | 1990-09-11 | 20 | |
| 8 | 8 | Washing | 1990-09-12 | 20 | |
| 9 | 9 | Coal | 1990-09-13 | 20 | |
| 10 | 10 | Clipping | 1990-09-14 | 20 | |
| 11 | 11 | Falcons | 1990-09-17 | 20 | |
| 12 | 12 | Woollen Mill | 1990-09-18 | 20 | |
| 13 | 13 | Bread | 1990-09-19 | 20 | |
| 14 | 14 | Shopping | 1990-09-20 | 20 | |
| 15 | 15 | Weaving | 1990-09-21 | 20 | |
| 16 | 16 | Ferry | 1990-09-24 | 20 | |
| 17 | 17 | Milking | 1990-09-25 | 20 | |
| 18 | 18 | Sailing | 1990-09-26 | 20 | |
| 19 | 19 | Steam | 1990-09-27 | 20 | |
| 20 | 20 | Abbey | 1990-09-28 | 20 | |
| 21 | 21 | Breakdown | 1990-10-01 | 20 | |
| 22 | 22 | Pottery | 1990-10-02 | 20 | |
| 23 | 23 | Fairground | 1990-10-03 | 20 | |
| 24 | 24 | Letters | 1990-10-04 | 20 | |
| 25 | 25 | Finding the Way | 1990-10-05 | 20 | |
Season 2
| Episode No. | No. Overall | Title | Airdate | Runtime | Summary |
| --- | --- | --- | --- | --- | --- |
| 1 | 26 | Automata | 1991-11-04 | 20 | |
| 2 | 27 | Butterflies | 1991-11-05 | 20 | |
| 3 | 28 | Houses | 1991-11-06 | 20 | |
| 4 | 29 | Hair | 1991-11-07 | 20 | |
| 5 | 30 | School | 1991-11-08 | 20 | |
| 6 | 31 | Bricks | 1991-11-11 | 20 | |
| 7 | 32 | Small Animals | 1991-11-12 | 20 | |
| 8 | 33 | Hats | 1991-11-13 | 20 | |
| 9 | 34 | Hospital | 1991-11-14 | 20 | |
| 10 | 35 | Boat Painting | 1991-11-15 | 20 | |
| 11 | 36 | Sheepdog | 1991-11-18 | 20 | |
| 12 | 37 | Waterworks | 1991-11-19 | 20 | |
| 13 | 38 | Blacksmith | 1991-11-20 | 20 | |
| 14 | 39 | Library | 1991-11-21 | 20 | |
| 15 | 40 | Dredging | 1991-11-22 | 20 | |
| 16 | 41 | Rope | 1991-11-25 | 20 | |
| 17 | 42 | Trees | 1991-11-26 | 20 | |
| 18 | 43 | Shoes | 1991-11-27 | 20 | |
| 19 | 44 | Brass | 1991-11-28 | 20 | |
| 20 | 45 | Flying | 1991-11-29 | 20 | |
| 21 | 46 | Coracle | 1991-12-02 | 20 | |
| 22 | 47 | Puppet Show | 1991-12-03 | 20 | |
| 23 | 48 | Shire Horses | 1991-12-04 | 20 | |
| 24 | 49 | Eggs | 1991-12-05 | 20 | |
| 25 | 50 | Boat Festival | 1991-12-06 | 20 | |
Season 3
| Episode No. | No. Overall | Title | Airdate | Runtime | Summary |
| --- | --- | --- | --- | --- | --- |
| 1 | 51 | Radio Station | 1994-01-03 | 20 | |
| 2 | 52 | Babies | 1994-01-04 | 20 | |
| 3 | 53 | Steam Train | 1994-01-05 | 20 | |
| 4 | 54 | Barn Owl | 1994-01-06 | 20 | |
| 5 | 55 | Gingerbread Man | 1994-01-07 | 20 | |
| 6 | 56 | Musical Instruments | 1994-01-10 | 20 | |
| 7 | 57 | Flower Baskets | 1994-01-11 | 20 | |
| 8 | 58 | Duck Gets Lost | 1994-01-12 | 20 | |
| 9 | 59 | Ten Pin Bowling | 1994-01-13 | 20 | |
| 10 | 60 | Sneezes | 1994-01-14 | 20 | |
| 11 | 61 | Digging for Potatoes | 1994-01-17 | 20 | |
| 12 | 62 | Pony Riding | 1994-01-18 | 20 | |
| 13 | 63 | Lovely Bananas | 1994-01-19 | 20 | |
| 14 | 64 | Splash Splash Splosh | 1994-01-20 | 20 | |
| 15 | 65 | Down on the Farm | 1994-01-21 | 20 | |
| 16 | 66 | The Hat Factory | 1994-01-24 | 20 | |
| 17 | 67 | The Disappearing Sausages | 1994-01-25 | 20 | |
| 18 | 68 | Soapy Duck | 1994-01-26 | 20 | |
| 19 | 69 | Bouncy Castles | 1994-01-27 | 20 | |
| 20 | 70 | A Special Dance | 1994-01-28 | 20 | |
| 21 | 71 | Flood on the Boat | 1994-01-31 | 20 | |
| 22 | 72 | The Shoemaker | 1994-02-01 | 20 | |
| 23 | 73 | Scarecrow | 1994-02-02 | 20 | |
| 24 | 74 | Roller Skating | 1994-02-03 | 20 | |
| 25 | 75 | Stars at Night | 1994-02-04 | 20 | |
Season 4
| Episode No. | No. Overall | Title | Airdate | Runtime | Summary |
| --- | --- | --- | --- | --- | --- |
| 1 | 76 | Acrobats | 1996-01-04 | 20 | |
| 2 | 77 | Earrings | 1996-01-11 | 20 | |
| 3 | 78 | The Best Boat in the World | 1996-01-18 | 20 | |
| 4 | 79 | Mouse on the Boat | 1996-01-25 | 20 | |
| 5 | 80 | Floating Restaurant | 1996-02-01 | 20 | |
| 6 | 81 | On Safari | 1996-02-08 | 20 | |
| 7 | 82 | Exercise | 1996-02-15 | 20 | |
| 8 | 83 | Little Lost Kitten | 1996-02-22 | 20 | |
| 9 | 84 | Stripes | 1996-02-29 | 20 | |
| 10 | 85 | Magical Lights | 1996-03-07 | 20 | |
| 11 | 86 | Making Pizza | 1996-03-14 | 20 | |
| 12 | 87 | Shop Window | 1996-03-21 | 20 | |
| 13 | 88 | Visiting the Vet | 1996-03-28 | 20 | |
| 14 | 89 | Bus Ride | 1996-04-04 | 20 | |
| 15 | 90 | Dog Training | 1996-04-11 | 20 | |
| 16 | 91 | Winning the Race | 1996-04-18 | 20 | |
| 17 | 92 | The Milkman | 1996-04-25 | 20 | |
| 18 | 93 | Ballroom Dancing | 1996-05-02 | 20 | |
| 19 | 94 | The Umbrella Factory | 1996-05-09 | 20 | |
| 20 | 95 | Sleepy Baby | 1996-05-16 | 20 | |
Season 5
| Episode No. | No. Overall | Title | Airdate | Runtime | Summary |
| --- | --- | --- | --- | --- | --- |
| 1 | 96 | Harmonica | 1997-01-03 | 20 | |
| 2 | 97 | Spring Cleaning | 1997-01-06 | 20 | |
| 3 | 98 | Water Skiing | 1997-01-10 | 20 | |
| 4 | 99 | Cake | 1997-01-13 | 20 | |
| 5 | 100 | Sing Song | 1997-01-17 | 20 | |
| 6 | 101 | Pony and Trap | 1997-01-20 | 20 | |
| 7 | 102 | Ducks | 1997-01-24 | 20 | |
| 8 | 103 | Football | 1997-01-27 | 20 | |
| 9 | 104 | Chimney Sweep | 1997-01-31 | 20 | |
| 10 | 105 | Windy Day | 1997-02-03 | 20 | |
| 11 | 106 | Chair | 1997-02-07 | 20 | |
| 12 | 107 | Kites | 1997-02-10 | 20 | |
| 13 | 108 | Tailor | 1997-02-14 | 20 | |
| 14 | 109 | Hot Air Balloon | 1997-02-17 | 20 | |
| 15 | 110 | Bike Ride | 1997-02-21 | 20 | |
| 16 | 111 | Parrot | 1997-02-24 | 20 | |
| 17 | 112 | Beach | 1997-02-28 | 20 | |
| 18 | 113 | Roundabout | 1997-03-03 | 20 | |
| 19 | 114 | Mattress | 1997-03-07 | 20 | |
| 20 | 115 | Theatre | 1997-03-10 | 20 | |
Season 6
| Episode No. | No. Overall | Title | Airdate | Runtime | Summary |
| --- | --- | --- | --- | --- | --- |
| 1 | 116 | Noodles | 1998-01-02 | 20 | |
| 2 | 117 | Pigeons | 1998-01-05 | 20 | |
| 3 | 118 | Camping | 1998-01-09 | 20 | |
| 4 | 119 | Big Ben | 1998-01-12 | 20 | |
| 5 | 120 | Golf | 1998-01-16 | 20 | |
| 6 | 121 | Tower of London | 1998-01-19 | 20 | |
| 7 | 122 | Newspaper | 1998-01-23 | 20 | |
| 8 | 123 | Waterslide | 1998-01-26 | 20 | |
| 9 | 124 | Fish | 1998-01-30 | 20 | |
| 10 | 125 | Stilts | 1998-02-02 | 20 | |
| 11 | 126 | DIY | 1998-02-06 | 20 | |
| 12 | 127 | Ketchup | 1998-02-09 | 20 | |
| 13 | 128 | Lullaby | 1998-02-13 | 20 | |
| 14 | 129 | Driftwood | 1998-02-16 | 20 | |
| 15 | 130 | Tower Bridge | 1998-02-20 | 20 | |
| 16 | 131 | Music Boat | 1998-02-23 | 20 | |
| 17 | 132 | Recording Studio | 1998-02-27 | 20 | |
| 18 | 133 | One Man Band | 1998-03-02 | 20 | |
| 19 | 134 | Chinese Lion Dance | 1998-03-06 | 20 | |
| 20 | 135 | Music Party | 1998-03-09 | 20 | |
Season 7
| Episode No. | No. Overall | Title | Airdate | Runtime | Summary |
| --- | --- | --- | --- | --- | --- |
| 1 | 136 | Sticky Honey | 1999-01-08 | 20 | |
| 2 | 137 | Chainmaking | 1999-01-11 | 20 | |
| 3 | 138 | Shining Armour | 1999-01-15 | 20 | |
| 4 | 139 | Naughty Little Frog | 1999-01-18 | 20 | |
| 5 | 140 | Thatching | 1999-01-22 | 20 | |
| 6 | 141 | Sailing Boat | 1999-01-25 | 20 | |
| 7 | 142 | Drawing | 1999-01-29 | 20 | |
| 8 | 143 | Disco | 1999-02-01 | 20 | |
| 9 | 144 | Remote Control | 1999-02-05 | 20 | |
| 10 | 145 | Keep Fit | 1999-02-08 | 20 | |
| 11 | 146 | Dry Walling | 1999-02-12 | 20 | |
| 12 | 147 | Baby Elephant | 1999-02-15 | 20 | |
| 13 | 148 | Washing Day | 1999-02-19 | 20 | |
| 14 | 149 | Lifeboat Rescue | 1999-02-22 | 20 | |
| 15 | 150 | Knitting Factory | 1999-02-26 | 20 | |
| 16 | 151 | Road Boat | 1999-03-01 | 20 | |
| 17 | 152 | Line Dancing | 1999-03-05 | 20 | |
| 18 | 153 | Wallpaper | 1999-03-08 | 20 | |
| 19 | 154 | High Bar | 1999-03-12 | 20 | |
| 20 | 155 | Riding Lesson | 1999-03-15 | 20 | |
Season 8
| Episode No. | No. Overall | Title | Airdate | Runtime | Summary |
| --- | --- | --- | --- | --- | --- |
| 1 | 156 | Disappearing Duck | 2000-01-07 | 20 | |
| 2 | 157 | Upside Down | 2000-01-10 | 20 | |
| 3 | 158 | Where's My Wedding Ring | 2000-01-14 | 20 | |
| 4 | 159 | Mother's Day | 2000-01-17 | 20 | |
| 5 | 160 | Steel Band | 2000-01-21 | 20 | |
| 6 | 161 | Disappearing Trousers | 2000-01-24 | 20 | |
| 7 | 162 | Jumble Duck | 2000-01-28 | 20 | |
| 8 | 163 | Flour Trail | 2000-01-31 | 20 | |
| 9 | 164 | Birthday Party | 2000-02-04 | 20 | |
| 10 | 165 | Lots of Knots | 2000-02-07 | 20 | |
| 11 | 166 | Flashing Fire Engine | 2000-02-11 | 20 | |
| 12 | 167 | Amazing Teddy | 2000-02-14 | 20 | |
| 13 | 168 | Rescue the Rubbish | 2000-02-18 | 20 | |
| 14 | 169 | Water, Water Everywhere | 2000-02-21 | 20 | |
| 15 | 170 | Hop to the Hospital | 2000-02-25 | 20 | |
| 16 | 171 | Lazy Day | 2000-02-28 | 20 | |
| 17 | 172 | The Window Cleaner | 2000-03-03 | 20 | |
| 18 | 173 | Little Ducklings | 2000-03-06 | 20 | |
| 19 | 174 | Runaway Roller Blades | 2000-03-10 | 20 | |
| 20 | 175 | The Magic Show | 2000-03-24 | 20 | |
| 21 | 176 | One Last Goodbye | 2000-03-31 | 20 | |
Related News
TVMaze