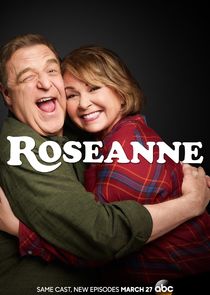 A groundbreaking American television sitcom, following the fortunes of the down-to-earth, blue collar Conner family in the small town of Lanford, Illinois.
Series Overview
Rating
imDb Rating: 7.0 (37,869 Votes)
Metascore: N/A
Plot
A revival of the popular 1990s sitcom 'Roseanne,' which centered on the everyday life of an American working-class family.
Details
Rated: TV-PG
Released: 18 Oct 1988
Runtime: 21 min
Genre: Short, Comedy, Drama
Director: N/A
Writer: Roseanne Barr, Matt Williams
Actors: Roseanne Barr, John Goodman, Laurie Metcalf, Michael Fishman
Language: English
Country: USA
Awards: Won 3 Golden Globes. Another 44 wins & 109 nominations.
Total Seasons: 10
Previous Episode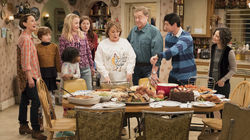 Knee Deep
Episode 10x9; May 22, 2018
Roseanne's knee gets worse so Dan is forced to a make an important work decision; but when a major storm hits Lanford, their fortunes change for the better. Later, Darlene realizes she has to go back to her first passion, writing.
Previous Episodes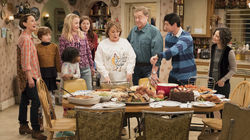 10x9: Knee Deep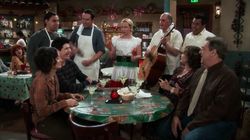 10x8: Netflix & Pill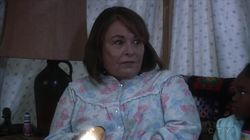 10x7: Go Cubs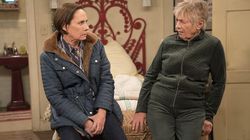 10x6: No Country for Old Women


10x5: Darlene v. David


10x4: Eggs Over, Not Easy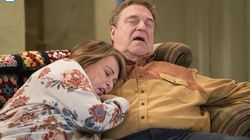 10x3: Roseanne Gets the Chair


10x2: Dress to Impress


10x1: Twenty Years to Life

View All Episodes
Cast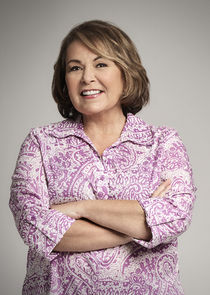 Roseanne Barr as Roseanne Conner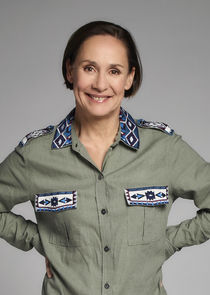 Laurie Metcalf as Jackie Harris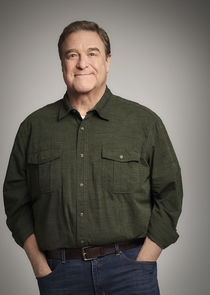 John Goodman as Dan Conner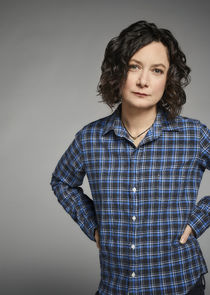 Sara Gilbert as Darlene Conner
Michael Fishman as D.J. Conner
Lecy Goranson as Becky Conner
View Full Cast
Skip to:
Season 1
| Episode No. | No. Overall | Title | Airdate | Runtime | Summary |
| --- | --- | --- | --- | --- | --- |
| 1 | 1 | Life and Stuff | 1988-10-18 | 30 | Roseanne and Dan, parents of a low income family, deal with the trials and tribulations of suburban domesticity. Roseanne must keep her sanity while keeping her family together and dealing with her troubling daughter, Darlene. |
| 2 | 2 | We're in the Money | 1988-10-25 | 30 | |
| 3 | 3 | D-I-V-O-R-C-E | 1988-11-01 | 30 | |
| 4 | 4 | Language Lessons | 1988-11-22 | 30 | |
| 5 | 5 | Radio Days | 1988-11-29 | 30 | |
| 6 | 6 | Lovers' Lanes | 1988-12-06 | 30 | Roseanne sees Becky and her first boyfriend at a bowling alley. Jackie and Booker make a bet, if Booker wins, Jackie has to spend the night with him. |
| 7 | 7 | The Memory Game | 1988-12-13 | 30 | |
| 8 | 8 | Here's to Good Friends | 1988-12-20 | 30 | |
| 9 | 9 | Dan's Birthday Bash | 1989-01-03 | 30 | |
| 10 | 10 | Saturday | 1989-01-10 | 30 | |
| 11 | 11 | Canoga Time | 1989-01-17 | 30 | |
| 12 | 12 | The Monday Through Friday Show | 1989-01-24 | 30 | |
| 13 | 13 | Bridge Over Troubled Sonny | 1989-01-31 | 30 | |
| 14 | 14 | Father's Day | 1989-02-07 | 30 | |
| 15 | 15 | Nightmare on Oak Street | 1989-02-14 | 30 | |
| 16 | 16 | Mall Story | 1989-02-21 | 30 | |
| 17 | 17 | Becky's Choice | 1989-02-28 | 30 | |
| 18 | 18 | The Slice of Life | 1989-03-07 | 30 | |
| 19 | 19 | Workin' Overtime | 1989-03-14 | 30 | |
| 20 | 20 | Toto, We're Not in Kansas Anymore | 1989-03-28 | 30 | |
| 21 | 21 | Death and Stuff | 1989-04-11 | 30 | The Conners have a corpse in their kitchen, which interferes with Dan's attempts to repair the refrigerator. |
| 22 | 22 | Dear Mom and Dad | 1989-04-18 | 30 | Roseanne and Jackie parents come to visit. |
| 23 | 23 | Let's Call It Quits | 1989-05-02 | 30 | |
Season 2
| Episode No. | No. Overall | Title | Airdate | Runtime | Summary |
| --- | --- | --- | --- | --- | --- |
| 1 | 24 | Inherit the Wind | 1989-09-12 | 30 | |
| 2 | 25 | The Little Sister | 1989-09-19 | 30 | |
| 3 | 26 | Guilt by Disassociation | 1989-09-26 | 30 | |
| 4 | 27 | Somebody Stole My Gal | 1989-10-03 | 30 | |
| 5 | 28 | House of Grown-Ups | 1989-10-10 | 30 | |
| 6 | 29 | Five of a Kind | 1989-10-24 | 30 | |
| 7 | 30 | BOO! | 1989-10-31 | 30 | |
| 8 | 31 | Sweet Dreams | 1989-11-07 | 30 | |
| 9 | 32 | We Gather Together | 1989-11-21 | 30 | |
| 10 | 33 | Brain-Dead Poets Society | 1989-11-28 | 30 | |
| 11 | 34 | Lobocop | 1989-12-05 | 30 | |
| 12 | 35 | No Talking | 1989-12-12 | 30 | |
| 13 | 36 | Chicken Hearts | 1990-01-02 | 30 | |
| 14 | 37 | One for the Road | 1990-01-09 | 30 | |
| 15 | 38 | An Officer and a Gentleman | 1990-01-23 | 30 | |
| 16 | 39 | Born to Be Wild | 1990-01-30 | 30 | |
| 17 | 40 | Hair | 1990-02-06 | 30 | |
| 18 | 41 | I'm Hungry | 1990-02-13 | 30 | |
| 19 | 42 | All of Me | 1990-02-20 | 30 | |
| 20 | 43 | To Tell the Truth | 1990-02-27 | 30 | |
| 21 | 44 | Fender Bender | 1990-03-20 | 30 | |
| 22 | 45 | April Fool's Day | 1990-04-10 | 30 | |
| 23 | 46 | Fathers and Daughters | 1990-05-01 | 30 | |
| 24 | 47 | Happy Birthday | 1990-05-08 | 30 | |
Season 3
| Episode No. | No. Overall | Title | Airdate | Runtime | Summary |
| --- | --- | --- | --- | --- | --- |
| 1 | 48 | The Test | 1990-09-18 | 30 | |
| 2 | 49 | Friends and Relatives | 1990-09-25 | 30 | |
| 3 | 50 | Like, a Virgin | 1990-10-02 | 30 | |
| 4 | 51 | Like, a New Job | 1990-10-09 | 30 | |
| 5 | 52 | Goodbye, Mr. Right | 1990-10-16 | 30 | |
| 6 | 53 | Becky, Beds and Boys | 1990-10-23 | 30 | |
| 7 | 54 | Trick or Treat | 1990-10-30 | 30 | |
| 8 | 55 | PMS, I Love You | 1990-11-06 | 30 | |
| 9 | 56 | Bird is the Word | 1990-11-13 | 30 | |
| 10 | 57 | Dream Lover | 1990-11-27 | 30 | |
| 11 | 58 | Do You Know Where Your Parents Are? | 1990-12-04 | 30 | |
| 12 | 59 | Confessions | 1990-12-18 | 30 | |
| 13 | 60 | The Courtship of Eddie, Dan's Father | 1991-01-08 | 30 | |
| 14 | 61 | The Wedding | 1991-01-15 | 30 | |
| 15 | 62 | Becky Doesn't Live Here Anymore | 1991-01-22 | 30 | |
| 16 | 63 | Home-Ec | 1991-02-05 | 30 | |
| 17 | 64 | Valentine's Day | 1991-02-12 | 30 | |
| 18 | 65 | Communicable Theater | 1991-02-19 | 30 | |
| 19 | 66 | Vegas Interruptus | 1991-02-26 | 30 | |
| 20 | 67 | Her Boyfriend's Back | 1991-03-12 | 30 | |
| 21 | 68 | Troubles with the Rubbles | 1991-03-26 | 30 | |
| 22 | 69 | Second Time Around | 1991-04-02 | 30 | |
| 23 | 70 | Dances with Darlene | 1991-04-30 | 30 | |
| 24 | 71 | Scenes from a Barbecue | 1991-05-07 | 30 | |
| 25 | 72 | The Pied Piper of Lanford | 1991-05-14 | 30 | |
Season 4
| Episode No. | No. Overall | Title | Airdate | Runtime | Summary |
| --- | --- | --- | --- | --- | --- |
| 1 | 73 | A Bitter Pill to Swallow | 1991-09-17 | 30 | |
| 2 | 74 | Take My Bike ... Please! | 1991-09-24 | 30 | |
| 3 | 75 | Why Jackie Becomes a Trucker | 1991-10-01 | 30 | |
| 4 | 76 | Darlene Fades to Black | 1991-10-08 | 30 | |
| 5 | 77 | Tolerate Thy Neighbor | 1991-10-15 | 30 | |
| 6 | 78 | Trick Me Up, Trick Me Down | 1991-10-29 | 30 | |
| 7 | 79 | Vegas (1) | 1991-11-05 | 30 | Roseanne and Dan joins Arnie and Nancy to Vegas |
| 8 | 80 | Vegas, Vegas (2) | 1991-11-12 | 30 | Vegas vacation continues with Wayne Newton and a wedding |
| 9 | 81 | Stressed to Kill | 1991-11-19 | 30 | Roseanne tries to quit smoking. Darlene has Becky helped with her homework |
| 10 | 82 | Thanksgiving '91 | 1991-11-26 | 30 | Thanksgiving at the Conners brings a big announcement from Bev |
| 11 | 83 | Kansas City, Here We Come | 1991-12-03 | 30 | Jackie and Roseanne go to Kansas to meet the other woman. Becky hates her new job. |
| 12 | 84 | Santa Claus | 1991-12-24 | 30 | Roseanne is Santa Claus at the Rodbell's mall |
| 13 | 85 | Bingo | 1992-01-07 | 30 | Roseanne becomes addicted of going to bingo after Crystal brought her there. |
| 14 | 86 | The Bowling Show | 1992-01-21 | 30 | |
| 15 | 87 | The Back Story | 1992-02-04 | 30 | |
| 16 | 88 | Less is More | 1992-02-11 | 30 | |
| 17 | 89 | Breakin' Up is Hard to Do | 1992-02-18 | 30 | Becky and Mark break up and Dan and Roseanne are thrilled |
| 18 | 90 | This Old House | 1992-02-25 | 30 | Roseanne and Jackie visit their childhood home. |
| 19 | 91 | The Commercial Show | 1992-03-03 | 30 | The Conners play a role on a Rodbell's commercial. Todd moves away |
| 20 | 92 | Therapy | 1992-03-17 | 30 | |
| 21 | 93 | Lies | 1992-03-24 | 30 | |
| 22 | 94 | Deliverance | 1992-03-31 | 30 | |
| 23 | 95 | Secrets | 1992-04-28 | 30 | |
| 24 | 96 | Don't Make Me Over | 1992-05-05 | 30 | |
| 25 | 97 | Aliens | 1992-05-12 | 30 | |
Season 5
| Episode No. | No. Overall | Title | Airdate | Runtime | Summary |
| --- | --- | --- | --- | --- | --- |
| 1 | 98 | Terms of Estrangement (1) | 1992-09-15 | 30 | |
| 2 | 99 | Terms of Estrangement (2) | 1992-09-22 | 30 | |
| 3 | 100 | The Dark Ages | 1992-09-29 | 30 | |
| 4 | 101 | Mommy Nearest | 1992-10-06 | 30 | |
| 5 | 102 | Pretty in Black | 1992-10-13 | 30 | |
| 6 | 103 | Looking for Loans in All the Wrong Places | 1992-10-20 | 30 | |
| 7 | 104 | Halloween IV | 1992-10-27 | 30 | |
| 8 | 105 | Ladies' Choice | 1992-11-10 | 30 | |
| 9 | 106 | Stand on Your Man | 1992-11-17 | 30 | |
| 10 | 107 | Good Girls, Bad Girls | 1992-11-24 | 30 | |
| 11 | 108 | Of Ice and Men | 1992-12-01 | 30 | |
| 12 | 109 | It's No Place Like Home for the Holidays | 1992-12-15 | 30 | |
| 13 | 110 | Crime and Punishment (1) | 1993-01-05 | 30 | |
| 14 | 111 | War and Peace (2) | 1993-01-12 | 30 | |
| 15 | 112 | Lanford Daze | 1993-01-26 | 30 | |
| 16 | 113 | Wait Till Your Father Gets Home | 1993-02-09 | 30 | |
| 17 | 114 | First Cousin, Twice Removed | 1993-02-16 | 30 | |
| 18 | 115 | Lose a Job, Winnebago | 1993-02-23 | 30 | |
| 19 | 116 | It's a Boy! | 1993-03-02 | 30 | |
| 20 | 117 | It Was Twenty Years Ago Today | 1993-03-09 | 30 | |
| 21 | 118 | Playing with Matches | 1993-03-23 | 30 | |
| 22 | 119 | Promises, Promises | 1993-04-06 | 30 | |
| 23 | 120 | Glengarry, Glen Rosey | 1993-05-04 | 30 | |
| 24 | 121 | Tooth or Consequences | 1993-05-11 | 30 | |
| 25 | 122 | Daughters and Other Strangers | 1993-05-18 | 30 | |
Season 6
| Episode No. | No. Overall | Title | Airdate | Runtime | Summary |
| --- | --- | --- | --- | --- | --- |
| 1 | 123 | Two Down, One to Go | 1993-09-14 | 30 | |
| 2 | 124 | The Mommy's Curse | 1993-09-21 | 30 | |
| 3 | 125 | Party Politics | 1993-09-28 | 30 | |
| 4 | 126 | A Stash from the Past | 1993-10-05 | 30 | |
| 5 | 127 | Be My Baby | 1993-10-19 | 30 | |
| 6 | 128 | Halloween V | 1993-10-26 | 30 | |
| 7 | 129 | Homeward Bound | 1993-11-02 | 30 | |
| 8 | 130 | Guilt by Imagination | 1993-11-09 | 30 | |
| 9 | 131 | Homecoming | 1993-11-16 | 30 | Becky and Mark return to help celebrate a momentous anniversary for Dan. |
| 10 | 132 | Thanksgiving '93 | 1993-11-23 | 30 | |
| 11 | 133 | The Driver's Seat | 1993-11-30 | 30 | |
| 12 | 134 | White Trash Christmas | 1993-12-14 | 30 | |
| 13 | 135 | Suck Up or Shut Up | 1994-01-04 | 30 | |
| 14 | 136 | Busted | 1994-01-11 | 30 | |
| 15 | 137 | David vs. Goliath | 1994-02-01 | 30 | |
| 16 | 138 | Everyone Comes to Jackie's | 1994-02-08 | 30 | |
| 17 | 139 | Don't Make Room for Daddy | 1994-02-15 | 30 | |
| 18 | 140 | Don't Ask, Don't Tell | 1994-03-01 | 30 | |
| 19 | 141 | Labor Day | 1994-03-08 | 30 | |
| 20 | 142 | Past Imperfect | 1994-03-22 | 30 | |
| 21 | 143 | Lies My Father Told Me | 1994-03-29 | 30 | |
| 22 | 144 | I Pray the Lord My Stove to Keep | 1994-05-03 | 30 | |
| 23 | 145 | Body by Jake | 1994-05-10 | 30 | |
| 24 | 146 | Isn't It Romantic? | 1994-05-17 | 30 | |
| 25 | 147 | Altar Egos | 1994-05-24 | 30 | |
Season 7
| Episode No. | No. Overall | Title | Airdate | Runtime | Summary |
| --- | --- | --- | --- | --- | --- |
| 1 | 148 | Nine is Enough | 1994-09-21 | 30 | |
| 2 | 149 | Two for One | 1994-09-28 | 30 | |
| 3 | 150 | Snoop Davey Dave | 1994-10-05 | 30 | |
| 4 | 151 | Girl Talk | 1994-10-12 | 30 | |
| 5 | 152 | Sleeper | 1994-10-19 | 30 | |
| 6 | 153 | Skeleton in the Closet | 1994-10-26 | 30 | |
| 7 | 154 | Follow the Son | 1994-11-02 | 30 | |
| 8 | 155 | Punch and Jimmy | 1994-11-09 | 30 | |
| 9 | 156 | White Men Can't Kiss | 1994-11-16 | 30 | |
| 10 | 157 | Thanksgiving '94 | 1994-11-23 | 30 | |
| 11 | 158 | Maybe Baby | 1994-11-30 | 30 | |
| 12 | 159 | The Parenting Trap | 1994-12-14 | 30 | |
| 13 | 160 | Rear Window | 1995-01-04 | 30 | |
| 14 | 161 | My Name is Bev | 1995-01-11 | 30 | |
| 15 | 162 | Bed and Bored | 1995-02-01 | 30 | |
| 16 | 163 | Sisters | 1995-02-08 | 30 | |
| 17 | 164 | Lost Youth | 1995-02-15 | 30 | |
| 18 | 165 | Single Married Female | 1995-02-22 | 30 | |
| 19 | 166 | The Clip Show: All About Rosey (1) | 1995-03-01 | 30 | |
| 20 | 167 | The Clip Show: All About Rosey (2) | 1995-03-01 | 30 | |
| 21 | 168 | Husbands and Wives | 1995-03-22 | 30 | |
| 22 | 169 | Happy Trailers | 1995-03-29 | 30 | |
| 23 | 170 | The Blaming of the Shrew | 1995-05-03 | 30 | |
| 24 | 171 | The Birds and the Frozen Bees | 1995-05-10 | 30 | |
| 25 | 172 | Couch Potatoes | 1995-05-17 | 30 | |
| 26 | 173 | Sherwood Schwartz: A Loving Tribute | 1995-05-24 | 30 | |
Season 8
| Episode No. | No. Overall | Title | Airdate | Runtime | Summary |
| --- | --- | --- | --- | --- | --- |
| 1 | 174 | Shower the People You Love with Stuff | 1995-09-19 | 30 | |
| 2 | 175 | Let Them Eat Junk | 1995-09-26 | 30 | |
| 3 | 176 | Roseanne in the Hood | 1995-10-17 | 30 | |
| 4 | 177 | The Last Date | 1995-10-24 | 30 | |
| 5 | 178 | Halloween: the Final Chapter | 1995-10-31 | 30 | |
| 6 | 179 | The Fifties Show | 1995-11-07 | 30 | |
| 7 | 180 | The Getaway, Almost | 1995-11-14 | 30 | |
| 8 | 181 | The Last Thursday in November | 1995-11-21 | 30 | |
| 9 | 182 | Of Mice and Dan | 1995-11-28 | 30 | |
| 10 | 183 | Direct to Video | 1995-12-05 | 30 | |
| 11 | 184 | December Bride | 1995-12-12 | 30 | |
| 12 | 185 | The Thrilla Near the Vanilla Extract | 1996-01-02 | 30 | |
| 13 | 186 | The White Sheep of the Family | 1996-01-09 | 30 | |
| 14 | 187 | Becky Howser, M.D. | 1996-01-16 | 30 | |
| 15 | 188 | Out of the Past | 1996-02-06 | 30 | |
| 16 | 189 | Construction Junction | 1996-02-13 | 30 | |
| 17 | 190 | We're Going to Disney World (1) | 1996-02-20 | 30 | |
| 18 | 191 | Disney World War II (2) | 1996-02-27 | 30 | |
| 19 | 192 | Springtime for David | 1996-03-12 | 30 | |
| 20 | 193 | Another Mouth to Shut Up | 1996-03-26 | 30 | |
| 21 | 194 | Morning Becomes Obnoxious | 1996-04-09 | 30 | |
| 22 | 195 | Ballroom Blitz | 1996-04-30 | 30 | |
| 23 | 196 | The Wedding | 1996-05-07 | 30 | |
| 24 | 197 | Heart & Soul | 1996-05-14 | 30 | |
| 25 | 198 | Fights and Stuff | 1996-05-21 | 30 | |
Season 9
Episode No.
No. Overall
Title
Airdate
Runtime
Summary
1
199
Call Waiting
1996-09-17
30
2
200
Millions from Heaven
1996-09-24
30

After finding out they won the Illinois State Lottery, the Conners and family imagine how to spend their new-found wealth. Kathleen Sullivan and Robin Leach interview Dan and Roseanne in their home. Throwing a party in their home proves that people really do come out of the woodwork to help celebrate wealth. Dan and Roseanne vow to not let money change who they are.

Written by Lynne Boris Johnston

3
201
What a Day for a Daydream
1996-10-01
30
4
202
Honor Thy Mother
1996-10-08
30
5
203
Someday My Prince Will Come
1996-10-15
30
6
204
Pampered to a Pulp
1996-10-22
30
7
205
Satan, Darling
1996-10-29
30
8
206
Hoi Polloi Meets Hoiti Toiti
1996-11-12
30
9
207
Roseambo
1996-11-19
30
10
208
Home is Where the Afghan Is
1996-11-26
30
11
209
Mothers and Other Strangers
1996-12-03
30
12
210
Home for the Holidays
1996-12-17
30
13
211
Say It Ain't So
1997-01-07
30
14
212
Hit the Road, Jack
1997-01-14
30
15
213
The War Room
1997-01-28
30
16
214
Lanford's Elite (1)
1997-02-11
30
17
215
Some Enchanted Merger (2)
1997-02-11
30
18
216
A Second Chance
1997-02-18
30
19
217
The Miracle
1997-02-25
30
20
218
Roseanne-Feld
1997-03-04
30
21
219
The Truth Be Told
1997-03-18
30
22
220
Arsenic and Old Mom
1997-05-13
30
23
221
Into That Good Night (1)
1997-05-20
30
24
222
Into That Good Night (2)
1997-05-20
30
Season 10
| Episode No. | No. Overall | Title | Airdate | Runtime | Summary |
| --- | --- | --- | --- | --- | --- |
| 1 | 223 | Twenty Years to Life | 2018-03-27 | 30 | Roseanne and Dan adjust to living under the same roof with Darlene and her two children, Harris and Mark, when Darlene loses her job. Meanwhile, Becky announces she is going to be a surrogate to make extra money; and Roseanne and Jackie are at odds with one another. |
| 2 | 224 | Dress to Impress | 2018-03-27 | 30 | Darlene's son, Mark, gets caught with a pocket knife after being bullied on the first day of his new school. Meanwhile, Becky invites Andrea over to meet the family and is nervous to bring her home. |
| 3 | 225 | Roseanne Gets the Chair | 2018-04-03 | 30 | Roseanne's clash with Darlene over how she's raising her kids - especially Harris - reaches a breaking point; while Dan tries to help Roseanne with her bad knee by getting her an elevator chair, which she refuses to use because she doesn't want to admit getting old. |
| 4 | 226 | Eggs Over, Not Easy | 2018-04-10 | 30 | A crucial moment for Becky's surrogacy arrangement forces her and Darlene to critically assess each other's lives. Meanwhile, an animal rescue organization rejects Jackie's application to adopt a puppy; and Roseanne makes a plan to change their mind. |
| 5 | 227 | Darlene v. David | 2018-04-17 | 30 | David unexpectedly shows up for Harris' birthday after being absent for years, forcing Darlene to re-examine their relationship and the rest of the family. Meanwhile, Bev temporarily moves into the Conner home after an incident at the nursing home prevents her from returning. |
| 6 | 228 | No Country for Old Women | 2018-05-01 | 30 | After Beverly gets kicked out of the nursing home, Roseanne and Jackie fight over who will take care of their mother. Meanwhile, Mark's creative touch with building a birdhouse for Dan's customer is more than Dan can handle, but Darlene defends her son. |
| 7 | 229 | Go Cubs | 2018-05-08 | 30 | The Conners can't pay their Wi-Fi bill, so they befriend their new neighbors to use the internet for Mary to Skype with mom Geena, who is stationed in Afghanistan. Meanwhile, Dan loses an important job and D.J. admits post-military life has been hard, so they come up with a plan to make extra money. |
| 8 | 230 | Netflix & Pill | 2018-05-15 | 30 | After celebrating their 45th anniversary, Roseanne reveals to Dan a bigger problem with her bad knee. Meanwhile, Crystal announces her retirement as a waitress at the casino, and Becky and Darlene compete for the job, which has full-time benefits. |
| 9 | 231 | Knee Deep | 2018-05-22 | 30 | Roseanne's knee gets worse so Dan is forced to a make an important work decision; but when a major storm hits Lanford, their fortunes change for the better. Later, Darlene realizes she has to go back to her first passion, writing. |
Series Cast
| | | | |
| --- | --- | --- | --- |
| | Roseanne Barr | as Roseanne Conner | |
| | Laurie Metcalf | as Jackie Harris | |
| | John Goodman | as Dan Conner | |
| | Sara Gilbert | as Darlene Conner | |
| | Michael Fishman | as D.J. Conner | |
| | Lecy Goranson | as Becky Conner | |
| | Sarah Chalke | as Becky Conner | |
| | Ames McNamara | as Mark Conner-Healy | |
| | Jayden Rey | as Mary Conner | |
| | Emma Kenney | as Harris Conner-Healy | |
| | Natalie West | as Crystal Anderson | |
| | Johnny Galecki | as David Healy | |
| | Glenn Quinn | as Mark Healy | |
Series Crew
| | Position | Name |
| --- | --- | --- |
| | Co-Executive Producer | John Pasquin |
| | Co-Executive Producer | Sid Youngers |
| | Supervising Producer | Kevin Abbott |
| | Executive Producer | Sara Gilbert |
| | Co-Executive Producer | Bruce Rasmussen |
| | Consulting Producer | Norm Macdonald |
| | Co-Executive Producer | Darlene Hunt |
| | Executive Producer | Whitney Cummings |
| | Consulting Producer | Morgan Murphy |
| | Supervising Producer | Jeff Abugov |
| | Executive Producer | Roseanne Barr |
| | Executive Producer | Tom Werner |
| | Executive Producer | Bruce Helford |
| | Co-Executive Producer | David A. Caplan |
| | Executive Producer | Tony Hernandez |
| | Co-Executive Producer | Betsy Borns |
| | Co-Producer | Betsy Borns |
| | Creator | Matt Williams |
| | Executive Producer | Marcy Carsey |
| | Co-Producer | James Berg |
| | Consulting Producer | Wanda Sykes |
| | Co-Executive Producer | Randall Keenan Winston |
| | Re-Recording Mixer | Charlie McDaniel |
| | Re-Recording Mixer | Craig Porter |
Related News
TVMaze