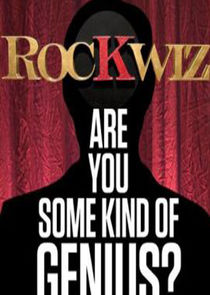 "RocKwiz" is Australia's premier live music trivia quiz TV program featuring an entertaining mix of celebrities, chat, music, and comedy.
Hosted by Julia Zemiro and Brian Nankervis, each program features up to four musical celebrities and four contestants who play off for nothing more than the honour of winning. Guests perform a song with the RocKwiz Orkestra before joining together to close the show with a duet or ensemble song.
RocKwiz is traditionally shot in The Gershwin Room at St Kilda's historic rock venue, The Espy, in Melbourne. RocKwiz also performs live at larger venues and festivals and have staged three successful national tours, each featuring an array of special guests.
Series Overview
Rating
imDb Rating: 8.3 (91 Votes)
Metascore: N/A
Plot
A rock music-trivia game show.
Details
Rated: N/A
Released: 31 Jan 2005
Runtime: N/A
Genre: Game-Show, Music
Director: N/A
Writer: Brian Nankervis
Actors: James Black, Peter Luscombe, Mark Ferrie, Brian Nankervis
Language: English
Country: Australia
Awards: 4 wins & 5 nominations.
Total Seasons: 10
Previous Episode
RocKwiz Salutes the Legends of Australia
Episode 14x7; Jun 25, 2016
In the final episode of the Salutes the Legends Season, Vika and Linda pay tribute to the song APRA voted Best Australian Song of All Time, 'Friday on My Mind'. They salute a couple of legendary songs from The Saints and the Divinyls, while Richard Clapton performs his 1982 hit 'I Am an Island', and Archie Roach previews a brand new song from his forthcoming album, before the whole cast performs 'From Little Things Big Things Grow' led by Archie and Emma Donovan.
Previous Episodes 14x7: RocKwiz Salutes the Legends of Australia 14x6: RocKwiz Salutes the Legends of New Zealand 14x5: RocKwiz Salutes the Legends of Canada 14x4: RocKwiz Salutes the Legends of Ireland 14x3: RocKwiz Salutes the Legends of The UK 14x2: RocKwiz Salutes the Legends of The USA 14x1: RocKwiz Salutes the Legends of Europe 13x6: Rockwiz Salutes the Decades: The 00's 13x5: Rockwiz Salutes the Decades: The 90's

View All Episodes
Cast
Brian Nankervis as Judge
Julia Zemiro as Presenter
View Full Cast
Skip to:
Season 1
| Episode No. | No. Overall | Title | Airdate | Runtime | Summary |
| --- | --- | --- | --- | --- | --- |
| 1 | 1 | Christine Anu & Joe Camilleri | 2005-01-31 | 60 | |
| 2 | 2 | Angie Hart & Dave Graney | 2005-02-07 | 60 | |
| 3 | 3 | Dave Larkin & Vika Bull | 2005-02-12 | 60 | |
| 4 | 4 | Rebecca Barnard & Tim Rogers | 2005-02-19 | 60 | |
| 5 | 5 | Katy Steele & Paul Kelly | 2005-02-26 | 60 | |
| 6 | 6 | Sophie Koh & Jimmy Little | 2005-03-05 | 60 | |
| 7 | 7 | Deborah Conway & Tex Perkins | 2005-03-12 | 60 | |
| 8 | 8 | Nessa Morgan & Ross Wilson | 2005-03-19 | 60 | |
| 9 | 9 | Lisa Miller & Robert Forster | 2005-03-26 | 60 | |
| 10 | 10 | Donna Simpson & Paul Hester | 2005-04-02 | 60 | |
| 11 | 11 | Renee Geyer & Roman Tucker | 2005-04-09 | 60 | |
| 12 | 12 | Troy Cassar-Daley & Ella Hooper | 2005-04-16 | 60 | |
Season 2
| Episode No. | No. Overall | Title | Airdate | Runtime | Summary |
| --- | --- | --- | --- | --- | --- |
| 1 | 13 | Mahalia Barnes & Jimmy Barnes | 2005-11-26 | 60 | |
| 2 | 14 | Martha Wainwright & Dan Kelly | 2005-12-03 | 60 | |
| 3 | 15 | The Spazzys & Chris Bailey | 2005-12-10 | 60 | |
| 4 | 16 | Chris Cheney & Chrissy Amphlett | 2005-12-17 | 60 | |
| 5 | 17 | Mia Dyson & James Reyne | 2006-01-07 | 60 | |
| 6 | 18 | Clare Bowditch & Ed Kuepper | 2006-01-14 | 60 | |
| 7 | 19 | Sally Dastey & Kutcha Edwards | 2006-01-21 | 60 | |
| 8 | 20 | Felicity Urquhart & Mark Seymour | 2006-01-28 | 60 | |
| 9 | 21 | Tania Doko & Stephen Cummings | 2006-02-04 | 60 | |
| 10 | 22 | Linda Bull & Glenn Tilbrook | 2006-02-11 | 60 | |
| 11 | 23 | Sarah Blasko & Mick Harvey | 2006-02-18 | 60 | |
| 12 | 24 | Sarah McLeod & Angry Anderson | 2006-02-25 | 60 | |
| 13 | 25 | Holly Throsby & Dave Faulkner | 2006-03-04 | 60 | |
| 14 | 26 | Jade McRae & Dave McCormack | 2006-03-11 | 60 | |
| 15 | 27 | Kavisha Mazella & Mick Thomas | 2006-03-18 | 60 | |
| 16 | 28 | Kim Salmon & Jodi Phillis | 2006-03-25 | 60 | |
| 17 | 29 | Davey Lane & Vanetta Fields | 2006-04-01 | 60 | |
Season 3
| Episode No. | No. Overall | Title | Airdate | Runtime | Summary |
| --- | --- | --- | --- | --- | --- |
| 1 | 30 | Eddi Reader & Liam O'maonlai | 2006-08-19 | 60 | |
| 2 | 31 | Gareth Liddiard & Taasha Coates | 2006-08-05 | 60 | |
| 3 | 32 | Sarah Lee Guthrie & Chris Wilson | 2006-07-29 | 60 | |
| 4 | 33 | Ron Peno & Jen Cloher | 2006-08-26 | 60 | |
| 5 | 34 | Mary Black & Shane Howard | 2006-09-02 | 60 | |
| 6 | 35 | Archie Roach & Sara Storer | 2006-08-12 | 60 | |
| 7 | 36 | Martha Wainwright & Adrian Belew | 2006-09-09 | 60 | |
| 8 | 37 | Kate Ceberano & Eran James | 2006-09-16 | 60 | |
Season 4
| Episode No. | No. Overall | Title | Airdate | Runtime | Summary |
| --- | --- | --- | --- | --- | --- |
| 1 | 38 | Kate Miller-Heidke & Paul Dempsey | 2007-02-24 | 60 | |
| 2 | 39 | Chelsea Wheatley & Chris Ballew | 2007-03-03 | 60 | |
| 3 | 40 | Betty Harris & John Paul Young | 2007-03-10 | 60 | |
| 4 | 41 | Beccy Cole & Mark Lizotte | 2007-03-17 | 60 | |
| 5 | 42 | Deni Hines & Michael Spiby | 2007-03-24 | 60 | |
| 6 | 43 | Serena Ryder & Lior | 2007-03-31 | 60 | |
| 7 | 44 | Anne McCue & Sean Kelly | 2007-04-07 | 60 | |
| 8 | 45 | Josh Pyke & Neko Case | 2007-04-14 | 60 | |
| 9 | 46 | Leanne Kingwell & Matt Taylor | 2007-04-21 | 60 | |
| 10 | 47 | Melinda Schneider & Russell Morris | 2007-04-28 | 60 | |
Season 5
| Episode No. | No. Overall | Title | Airdate | Runtime | Summary |
| --- | --- | --- | --- | --- | --- |
| 1 | 48 | Jackie Marshall, Colin Hay & Wanda Jackson | 2007-09-29 | 60 | |
| 2 | 49 | Rai Thistlethwayte & Abby Dobson | 2007-10-06 | 60 | |
| 3 | 50 | Natalie Pa'apa'a & Ian Moss | 2007-10-13 | 60 | |
| 4 | 51 | Jess McAvoy & Charles Jenkins | 2007-10-20 | 60 | |
| 5 | 52 | Penny Ikinger & Kevin Borich | 2007-10-27 | 60 | |
| 6 | 53 | Gina Jeffreys & Doc Neeson | 2007-11-03 | 60 | |
| 7 | 54 | Sharon O'Neill & Dann Hume | 2007-11-10 | 60 | |
| 8 | 55 | Anika Moa & Dave Dobbyn | 2007-11-17 | 60 | |
| 9 | 56 | EJ Barnes & Liam Finn | 2007-12-01 | 60 | |
| 10 | 57 | Stephanie Dosen & Billy Miller | 2007-12-08 | 60 | |
| 11 | 58 | Paul Gray & Abbe May | 2007-12-15 | 60 | |
| 12 | 59 | Christmas Special | 2007-12-22 | 60 | |
| 13 | 60 | Laura Jean & Ned Collette | 2007-12-29 | 60 | |
| 14 | 61 | Lisa Mitchell & Quan Yeomans | 2008-01-05 | 60 | |
| 15 | 62 | Sianna Lee & Phil Jamieson | 2008-01-12 | 60 | |
Season 6
| Episode No. | No. Overall | Title | Airdate | Runtime | Summary |
| --- | --- | --- | --- | --- | --- |
| 1 | 63 | Kasey Chambers & Shane Nicholson | 2008-08-30 | 60 | |
| 2 | 64 | Sophie Koh & Steve Kilbey | 2009-09-06 | 60 | |
| 3 | 65 | Abbe May & Dom Mariani | 2009-09-13 | 60 | |
| 4 | 66 | Karina Utomo & Steve Lucas | 2008-09-20 | 60 | |
| 5 | 67 | Taasha Coates & Pete Murray | 2008-09-27 | 60 | |
| 6 | 68 | Toby Martin & Sarah Kelly | 2008-10-04 | 60 | |
| 7 | 69 | Leo Sayer & The Wolfgram Sisters | 2008-10-11 | 60 | |
| 8 | 70 | Amandah Wilkinson & Domenic Byrne | 2008-10-18 | 60 | |
| 9 | 71 | Catherine Britt & Max Merritt | 2008-10-25 | 60 | |
| 10 | 72 | Johnny Galvatron & Wendy Matthews | 2008-11-01 | 60 | |
| 11 | 73 | Tony Hadley & Kylie Audlist | 2008-11-08 | 60 | |
| 12 | 74 | Jed Kurzel & Eva Von Bibra | 2008-11-15 | 60 | |
| 13 | 75 | Liz Stringer & Dan Wilson | 2008-11-22 | 60 | |
| 14 | 76 | Jeff Martin & Tina Arena | 2008-11-29 | 60 | |
| 15 | 77 | Elana Stone & Kram | 2008-12-06 | 60 | |
| 16 | 78 | Amanda Brown & Glen Richards | 2008-12-13 | 60 | |
| 17 | 79 | Patience Hodgson & Broderick Smith | 2009-01-10 | 60 | |
| 18 | 80 | Angie Hart & Nathan Hudson | 2009-01-17 | 60 | |
| 19 | 81 | Adalita & Gareth Liddiard | 2009-01-24 | 60 | |
| 20 | 82 | Toni Childs & Adam Green | 2009-01-31 | 60 | |
| 21 | 83 | Lilith Lane & Tim Finn | 2009-02-07 | 60 | |
| 22 | 84 | Vanessa Amorosi & Ashley Naylor | 2009-02-14 | 60 | |
| 23 | 85 | Barrence Whitfield & Paris Wells | 2009-02-21 | 60 | |
| 24 | 86 | Ella Thompson & Richard Clapton | 2009-02-28 | 60 | |
| 25 | 87 | RockWiz Salutes the Bowl | 2009-03-07 | 60 | |
Season 7
| Episode No. | No. Overall | Title | Airdate | Runtime | Summary |
| --- | --- | --- | --- | --- | --- |
| 1 | 88 | Holiday Sidewinder and Andrew Stockdale | 2009-10-03 | 60 | |
| 2 | 89 | Bertie Blackman and Jim Keays | 2009-10-10 | 60 | |
| 3 | 90 | Victoria Williams and Henry Wagons | 2009-10-17 | 60 | |
| 4 | 91 | Jenny Morris and Don McGlashan | 2009-10-24 | 60 | |
| 5 | 92 | Dash and Will and Kav Temperley | 2009-10-31 | 60 | |
| 6 | 93 | Katy Steel and Bob Evans | 2009-11-07 | 60 | |
| 7 | 94 | Suzannah Espie and Brian Cadd | 2009-11-14 | 60 | |
| 8 | 95 | Loene Carmen and Jack Ladder | 2009-11-21 | 60 | |
| 9 | 96 | 100th Episode: Dan Sultan and Ella Hooper | 2009-11-28 | 60 | |
| 10 | 97 | Megan Washington and G. Love | 2009-12-05 | 60 | |
| 11 | 98 | Jess Cornelius and Mike Rudd | 2009-12-12 | 60 | |
| 12 | 99 | 2009 Christmas special: Kasey Chambers, John Paul Young, Holiday Sidewinder | 2009-12-19 | 60 | |
| 13 | 100 | Sarah Blasko and Dan Crannitch | 2009-12-26 | 60 | |
Season 8
| Episode No. | No. Overall | Title | Airdate | Runtime | Summary |
| --- | --- | --- | --- | --- | --- |
| 1 | 101 | Marcia Hines and Ohad Rein | 2011-03-19 | 60 | |
| 2 | 102 | Sally Seltmann and Dave Mason | 2011-03-26 | 60 | |
| 3 | 103 | Normie Rowe and Georgia Fields | 2011-04-02 | 60 | |
| 4 | 104 | Alexander Gow and Romy Hoffman | 2011-04-09 | 60 | |
| 5 | 105 | Mary Gauthier and Jordie Lane | 2011-04-16 | 60 | |
| 6 | 106 | Gemma Ray and Jon English | 2011-04-23 | 60 | |
Season 9
| Episode No. | No. Overall | Title | Airdate | Runtime | Summary |
| --- | --- | --- | --- | --- | --- |
| 1 | 107 | Chris Cheney and Suzi Quatro | 2011-10-01 | 60 | |
| 2 | 108 | Lanie Lane and Alex Burnett | 2011-10-08 | 60 | |
| 3 | 109 | Linda Bull and Black Joe Lewis | 2011-10-15 | 60 | |
| 4 | 110 | Jae Laffer and Patience Hodgson | 2011-10-22 | 60 | |
| 5 | 111 | Talei Wolfgramm and Simone Felice | 2011-10-29 | 60 | |
| 6 | 112 | Ben Salter and Kimbra | 2011-11-05 | 60 | |
| 7 | 113 | Shellie Morris and Ross Wilson | 2011-11-12 | 60 | |
| 8 | 114 | Leah Flanagan and David Bridie | 2011-11-19 | 60 | |
| 9 | 115 | Hayley Mary and Jon Stevens | 2011-11-26 | 60 | |
| 10 | 116 | Jarrad Brown and Kate Miller-Heidke | 2011-12-03 | 60 | |
| 11 | 117 | Lucie Thorn and Ronnie Charles | 2011-12-10 | 60 | |
| 12 | 118 | Amy Findlay and Nick Barker | 2011-12-17 | 60 | |
Season 10
| Episode No. | No. Overall | Title | Airdate | Runtime | Summary |
| --- | --- | --- | --- | --- | --- |
| 1 | 119 | Judy Collins & Tim Freedman | 2012-07-07 | 60 | |
| 2 | 120 | Emma Louise & Husky Gawenda | 2012-07-14 | 60 | |
| 3 | 121 | McClymont Sisters and John Williamson | 2012-07-21 | 60 | |
| 4 | 122 | Emma Russack and Johnny Mackay | 2012-07-28 | 60 | |
| 5 | 123 | Eilen Jewell and Jake Stone | 2012-08-04 | 60 | |
| 6 | 124 | Butterfly Boucher and Missy Higgins | 2012-08-11 | 60 | |
| 7 | 125 | Mary Wilson and Joe Camilleri | 2012-08-18 | 60 | |
| 8 | 126 | Helen Croome and Jordi Davieson | 2012-08-18 | 60 | |
| 9 | 127 | Ainslie Wills and Matt Colwell | 2012-09-01 | 60 | |
| 10 | 128 | Amaya Laucirica and James Reyne | 2012-09-08 | 60 | |
| 11 | 129 | Amanda Palmer and Hugo Race | 2012-09-15 | 60 | |
| 12 | 130 | Clairy Browne and C.C. Adcock | 2012-09-22 | 60 | |
Series Cast
| | | | |
| --- | --- | --- | --- |
| | Brian Nankervis | as Judge | |
| | Julia Zemiro | as Presenter | |
Related News
TVMaze