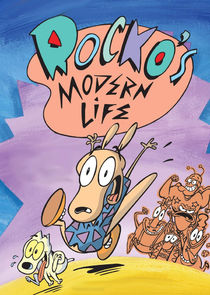 Rocko is a kangaroo who has emigrated to America from Australia. He lives in O-Town and tries to get through life but, of course, comes across a multitude of dilemmas and misadventures he must get through. Other characters include Rocko's best friend, Heffer, a steer who has been raised by wolves, Filbert, a paranoid hypochondriac turtle, Rocko's faithful (but none-too-bright) dog Spunky, and Ed Bighead who detests Rocko and hates having him for a next door neighbour. On this show, Rocko has such adventures as trying to adapt to a new vacuum cleaner, having Heffer move in temporarily after his parents kick him out, and going to a movie theatre.
Series Overview
Rating
imDb Rating: 7.9 (18,551 Votes)
Metascore: N/A
Plot
The wacky misadventures of an Australian wallaby and his friends as he finishes his transition to American life.
Details
Rated: TV-Y
Released: 18 Sep 1993
Runtime: 30 min
Genre: Animation, Comedy, Family
Director: N/A
Writer: Joe Murray, Stephen Hillenburg, Mr. Lawrence, Derek Drymon
Actors: Carlos Alazraqui, Tom Kenny, Charlie Adler, Mr. Lawrence
Language: English
Country: USA
Awards: 2 wins & 4 nominations.
Total Seasons: 4
Previous Episode
Floundering Fathers
Episode 4x26; Nov 24, 1996
Previous Episodes 4x26: Floundering Fathers 4x25: Turkey Time 4x24: Future Schlock 4x23: Put Out to Pasture 4x22: Driving Mrs. Wolfe 4x21: Hypno-Puppy Luv 4x20: Rug Birds 4x19: Dumbells 4x18: Wallaby on Wheels

View All Episodes
Cast
Carlos Alazraqui as Rocko|Spunky|Leon|Granny Rocko
Charlie Adler as Ed Bighead|Gladys|Mr. George Wolfe|Grandpa Wolfe|Bev Bighead|Mr. Dupette|Mr. and Mrs. Fathead
Tom Kenny as Heffer Wolfe|Chuck|Mr. Smitty|Really Really Big Man|Peaches
Linda Wallem as Dr. Hutchison|Mrs. Virginia Wolfe|Grandma Wolfe|Cindy Wolfe|Tammy the Pig
Mr. Lawrence as Filburt|Peter Wolfe
View Full Cast
Skip to:
Season 1
| Episode No. | No. Overall | Title | Airdate | Runtime | Summary |
| --- | --- | --- | --- | --- | --- |
| 1 | 1 | No Pain, No Gain | 1993-09-18 | 15 | |
| 2 | 2 | Who Gives a Buck? | 1993-09-18 | 15 | |
| 3 | 3 | Leap Frogs | 1993-09-19 | 15 | |
| 4 | 4 | Bedfellows | 1993-09-19 | 15 | |
| 5 | 5 | Jet Scream | 1993-09-26 | 15 | |
| 6 | 6 | Dirty Dog | 1993-09-26 | 15 | |
| 7 | 7 | Keeping Up with the Bigheads | 1993-10-03 | 15 | |
| 8 | 8 | Skid Marks | 1993-10-03 | 15 | |
| 9 | 9 | Power Trip | 1993-10-10 | 15 | |
| 10 | 10 | To Heck and Back | 1993-10-10 | 15 | |
| 11 | 11 | The Good, the Bad, and the Wallaby | 1993-10-17 | 15 | |
| 12 | 12 | Trash-O-Madness | 1993-10-17 | 15 | |
| 13 | 13 | Spitballs | 1993-10-24 | 15 | |
| 14 | 14 | Popcorn Pandemonium | 1993-10-24 | 15 | |
| 15 | 15 | A Sucker for the Suck-O-Matic | 1993-10-31 | 15 | |
| 16 | 16 | Canned | 1993-10-31 | 15 | |
| 17 | 17 | Carnival Knowledge | 1993-11-07 | 15 | |
| 18 | 18 | Sand in Your Navel | 1993-11-07 | 15 | |
| 19 | 19 | Cabin Fever | 1993-11-14 | 15 | |
| 20 | 20 | Rinse and Spit | 1993-11-14 | 15 | |
| 21 | 21 | Rocko's Happy Sack | 1993-11-21 | 15 | |
| 22 | 22 | Flu-In-U-Enza | 1993-11-21 | 15 | |
| 23 | 23 | Who's for Dinner? | 1993-11-28 | 15 | |
| 24 | 24 | Love Spanked | 1993-11-28 | 15 | |
| 25 | 25 | Clean Lovin' | 1993-12-05 | 15 | |
| 26 | 26 | Unbalanced Load | 1993-12-05 | 15 | |
Season 2
| Episode No. | No. Overall | Title | Airdate | Runtime | Summary |
| --- | --- | --- | --- | --- | --- |
| 1 | 27 | I Have No Son! | 1994-09-25 | 15 | |
| 2 | 28 | The Lounge Singer | 1994-10-09 | 15 | |
| 3 | 29 | She's the Toad | 1994-10-09 | 15 | |
| 4 | 30 | Pipe Dreams | 1994-10-02 | 15 | |
| 5 | 31 | Tickled Pinky | 1994-10-02 | 15 | |
| 6 | 32 | Down the Hatch | 1994-10-23 | 15 | |
| 7 | 33 | Road Rash | 1994-10-23 | 15 | |
| 8 | 34 | Boob Tubed | 1994-11-06 | 15 | |
| 9 | 35 | Commuted Sentence | 1994-11-06 | 15 | |
| 10 | 36 | Rocko's Modern Christmas | 1994-12-01 | 15 | |
| 11 | 37 | Hut Sut Raw | 1994-12-04 | 15 | |
| 12 | 38 | Kiss Me, I'm Foreign | 1994-12-04 | 15 | |
| 13 | 39 | Cruisin' | 1995-01-01 | 15 | |
| 14 | 40 | Born to Spawn | 1995-01-22 | 15 | |
| 15 | 41 | Uniform Behavior | 1995-01-22 | 15 | |
| 16 | 42 | Hair Licked | 1995-01-29 | 15 | |
| 17 | 43 | Gutter Balls | 1995-01-29 | 15 | |
| 18 | 44 | Junk Junkies | 1995-02-12 | 15 | |
| 19 | 45 | Day of the Flecko | 1995-02-12 | 15 | |
| 20 | 46 | Snowballs | 1995-02-26 | 15 | |
| 21 | 47 | Frog's Best Friend | 1995-02-26 | 15 | |
| 22 | 48 | Short Story | 1995-03-12 | 15 | |
| 23 | 49 | Eyes Capades | 1995-03-12 | 15 | |
Season 3
| Episode No. | No. Overall | Title | Airdate | Runtime | Summary |
| --- | --- | --- | --- | --- | --- |
| 1 | 50 | Bye, Bye Birdie | 1995-10-22 | 15 | |
| 2 | 51 | Belch of Destiny | 1995-10-22 | 15 | |
| 3 | 52 | The Emperor's New Joe | 1995-10-29 | 15 | |
| 4 | 53 | Schnit-Heads | 1995-10-29 | 15 | |
| 5 | 54 | Sugar-Frosted Frights | 1995-10-31 | 15 | |
| 6 | 55 | Ed is Dead: A Thriller! | 1995-10-31 | 15 | |
| 7 | 56 | Fish-N-Chumps | 1995-11-12 | 15 | |
| 8 | 57 | Camera Shy | 1995-11-12 | 15 | |
| 9 | 58 | Nothing to Sneeze At | 1995-11-19 | 15 | |
| 10 | 59 | Old Fogey Froggy | 1995-11-19 | 15 | |
| 11 | 60 | Maniac Mechanic | 1995-12-03 | 15 | |
| 12 | 61 | Rocko's Happy Vermin | 1995-12-03 | 15 | |
| 13 | 62 | I See London, I See France | 1995-12-10 | 15 | |
| 14 | 63 | The Fatlands | 1995-12-10 | 15 | |
| 15 | 64 | Fortune Cookie | 1995-12-17 | 15 | |
| 16 | 65 | Dear John | 1995-12-17 | 15 | |
| 17 | 66 | Speaking Terms | 1995-12-31 | 15 | |
| 18 | 67 | Tooth and Nail | 1995-12-31 | 15 | |
| 19 | 68 | Wacky Delly | 1996-01-21 | 15 | |
| 20 | 69 | The Big Question | 1996-01-28 | 15 | |
| 21 | 70 | The Big Answer | 1996-01-28 | 15 | |
| 22 | 71 | An Elk for Heffer | 1996-02-11 | 15 | |
| 23 | 72 | Scrubbin' Down Under | 1996-02-11 | 15 | |
| 24 | 73 | Zanzibar! | 1996-04-21 | 15 | |
| 25 | 74 | Fatal Contraption | 1996-04-21 | 15 | |
Season 4
| Episode No. | No. Overall | Title | Airdate | Runtime | Summary |
| --- | --- | --- | --- | --- | --- |
| 1 | 75 | With Friends Like These | 1996-07-08 | 15 | |
| 2 | 76 | Sailing the Seven Zzzz's | 1996-07-08 | 15 | |
| 3 | 77 | Pranksters | 1996-07-09 | 15 | |
| 4 | 78 | From Here to Maternity | 1996-07-09 | 15 | |
| 5 | 79 | Ed Good, Rocko Bad | 1996-07-10 | 15 | |
| 6 | 80 | Teed Off | 1996-07-10 | 15 | |
| 7 | 81 | Wimp on the Barbie | 1996-07-11 | 15 | |
| 8 | 82 | Yarnbenders | 1996-07-11 | 15 | |
| 9 | 83 | Mama's Boy | 1996-07-12 | 15 | |
| 10 | 84 | Feisty Geist | 1996-07-12 | 15 | |
| 11 | 85 | S.W.A.K. | 1996-07-15 | 15 | |
| 12 | 86 | Magic Meatball | 1996-07-15 | 15 | |
| 13 | 87 | Closet Clown | 1996-07-16 | 15 | |
| 14 | 88 | Seat to Stardom | 1996-07-16 | 15 | |
| 15 | 89 | The High-Five of Doom | 1996-07-17 | 15 | |
| 16 | 90 | Fly Burgers | 1996-07-17 | 15 | |
| 17 | 91 | Heff in a Handbasket | 1996-07-18 | 15 | |
| 18 | 92 | Wallaby on Wheels | 1996-07-18 | 15 | |
| 19 | 93 | Dumbells | 1996-07-19 | 15 | |
| 20 | 94 | Rug Birds | 1996-07-19 | 15 | |
| 21 | 95 | Hypno-Puppy Luv | 1996-10-08 | 15 | |
| 22 | 96 | Driving Mrs. Wolfe | 1996-10-08 | 15 | |
| 23 | 97 | Put Out to Pasture | 1996-10-10 | 15 | |
| 24 | 98 | Future Schlock | 1996-10-10 | 15 | |
| 25 | 99 | Turkey Time | 1996-11-24 | 15 | |
| 26 | 100 | Floundering Fathers | 1996-11-24 | 15 | |
Series Cast
| | | | |
| --- | --- | --- | --- |
| | Carlos Alazraqui | as Rocko|Spunky|Leon|Granny Rocko | |
| | Charlie Adler | as Ed Bighead|Gladys|Mr. George Wolfe|Grandpa Wolfe|Bev Bighead|Mr. Dupette|Mr. and Mrs. Fathead | |
| | Tom Kenny | as Heffer Wolfe|Chuck|Mr. Smitty|Really Really Big Man|Peaches | |
| | Linda Wallem | as Dr. Hutchison|Mrs. Virginia Wolfe|Grandma Wolfe|Cindy Wolfe|Tammy the Pig | |
| | Mr. Lawrence | as Filburt|Peter Wolfe | |
Related News
TVMaze